These twice baked ranch potatoes make the perfect side dish to a variety of meals. This recipe can be used for every holiday and occasion.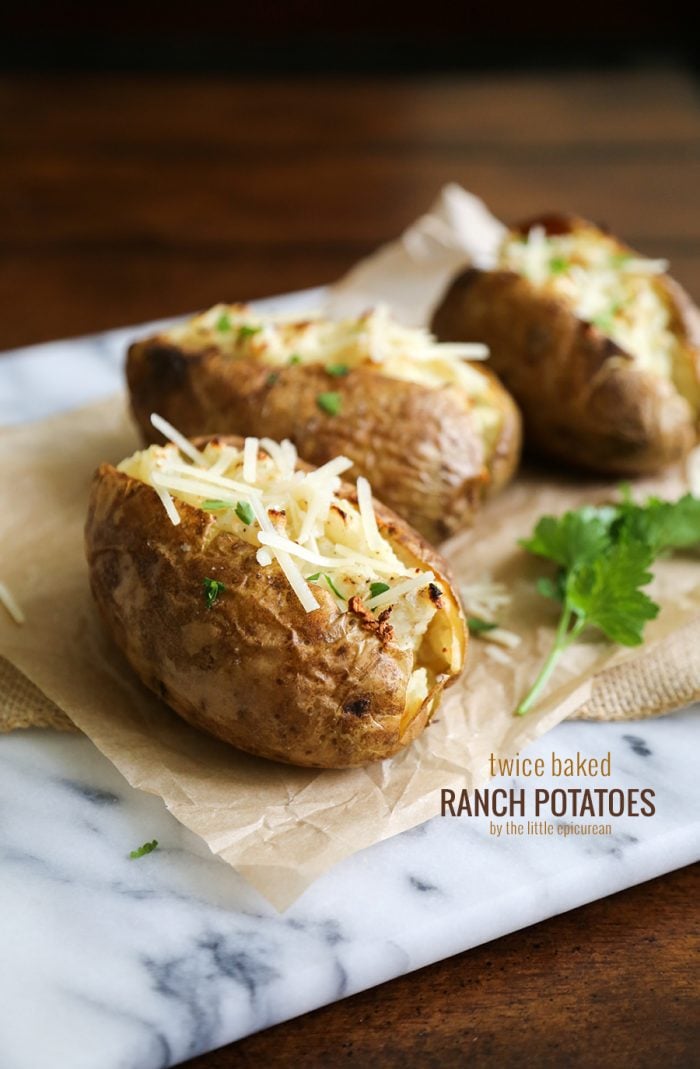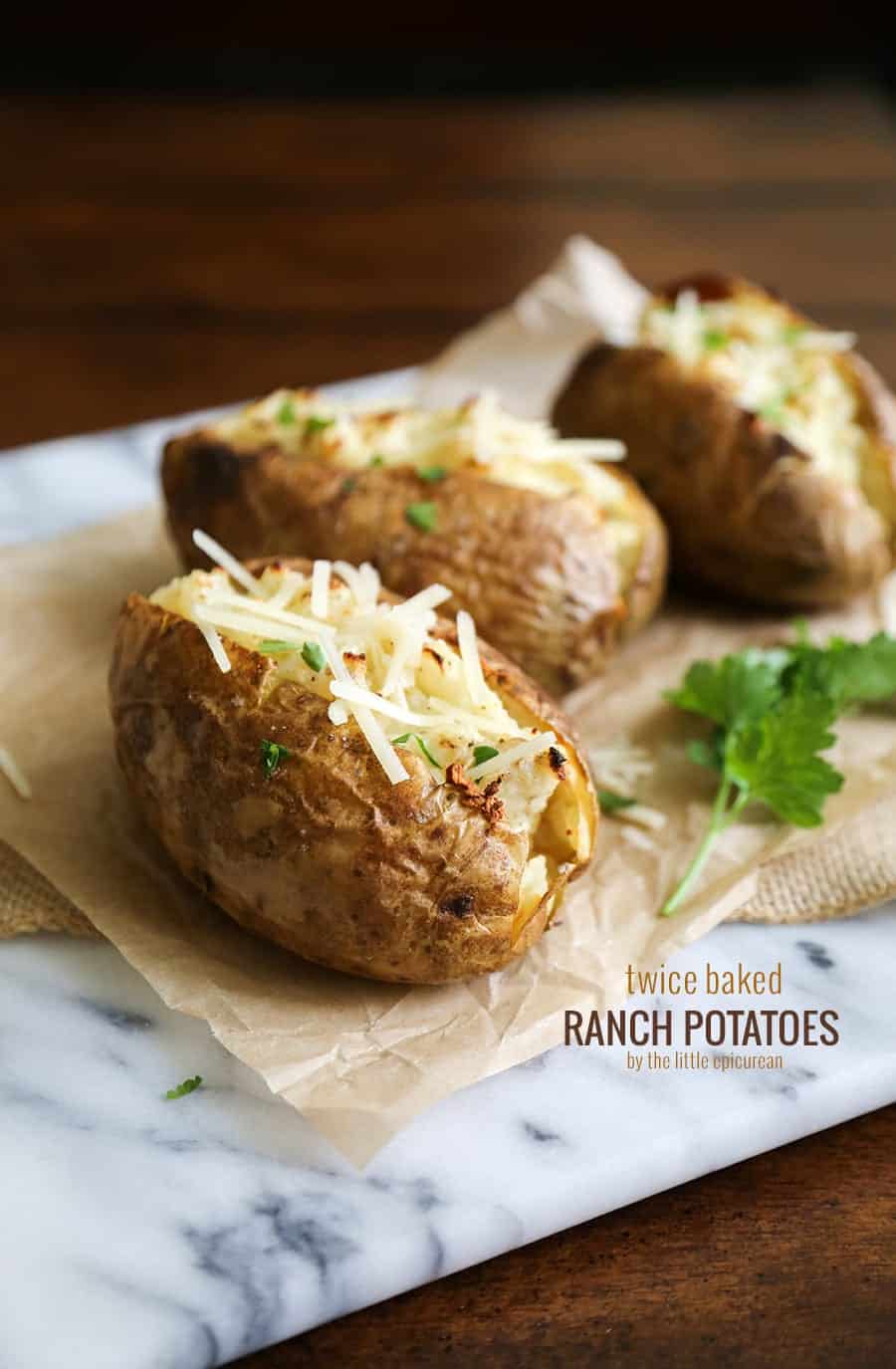 I've said it before, and I'll say it again. I believe food allows you to relieve memories. To me, food often serves as my own personal time machine. Silly, you say?
One bite of this twice baked ranch potato and I am 7 years old again.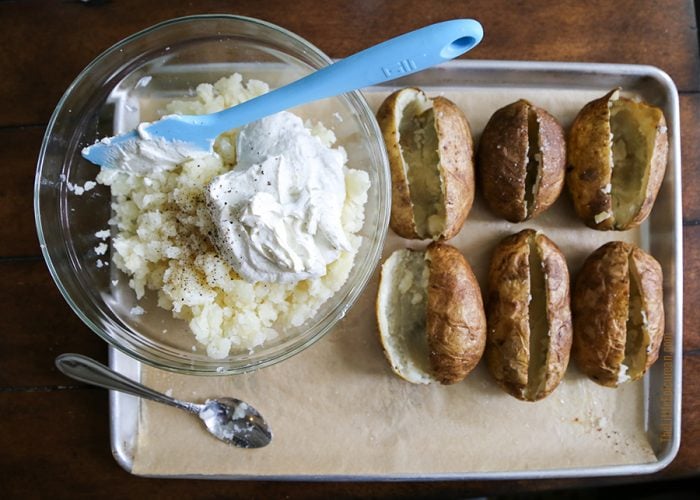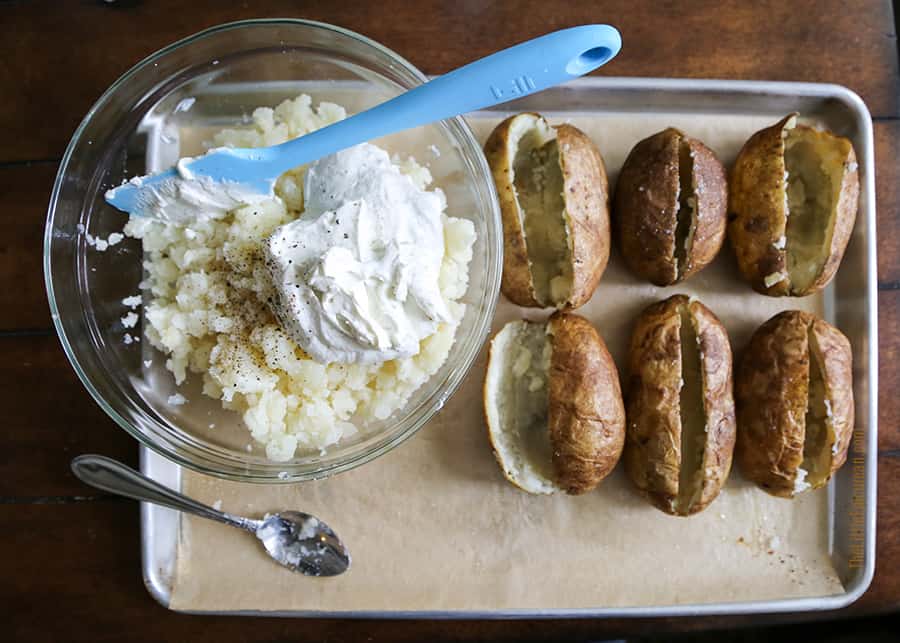 My first memory of these Twice Baked Ranch Potatoes was in the second grade. I remember my mom making a batch of these during winter break. I probably ate 3 or more baked potatoes that day.
Since then, every major holiday and gathering at my childhood home at a plate of these ranch flavored potatoes.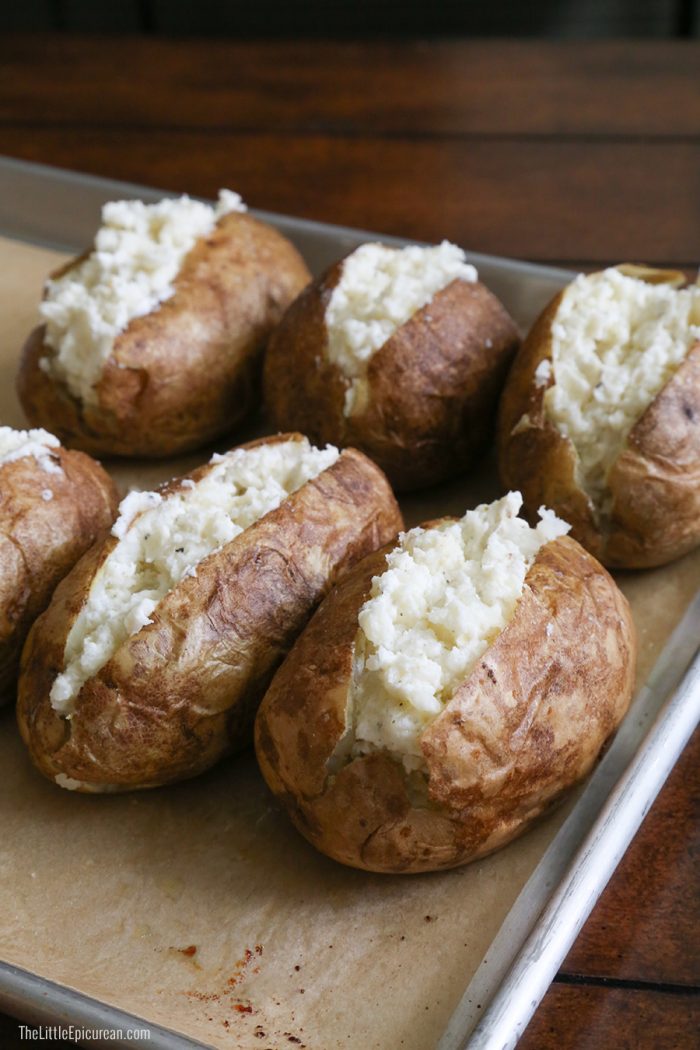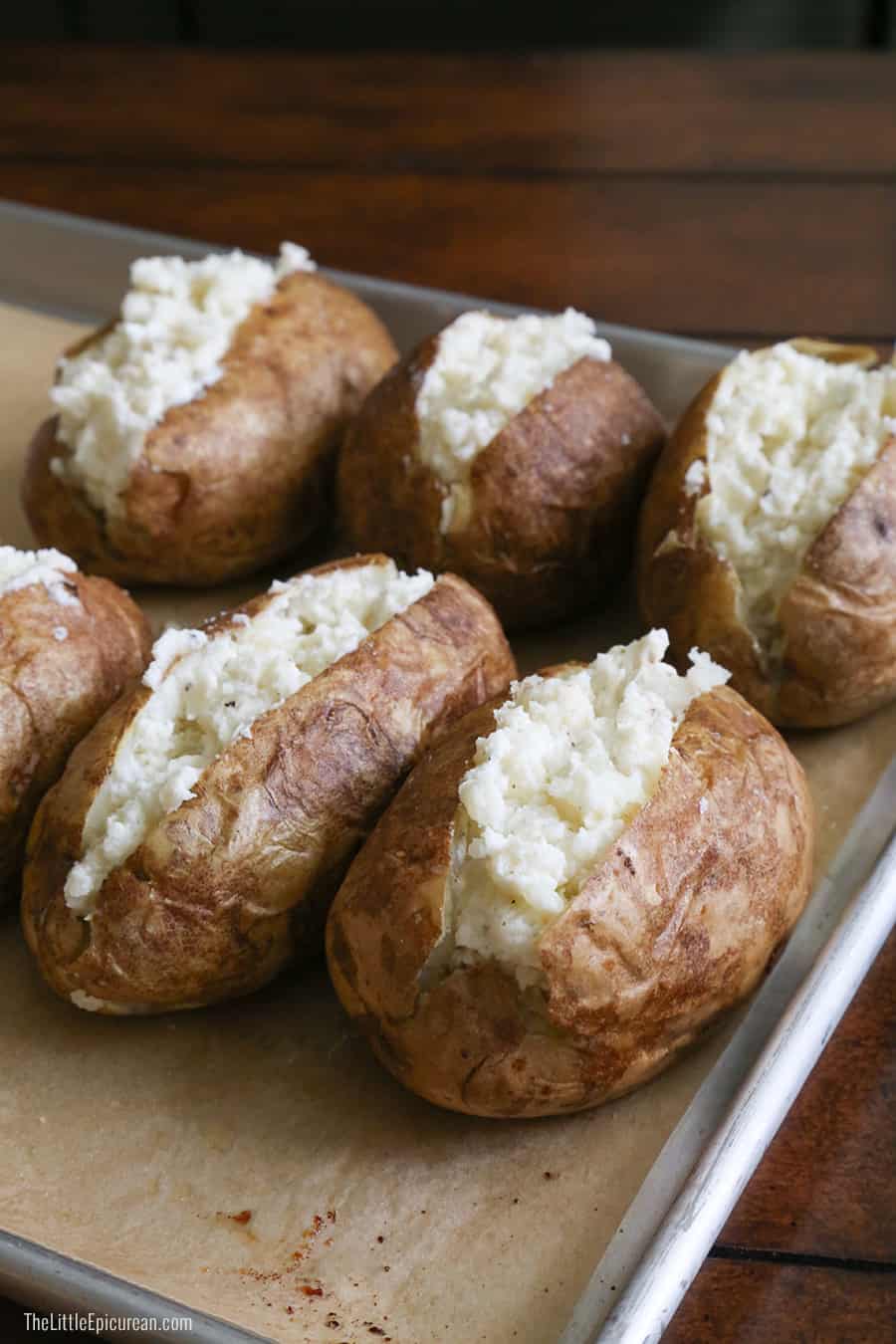 Twice Baked Ranch Potatoes
These start off like any other baked potato. Scrub the skins of the potato clean, pat dry, dock the potatoes a few times with a a fork, generously rub the potatoes with oil and bake until tender.
Once cool enough to handle, the insides of the potatoes are scooped out and seasoned.
The key ingredient to this recipe is the ranch mix. While any ranch mix will do, my personal favorite is The Original Ranch mix by Hidden Valley Ranch. It has to be the one sold in pouches, not the giant containers they sell at Costco. (Oddly, enough I find that they taste different.)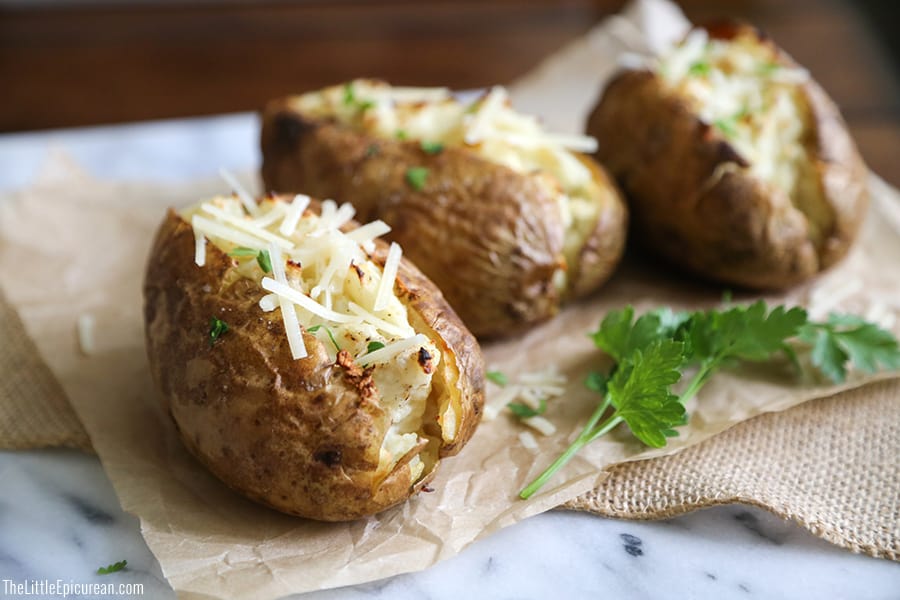 My childhood home is long gone, but these potatoes remain. I try to continue the tradition alive and make a batch of these for my husband and me every Easter and Christmas.
My mom's original version contains probably twice the amount butter, a touch of heavy cream, and a lot more sour cream.
This is my slightly healthier version. This recipe makes a small batch of potatoes, as opposed to my mom's 3 dozen plus potatoes.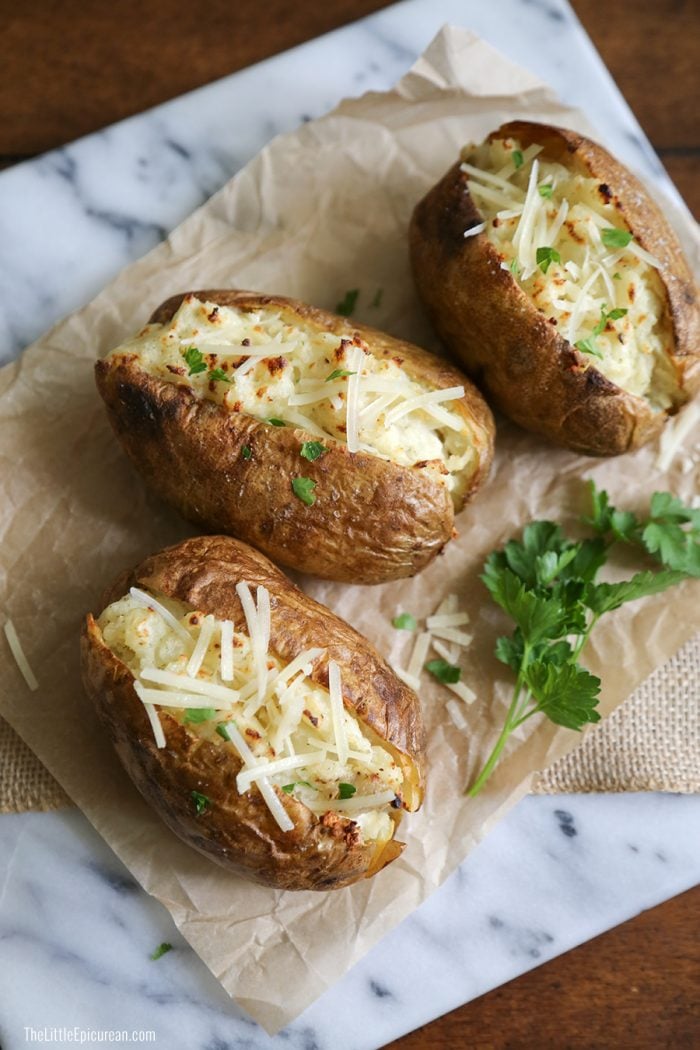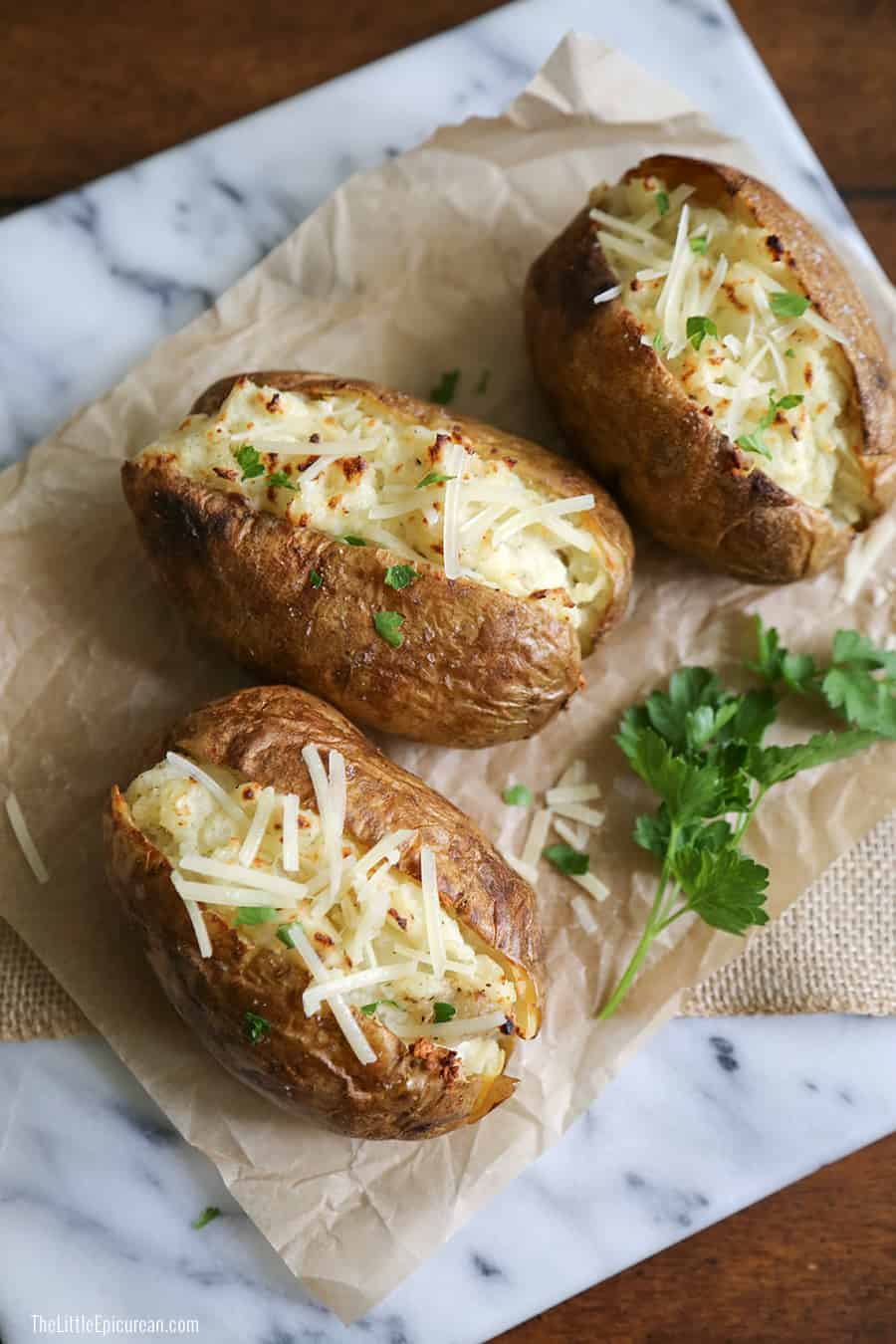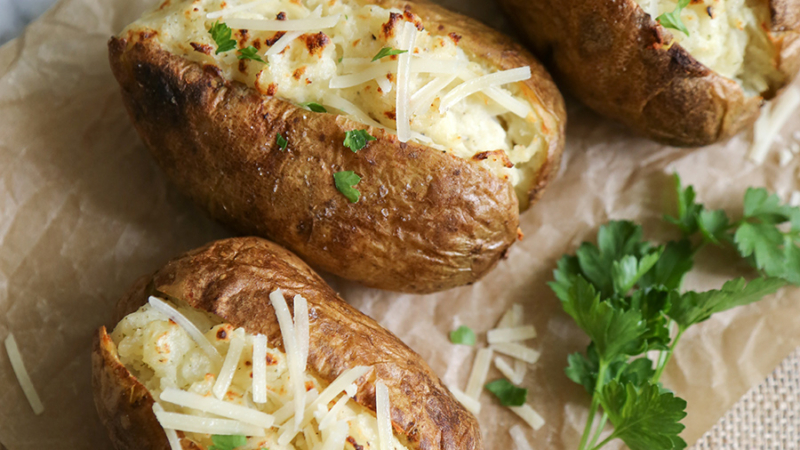 Twice Baked Ranch Potatoes
Ingredients
3

pounds

Russet potatoes,

scrubbed and washed clean

2

Tablespoon

olive oil

1

cup

sour cream

4

teaspoon

ranch dip seasoning mix

(powder)

2

Tablespoon

unsalted butter,

melted

kosher salt and black pepper,

to taste

shredded parmesan cheese,

to garnish
Instructions
Preheat oven to 450 degrees F. Line baking sheet with parchment paper. Set aside.

Scrub and rinse potatoes clean. Pat dry. Place potatoes on prepared baking sheet. Coat potatoes in oil. Season generously with kosher salt. If desired, pierce potato with a fork- just to let steam escape during cooking process. Bake for 50-60 minutes until potatoes are tender and can easily be pierced with a knife.


Remove potatoes from oven and allow to cool. Lower oven temperature to 350 degrees.


Once potatoes are cool enough to handle, cut a silt lengthwise on each potato. Be careful, as potatoes will steam. Spoon out contents of potato and place in a large bowl. Gently smash into smaller pieces, but no need to make mashed potatoes.


In another bowl, mix together sour cream and ranch dip mix. Add mixture to smashed potatoes and fold to combine. Add melted butter. Season with salt and pepper.


Spoon potato mixture back into empty potato skins. Place stuffed potatoes back in the oven for another 15-25 minutes until potatoes are warm and begin to brown on top. Remove from oven and garnish with shredded parmesan cheese. Serve warm.