Cheesy accordion potatoes combines the best part of baked potatoes and French fries to create the ultimate potato side dish!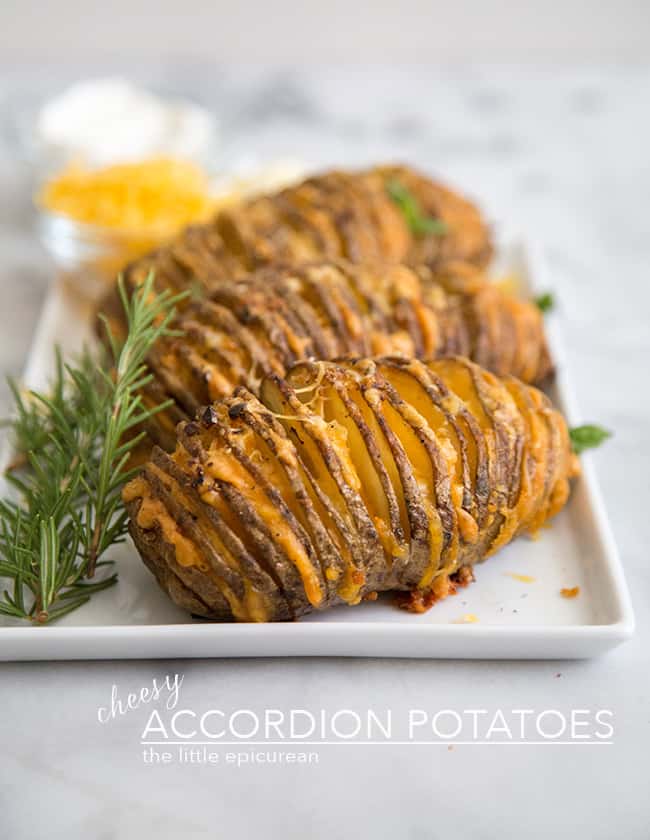 Accordion Potatoes
Potatoes cannot do no wrong in my eyes. Be it baked, fried, smashed, or boiled, I'd be happy to eat that potato.
Most of the time, I prefer baked potatoes. Mainly because I enjoy all the toppings…a dollop of sour cream, a lot of chopped scallions, a handful of cheddar cheese and a pat of butter.
But midway through the potato, I get a hankering for something crispy. Then I start to think maybe I should have order french fries instead.
I found the perfect solution that combines my favorite parts of a baked potato and a fried potato. Accordion potatoes (also known as Hasselback potatoes) gives you the best of both worlds.
You get the moist and soft insides of a baked potato with the crispy exterior of a fried potato. Plus, these accordion potatoes are so darn pretty on the dining table.
Ingredients
This potato side dish looks impressive, but it's quite easy and simple to make! Best of all, it requires just a handful of ingredients.
Baking Potatoes:
Sliced Cheese:
Garlic Cloves:
Olive Oil:
Salt and Pepper: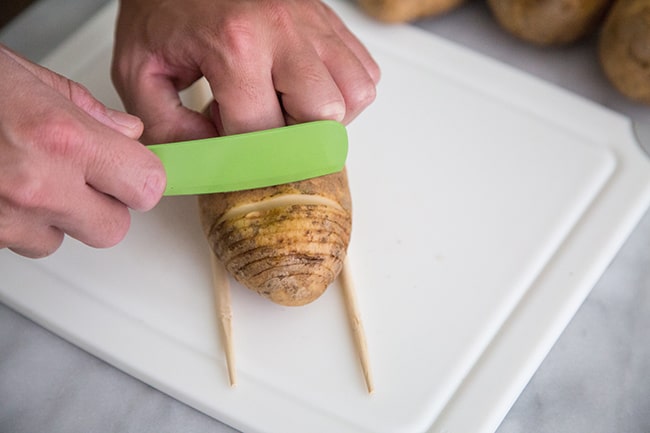 How to Slice Accordion Potatoes
Accordion potatoes may look tricky but they're very easy to make.
Slicing can be problematic, but this handy chopstick trick really helps.
By placing chopsticks on both sides of the potato, it prevents you from cutting all the way through the potato.
Or you can buy this nifty gadget, a Hasselback potato cutting board specifically made for this popular potato.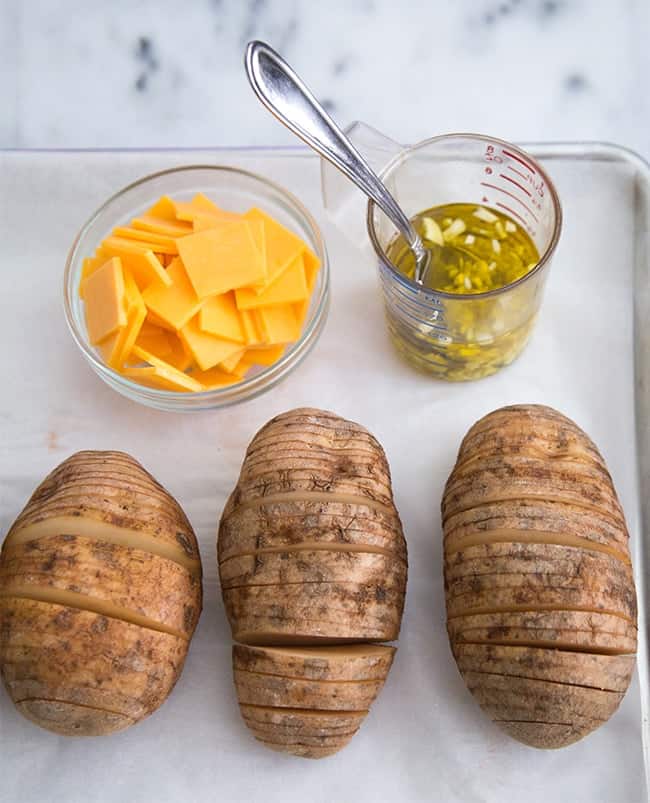 How To Assemble Cheesy Potato Layers
While these baked/oven-fried accordion potatoes are fabulous on their own with a sprinkling of olive oil and some salt and pepper- let's go beyond that.  Let's add a ton of garlic and a lot of cheese.  
If you are feeling fancy, go ahead and add chopped fresh herbs. Perhaps a little rosemary, thyme, or oregano.
The fun part is stuffing the potato with cheese. During the baking process the cheese will melt. Midway though baking, you can add additional cheese if you feel obliged. I sure did.
If you put a ton of cheese you will be rewarded with delicious little cheddar cheese crisps that form at the bottom of the potato. YUM!
More potato side dish recipes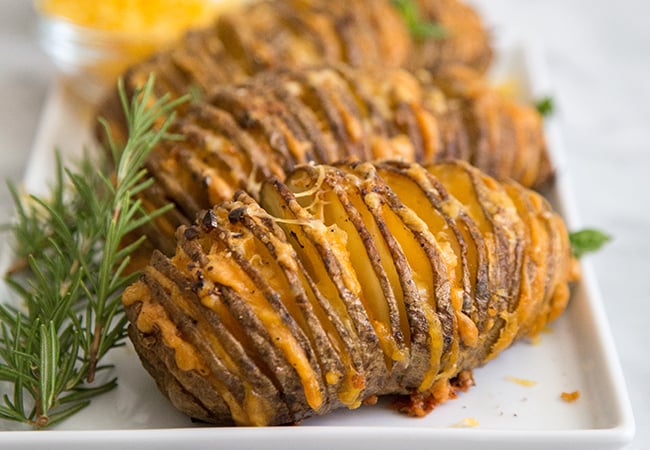 Cheesy Accordion Potatoes
These cheesy accordion potatoes are happily welcome at any dinner table. It combines the best parts of baked potatoes and french fries to create the ultimate potato side dish!
Ingredients
3

garlic cloves,

minced

¼

cup

extra-virgin olive oil

4

medium potatoes,

Russet or Yukon Gold

thick sliced sharp cheddar cheese,

as needed

kosher salt and freshly ground black pepper,

to season
Instructions
Add minced garlic to olive oil. Set aside and let marinade.

Wash and scrub potatoes clean. Pat dry.

Slice the potato crosswise at ¼-inch (or smaller) intervals. Use the chopsticks as a guide to prevent cutting all the way through the potato. Slice potato just until the chopstick to keep potato intact.

Drizzle about 1 Tbsp of oil on each cut potato. Rub into skin and make sure oil gets in-between the slices. Using your fingers, stuff the minced garlic between the potato slices. Take the sliced cheese and tuck in between slices. Drizzle any remaining oil over potatoes. Generously season with kosher salt and freshly ground black pepper.

Bake for 40-45 minutes* until potatoes are crisp on the outside and baked through. About 20 minutes into baking, remove potatoes from oven and baste with any olive oil that may have puddled around potatoes. Most of the cheese will have melted by this time, add additional cheese as desired. Return to oven and bake until potatoes are done.

Serve warm. Garnish with butter, sour cheese, addition cheese, or crumbled bacon!
Notes
Cooking times will vary depending on size of potatoes.