Fans of ice cream will love these creamy chocolate avocado popsicles! They're rich and decadent and such a fun treat.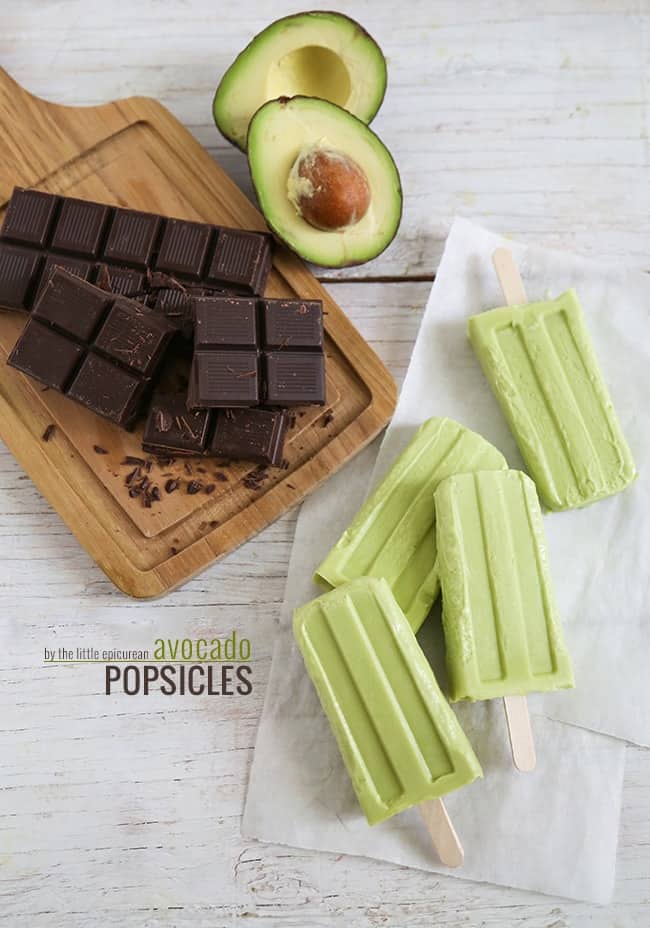 Growing up, my dad taught me all sorts of things: how to tie my shoes, the multiplication table, and how to eat avocados.
Once in a while on weekend mornings, my dad and I would enjoy breakfast together. Whenever he could find avocados, he'd make me this special breakfast.
He would place chopped avocados in a bowl, drizzle a little sweetened condensed milk on top, and then add milk. It was creamy, sweet, and oh-so-delicious. I thought everyone ate avocados with milk. It wasn't until college when I lived with roommates that I learned it wasn't so common.
I've made a frozen ice pop version of my dad's beloved breakfast avocados. It has all the same components, except I blended everything together and poured the mixture in to popsicle molds. I find it much easier to eat it this way, plus I can keep the avocado popsicles in the freezer to have on hand whenever I'm feigning a sweet treat.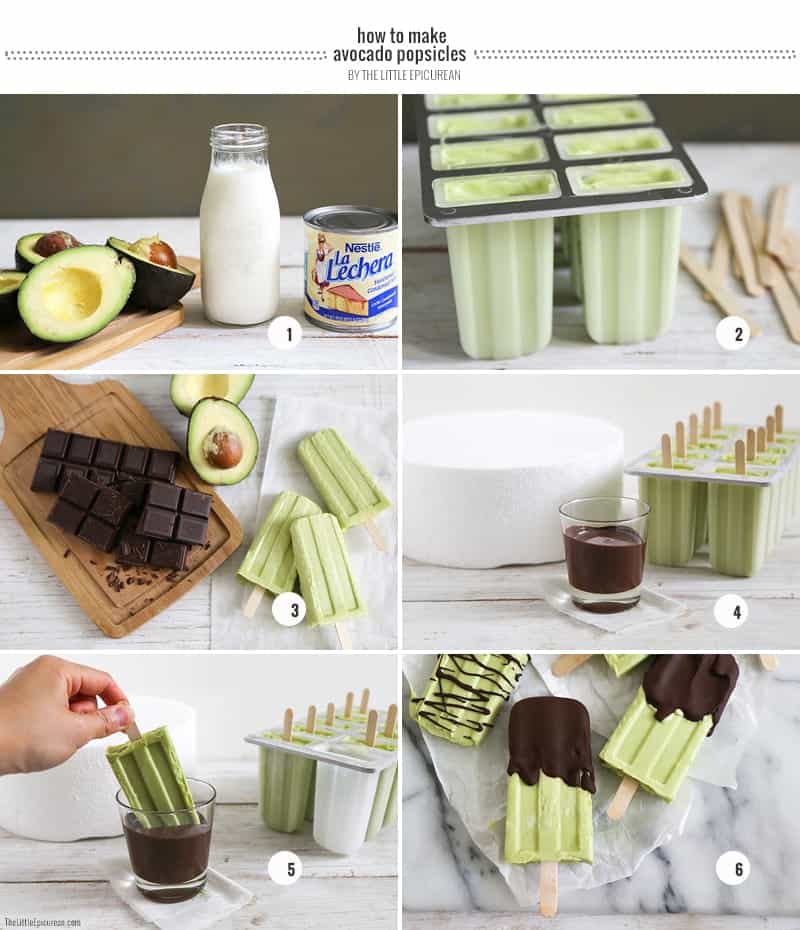 Gather 3 ripe avocados, 1 1/2 cups milk, and 4 tablespoons sweetened condensed milk.
Puree all the ingredients together using a blender or food processor. Adjust thickness and sweetness accordingly. I prefer to keep it thick and creamy, so it ends up like rich ice cream. Pour mixture into popsicle molds. Insert wooden sticks and freeze for at least 3 hours until popsicles are solid.
At this point, the avocado popsicles are ready to eat. However, for added decadence, melt 4 ounces of good quality dark chocolate.
Place melted chocolate in a small mug. Have a styrofoam surface ready to serve as a chocolate drying station.
Dip frozen avocado popsicle into melted chocolate. Stand popsicle upright on styrofoam board for chocolate to dry. It should only take a minute.
Serve immediately or place chocolate avocado popsicles back in the freezer. Asides from dipping popsicle into chocolate, you can also drizzle the melted chocolate for a different effect.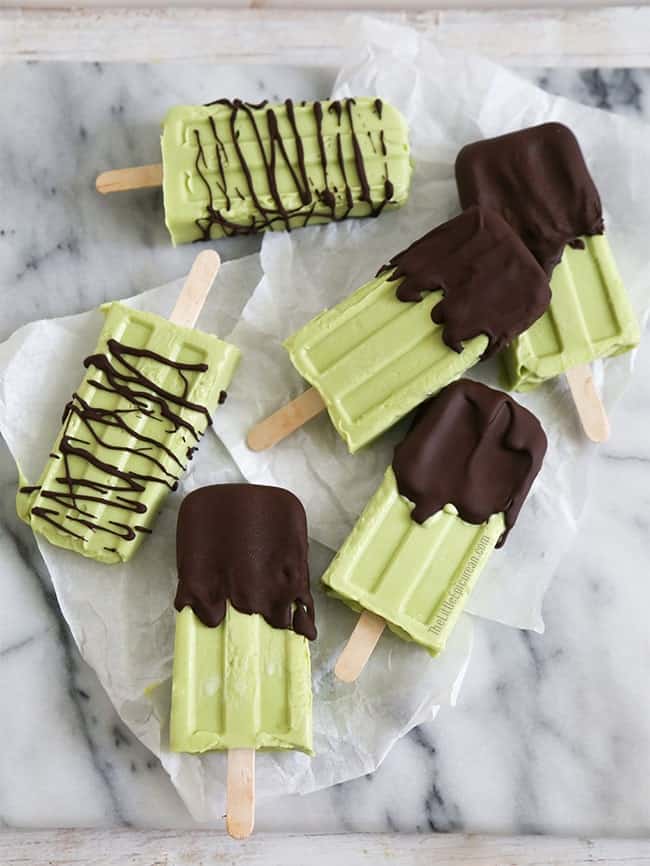 If you like ice cream, you'll definitely enjoy how creamy and decadent these avocado popsicles are.
I can't wait to share these treats with my dad. I'm sure he'll be reminded of all those mornings long ago when the two of us would sit at the kitchen island and share our breakfast avocados.
Chocolate Avocado Popsicles
Ingredients
3

ripe

avocados (medium sized)

1 1/2

cups

milk, or milk alternative of choice

4

Tablespoons

sweetened condensed milk

simple syrup or agave syrup, as needed
Dipping Chocolate:
4

oz

good quality dark chocolate*, chopped, melted
Instructions
1. In a blender or food processor, puree avocado meat, milk, and sweetened condensed milk. Taste mixture. If it is not sweet enough to your liking, add simple syrup or agave as needed.*

Pour mixture into popsicle molds until almost full. Place a layer of foil over the popsicle mold, followed by the popsicle mold cover. Insert wooden sticks into the mold and then remove the popsicle mold cover, leaving only the foil.

Place filled molds in the freezer for at least 3 hours, or until the popsicles are solid.
Dipping Chocolate:
Over a double boiler (bain-marie), melt chopped chocolate until smooth. Alternatively, you can microwave it at half power in 30 second intervals until melted. Be careful not to overheat and burn the chocolate.

Dip frozen avocado popsicles in melted chocolate. You can also drizzle melted chocolate over popsicles.
Recipe Notes
* Pureed mixture will be quite thick.  Add more liquid to thin it out.
* I used 72% dark chocolate.