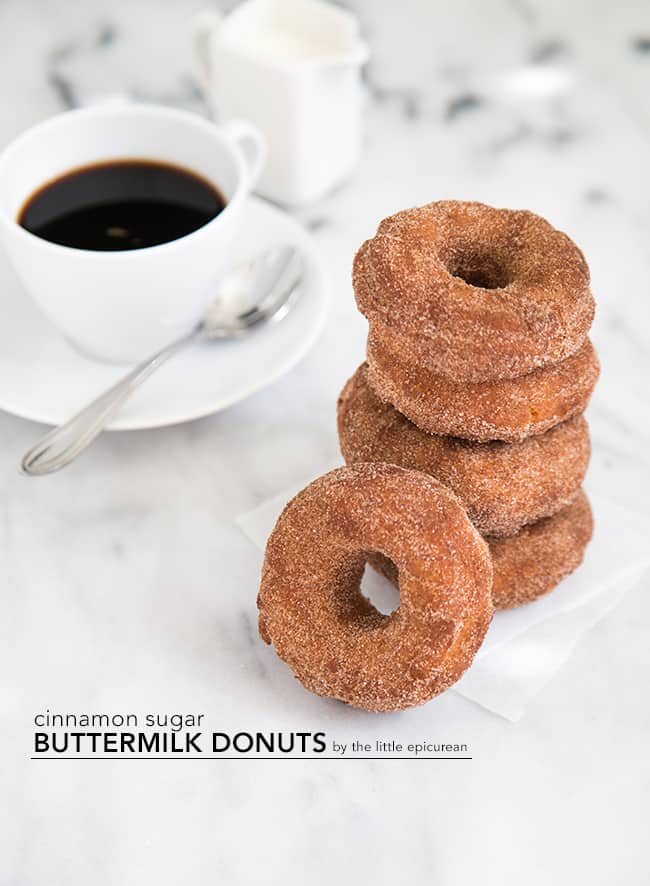 You must be wondering… what's with all these donuts lately?  Don't worry, I've been asking myself the same question.
Ever since I started my DONUT make me crazy board on Pinterest, I've been a donut hound constantly on the lookout for pretty donuts to pin.  However, it seems like most of the donut photos and recipes I find on the internet are baked donuts.  I like baked donuts; I've made plenty in the past- however it still doesn't live up to warm, freshly fried doughnuts.  Instead of scouring the web in search of photos to pin to my board, I've taken it upon myself to make as many donuts as possible.  Sounds like a good compromise, I'd say.
I buy buttermilk with the intention of making buttermilk pancakes, buttermilk waffles, and fluffy buttermilk biscuits.  But even after I've made all that food, I still end up with some extra buttermilk leftover.  Solution to this excess: buttermilk donuts, of course!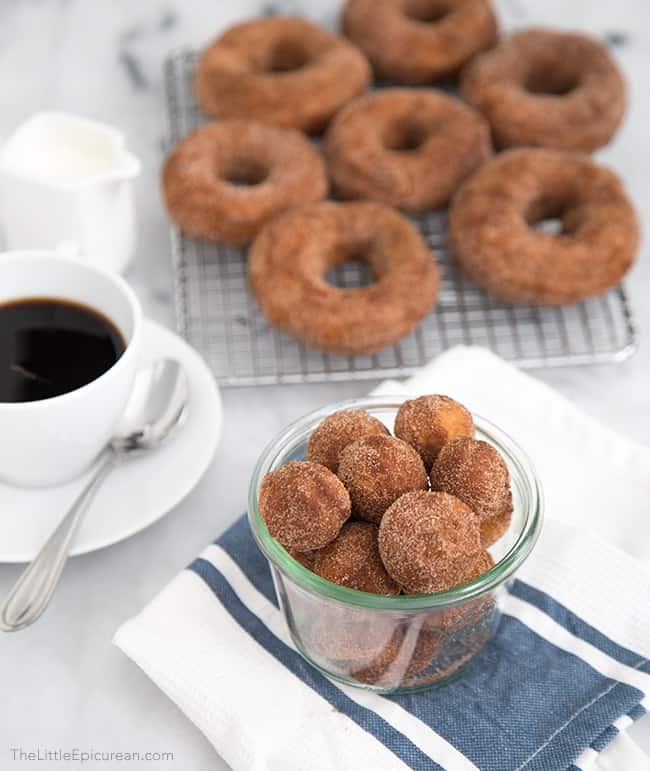 Best part about making traditional circle donuts (instead of the square strawberry shortcake doughnuts I made last week) are the doughnut holes!  It's like making two desserts in one.  The circle donuts are great for breakfast and mid-morning eats at the dining table with a cup of coffee.  And the doughnut holes are perfect to take to work for all-day snacking at your desk.  Did I just admit that I ate ALL the doughnut holes while working?  Okay, fine.  I did.  But hey, at least I shared.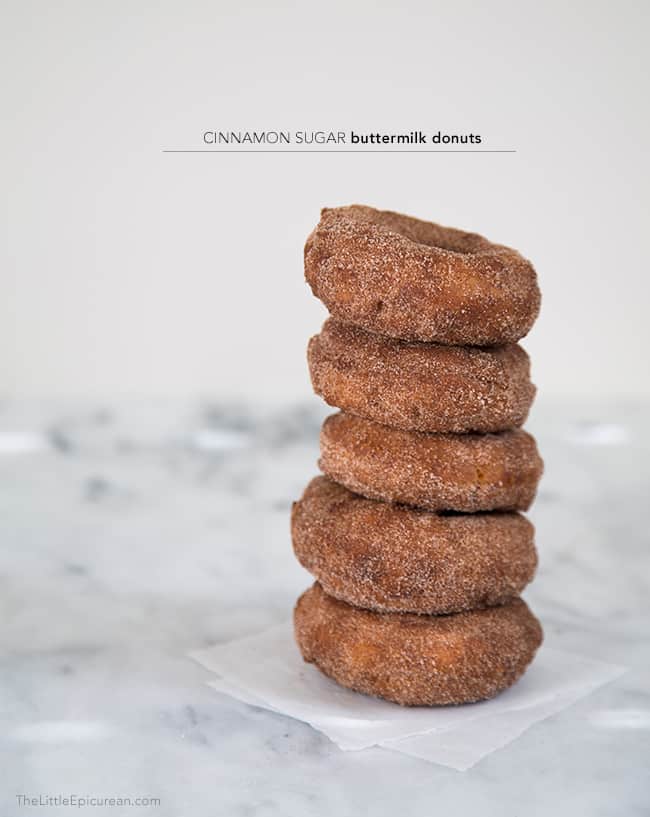 While I chose to coat the donuts in cinnamon sugar, these donuts are also great for dipping in glaze or melted chocolate, and topping with sprinkles!
Have a favorite donut you'd like me to recreate?  Let me know in the comments section and I'll try to make it for you!
Cinnamon Sugar Buttermilk Donuts
These cinnamon sugar buttermilk donuts are similar to old-fashioned cake donuts from the donut shop. Be sure to eat them when they are fresh and warm! It makes a world of a difference!
Yield: 1 dozen donuts + 1 dozen doughnut holes
Prep Time: 15 minutes + 1 hour resting time
Cook Time: 20 minutes
Total Time: 1 hour 35 minutes
Ingredients:
Buttermilk Donuts:
1 1/3 all-purpose flour
1 cup cake flour
1 tsp baking powder
1 tsp baking soda
1/2 tsp ground nutmeg
3/4 tsp fine sea salt
1 large egg
1/2 cup granulated sugar
1/2 cup low-fat buttermilk
1 Tbsp vegetable shortening
vegetable oil, as needed for frying
Cinnamon Sugar:
1/4 cup granulated sugar
1 Tbsp ground cinnamon
Directions:
Buttermilk Donuts:
Sift together flour, cake flour, baking powder and baking soda.  Whisk in nutmeg and salt.  Set aside.
In the bowl of a stand mixer fitted with a paddle attachment, mix together egg and sugar.  Add buttermilk and shortening.  Mix on medium speed until combined.
Add flour mixture and mix on low speed until there are no longer any dry streaks of flour.  Batter will the thick and a bit sticky.  Transfer batter to a small bowl.  Cover with plastic wrap and let chill in the fridge for 1 hour (up to overnight).
Fill a large pot with 3 inches of vegetable oil.  Using a candy thermometer, bring oil to 360 degrees F over medium heat.
Remove chilled dough from fridge and place on a clean and floured work surface.  Dough will be sticky!  Sprinkle a little flour on top of dough.  Roll or pat dough to a thickness of about 1/2-inch.  Using a 3-inch round cutter, punch out circles.  Fold and press together dough scrapes to punch out additional rounds.  Use a 1-inch or smaller round cutter to punch out doughnut holes.  Flour cutters as needed to prevent them from sticking to dough.*
Brush off any excess flour off the doughnuts before adding them to the hot oil.  Depending on the size of your pot, add 3-5 doughnuts to the pot at a time.  Do not overcrowd the doughnuts, as it will decrease the oil temperature too much.  Set a timer for 75 seconds.  By this time, the doughnut should have floated to the top.  Turn doughnuts over and cook other size for another 75 seconds.  Once golden brown all over, remove doughnuts from oil and let drain on paper towels or over a wire rack.  Repeat for doughnut holes, reducing time to 60 seconds per side.
Allow doughnuts to cool for 5 minutes.  Coat in cinnamon sugar mixture while doughnuts are still warm.
Cinnamon Sugar:
In a small bowl, combine sugar and cinnamon.
*Work quickly.  It is easier to work with cold dough.  If the dough becomes too sticky and difficult to work with, place it back in the fridge to cool it down.