If I'm going to eat peanut butter with a spoon, it might as well be peanut butter ice cream!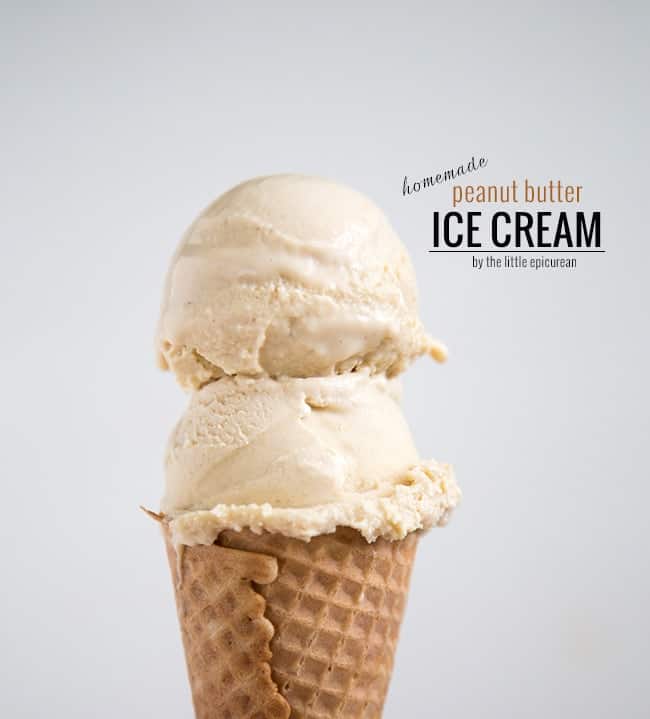 It all began with a jar of peanut butter.  I really wanted to make a peanut butter sandwich but I was out of bread.  So I took a spoon and dug in.  As I was happily eating the peanut butter, I had an idea.  Peanut Butter Ice Cream! 
If I'm going to eat peanut butter with a spoon, it might as well be peanut butter ice cream!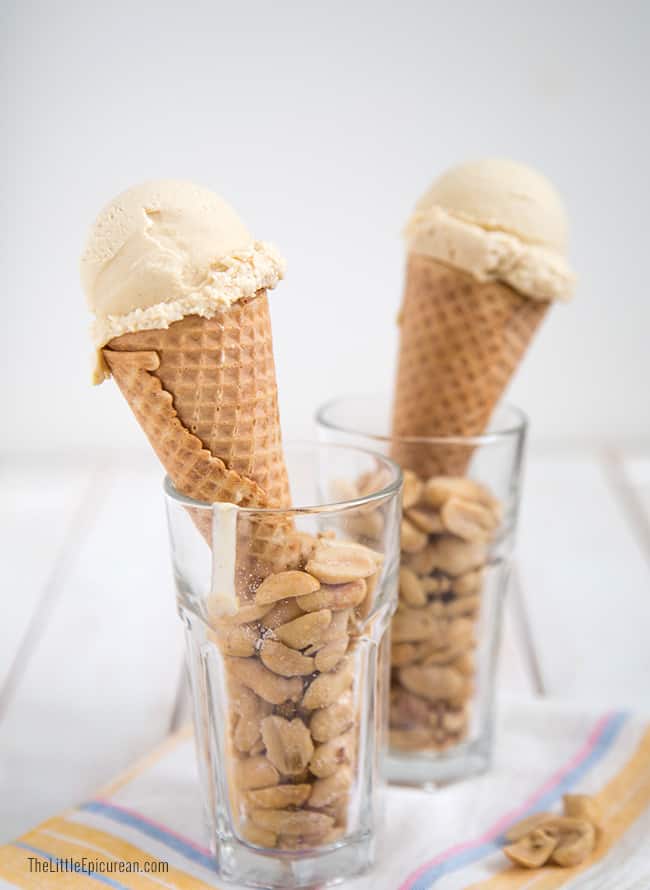 Ice cream is quite simple to make. It starts with a custard base made with milk, cream, and eggs and sugar.  From there you can flavor it with just about anything you want.
Go the simple route and infuse the custard with vanilla, or go crazy like Coolhaus and create something like fried chicken and waffles ice cream.
Today, I'm all about simplicity so I'm sticking with good ol' plain creamy peanut butter.
In a dream world, I'd have my own personal batch freezer to make all the ice cream, gelato, and sorbet my stomach could hold.  However, batch freezers are super expensive…like starting at a thousand dollars expensive.
Next best option, a simple automatic ice cream maker with a removable freezer bowl.  They are moderately priced and you could get a good one for around $50.  I've had the same one for 6 years and I love it.
While this peanut butter ice cream is great and tasty as is, of course, you could always step it up a notch. Take this ice cream to make these peanut butter ice cream sandwiches!
It's two Ritz crackers sandwich with a scoop of peanut butter ice cream and dipped in chocolate!
Peanut Butter Ice Cream
If you're going to eat peanut butter with a spoon, it might as well be homemade peanut butter ice cream!
Yield: makes about 1 quart
Ingredients
2

cups

heavy cream

1

cup

whole milk

1/2

cup

+1 Tablespoon granulated sugar

6

large egg yolks

3

Tablespoon

creamy peanut butter (no sugar added)*

pinch of fine sea salt
Instructions
In a medium sauce pot, combine heavy cream, milk and 1 tablespoon sugar to a boil. Remove from heat.

In a large bowl, whisk together remaining 1/2 cup sugar and egg yolks. Temper hot milk into sugar yolk mixture. Slowly add hot milk about 1/4 cup at a time, whisking to distribute heat. Once all the milk has been added, transfer mixture back into the pot.


Place pot over medium-low heat. Stir until mixture reaches nappé consistency, or 180 degrees F on a kitchen thermometer. Let mixture sit at 180-185 degrees for 5 minutes to pasteurize egg yolks. Add peanut butter and salt. Stir to combine until peanut butter has dissolved. Let sit for 5-10 minutes and allow to cool slightly.


Strain mixture and transfer to an airtight container. Let mature in the fridge overnight.


Freeze peanut butter mixture in ice cream maker according to your unit's instructions.** Once the volume has increased by half and reached a soft serve consistency, transfer mixture into an airtight container and let harden in the freezer for at least 30 minutes before serving.

Recipe Notes
* I used natural peanut butter made without sugar.  If you are using a sweetened peanut butter, I would suggest decreasing the amount of sugar to 1/4 cup.
**In my ice cream maker, it takes about 20 minutes to get to soft-serve consistency.