Naturally blue Cookie Monster ice cream loaded with chunks of Oreo and chocolate chip cookies.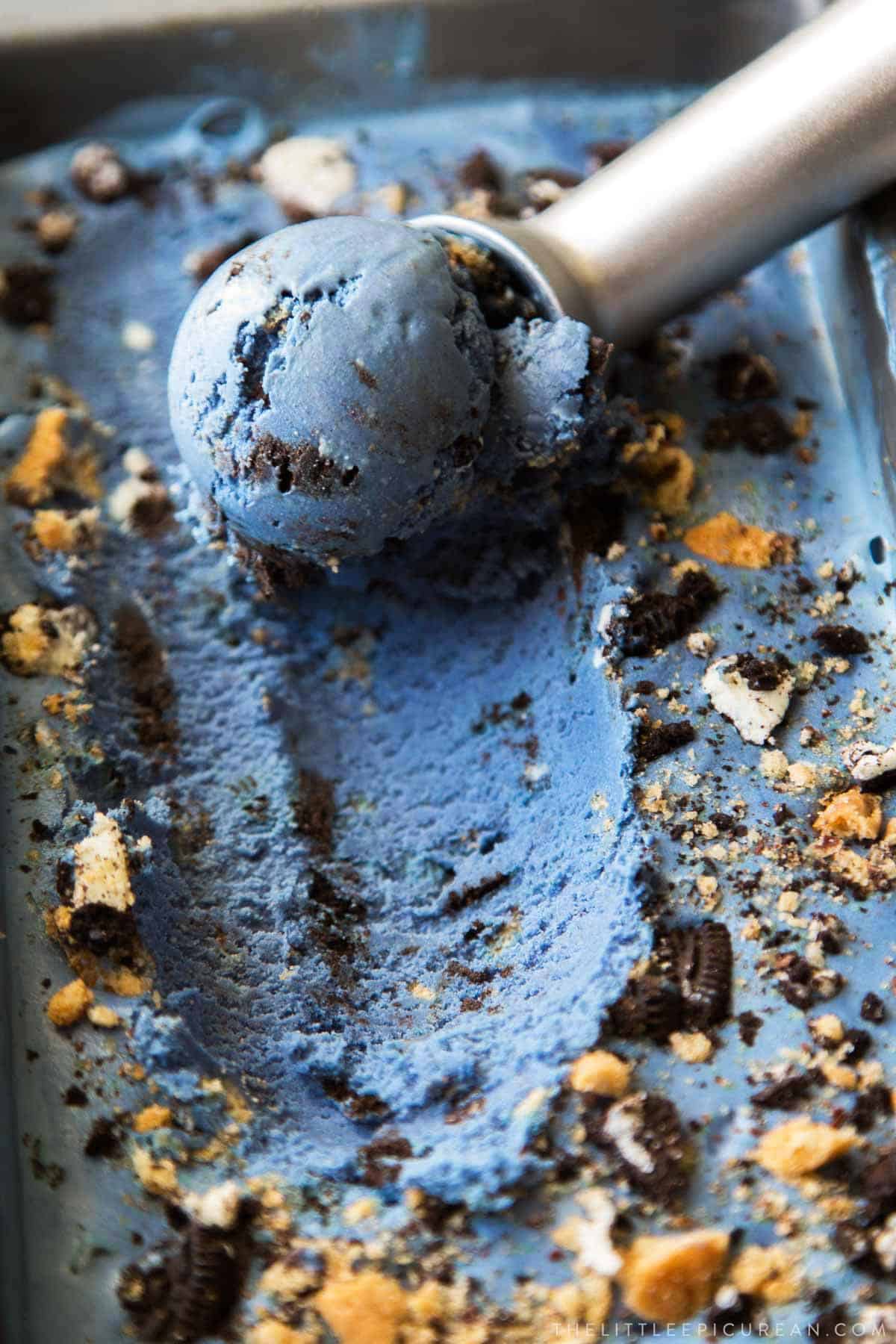 C is for cookie, that's good enough for me!
Cookie Monster is a common topic of conversation at my house thanks to my pre-school age son.
Regardless of whether you're a fan of Sesame Street, all sweet tooth cookie monsters will certainly love this ice cream flavor!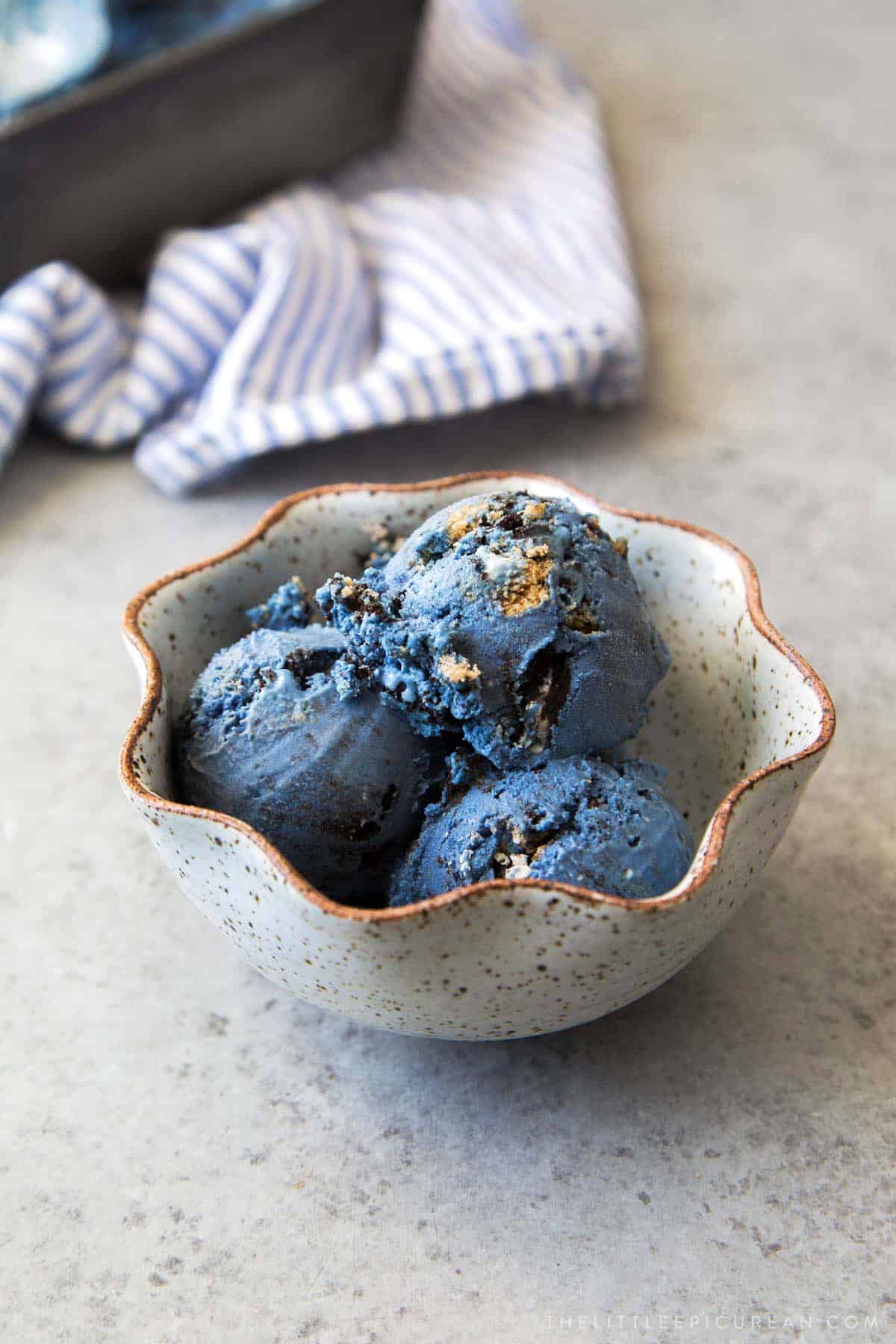 Blue Cookie Monster Ice Cream
There are several different variations of this ice cream.
Tillamook has Monster Cookie ice cream made with cookie dough ice cream mixed with peanut butter, oats, and rainbow chocolate candies.
Ben & Jerry's makes a delicious chocolate chip cookie dough ice cream.
However, Afters Ice Cream Cookie Monster was my main source of inspiration for this ice cream. It is made with bright blue colored vanilla ice cream folded with chocolate chip cookies, crushed Oreos, and chocolate fudge.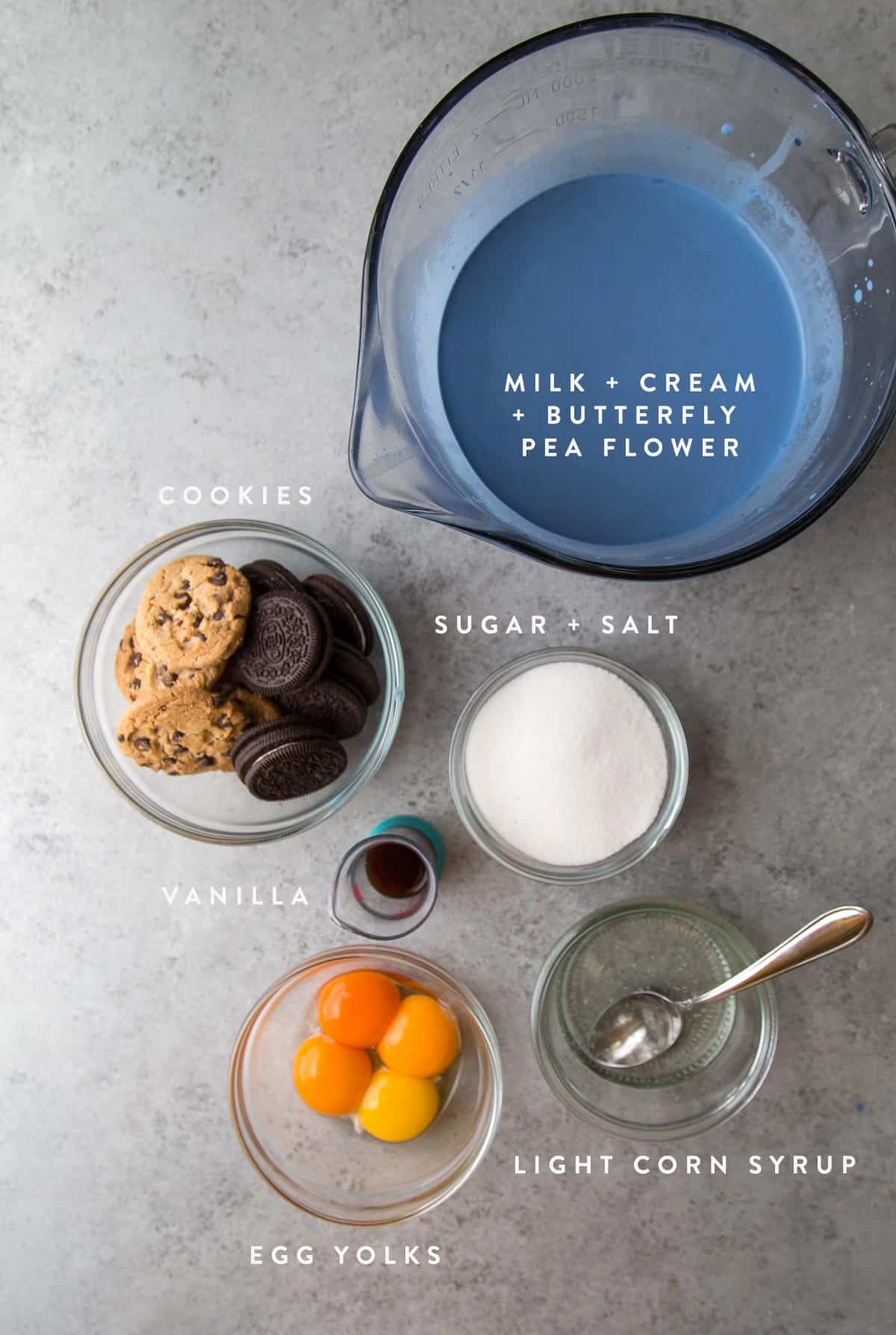 Custard Based Ice Cream Ingredients
This is a real deal ice cream recipe that requires use of an ice cream machine.
The custard base is made with egg yolks. Egg yolks produces a stable ice cream base with a creamy texture.
Custard based ice creams produce a smoother, creamier, and richer ice cream.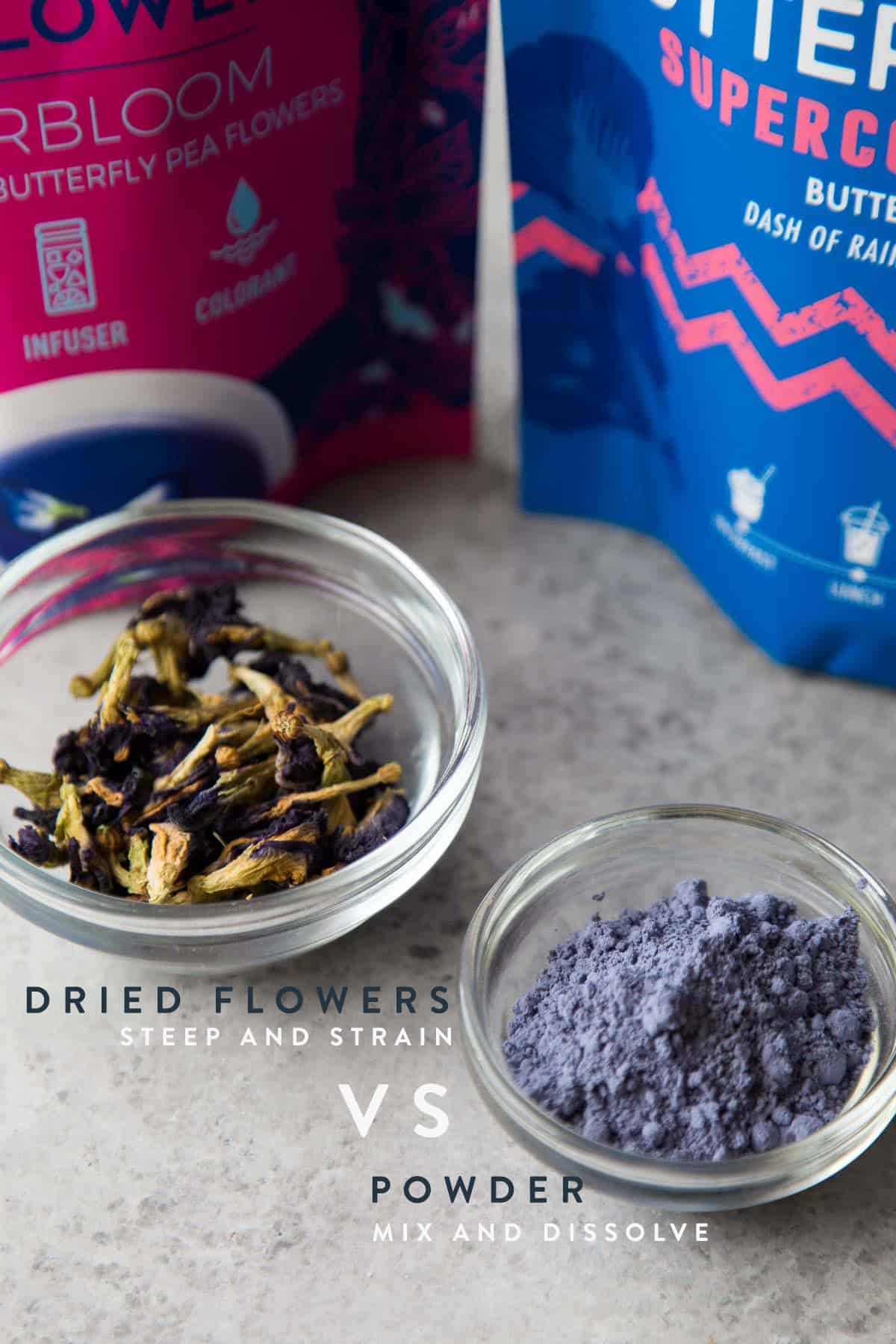 Butterfly Pea Flower Tea
Using a custard base allows you to steep and infuse all sorts of flavors! Use herbs, spices, and teas.
To naturally achieve this blue Cookie Monster ice cream, we're using butterfly pea flower.
Butterfly pea flower tea is naturally caffeine-free and comes in two forms:
dried flowers (loose leaf or in tea sachets)
ground into a soluble powder
I prefer using the dried flowers. Steep the butterfly pea flower in simmering milk to extract the color and flavor.
What does butterfly pea flower taste like? It has an earthy flavor that is similar to matcha.
| Butterfly Pea Flower Tea Pros & Cons | |
| --- | --- |
| Pros | Cons |
| -Rich in antioxidants | -Mild laxative effect if too much is consumed |
| -Long used in Ayurvedic medicine | -Rather expensive ingredient |
| -Naturally caffeine-free | – slight earthy taste similar to matcha that some may not like |
Other Natural Food Coloring Options:
Aqua Blue Spirulina Powder: This is a very pricey option. At time of posting (April 2023), a 2 oz package was listed for $43 on Amazon.
Watkins Food Coloring: These food coloring drops are made with vegetables juices, including spirulina. A much affordable option for under $7 a pack.
ColorKitchen Food Coloring Powders: This one also uses spirulina powder and it comes in a variety of colors. It non-GMO, soy-free and vegan.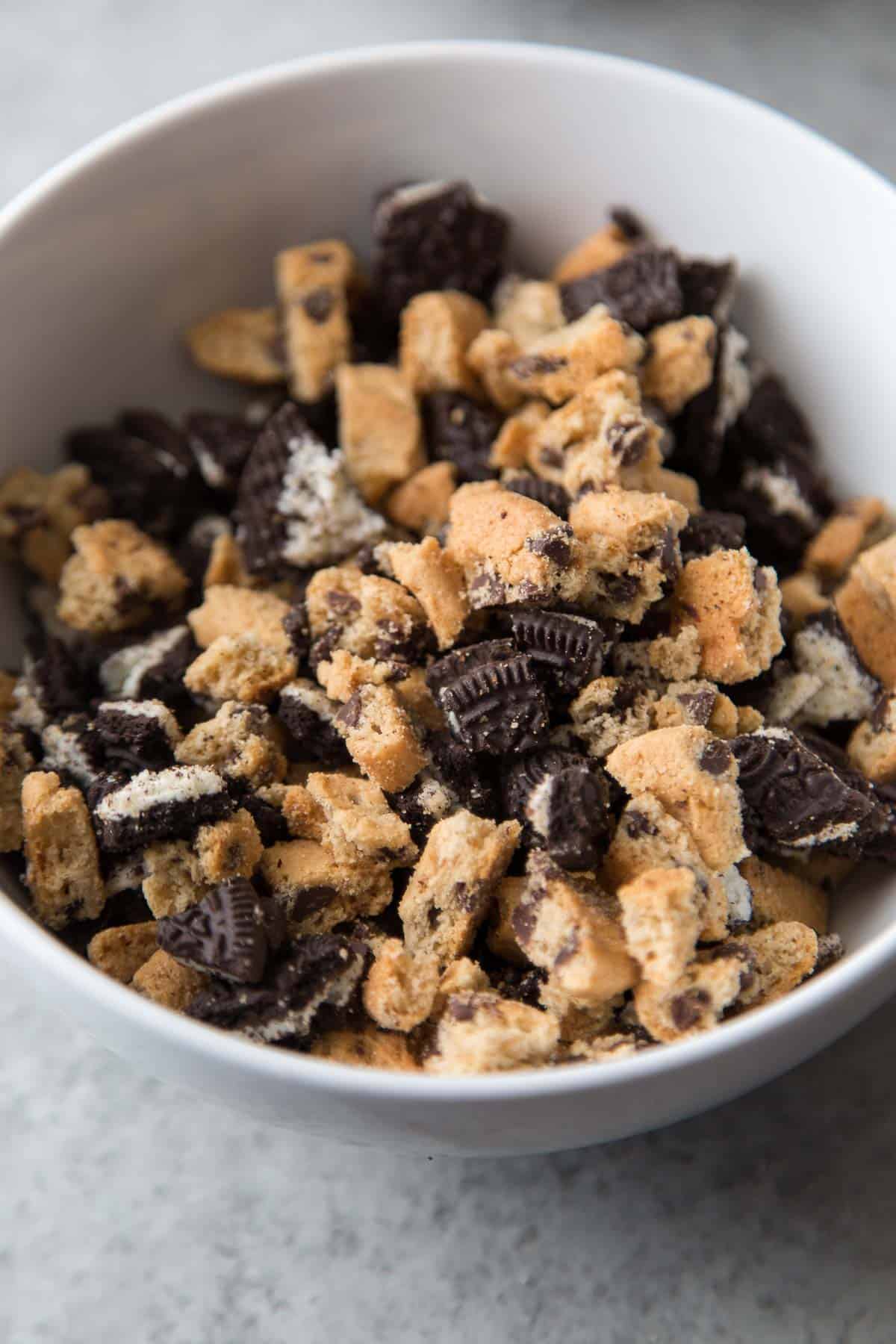 Choice of Cookie Mix-Ins
Add your choice of cookie mix-ins once the ice cream has thickened during the churning process.
Keep it classic by using a mixture of chopped Oreos and Chips Ahoy cookies.
These cookie bits will soften in the freezer. It's best to choose crunchy cookies for ice cream.
Additional recommended options include: Nutter Butter, graham crackers, Golden Oreos (or any other seasonal, festive new flavors), Biscoff cookies, animal crackers, or frosted Circus Animal cookies.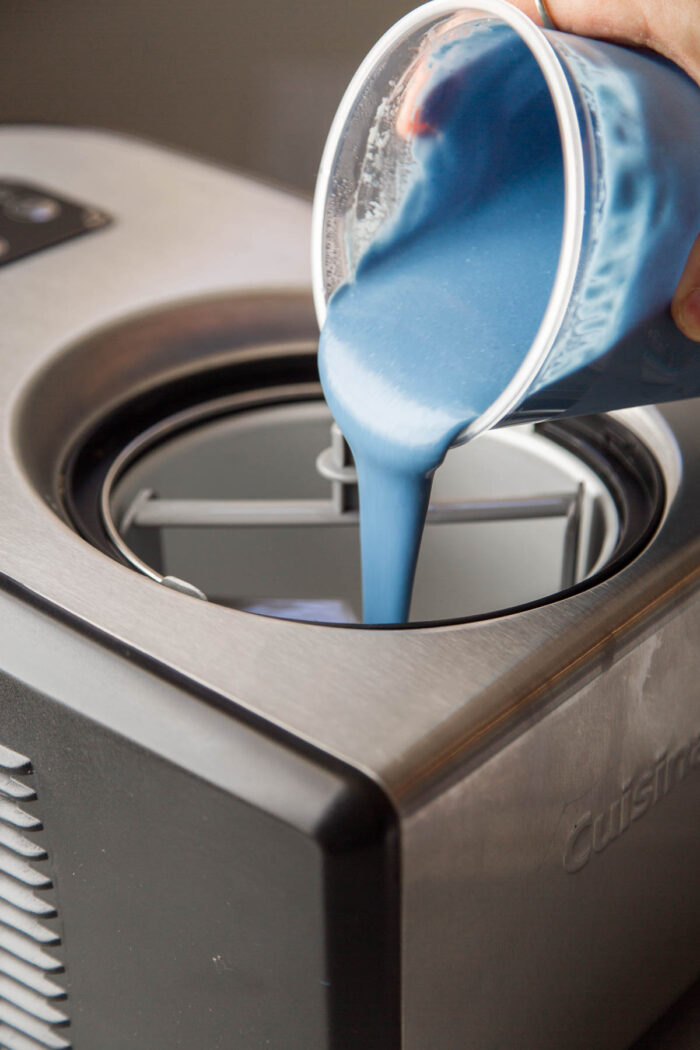 Recommended Ice Cream Machine
Compressor ice cream machines are generally more expensive and have a larger kitchen counter footprint compared to simpler ice cream machines.
However, keep in mind that simpler ice cream machines require you to freeze the ice cream canister ahead of time. Those canisters usually need to be stored in the freezer 24 hours before use.
The compressor machine automatically chills the canister as it churns the ice cream mixture.
Recommended Tools
Ice Cream Machine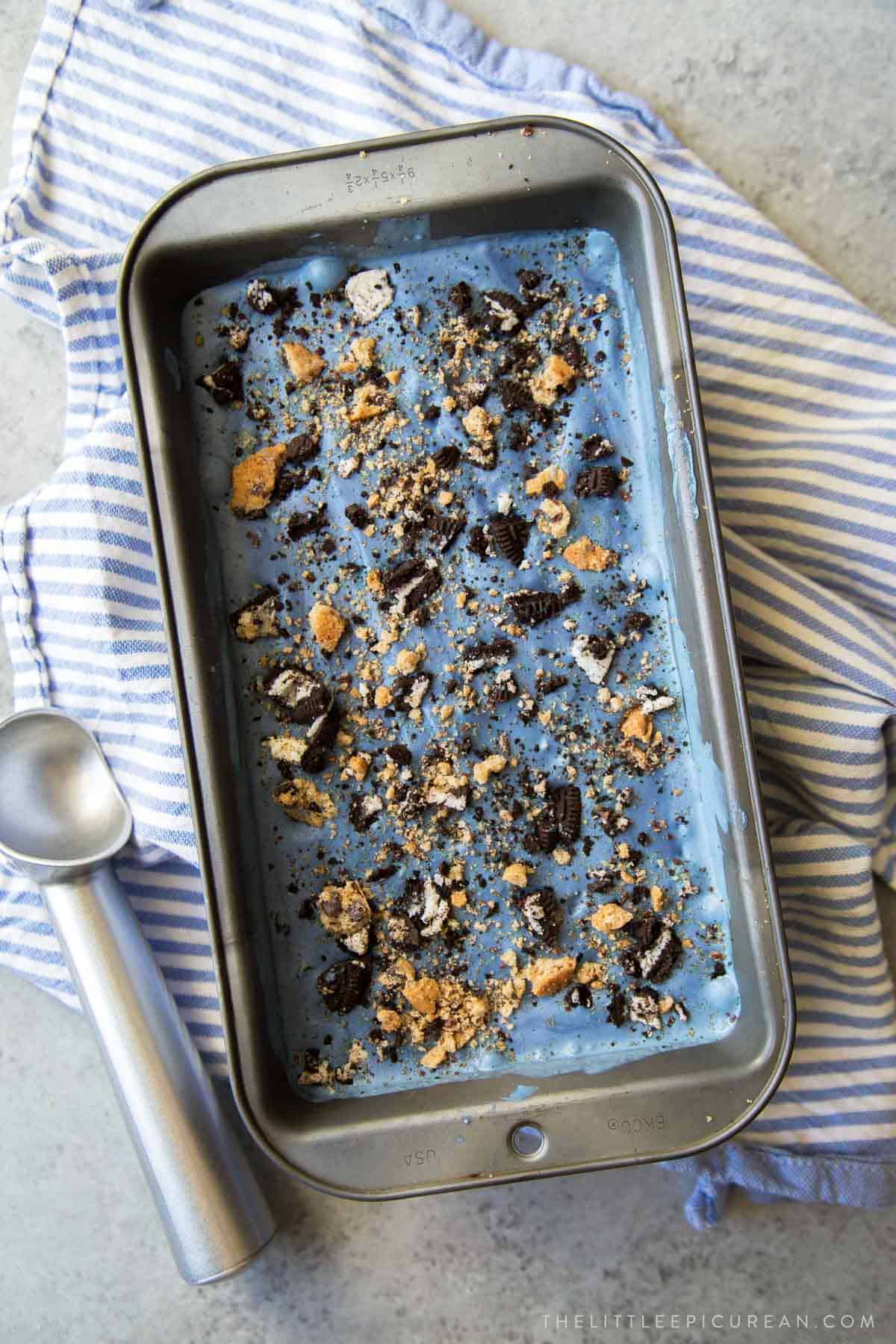 How to store homemade ice cream
Keep homemade ice cream covered (preferably in an airtight container) in the coldest part of the freezer for up to two weeks.
Overtime, it will inevitably develop freezer burn or absorb other flavors from the freezer.
For the sake of visually interesting photography, I froze the ice cream in a metal bread loaf pan.
While this is an easy way to store ice cream, keep in mind that the ice cream will be more prone to freezer burn.
Ideally, you should use an airtight container similar to these: reusable ice cream tub or tight fitting silicone lid freezer storage container.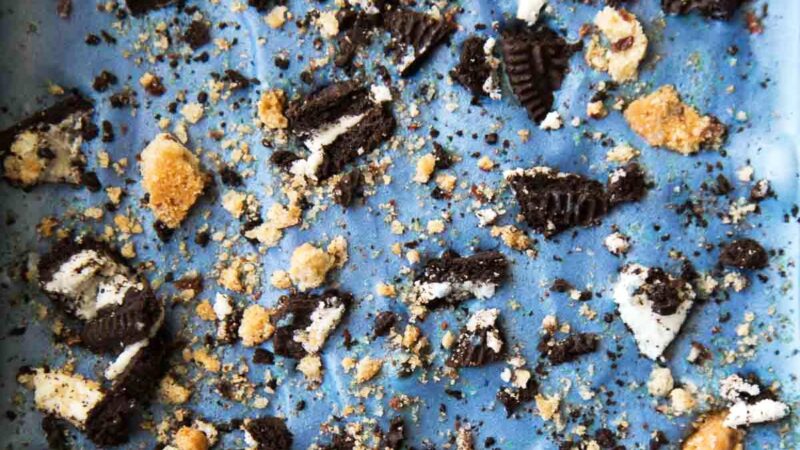 Cookie Monster Ice Cream
Naturally blue colored cookie monster ice cream! Vanilla ice cream studded with chopped Chips Ahoy and Oreo cookies. A fun and festive ice cream for Cookie Monster fans! Yield: about 1 quart
Equipment
ice cream maker

candy thermometer or digital kitchen thermometer
Ingredients
2

Tablespoon

reduced light corn syrup*

(42 g), optional

1

cup

Reduced fat (2%) milk

(227 g)

2

cups

heavy cream

(454 g)

2

Tablespoons

dried butterfly pea flower tea*

(5 g), alternatively use ½ teaspoon blue food gel coloring (see notes)

½

cup

granulated sugar

(100 g)

¼

teaspoon

kosher salt

4

large egg yolks

(56 g)

1

Tablespoon

high quality vanilla extract

(14 g)

8

pieces

Chips Ahoy cookies,

or more if desired

8

pieces

Oreo cookie sandwiches,

or more if desired
Instructions
OPTIONAL: To make reduced corn syrup: pour 40 grams (2 Tbsp or 30ml) light corn syrup into a microwave safe bowl or cup. Bring to a full boil in the microwave (about 20-30 seconds). Remove from microwave and stir in an equal amount of light corn syrup. Cover and set aside.

In a heavy bottomed medium sauce pot, mix together milk and cream. Set over medium heat. Heat until mixture almost reaches a boil. Keep on an eye on the mixture, stirring oven to make sure milk does not scald.

Remove from heat and add in butterfly pea flower. Cover pot with lid and steep mixture for 15 minutes. Check color. If the blue tint isn't dark enough, cover and steep for another 10-15 minutes.

Strain liquid mixture. Discard butterfly pea flowers. Place blue liquid back into medium sauce pot. Set over medium heat.

Meanwhile, in a large bowl, whisk together egg yolks, salt, sugar, and about ¼ cup of blue milk mixture.

Once blue milk starts to simmer, lower to heat. Temper hot blue milk into sugar-yolk mixture. Slowly add about ¼ cup hot blue milk, whisking to distribute heat. Continue adding hot milk into the sugar-yolk mixture until a few tablespoons of milk remain in the pot. Then, pour the entire sugar-yolk mixture into the pot.

Continually stir over low-medium heat until mixture reaches nappe consistency, or 180℉ on a kitchen thermometer. Let mixture sit at 180-185℉ for a few minutes to pasteurize the egg yolks. Remove from heat. Stir in vanilla extract.

Pour mixture into an airtight container. Cover with plastic wrap, allowing wrap to directly sit on top of ice cream base mixture. Cover with lid and let mature in the fridge overnight.*

The following day (or when ice cream base is cold), freeze mixture in ice cream machine according to your unit's instructions.

Once volume has increased by half and the mixture has reached a soft-serve like consistency, add chopped cookies into churning ice cream. Continue to churn ice cream for 1-3 minutes until cookie bits are thoroughly distributed.

Transfer mixture into a freezer safe container. Spread into an even layer. If desired, sprinkle additional chopped cookies on top. Cover tightly. Keep in the freezer for at least 2 hours to firm up before serving.
Notes
Ingredients:
"Reduced corn syrup" has the same consistency of glucose. It will give the ice cream a creamy, easy to scoop consistency. More information about this ingredient explained in this ice cream post. 
Light corn syrup is optional. If you don't like it, simply omit it! However, it will slightly alter the texture of ice cream. 
Butterfly Pea Flowers: you can choose to use the loose leaf dried flowers or the ground powder version. I prefer the loose leaf tea because the flowers are strained out of the mixture. The ground powder version results in an earthier flavor because the powder is dissolved into the milk-cream mixture.

If using the powdered version, you may have to use an immersion blender to fully dissolve powder into the milk mixture.
Blue Food Gel Coloring Option: Add 1/2 teaspoon blue food gel coloring to ice cream base mixture in Step 7 along with the vanilla extract. Add more coloring depending on your desired color outcome. Food gel coloring is more concentrated than liquid food coloring. 
Storage & Leftovers: Keep homemade ice cream covered (preferably in an airtight container) in the coldest part the freezer for up to two weeks.
Favorite Ice Cream Recipes