These peanut chocolate chip cookies are made with brown butter and chopped King Choc Nuts! Grab a glass of ice cold milk and dig in!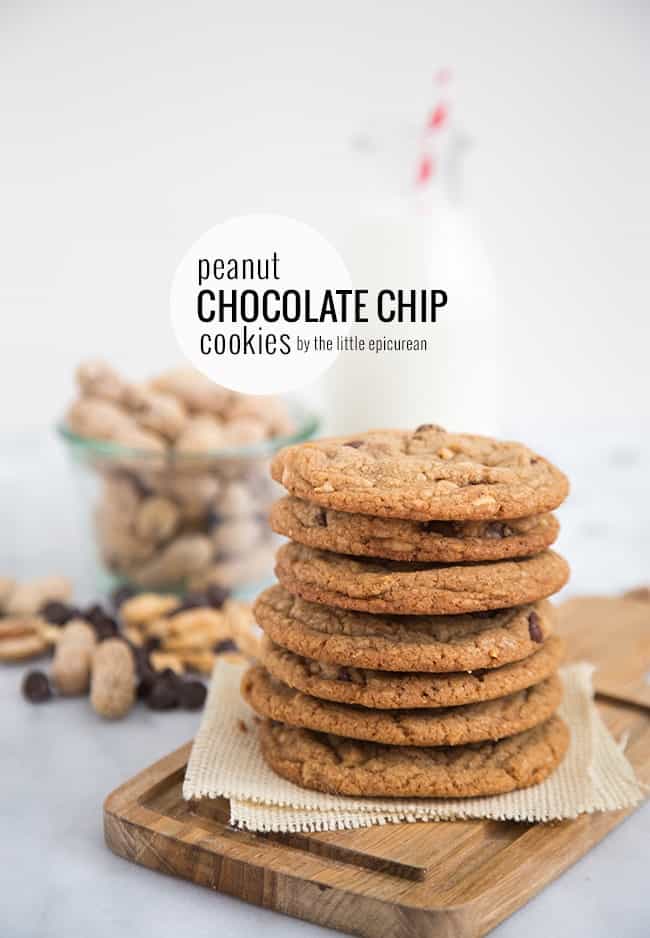 Today is National Chocolate Chip Cookie Day!
I once worked at a bakery where I had to mix about 60 pounds of cookie dough every other day. It was amazing for the first couple of months.
I got to take home whatever cookies didn't get sold. My hair would always smell of fresh baked cookies.
Plus, this particular bakery also had a super nice barista who'd know to make me a soy latte whenever I was caught with a cookie in hand.
However, by the fourth month, my favorite pair of skinny jeans no longer fit the same way.
Cookies had become my enemy and I swore I'd never eat them again.
That only lasted a month or so, because by the time the bakery introduced a different cookie variation, I was happy to smell like cookies again.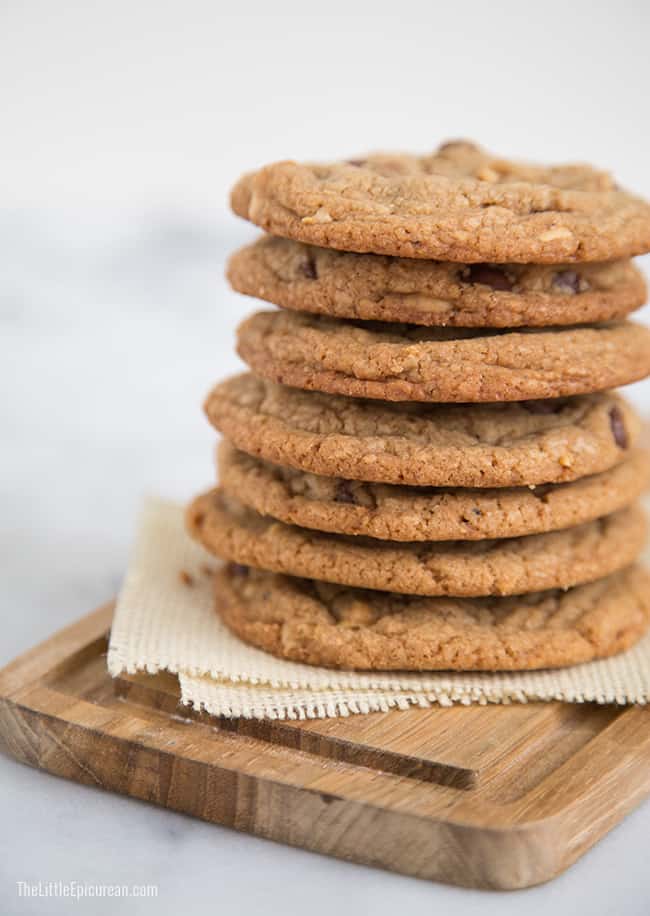 King Choc Nut Chocolate Chip Cookies
How can anyone hate cookies? You can eat them on their own, dunk them in milk, or use it as a vehicle for ice cream and other sweet goodness.
I know there are countless variations of the ever popular chocolate chip cookie, but I can't help but add another one to that long list.
These are no ordinary chocolate chip cookies. These cookies are packed with peanut flavor thanks to the addition of King Choc Nut !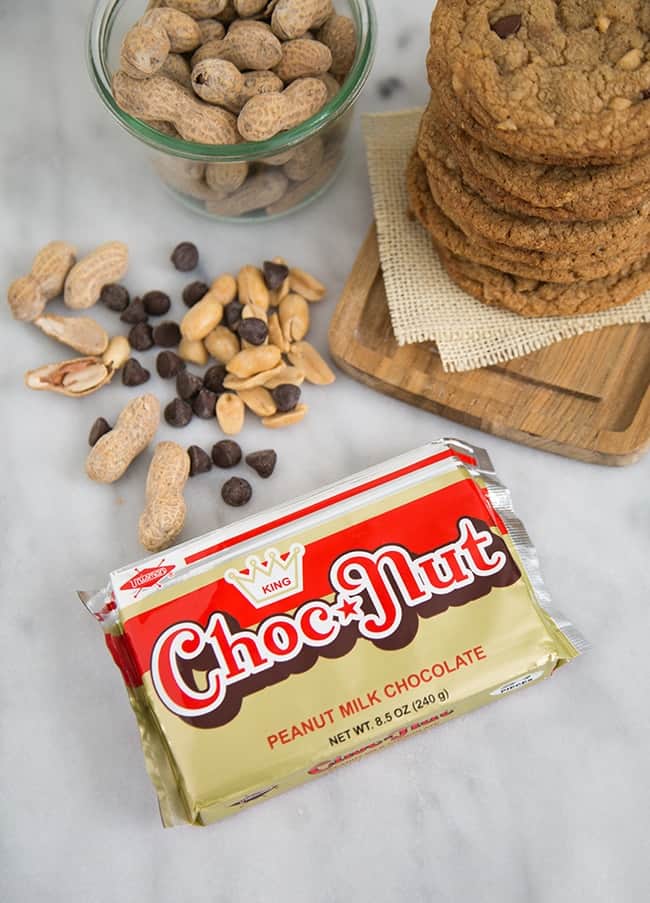 What is King Choc Nut?
They are these super awesome peanut milk chocolate candy bars from the Philippines. My cousin had sent me a bunch of bars and of course, I had to find a way to bake with them.
Unlike regular chocolate bars, Choc Nut doesn't have any preservatives or stabilizers. It doesn't have the same crunch and snap of other chocolate bars.
Choc Nut are a bit crumby and soft and bursting with peanut milk chocolatey flavor. When baked into the cookie, they melt spreading their delicious flavor everywhere. It kinda taste like a cross between white chocolate and a Reese's cup.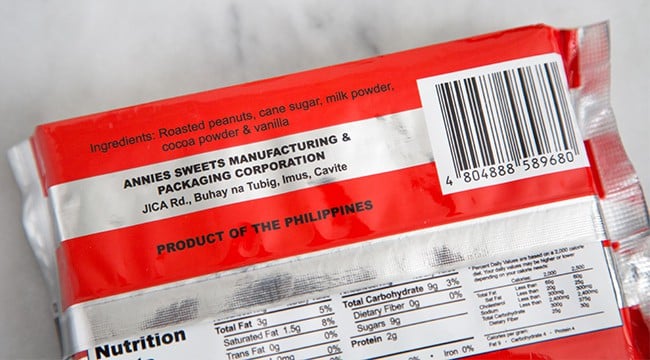 The ingredients for Choc Nuts are very simple and straight-forward.
It is made with just five ingredients: roasted peanuts, cane sugar, milk powder, cocoa powder, and vanilla. That's all!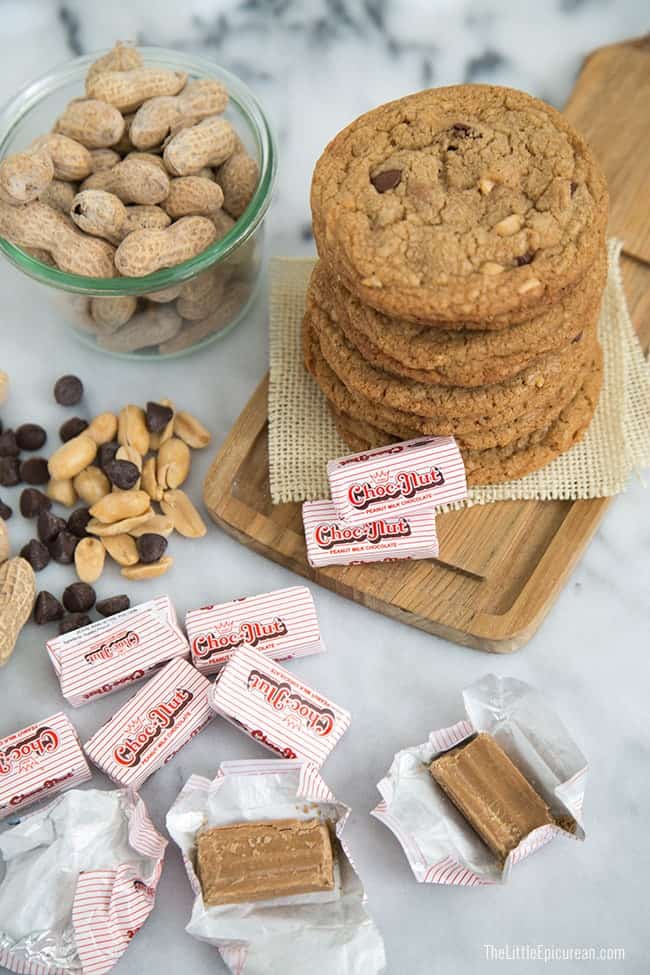 I have this habit of only using brown butter to make cookies. It's probably because every bakery and restaurant I've worked at does the same thing. Brown butter just adds the perfect amount of nuttiness and surprise to any baked good.
Because I'm a fan of crunch I added chopped peanuts to the batter along with a heavy handful of dark chocolate chips.
If you love peanut butter, this is the chocolate chip cookie for you! You can find King Choc Nut at Amazon.com and various Asian Markets throughout the United States.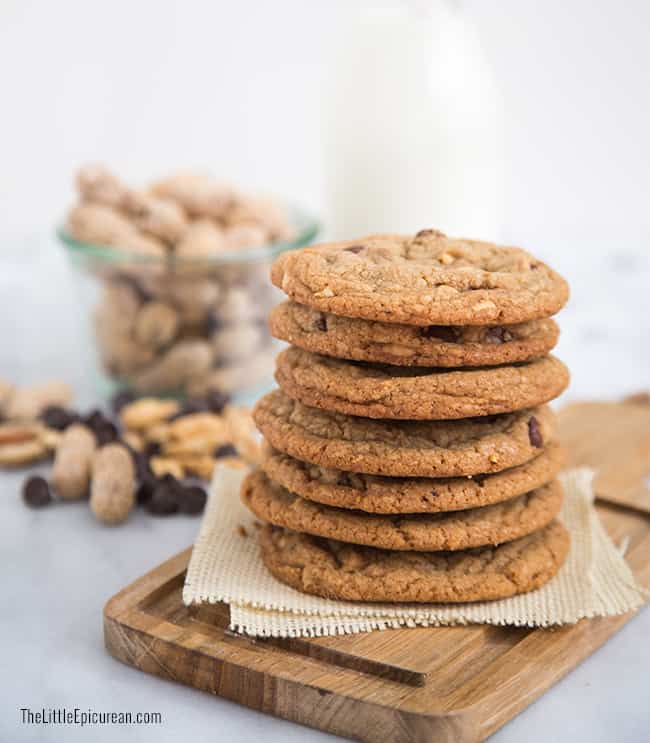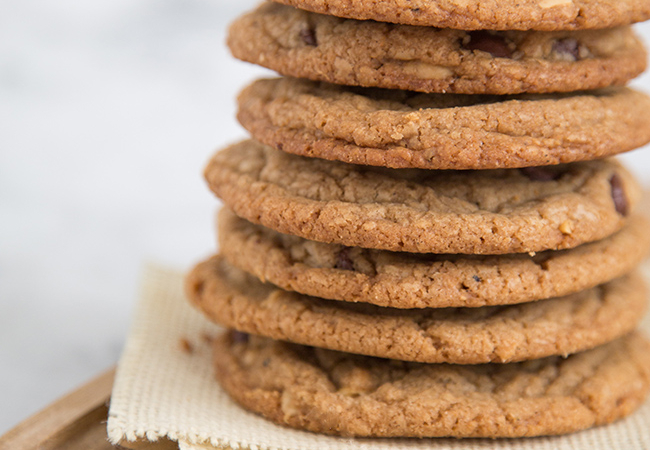 Peanut Chocolate Chip Cookies
These are no ordinary chocolate chip cookies. These cookies are packed with peanut flavor thanks to the addition of King Choc Nut !
Ingredients
1 ½

cup

all-purpose flour

½

teaspoon

baking soda

1

teaspoon

kosher salt

14

Tbsp

unsalted butter

½

cup

granulated sugar

½

cup

light brown sugar

packed

1 ½

teaspoon

pure vanilla extract

1

large egg

1

large egg yolk

1

cup

King Choc Nuts*

chopped

½

cup

dark chocolate chips

or semi-sweet chocolate chips

⅓

cup

salted roasted peanuts

chopped
Instructions
Preheat oven to 350°F.  Line baking sheets with parchment paper and set aside.

In a medium bowl, whisk together flour, baking soda, and salt.  Set aside.

In a small sauce pot, add 10 tablespoons of butter.  Melt butter over medium heat.  Once butter is melted, continue to cook over medium-low heat until butter has browned and is fragrant (it should smell nutty).  The melted butter will boil and foam up.  Carefully watch the butter at this point.  Cook the butter until you smell the nutty aroma.  When the butter has browned, you will see specks of brown bits at the bottom of the pan.  Be careful because the butter can quickly burn and blacken.  Remove from heat and add remaining 4 tablespoons of butter. Stir until butter melts and let cool for 8-10 minutes.

Pour slightly cooled butter into the bowl of a stand mixer fitted with a paddle attachment.  Add granulated sugar, brown sugar, vanilla extract, egg and yolk.  Mix on medium-high speed for 30 seconds.  Stop mixer and let sit for 3 minutes.  Mix again for another 30 seconds.  Stop and let sit for 3 minutes.  Mix one more time for 30 seconds.  By this time the sugar mixture should have thicken and be shiny.

Add flour mixture and mix on low speed until almost combined.  Add King Choc Nuts, peanuts, and chocolate chips.  Fold to combine until the additions have been evenly distributed.

Use a cookie scoop (or ice cream scooper) to portion out cookie dough into 18 equal parts.  Place cookie balls on prepared baking sheet, leaving about 2-inches between cookie balls to allow for spreading.  Bake for 12-14 minutes, rotate pan halfway through baking.  Bake until cookies have spread out and the edges of the cookies are golden brown.  Let cool in pan for about 5 minutes and then transfer to wire rack to cool completely.
Notes
King Choc Nut can be
 found online
 and at various Asian markets throughout the United States.