Chocolate Dipped Peanut Butter Crinkle Cookies are sweet, salty, and chocolatey. These crunchy treats are sure to satisfy any peanut butter fan.
I'm writing this post on a cold evening while wrapped in a warm fuzzy blanket flanked by my two pups with the NSYNC holiday album playing in the background. The countdown to Christmas is on and my belly is well aware of this sugary season.
Within the past three days, I've consumed more cookies than I usually do in a month. (That's a lot!) No complaints, though. I love this time of year. I love testing about a dozen or so cookie recipes until I find the perfect ones to share with friends and family.
Peanut Butter Crinkle Cookies
These chocolate dipped peanut butter crinkle cookies are definitely a contender (if not the winner) of my annual holiday assorted cookie boxes.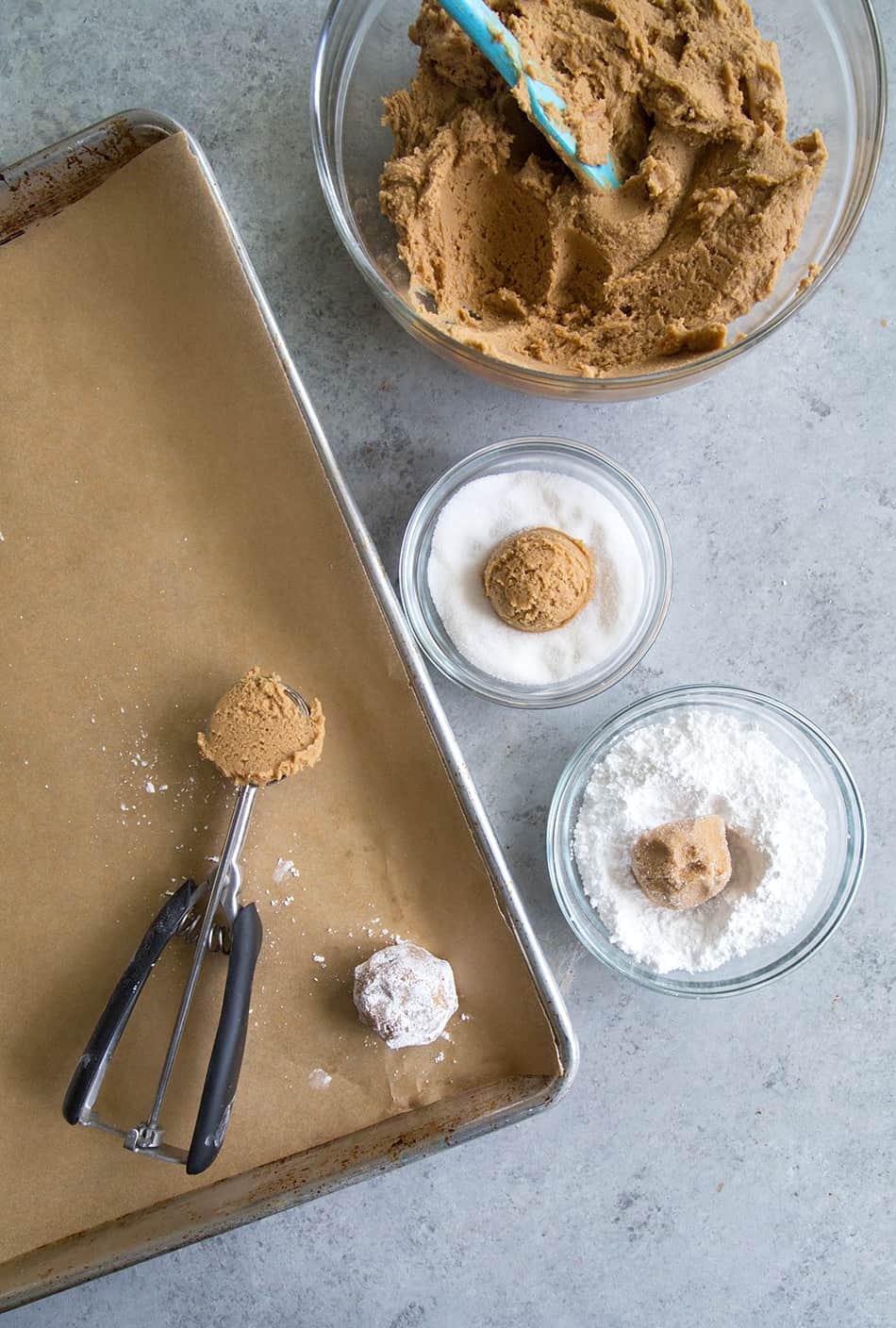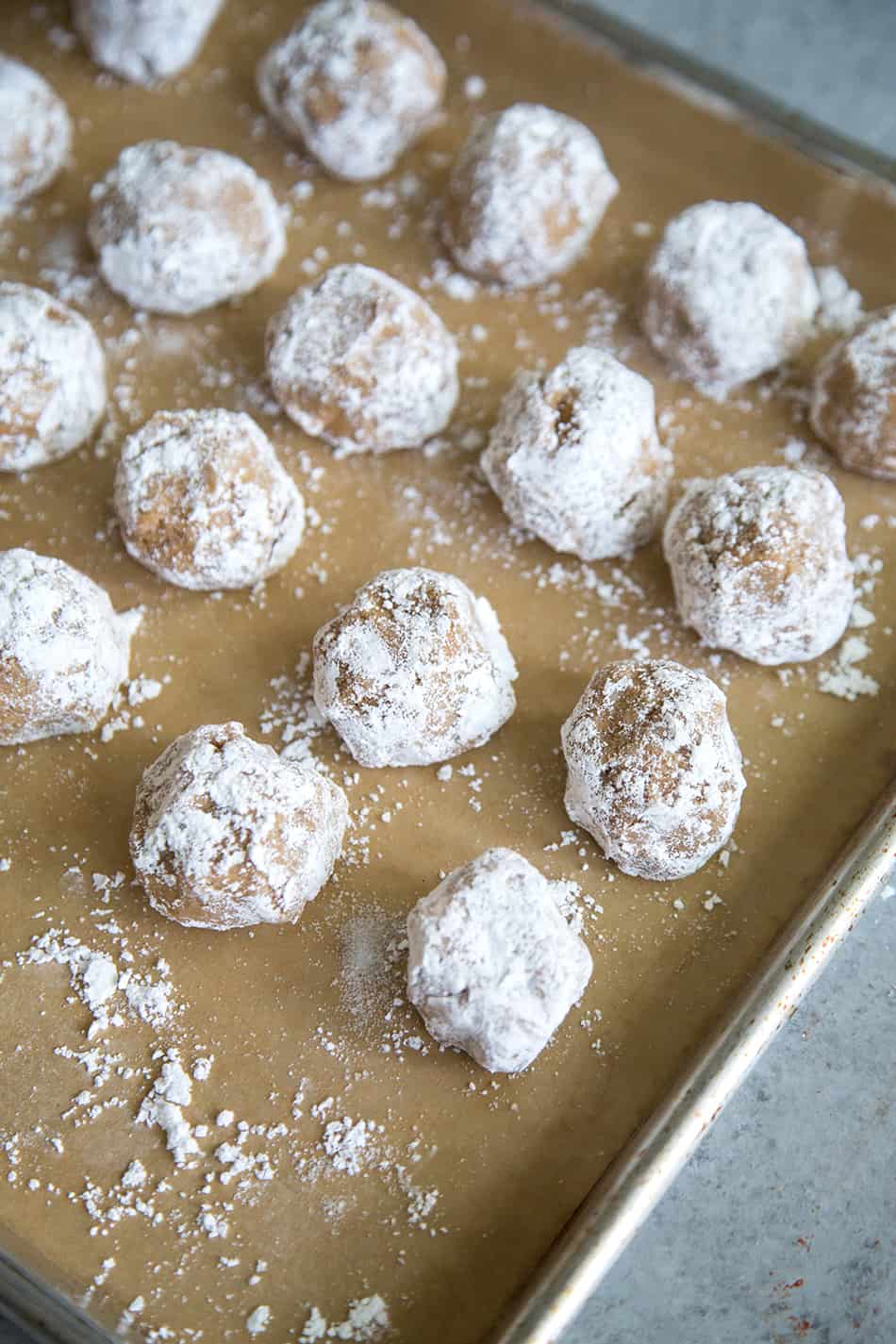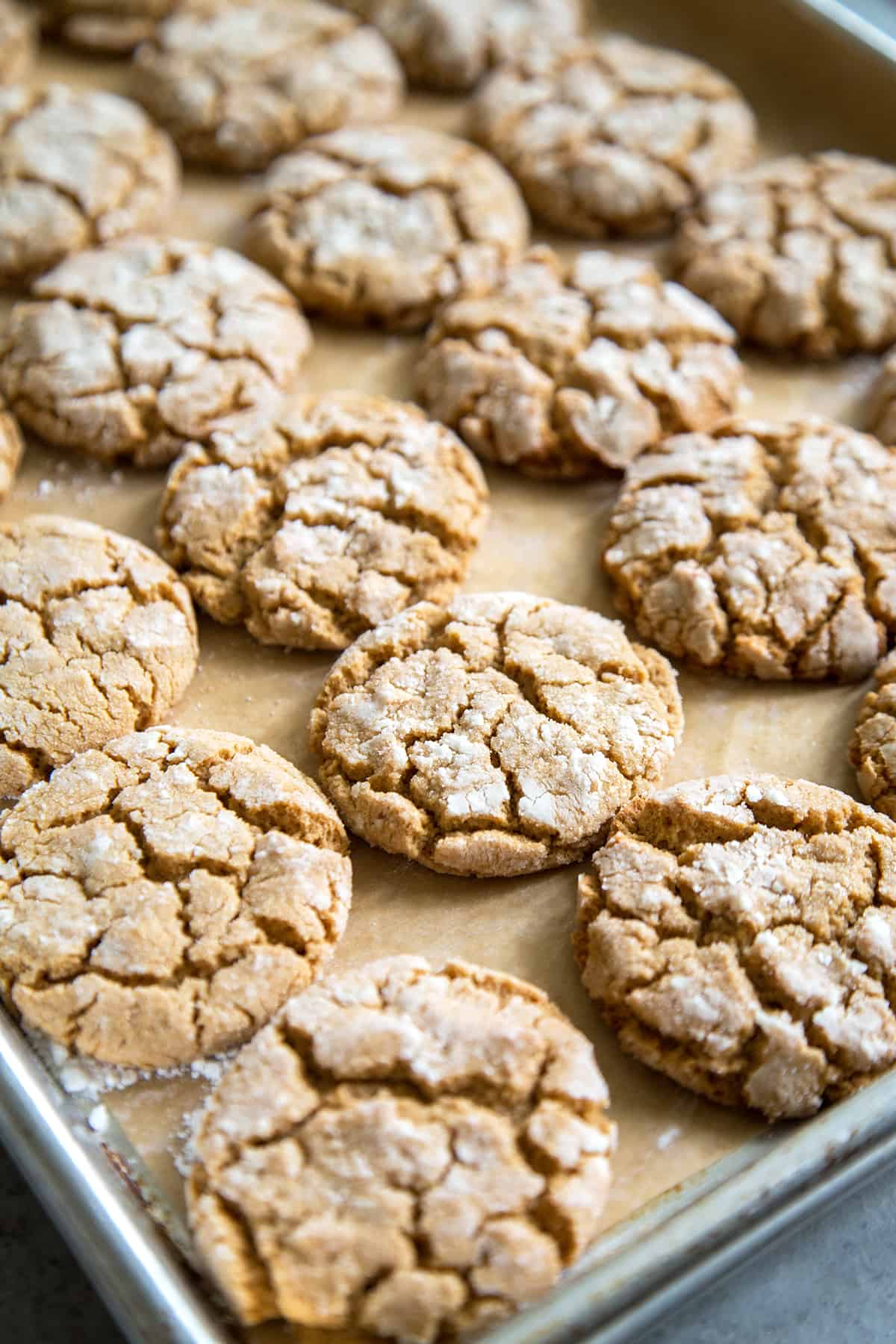 Soft, chewy, yet sturdy and crisp cookie
It's a simple and straightforward peanut butter cookie that is both soft and chewy, yet sturdy and crisp. The cookie recipe is adapted from one of my favorite magazines, which I "take" from my in-laws' house monthly. The cookies remain soft days after baking, making them perfect for gift giving.
I used this 1.5 tablespoon cookie scooper (#40 scoop) to portion out the dough. The balls of peanut butter cookie dough are rolled in granulated sugar and then coated with powdered sugar before baking.
And magically, you end up with these beautiful crinkle/earthquake cookies. While they should be finished and ready for consumption at this point, let's take it a step further.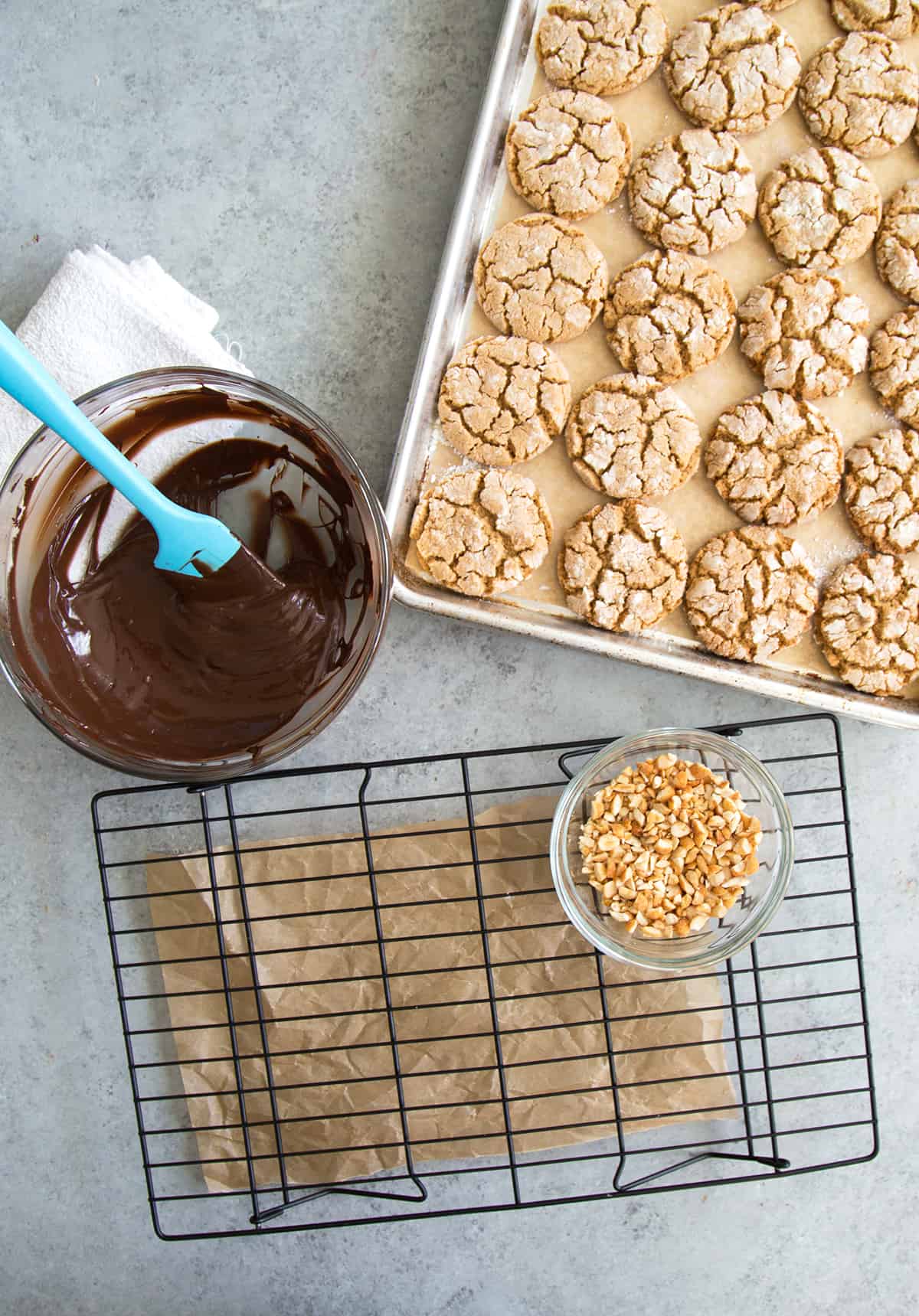 Once the cookies are cooled, it's time to dip them in a luxurious melted dark chocolate bath. (Next time, I am totally dipping the entire cookie in chocolate.)
Generously sprinkle chopped honey roasted peanuts over the chocolate dipped peanut butter crinkle cookie and- voila! my new favorite Christmas cookie!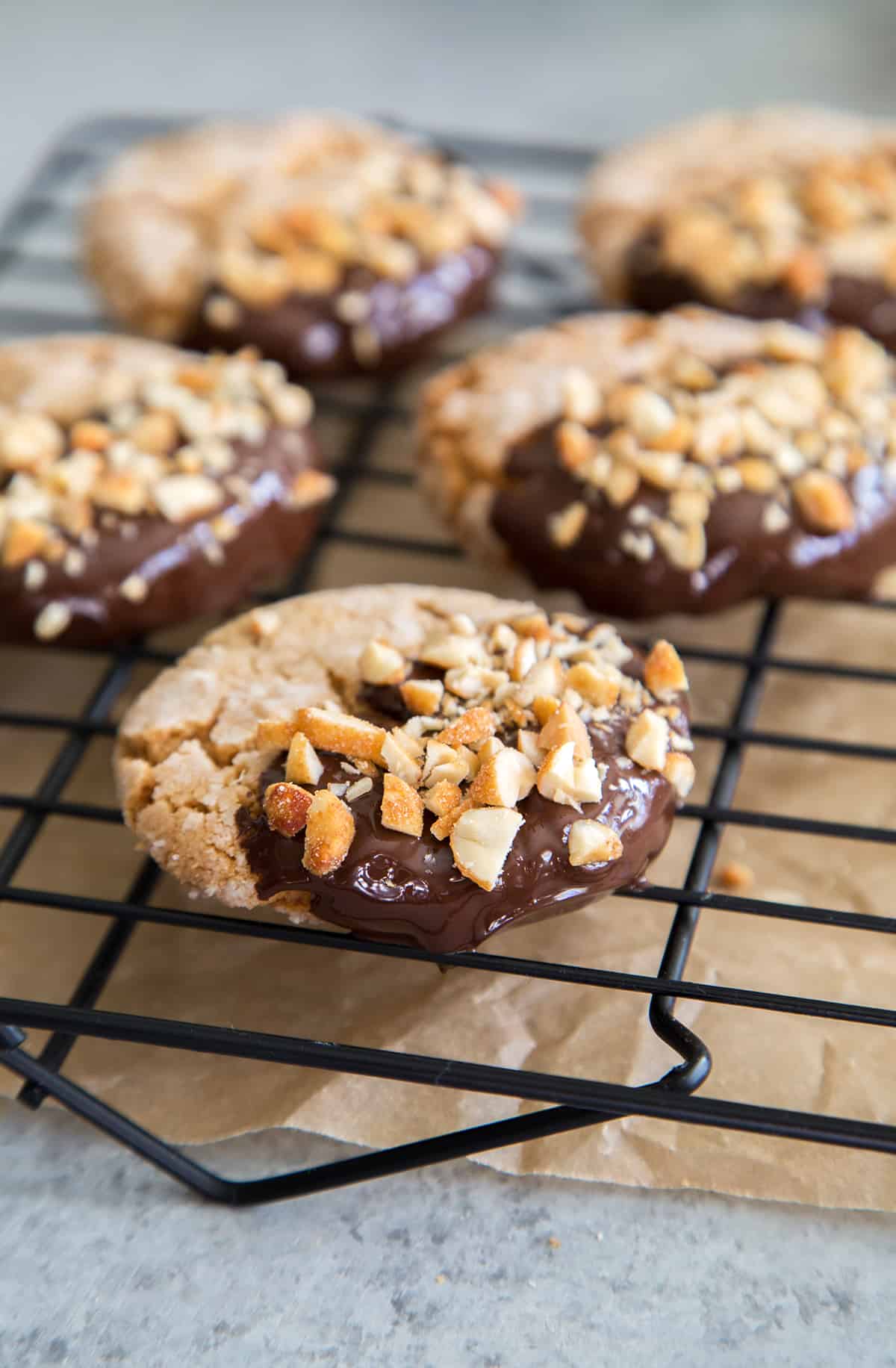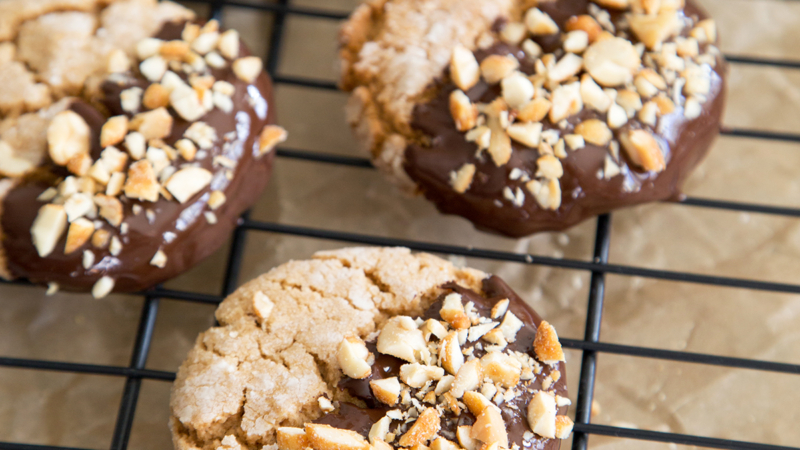 Chocolate Dipped Peanut Butter Crinkle Cookies
These easy to make crinkle cookies are a sweet, salty, and chocolatey. They'll definitely satisfy peanut butter chocolate fans! Yield: makes 2 dozen cookies
Ingredients
Peanut Butter Cookie:
1 ⅓

cup

(184 g) all-purpose flour

1

teaspoon

baking soda

½

teaspoon

baking powder

½

teaspoon

fine sea salt

½

cup

(115 g) unsalted butter, room temperature

1

cup

(227 g) dark brown sugar, packed

¾

cup

(230 g) smooth peanut butter

1

large egg

½

teaspoon

vanilla extract
Toppings:
½

cup

granulated sugar

½

cup

powdered sugar

8.5

oz

(240 g) dark chocolate, roughly chopped

honey roasted peanuts or salted peanuts, roughly chopped, as needed to top
Instructions
In a medium bowl, whisk together flour, baking soda, baking powder, and salt. Set aside.

In the bowl of stand mixer fitted with a paddle attachment (or using a hand mixer), cream butter until smooth. Add brown sugar and peanut butter. Beat until mixture is creamy. Add egg and vanilla and mix until combined. Scrape down bowl as needed to ensure thorough mixing.

Add flour mixture and mix on low speed until there are no longer any dry streaks of flour.

Using a 1.5 tablespoon cookie scoop, portion out the peanut butter dough. Roll dough in granulated sugar. Then rolled dough in powdered sugar until coated. Place cookie balls at least 2-inches apart on a parchment lined baking sheet.

Bake cookies for 15-18 minutes until the edges of the cookies are set and the cookies are cracked on top. Allow cookies to cool in pan for 3-5 minutes before transferring to a wire rack to cool to room temperature.

Gently melt chopped chocolate over a double boiler. Stir until smooth. Remove from heat and allow to cool slightly. Dip room temperature cookies in melted chocolate. Set on a wire rack and sprinkle chopped peanuts over cookie. Allow chocolate to set up at room temperature before eating.
Notes
All images and text ©The Little Epicurean
For more holiday cookies, check out: