This calamansi honey ginger tea is my family's cure-all elixir tea. Ginger is known for it's medicinal properties, especially in aiding stomachaches and motion-sickness.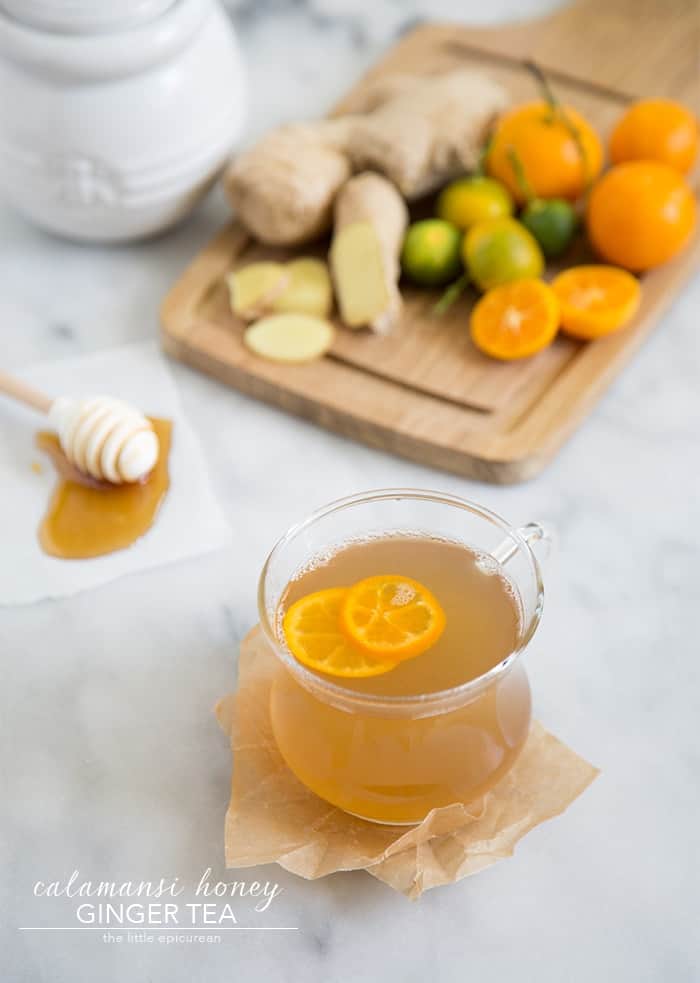 My family's cure-all exilir tea
Whenever I had a scratchy throat, stuffy nose, or generally felt ill, my mom would make me a cup of her cure-all elixir tea.  It would cure everything from stomach aches to disappointment to boredom.
While ginger tea does make me physically feel better, overtime, it was the ritual of my mom making me tea that brought me the most comfort.
My mom has been making me drink mugs of this calamansi honey ginger tea for as far back as I can remember, but I didn't bother asking her how to make it until I left home for college.  One afternoon when I was feeling super homesick, I called her for the recipe.
Of course she laughed.  My mom never has a recipe.  She seems to make it up as she goes.
Forget standard measuring units, I've seen her use all sorts of random cups and bowls to "measure" out ingredients.
Even as a kid when I wanted to learn how to make rice, she told me to mix together water and rice and simply put it in the rice cooker.  When I asked for a ratio, she just poured water in the bowl (without measuring it!) and showed me "this much."
Despite her wacky ways of measuring, her rice turns out perfect every time.  I, on the other hand, cannot function that way.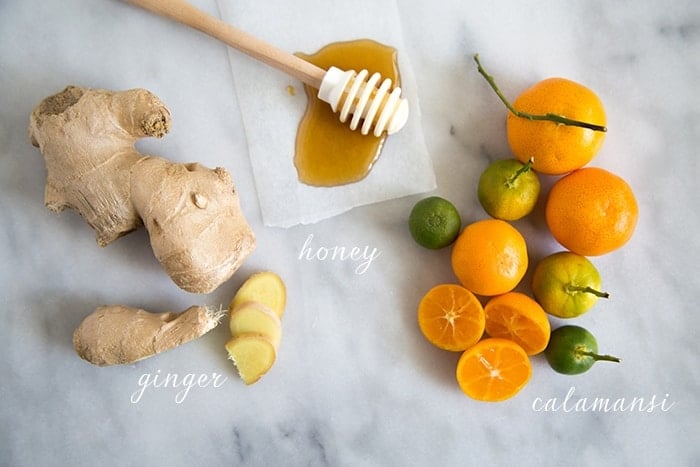 I need to measure everything.  As a baker, I am compelled to measure, weigh and document every ingredient.
So finally after my mom stopped laughing.  She told me to put ginger and water in a pot. Bring it to a boil, add honey and calamansi juice, and then drink it.  I wanted to ask her for more detail, but she already moved on to another topic.  And that was that.
Calamansi Honey Ginger Tea
Over the years, I've perfected the calamansi honey ginger tea to my liking.  Ginger tea is nothing new.  Everyone and their grandmother has a family ginger tea recipe. There are hundred and hundreds of recipes out there for honey ginger tea.
My version is unique because of my inclusion of calamansi.  I love calamansi. (See my post on calamansi juice aka Filipino lemonade.)
While my mom's cure to everything is ginger, my dad's is calamansi juice.  Whenever I go home to visit my parents, my dad gives me a bag full of calamasni fruits he picks as soon as he hears my car pull into the driveway.
Calamansi can be hard to find in the United States.  If you happen to stumble upon some, you're in for a treat!
But if you can't, you can substitute lemon juice.  Lemon honey ginger tea sounds pretty darn tasty, too.
Calamansi Honey Ginger Tea
This is my family's cure-all elixir tea. Ginger is known for it's medicinal properties, especially in aiding stomachaches and motion-sickness. Honey works wonders for scratchy throats and congestion. The added acidity from the calamansi fruit brightens up this wonderful tea.
Yield: makes 2 cups
Ingredients
2

cups

filtered water

2

inch piece ginger root, peeled

2

Tablespoons

honey

juice of 2 calamansi fruits
Instructions
1. Slice ginger into matchsticks or disks. Add ginger and water to a small pot. Bring to a boil. Cover pot and let ginger steep for 10-15 minutes. Add calamansi juice and honey. Stir until honey dissolves. Strain ginger. Reheat tea, if necessary. Serve warm with thin slices of calamansi fruit. Adjust sweetness according to taste.
Notes
*Alternatively, you can use 1/2 lemon in place of calamansi.