A tropical twist on the classic margarita. This calamansi margarita features tiny citrus fruits popular in the Philippines and Southeast Asia.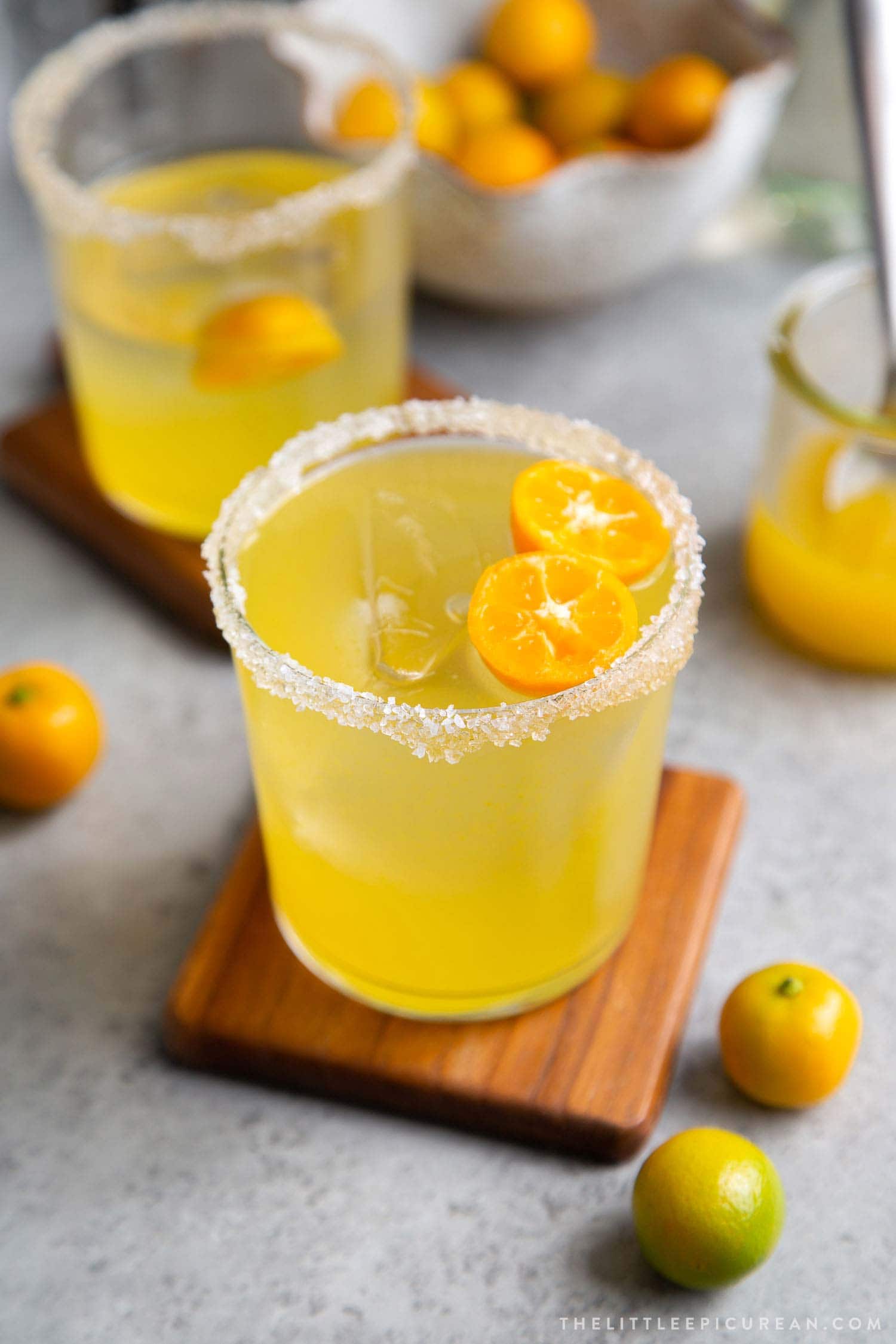 Fans of fresh lime margarita will love this tropical citrus version!
It's quick and easy to make. Stir up one serving, or easily multiply the recipe to create a large batch cocktail to serve up a crowd.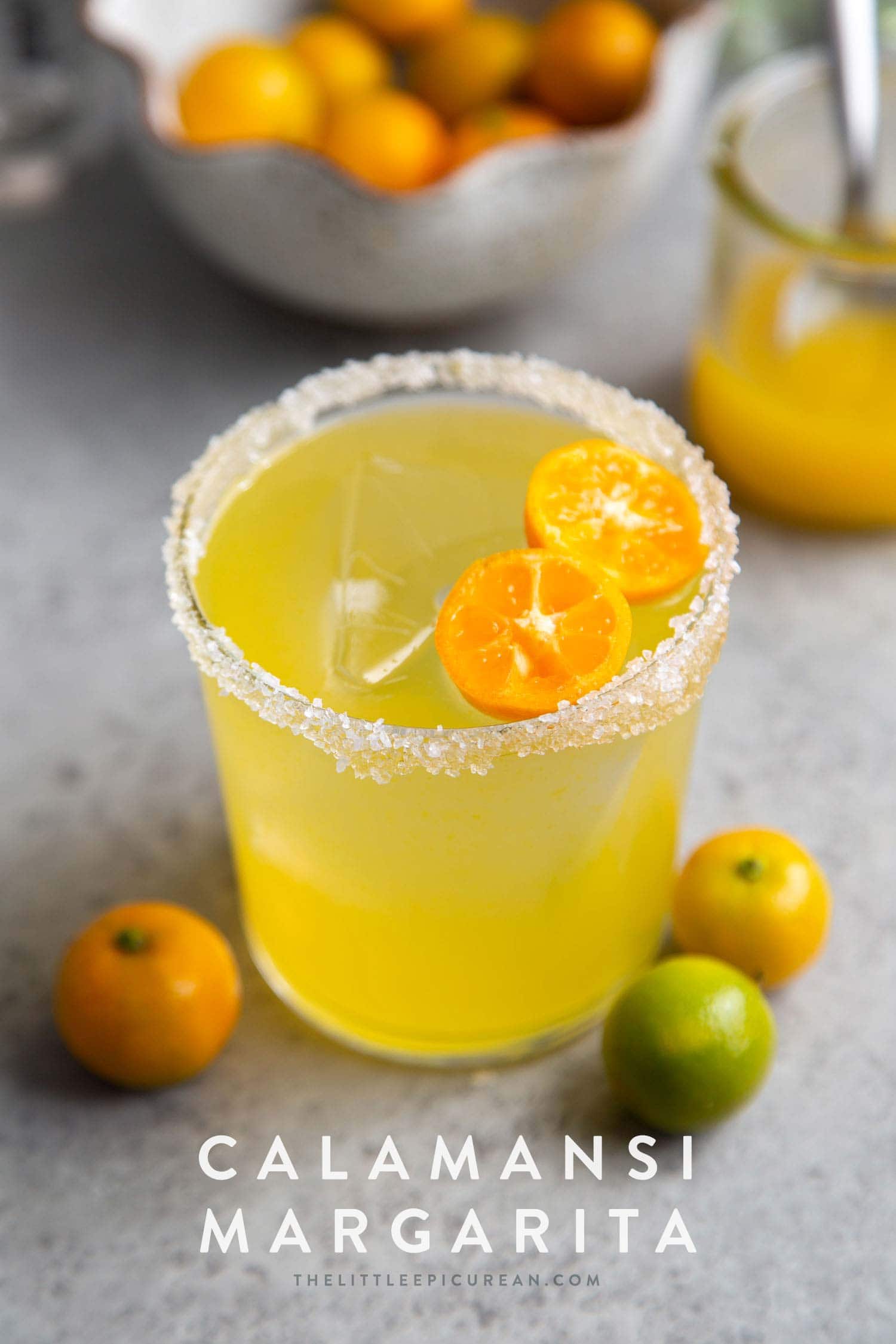 This calamansi margarita recipe only requires four ingredients:
Tequila
Orange Liqueur
Fresh Squeezed Calamansi Juice
Simple Syrup
Tequila
I recommend using silver or blanco tequila. This clear tequla is bottled immediately after being distilled. It's a little harsh to drink on its own. However, it is great for mixed drinks and cocktails.
Resposado tequila is an equally wonderful choice for margaritas. Resposado translates to "rested" meaning the tequila has been aged anywhere from 2 months to 12 months. The golden color of the tequila is from the oak barrels it it aged in.
Do not use Añejo (which means "vintage") tequila. This tequila is best suited for sipping on. As such añejo tequila is much more expensive than blanco or resposado.
Orange Liqueur
There are a variety of orange liqueurs to choose from: Triple Sec, Contreau, Grand Marnier, Patron Citronage.
I recommend Contreau or Grand Marnier.
Calamansi Juice
Fresh calamansi fruit can be found in warmer climates like California and Florida. It is occasionally sold at Whole Foods Market or at Filipino supermarkets like Seafood City or Island Pacific.
Otherwise, you can find frozen packets. Look for pure calamansi juice without any added sugar or sweetener.
Simple Syrup
Simple syrup is made from equal parts water and sugar. It is easy to make at home, or you can purchase bottled versions in store.
To make at home, simply bring to a boil equal parts water and granulated sugar. Heat until sugar has dissolved. Cool and store in an airtight container in the fridge for several weeks.
For a darker, richer flavored simple syrup, you can use equal parts water and brown sugar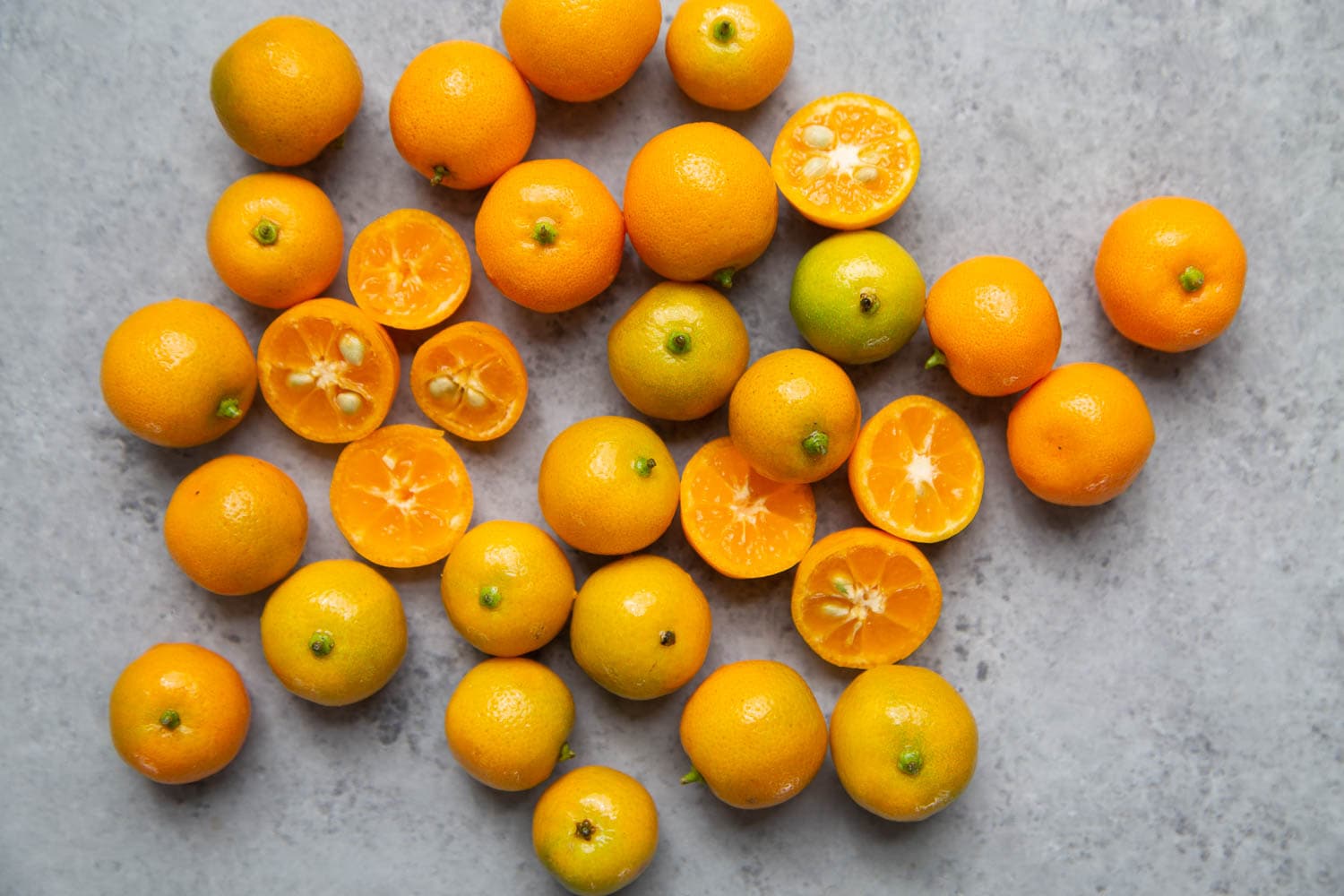 What is calamansi fruit?
Often labeled as calamondin or Philippine lime in the United States, calamansi is a citrus used extensively in Filipino cuisine. The fruit is native to the Philippines and surrounding countries including Taiwan, Indonesia, and Malaysia.
It is juiced for beverages, used as a marinade for meats, and squeezed on top of finished dishes for a bright pop of flavor.
It may be difficult to find fresh calamansi fruit in stores. However, Filipino markets and Asian supermarkets often sell frozen juice as well as bottled concentrates.
Luckily, calamansi can grow and prosper in the warm climates of California and Florida. We had several large calamansi trees in my childhood home here in the suburbs of Los Angeles.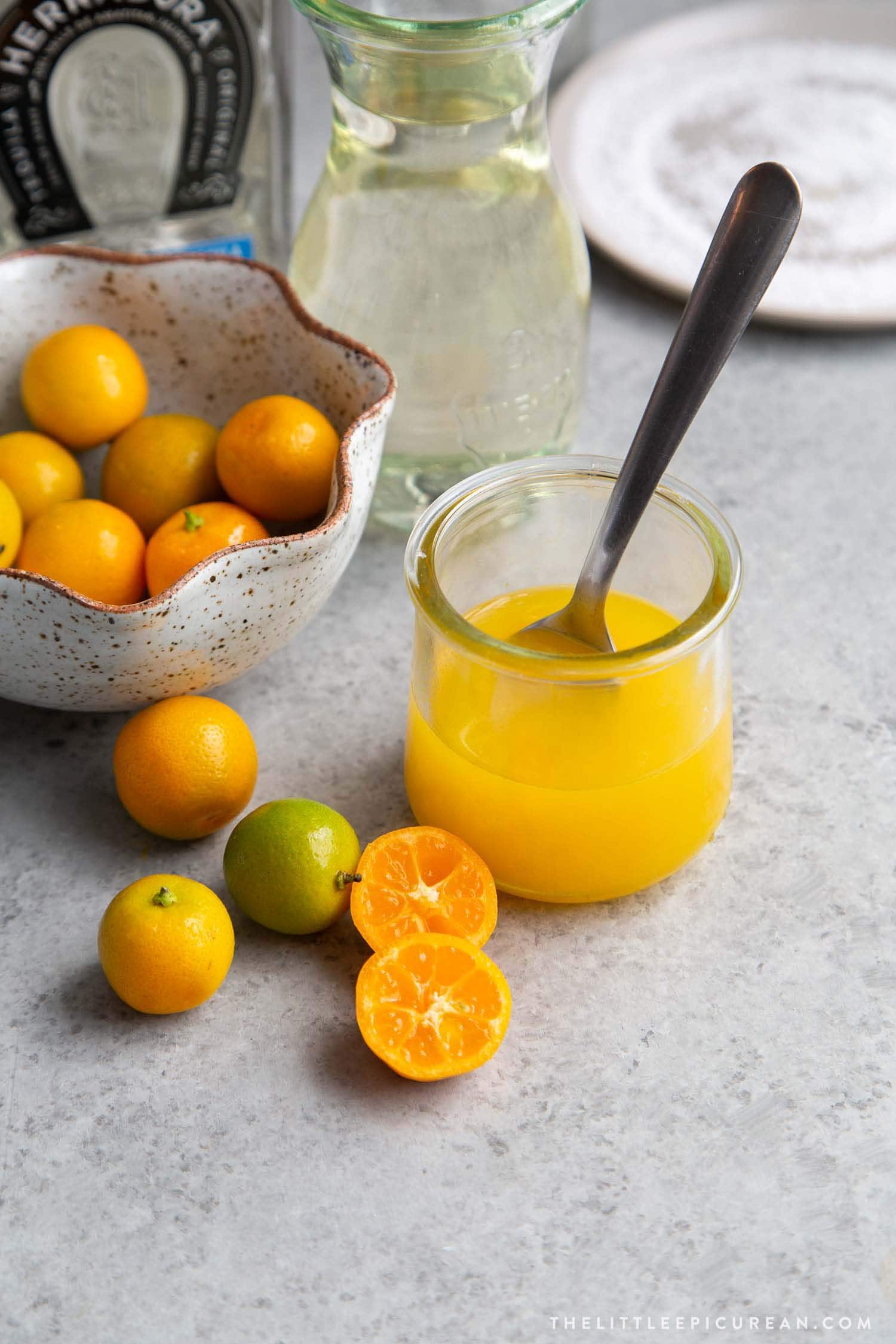 What does calamansi juice taste like?
On it's own, calamansi juice is very tart. It has a bright lip puckering flavor. It tastes like a cross between lemon and lime.
The calamansi fruit is green when harvested. It is most tart at this point.
Or, you can wait for the peel to turn golden yellow-orange. At this point, the fruit is still sour, but has slightly mellowed out.
Calamansi fruit can be made into marmalade similar to kumquats.
If you have an abundance of fresh calamansi, I suggest making calamansi juice (aka Filipino lemonade).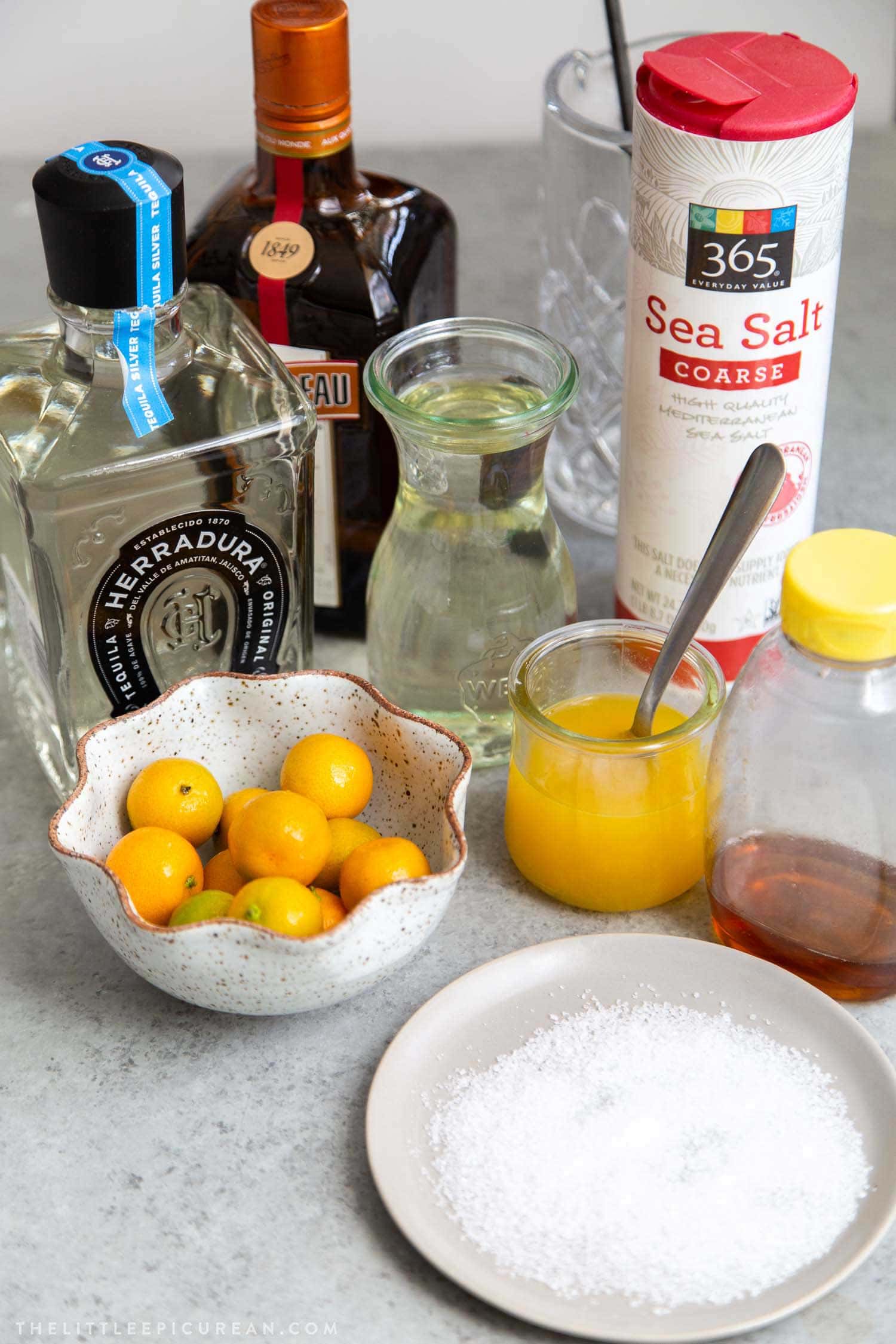 Let's make tropical margarita!
Have all your ingredients prepped and ready to go before you start mixing.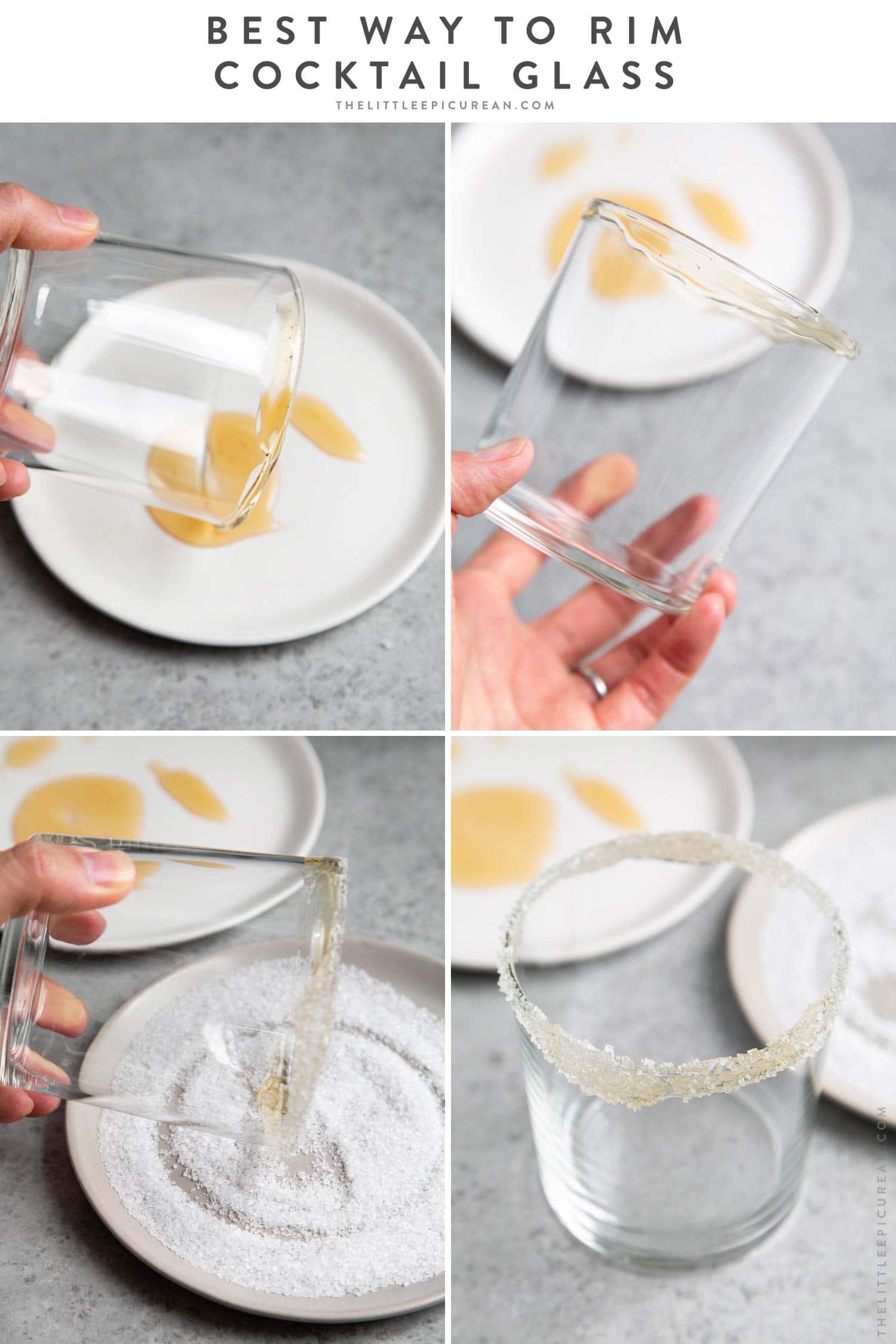 best way to rim cocktail glass
Grab two flat plates. Add some honey to one plate, add some coarse sea salt on the other plate.
Moisten the rim of your serving glass with a thin coating of honey.
Scrape off any excess honey.
Roll honey coated serving glass in salt.
Voila! Cocktail glass is ready for your drink!
The honey adds just a touch of sweetness and it ensures the salt rim stays intact.
I recommend the 365 brand coarse sea salt from Whole Foods Market.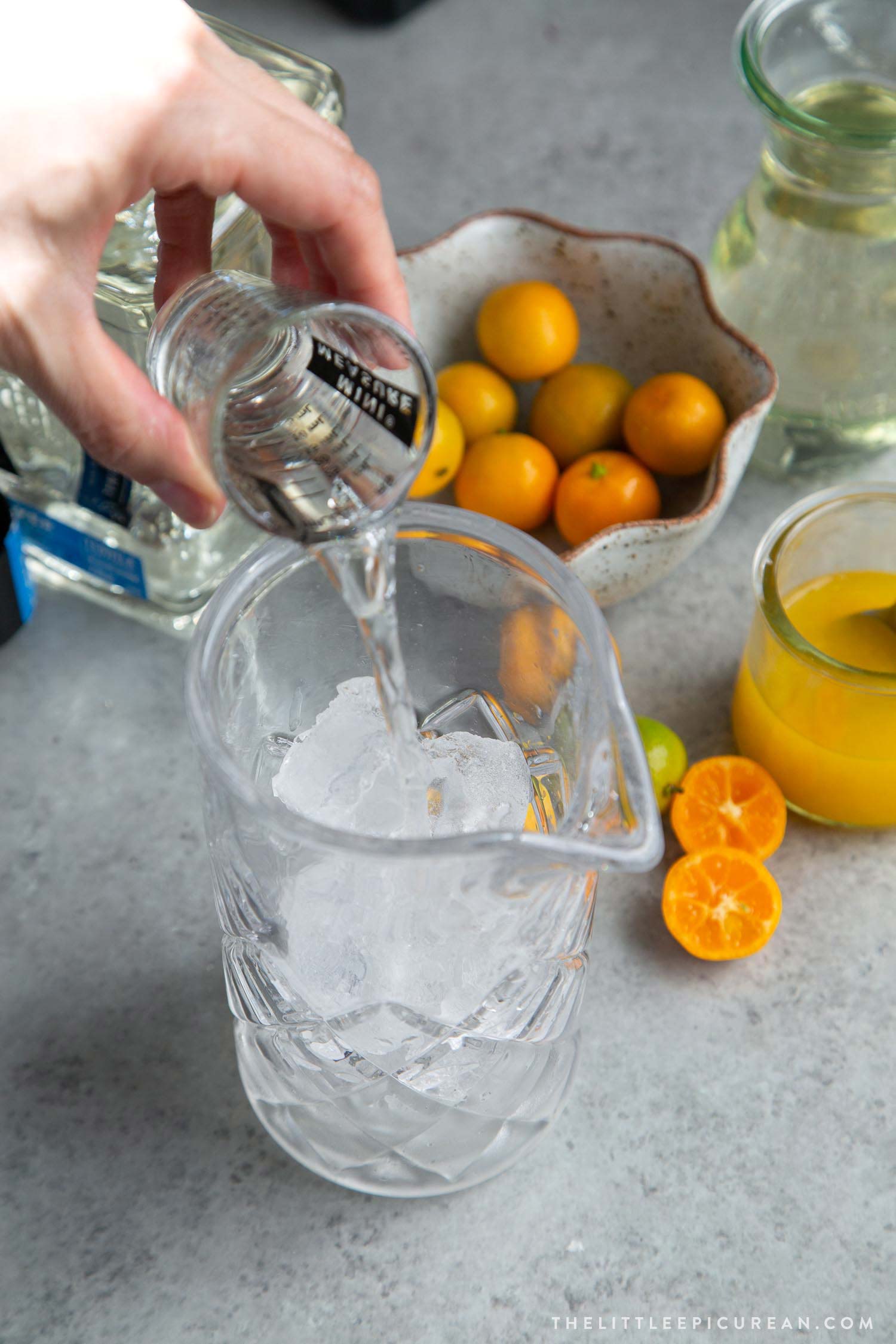 How to mix together tropical citrus margarita:
1. Fill mixing glass with a handful of ice. Pour in tequila, orange liqueur, calamansi juice, and simple syrup.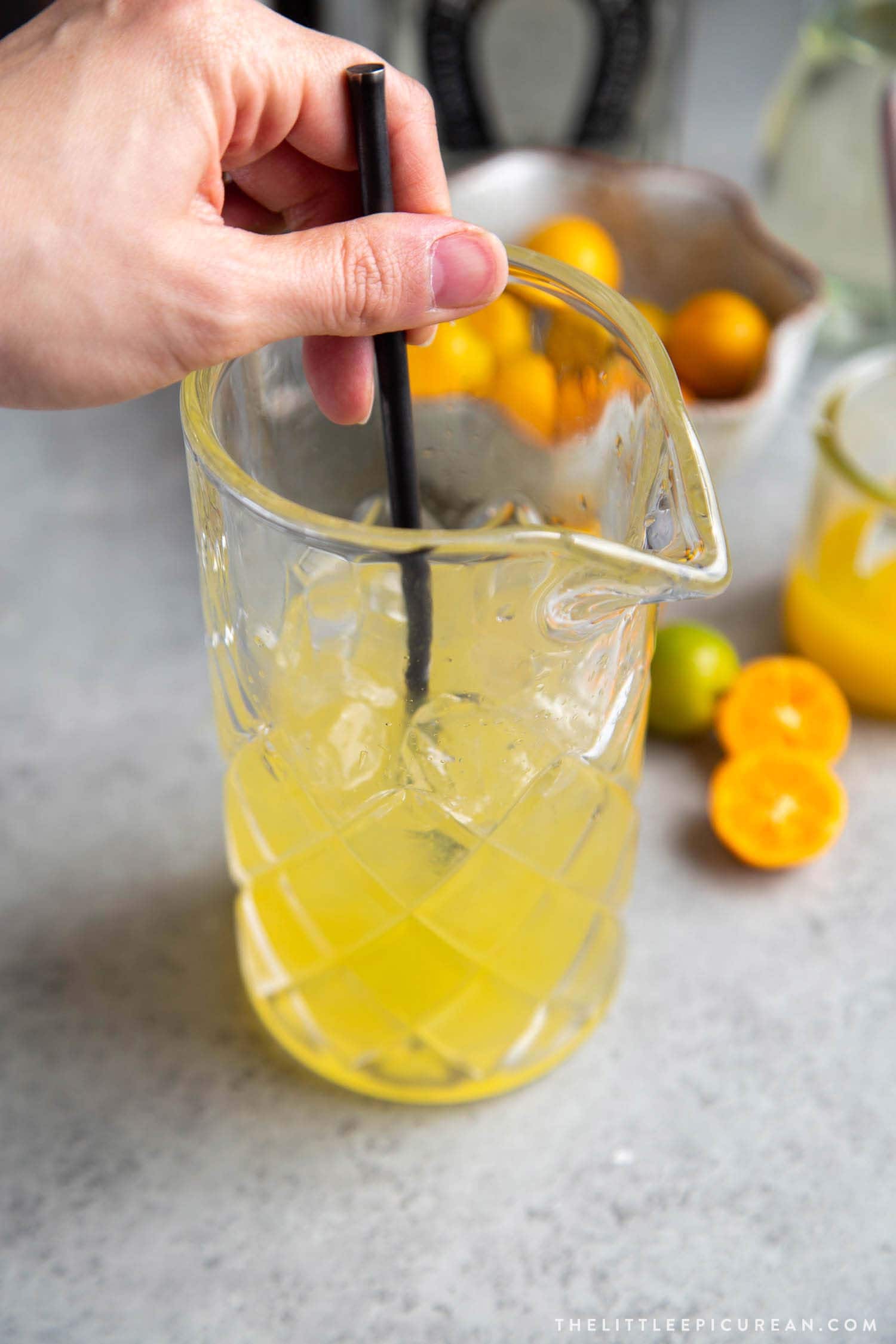 2. Stir to combine. This cools down the cocktail ingredients, but also allows some of the ice to melt and slightly dilute the liquor.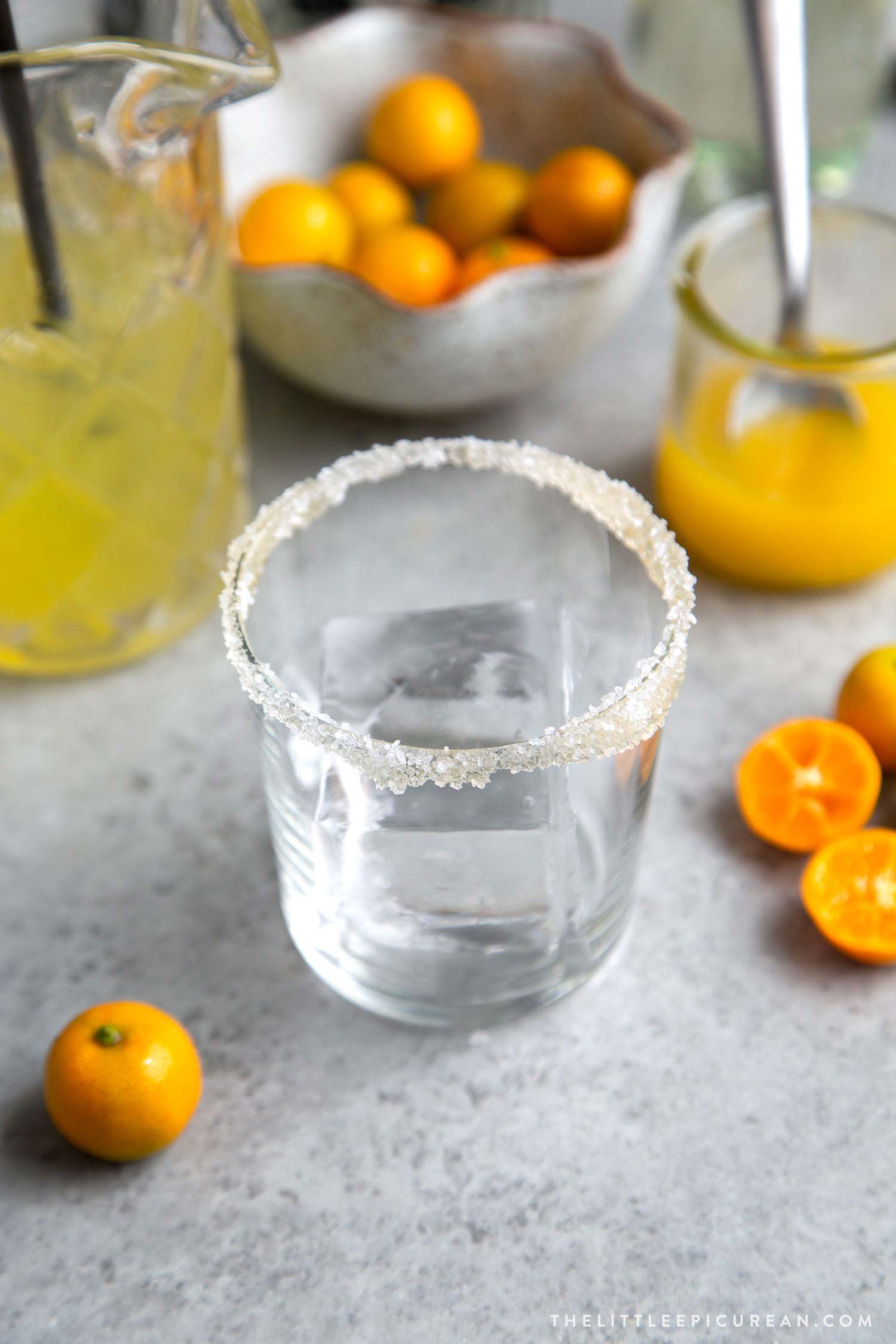 3. Add one large ice cube to salt rimmed serving glass. Large ice cube will melt slowly, preventing the cocktail from losing flavor and potency.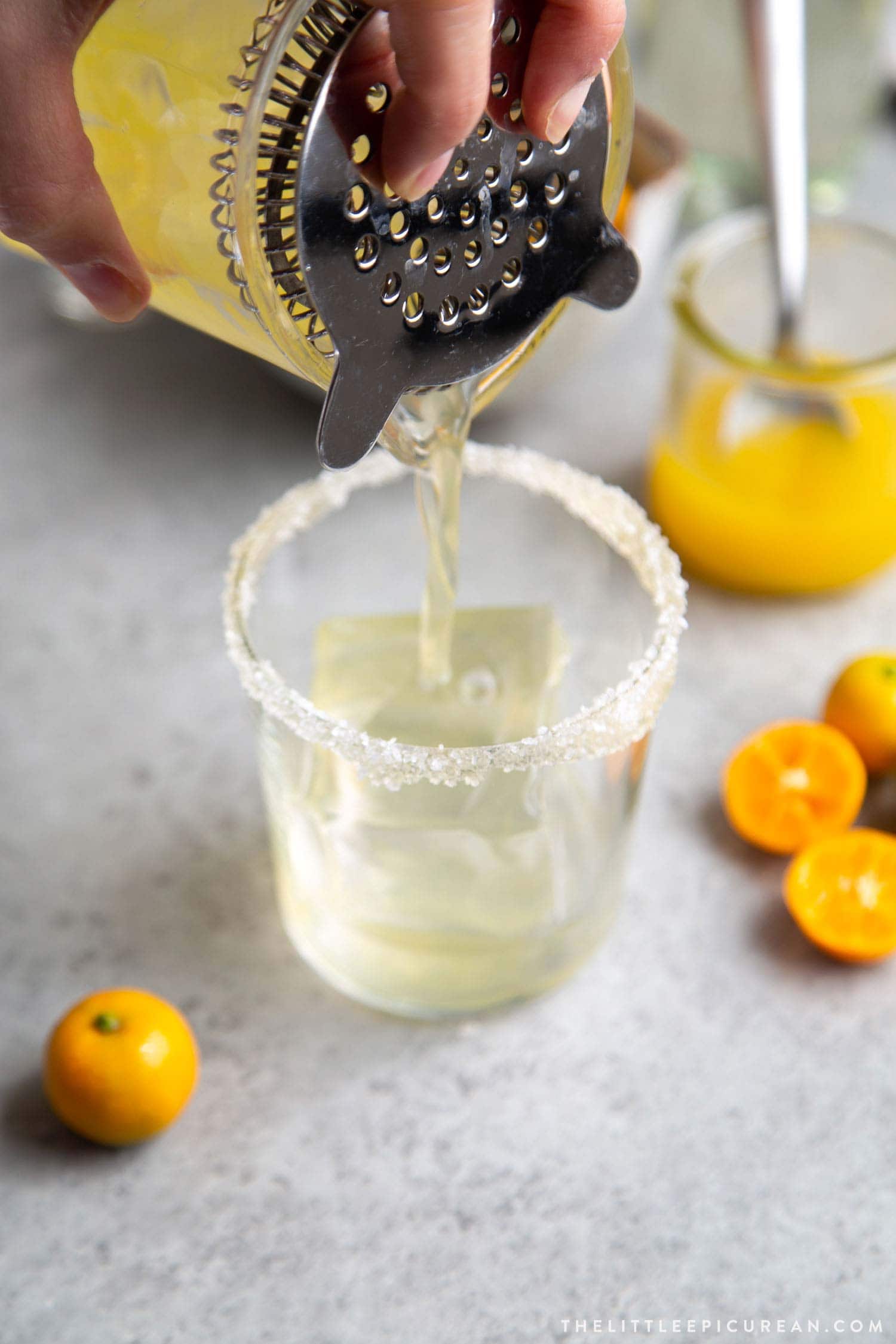 4. Strain chilled cocktail mixture into prepared serving glass.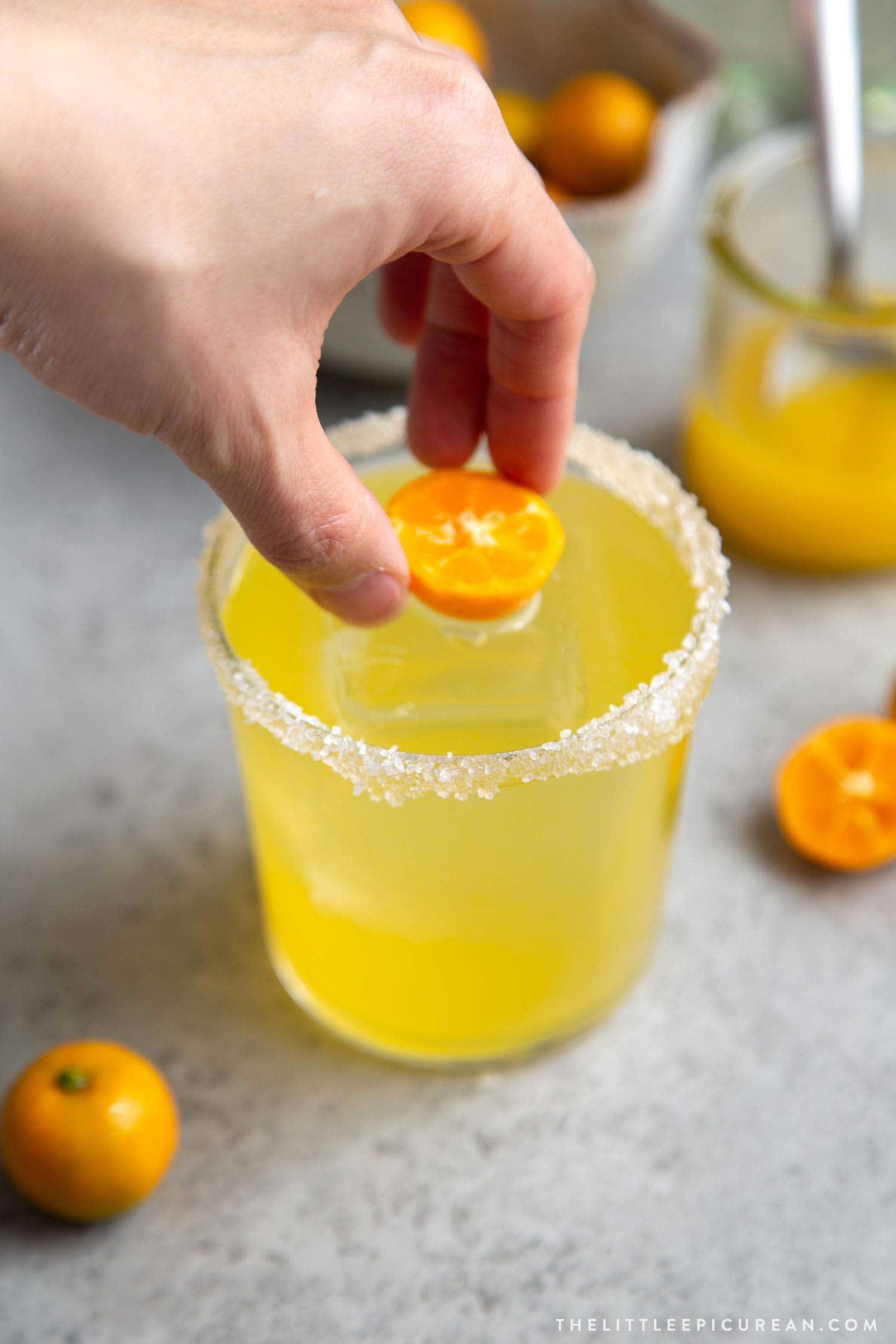 5. Garnish cocktail with fresh calamansi fruit. Serve and enjoy this calamansi margarita immediately. Cheers!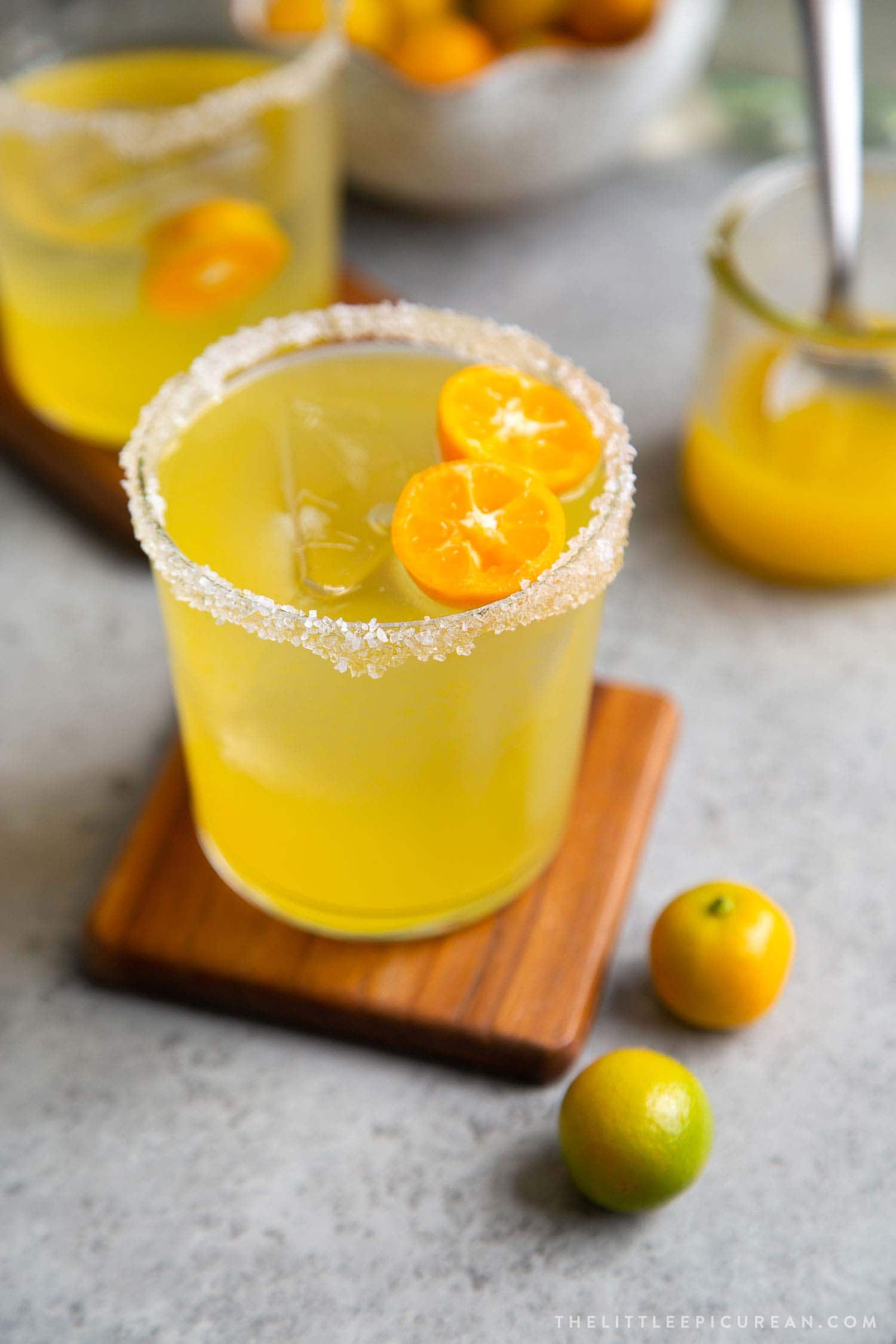 Looking for more fun flavors margarita? Try these favorites:
This honey thyme margarita is made with fresh squeezed grapefruit and lime juices and thyme infused honey.
Slushy, fruity, and refreshing! This frozen strawberry margarita is reason to kick up your feet and party!
Add a kick to the traditional margarita with a splash of jalapeño infused brown sugar simple syrup. Enjoy spicy jalapeño margarita with tacos, nachos, or chip & dip!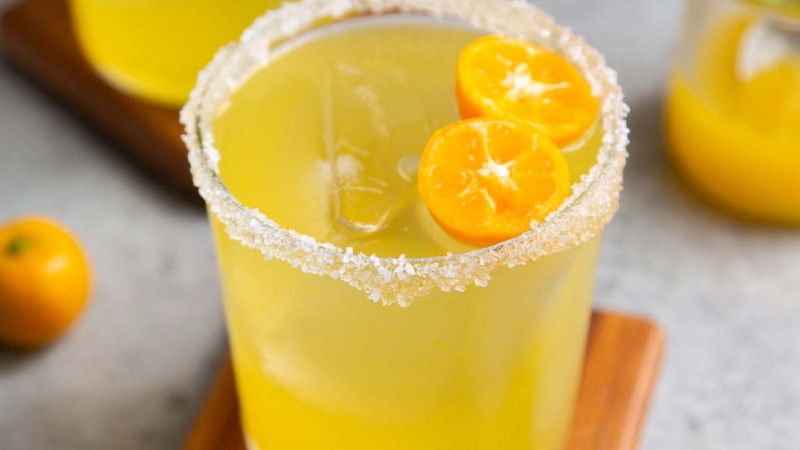 Calamansi Margarita
A tropical twist on the classic margarita. This version is made with calamansi, also known as calamondin fruit.
Servings:
1
(multiply as needed)
Ingredients
Rim:
honey,

to coat glass rim

coarse sea salt,

as needed
Cocktail:
1 ½

oz

tequila,

silver/blanco or reposado

½

oz

orange liqueur,

such as Cointreau or Grand Marnier

¾

oz

fresh squeezed calamansi juice

*

¾

oz

simple syrup*

(recipe follows)
Instructions
Rim:
Add a small amount of honey on a flat plate. On a separate flat plate, add coarse sea salt.

Run rim of serving glass in honey. Scrape off any excess honey. Roll honey coated serving glass in salt. Set aside.
Cocktail:
Fill mixing glass with a handful of ice. Pour in tequila, followed by orange liquor. Add in calamansi juice and simple syrup. Stir to combine.

Add one large ice cube to prepared salt-rimmed glass. Strain cocktail mixture into serving glass. Garnish with calamansi fruit half. Serve immediately.
Notes
To make simple syrup: Bring to a boil equal parts water and granulated sugar. Reduce heat and simmer until sugar has dissolved. Remove from heat and cool to room temperature. Keep in a covered container in the fridge until ready to use. 
Ingredient Notes:
This recipe uses pure fresh squeezed calamansi juice. Do not use calamansi concentrate or pre-mixed calamansi juice lemonade. 
Agave syrup can be used in place of simple syrup
Recipe works best with silver/blanco or reposada tequila