This calamansi honey ginger tea is my family's cure-all elixir tea. Ginger is known for it's medicinal properties, especially in aiding stomachaches and motion-sickness.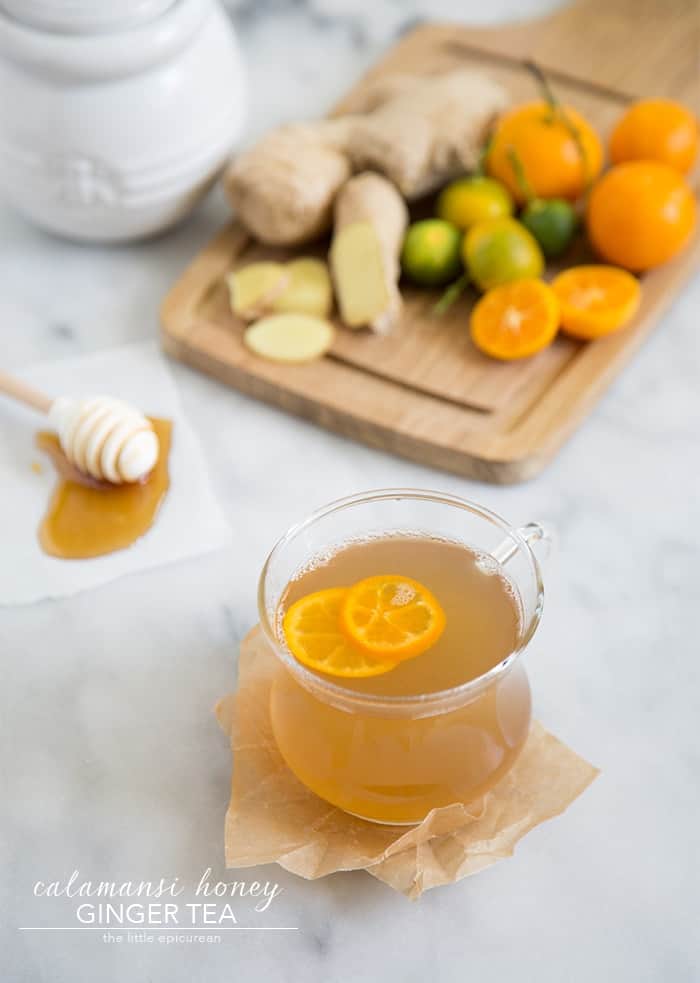 Filipino Salabat
My mom would make me a cup of her cure-all elixir tea whenever I had a scratchy throat, stuffy nose, or generally felt ill.
This ginger tea is known as salabat in Tagalog (Filipino).
Ginger tea is nothing new. Nearly every country has some sort of ginger root drink recipe.
My family's version includes fresh squeezed calamansi juice to add bright tart notes to this soothing beverage.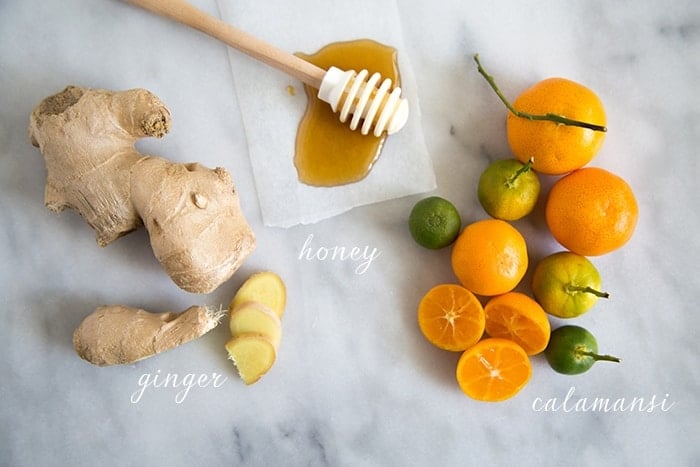 How to Make Ginger Tea
Homemade fresh ginger tea is very easy and simple to make. No need to be accurate in measuring out the ingredients. Feel free to adjust the amounts according to your taste preferences.
The main components are:
Fresh ginger root
Filtered water
Honey
Calamansi juice (or lemon juice)
Place ginger and water in a pot. Bring to a boil. Add honey and calamansi juice. DRINK. That's it!
This recipe works best with FRESH ginger root. It doesn't taste as good with powdered ginger or ground ginger.
My version is unique because of my inclusion of calamansi!  I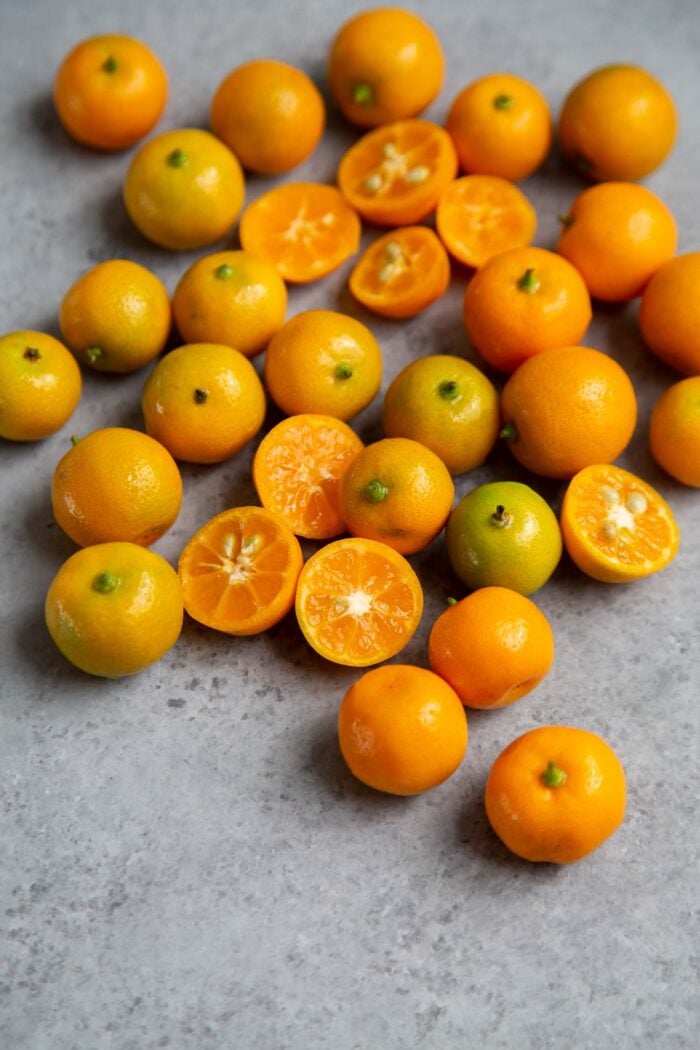 Calamansi or Philippine Lime
This small citrus is also known as calamondin. Calamansi is native to the Philippines and Southeast Asia.
The fruit starts off with green skin. Overtime, it turns a yellow-orange color.
Calamansi may used at green or orange. It has a tart sour flavor that adds much needed brightness and acidity to many Filipino foods.
This fruit may be difficult to find in the United States. They can be grown in warm climates of California, Hawaii, and Florida.
Calamansi juice, better known as Filipino lemonade, is a deliciously refreshing drink. This citrus also makes a wonderful calamansi margarita.
For the best flavor, use fresh calamansi.
Alternatively, Filipino supermarkets sell frozen calamansi juice or bottled versions. These aren't as flavorful or tasty.
However, if you cannot find calamansi, go ahead a substitute fresh squeezed lemon juice.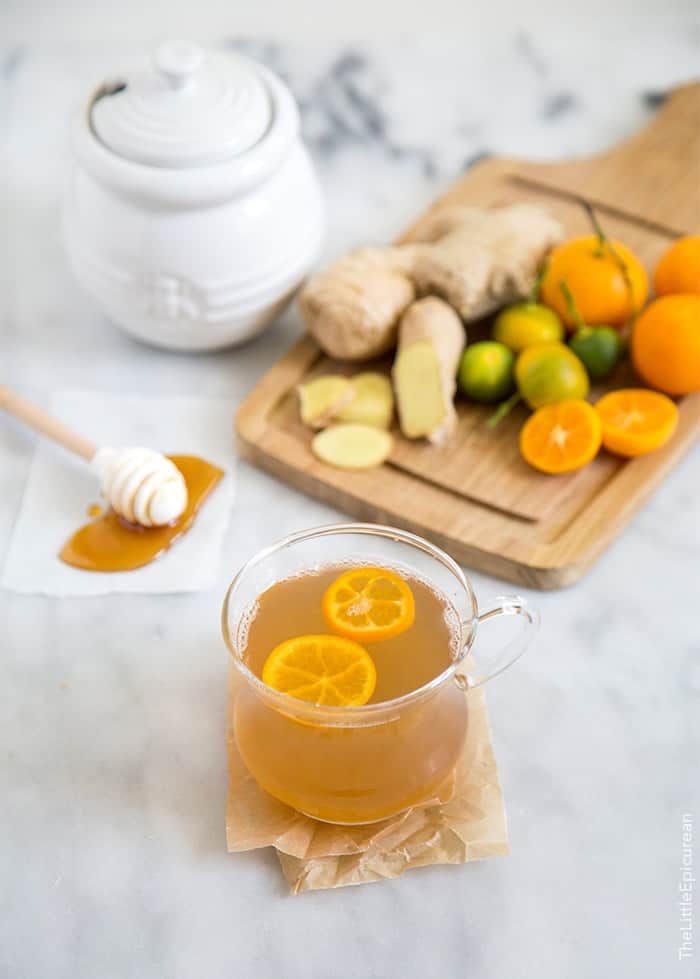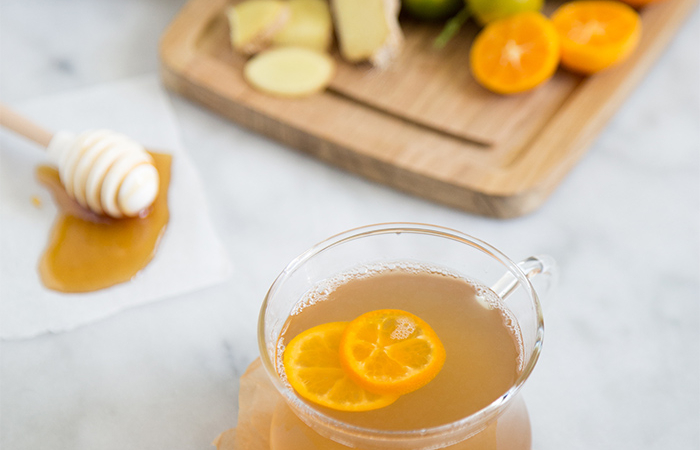 Calamansi Honey Ginger Tea
This is my family's cure-all elixir tea. Ginger is known for it's medicinal properties, especially in aiding stomachaches and motion-sickness. Honey works wonders for scratchy throats and congestion. The added acidity from the calamansi fruit brightens up this wonderful tea.
Yield: makes 2 cups
Ingredients
2

cups

filtered water

2

inch piece ginger root, peeled

2

Tablespoons

honey

juice of 2 calamansi fruits
Instructions
Slice ginger into matchsticks or disks. Add ginger and water to a small pot. Bring to a boil.  

Cover pot and let ginger steep for 10-15 minutes. Add calamansi juice and honey. Stir until honey dissolves. Strain ginger.

Reheat tea, if necessary. Serve warm with thin slices of calamansi fruit. Adjust sweetness according to taste.
Notes
*Alternatively, you can use 1/2 lemon in place of calamansi.
Store leftovers in an airtight container in the fridge for up to three days. Drink chilled or reheat.