Chocolate and peanut butter are a winning combination. These chocolate peanut butter cookies are easy to make and such a crowd pleaser!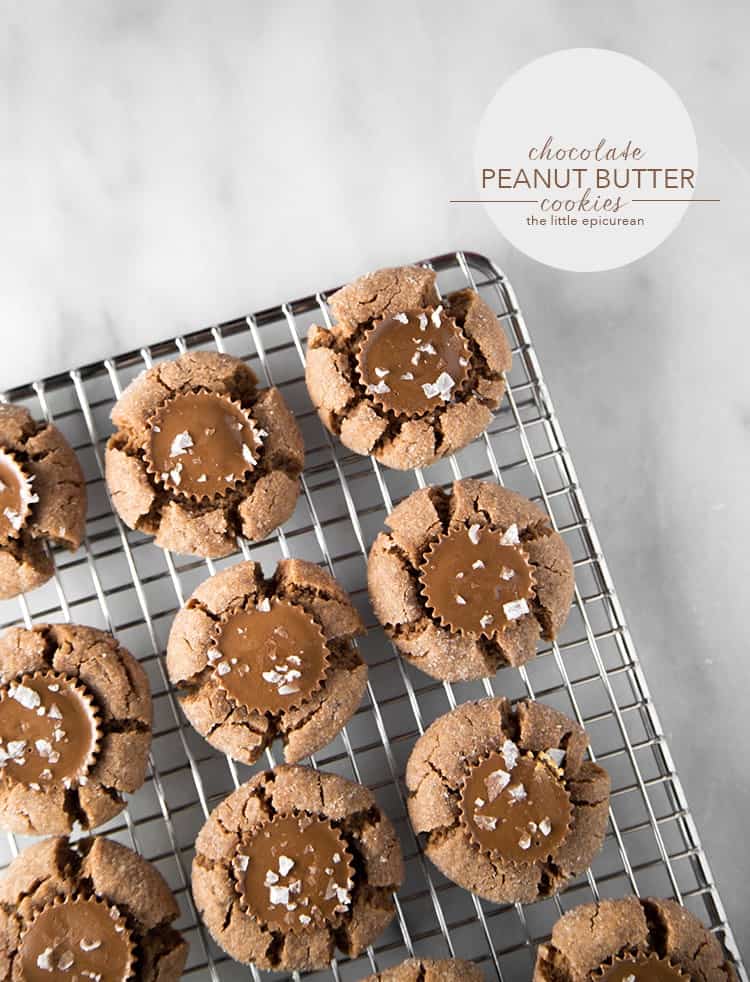 If the way to a man's heart is through his stomach, you need to a bring a dozen of these cookies when you meet your potential boyfriend.
After some time, once you've decided he's a keeper, you can proceed by serving him engagement chicken to seal the deal.
Alex and I started dating 5 years ago. We met in St. Helena (up in Napa Valley) while we were both students at the CIA. We (along with all our other LA bound classmates) flew down together for Thanksgiving break.
On our flight back to San Francisco, I brought Alex a dozen of these chocolate peanut butter cookies. He ate most of them on the 90 minute flight and proceed to continue eating the remaining cookies on the 90 minute drive to Napa. Since finishing said cookies, he's been in love with me ever since.
If it worked for me, it can (probably) work for you!
The fine print: he must like cookies, peanut butter, chocolate, and baked goods. Although I can't make any guarantees that you'll snag a boyfriend, if said boy doesn't like your homemade, freshly baked cookies- he's not worth your time.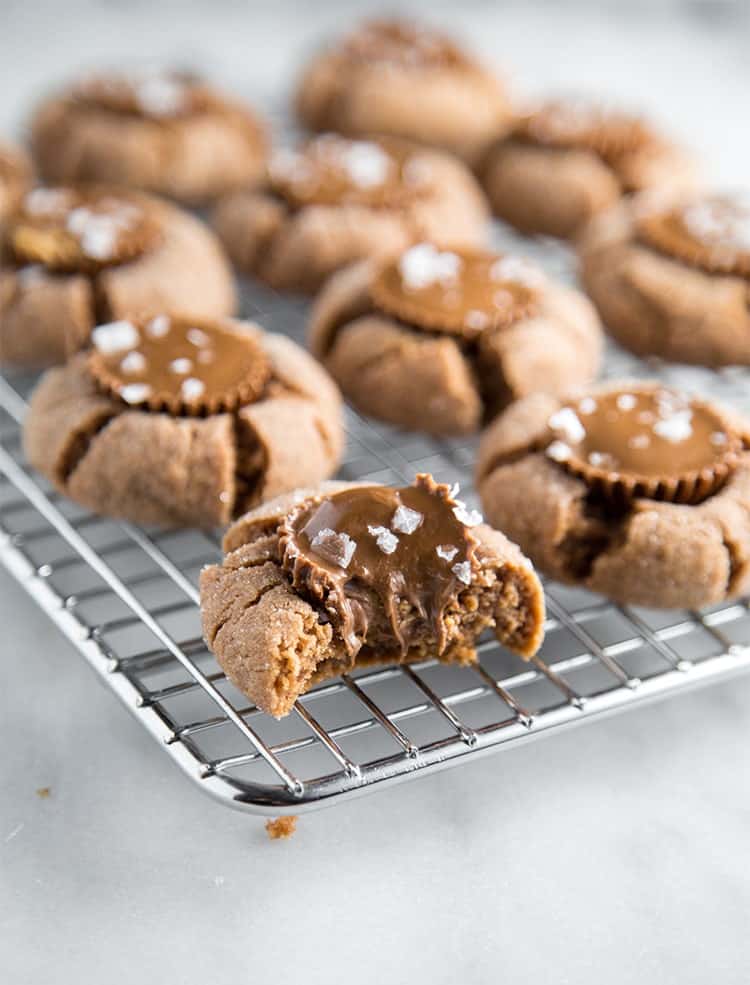 You could use plain old peanut butter, or you can amp it up with chocolate peanut butter. I used my favorite- Dark Chocolate Dreams from Peanut Butter & Co.
One of these days, I'm going to test this out with almond butter and homemade chocolate almond butter cups. I'm sure it'll taste fabulous, too.
I love these cookies because they're soft on the inside and just a tad bit crackly and crunchy on the outside. When you eat them straight from the oven (which is the BEST way to eat cookies), they're heavenly.
Think about it: warm cookie with almost melted peanut butter encased in silky milk chocolate with a little sprinkle of Maldon sea salt. Yup. I'd definitely fall in love because of these cookies.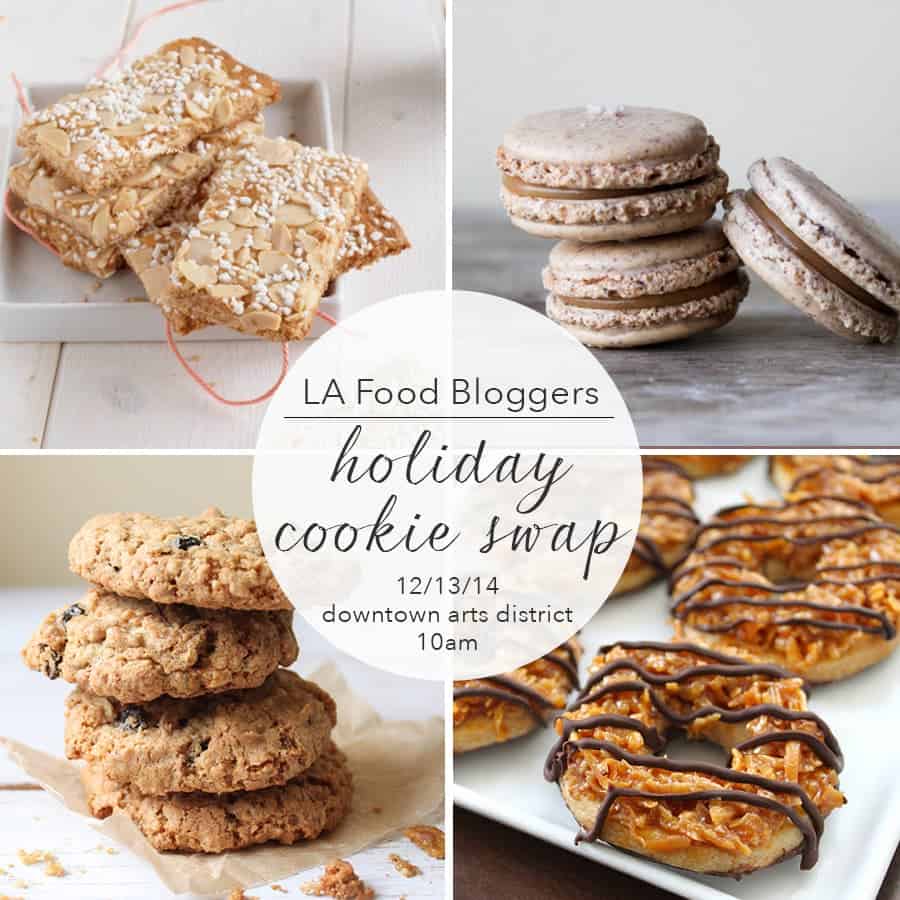 Los Angeles Food Bloggers:
Hey LA/OC friends! Do you love cookies?! Christine of Feed My Sole, Ellen of In My Red Kitchen, and I are hosting the LA Food Bloggers first annual holiday cookie swap!
Come meet other Los Angeles based food bloggers while you eat cookies and get caffeinated at Blacktop Coffee. The cookie swap is this Saturday and you can sign up here.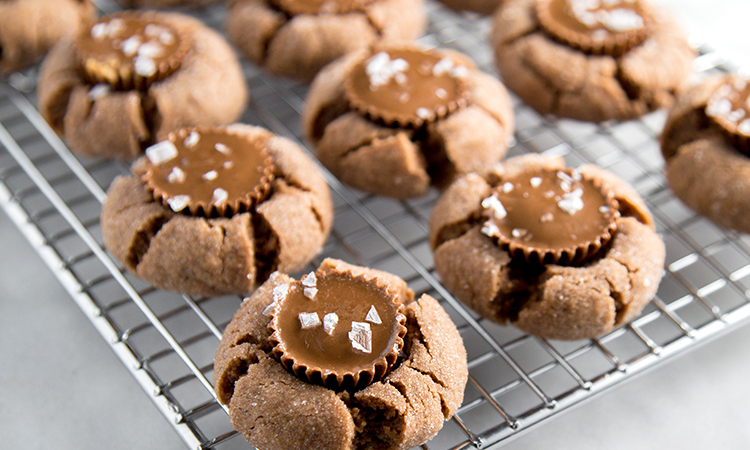 Chocolate Peanut Butter Cookies
You can't go wrong with chocolate and peanut butter. These cookies are easy to make and sure to please a crowd. Recipe can be easily doubled and tripled and is a great way to use up leftover candies!
Ingredients
¼

cup

chocolate peanut butter,

such as Peanut Butter & Co's Dark Chocolate Dreams

2

Tablespoon

unsalted butter,

room temp

⅓

cup

light brown sugar

1

large egg

¾

cup

all-purpose flour

½

teaspoon

baking powder

¼

teaspoon

kosher salt

¼

cup

granulated sugar,

for coating

12

mini chocolate peanut butter cups

Maldon sea salt,

to garnish
Instructions
Preheat oven to 350°F. Line baking sheet with parchment paper. Place unwrapped mini peanut butter cups in the freezer.

In a medium bowl, cream together chocolate peanut butter and unsalted butter. Add sugar and beat until combined. Add egg and stir until incorporated. Scrape down bowl as needed to ensure thorough mixing.

In a separate bowl, whisk together flour, baking powder, and salt. Add flour mixture to creamed mixture. Fold until incorporated and there are no longer and dry streaks of flour.

Portion dough into tablespoons and roll into balls. Coat dough balls in granulated sugar and place on prepared baking sheet, placing balls about 2 inches apart.

Bake for 6 minutes. Remove from oven and press one chilled mini peanut butter cup in the center of each cookie. Return to oven and bake for another 6 minutes. Remove from oven and sprinkle each cookie with Maldon sea salt. Let cool on sheet tray for 5-8 minutes before transferring to wire rack to cool completely.