Chicken arroz caldo is the ultimate Filipino comfort food. It is rich in flavor and easy to make.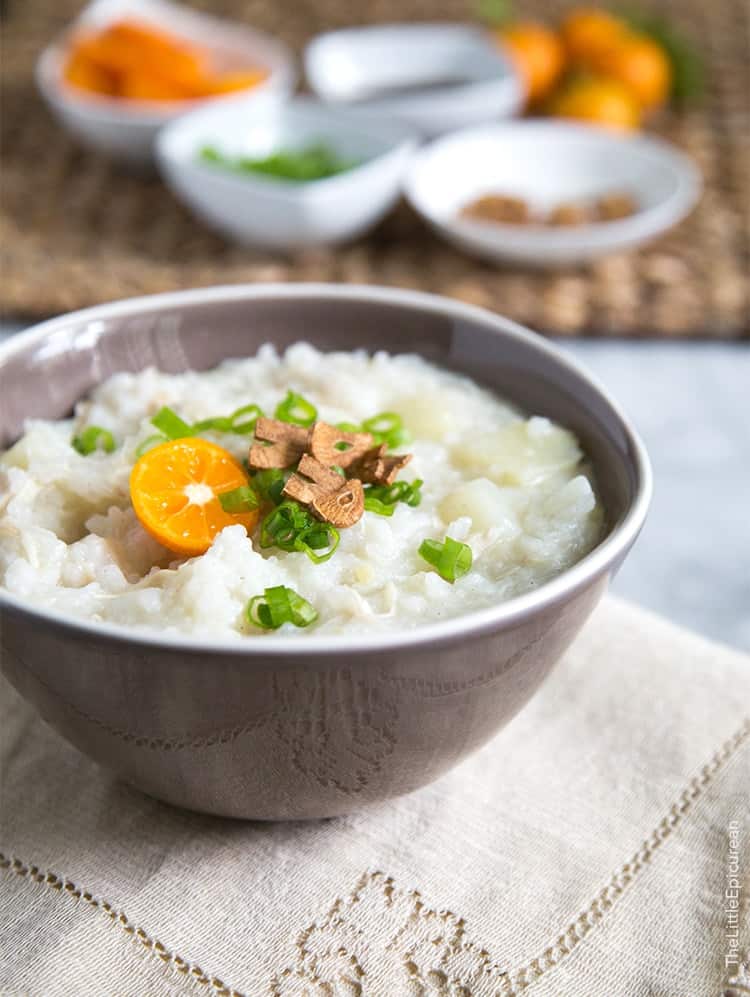 Chicken arroz caldo is to the Philippines as chicken noodle soup is to America.  It's the ultimate comfort food when you have a cold and you're not feeling well.
Back when I had my wisdom teeth pulled out, I had arroz caldo for dayssss without any complaint.  My belly was quite satisfied and happy from the delicious medley of rice, chicken, potatoes, and lots of ginger.
What is arroz caldo?
Arroz caldo literally translates to hot rice or rice stew/soup.  This Filipino rice porridge is a great representation of Philippine history as this dish is a combination of Spanish and Chinese influences.
Though Spanish by name, it's very similar to Chinese congee.  Some variations take the Spanish influence a bit further with the addition of saffron to the chicken broth.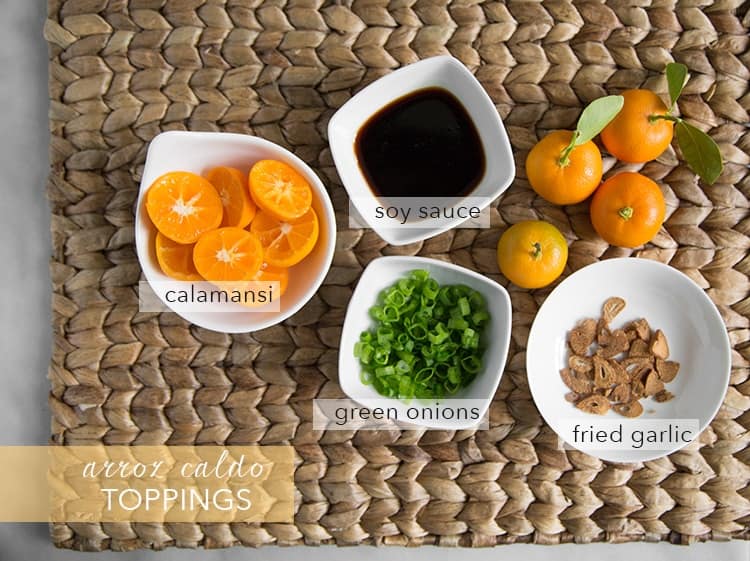 Ingredients needed for arroz caldo:
Everyone and their mother makes arroz caldo a little differently.  But the essential ingredients include chicken, chicken stock, rice, garlic, onions, and ginger.
After that comes all the variations in toppings: boiled eggs, fried garlic, calamansi juice, green onions, fish sauce, soy sauce.
And my personal favorite- chicharron.  Yes, some versions of arroz caldo include a sprinkling of chicharron (fried pork rinds)!  It's really a shame I didn't have any when I made this dish.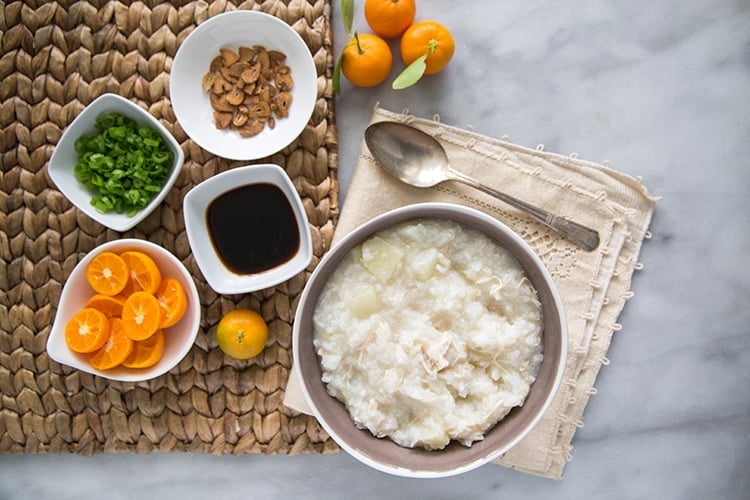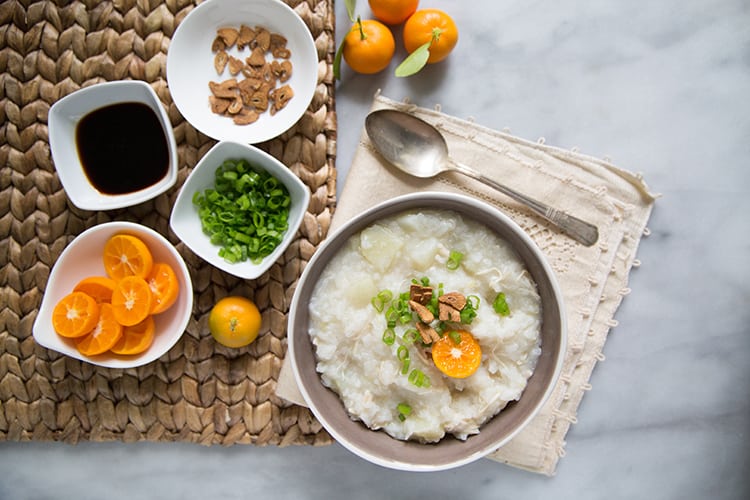 Asides from the choices in toppings, arroz caldo can be made thick or thin.  I prefer a thicker version with a texture similar to risotto or oatmeal, but the rest of my family enjoys the thinner version that's more soupy-like.  To adjust thickness, simply add more or less chicken broth.
Whenever I'm feeling under the weather, a steaming bowl of this stuff perks me right up.  I like to drench my bowl with lots of sour calamansi (calamondin) juice, a tiny splash of soy sauce, and then load on the fried garlic and green onions.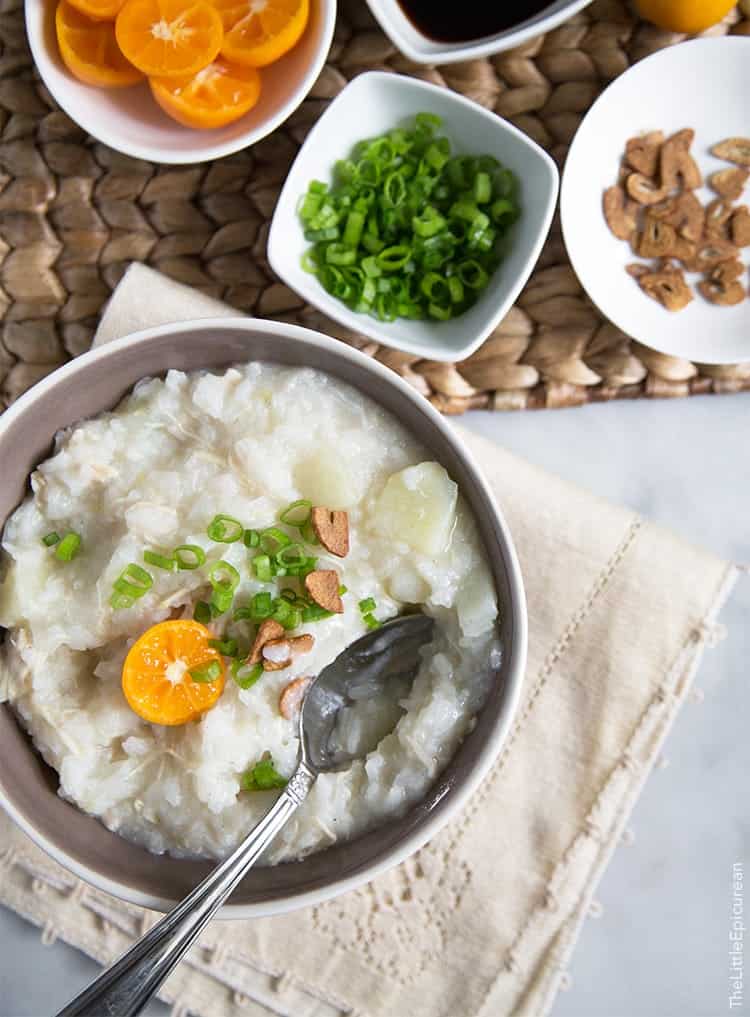 Arroz caldo is one of my favorite Filipino foods.  It's simple to make and super customizable to fit to your liking.  This rice porridge is very savory and flavorful.
I like to use homemade chicken broth (made by simmering chicken and water) because it makes the soup tastes worlds better.
But if you're pressed for time, a low sodium chicken broth also works.  You can use leftover cooked rice or simply add the uncooked rice to the simmering pot of chicken broth.
I always talk about how food is like a time machine.  Smells and tastes can transport you back to memories and experiences.
Whenever I eat arroz caldo, the little kid in comes out again.  I feel like I'm 7 years old, sitting at the kitchen table with my mom, regaling her with the details of my day at school while I eat bowl after bowl of her homemade arroz caldo.
Chicken Arroz Caldo (Filipino Rice Porridge)
Chicken arroz caldo is the ultimate Filipino comfort food. It is rich in flavor and easy to make. This rice porridge is a great example of the Spanish and Chinese influence in Philippine cuisine.
Ingredients
7 1/2

cups

homemade chicken broth (recipe follows), or low-sodium chicken broth*

2

Tablespoons

minced ginger

4

cloves garlic, minced

1

large onion, finely diced

2

cups

uncooked Jasmine rice, washed, rinsed, and drained

1

large Russet potato, peeled, diced 1/2-inch cubes

3

teaspoon

kosher salt

1

teaspoon

ground white pepper

2

cups

shredded cooked chicken
Homemade Chicken Broth:
4

pound

whole chicken, giblets removed, trimmed of excess fat

water as needed to cover chicken
Toppings:
chopped green onions (scallions)

fried garlic chips

calamansi juice (or lemon, lime)

soy sauce
Instructions
In large pot, heat 2 teaspoons of oil. Add ginger and garlic. Cook for 15-30 seconds until fragrant. Add onions, stir to combine. Cook until onions are translucent.

Add 2 cups rinsed uncooked rice in pot. Add 4 cups chicken broth. Bring to a boil and then lower to a simmer. Let simmer for about 20 minutes, uncovered. Stir pot often to make sure rice does not stick to the bottom of the pan. Add cubed potatoes and continue to simmer until potatoes are soft. For thicker soup, add 3 1/2 cups broth. Add additional broth until desired consistency is achieved. Season with 3 tsp salt* and 1 tsp ground white pepper (for thick soup). Add shredded chicken. Stir to combine. Serve warm with toppings of choice.

Chicken Broth:
Place 4 pound whole chicken in large stock pot. Fill with enough water to cover the chicken. Bring to a boil and let boil for 2 minutes. Lower to a simmer and skim off foam and impurities that rise to the top. Add water as necessary to ensure chicken is submerged. Let chicken simmer for 2-3 hours, skimming off impurities as necessary. Carefully and gently remove chicken from the stockpot. Strain broth and allow to cool.
Recipe Notes
* use less salt than listed in the ingredients if you are using store-bought chicken broth