A hearty, comforting bowl of chipotle steak chili to sure to warm you on chilly winter nights. Flavored with homemade chili paste, this chili is a crowd pleaser!
Disclosure: My friends at OXO sent me their product for their #OXOCookware campaign. As always, all opinions stated here are entirely my own.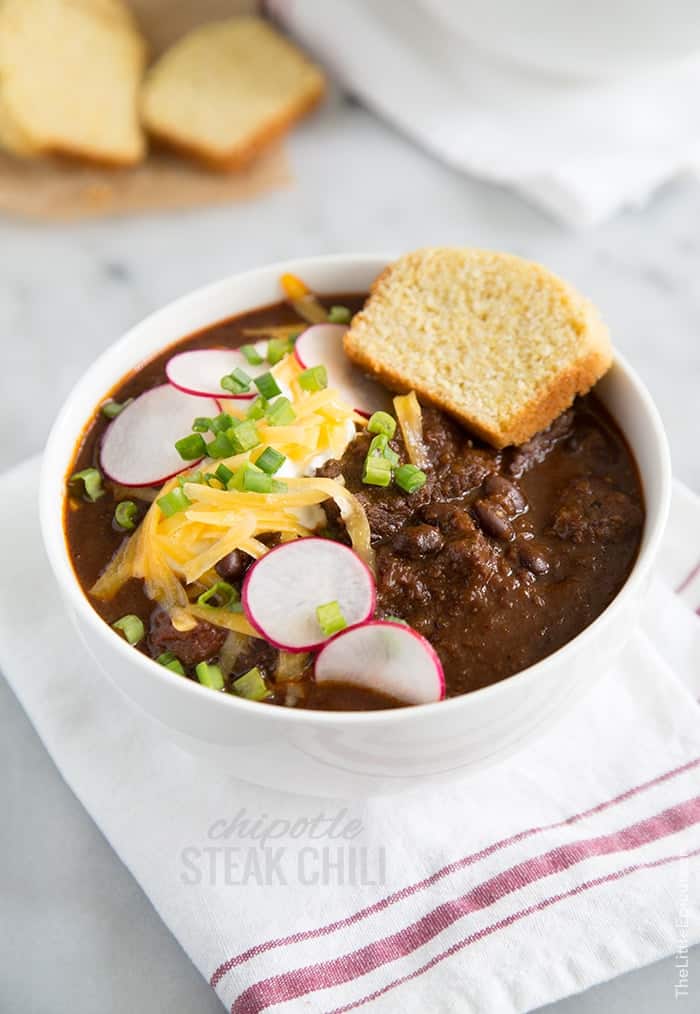 I don't like to take shortcuts when making chili.  
This isn't your average steak chili recipe. It's an involved chili that requires making your own chili paste form scratch!
Sound difficult and complicated? It's not. 
All you need is a food processor. But, I assure you the extra effort is well worth it.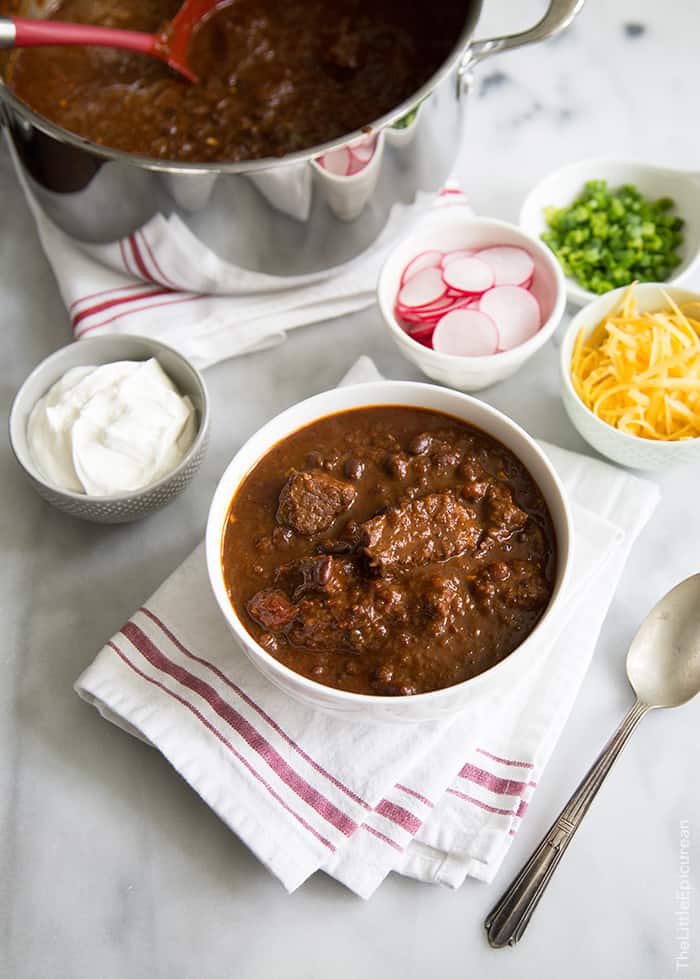 Chipotle Chili
This chipotle chili recipes uses a combination of dried ancho chili, fresh jalapeño, and canned chipotle peppers in adobo sauce.
While it's not very spicy, it does have a kick of big flavors. Dried ancho chili is easy to work with, but if the task seems intimidating- refer to my ancho chili tutorial.
Chipotle peppers are a wonderful addition to numerous dishes. They add rich smoky and full umami flavors.
You can find many varieties and brands of canned chipotle peppers at the supermarket. I prefer to use this one in adobo sauce.
I require a lot of substance in my chili. Forget ground beef, I want steak!  
I used beef chuck roast, but any kind of stewing beef will work (meaning beef with a good amount of fat and connective tissue, e.g. beef shank, brisket).
The hardest part about this chili is waiting for it to finish baking in the oven.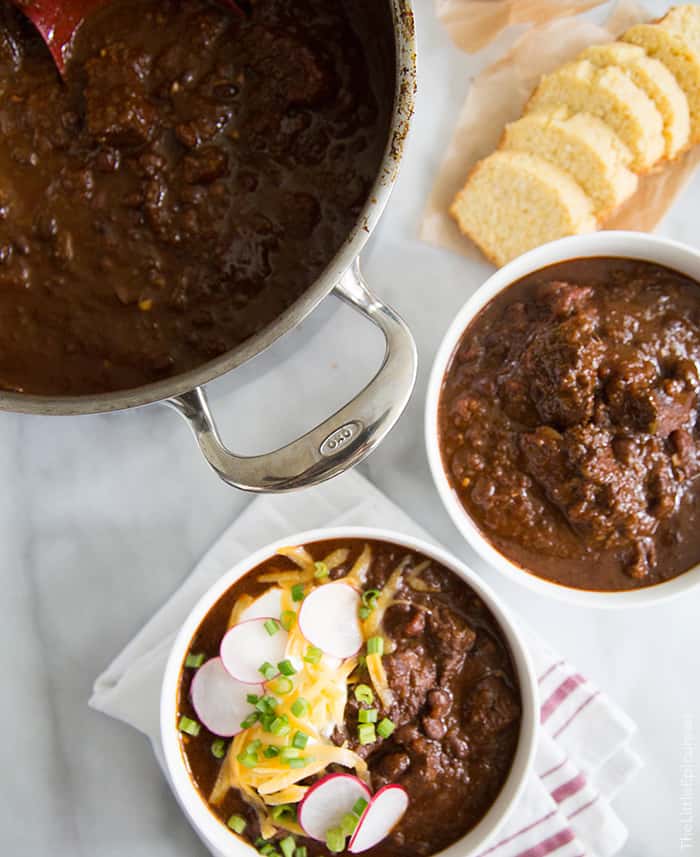 5 Quart Dutch Oven Pot
Thanks to my friends at OXO, I used my new stainless steel pro 5 quart dutch oven pot to make this super hearty chili.  
The 5 quart is a perfect sized pot to make large batches like this.  
(Just the right size to have leftovers because chili always tastes better the following day once it's had time to really absorb all the flavors.)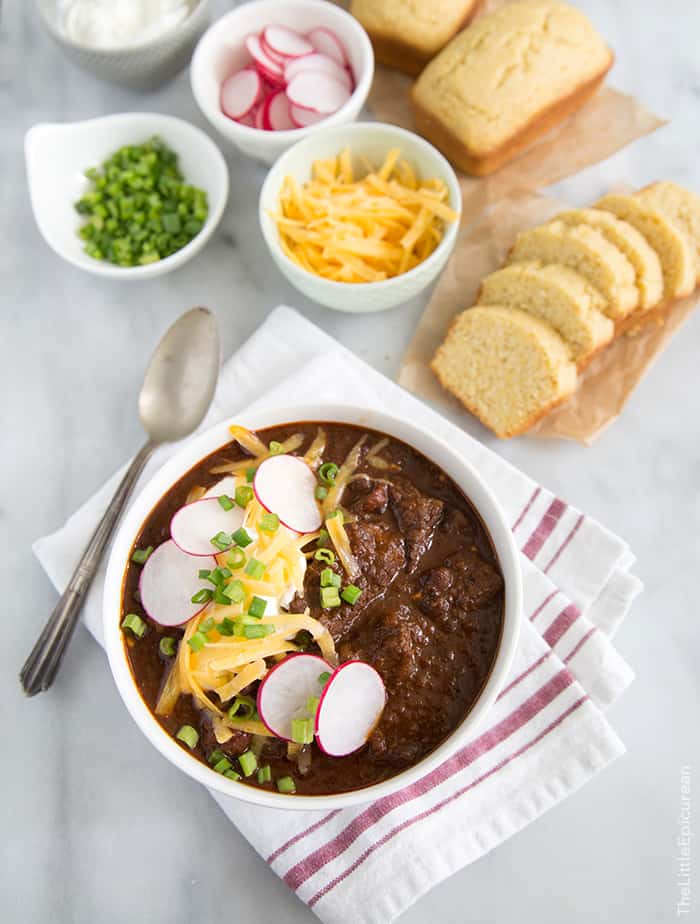 Asides from it's size, I really love the way the pot is constructed, allowing for even cooking.  
There's nothing worse than using a pot that has "hot" spots causing your soup/stew/chili to have that one burnt section at the bottom.
Okay, the actual horrible part is when you mix it all together not knowing that there's a burnt part, thus changing the taste of your entire dish. UGH.
Oh, and it's oven-safe (including the lid), which is of utmost important to a baker like me.
Chipotle Steak Chili
A hearty, comforting bowl of chipotle steak chili to sure to warm you on chilly winter nights. Flavored with homemade chili paste, this chili is a crowd pleaser!Yield: makes 3 ½ quarts, serves 4-6
Ingredients
4

dried ancho chili,

stems and seeds discarded

3

Tablespoon

cornmeal

1

teaspoon

dried oregano

1 ½

teaspoon

ground cumin

1

teaspoon

unsweetened cocoa powder

2

chipotle peppers from canned chipotle peppers in adobo sauce

1

Tablespoon

adobo sauce rom canned chipotle peppers

3

cups

reduced sodium chicken broth

5

garlic cloves

2

medium

onions,

cut into ½-inch pieces

3

jalapeños,

stemmed, seeded and cut into large chunks

14.5

oz

can diced tomatoes

(low sodium or no salt added version)

2

Tablespoon

light brown sugar,

packed

2

teaspoon

kosher salt

2

teaspoon

ground black pepper

2

Tablespoons

vegetable oil

3

pounds

beef chuck roast,

trimmed of excess fat, cut into 1 ½-inch cubes

2- 15

oz

cans black beans,

rinsed and drained

salt and pepper,

to taste
Garnish:
sour cream

shredded cheddar cheese

green onions

thinly sliced radish

cornbread
Instructions
Adjust oven racks to accommodate dutch oven/pot. Preheat oven to 350°F.

Heat a large skillet (12-inch) over high heat. Once skillet is hot, add torn ancho chili. Press chili into pan, toasting it. Toast chili for 20 seconds on each side. Toast until fragrant*. Remove from pan and allow to cool in food processor bowl.

In a food processor, combine dried ancho chili, cornmeal, oregano, cumin and cocoa powder until it resembles coarse sand. Add 2 chipotle peppers, 1 Tbsp adobo sauce, and ½ cup chicken broth. Pulse to create a thick paste. Transfer paste to a clean bowl. Do not clean out food processor bowl.

Add garlic to food processor. Pulse until minced. Add onions and jalapeños. Pulse until mixture resembles chunky salsa.

In dutch oven/large pot, heat up 1 Tbsp oil over medium heat. Add onion mixture. Cook for 2 minutes until onions have softened. Add chili paste. Stir to combine. Add diced tomatoes (including juice), brown sugar, salt, pepper, and 2 cups of chicken broth. Bring to a boil. Lower heat and allow mixture to simmer while you cook beef.

In the same skillet used to toast chili, add remaining 1 Tbsp of vegetable oil. Heat skillet over medium-high heat.

Sear beef chunks in batches.  Turn beef chunks as needed to ensure all sides are seared. You don't need to fully cook the beef, just brown the sides. The beef will continue to cook and soften in the chili. Place seared beef in simmering chili pot. Continue to sear remaining beef chunks. Once all the beef has been placed in the chili pot, deglaze the skillet using the remaining ½ cup of chicken broth. Pour deglazing sauce into chili pot and stir.

Add rinsed and drained black beans to pot. Stir to combine. Cover dutch oven pot with lid. Place in oven and allow to bake for 2 hours, until beef is tender. Cool chili for 10 minutes before removing lid.

Season chipotle steak chili with salt and pepper as needed.**


Serve chili warm with garnishes and cornbread.  
Notes
Dried ancho chili can burn quickly. Do not over toast.
I added an additional 2 1/2 tsp of kosher salt and 1 tsp of black pepper. Adjust accordingly to your taste.
Leftovers:

Store any leftover chili in the store in an airtight container. Keeps for 3 days in the fridge.