They taste like a vacation on stick! Lava Flow Popsicles combine coconut, pineapple, and strawberry into one delicious tropical treat!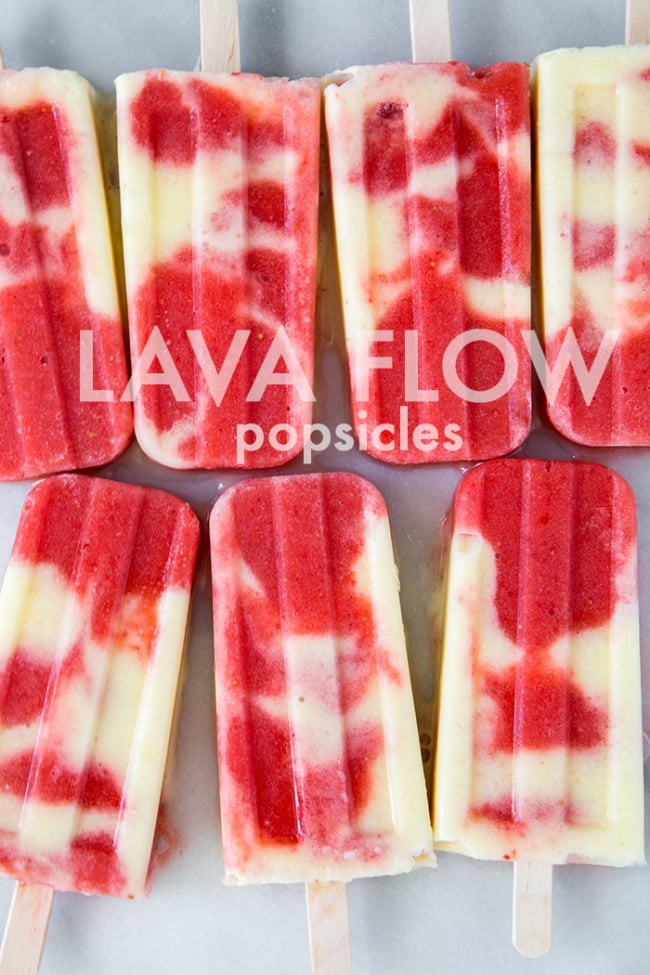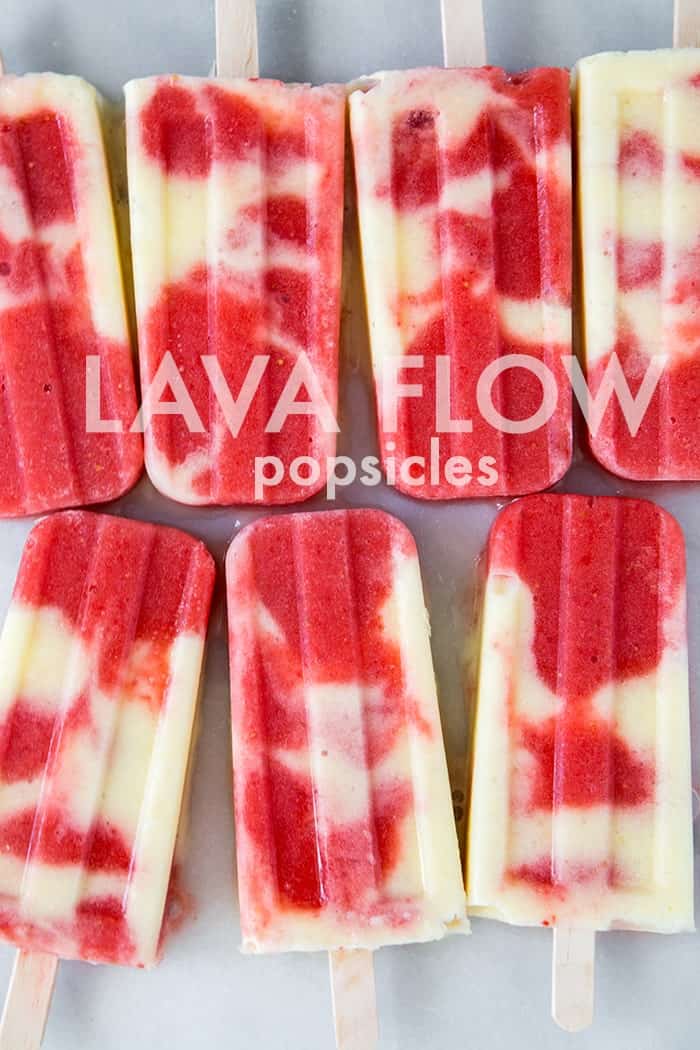 If only vacations lasted 365 days a year.
I always have a relaxing time visiting Hawaii. From the pristine beaches of Maui to the quiet serenity of Kauai or the adventures on the Big Island, there is something for every mood.
Until my next Hawaii vacation, I'm keeping my freezer stocked with lava flow popsicles!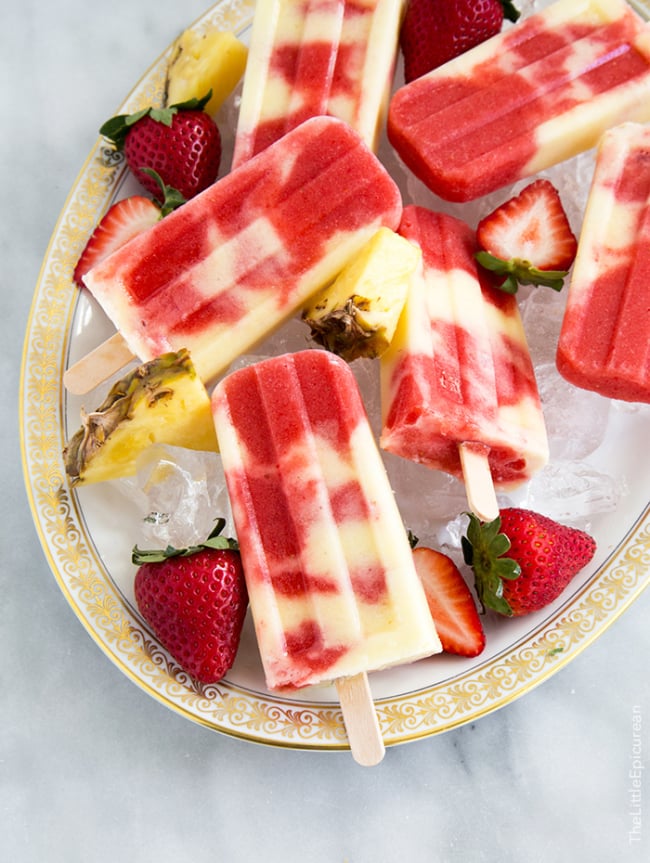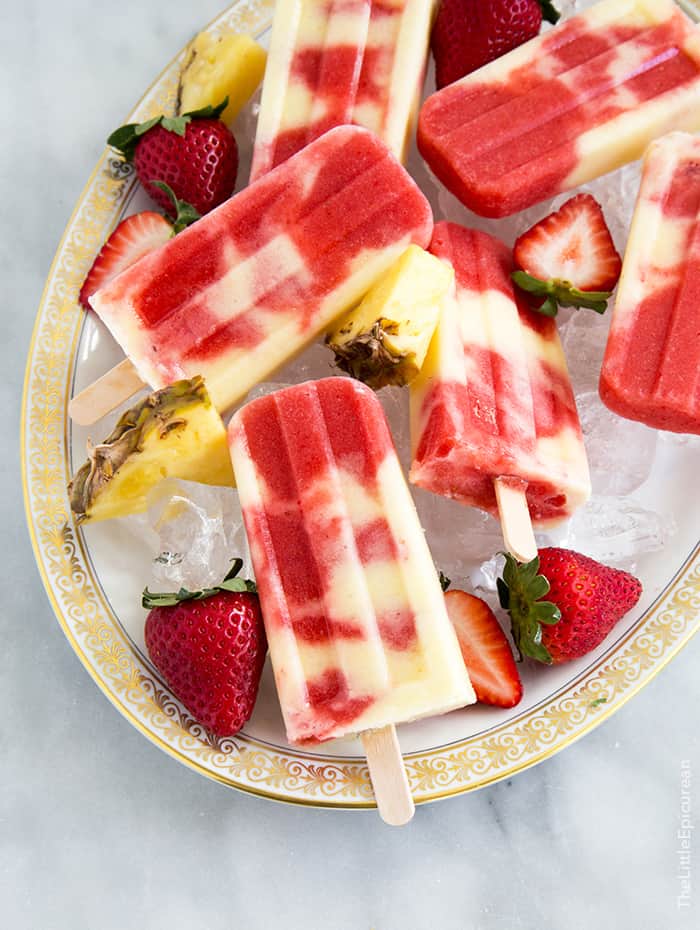 Strawberry Coconut Popsicles
Lava flow is such a cool looking cocktail.
Aptly named, the cocktail is supposed to look like molten lava flowing down a charred volcano.  
While flowing lava is some 2,000°F, these lava flow popsicles are frozen and will definitely cool you down on a hot summer afternoon.
The delightful swirl of coconut, pineapple, and strawberry can make me almost feel the tropical breeze and the sunshine of the beach.
I find the combination of these flavors so refreshing and relaxing, just like the way you're supposed to feel while on vacay.
Boozy Popsicles Options
There are two versions of these popsicles: a boozy one for fun times and a fruity non-alcoholic one you can enjoy for breakfast.
The boozy version uses coconut vodka and white rum. Plain vodka also works.
However, I suggest using Ciroc Coconut Vodka. It adds a nice extra tropical punch!
Any white rum, including coconut rum, are great options. In general, white rum refers to unaged , clear colored rum.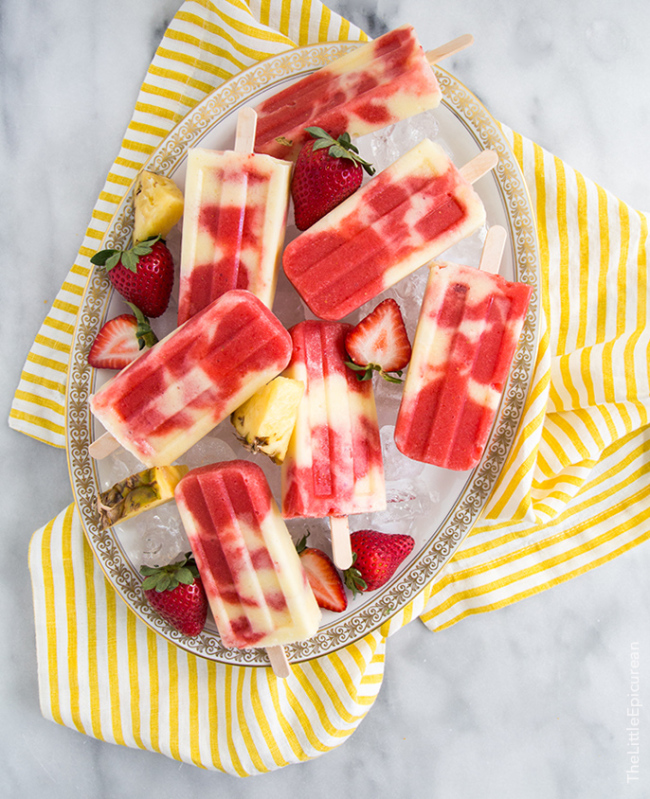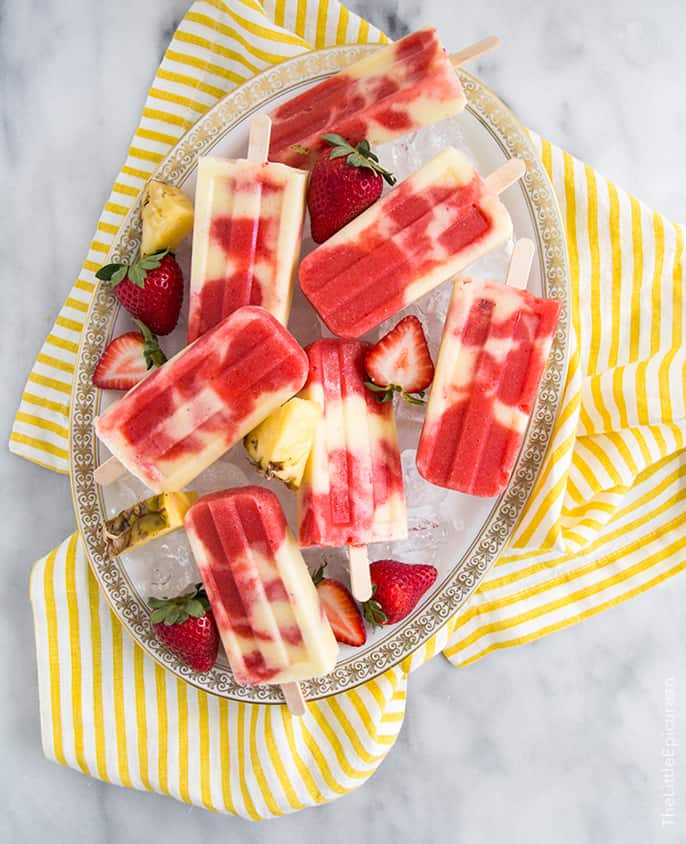 Alcohol will affect frozen texture
Since alcohol does not completely freeze, the boozy popsicles may be a little icy. The consistency of the boozy pops depends on the amount of alcohol use.
Recommended Popsicle Tools
I personally use this popsicle mold from Amazon. I've had mine for years. It is very easy to clean and makes 10 frozen pops at a time.
Use standard disposable wooden sticks or try these reusable ice cream sticks.
Countertop blender, food processor, or a small hand blender works great. It is best to process the fruits until smooth.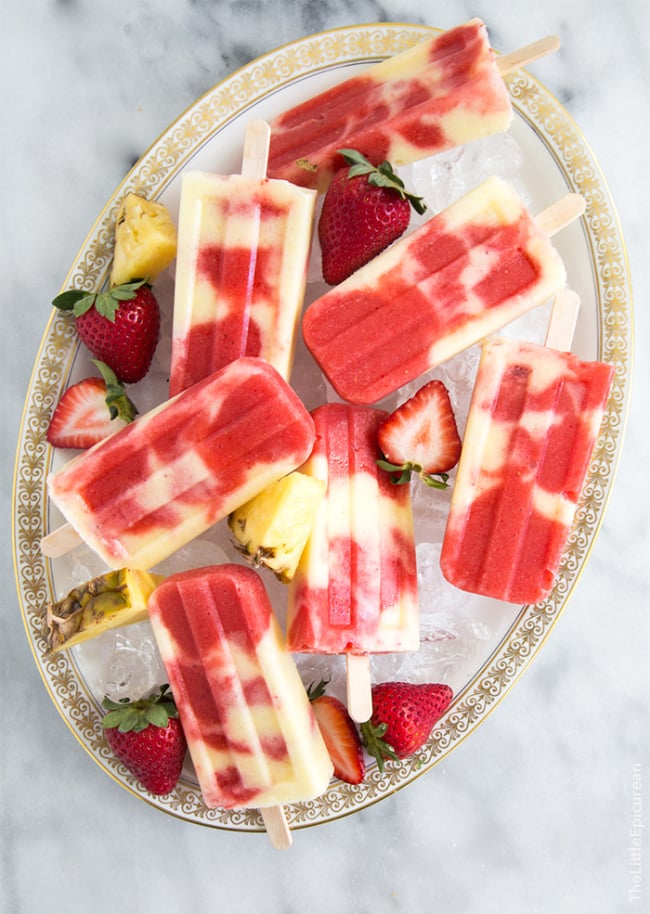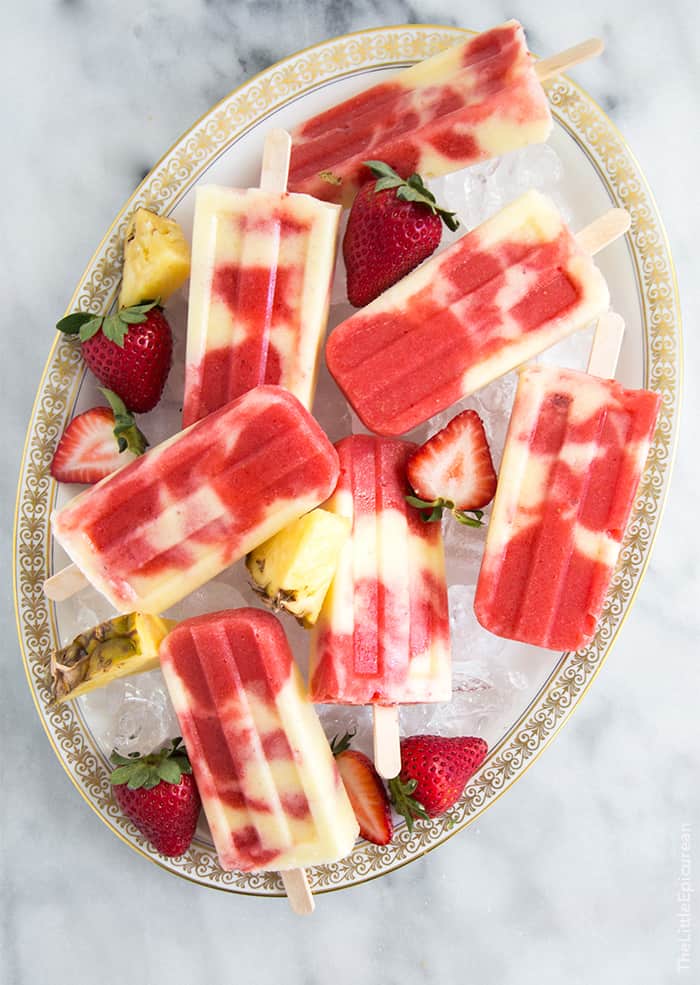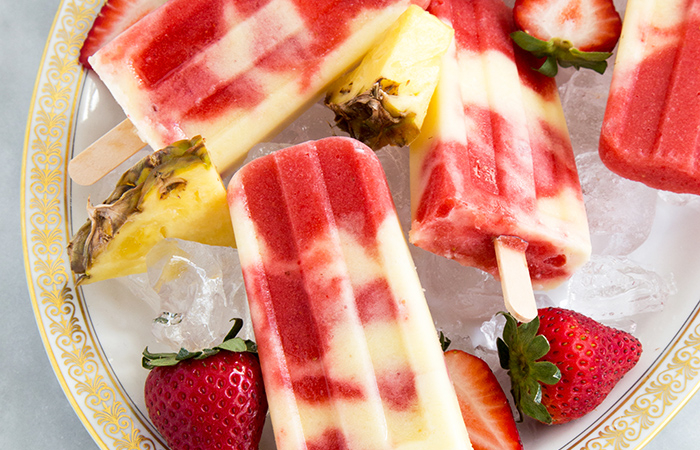 Lava Flow Popsicles (Pineapple Coconut Strawberry Swirl)
These lava flow popsicles are like a vacation on stick! The combination of coconut, pineapple, and strawberry is sure to relax you and make you think of a tropical paradise.
Equipment
high speed blender

popsicle mold
Ingredients
Pineapple Coconut:
2

cups

frozen pineapple chunks

1

cup

pineapple juice

½

cup

canned full-fat coconut milk

4

oz

coconut vodka*, optional
Strawberry:
3

cups

frozen sliced strawberries

1 ¼

cup

apple juice

4

oz

white rum*, optional
Instructions
In a blender, combine pineapple, pineapple juice, and coconut milk until smooth. Pour into a large measuring cup with spout.

Clean out blender. Add strawberries and apple juice. Blend until smooth. Pour into a large measuring cup with spout.

Fill popsicle mold ⅓ full of strawberry mixture. Slowly pour in a little bit of the pineapple coconut mixture. Follow with a splash of strawberry mixture and then top with pineapple coconut mixture. Because the coconut mixture is more dense than the strawberry, it will displace some of the strawberry creating that desired swirled effect.

Place a layer of foil over the popsicle molds. Insert wooden sticks into the mold. Place in freezer for at least 3 hour until the popsicles are solid.
Notes
The pineapple juice and apple juice I used provided enough sweetness to my fruits.  If you want it sweeter, add simple syrup or agave syrup to taste.
Alcohol does not freeze completely. If you choose to make boozy popsicles, the popsicles will be a little icy depending on the amount of alcohol used.
Plain vodka also works. I used Ciroc Coconut Vodka.
You can use any white rum, including coconut rum.  Don't use dark, aged rum because you won't get that nice rich red color.
I used these popsicle molds.