These blackberry cream cheese pastries are the perfect little afternoon pick-me-up. Nothing beats the scent of freshly brewed coffee and warm buttery pastries fresh the oven.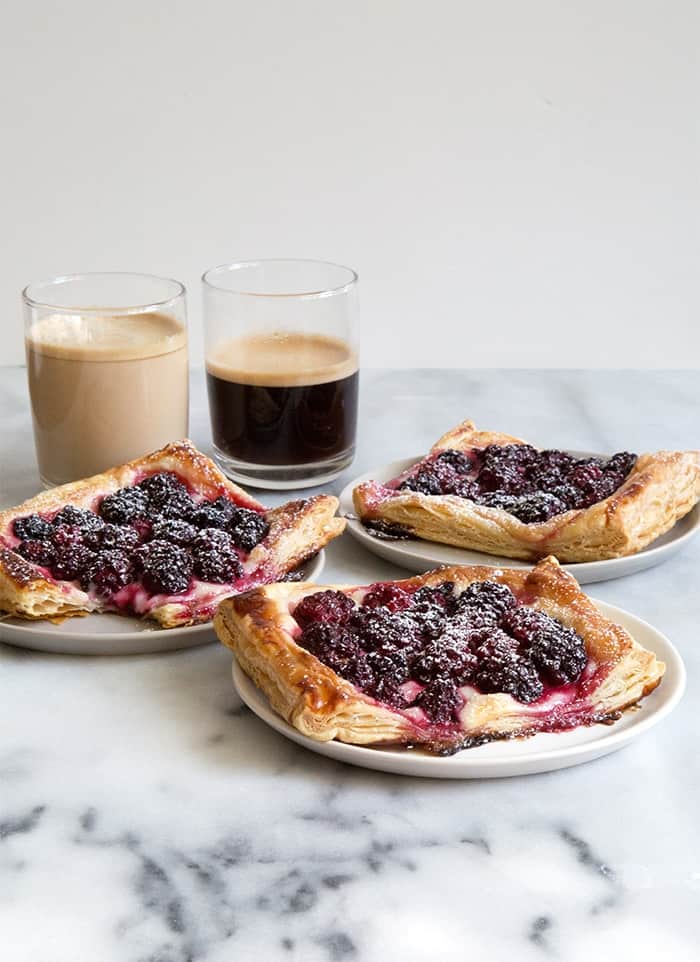 Quick, easy, and so satisfying.
Step up your breakfast, brunch, or afternoon tea with these impressive blackberry cream cheese pastries.
With a few simple ingredients, your kitchen will be smelling like the neighborhood bakery!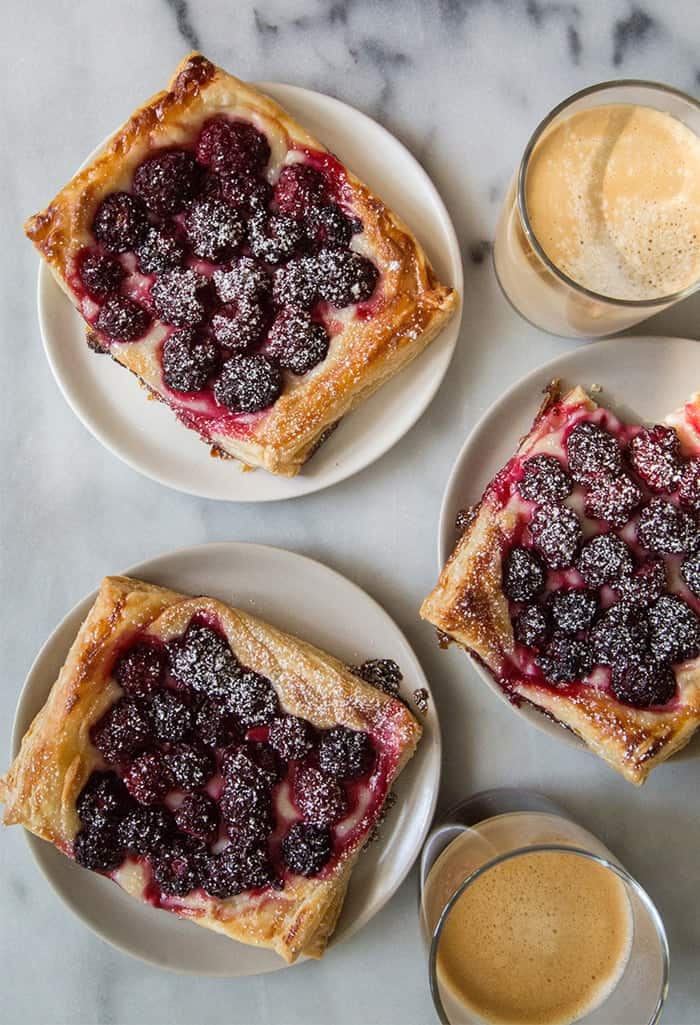 Cream Cheese Pastries
This recipe showcases fresh blackberries. However, this recipe works with a variety of soft fruits.
Great options include: strawberries, raspberries, nectarines, peaches, or pears.
As such, these breakfast cream cheese pastries can be made all year long regardless of the season!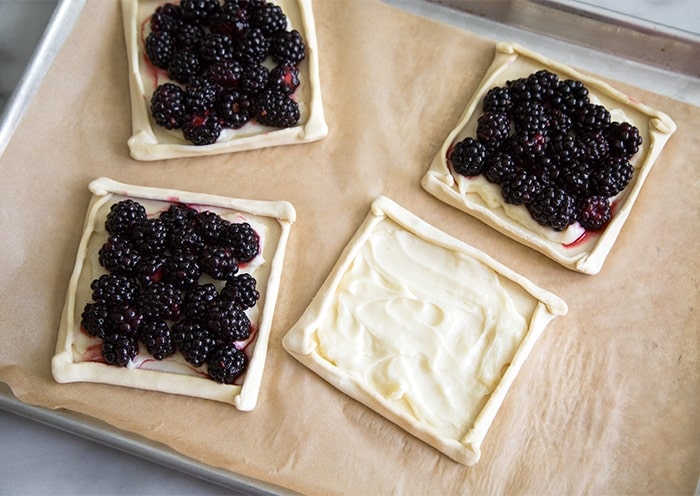 How to Use Store-Bought Puff Pastry
Puff pastry is one amazing ingredient.
While you can make it from scratch, there is no shame in using store bought frozen puff pastry!
It is so versatile and works perfectly for both sweet and savory applications.
Puff pastry is super easy to work with. The frozen pastry needs to be thawed before use.
Thawing time depends on the size of the sheet. The 5-inch square ones I'm using in this recipe takes about 10-15 minutes to defrost.
Puff pastry is readily available in large sheets, but my favorite are these 5-inch square ones.
You can wrap poached fruit such as this poached pear dessert. Or, puff pastry can be folded to make these delicious crunchy cinnamon sugar palmiers cookies.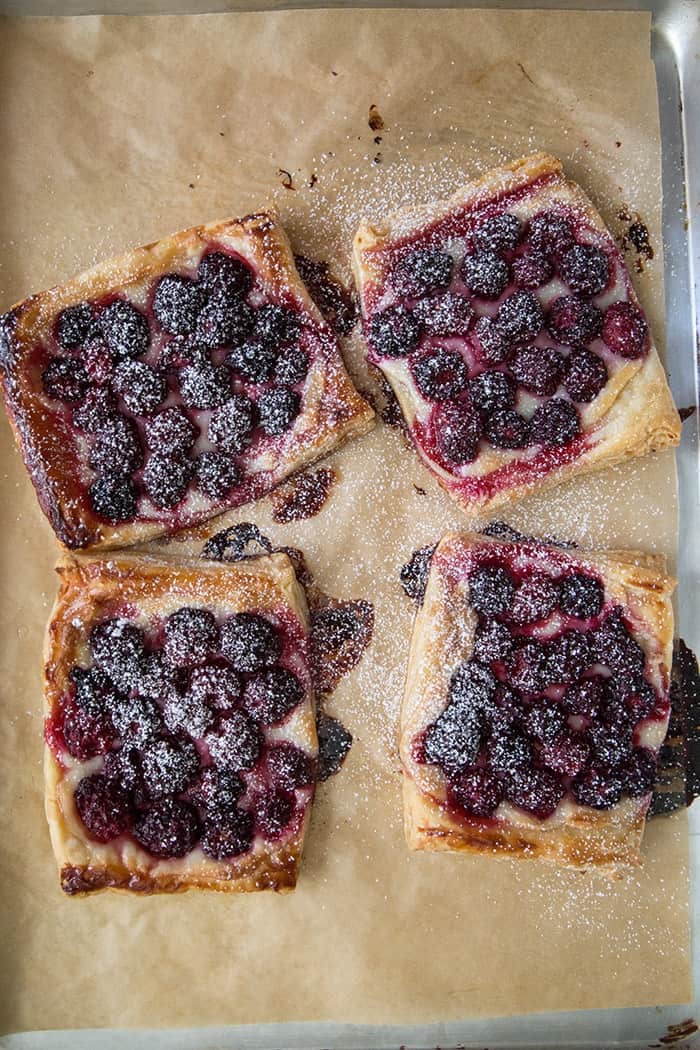 Fruit and Cream Cheese Breakfast Pastry
I used a heaping tablespoon of honey cream cheese to line the bottom of the pastries, leaving about a half-inch border. Once the cream cheese has been evenly spread, I folded over the border to create a barrier.
The folded edges will eventually puff up in the oven, but I fold them anyway just to keep the berries in place when I first pop them in the oven.
While you wait for the pastries to bake, go ahead and make your coffee.
Take the pastries out of the oven and dust them with some powdered sugar and you're good to go.
Eat these blackberry cream cheese pastries warm or enjoy them at room temperature.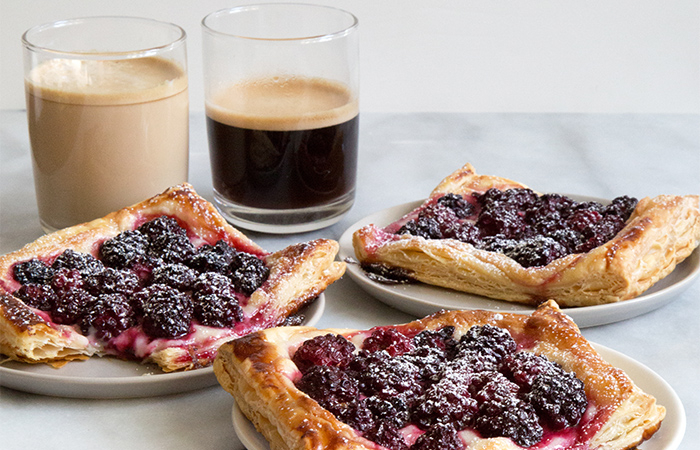 Blackberry Cream Cheese Pastries
Quick and easy breakfast pastry. This uses store-bought puff pastry dough. It is lined with honey cream cheese and topped with fresh blackberries.
Ingredients
12

oz

fresh blackberries

1

Tablespoon

granulated sugar

2

teaspoon

lemon juice

4

5-inch square puff pastry sheets,

thawed

⅓

cup

honey cream cheese

(recipe follows)

neutral oil for brushing

(such as avocado oil, grapeseed oil, vegetable oil)
Honey Cream Cheese:
4

oz

cream cheese,

room temp

¼

cup

unsalted butter,

softened

1

cup

powdered sugar

1

Tablespoon

honey

pinch of kosher salt
Instructions
Toss together blackberries, sugar, and lemon juice. Set aside.

Line baking sheet with parchment paper. Place puff pastry squares on baking sheet. Add a heaping 1 Tbsp of honey cream cheese in the center of each puff pastry square. Spread cream cheese, leaving about ½-inch border around the puff pastry square. Fold in about ¼-inch of puff pastry all around the square.

Add blackberries over cream cheese. Lightly brush oil over the exposed edges of the puff pastry.

Bake for 30-35 minutes until puff pastry edges has risen and puff pastry is golden brown in the color. Remove from oven and let pastries cool in pan for 5 minutes before transferring to a wire rack to cool. Sprinkle sifted powdered sugar over pastries before serving. Enjoy warm or at room temperature.
Honey Cream Cheese:
In the bowl of a stand mixer, beat cream cheese until smooth. Add butter and mix until combined. Add powdered sugar, honey, and salt. Mix until thoroughly combined.
Notes
I use puff pastry that is already cut down to 5-inch squares. You can buy a large sheet of frozen puff pastry and cut it down to your desired size.

Depending on the brand of store-bought puff pastry you use, you may want to dock the puff pastry before adding toppings.