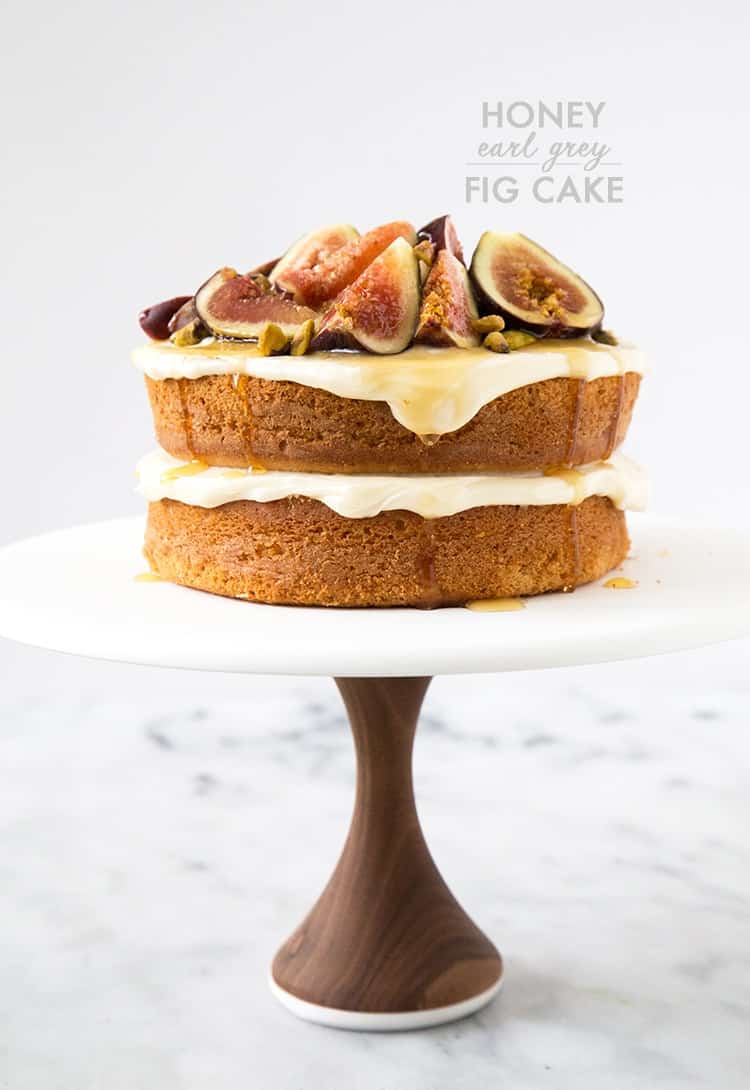 I once believed figs were chewy cookies. As a kid, if you told me that figs were fruits, I'd laugh in your face. To me, figs were cookies that came in a yellow box.
(The company that makes those cookies I speak of just recently removed "fig" from their name to dispel any confusion because they now make cookies with all sorts of fruit fillings.)
Fast forward to my early teens and I was finally introduced to this lovely fruit. I recall my dad eating some one Saturday morning. In typical fashion, he was eating them over the sink.
As I was making my breakfast, I noticed the beautiful interior of the fruit. Curious, I asked him what it was. My dad, who doesn't like to explain things unless it's about math or chemistry, just handed me one and said to try it. BAM. No explanation needed. I immediately fell in love with this sweet and delicate fruit.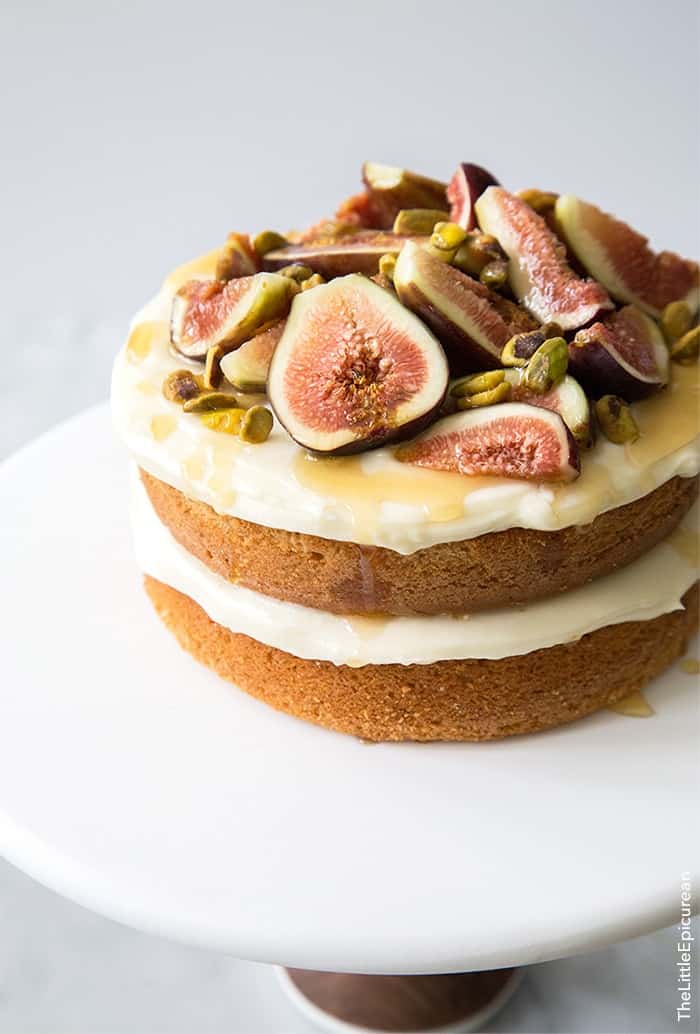 Last year I made this fig tart with pistachios and honey. I made it over and over again until figs were no longer in season. Now that figs are back, it's only natural I try to make a fig cake.
This honey Earl Grey fig cake is the perfect ending to a cocktail party, picnic lunch, Sunday brunch, pretty much any random or special day. I don't really need any excuse to make it!
Asides from figs, I love, LOVE, love Earl Grey tea. If it's on the menu, you bet I'm ordering it- especially if it's an Earl Grey based dessert. One of my favorite cafes in the area serves a delicious Earl Grey tiramisu. My favorite restaurant in Las Vegas makes an unforgettable Earl Grey cheesecake (I still dream about it).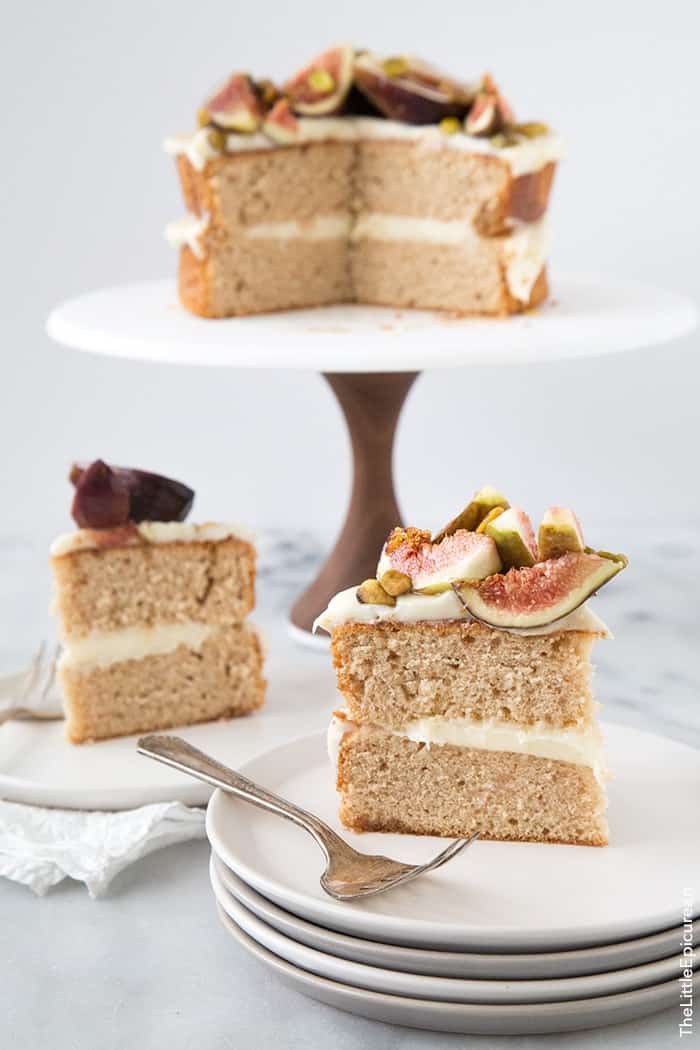 I used the cake base from my strawberry vanilla cake recipe.  I infused the milk with Earl Grey tea until it was super concentrated. The cake is very soft and delicate because it only contains egg whites. I also used the same honey cream cheese frosting as the strawberry vanilla cake.
Figs and honey are such a great combo (so is Earl Grey and honey!). The cream cheese frosting works well to enhance to the orange notes of the Earl Grey. If you'd like to make a proper frosted cake, don't worry. There is plenty of frosting to coat the sides of the cake.
Because it's summer (and I like less work), I left the sides of the cake exposed. And lastly,because I feel all desserts need a little crunch, I sprinkled some pistachios on top.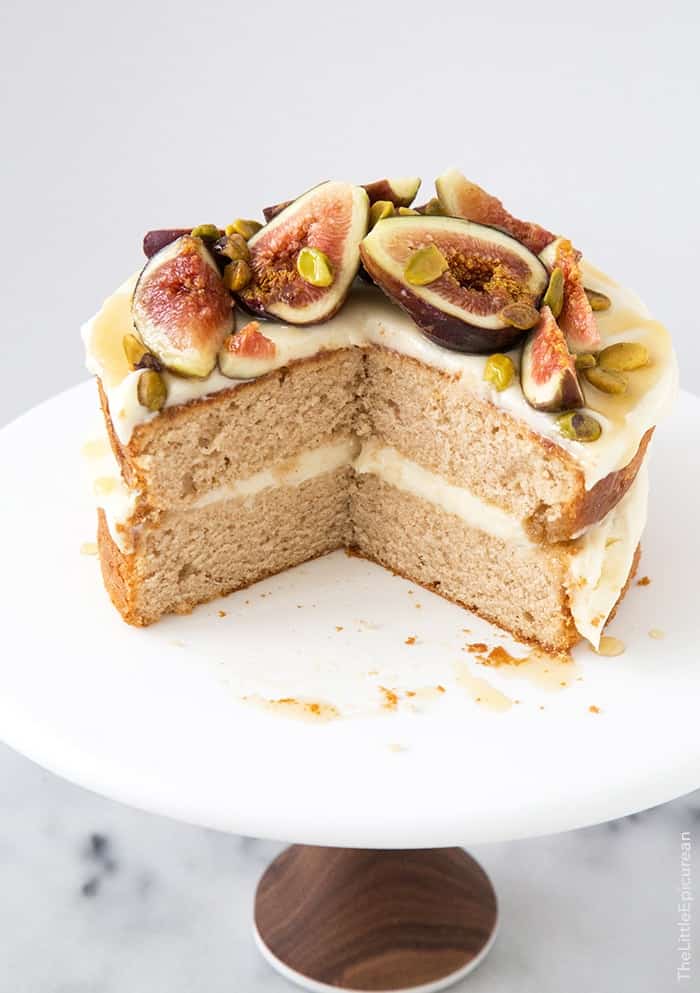 Honey Earl Grey Fig Cake
Ingredients
Earl Grey Cake:
1/2

cup

whole milk

2

earl grey tea bags

1 1/2

cups

cake flour

1/2

Tablespoon

baking powder

1/2

teaspoon

fine sea salt

3

large egg whites, room temperature

1

teaspoon

vanilla paste

6

Tablespoons

unsalted butter, softened

3/4

cup

granulated sugar
Honey Cream Cheese Frosting:
8

oz

cream cheese, room temperature

4

oz

unsalted butter, softened

2

cups

confectioners' sugar

2

Tablespoons

honey

1/4

teaspoon

fine sea salt
Instructions
Earl Grey Cake:
Microwave milk for 90 seconds to 2 minutes until very hot. Steep tea bags for 20 minutes. Remove tea bags. Stir in egg whites and vanilla paste. Set aside.

Preheat oven to 350 degrees F. Lightly grease and flour two 6-inch cake pans. Line with parchment paper and set aside.

Sift together cake flour, baking powder, and salt. Set aside.

In the bowl of a stand mixer fitted with a paddle attachment, cream together softened butter and sugar. Add 1/3 of dry flour mixture. Mix on low speed. Add 1/2 of liquid mixture. Continue to mix on low speed and add another 1/3 of dry flour mixture. Add remaining liquid mixture. Mix on low and add remaining 1/3 of dry flour mixture. Scrape down bowl as needed to ensure thorough mixing.

Divide batter between two prepared cake pans. Level batter using the back of a spoon or a mini offset spatula. Bake for 30-35 minutes, rotating once halfway through baking. Allow to cool in pan for 5 minutes before unmolding. Place cake on wire rack and allow to cool to room temperature
Honey Cream Cheese Frosting:
In the bowl of a stand mixer fitted with a paddle attachment, mix together cream cheese and butter until smooth. Scrape down bowl as needed. Add confectioners' sugar, honey, and salt. Mix until frosting is smooth and thoroughly combine.
Assembly:
Level cooled cake as needed. Place one cake layer on a cake stand or cake plate. Spread a generous amount of honey cream cheese frosting into an even layer over cake. Place another cake layer on top. Top with frosting. Place sliced figs on top of cake. Sprinkle pistachios on top. Drizzle honey as desired. Keep cake stored in the fridge until ready to serve. Let cake sit at room temperature for 20 minutes to allow cake to soften. Drizzle additional honey, as desired, before serving.