This caramelized fig and chocolate chunk ice cream uses a vanilla ice cream base and loads it with the delicious flavors of autumn!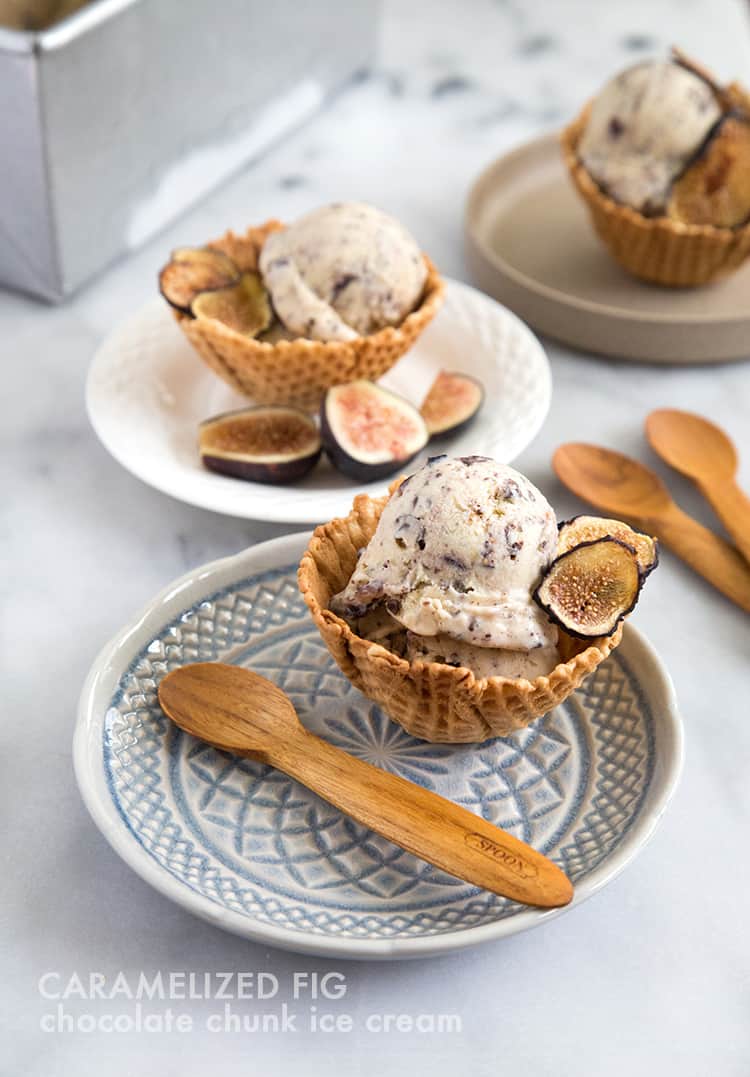 Happy unofficial end of summer!
I don't think Los Angeles got the memo. It still feels like summer here with temperatures well into the 90s and 100s this week.
I'm not complaining. My freezer is stocked with whiskey yogurt fig popsicles and my new favorite fig obsession- caramelized fig and chocolate chunk ice cream.
I have accepted that I must move on to fall baking (for Pinterest's sake).
It just feels so strange to see apple and pumpkin (and even peppermint!) desserts popping up on social media. It's too soon. I need another week or two. I need more ice cream.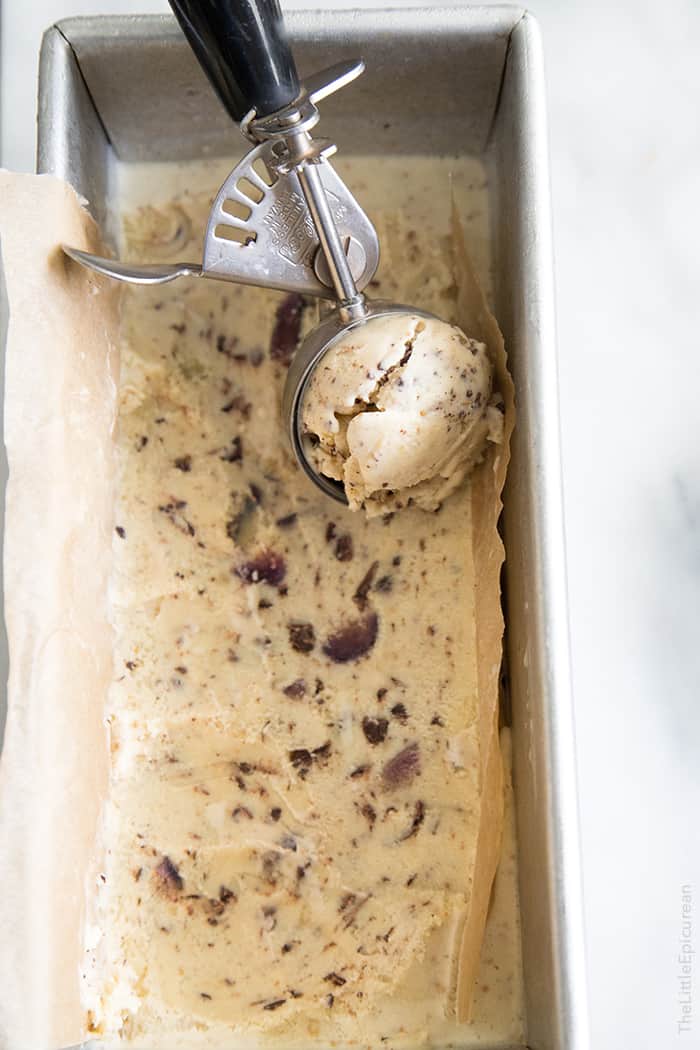 Caramelized Fig and Chocolate Chunk Ice Cream
To make this delicious ice cream, I used my favorite vanilla base and loaded it with chopped caramelized figs and chocolate chunks.
I love ice cream that's full of surprises. You get crunch from the large chunks of chocolate and sweet, chewy and maple-y goodness from the caramelized figs.
And to round it all together, wonderfully rich and creamy vanilla ice ream.
Vanilla, figs, and chocolate make a terrific combo. They provide enough contrasting flavors to keep you wanting more.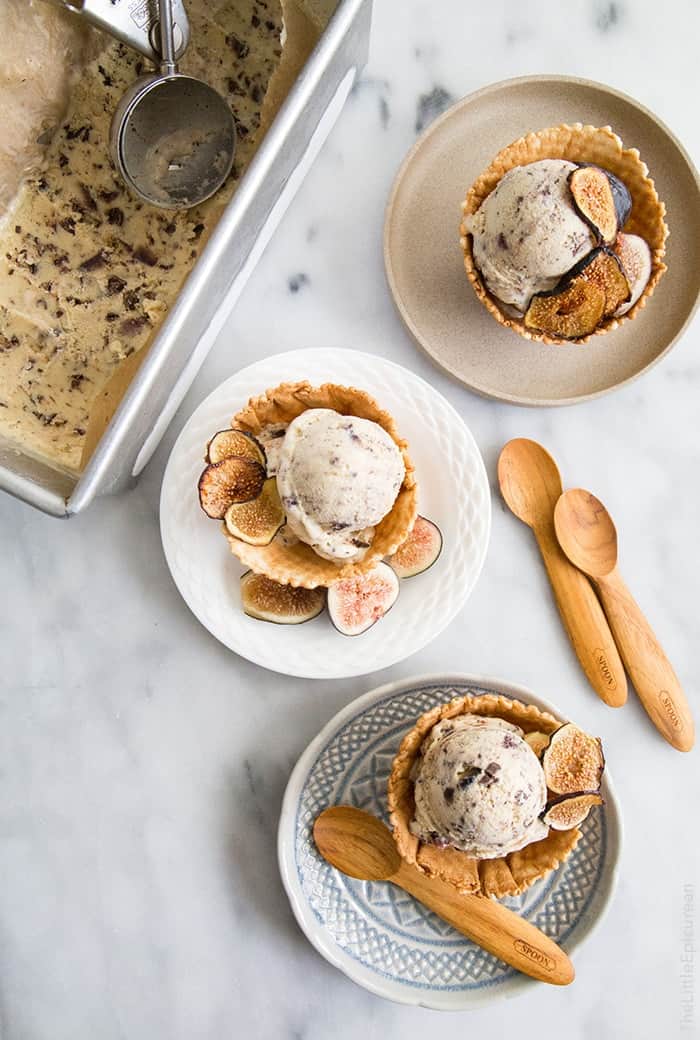 Caramelized Figs:
Caramelized figs are such a wonderful treat by themselves. Imagine the sweet flavors of fresh figs intensified by the contrasting slight bitterness of caramelized sugar. It's dreamy.
It sounds fancy, but it's a simple process. Melt butter in skillet then add sugar. Once sugar is melted, add the figs. The heat will soften the figs and caramelize the sugar.
Allow to cool and chop the figs into smaller, bite-sized chunks. That's it!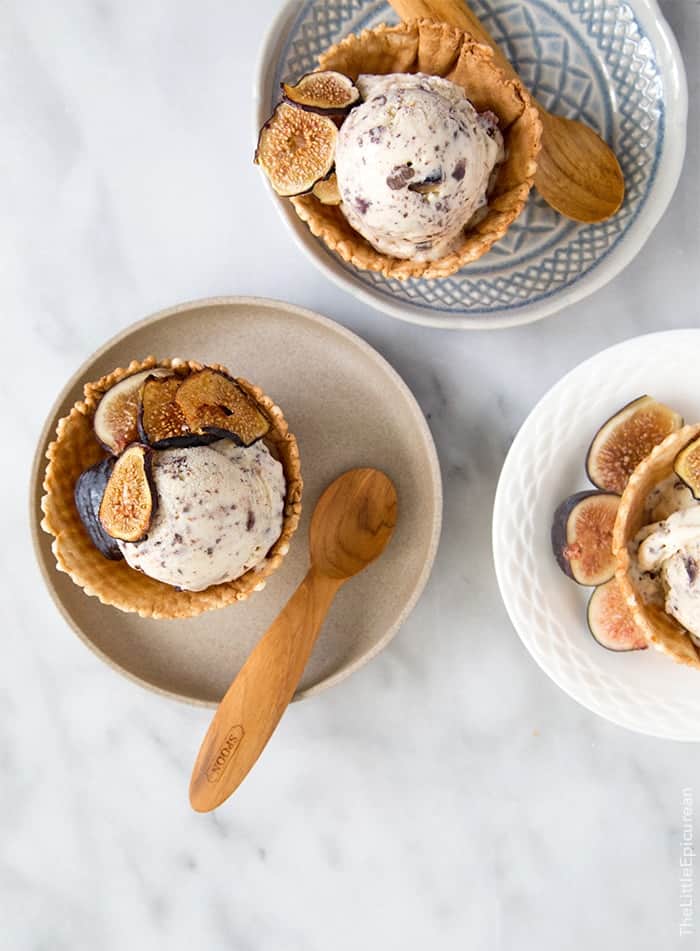 September has become so bittersweet for me. For so much of my life, September has meant going back to school. I graduated from college 8 years ago (GOSH, that makes me feel old), yet I still get excited when I see notebooks, pens, and highlighters on sale.
Oh well, I may not be a student anymore. But that doesn't mean I can't enjoy a couple scoops of this caramelized fig and chocolate chunk ice cream as an afternoon snack.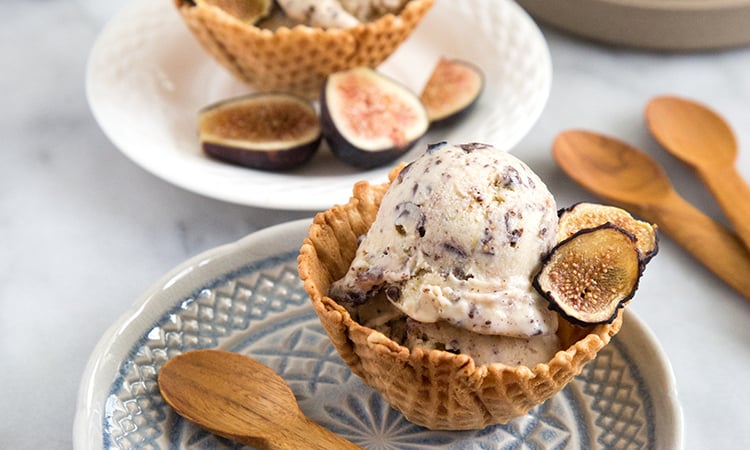 Caramelized Fig and Chocolate Chunk Ice Cream
Vanilla ice cream base loaded with chopped caramelized figs and dark chocolate chunks. Yield: about 1 quart
Ingredients
1 ½

cups

whole milk

1 ½

cups

heavy cream

⅓

cup

+ 2 Tablespoons granulated sugar, divided

6

large egg yolks

1

teaspoon

vanilla paste, or pure vanilla extract

¾

cup

roughly chopped dark chocolate

caramelized figs (recipe follows)
Caramelized Figs:
8

oz

fresh figs, halved

1

Tablespoon

unsalted butter

3

Tablespoons

dark brown sugar

pinch kosher salt
Instructions
In a medium pot, bring milk, cream and 2 Tbsp sugar to a boil.

Meanwhile, in a large bowl, whisk together remaining 1/3 cup sugar and yolks. Once milk mixture has come to a boil, lower heat. Temper hot milk into sugar-yolk mixture. Slowly add hot milk into yolks about 1/4 cup at a time, whisking to distribute heat. Once all the milk has been added to yolk, transfer all contents back to the pot.

Stir over medium-low heat until mixture reaches nappe consistency, or 180 degrees F on a kitchen thermometer. Stir frequently to ensure mixture does not burn at the bottom. Let mixture sit at 180 degrees F for 3 minutes to pasteurize eggs. Remove from heat and add vanilla paste. Stir to combine.

Transfer mixture to an airtight container and let mature in the fridge overnight. Freeze mixture in ice cream maker according to your unit's instructions. Once the volume has increased by half and has reached a soft serve consistency, add in chopped chocolate and caramelized figs. Let run for another 3 minutes to distribute fillings. Transfer ice cream to an airtight container and let rest in the freezer for at least 30 minutes before serving.

Caramelized Figs:
Melt butter in a medium skillet over medium-high heat. Add sugar and stir to combine. Add halved figs to skillet. Toss in sugar-butter mixture. Cook over medium heat, stirring often, until figs have softened and mixture is jam-like in texture. Remove from heat and allow to cool. Roughly chop figs into a smaller chunks. Store in the fridge until ready to use.