This butterscotch pumpkin cake features two thick layers of pumpkin cake lightly frosted with sweetened cream cheese and topped with butterscotch sauce.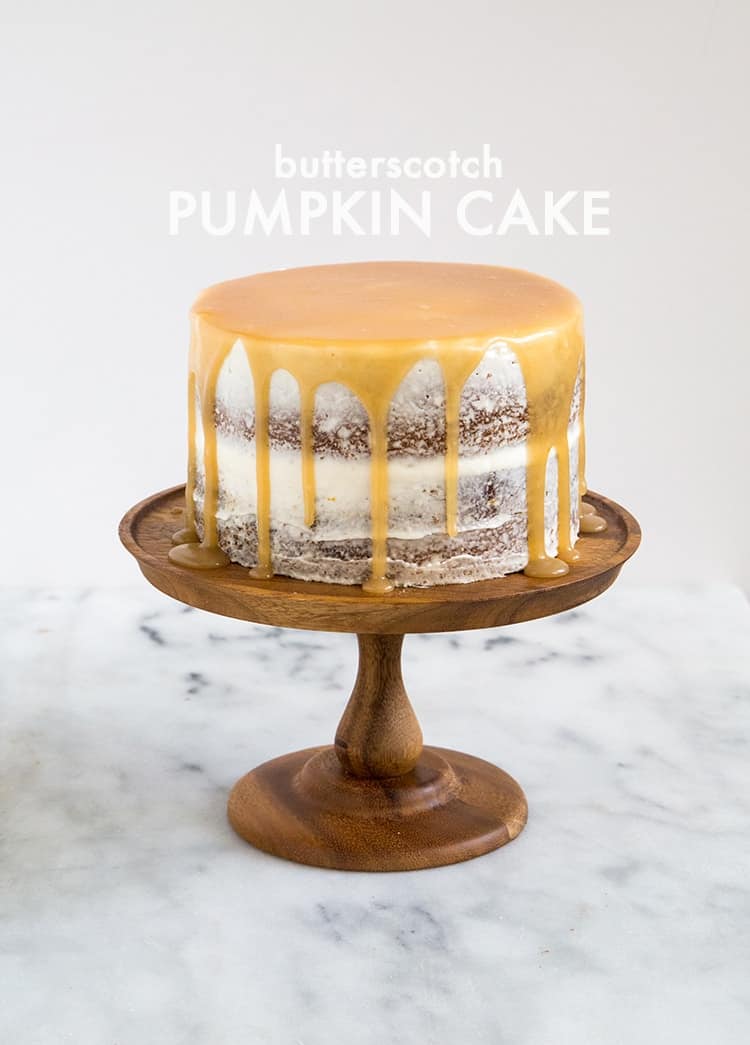 You know what else makes me happy? CAKE.
This butterscotch pumpkin cake is everything. I make a lot of desserts, but I normally don't each much of it. I'll taste a little bit and share the rest with those within driving distance. I couldn't share this cake.
Alex and I devoured it as soon as I uploaded the photos onto my computer.  This pumpkin cake has become my absolute FAVORITE cake. So much so that I need to have this at our wedding.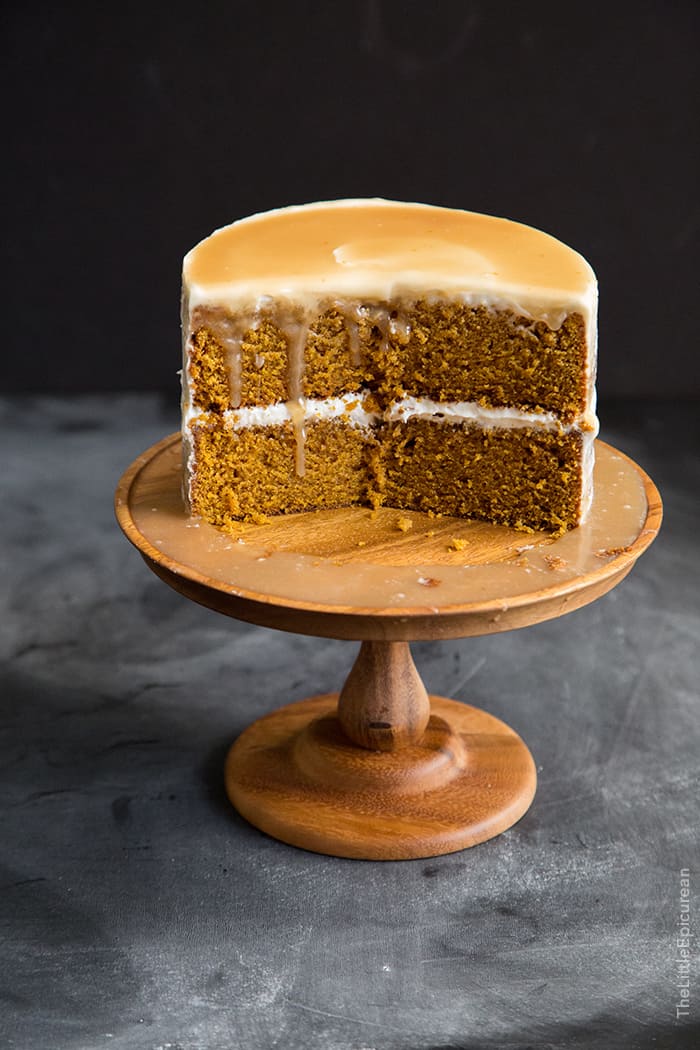 Coconut Oil Based Cake
I've noticed the sun setting earlier these days. Farewell, bright summer light and hello, dark moody light. I'm still trying to get a grasp of dark backgrounds. (But I'm really liking it!)
This pumpkin cake is unlike any other pumpkin desserts I've made before. Instead of butter or vegetable oil, I made this using coconut oil.
Coconut oil does not have a pronounced coconut flavor, so don't worry about it affecting the taste of the pumpkin. It does however, lend a very moist and tender crumb- which makes this cake absolutely delightful. It's the kind of cake that doesn't need much frosting (if any, at all).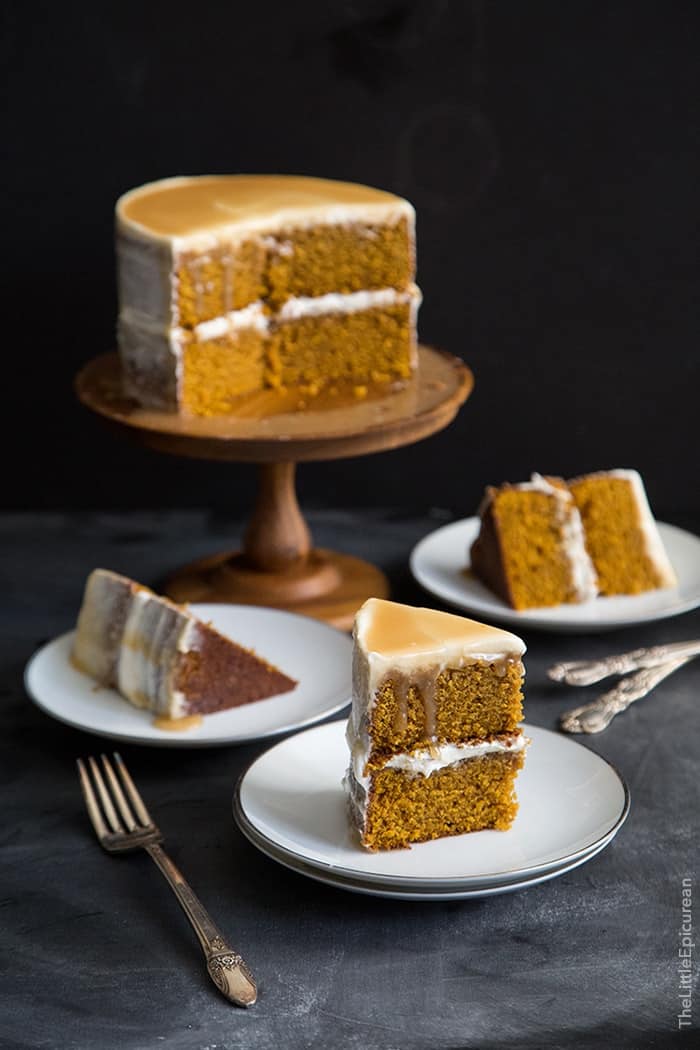 Favorite Cream Cheese Frosting
I used my favorite cream cheese frosting. This is the same base frosting I've used on this honey earl grey fig cake and strawberry vanilla cake. To make it a little different, I spiked it with a touch of butterscotch. You can't go wrong with butterscotch. If given the choice between caramel or butterscotch, I choose the latter.
Caramel is made with white granulated sugar, butter and heavy cream. The sugar is cooked until it is almost burnt, giving it that nice amber color. Butterscotch isn't cooked as much as caramel.
It's main difference is the use of brown sugar. Depending on how dark the brown sugar, the more pronounced the molasses flavor. It's a taste that I associate with autumn and winter… think gingersnaps and gingerbread.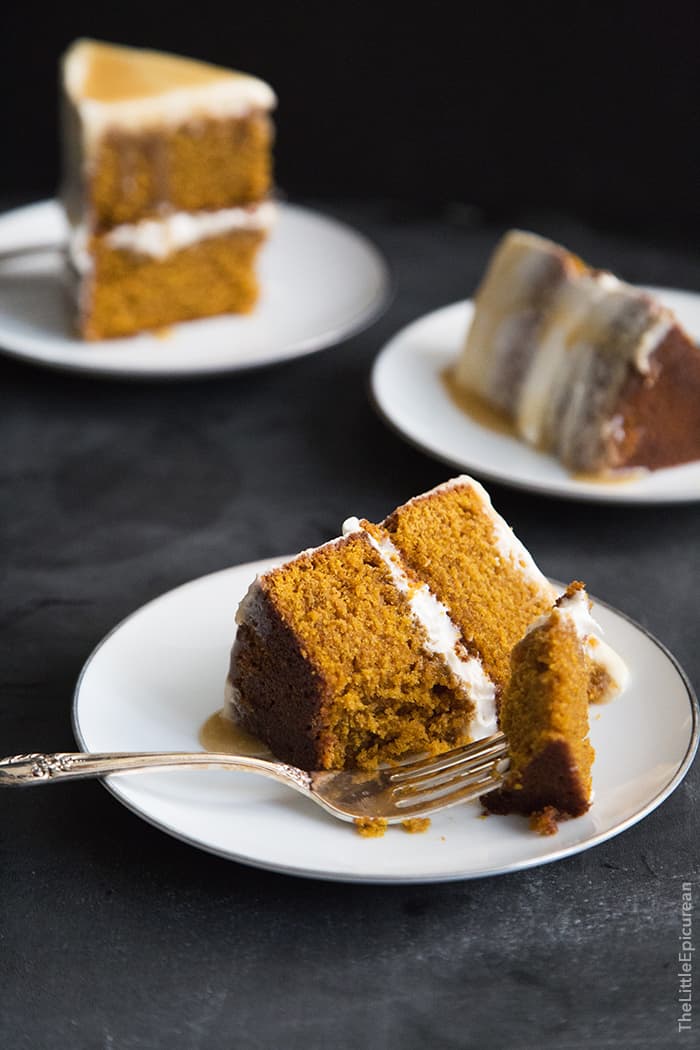 I was in NYC last week to attend the Better Homes and Gardens Stylemaker Event. I had a ton of fun meeting other bloggers and being surrounded by so much creative energy. It really pumps me up and energizes my love for blogging.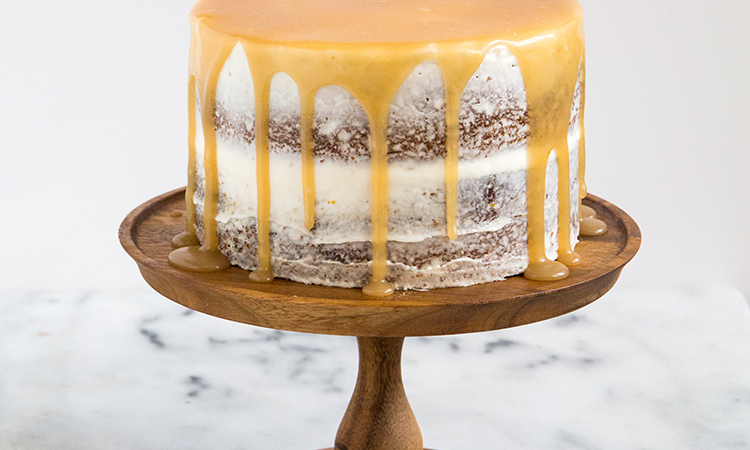 Butterscotch Pumpkin Cake
Ingredients
Pumpkin Cake:
2

cups

all-purpose flour

1

teaspoon

baking powder

1

teaspoon

baking soda

1

teaspoon

pumpkin pie spice mix

1 1/2

teaspoon

ground cinnamon

3/4

cup

coconut oil, unrefined

1

cup

canned pumpkin puree

1 1/4

cup

granulated sugar

1

teaspoon

fine sea salt

3

large eggs

1/3

cup

whole milk
Butterscotch:
1/4

cup

unsalted butter

1/4

cup

light corn syrup

2/3

cup

dark brown sugar, packed

1/4

teaspoon

fine sea salt

1/4

cup

heavy cream

1

Tablespoon

cornstarch

1

teaspoon

vanilla extract
Cream Cheese Frosting:
8

oz

cream cheese, room temp

4

oz

unsalted butter, room temp

2

cups

confectioners' sugar

3

Tablespoon

butterscotch sauce

1/4

teaspoon

fine sea salt
Instructions
Pumpkin Cake:
Preheat oven to 350 degrees F. Butter two 6-inch round cake pans and line with parchment paper. Set aside.

In a medium bowl, whisk together flour, baking powder, baking soda, pumpkin pie spice, and ground cinnamon. Set aside.


In the bowl of a stand mixer fitted with a paddle attachment, cream together coconut oil and pumpkin puree. Add sugar, salt and eggs. Mix until smooth.

Add half of dry flour mixture. Mix on low speed until almost combined. Add milk. Mix on slow speed and then add remaining dry flour mixture. Mix until there are no longer any dry streaks of flour. Scrape down bowl as needed to ensure thorough mixing.


Divide cake batter between the two prepared cake pans. Level batter using a mini offset spatula. Bake for 35-40 minutes until toothpick inserted in center of cake comes out clean. Allow to cool in pan for 5 minutes before unmolding. Allow cake to cool to room temperature on wire rack.

Butterscotch Sauce:
In a heavy-bottomed sauce pot, melt butter over medium heat. Add corn syrup, brown sugar and salt. Stir together and bring to a boil. Continually stir the mixture to ensure contents do not burn along the sides of the pot.


Reduce heat to a simmer and allow mixture to cook for about 3 minutes. While the mixture simmers, whisk together the cream and cornstarch. Stir cornstarch mixture into the pot.


Increase heat and bring mixture back to a boil. Continue to cook and stir until mixture starts to thicken, about 2 minutes. Remove from heat and stir in vanilla. Transfer to a heat-proof container and allow to cool. Once cool to the touch, keep stored in the fridge until ready to use.

Cream Cheese Frosting:
In the bowl of a stand mixer fitted with a paddle attachment, cream together cream cheese and butter until smooth. Scrape down bowl as needed to ensure thorough mixing. Add powdered sugar, cooled butterscotch sauce, and salt. Mix until smooth.

Notes
Butterscotch sauce will thicken substantially in the fridge. Microwave for 15 second intervals to gently loosen the sauce and get it to a pourable consistency.