Cooked low and slow, this maple pumpkin butter is a delicious and flavorful spread to enjoy with your morning toast.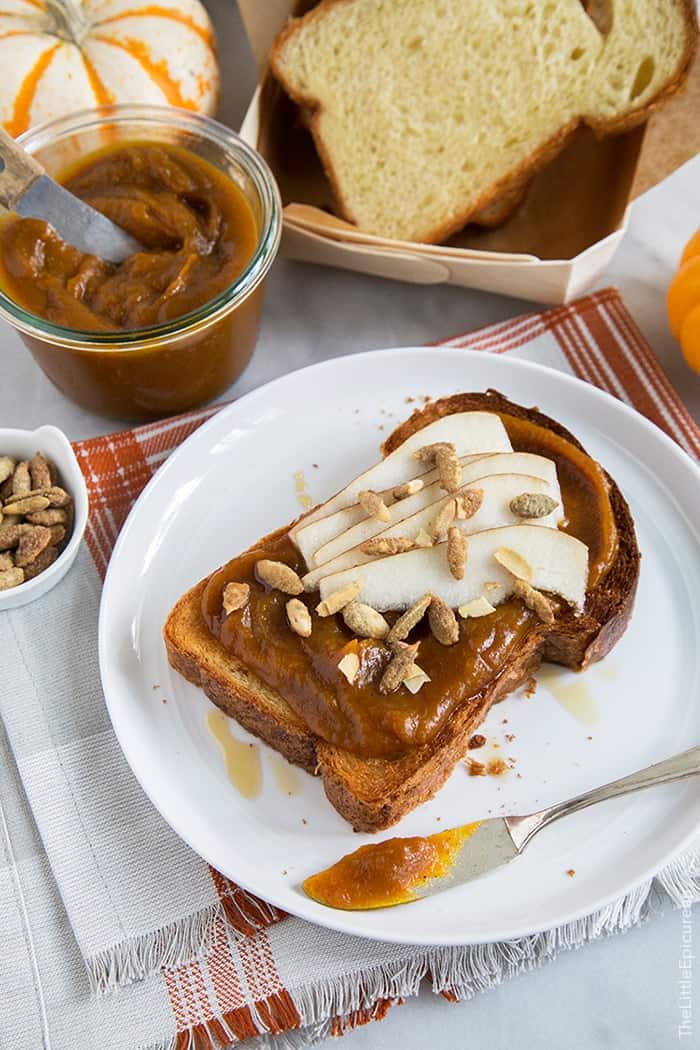 Pumpkin is taking over the internet today. I'm not kidding.
Thanks to Sara of Cake Over Steak, over 70 bloggers have teamed up for the ultimate #VirtualPumpkinParty!
You can find all things pumpkin from my maple pumpkin butter brioche toast with sliced pears and candied pumpkin seeds to this scrumptious pumpkin pie milkshake or this savory Thai pumpkin curry.
Pumpkin Butter
One of these days, I will make pumpkin butter from scratch using whole pumpkins. For now, I'm totally happy using canned pumpkin.
I've always wondered why it's called pumpkin butter when it actually contains no butter.
Same goes for apple butter. My guess is that butter refers to the smooth spreadable consistency. Please correct me if I'm wrong.
Regardless of it's name, pumpkin butter is delicious. When spread on a piece of toast, it tastes like autumn exploded in your mouth.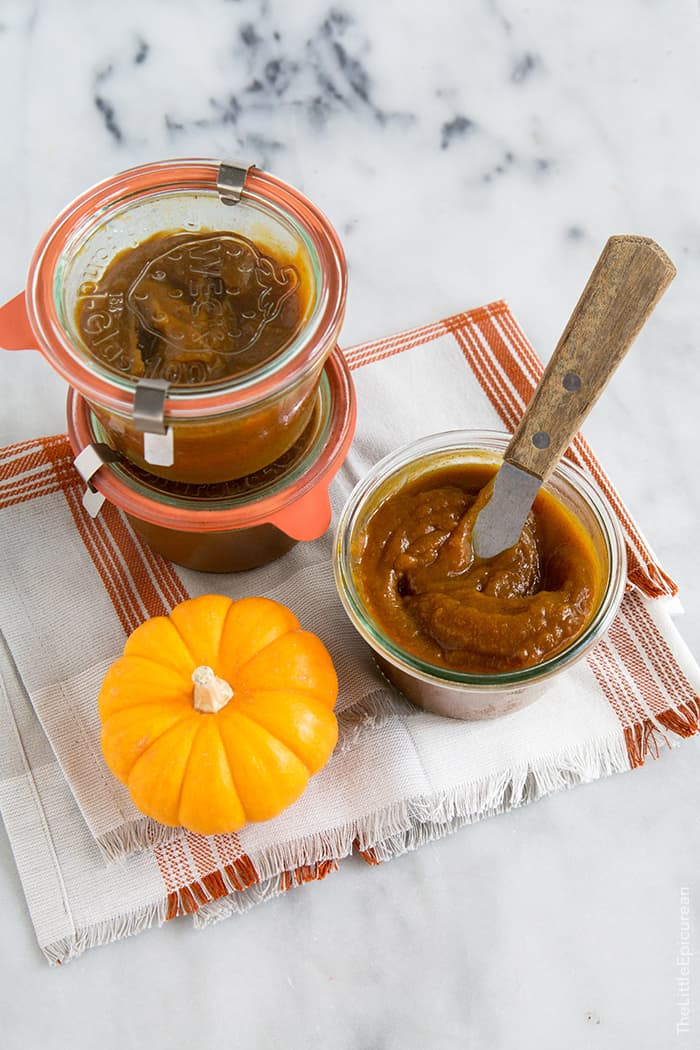 Of course, you could easily go to Trader Joe's and buy yourself a jar of pre-made pumpkin butter, but where's the fun in that? Pumpkin butter is super easy to make at home, plus you can add all sorts of herbs and spices to your liking.
For me, it's maple. Maple anything during autumn gives me all the feels.
You can cook this low and slow in a crockpot, however I prefer to simply it cook it on the stove.
Add all the the ingredients in a heavy bottomed sauce pot and cook it for about half an hour until it's thick and super aromatic. Stir it from time to time to make sure the mixture doesn't burn at the bottom.
That's it. Use it warm, or eat it chilled. Either way, it'll taste just as good.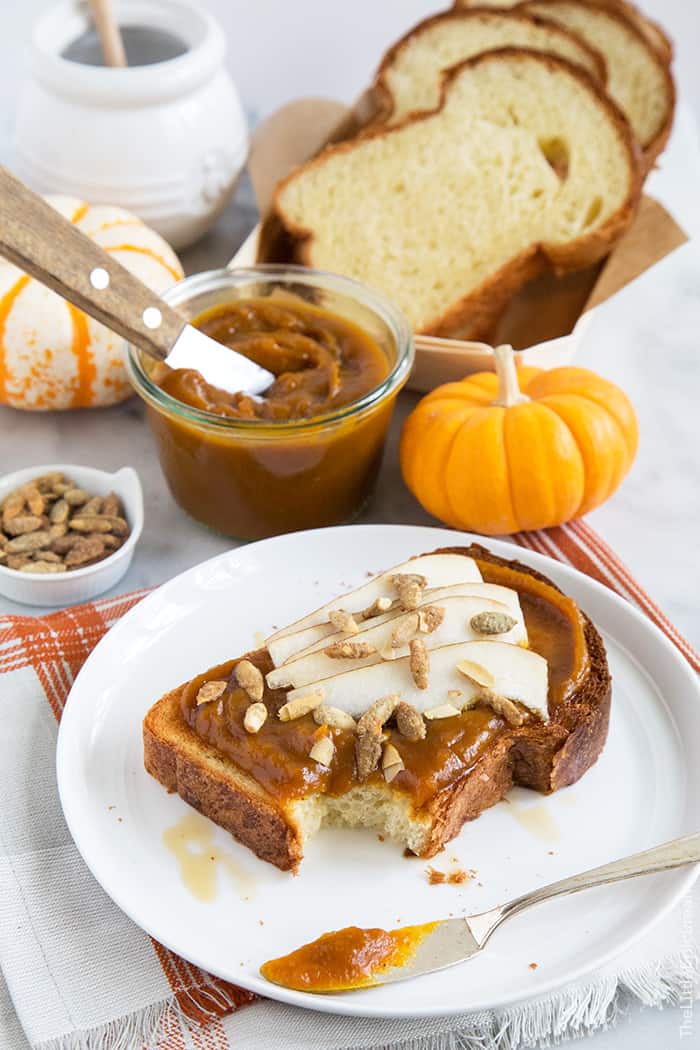 My favorite way to enjoy pumpkin butter is on a thick brioche toast with sliced pear and a sprinkling of candied pumpkin seeds. And just for kicks, sometimes I like to drizzle a tiny bit of maple syrup on top.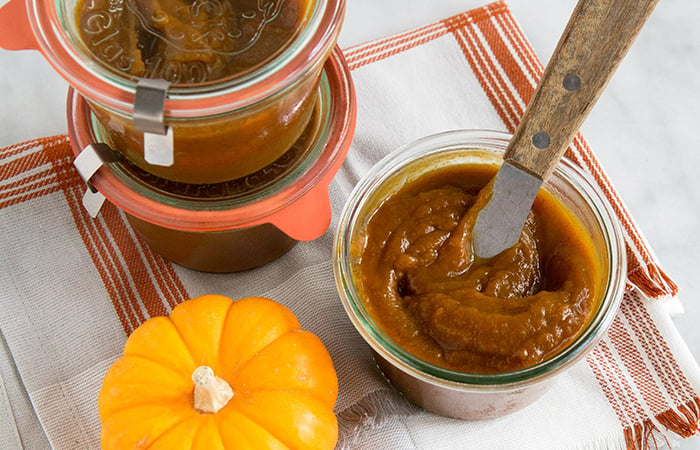 Maple Pumpkin Butter
Cooked low and slow, this maple pumpkin butter is a delicious and flavorful spread to enjoy with your morning toast. Yield: about 36 oz
Ingredients
2

–

15 oz canned pumpkin

¾

cup

dark maple syrup

½

cup

apple cider, or apple juice

¼

cup

dark brown sugar, packed

2

Tablespoons

lemon juice

2

teaspoons

ground cinnamon

½

teaspoon

kosher salt
Instructions
Add all ingredients to a heavy bottomed sauce pot. Set over medium-high heat, stir ingredients together and bring mixture to a boil. Allow to boil for about 30-45 seconds and then reduce heat to a simmer.

Allow mixture to simmer for 30 minutes, uncovered. Frequently stir to ensure mixture does not burn at the bottom of the pot. By this time, the mixture should have thickened substantially and it should be very fragrant. It will continue to thicken as it cools.

Remove from heat and cool to room temperature. Transfer pumpkin butter to airtight containers, cover and store in the fridge until ready to use. Keeps for 1-2 weeks chilled.