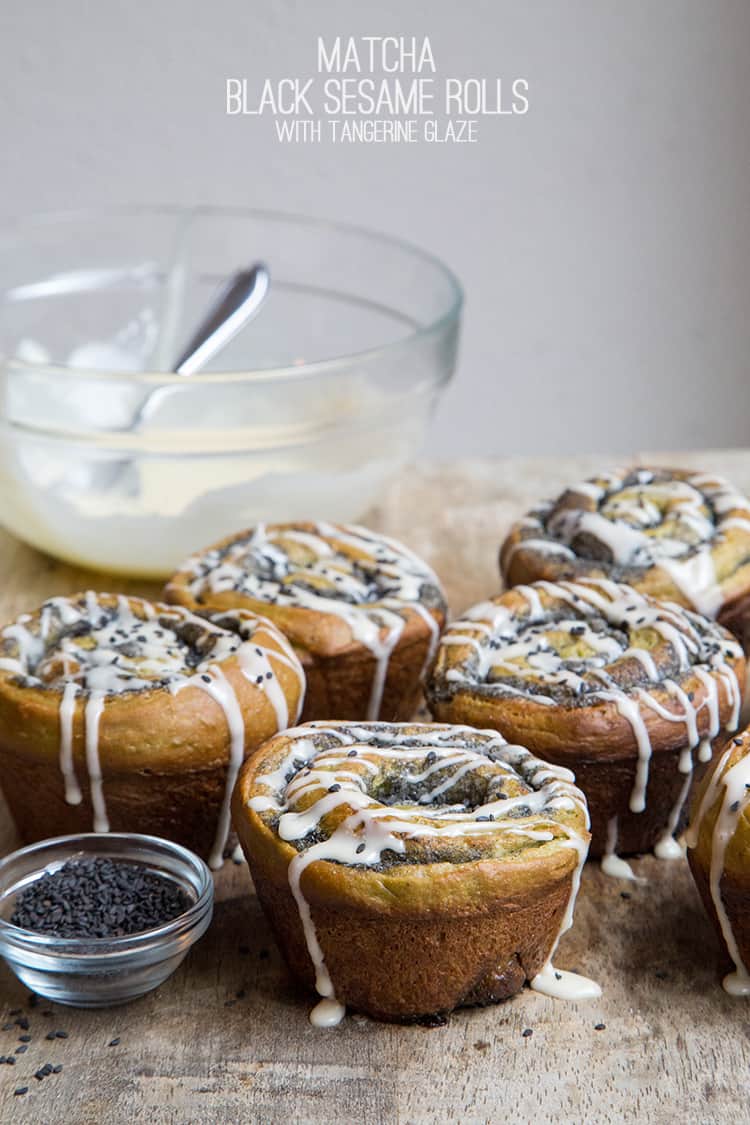 Do you watch The Bachelor? I do. And I got Alex to start watching it, too.
I've been watching since the first season when I was junior in high school. I know people may think it is a silly show (it's entertainment, after all), but I find something captivating about all these people fighting at the chance for love. Sure, it's gotten a lot more produced and less genuine over the years. I feel like most contestants are just in it to get famous. However, I continue to root for the handful of people that I think are honestly on the show to meet someone. I also continue to be a fan because I can't get enough of all the drama. OH MAN, the drama, the crying, the insults, all the backhanded compliments. Where do the producers find these people? And why on earth do these people agree to be put to on TV when they know they might be portrayed in a terrible light? The drama, that what's keeps me coming back.
Speaking of drama, these matcha black sesame rolls were subject to my temperamental oven. Let me explain.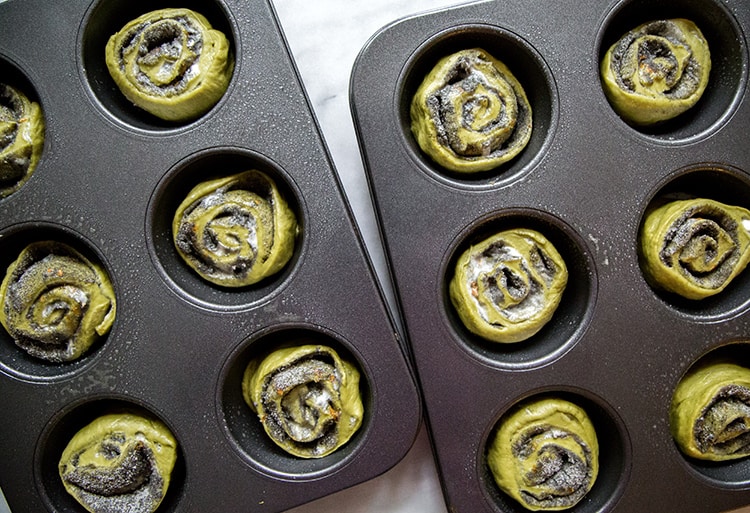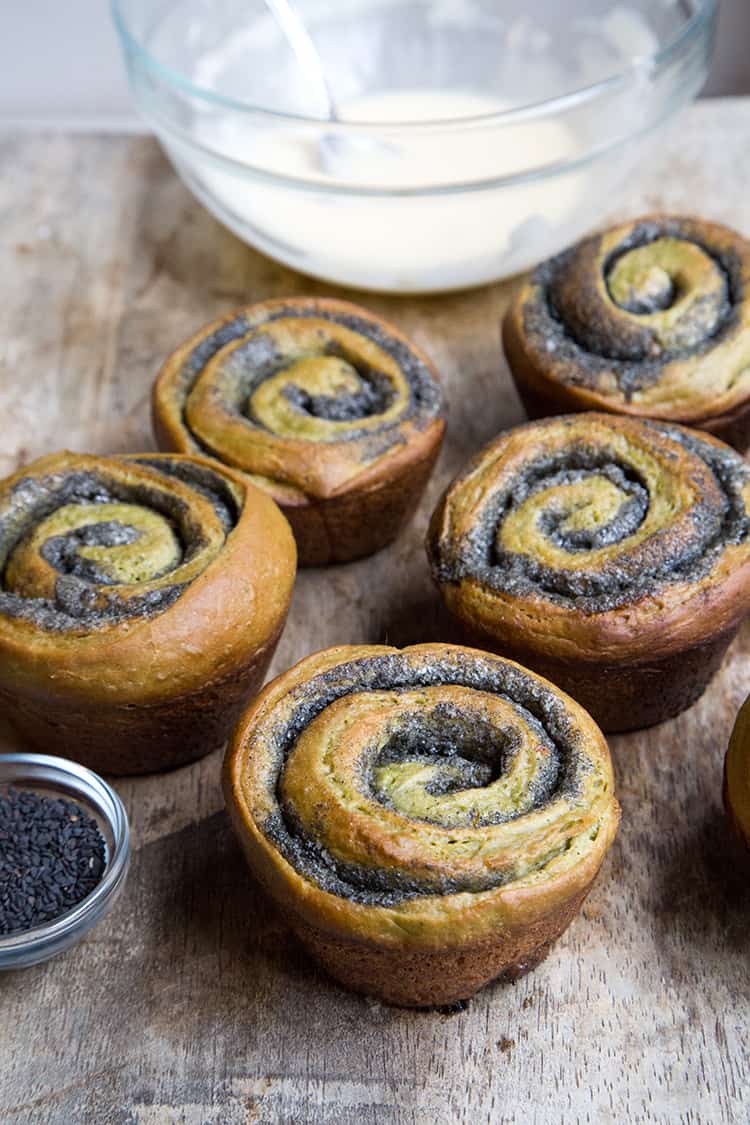 My oven has always been a little wonky. We have a gas oven with a knob to set the oven temperature. That knob is super sensitive. One little nudge and it goes from 350 degrees F to 450 degrees F. The only way to tell whether the oven is heated according to the knob temperature is determined by a little red light that goes off. I don't trust that red light. I keep two oven thermometers inside the oven so I can always be certain of the temperature.
I had set the temperature to 350 and placed the proofed matcha black sesame rolls in the middle rack. Within 10 minutes of baking, I started to smell something burning. I quickly opened the oven door and a burst of smoke escaped. The fire alarm when off and the dogs started barking. The temperature in the oven was nearing 500. Luckily, I was able to save the rolls. They are a little more golden on the outside than I'd like, but they're still delicious.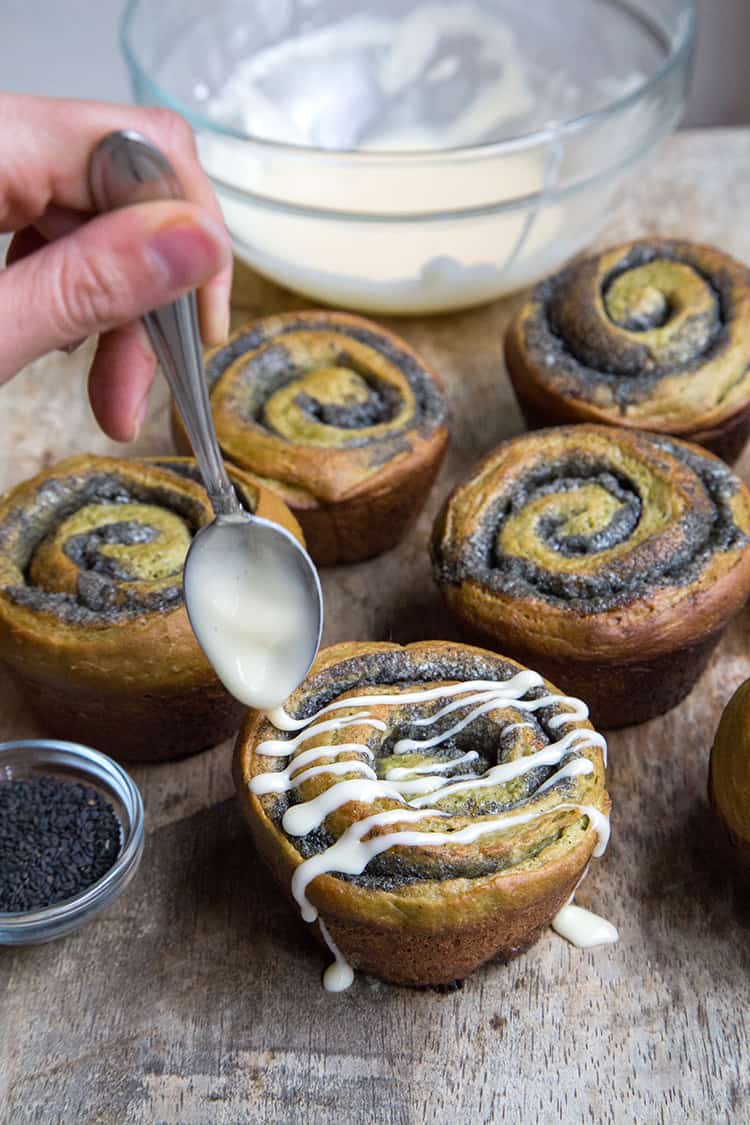 I love the combination of matcha and black sesame. (See: black sesame matcha doughnuts, matcha panna cotta with black sesame brittle,  black sesame cupcakes with matcha cream cheese.) There's just something about the sweet/floral/grassy matcha and the nutty black sesame that just works. The flavors marry well :)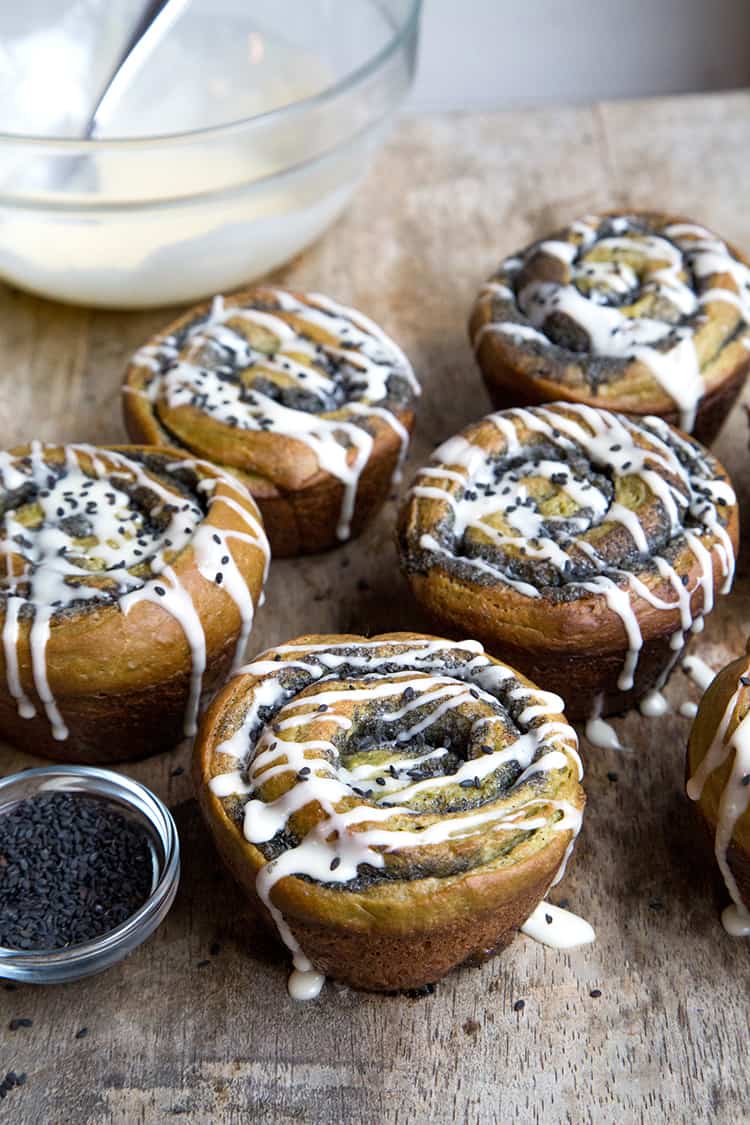 To perk up the rolls, I added a touch of tangerine zest in the black sesame filling. The bright notes of citrus does fantastically well with toasted black sesame powder. It's the same way I like to add a little orange zest to my cinnamon rolls. To further brighten these black sesame rolls, I thinned out the glaze with tangerine juice.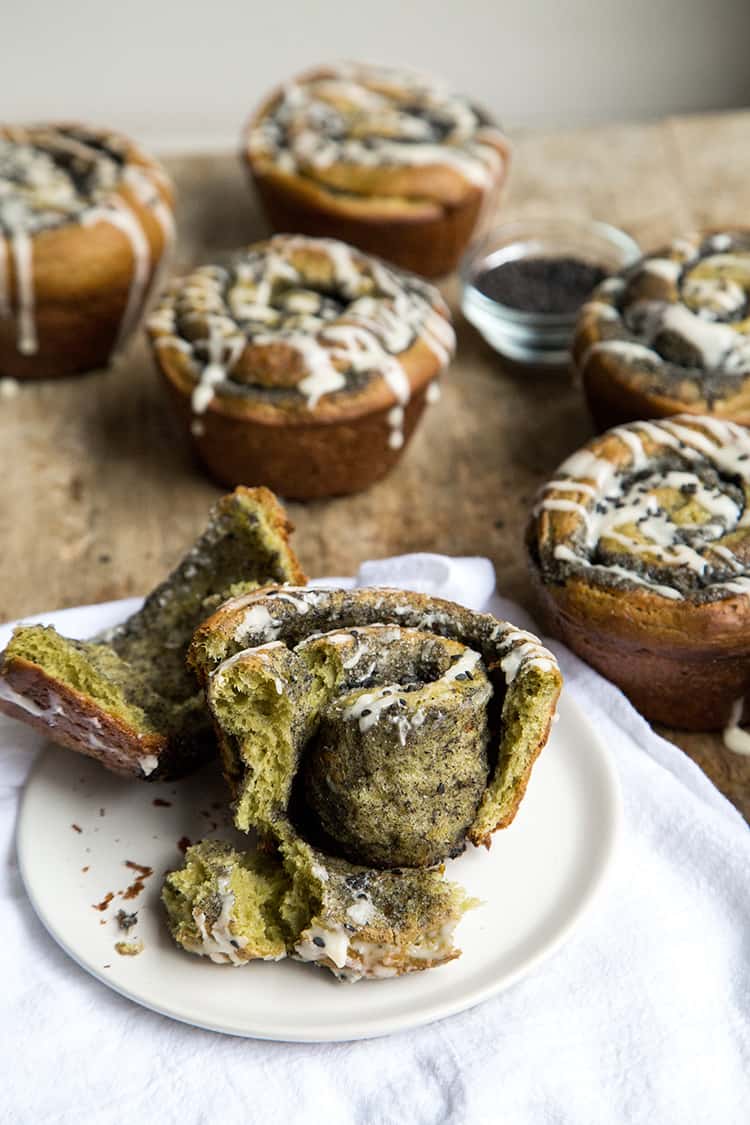 So far Alex has endured two episodes of The Bachelor. (I hardly think the first episode counts because it's just introductions.) However, he does seem to be interested because Howard Stern mentions the show a lot on his morning talk show.
On another note- I have some fun news! I'm going to Disney World this weekend! I AM SO EXCITED. I'm going with my best friend (aka MOH) and it will be her first time there! Be sure to follow me on Snapchat (username: LittleEpicurean) to see what we're up to! I'll be posting snaps often.
Matcha Black Sesame Rolls with tangerine glaze
Ingredients:
Matcha Dough:
1/2 cup water
2 1/4 tsp active dry yeast
1/4 cup + 1 Tbsp granulated sugar
1/2 cup whole milk
2 large eggs
1 tsp fine sea salt
4 cups all-purpose flour
2 Tbsp matcha powder
5 Tbsp unsalted butter, room temperature
Black Sesame Filling:
1/2 cup unsalted butter
1/4 cup black sesame powder*
1/3 cup + 2 Tbsp granulated sugar
1 Tbsp tangerine zest (or orange zest)
Tangerine Glaze:
3/4 cup powdered sugar
2 Tbsp tangerine juice
pinch of fine sea salt
Directions:
Matcha Dough: Sprinkle yeast over warm water. Add 1 Tbsp sugar and stir to combine. Let sit for 5 minutes to allow mixture to bubble and activate.
In the bowl of a stand mixer, whisk together yeast mixture, remaining 1/4 cup sugar,milk, and eggs.
In a large bowl, whisk together flour, matcha powder, and salt. Add 2 cups of flour mixture to mixing bowl. Use the hook attachment to mix the dough together. Mix on low speed until flour is incorporated. Add another 1 cup of flour. Continue to knead on low speed, adding softened butter 1 Tbsp at a time.
Add remaining cup of flour and knead until the dough is smooth and cleans the sides of the bowl. If dough is too sticky, add additional flour 1 Tbsp at a time until desired consistency is achieved.
Transfer dough to a lightly greased bowl. Cover with plastic wrap and let dough rest at room temperature for about an hour until dough has doubled in volume.
Punch down risen dough. Transfer to a lightly floured working surface. Roll dough into a 20 x 14-inch rectangle.
Black Sesame Filling: Spread softened butter over rolled dough. In a small bowl, mix together black sesame powder and granulated sugar. Distribute black sesame sugar over dough. Sprinkle tangerine zest on top.
Roll dough into a tight log with long edge facing you. Slice the log into 12 equals parts.
Assembly:Lightly grease two giant 6-cup muffin pans. Place slices into prepared muffin tin. Cover with plastic wrap and let rolls rise for 30-45 minutes until rolls expand to fill the muffin tin. Preheat oven to 350 degrees F.
Remove plastic wrap and bake rolls for 35-40 minutes until golden brown and the internal temperature of the bread hits 190 degrees F. Let rolls sit in muffin tin for 5 minutes before unmolding.
Tangerine Glaze: In a bowl, combine powdered sugar, tangerine juice, and salt. Mix until smooth. Drizzle over warm rolls and serve immediately.
Note: Black sesame powder (also called black sesame flour) can be found at Asian markets, health stores, and Amazon.com