A Filipino variation on cinnamon roll. Ube Swirl Bread is a soft yeasted dough filled with sweet coconut and purple yam paste.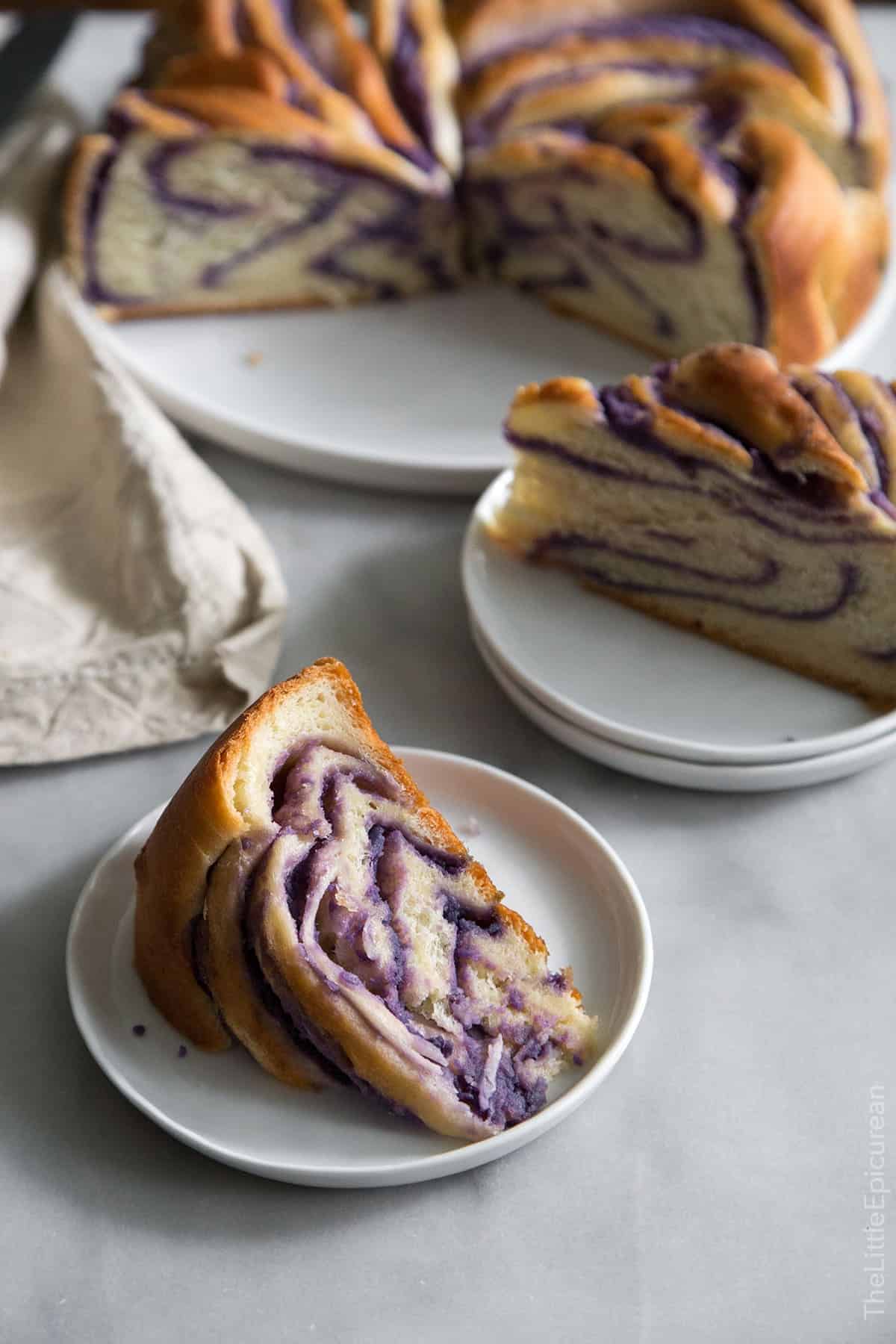 Ube is the Tagalog word for purple yam. It is pronounced "ooo-bay."
Ube is a super popular tuber in the Philippines, widely used in desserts such as: ube ice cream, ginataang bilo-bilo, and ube cheese pandesal,
While purple yam is a relative of sweet potato, they're not the same tuber. It is also not the same as taro root, although they are often mistakenly used interchangeably.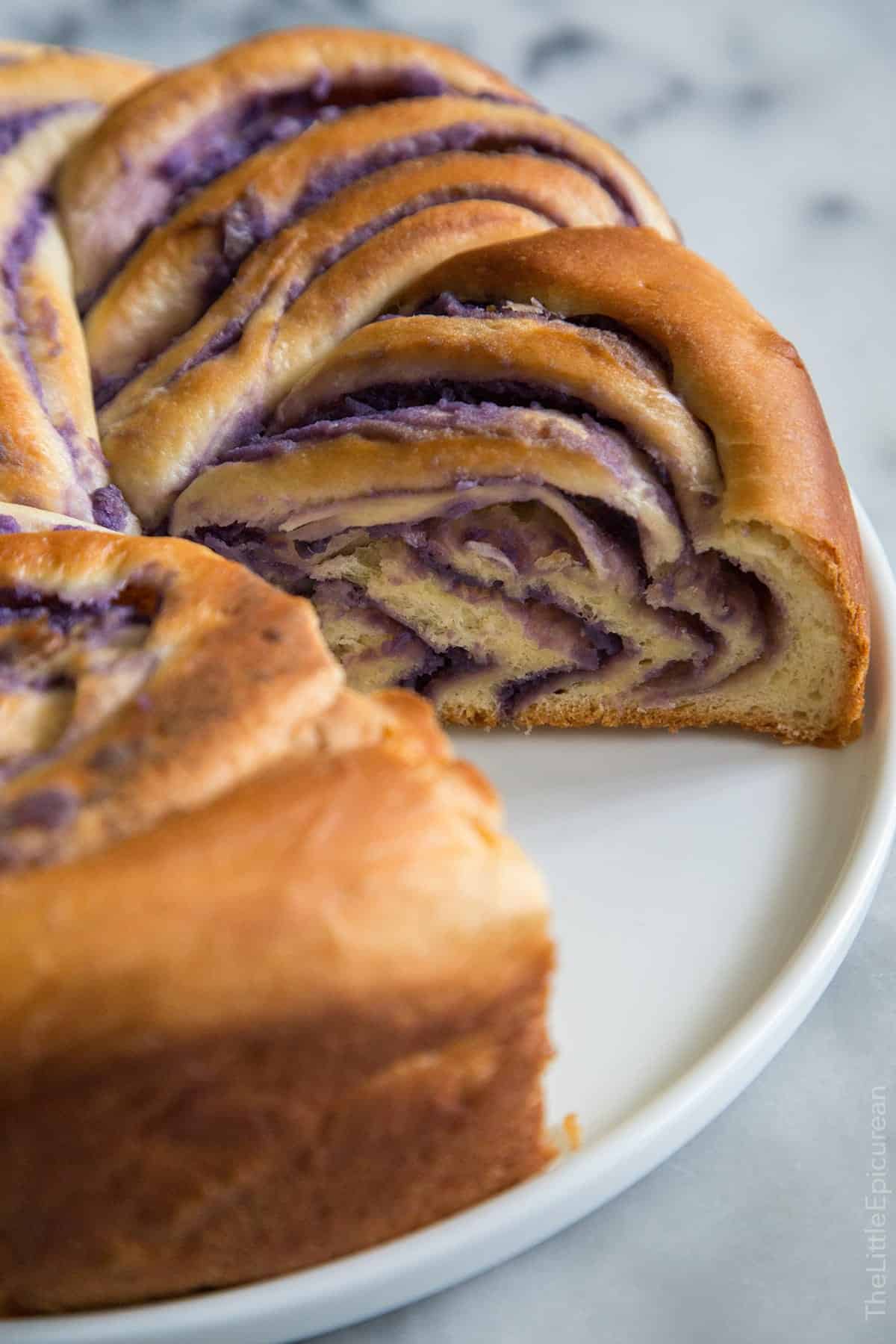 Ube Roll Bread
Fresh purple yam is very difficult to find in the United States.
It is easier to find frozen ube, powered purple yam, or prepared ube jam (called ube halaya).
I did, however, find tons of powdered purple yam. Unfortunately, I did not have much luck using the powdered stuff. Eventually, I got my hands on enough purple yam to test this recipe several times and now I'm happy to finally share it with you!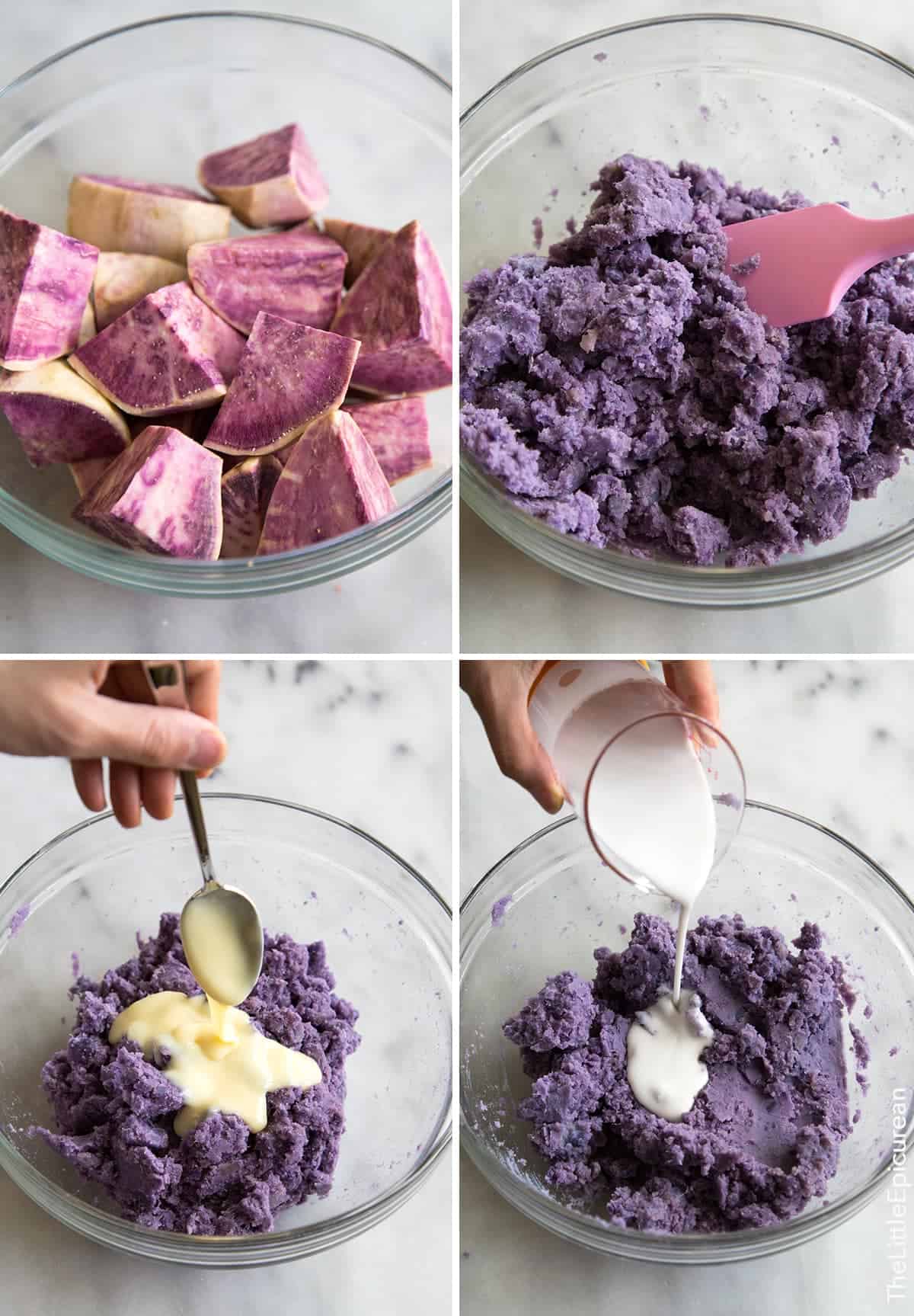 Purple yam is a very starchy and dry tuber. Do you see the little white dots on the cut purple yam photographed above? That's the milky starch escaping.
Just like any other tuber, purple yams can be boiled, steamed, or baked. Once cooked, purple yam doesn't really taste like much. Its flavors are enhanced once it's mixed with sweeteners and liquids.
I prefer to steam purple yams. I find it's the fastest and cleanest way to get the job done. Steaming also helps to retain that vibrant purple color.
How to prepare ube (purple yam):
To make the ube filling, peel the outer skin of the purple yam and cut the tuber into roughly equal chunks. Steam the purple yam until it can easily be pierced with a fork.
Allow the purple yam to slightly cool and then mash it! Add sweetened condensed milk and coconut milk and mix it all together. (At this stage, I could eat this stuff straight out of the bowl!)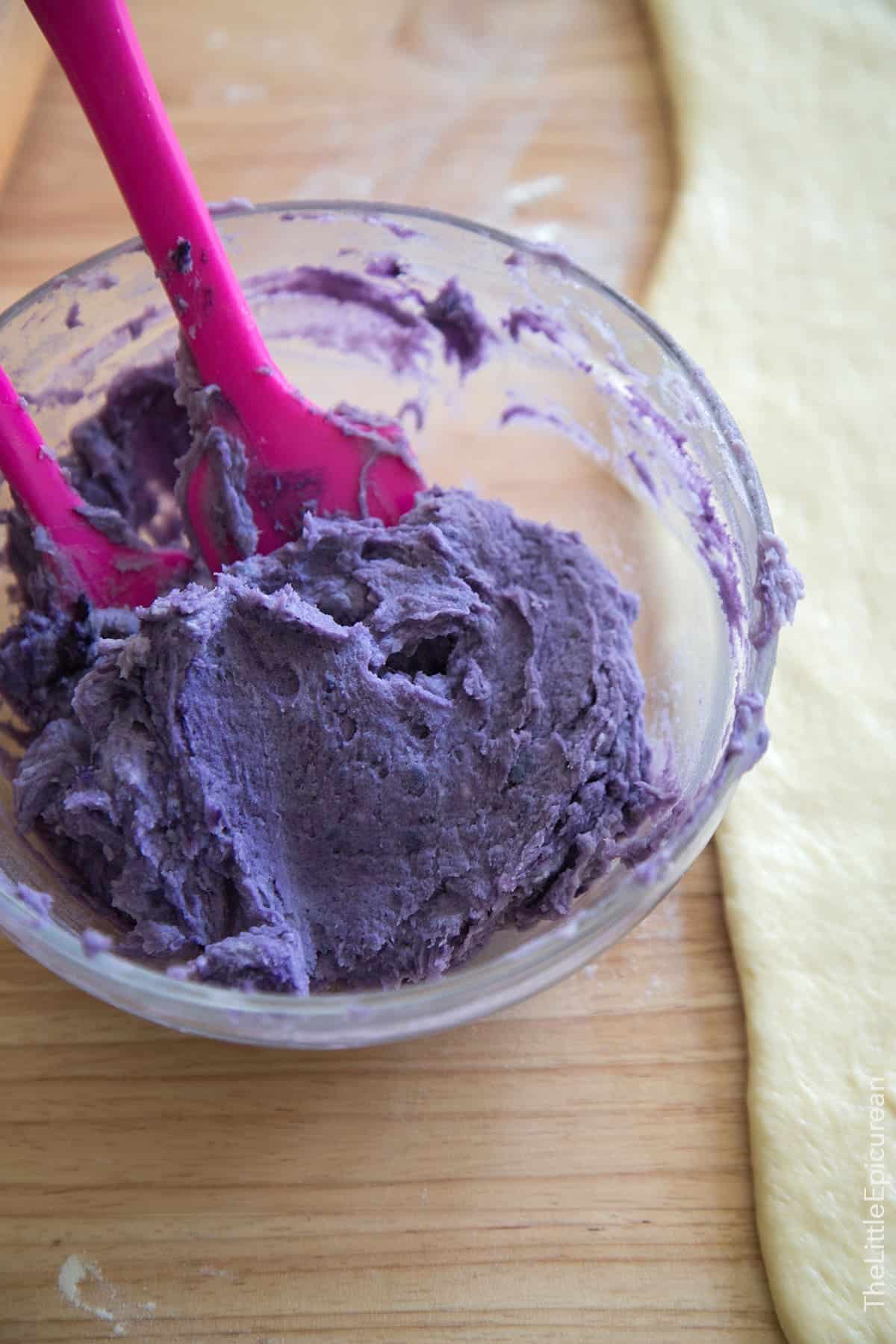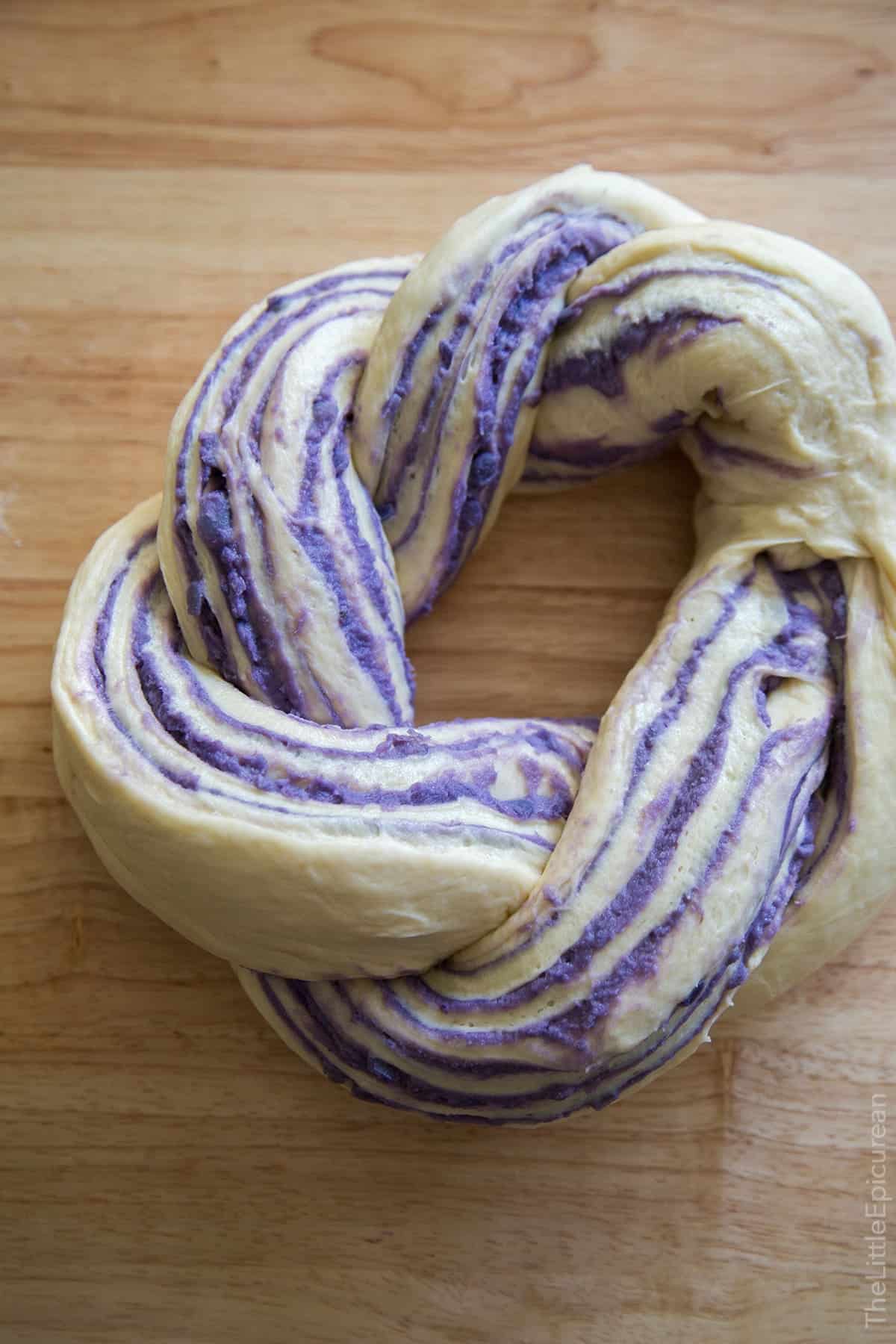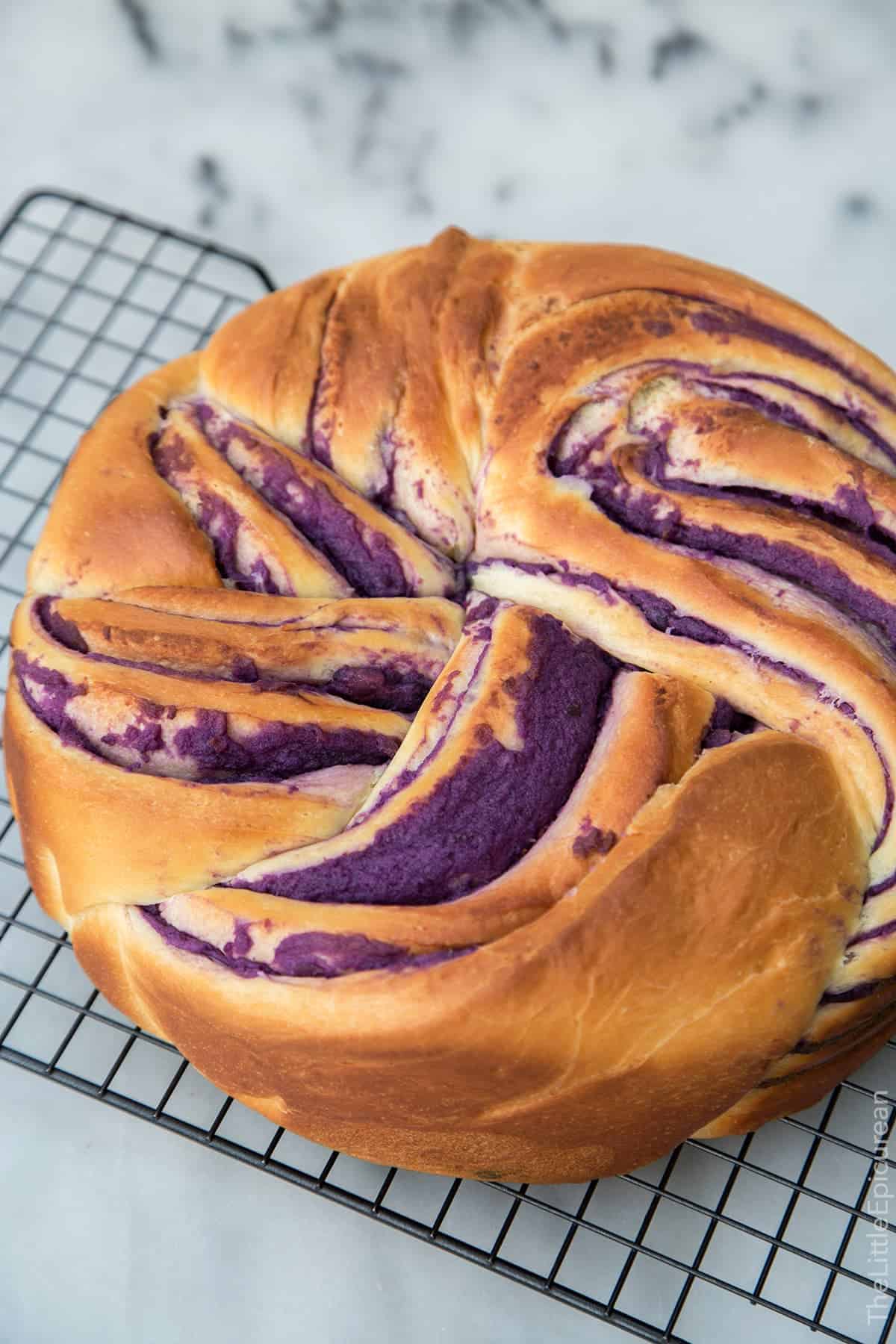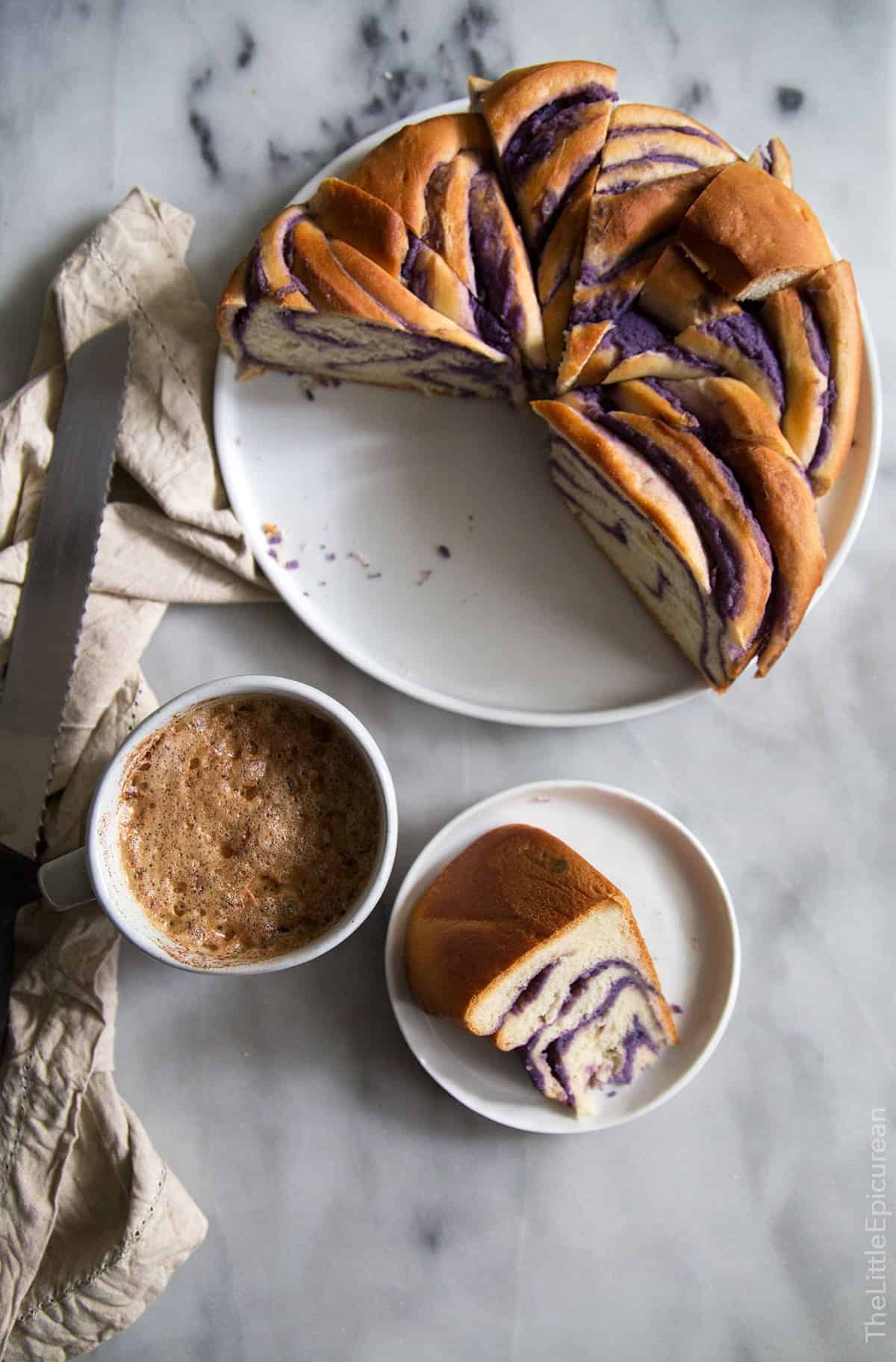 This ube swirl bread is earthy, nutty, sweet, and visually striking. I'll always be in awe of that all natural purple filling.
You can bake it into a round like this, or use the same recipe to create individual rolls (like cinnamon rolls). It has quickly become a breakfast favorite in my house and I can't wait to make another batch!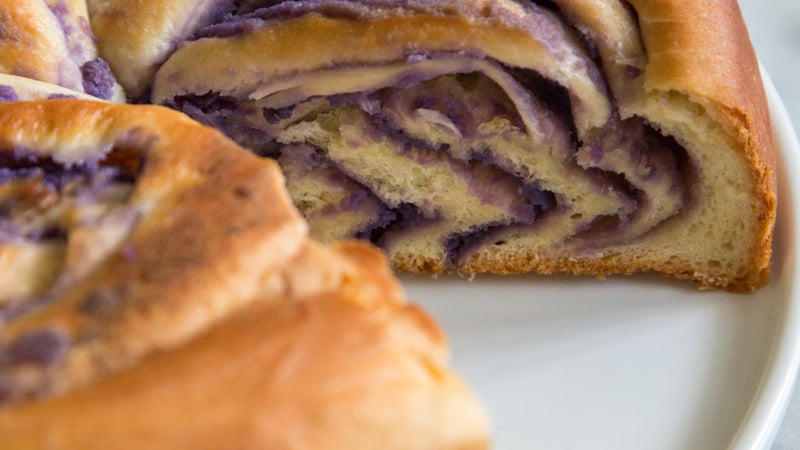 Ube Swirl Bread (Purple Yam Swirl Bread)
Soft yeasted dough filled with a sweet coconut and purple yam paste. Ube Swirl Bread is a Filipino variation on a classic cinnamon roll.Yield: 10-inch round
Ingredients
Ube Paste:
1 ½

pounds

purple yam,

peeled

5

Tablespoons

canned coconut milk, unsweetened, well shaken

4

Tablespoons

sweetened condensed milk
Dough:
2 ¼

teaspoon

(7 grams) active dry yeast

¼

cup

+ 1 teaspoon granulated sugar

1

cup

whole milk,

warmed to 110 °F

⅓

cup

(76 grams) unsalted butter,

melted

¼

cup

(60 grams) sour cream,

room temp

1

large egg, room temp

4

cups

(500 grams) all-purpose flour

1

teaspoon

(3 grams) kosher salt
Filling:
1

cup

ube paste

⅓

cup

unsalted butter,

softened
Instructions
Ube Paste:
Wash and peel purple yams. Slice into equal sized large chunks. Place in a steam basket. Set over pot of simmering water. Cover and cook for 15-20 minutes until yams can easily be pierced with a fork.

Set aside and allow yams to slightly cool. Mash yams with condensed milk and coconut milk. Mix may be a little chunky. If you would like a smoother paste, pulse in a food processor. Keep chilled until ready to use.

Dough:
In a small bowl, dissolve yeast and 1 tsp sugar in warm milk. Let sit for 5 minutes to allow yeast to activate.

In the bowl of a stand mixer, whisk together remaining 1/4 cup sugar, melted butter, sour cream, and egg. Add yeast mixture and stir to combine.

In a large bowl, whisk together flour and salt. Attach dough hook to stand mixer. Add flour mixture to mixing bowl 1 cup at a time with the mixing running on low. Once all the flour has been added, increase speed to medium and knead for 2 minutes.

Transfer dough to a lightly greased large bowl. Cover and allow dough to rest for one hour until dough has doubled in volume.

Filling and Assembly:
Combine 1 cup of ube paste with softened butter. Set aside until ready to fill dough.

Grease a 10-inch round cake pan (or 9-inch) and line bottom with parchment paper. Set aside.

Punch dough risen dough and transfer to a lightly floured work surface. Roll dough out to a 21 x 12-inch rectangle. Evenly spread ube paste over rolled dough, leaving an ½-inch border along the sides.

Starting at the longer end, roll dough into a log. Pinch seams together and place log seam-side down on work surface. Use a sharp knife to slice log in half lengthwise, leaving about 1-inch uncut on top.

Carefully twist the two pieces to allow the filling to face up. Gently braid the two pieces together. Take the two ends and pinch together to form a circle. Place in prepared cake pan. Cover and allow dough to rest at room temperature for 30 minutes until dough has puffed up.

Preheat oven to 350° F. Remove cover and bake dough for 40 minutes. If dough is browning too fast, cover with foil to prevent bread from burning. Rotate pan and bake for another 15-20 minutes, until internal temperature of dough registers at least 185° F on a kitchen thermometer. Allow bread to remain in pan for 15 minutes before unmolding. Cool bread on wire rack. Serve bread warm, toasted, or at room temperature.
Notes
DOUGH SLIGHTLY ADAPTED FROM 

BAKE FROM SCRATCH
All images and text ©The Little Epicurean