These peanut caramel brownies are composed of three layers: cake-like brownie, peanut caramel, and melted chocolate. It has a little something for everyone!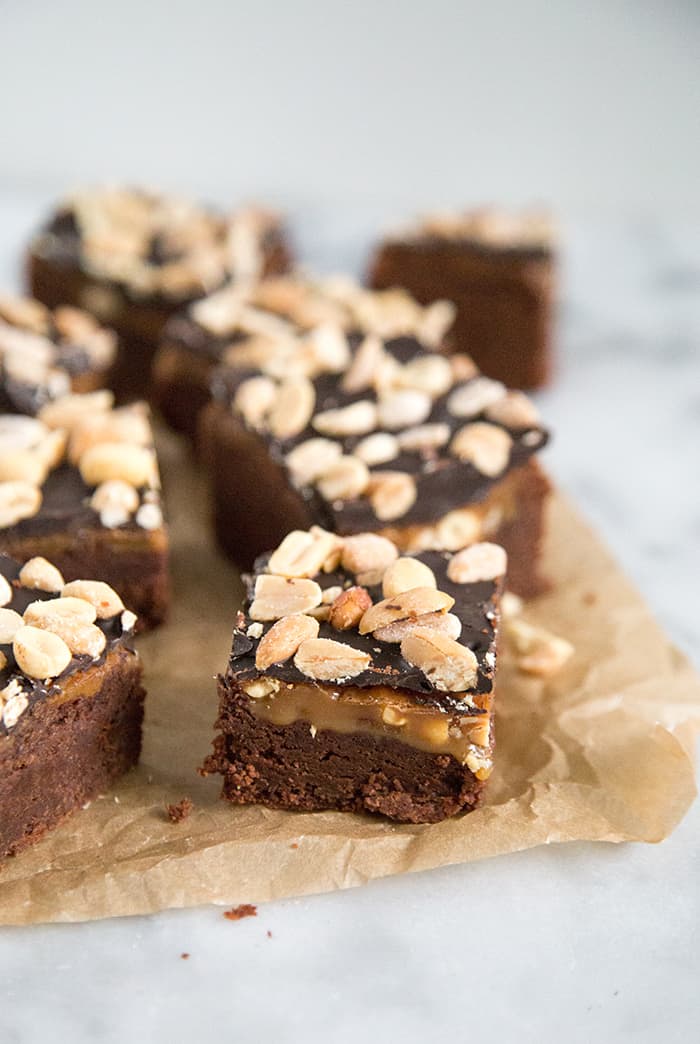 The beginning of the year is always filled with so much hope and excitement for the future. It's a clean slate to start anew. Definitely lots of new changes happening in my life.
I'm excited to announce that I'm a new a contributor for Better Homes and Gardens Delish Dish blog. Twice a month I'll be sharing my twist on favorite BHG recipes.
First up are these peanut caramel brownies.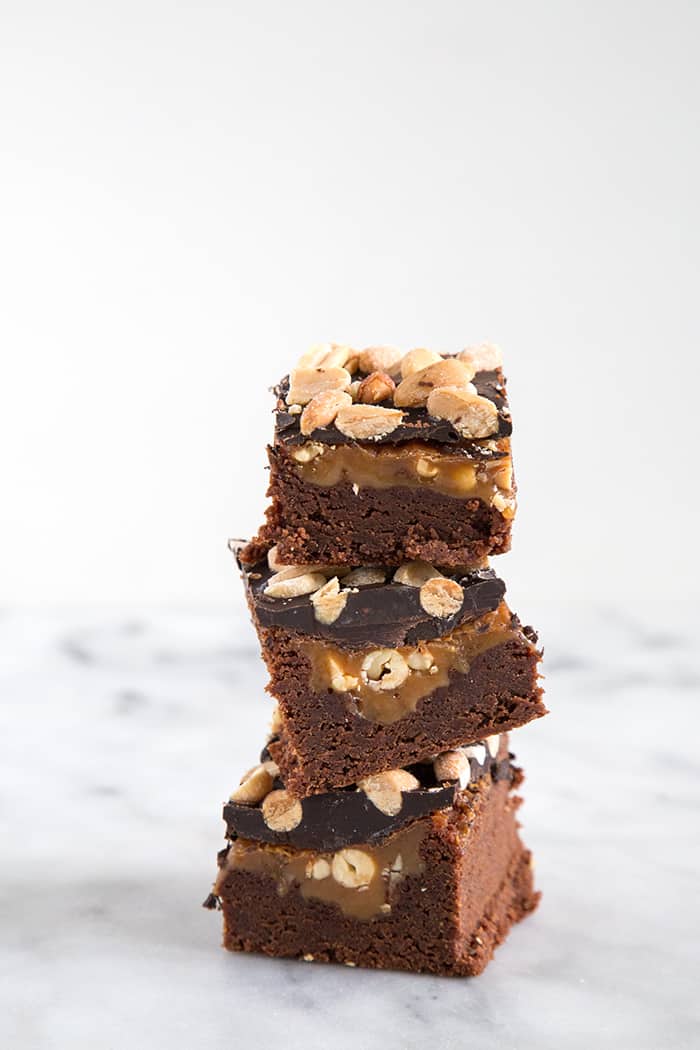 Brownies topped with peanut caramel and melted chocolate
Cooking is something that has always made me happy. I love the idea of taking seemingly ordinary things and whipping them together to create something worth remembering.
These peanut caramel brownies are just that. Alex and I can't stop eating them. Even days later, they're still just as good.
You can see the distinct layers of these peanut caramel brownies. I used roasted salted peanuts. For a sweeter version, use honey roasted peanuts.
Other nuts can also be used in place. This would work great with pecans, walnuts, or macadamia nuts.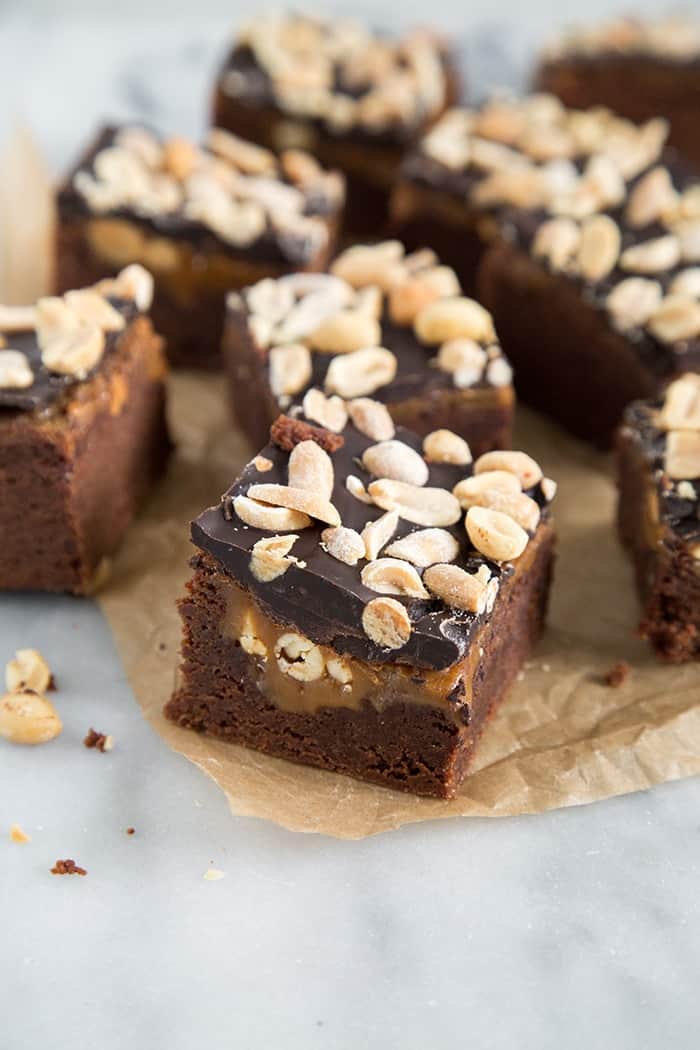 This recipe makes a large batch, so you'll have plenty to share with friends.
The combination of peanuts, caramel, and chocolate reminds me of one of my favorite candy bars. You know, the one with the commercials about being angry when hungry (hangry). That's totally me.
Be sure to slice these peanut caramel brownies into small servings. They're very rich and decadent. Think about it: cake-like brownie bottom, peanut caramel filling, topped with chocolate and roasted peanuts.
Not only is it the perfect treat for getting over any holiday blues, it's also a winner for this upcoming Valentine's Day!
Interested in more layered brownies? Here are some favorite recipes: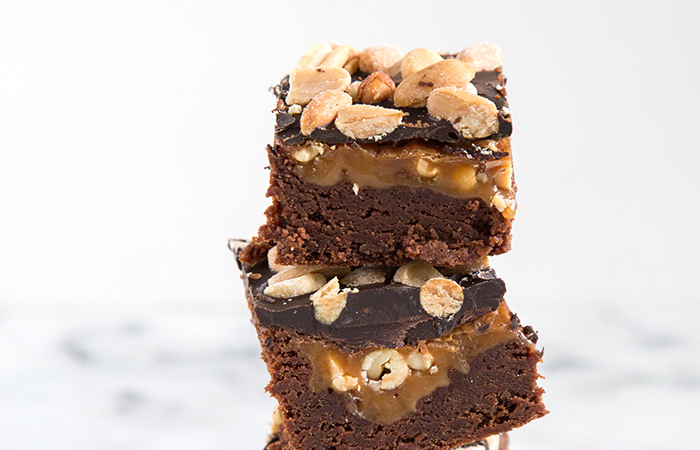 Peanut Caramel Brownies
These peanut caramel brownies are composed of three layers: chocolate brownie, peanut caramel, and melted chocolate.
Yield: 9x13-inch pan
Ingredients
3

cups

all-purpose flour

1 1/2

cup

unsweetened cocoa powder

2

tsp

baking powder

1

tsp

fine sea salt

2 2/3

cups

granulated sugar

1 1/2

cup

unsalted butter,

melted

4

large eggs,

lightly beaten

2

tsp

vanilla extract

1-

14oz package caramels,

unwrapped

2

Tbsp

milk

1

cup

salted roasted peanuts

2

cups

dark or bittersweet chocolate pieces
Instructions
Preheat oven to 350 degrees F. Line 9x13-inch baking sheet with foil or parchment paper, allowing excess to hang over the edges of the pan. Coat with non-stock cooking spray and set side.

Whisk together flour, cocoa powder, baking powder, and salt. Set aside.

In a large bowl, beat together sugar and melted butter. Once smooth, add eggs and vanilla. Mix until well combined.

Slowly add dry flour mixture, about 1/2 cup at time. Mix well until there are no longer any dry streaks of flour. Batter will be very thick. Spread batter in an even layer into prepared baking pan.

Place unwrapped caramels and milk in a microwave safe bowl. Heat at half power at 30 second intervals for 2-3 minutes. Stir after every interval. Once smooth, stir in 1/2 cup of peanuts. Pour over chocolate batter. Spread into an even layer.

Bake for 45 minutes. Remove from oven and immediately sprinkle chocolate pieces over brownies. Allow chocolate to stand for 2 minutes. Using a mini offset spatula (or the back of spoon), spread melted chocolate into an even layer. Distribute remaining 1/2 cup peanuts over chocolate layer.

To set chocolate layer, chill brownies in the fridge for 30 minutes. Lift brownies out of pan using the hangover foil (or parchment paper). Cut into desired size pieces.