Why drink wine with chocolate when you could make a red wine chocolate cake instead?!
This post has been compensated by Collective Bias, Inc. and its advertiser. All opinions are mine alone. #EntertainAndPair #CollectiveBias The following content is intended for readers who are 21 or older.
Wine and cheese pairing is so trite. Delicious, but overplayed. This Valentine's Day, skip the cheese and focus on the chocolate!
I absolutely love pairing red wines with chocolate. They make for such a fun party. The berry flavors of red wines mixes so well with the rich, sweet, and slightly bitter notes of dark chocolate. This pairing translates perfectly into this decadent and sinful red wine chocolate cake.
Red Wine Chocolate Cake
Wine chocolate cake?! You read that correctly. The cake batter is mixed with red wine, after baking, the cake layers are then lightly soaked with a red wine simple syrup.
After assembly, red wine chocolate cake is incredible when shared with friends over a glass of … (you guessed it!) red wine. (It's just as tasty should you choose it eat it solo, but it's so much more fun observing others' reaction when they realize this cake has wine in it.)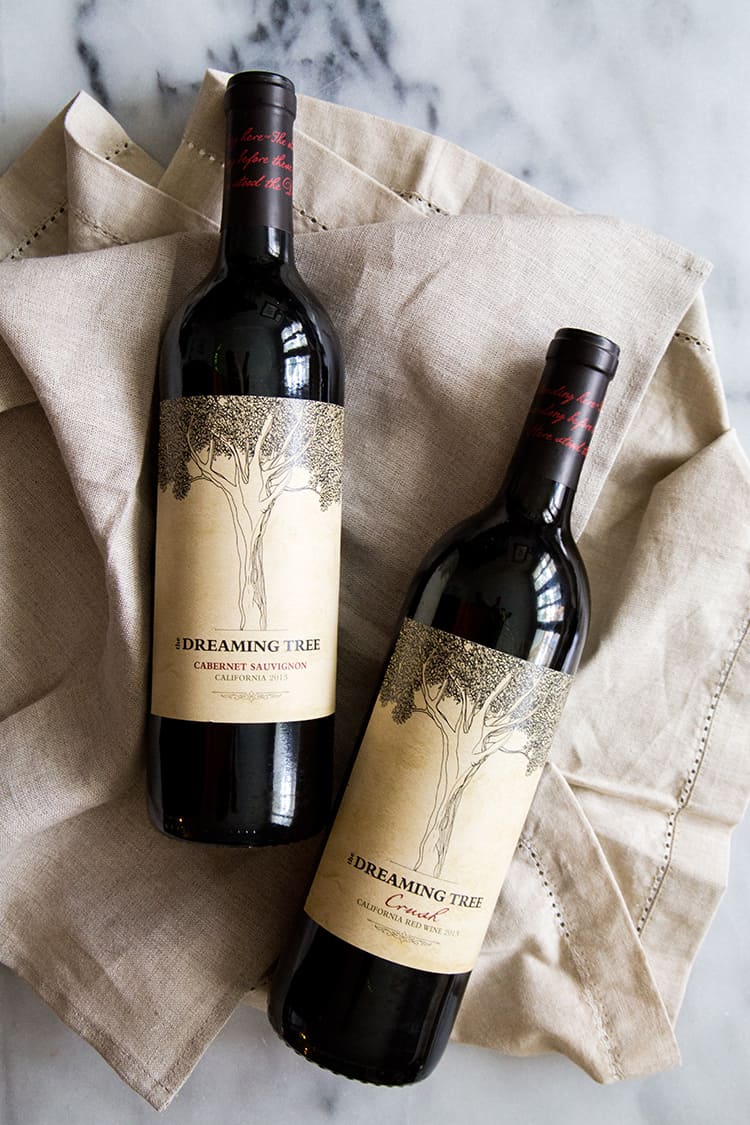 California Wines:
Having lived in California almost all life, I am very fond of California products. The most delicious being California wines. I attended culinary school in Napa (yay, CIA!) and I have many memories associated with Napa Valley's wine country. While I was living up north, I made it a mission to sample as much wine as possible.
Even here in Los Angeles, I try to grab a new bottle of wine whenever there's an occasion. I was really excited to try the red wine varieties of The Dreaming Tree. The name alone is enough to entice me.
But what really drew me to The Dreaming Tree is their conscious sustainable efforts. The glass bottles are a quarter pound lighter than the average wine bottle, the labels are made with 100% recycled paper, and the natural corks are recyclable. And of course, the wines are spot on- just what I would expect from a California wine.
For this red wine chocolate cake recipe, I suggest using The Dreaming Tree Cabernet Sauvignon or Crush (red blend). The juicy mixed berry flavors of Crush and the soft toasted vanilla notes of the Cabernet is chocolate's other half.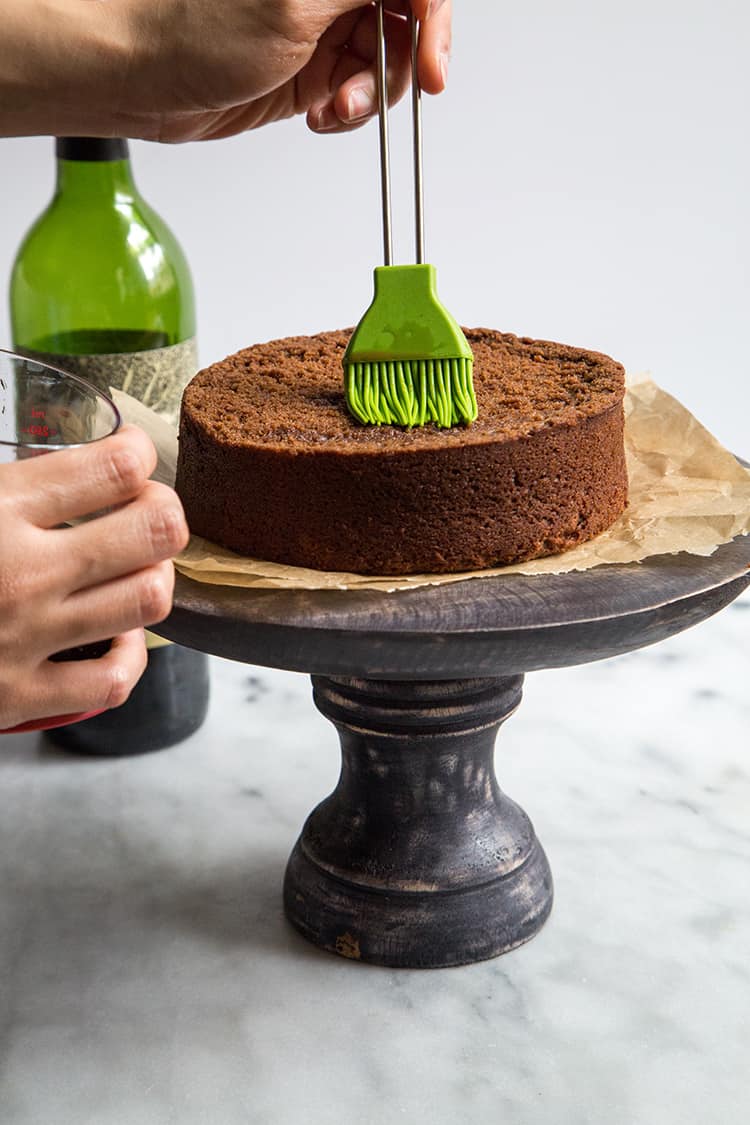 I combined the leftover Crush wine with simple syrup to create a boozy sweet soaking syrup for the cake layers. This adds a nice pop of flavor, while also helping to keep the cake moist.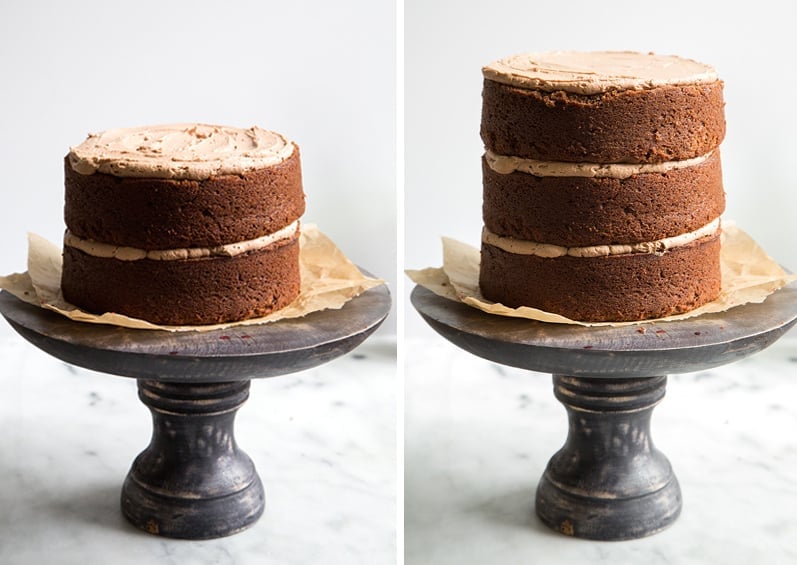 This recipe makes three 6-inch cake round layers. As you can see from the photo, the layers are fairly thick. You can also use 8-inch cake rounds to thin out the cake layers without altering the recipe.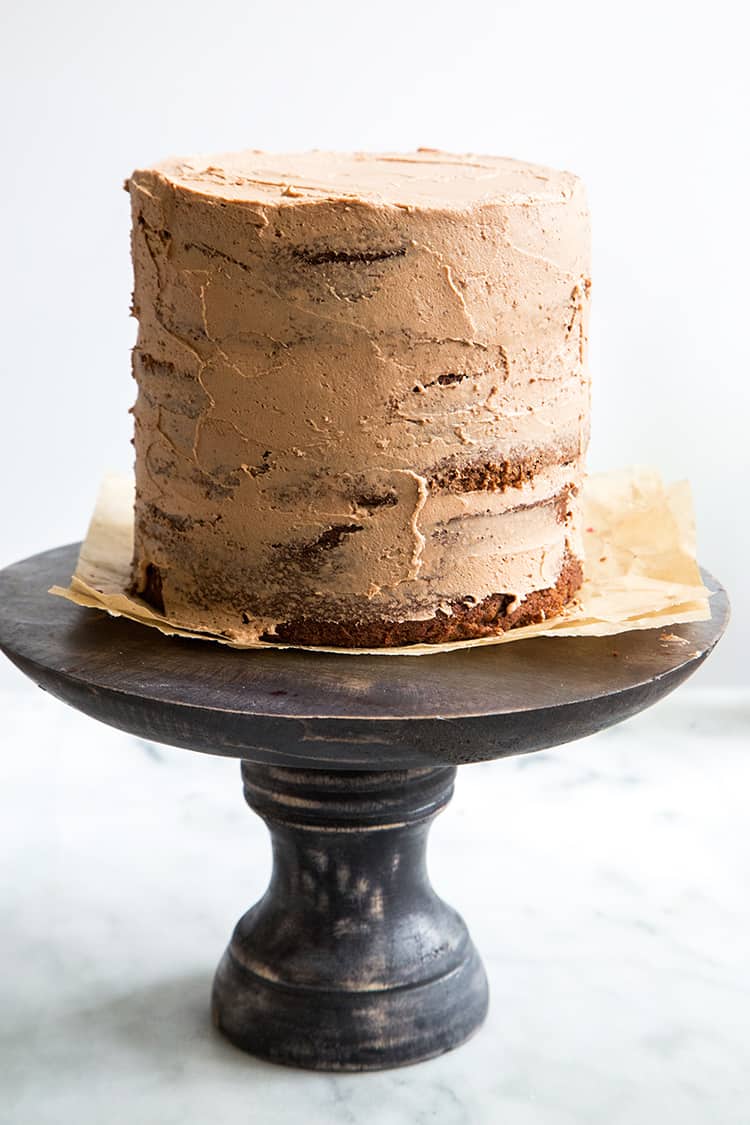 I think there is something so intriguing about the "naked cake" look. You get just enough frosting on the outside to lightly sweetened the cake, while allowing the cake to peek through.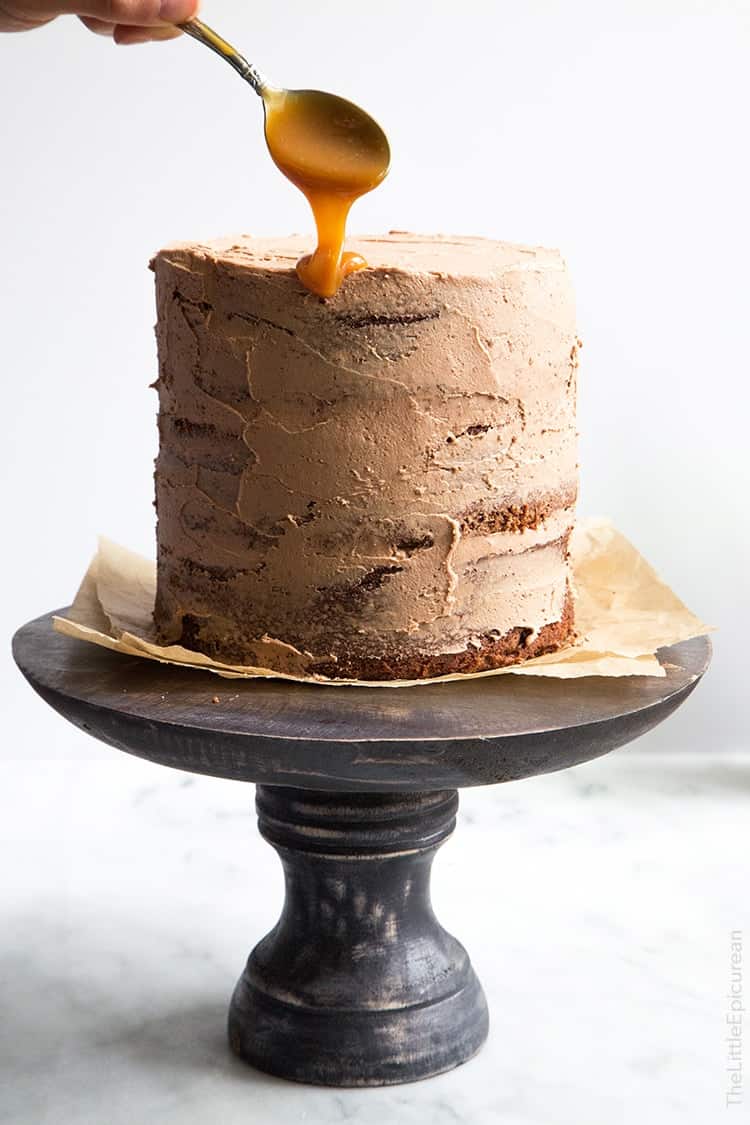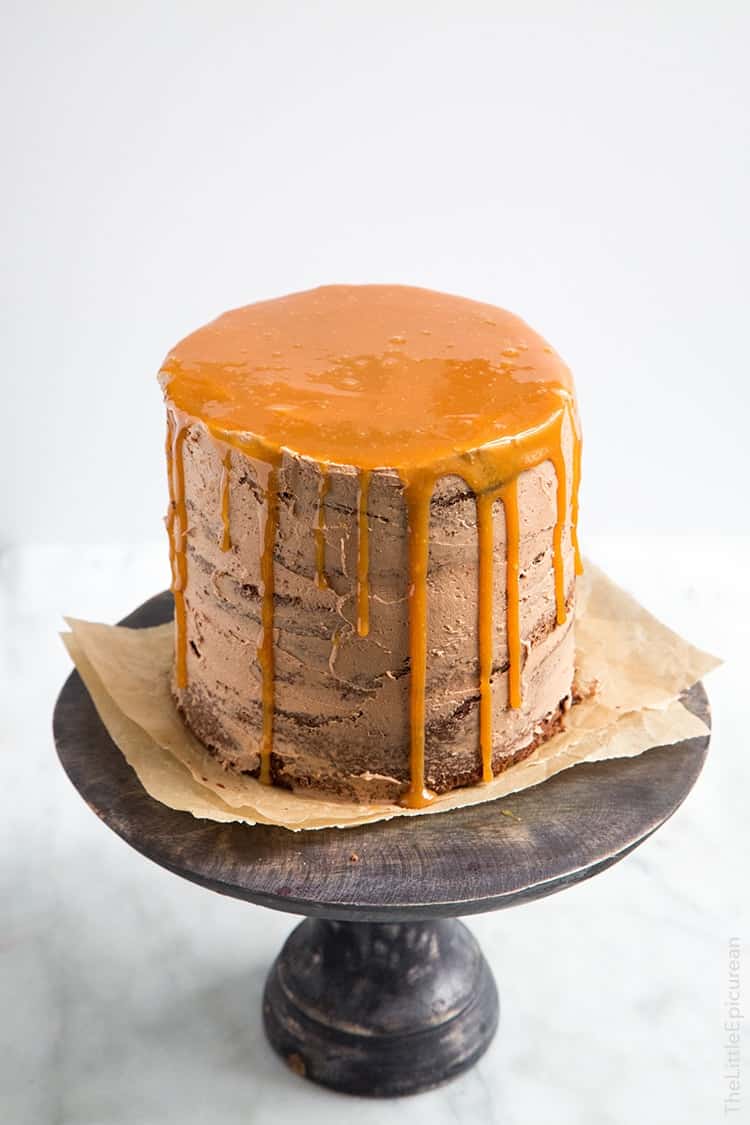 Since it's Valentine's Day, might as well push the boundaries and make this cake as decadent as possible. I drizzled caramel sauce on top of the assembled cake.
Come any holiday or celebration, friends and family know I'm bringing cake. This sweet and intriguing red wine chocolate cake is sure to be a hit this Galentine's and Valentine's Day!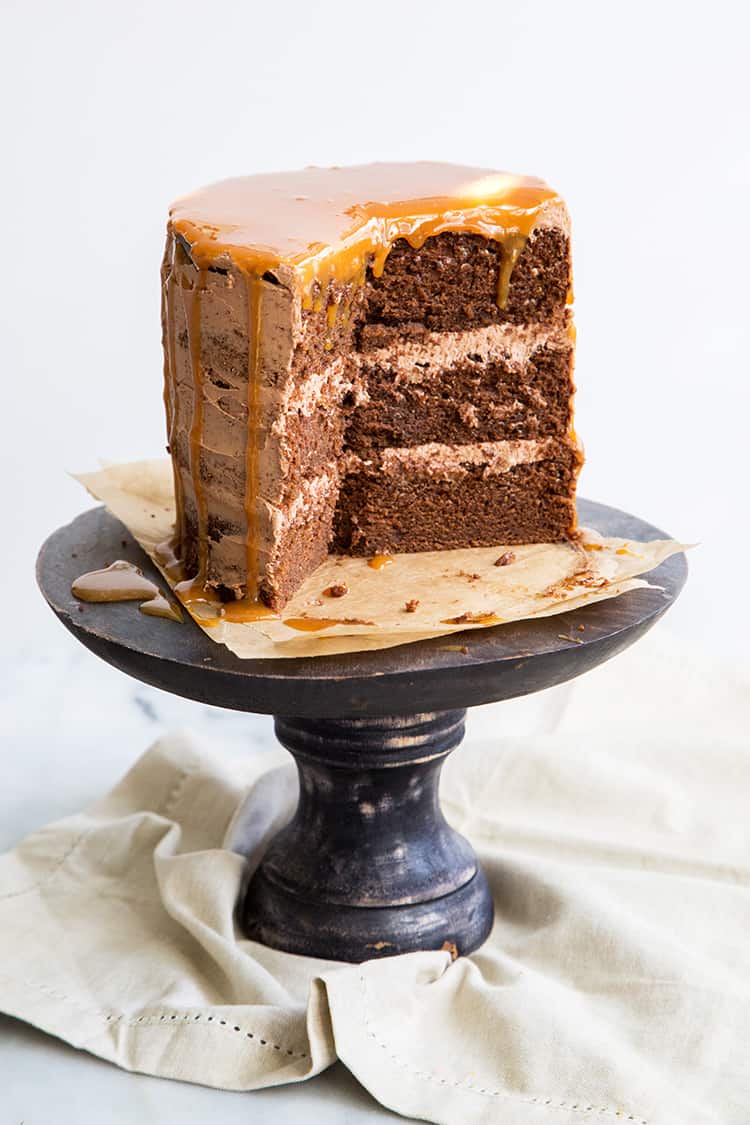 Be sure to check out your local retailer for wine tasting demos. Also, stop by The Dreaming Tree's Facebook page for additional wine pairing inspirations! Cheers!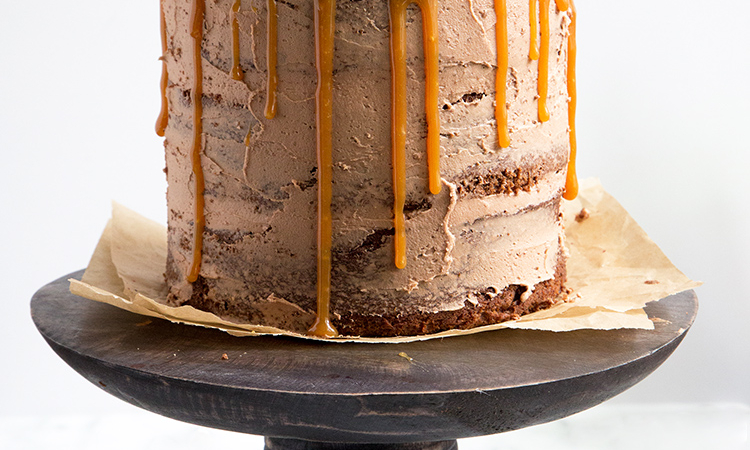 Red Wine Chocolate Cake
Yield: 6-inch cake (or 8-inch cake)
Ingredients
Red Wine Chocolate Cake:
1

cup

unsalted butter,

softened, room temp

1 1/2

cup

dark brown sugar,

packed

1/2

cup

granulated sugar

4

large eggs

1 1/2

tsp

vanilla extract

2 2/3

cup

all-purpose flour

1 1/2

tsp

baking powder

1

tsp

baking soda

2/3

cup

unsweetened cocoa powder

1

tsp

espresso powder

1/2

tsp

fine sea salt

1 1/3

cup

The Dreaming Tree 2013 Crush (Red Blend)

1/3

cup

whole milk,

room temp
Chocolate Buttercream:
1

cup

unsalted butter,

softened

3 1/2

cup

confectioners' sugar

1/4

tsp

fine sea salt

2.5

oz

70% dark chocolate,

melted, slightly cooled

caramel sauce,

homemade or store-bought, as needed
Instructions
Red Wine Chocolate Cake:
Preheat oven to 350 degrees F. Lightly grease three 6-inch cake rounds and line with parchment paper. Set aside.

In the bowl of a stand mixer fitted with a paddle attachment, cream butter. Add brown sugar and granulated sugar and mix until combined. Scrape down bowl as needed to ensure thorough mixing.

With the mixer running on low speed, add eggs one at a time. Add vanilla and mix until smooth.

In a large bowl, sift together flour, baking powder, baking soda, and cocoa powder. Whisk in espresso powder and salt. Set aside. In a large glass, combine red wine with milk. Set aside.

Add flour mixture to mixing bowl in three additions, alternating with liquids. Begin and end with flour mixture. Mix until well incorporated

.

Divide batter evenly among the three prepared cake pans. Level batter using a mini offset spatula, or the back of a spoon. Bake for 35-40 minutes until a toothpick inserted in center of cake comes out clean. Let cake cool in pan for 5 minutes, then run a mini offset spatula around the cake and unmold. Let cake cool to room temperature on wire rack before assembling.

Chocolate Buttercream:
Using a hand mixer or a stand mixer fitted with a paddle attachment, cream butter. Add confectioners' sugar and salt. Mix until smooth. Add cooled melted chocolate and mix until incorporated. Increase speed and continue to mix until buttercream is fluffy.

Assembly:
To make soaking syrup: combine red wine and simple syrup. Set aside.

Fit a decorating bag (piping bag) with a medium round tip. Fill the bag with chocolate buttercream. Set aside.

If necessary, level cake layers. Place on cake round on cake turntable or cake stand. Using a pastry brush, lightly soak cake layer with wine syrup.

Pipe a spiral of buttercream over cake layer. Spread into an even layer with a mini offset spatula. Repeat adding wine syrup and buttercream with remaining two cake layers.

Pipe buttercream at random intervals around the cake. Use an offset spatula to create a "crumb coat" layer to seal in any crumbs. Chill cake in the fridge for 15-20 minutes to set frosting. If you don't like the "naked cake" look, add another coat of buttercream to fully cover the cake layers. Chill for another 15 minutes to set buttercream.

Spoon caramel sauce over chilled cake, allowing caramel to drip along the edges of the cake. Serve immediately.

Notes
TO MAKE SIMPLE SYRUP: combine equal parts water and sugar. Bring to a boil and let simmer until sugar has dissolved. Cool to room temperature and keep chilled until ready to use. 
ABOUT CAKE SIZE: 6-inch cake rounds produces the thick cake layers photographed here. You can use 8-inch cake rounds if you would like thinner layers without altering the recipe.