This is not your ordinary tres leches cake. This cereal milk tres leches cake is infused with the sweet flavors of your favorite breakfast cereal!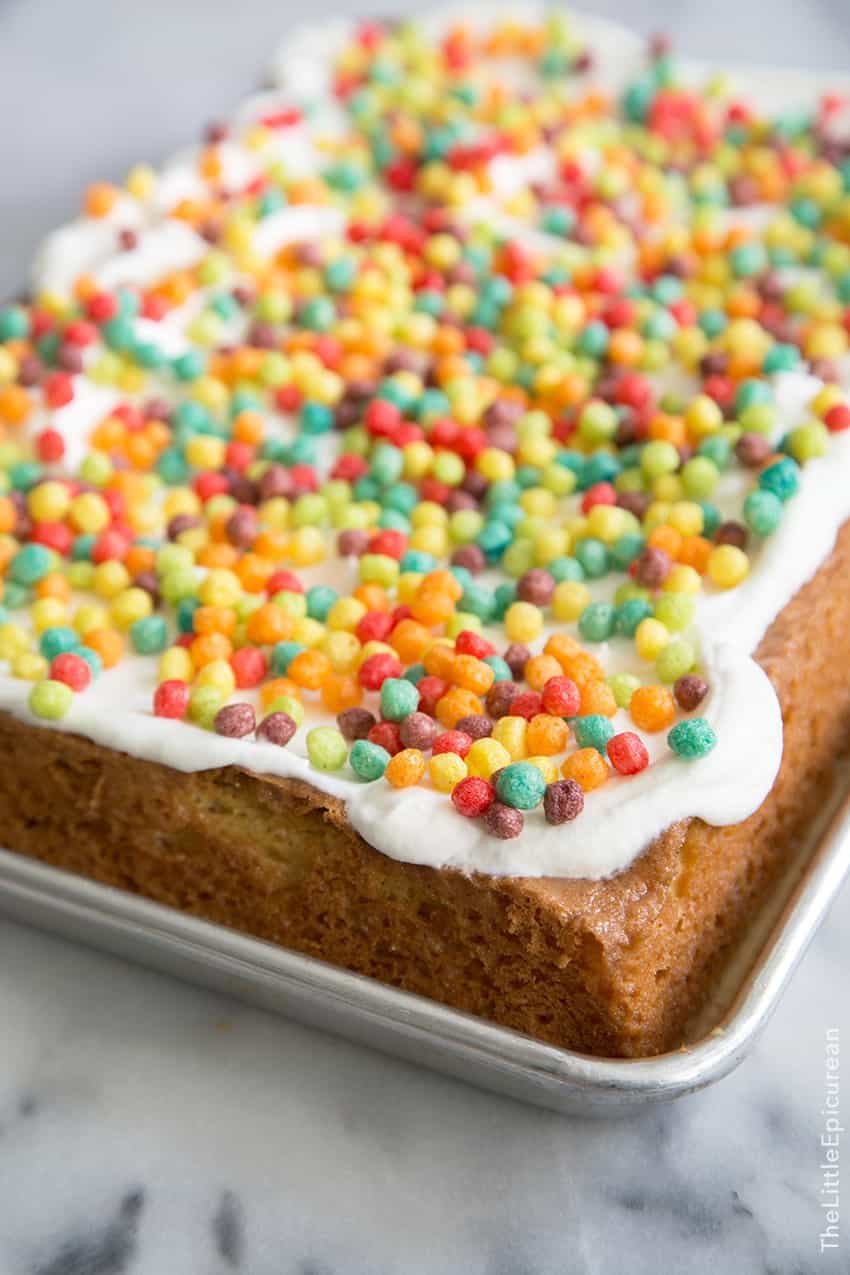 This weekend we celebrated Alex's birthday! Of course when you live with me, multiple birthday cakes are the norm. So far we've enjoyed this strawberry lemon olive oil cake, this buttermilk chocolate cake, and now we're working on this cereal milk tres leches cake.
Since experimenting with breakfast cereals in my Cinnamon Toast Crunch ice cream pie, I've been obsessed with cereal milk. What better way to infuse cereal milk flavor than in a cake SOAKED in milk?! Naturally, I had to make a tres leches cake.
I cannot thank Christina Tosi of Momofuku Milk Bar enough for popularizing this insanely genius notion of cereal milk. She has inspired so many of the recipes I've shared on the blog. I love how her desserts allow you to remember the joys of being a kid even when you've become a full fledged adult.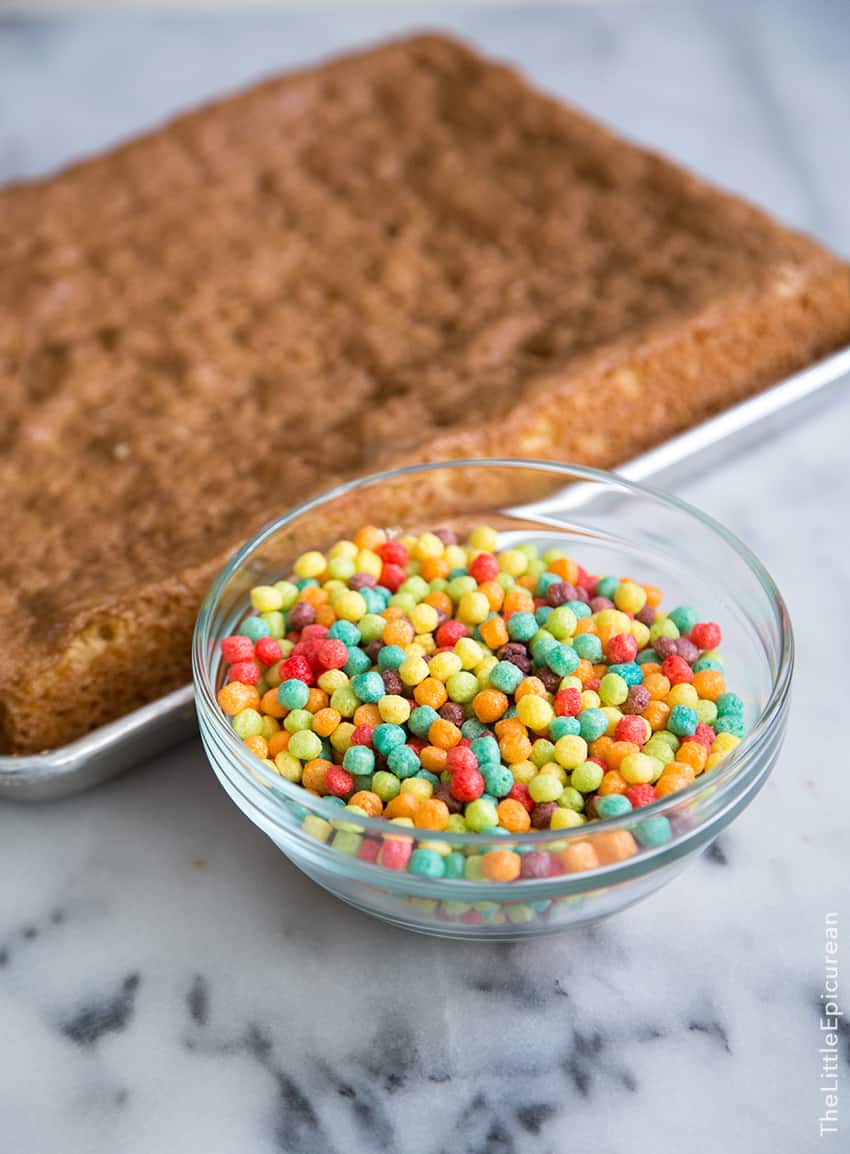 I never really ate Trix as a kid, however I remember the commercials with the white rabbit very well. I was happy to find these limited edition mini Trix in the market a few weeks ago.
Regular sized Trix will obviously work just fine in this recipe, as well as any other sugary breakfast cereal- Cinnamon Toast Crunch, Cookie Crisp, Fruit Loops, Fruity Pebbles, etc.
Since we're celebrating a birthday, I figure I should go with the most colorful and festive of the cereal family.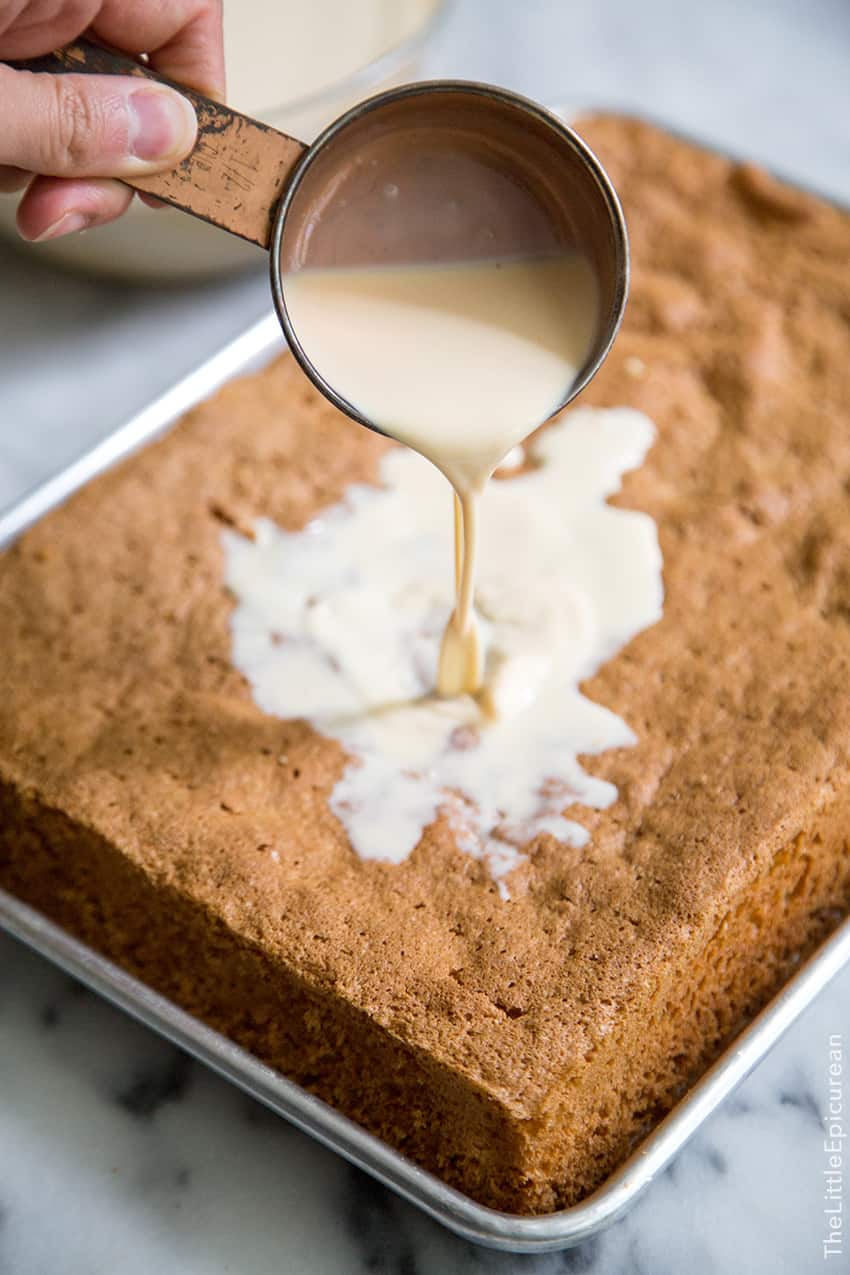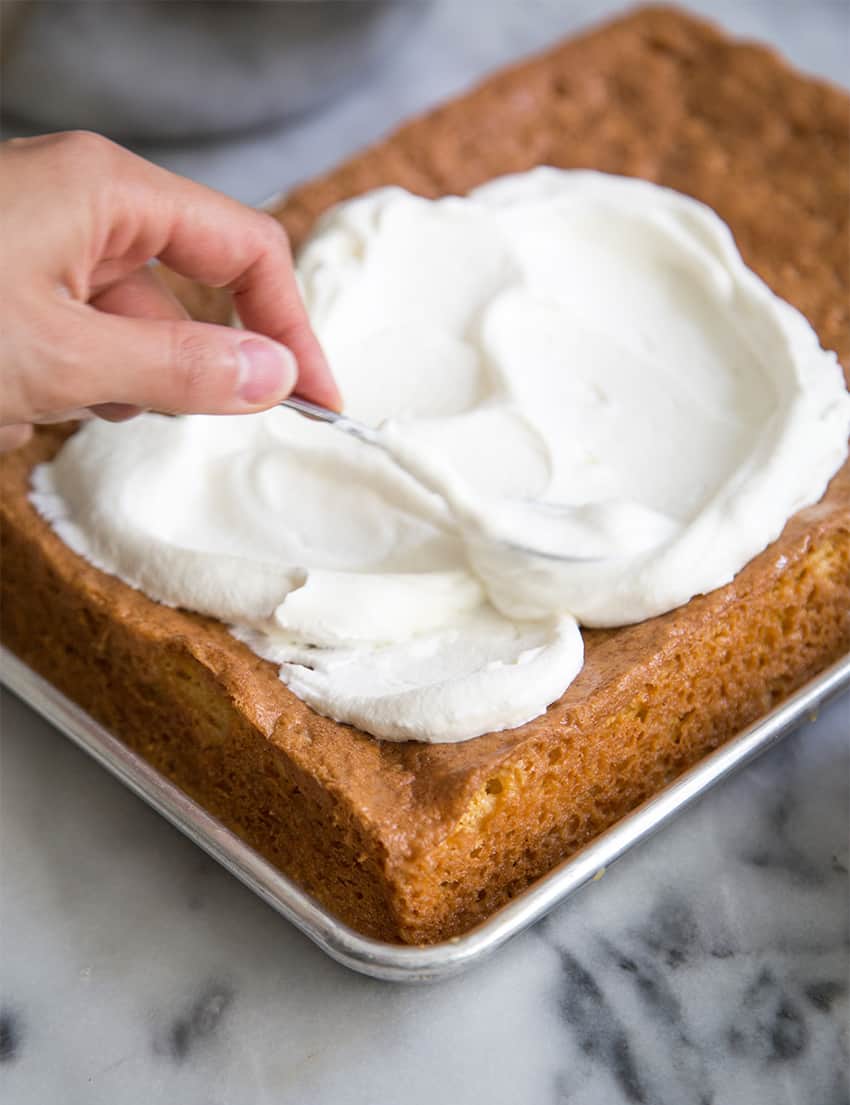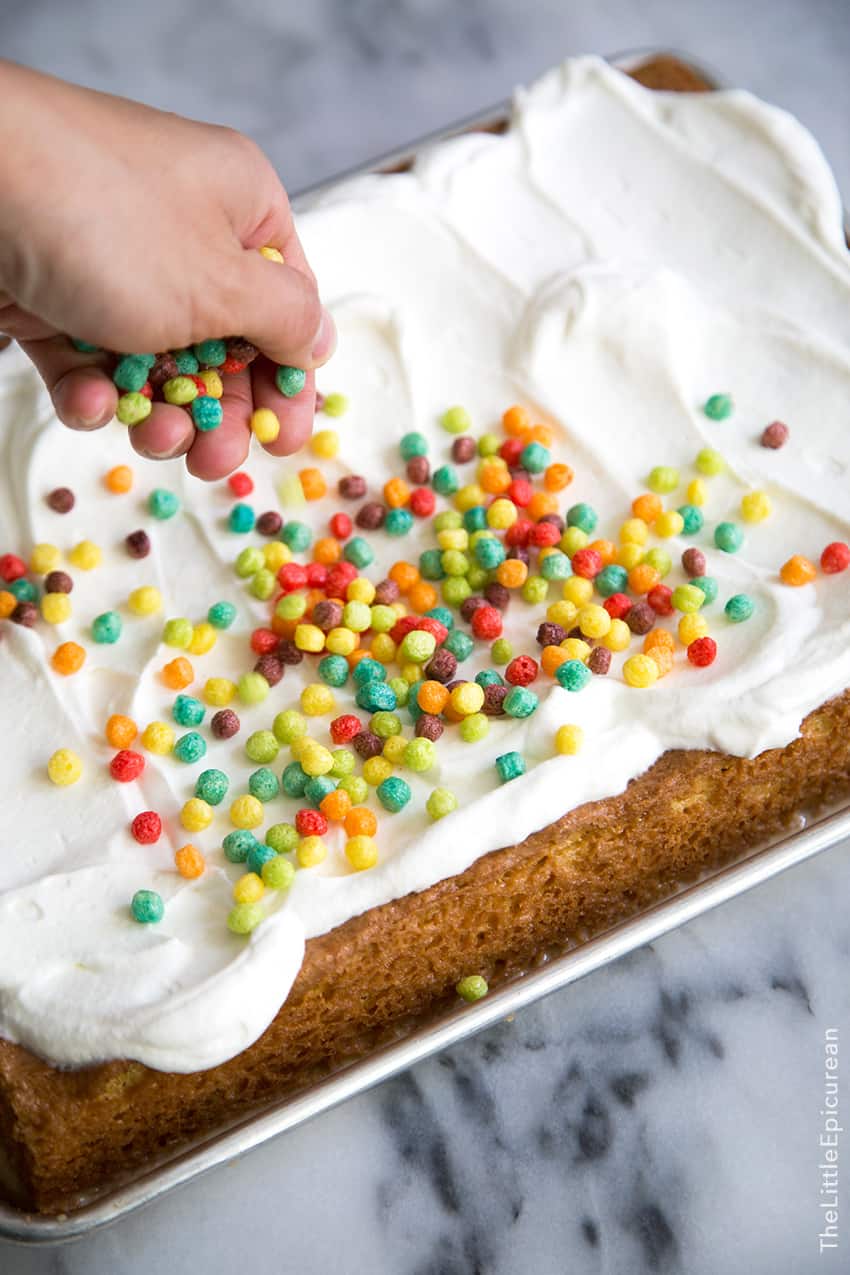 The key to making a great tres leches cake is starting with a dry cake. Sounds strange, I know. The cake needs to be dry in order to absorb all the liquid. Think of bread pudding, breakfast strata, and French toast, they all benefit from day old bread.
If you use recipe for a moist cake, it won't be able to hold it's structure while also absorbing the soaking liquids. A dry cake will suck up all that moisture giving you delicious results.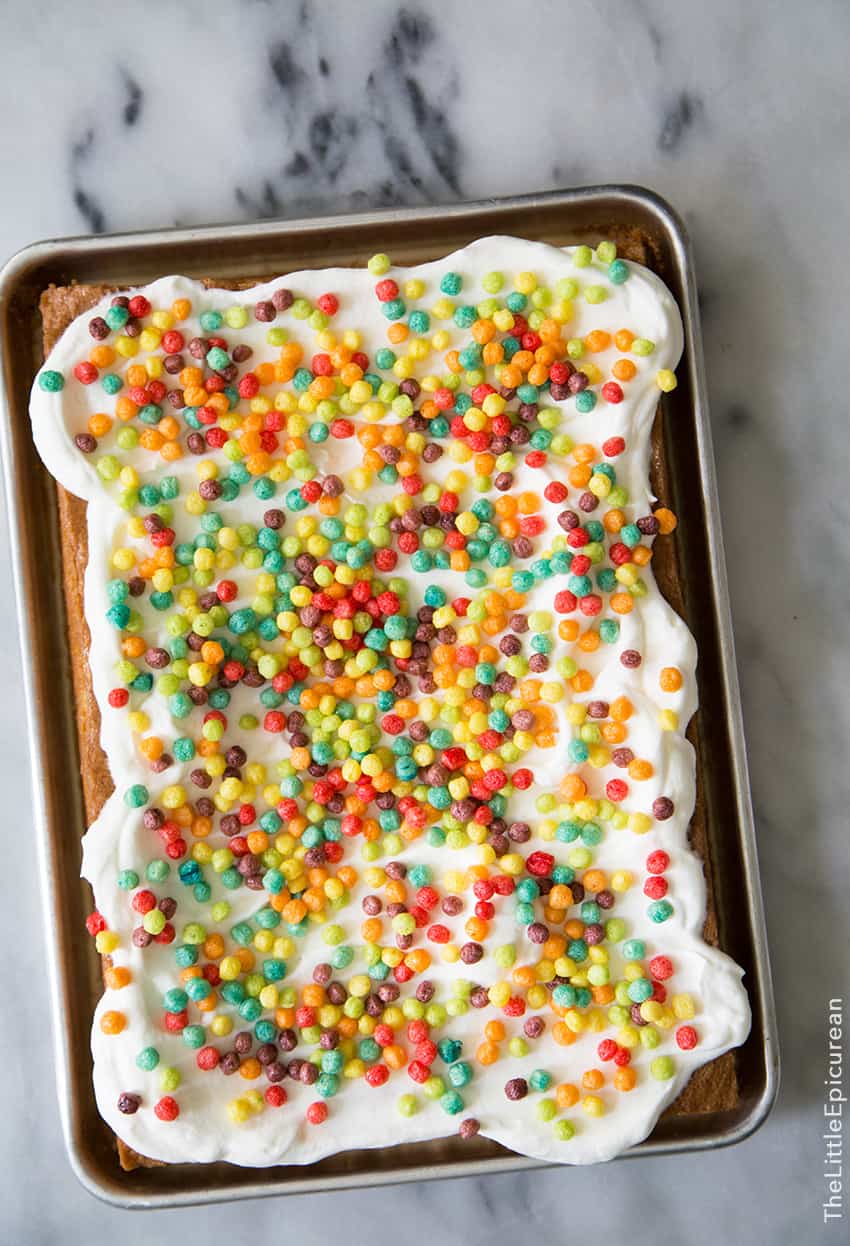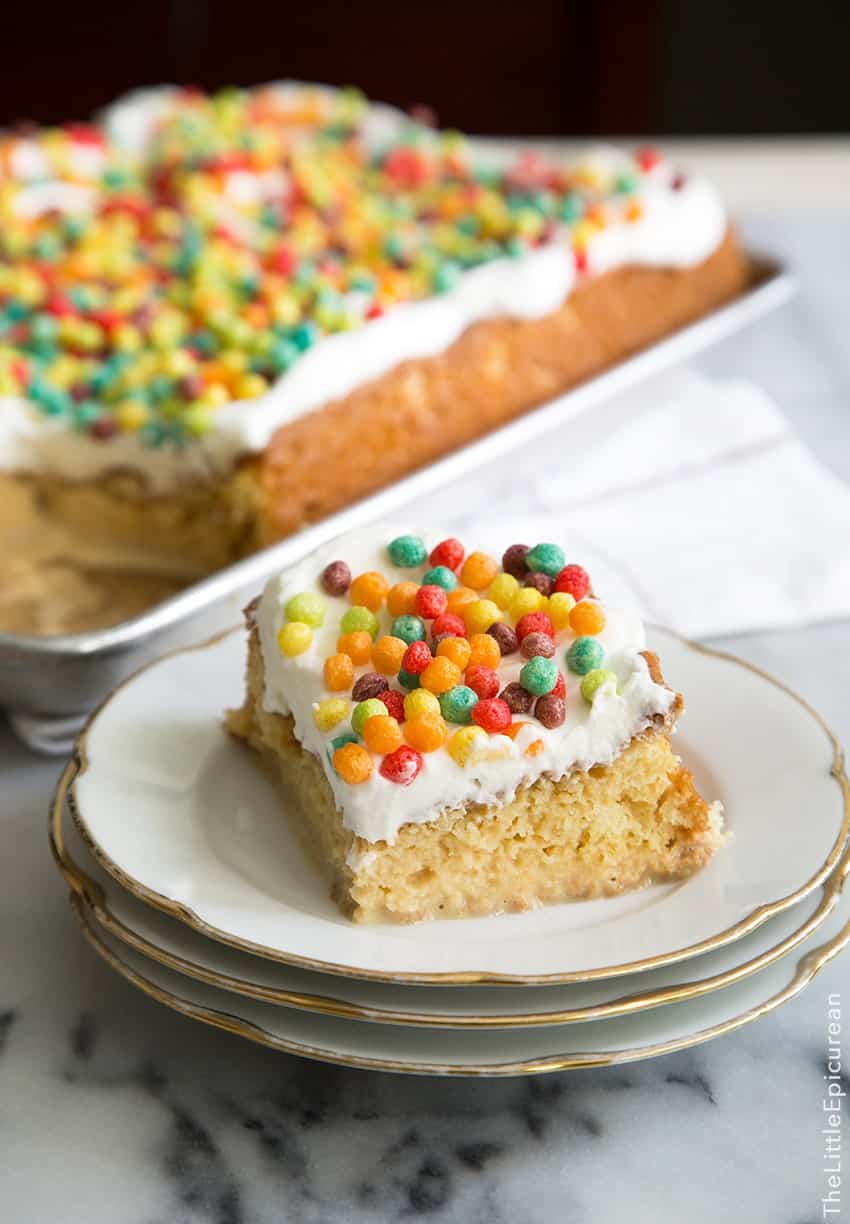 This would make a fun birthday cake for a kid (or adult) of any age!
You get all the tasty qualities of a tres leches cake plus all the memorable and familiar tastes associated with your favorite childhood breakfast cereals. It's a win-win. Once I make this cereal milk tres leches cake for my friends, I'm sure it'll be requested quite often.
Cereal Milk Tres Leches Cake
This cereal milk tres leches cake is infused with the sweet flavors of your favorite breakfast cereal!
Yield: 9x13-inch pan
Ingredients
Sponge Cake:
1

cup

all-purpose flour

2

teaspoon

baking powder

1

teaspoon

baking soda

1/4

teaspoon

fine sea salt

4

large eggs, separated

1

cup

granulated sugar

1/4

cup

whole milk
Tres Leches:
1

cup

mini Trix cereal, or sweet breakfast cereal of hoice

1

cup

whole milk

12

oz

can evaporated milk

14

oz

can sweetened condensed milk
Topping:
1 1/2

cup

heavy cream, chilled

1/3

cup

powdered sugar

1 1/4

cup

mini Trix cereal, or sweet breakfast cereal of choice
Instructions
Sponge Cake:
Preheat oven to 350 degrees F. Grease a 9x13-inch baking pan and line with parchment paper. Set aside.

Whisk together flour, baking powder, baking soda, and salt. Set aside.

Using a stand mixer or hand held mixer, whip together egg yolks and sugar on medium speed until the mixture has thickened and is pale in color. Add milk and mix until incorporated.

Add flour mixture and mix until combined.

In another bowl, using an hand held mixer, whip egg whites to medium peaks. Gently fold egg whites into batter in three additions. Fold until there are no longer any white streaks of egg whites. Be careful not to overmix.

Pour cake batter into prepared baking pan. Spread into an even layer. Bake for 35 minutes until the top of the cake is golden brown and a toothpick inserted in center of cake comes out clean. Leave cake in pan and let cool to room temperature.

Tres Leches:
While the cake is cooling, combine 1 cup cereal with 1 cup whole milk. Let steep for 30 minutes. Strain out soaked cereal and save cereal milk. Add evaporated milk and sweetened condensed milk to cereal milk. Stir to combine.

Using a fork (docker or skewers), poke holes throughout the cooled cake.


Pour combined milk over poked cake. Once all the milk has been added, let cake stand for about 30 minutes until all the liquids have been absorbed. *

Topping:
In a chilled bowl, whip together cold heavy cream and powdered sugar. Whip to medium stiff peaks. Spoon over milk soaked cake. Use an offset spatula or the back of a spoon to evenly distribute whipped cream. Top with cereal. Slice and serve immediately.

Notes
Do not frost the cake until you ready to serve. If you are making the cake ahead of time, store soaked cake in the fridge for up to 2 days. 
All images and text © The Little Epicurean