Slices of banana yeast bread soaked in a spiced custard mixture and cooked on a griddle until golden brown. This Blueberry Banana French Toast is the ultimate homemade breakfast!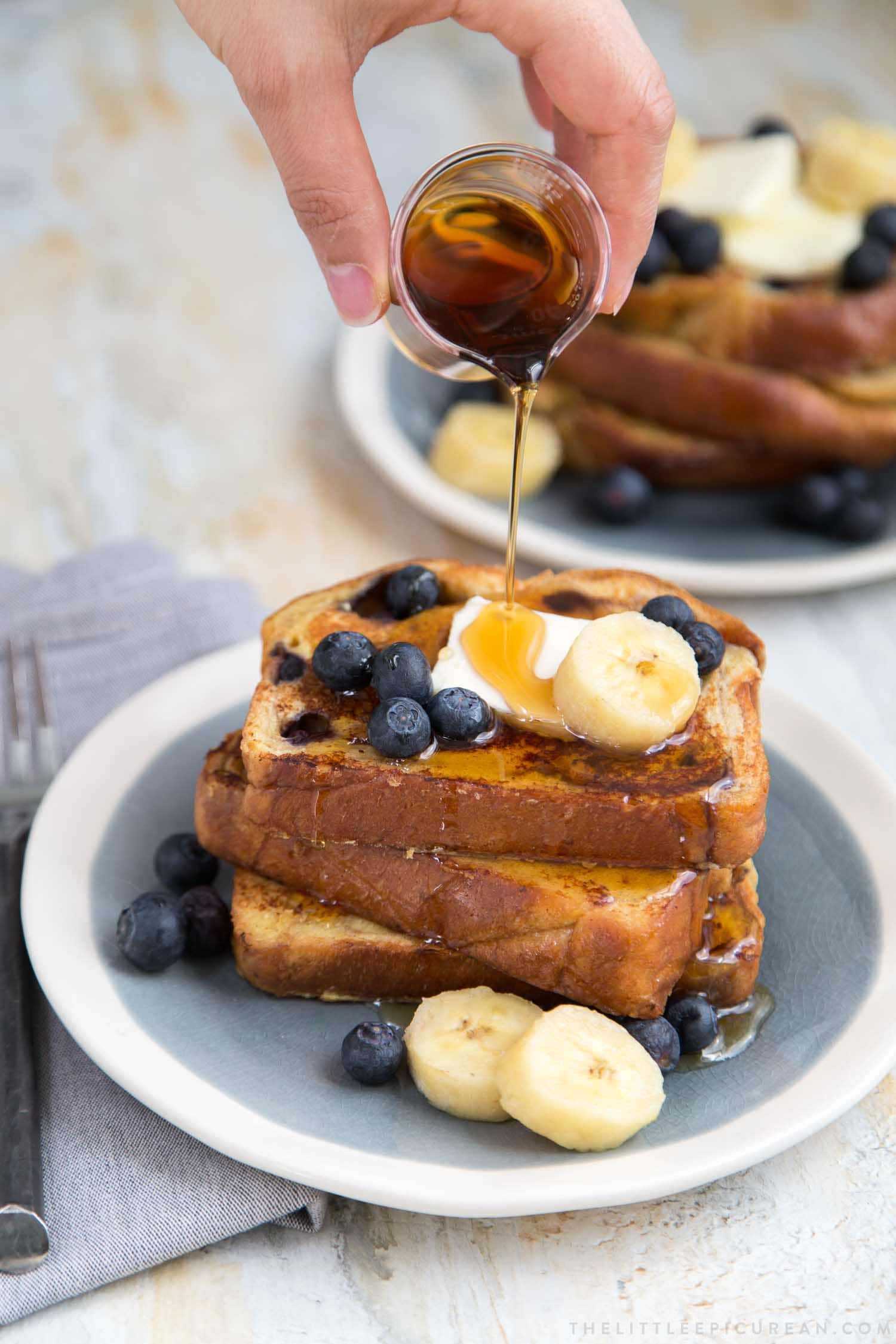 Last week, I shared the recipe for blueberry swirled banana yeast bread.
Instead of an overly sweet, dense, and cake-like banana bread, this yeast version is light and fluffy in texture and definitely not as sweet.
Since the recipe makes two loaves, I suggest using the second loaf to make this blueberry banana French toast!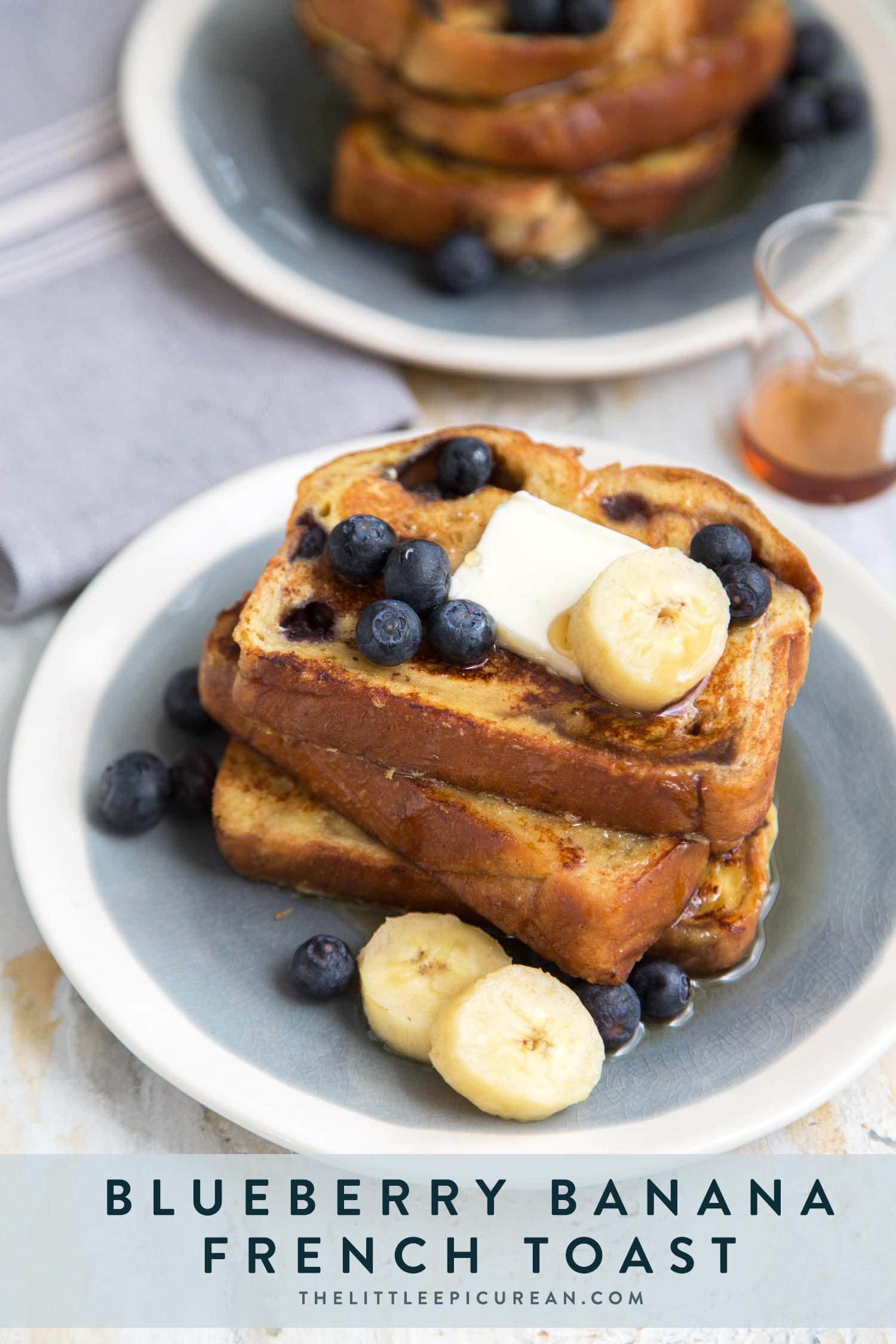 Banana French Toast
French toast goes by many names: as pain perdu, gypsy toast, or eggy bread. It also is served in a variety of different manners and made into different flavors.
To me, the ideal French toast should be golden brown and slightly crisp on the outside, yet creamy and custard like on the inside.
French toast is very easy to make at home. While this recipe promotes the use of this blueberry banana yeast bread, a variety of thick sliced bread will work!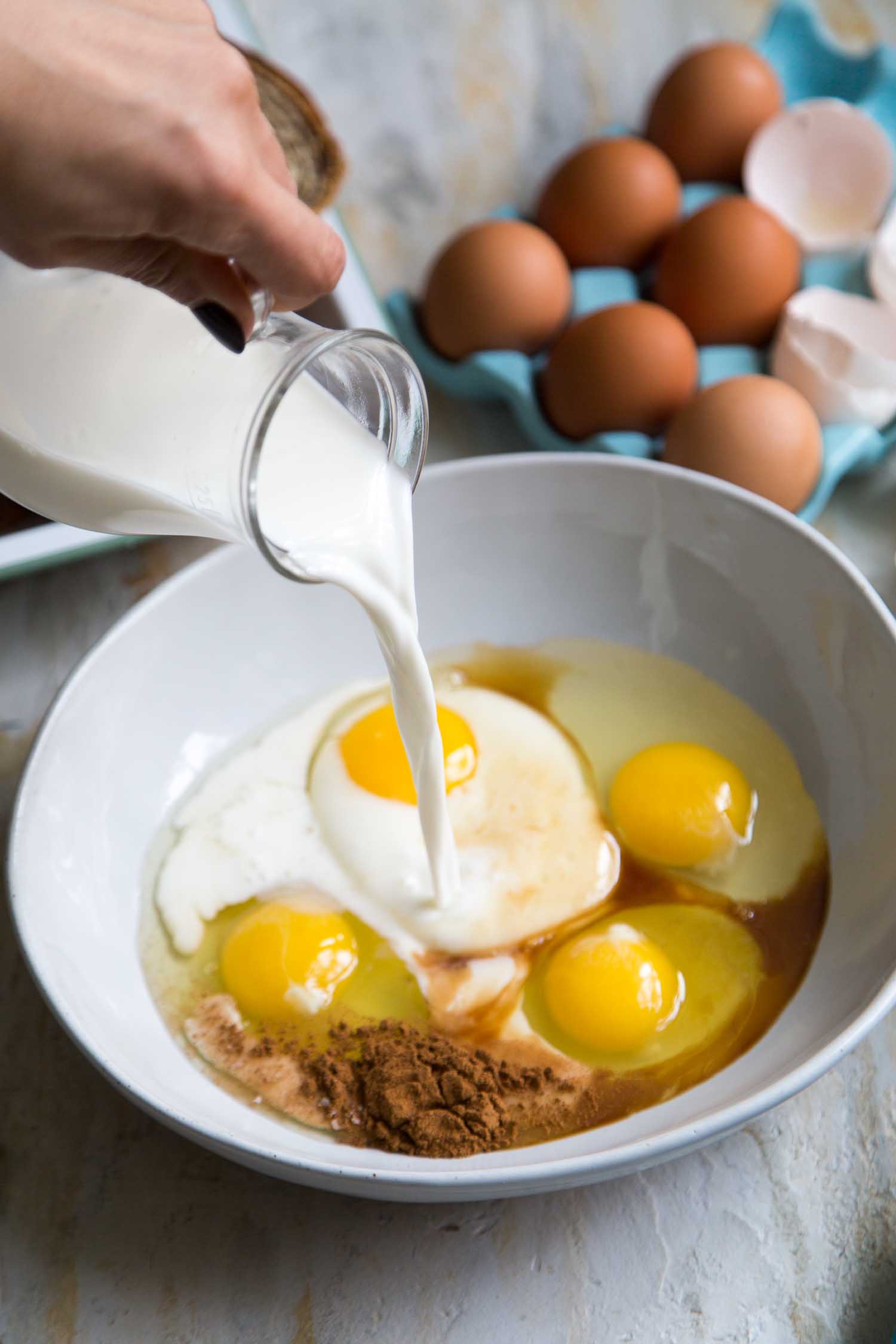 French toast uses kitchen staple ingredients: bread, milk, and eggs.
Your choice of bread is lightly soaked in a custard mixture made from milk, eggs, vanilla extract, and warm spices.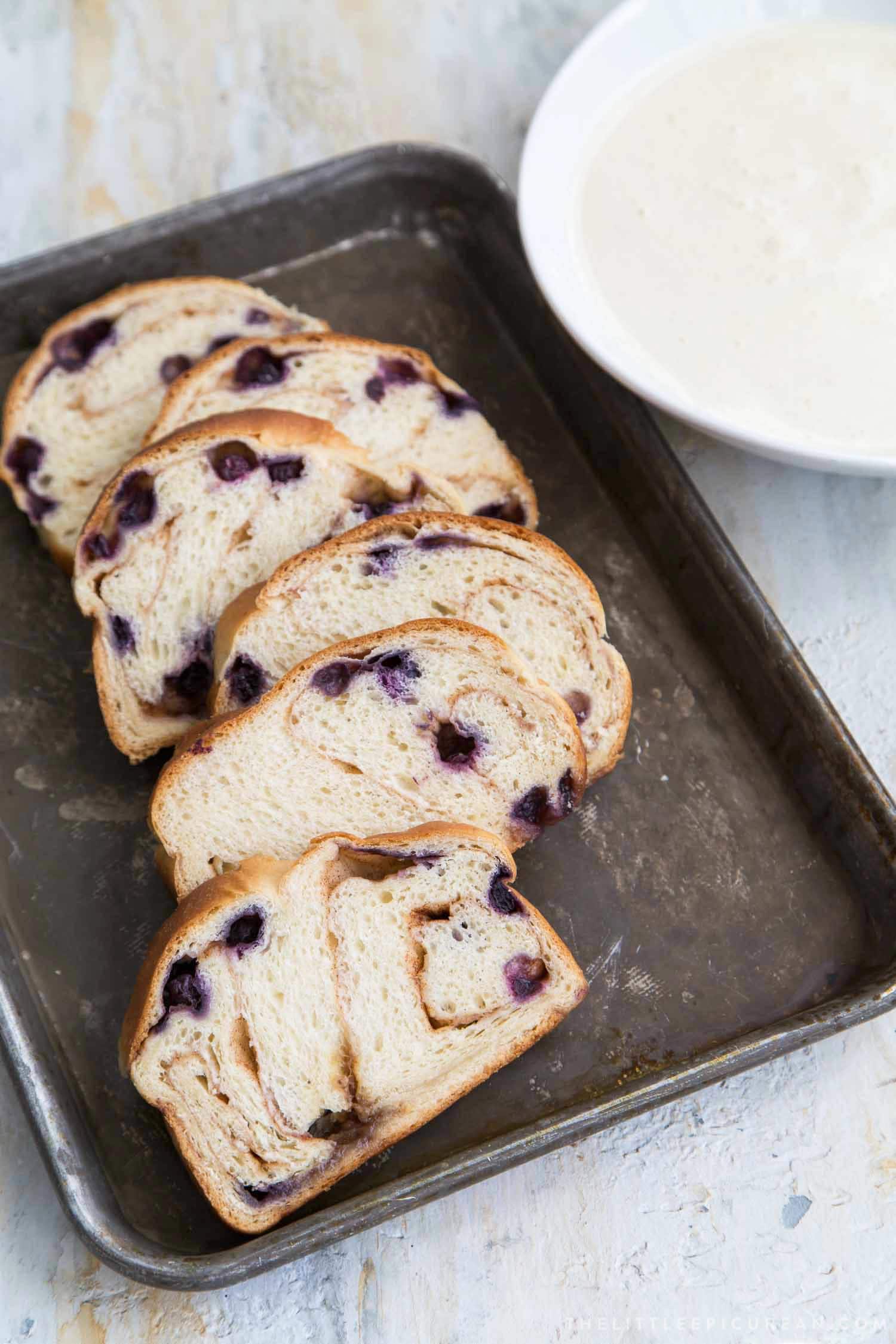 Fresh Bread vs Older Bread for French Toast
Fresh bread is usually softer, fluffier, and more delicate.
Drier bread is better suited for absorbing the custard batter. Therefore, when it comes to French toast or bread puddings, older (almost stale) bread is better!
Certain types of bread work better for French toast. Spongey thick slices of brioche, challah, and Japanese milk bread are ideal.
Stay away from thin slices of standard sandwich white bread. Unfortunately, thinly sliced breads will likely fall apart.
Denser quick breads like banana bread or zucchini bread can be used. However, those breads require more soaking and longer cooking times.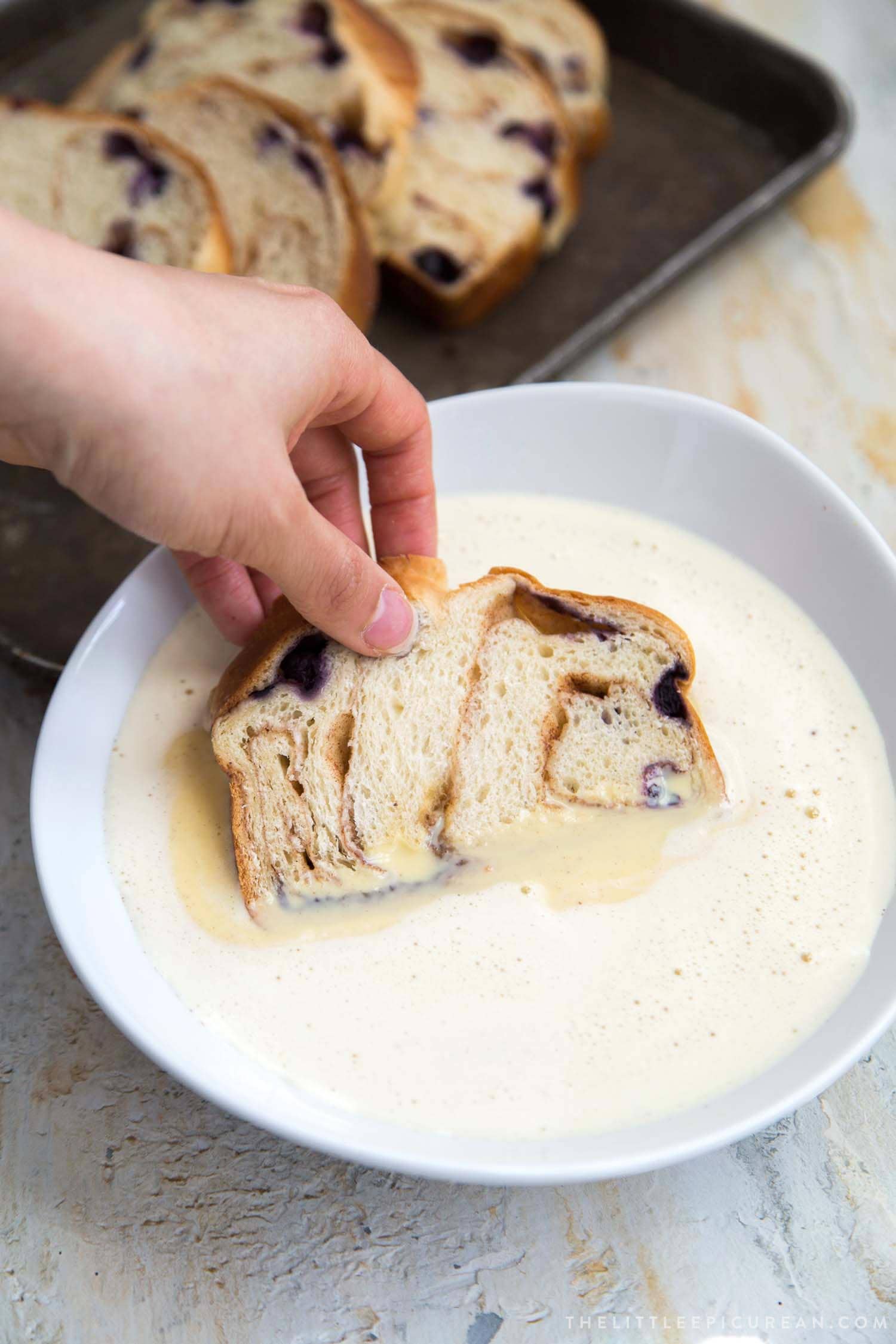 Custard Mixture Do's and Don'ts:
In my opinion, these's nothing worse than French toast that tastes like an eggy overcooked omelette. Let's stay away from that.
Use an immersion band blender (or standard countertop blender) to quickly mix together the custard batter. Egg whites and egg yolks should be thoroughly incorporated.
Flavor the custard with pure vanilla extract and your choices of spices such cinnamon, nutmeg, or orange zest.
Be careful not to over-soak the bread. Consequently, bread may fall apart and may be difficult to transfer to skillet.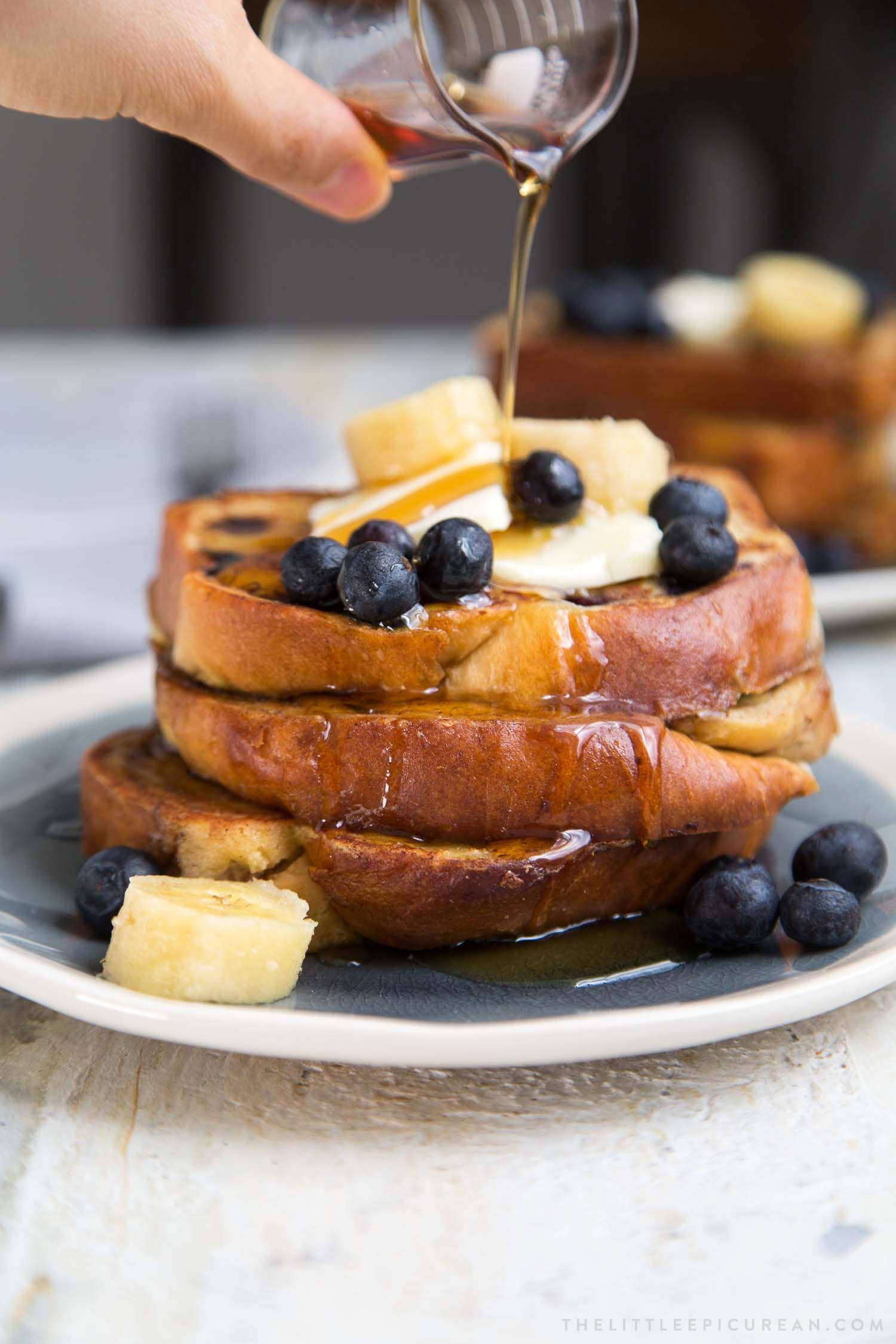 Best tip for cooking French Toast
(I learned this tip from Serious Eats.)
After cooking one side of the toast, sprinkle a little bit of sugar on the raw side before flipping. Normally the side of the bread cooked first gets the richer, golden crust.
Adding the sprinkle of sugar helps to create a nice browned, almost caramel finish to the second side of the toast.
Serving and Leftovers
This blueberry banana French toast is best enjoyed warm, fresh from the skillet. Serve with a pat of salted butter and a drizzle of pure maple syrup.
Store leftovers in an airtight container in the fridge for up to 2 days. Gently reheat in a toaster oven.
Blueberry Banana French Toast
Thick slices of banana yeast bread soaked in a spiced custard mixture and cooked on a griddle until golden brown. This Blueberry Banana French Toast is the ultimate homemade breakfast!
Ingredients
8

thick slices

blueberry banana yeast bread

4

large eggs

1

cup

milk,

whole or 2%

1

teaspoon

pure vanilla extract

½

teaspoon

ground cinnamon

pinch kosher salt

½

teaspoon

almond extract,

optional
Instructions
Whisk together eggs, milk, vanilla, cinnamon, salt, and optional almond extract until throughly blended. (Alternatively, use an immersion blender quickly pulse ingredients together). Pour into a shallow bowl wide enough for bread.

Preheat skillet. Set a large skillet over medium heat and melt about a tablespoon of butter.


Working with one slice of bread at a time, dip bread into egg mixture*. Turn to coat other side of bread. Allow any excess liquid to drain.


Cook bread on hot skillet until browned on one side, about 2 minutes. Before flipping, sprinkle two pinches of sugar on exposed side of bread. Flip and brown the other side, another 2 minutes. Repeat with remaining bread. Add additional butter to skillet as needed.

Immediately serve warm French toast with sliced bananas, fresh blueberries, and maple syrup.
Notes
Soaking notes: I soak the bread slices for 5 seconds on each side, then allow all the excess custard to drip off before placing in hot pain. 
Almond extract is optional. Simply omit if you don't want to use it.