Add a summer spin to the classic greyhound cocktail with a few scoops of grapefruit sorbet!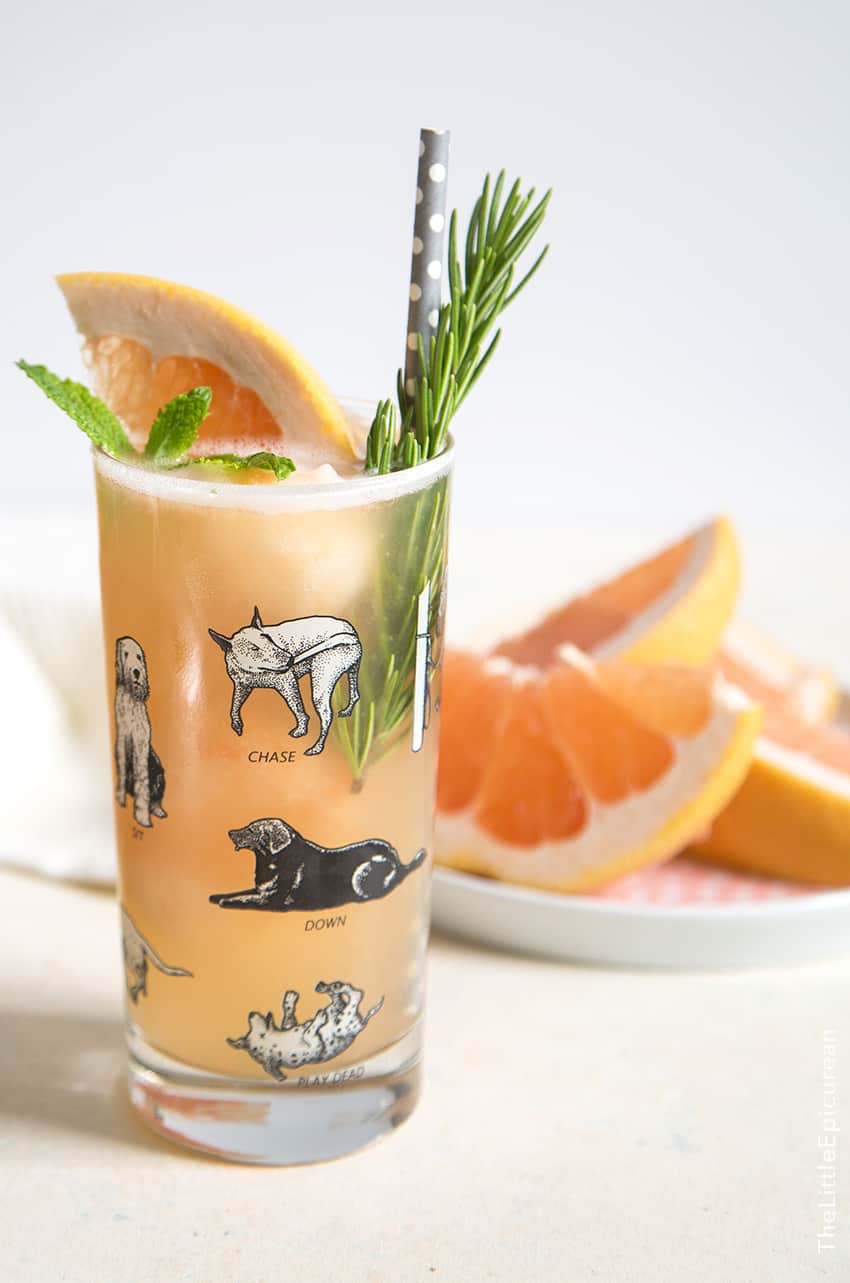 I love dogs.
I went from being afraid of dogs as a kid to thinking "hey, dogs are kinda cute" to OMG I can't live without dogs. I'm definitely a dog person.
But occasionally, I start wondering: Can I still learn to love cats? Will my dogs hate me if we adopt a cat? Alex likes cats, maybe I secretly like cats but am afraid I'll love them more than dogs.
Along with loving dogs, I have this mild obsession with purchasing kitchenware/pajamas/beach towels/accessories with dogs on them. I've had these dog juice glasses forever and I've finally found a drink for them!
Greyhound cocktail floats!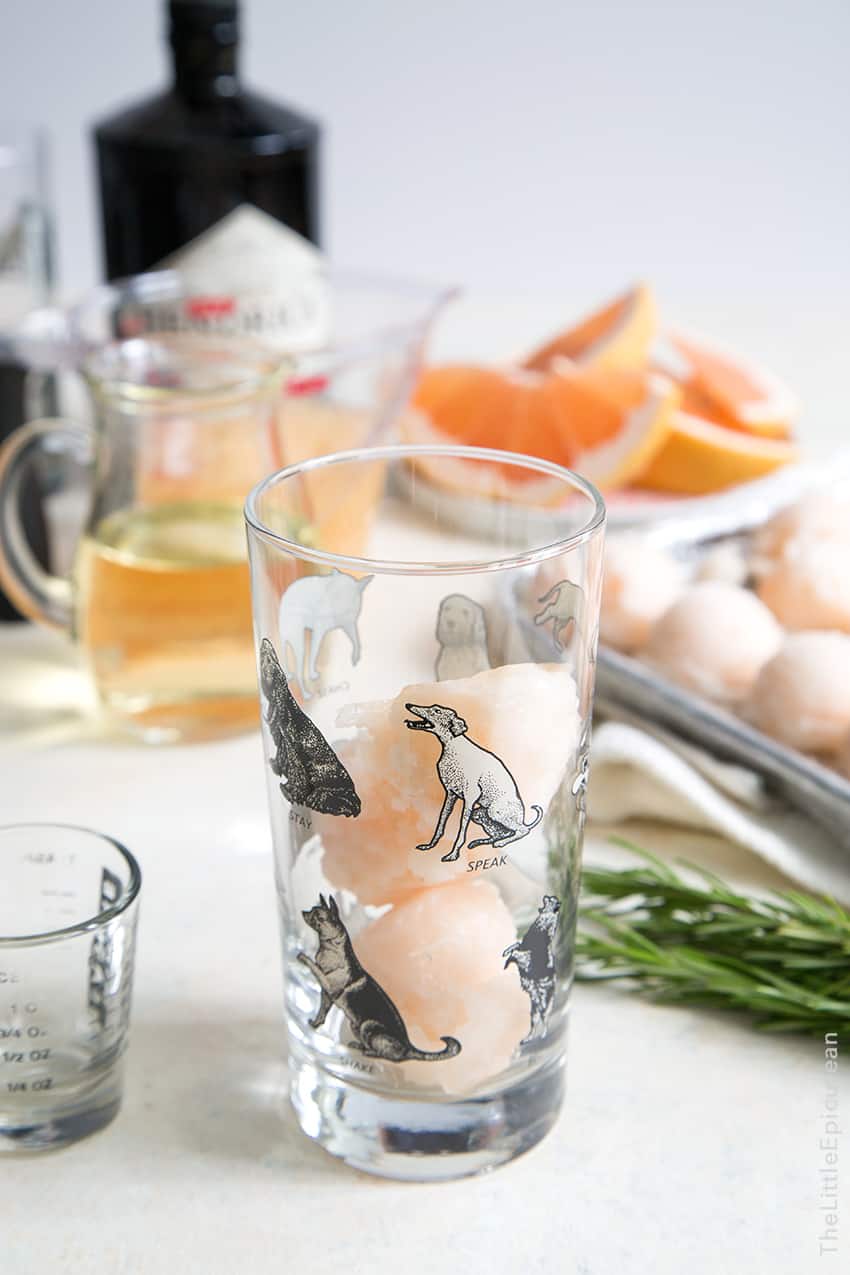 Traditionally, the greyhound cocktail is a mixture of grapefruit juice with either vodka or gin. I'm a gin girl all the way. Especially during the summer, I think gin adds such a clean, herbaceous, and refreshing quality that vodka can't.
It's usually garnished with a sprig of fresh rosemary. There's something about grapefruit and rosemary. They go together like peanut butter and jelly. It's a pairing I just don't question.
As promised in my cucumber gin and tonic floats, here is the second cocktail float in my series of four. I made a grapefruit sorbet using just fresh squeezed grapefruit juice and sugar. That's it.
Super simple, super easy. If you don't have an ice cream maker, you can use this recipe to make a granita.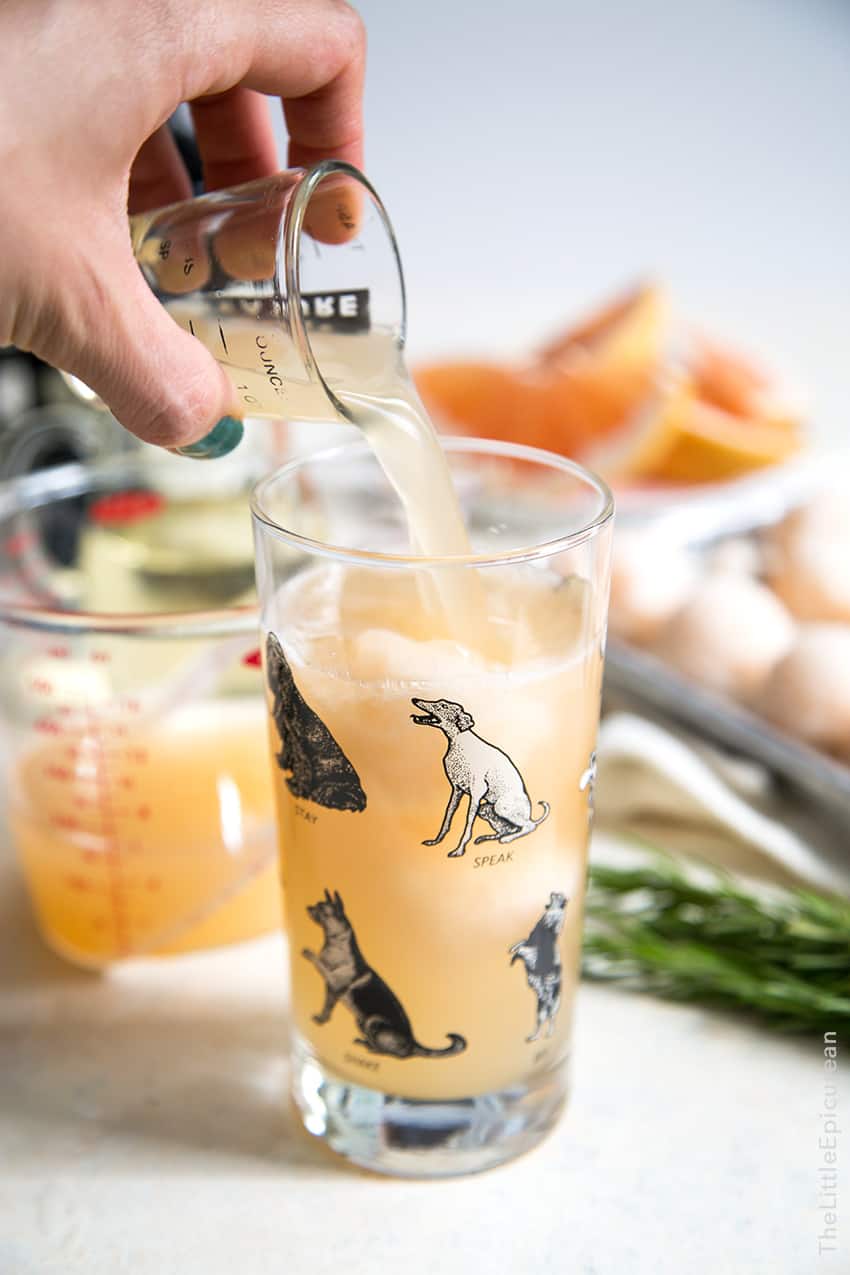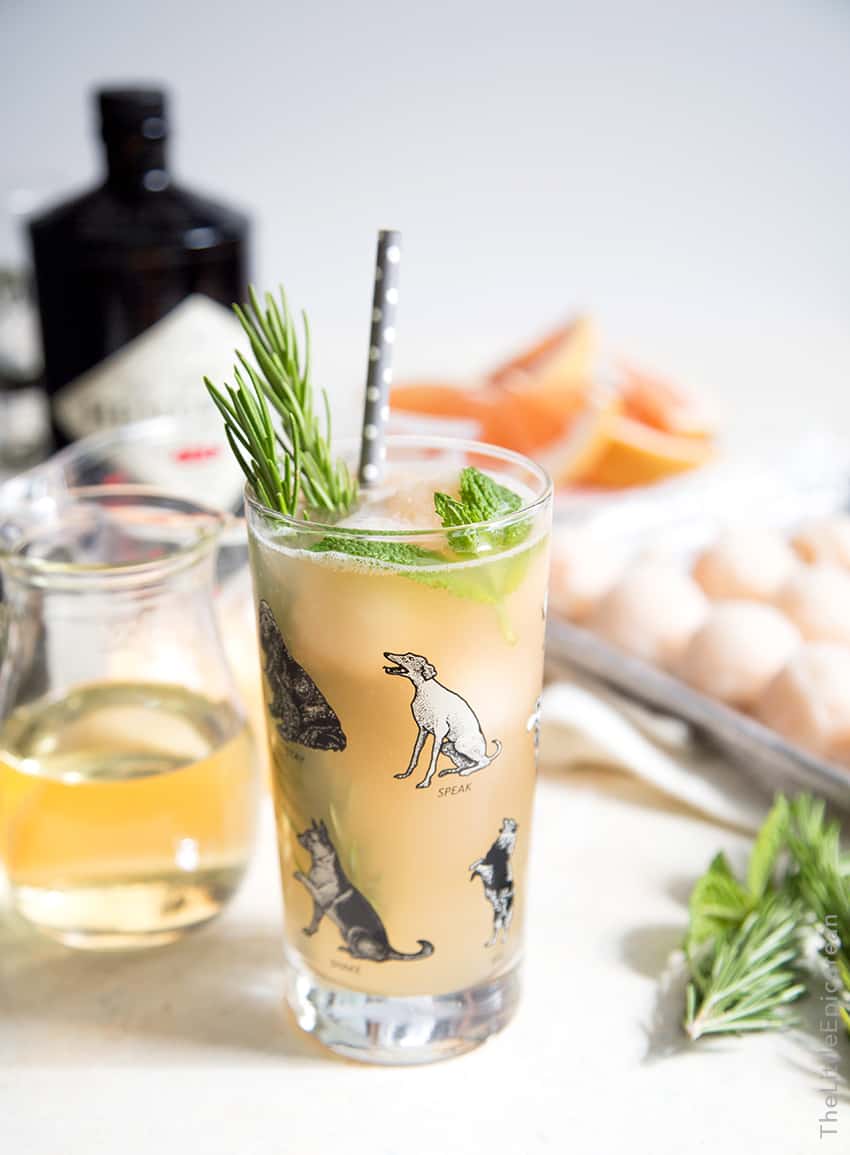 A very close relative of the greyhound cocktail is the salty dog. The only difference is the addition of salt. To turn this into a salty dog float, simply rim the edge of the glass with coarse sea salt.
In case you were wondering- I bought these dog juice glasses from Anthropologie.
Unfortunately, they don't sell them anymore. And if you're more of a cat person, yes, they also sold a similar cat version.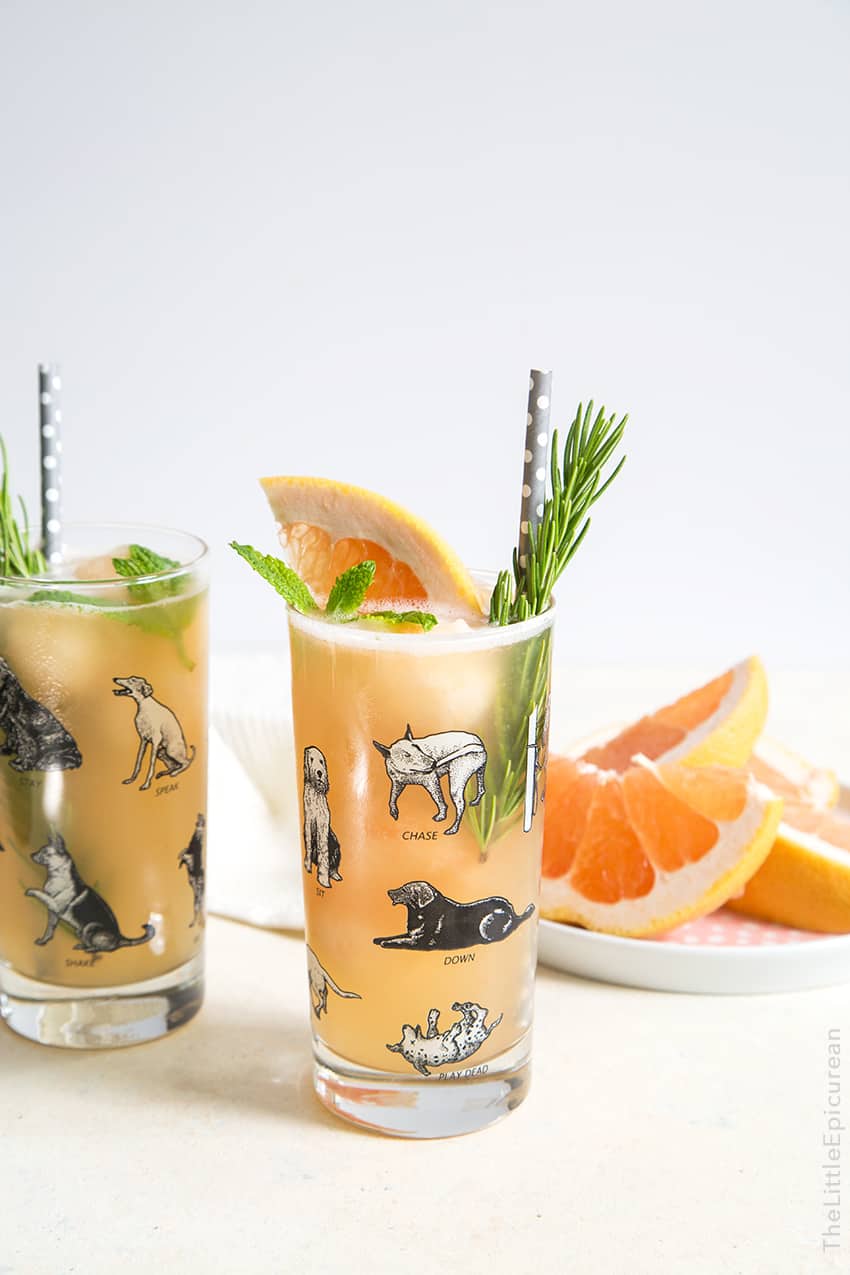 Greyhound Cocktail Float
Add a summer spin to the classic greyhound cocktail with a few scoops of grapefruit sorbet!
Yield: serves 1, multiply as needed
Ingredients
3-4

scoops

grapefruit sorbet (recipe follows)

2

oz

gin

4

oz

grapefruit juice

3/4

oz

simple syrup*

rosemary sprigs, to garnish

fresh mint and grapefruit slices, to garnish
Grapefruit Sorbet:
3 1/2

cups

fresh squeezed grapefruit juice

1/2

cup

granulated sugar*
Instructions
In a tall serving glass, add 3 scoops of grapefruit sorbet. Add gin, grapefruit juice, and simple syrup. Stir to combine. Garnish with rosemary, mint, and grapefruit slices. Enjoy immediately.
Grapefruit Sorbet:
Dissolve sugar in grapefruit juice. Store in the fridge until juice is cold.

Freeze mixture in ice cream maker according to your unit's instructions. Process until the mixture has reached a soft serve consistency. Transfer to a freezer-safe container and let rest in the freezer for at least 4 hours before serving. Allow to sit at room temperature for 5 minutes before scooping and serving.

Notes
To make simple syrup:

 bring equal parts water and sugar to a boil. Cook until sugar has dissolved. Allow to cool and keep stored in the fridge until ready to use. Keeps for about a week in the fridge. 
*Note:

 I prefer the sorbet a little on the tart side. If you'd like the sorbet to be sweeter, feel free to add additional sugar to your taste preferences. 
All images and text © The Little Epicurean