Move on over popsicles and ice cream, this strawberry basil granita is summer's new favorite frozen treat. No special tools or equipment necessary. All you need is a freezer!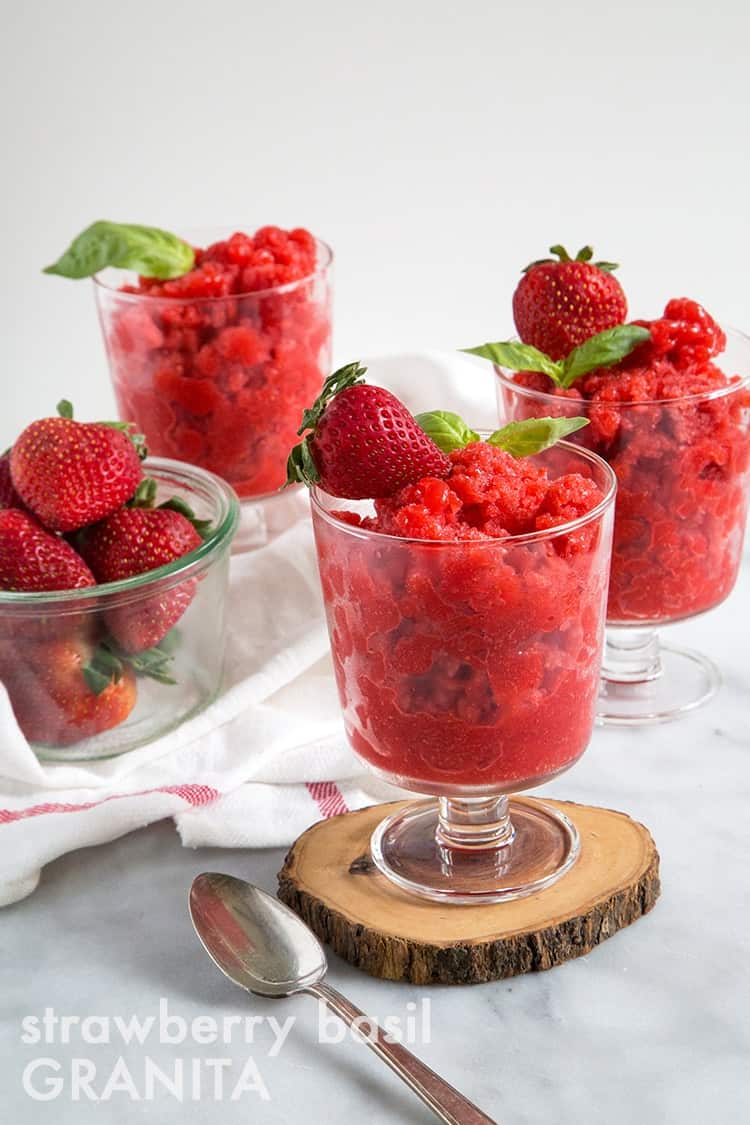 My childhood friends and I were making granitas way before we even knew what it was. Growing up I loved drinks that came in cool containers: think Sqeezit, Capri Sun, and Kool-Aid Bursts. Yes, definitely not the most healthy choices, but those were our favorites.
During summer months, we would raid the fridge and combine different juices and soft drinks to create even sweeter concoctions. We would make such a large batch that we'd end up freezing a ton of leftovers.
For the next couple of days, we'd grab spoons and start shaving the frozen juices and to make homemade slushies.
Now that summer is here, it's time to start thinking about barbecues, picnics, and pool parties.
While I love all these outdoor festivities and get-togethers, my favorite part of warmer weather is definitely all the frozen treats!
Unlike popsicles and ice cream which require additional tools or equipment, very little is needed to make granita at home. All you really need is a baking dish (such as bread loaf pan or casserole dish) and a freezer.
Strawberry Granita
With strawberry season in full swing, my kitchen is stocked with pounds and pounds of strawberries.
Luckily I've found the best way to them all up: strawberry basil granita!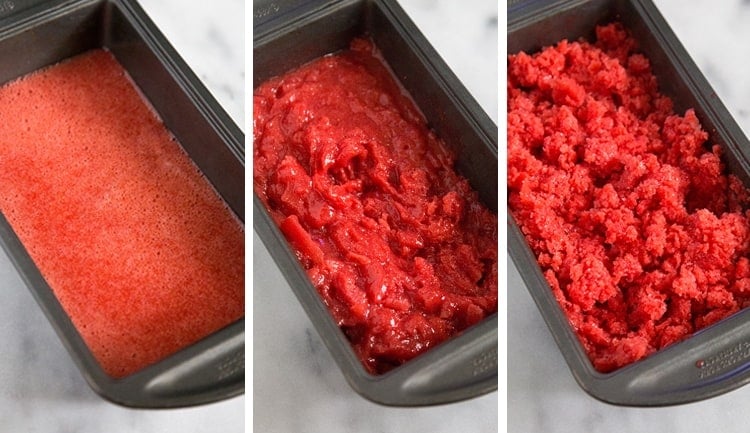 What is granita?
Granita is the sophisticated, well-traveled older sister of slushie and shaved ice. But don't worry, granita making is not complicated.
It's actually quite simple. The only downfall is that it takes some time and patience to make.
No special tools needed to make granita!
You can use any freezer safe dish for granita. I used a metal bread loaf pan because it fits nicely in my freezer. You can use casserole dishes, baking pans, or pie tins.
Just remember, the larger the surface area and shallower the pan, the quicker the granita will freezer. Since I used a loaf pan, it took a little bit longer for the granita to set up.
Granita Base
To make the liquid base, blender together fresh strawberries, some water and basil infused simple syrup. If you'd like, you can strain out the little tiny strawberries seeds. I keep them in because they don't bother me.
Pour the liquid into your desired dish and place it in the freezer. Check on the mixture every 30 minutes. Each time, remove the dish from the freezer and scrape up any icy bits have begun to form.
After about an hour, the mixture will look creamy like a sorbet. After about 90 minutes, it should more like shaved ice.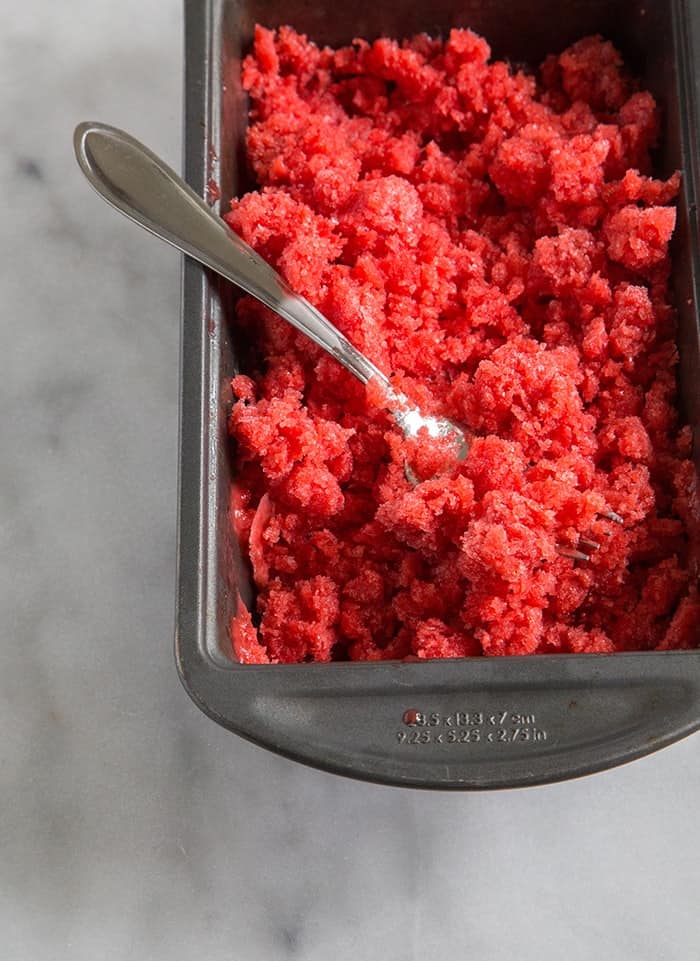 That's it! In about 2 hours, you'll have this delicious and refreshing strawberry basil granita.
If you're in the festive mood, go ahead a pop a bottle of Prosecco or any sparkling wine. Top off a glass full of this granita for one delicious mimosa or bellini!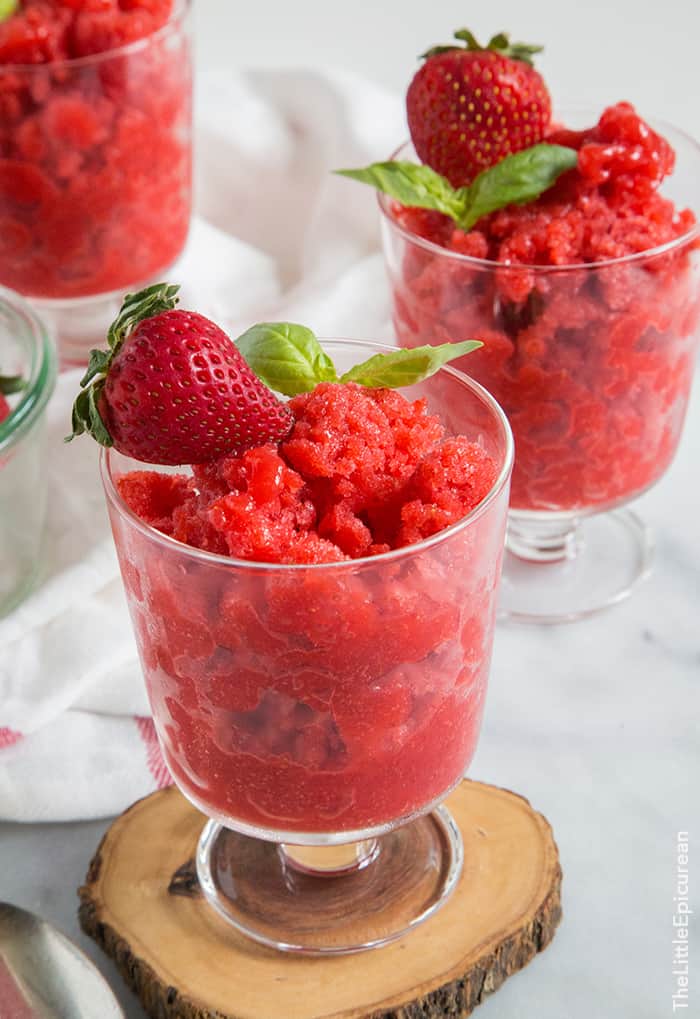 Interested in making more granitas? Try espresso granita served with vanilla ice cream!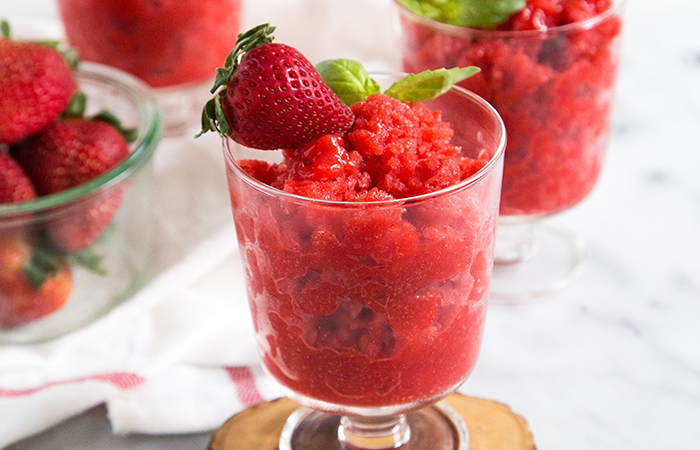 Strawberry Basil Granita
Granita is the sophisticated, well-traveled older sister of slushie and shaved ice. It is simple to make. However, it does take a bit of prep before you can enjoy the finished product.
Ingredients
1

pound

fresh strawberries, hulled and sliced

3

Tablespoon

lemon juice

¼

cup

water

½

cup

basil simple syrup
Basil Simple Syrup:
1

cup

water

1

cup

granulated sugar

¼

cup

basil leaves, torn
Instructions
In a blender, combine strawberries, lemon juice, and water. Process until smooth. Add simple syrup, stir to combine. Taste and adjust sweetness by adding more syrup if necessary.

Pour liquid mixture into a freezer safe pan*. Freeze for 30 minutes. Remove from freezer and use a fork to stir up icy liquid. Return to freezer and remove every 30 minutes to scrape contents. It should take about 90 minutes to 2 hours until the mixture has turned into ice crystals and looks like an icy slushy . Serve immediately, or cover and enjoy later.
Basil Simple Syrup:
Combine water, sugar, and basil in a saucepan. Bring to a simmer and continue to heat until sugar has dissolved. Remove from heat and allow to cool to room temperature. Strain out basil and store simple syrup in the fridge until ready to use. Keeps for one week.