This banana peanut butter jelly cake takes my favorite childhood flavors and combines them into an awesome layered dessert!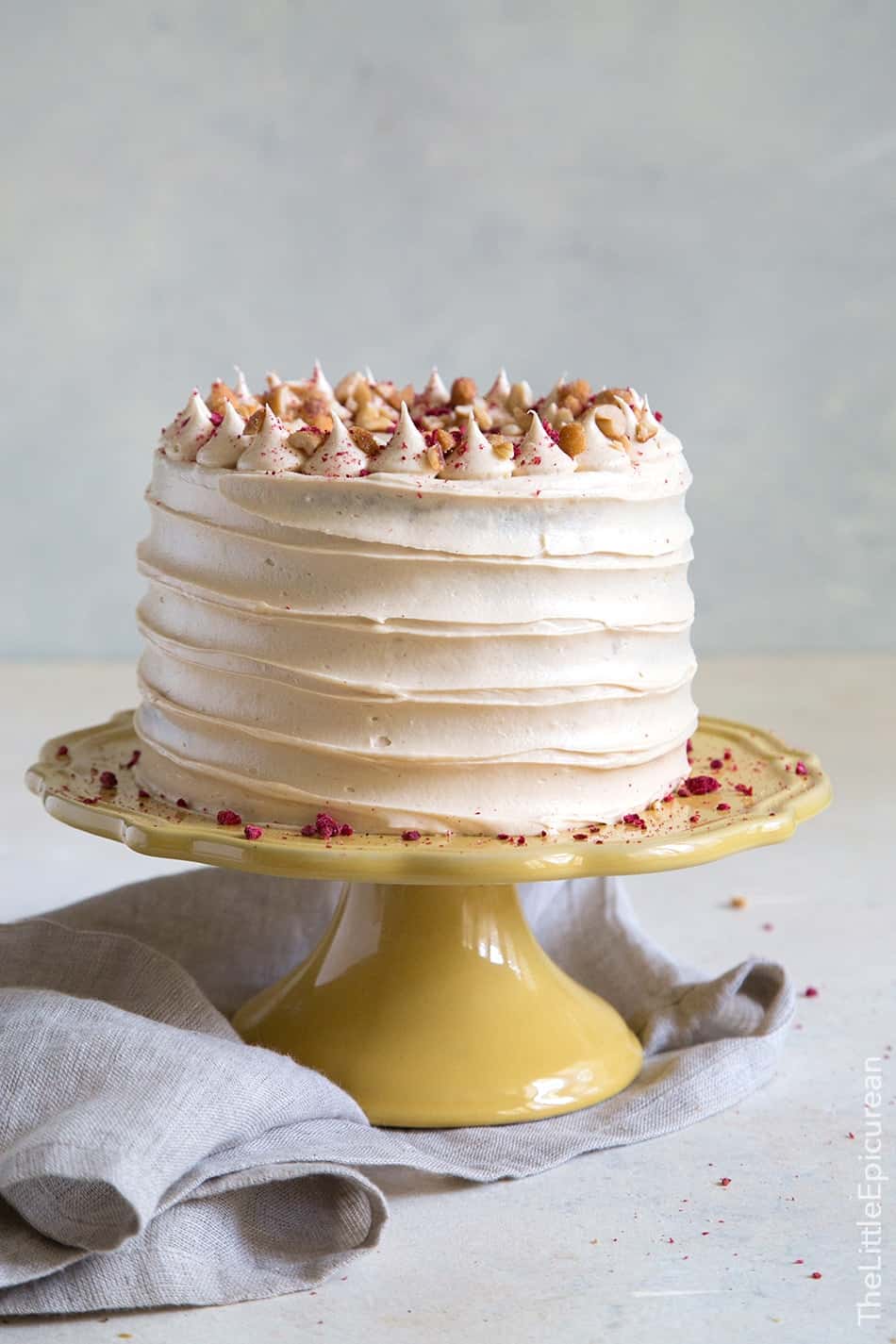 AMA. RBTL. FOMO. TBH. YSK. SMH.FTFY.
I feel lost with all these new abbreviations and acronyms. It makes me feel old and outdated. Sometimes I feel like Phil from Modern Family who thinks LOL means lots of love and WTF means why the face.
And in case you're wondering, here's what the foreign language above means: Ask Me Anything, Read Between The Lines, Fear of Missing Out, To Be Honest, You Should Know, Shaking My Head, Fixed That For You.
I'm not a fan of all this internet slang. The list continues to grow everyday and I'm trailing far behind. For the most part, it confuses me more than it makes communicating easier.
When I text message friends, I spell words out completely, use punctuation when needed, and over use exclamation points. If that makes me uncool, so be it.
I prefer to stick to the easy abbreviations are super straight forward. Take PBJ (or PB&J). We're all on the same page when it comes to that meaning, right?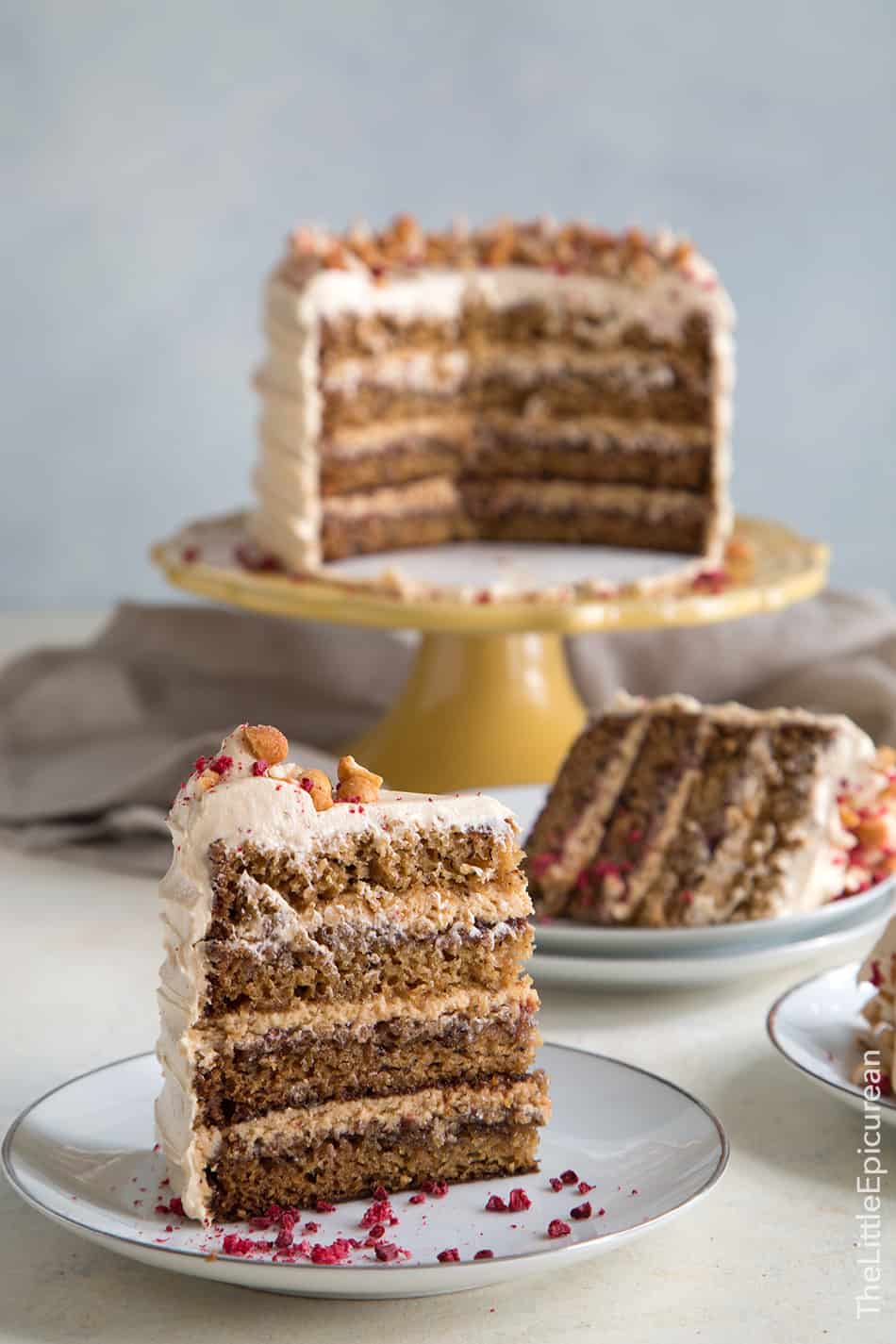 Banana Peanut Butter Jelly Cake
I cannot count the number of PBJs I've consumed in my lifetime. Too many, especially because I continue to enjoy them today. The combination of peanut butter and jelly is a flavor I may never tire of.
Sometime in elementary school (maybe 3rd or 4th grade) when I started packing my own lunches, I made my first banana peanut butter jelly. It was one of those lightbulb moments when I felt like a child genius. Add sliced bananas to your PBJ!
It was just a monumental when I found out that banana and Nutella were delicious together.
I had that same ah-ha moment when I first envisioned this cake. I'm taking my favorite childhood flavors and turning it into a cake!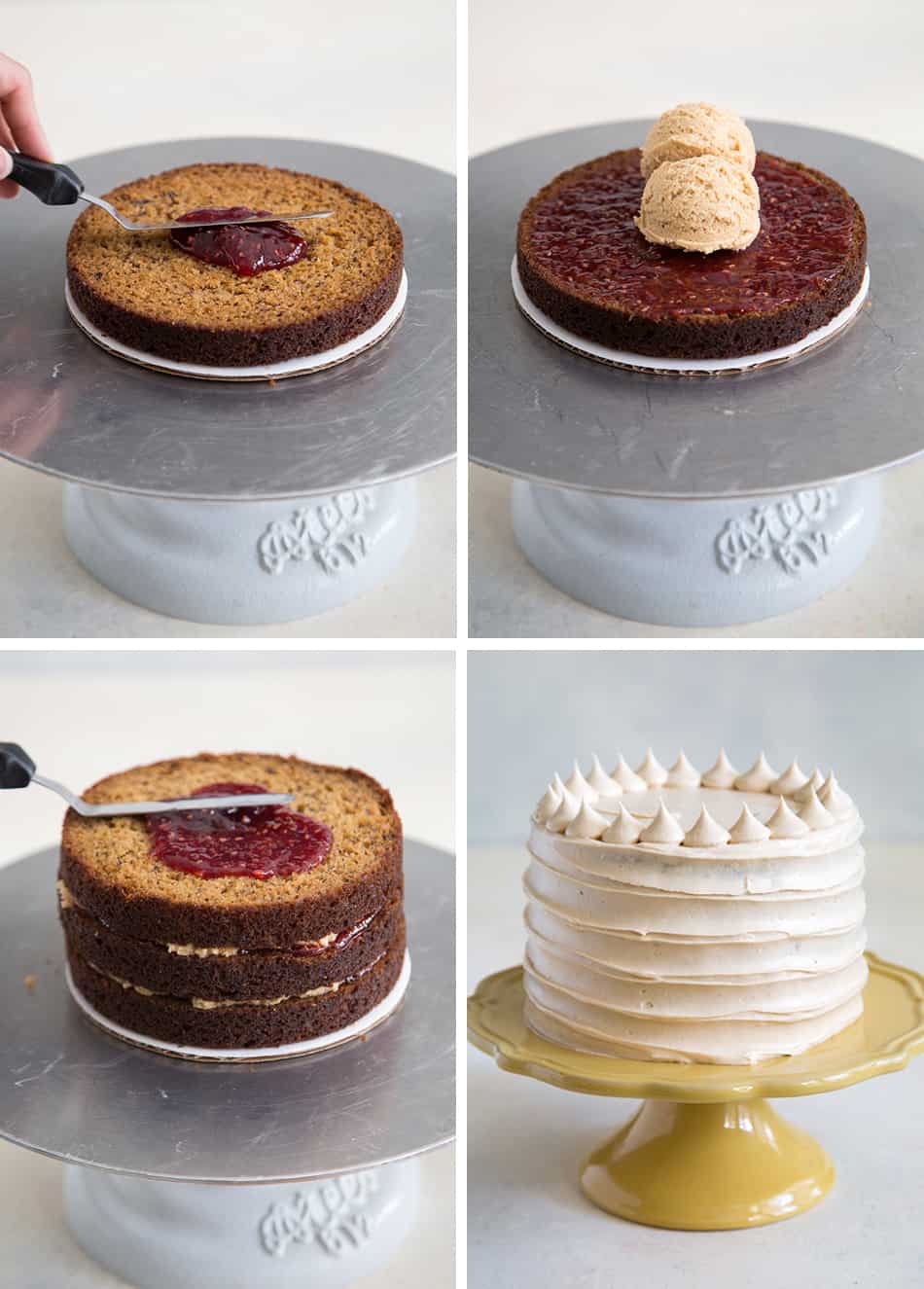 I used the banana cake recipe from this peanut butter banana BACON cake I made ages ago. It's a strong, yet moist cake that's perfect for stacking.
I like my PBJs with raspberry jam. Feel free to use your jam of choice (grape, strawberry, etc). Spread a layer of raspberry jam between each layer and follow with a creamy layer of peanut butter frosting.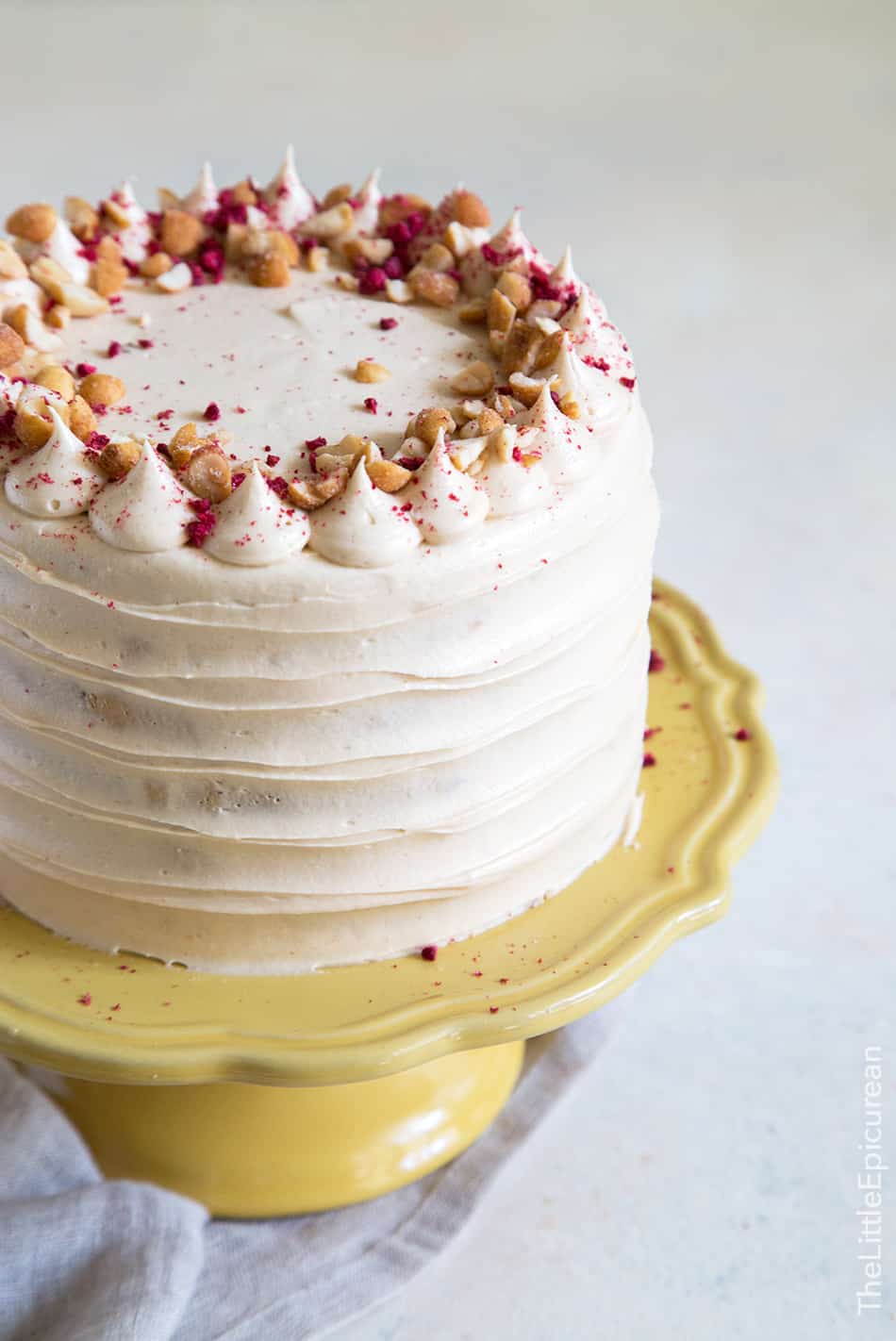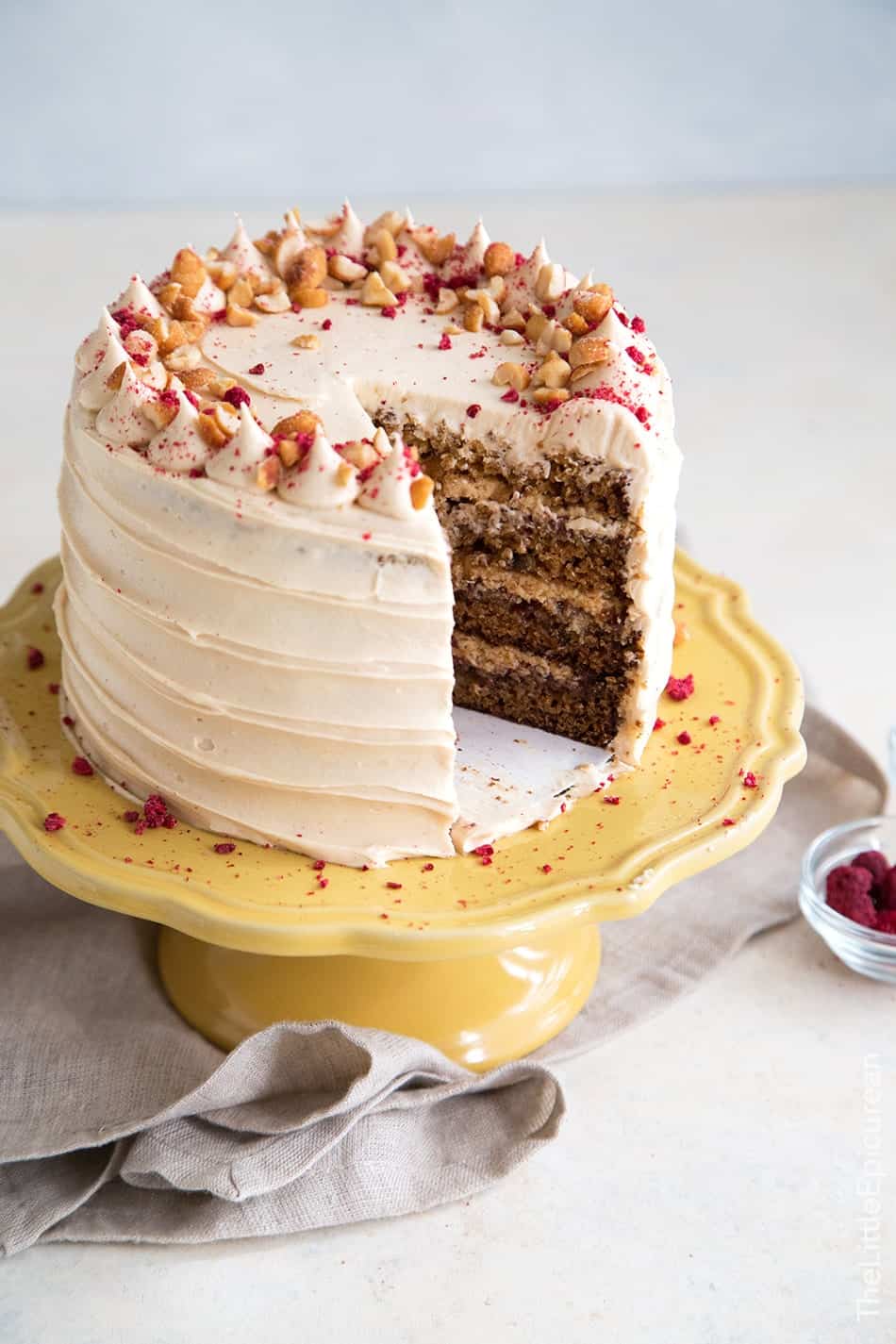 I decorated the assembled banana peanut butter jelly cake with crushed honey roasted peanuts and crushed freeze dried raspberries.
Can you tell I love using freeze dried fruits? I have a stock pile of every freeze dried fruit I can find.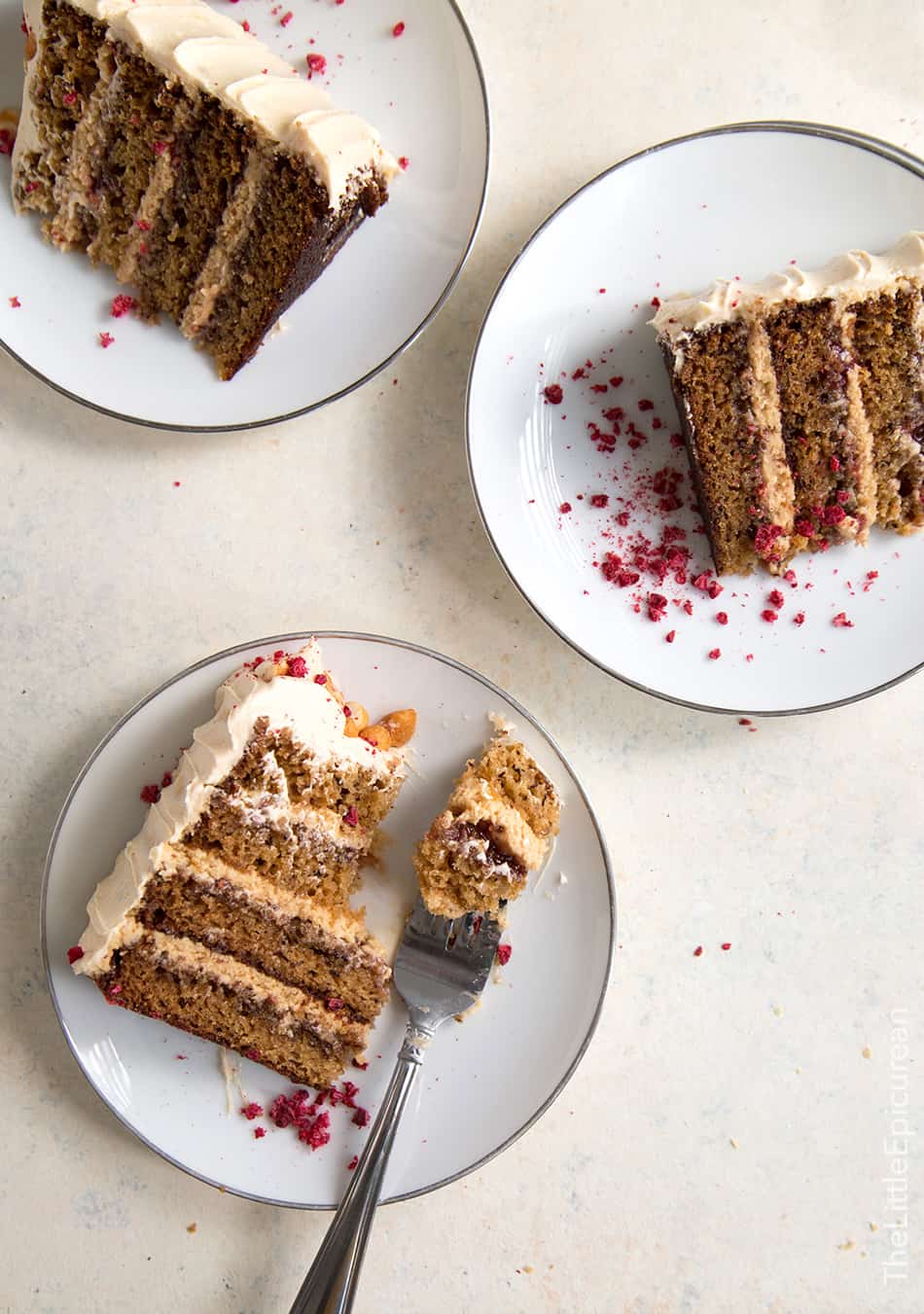 Kids and teens can have their puzzling and confusing lingo and their regular PBJ sandwiches. Everyone else, come with me. We're eating this banana peanut butter jelly cake!
Banana Peanut Butter Jelly Cake
Ingredients
Banana Cake:
1 1/2

cup

all-purpose flour

2

teaspoons

baking soda

1

teaspoon

baking powder

1/4

teaspoon

fine sea salt

1/4

cup

unsalted butter, room temperature

1/2

cup

granulated sugar

1/2

cup

light brown sugar, packed

2

large eggs, room temperature

2

ripe medium bananas, mashed

1/3

cup

whole milk, room temperature
Peanut Butter Frosting:
1/2

cup

unsalted butter, room temperature

1/4

cup

smooth peanut butter*

2

cups

confectioners' sugar (powdered sugar)

1/2

teaspoon

vanilla extract

3-5

Tablespoons

heavy cream
Other Components:
1/2

cup

raspberry jam

freeze dried raspberries*, as needed

chopped honey roasted peanuts, as needed
Instructions
Banana Cake:
Preheat oven to 350 degrees F. Line two 6-inch cake pans with parchment and lightly grease the sides.

Whisk together flour, baking soda, baking powder, and salt. Set aside.

In the bowl of a stand mixer fitted with a paddle attachment, cream butter. Add sugar and brown sugar and mix until well combined. Add eggs one at a time. Add mashed bananas. Scrape down bowl as needed to ensure thorough mixing.

Alternate adding flour mixture and milk. Start with the flour and end with the flour. Mix until just combined.

Divide batter evenly between the two prepared cake pans. Bake for 30-35 minutes until toothpick inserted in center of cake comes out clean. Let cool in pan for a few minutes before unmolding. Transfer to wire rack to cool to room temperature.
Peanut Butter Frosting:
Cream together softened butter and smooth peanut butter. Add confectioners sugar, vanilla, and 3 Tbsp of heavy cream. Mix together until smooth. Add addition cream if frosting is too thick.

Assembly:
Split each banana cake into two equal layers. You should end up with four cake layers.

Spread 1/3 of raspberry jam onto the first cake layer. Follow with a layer of peanut butter frosting. Add another layer of cake and repeat adding jam and frosting. Continue to repeat until the fourth layer of cake is on top. Do not add jam to final cake layer.

Crumb coat the top and sides of the cake with peanut butter frosting. Let chill in the fridge for 10-15 minutes to allow frosting to set. Coat the top and sides of the cake with remaining peanut butter frosting. Garnish assembled cake with crushed peanuts and crushed freeze dried raspberries.
Recipe Notes
The peanut butter frosting works best with homogenous peanut butter like JIF or Skippy. Natural peanut butters may cause the frosting to separate when chilled. 
Freeze dried raspberries are available at Trader's Joe, Target, and Whole Foods Market. You can also buy them online. 
All images and text ©The Little Epicurean