A skillet cookie is the perfect way to celebrate victories big and small. Made with brown butter, peanut butter, and dark chocolate, this is a rich and delicious dessert that's easy to make any day of the week!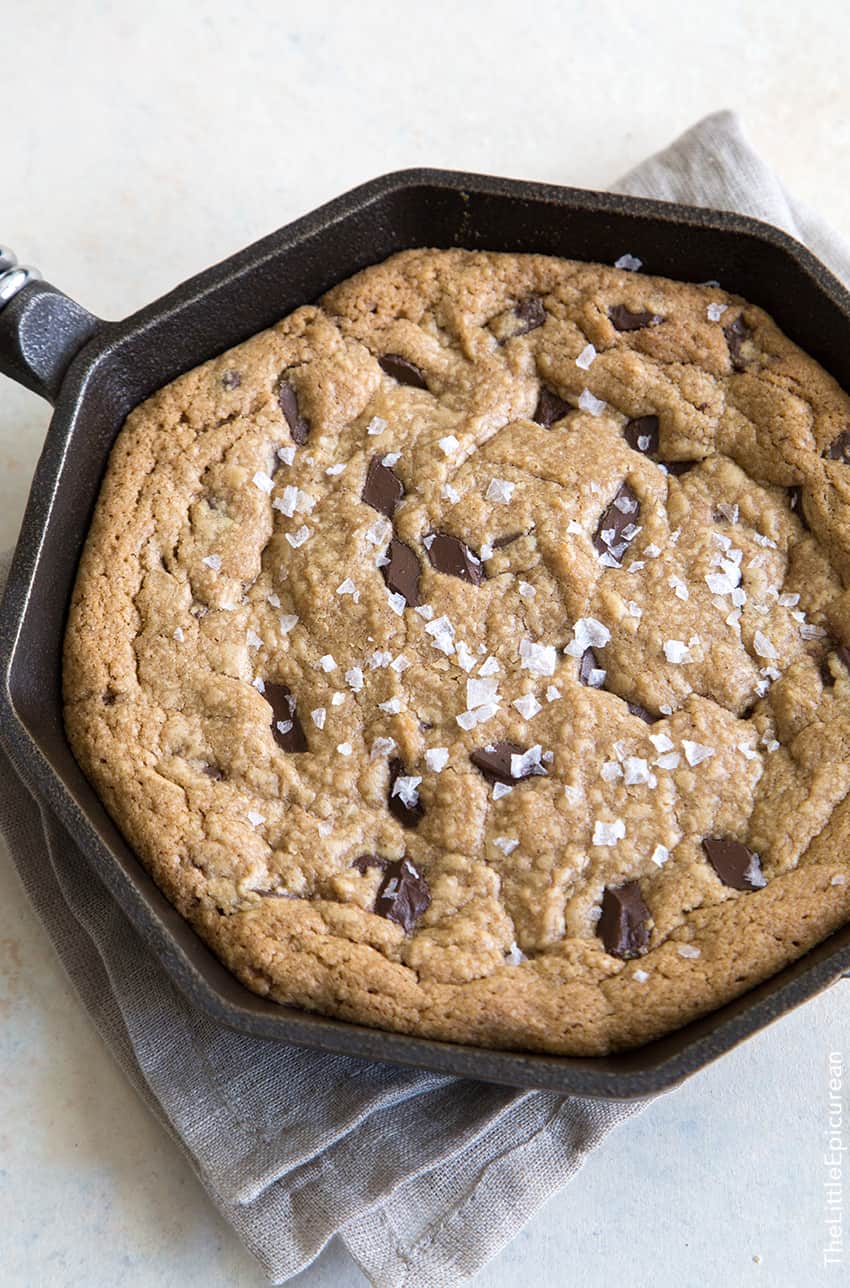 I don't make cookies very often. They're dangerous around me. Cookies are portable little snacks that mindlessly make their way to my stomach. They're far too easy to eat. Today, I'm going to make cookie eating a little difficult. This cookie requires the use of a spoon. We're eating cookies because a celebration is in order!
Last week, Alex and I completed the 40 classes in 60 day challenge at our local Pure Barre studio. 40 classes in 60 days. We were taking 5 classes a week for 8 weeks straight. (!!!)
In honor of finishing such a feat, I made this peanut butter chocolate chunk skillet cookie. (P.S. Mind you, we went to barre class on both of our birthdays. That's dedication. And that definitely deserves a cookie or two.)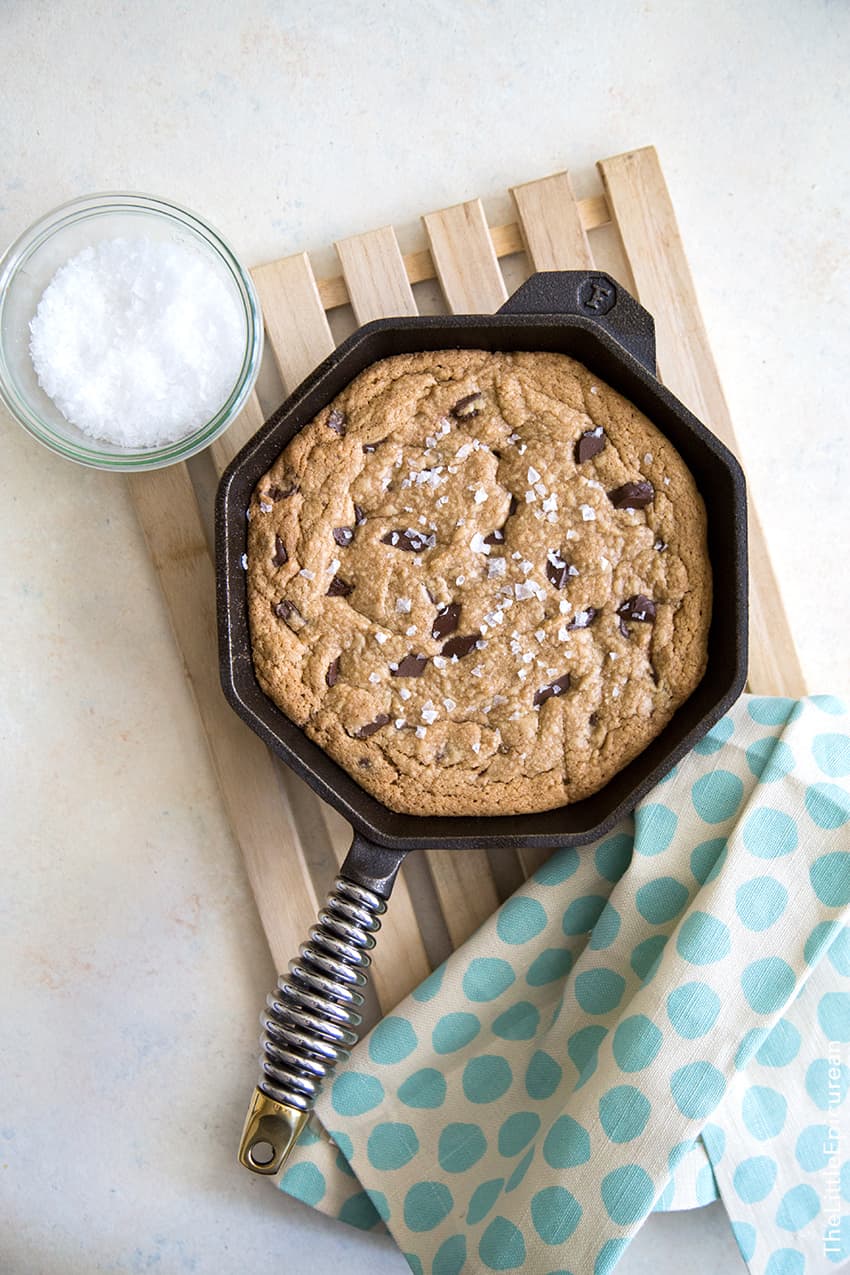 This skillet cookie really hit the spot. After 8 weeks of tucks and holds and shaky legs, the combination of nutty brown butter, smooth peanut butter, and melted dark chocolate was exactly what I've been craving.
Like I told Alex, this is the first of MANY skillet cookies to come this year. (Especially because I'm totally in love with this new cast iron skillet Alex gave me.)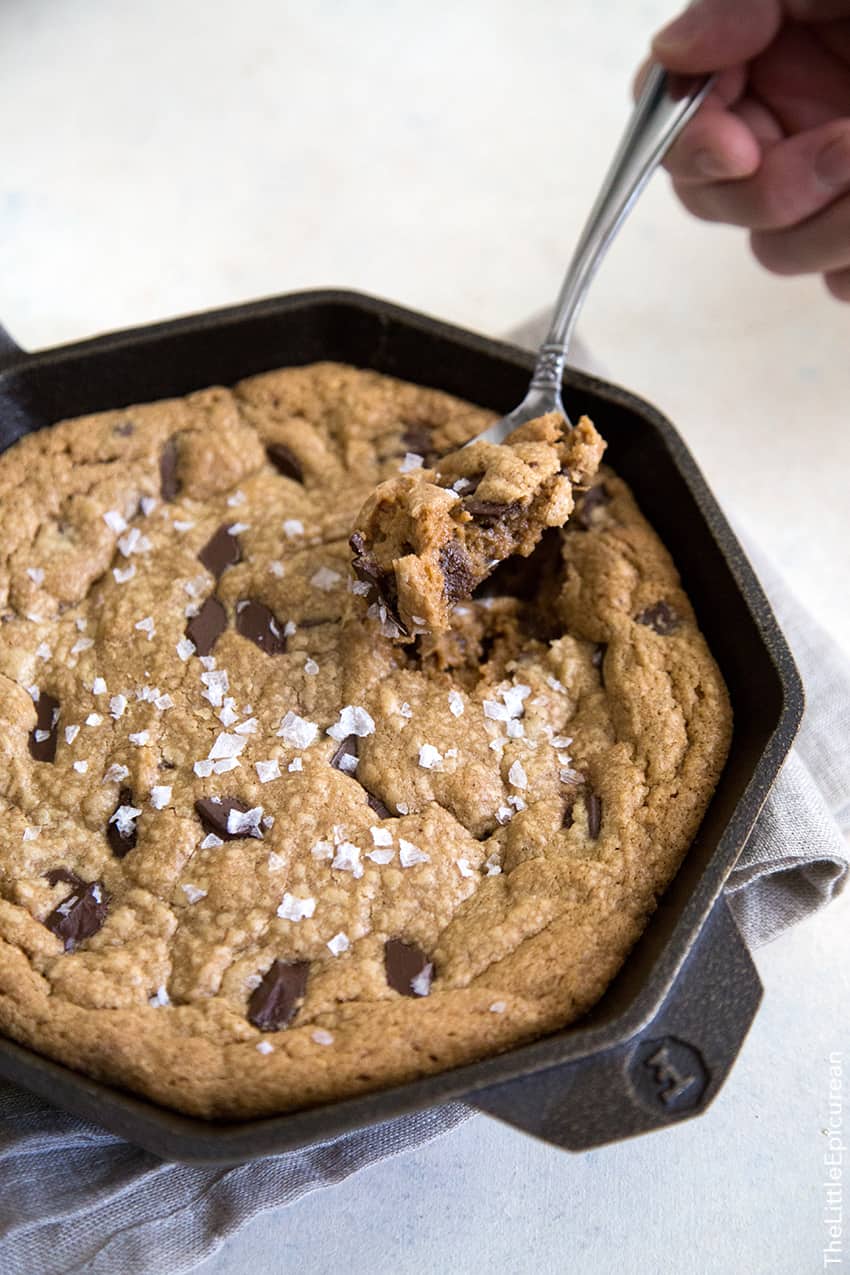 While I hope to continue taking barre classes (although I'll probably cut it to 3-4 times a week), it's time to focus on our upcoming wedding! It's less than THREE MONTHS away. We've been planning for over a year. I'm ready to seal the deal and PARTY with our favorite people.
(And yes, I will be making a batch of this skillet cookie for the wedding party staying with us in the casita for the after party.)
Peanut Butter Chocolate Chunk Skillet Cookie
Ingredients
3

oz

unsalted butter, browned and cooled*

7

Tablespoons

dark brown sugar, packed

3

Tablespoons

granulated sugar

1

large egg

1/2

teaspoon

vanilla extact

1/3

cup

smooth peanut butter

3/4

cup

all-purpose flour

1/4

teaspoon

fine sea salt

1/2

teapsoon

baking soda

1/4

teaspoon

baking powder

1/2

teaspoon

espresso powder, optional

1/2

cup

dark chocolate chunks

Maldon sea salt flakes, to garnish
Instructions
Preheat oven to 350 degrees F.

In an 8-inch cast iron skillet (or oven safe skillet), melt butter over medium heat. Once butter has melted, continue to cook. Swirl pan occasionally. Mixture will bubble and foam as it cooks. Continue to cook until butter smells fragrant and nutty. The milk solids in the butter will turn a rich brown color. Remove from heat and pour into a mixing bowl. Allow brown butter to cool for 10 minutes. Do not wash skillet. Set aside for later use.

Add brown sugar and granulated sugar to brown butter. Mix until sugars are moistened. Add egg and vanilla. Mix until incorporated. Add peanut butter and mix until incorporated.

Whisk together flour, salt, baking soda, baking powder, and optional espresso powder. Add dry ingredients to wet ingredients. Use a sturdy spatula to fold together. Add chocolate chunks and fold until distributed among dough.

Transfer cookie dough to used 8-inch skillet. Press cooke dough along sides of the pan, ensuring an even layer of dough in the pan. Bake for 10-13 minutes until the edges of the cookie have set and are golden brown, while the center of the cookie is still slightly soft. Allow to cool for a few minutes. Sprinkle sea salt flakes, if desired. Serve and enjoy warm.


All images and text ©The Little Epicurean