Disclosure: This post was sponsored on behalf of The Seeker Wines via One2One Network. All opinions stated are my own.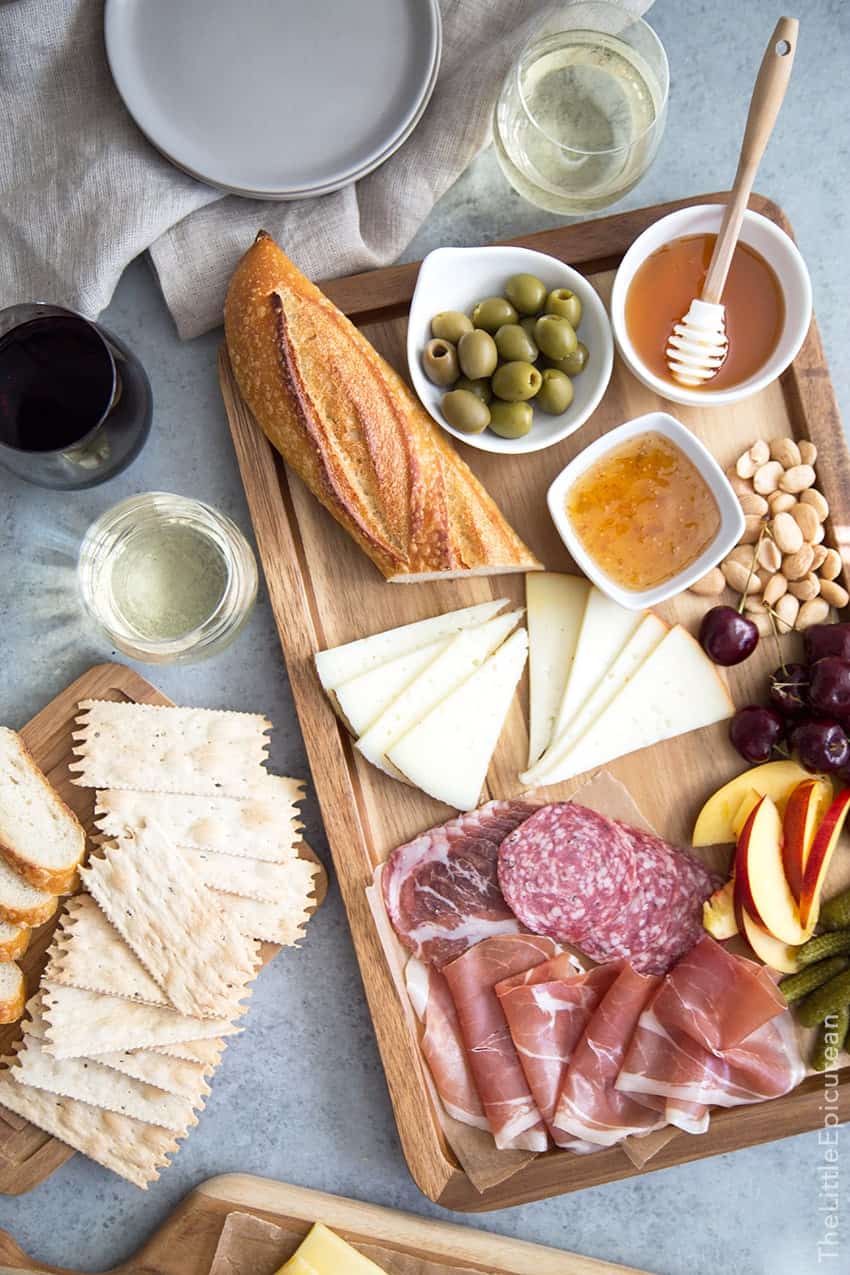 Whatever the celebration, meat and cheese boards are welcome addition to the table all year long. Paired with a wine or two, meat and cheese boards are the perfect reason to call your friends over for an impromptu gathering.
I once only reserved meat and cheese boards for restaurants. I found the task of making it myself a bit intimidating. Over the years, I've learned quite a lot about cheeses. By being open to sampling new cheeses and asking the cheesemonger a ton of questions, you'll get to know your palate. In no time, you'll know what you like and dislike. What I once found daunting, I now find super exciting (and satisfying)!
Think of creating your meat and cheese boards like an adventure. Take a risk, be curious, and have an open mind. Once you've completed your board, pair your success with a great wine!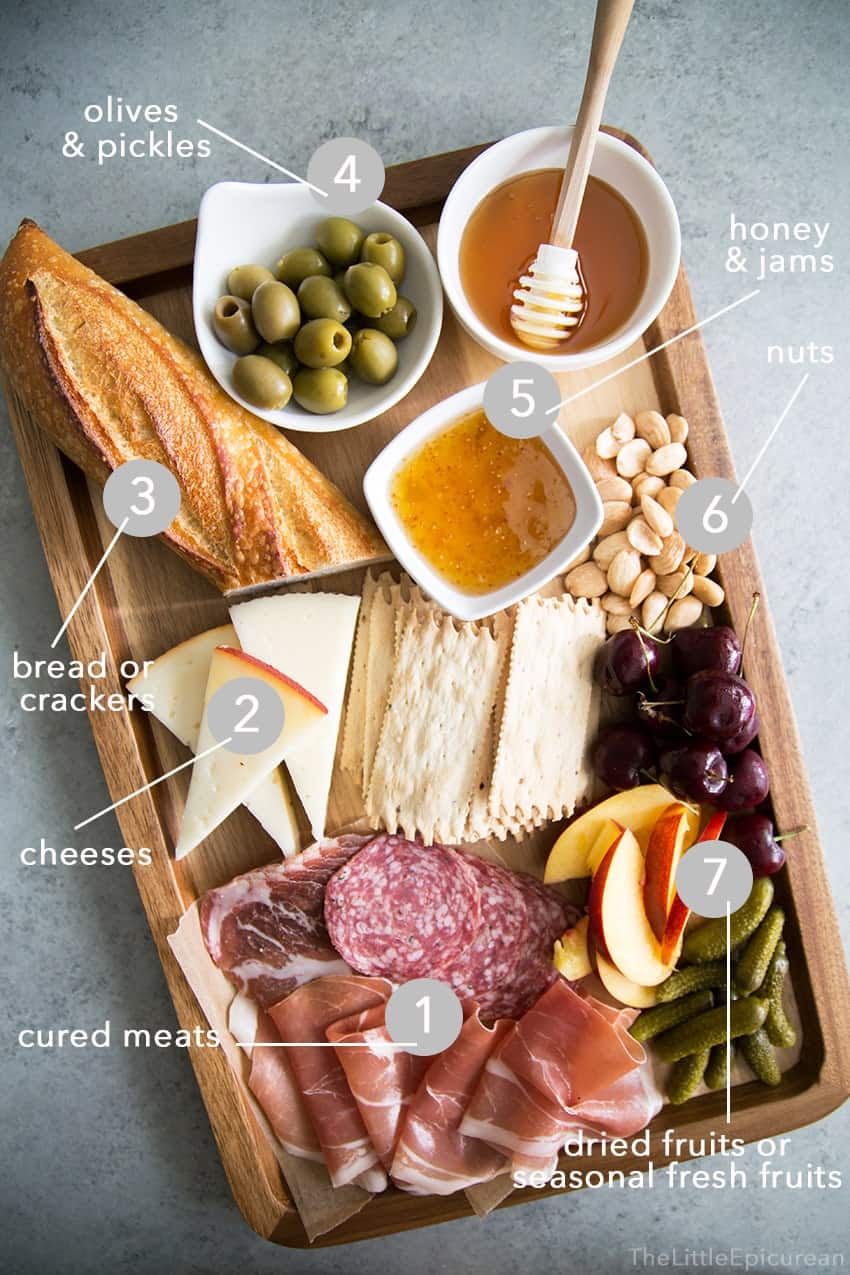 This is my go-to check list when procuring items:
Meat and Cheese Board Components
Cured Meats: I suggest two to three cured meats. I like to go with different textures. I'll usually get thinly sliced prosciutto and pair that with a hard cured meats (like salami, copa, sopressata). For special occasions, I'll add some pate. About 2 oz of meat per person will suffice.
Cheeses: I let the cheese be the star. Think variety in terms of textures and milks. Try to incorporate at least one soft (or semi-soft) cheese and one hard cheese. Pick cheeses made from different milks: cow, sheep, goat, or a mixture. About 3 – 4 oz of cheese per person is a good serving.
Bread or crackers: Keep the bread and/or crackers simple. Thin slices of baguette, plain breadsticks, or toast is great. Choose crackers that are light on flavor so you can highlight the meats and cheeses. These are nice accompaniments that provide additional crunch and texture.
Olives & Pickles: Olives and other pickled snacks provide a great contrast to the rich meats and cheeses. Think of this like a palate cleanser. The sharp sour notes will cut through the richness of the other items. (Cornichons are a great choice!)
Honey & Jams: For sweetness, add honey and one jam/preserve. If you're serving brie or blue cheese, honey is much appreciated. Keep the honey and jam in separate containers. As nice as it looks poured onto a board, it ends up creating a huge mess.
Nuts: Marcona almonds are my favorite and they're a staple on all my meat and cheese boards. Add whatever nut you prefer- walnuts, pistachios, pecans. These are another delicious way to incorporate crunch and textural variety.
Fruits: Grapes, raisins, dried figs, and dried apricots are standard. Depending on the season, it's great to incorporate fresh fruits like peaches, nectarines, and cherries.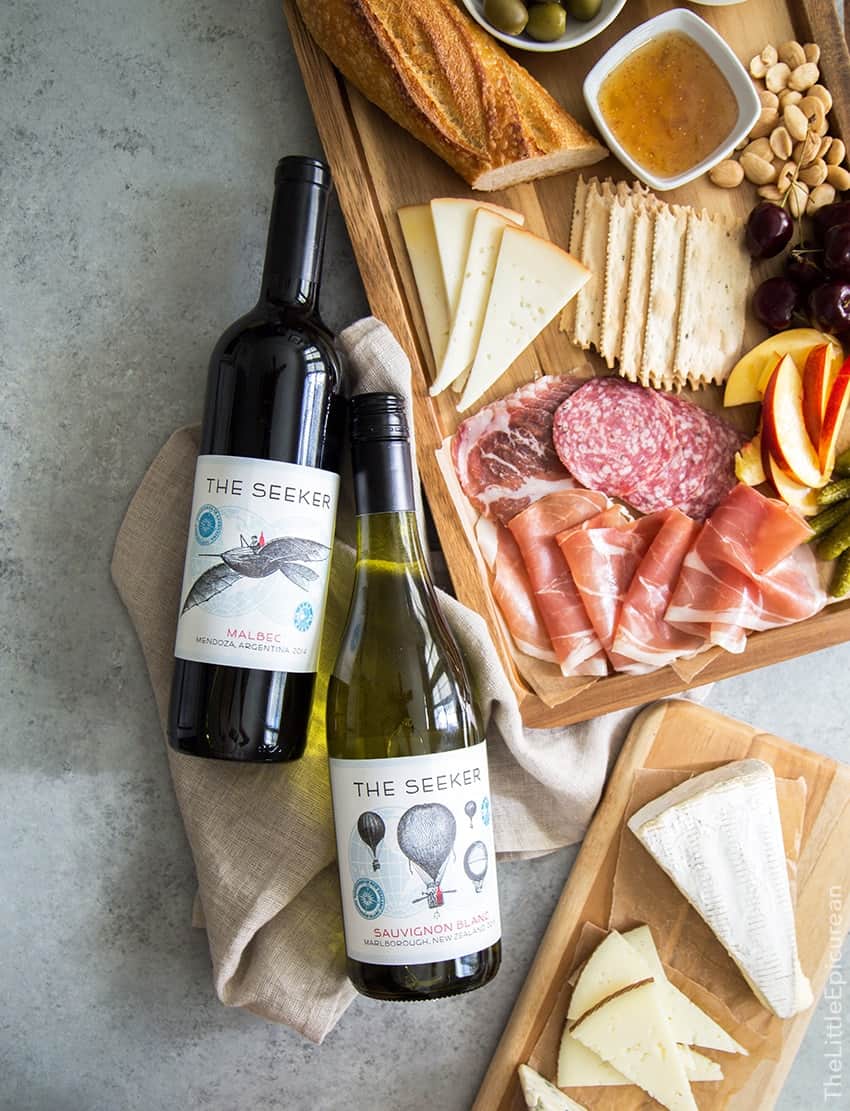 And the last piece to round out this puzzle is WINE!
This summer I'm pairing my meat and cheese boards with The Seeker Wines. No matter the mood or company, I'm bound to find a matching wine. The Seeker carries a wide variety of wines from all over the world. The Seeker provides a carefully curated collection of the best wines from where they grow best. Think Rosé from France and Chardonnay from California.
For today's board we're pairing it with a Malbec from Argentina and a Sauvignon Blanc from New Zealand. I like to offer a red and white to suit everyone's tastes.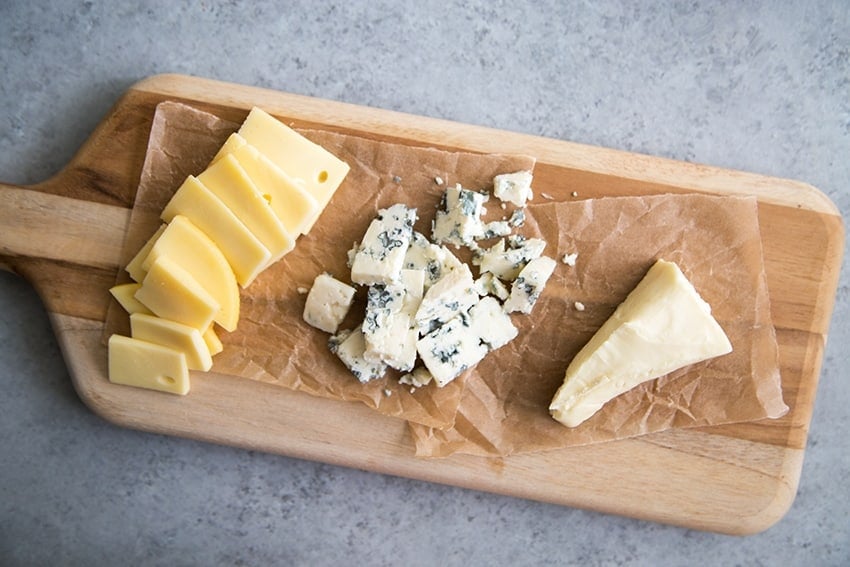 Be sure to slice your cheeses before serving. There's nothing I hate more than seeing a huge block of uncut cheese on a board. It makes it very difficult for guests to serve themselves.
Cut firmer cheeses into small 1/4-inch slices. Crumble softer cheeses like blue cheese into manageable bites. For super soft cheeses like brie, be sure to have a serving knife available.
There is a BIG difference in taste between cold cheese and room temperature cheese. Allow the cheeses to sit out for about 20-30 minutes before serving. Let your red wine aerate and keep your white wine chilled.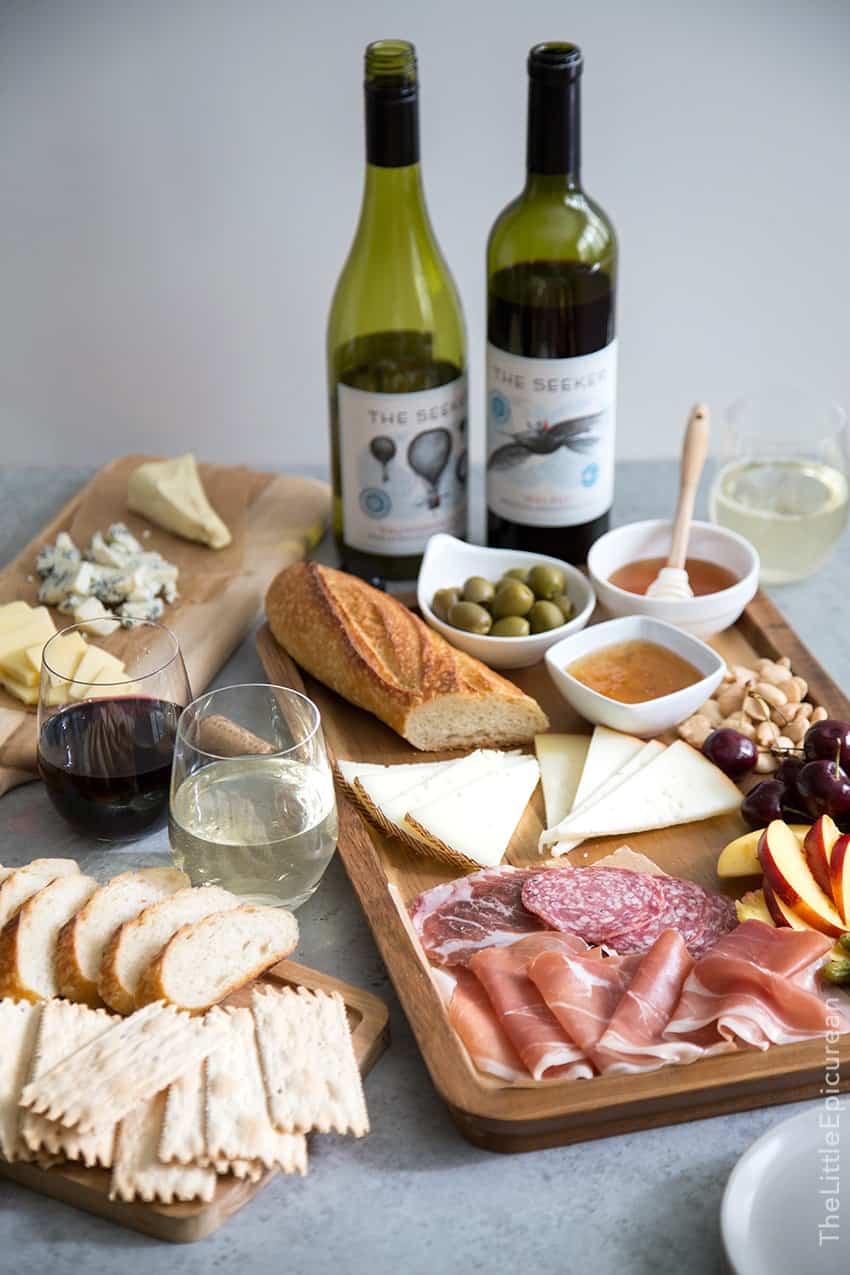 My meat and cheese board felt like a trip around the world. Cured meats from Italy, cheeses from France, Spain, and Holland, and wines from Argentina and New Zealand. The conversations that stem simply from naming the origins of our feast is such a delight. It's bound to make you want to travel, explore, and go on an adventure!
Visit the store locator to find the nearest The Seeker Wine retailer near you.
For other wine inspirations be sure to follow #SeekAdventure on social media.