Caramel Fig Chocolate Cake: dark chocolate cake layered with fig jam, frosted with caramel buttercream, and topped with salted caramel drizzle and sliced fresh figs.
The BER months are here! The BER months are here! No matter how old I get, I'll always get excited for what my dad and I fondly call the BER months (SeptemBER, OctoBER, NovemBER, DecemBER.)
Once the BER months hit, it's time to sing and dance, be merry, and smile until your cheeks hurt. (It's also when my stomach losses control and eats all the cookies, cakes, and hot chocolate in sight.)
These BER months are especially exciting because Alex and I are FINALLY get married. I've talked about it long enough. We've had more than our fair share of obstacles, setbacks, and family drama.
In two months, we'll be married. From friend to boyfriend to fiancé to HUSBAND. It's a bit scary. Applying for the marriage license was a bit nerve wrecking. It felt like a test I wasn't prepared for. (One of my worse nightmares as a student.) Do I change my last name? Do I make my maiden last name my new middle name? Should I hyphenate my name?
No more questions today. I'm eating cake and celebrating my best friend's birthday!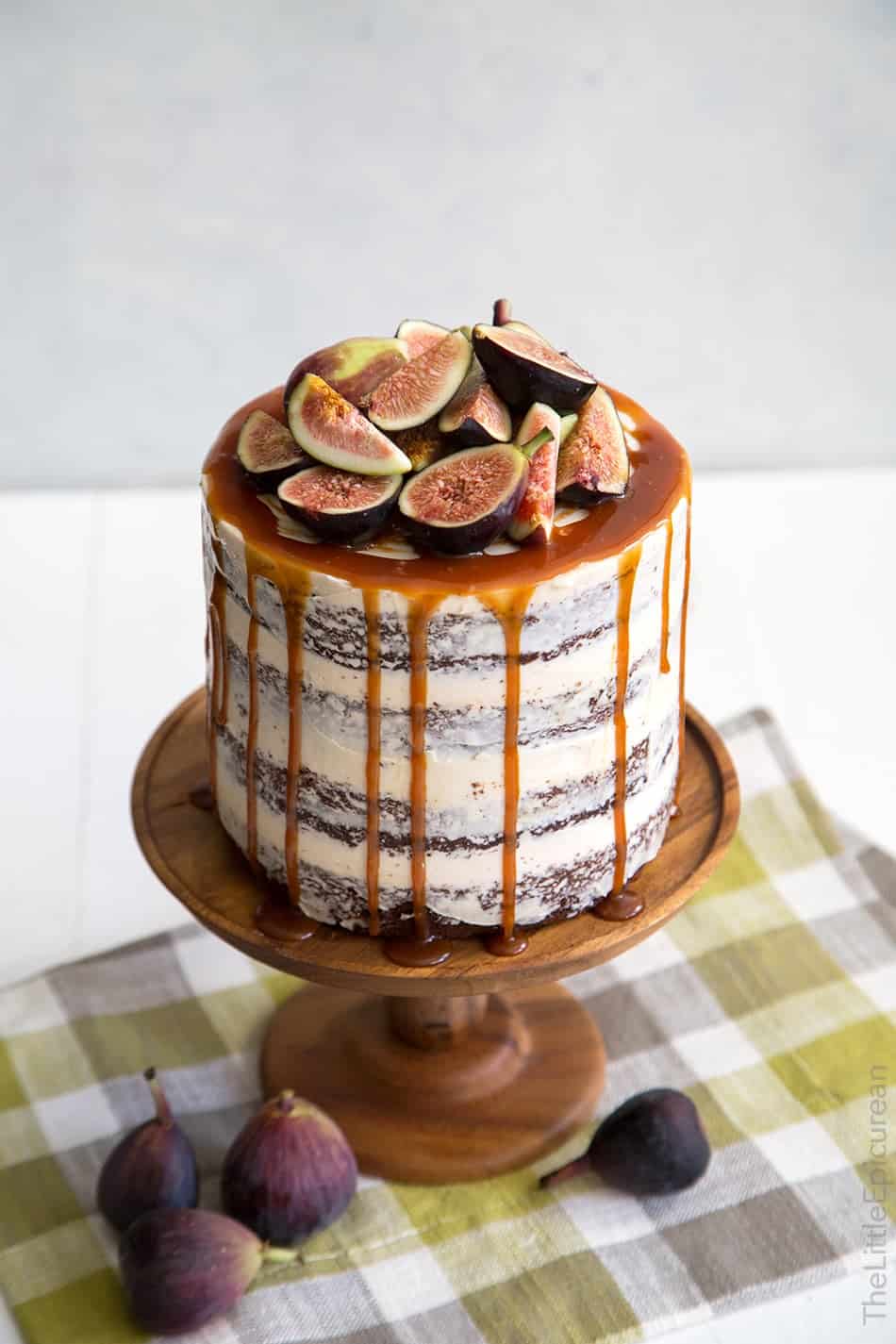 It's been YEARS since the last time my best friend and I were in the same city on our birthdays. Regardless, I still bake her a cake in hopes that one day we'll be neighbors again. I'm not even sure if she likes figs. We have this strange love/hate relationship.
I love mustard, she hates mustard. She loves ketchup, I hate ketchup. But then again, we always agree on the important stuff: The Bachelor, Disney parades, Pure Barre, and boba drinks.
I have no idea whether she likes figs. I have a suspicious feeling she hates them because I love them. That's besides the point, though. When you're best friends, you're always willing to take one for the team.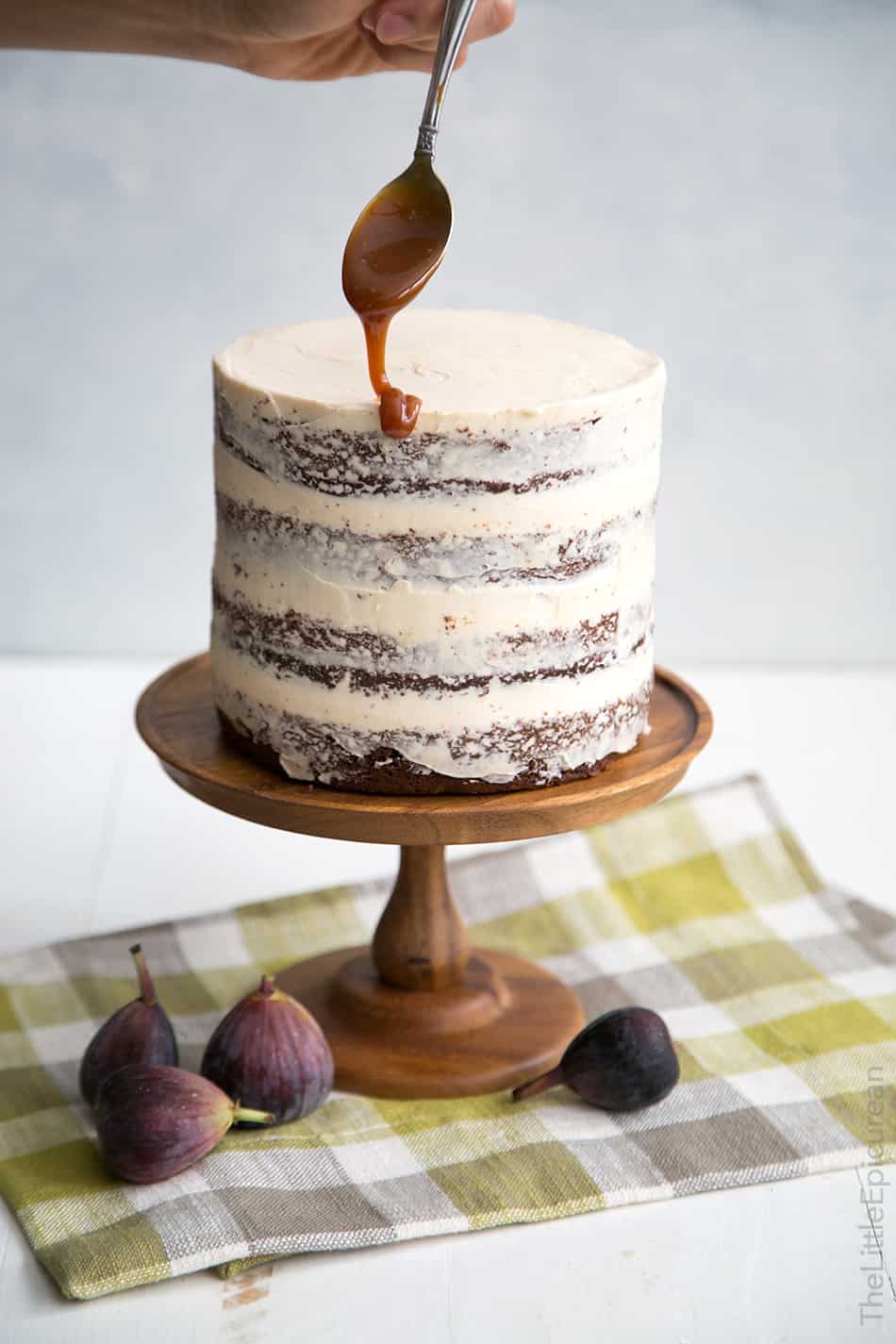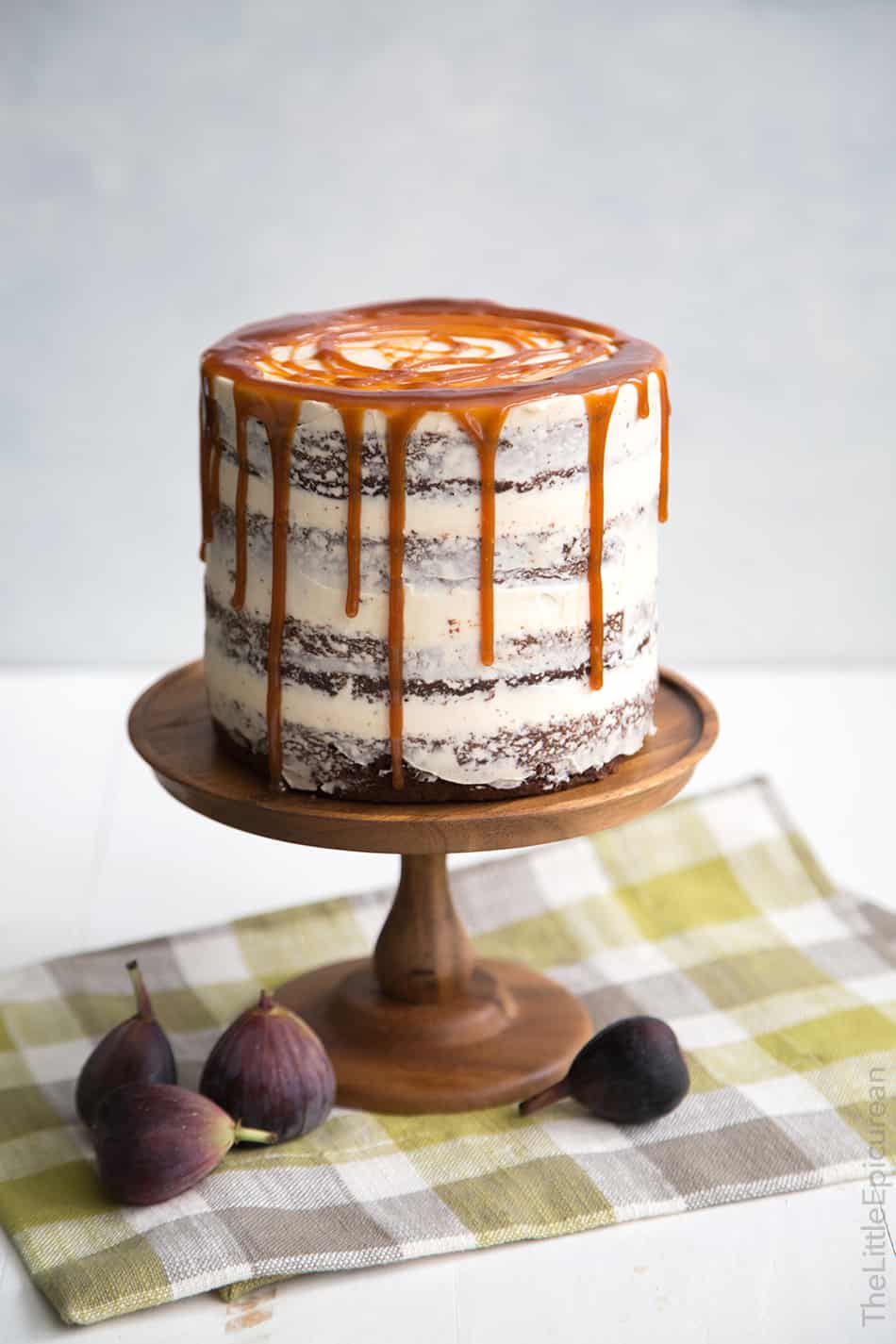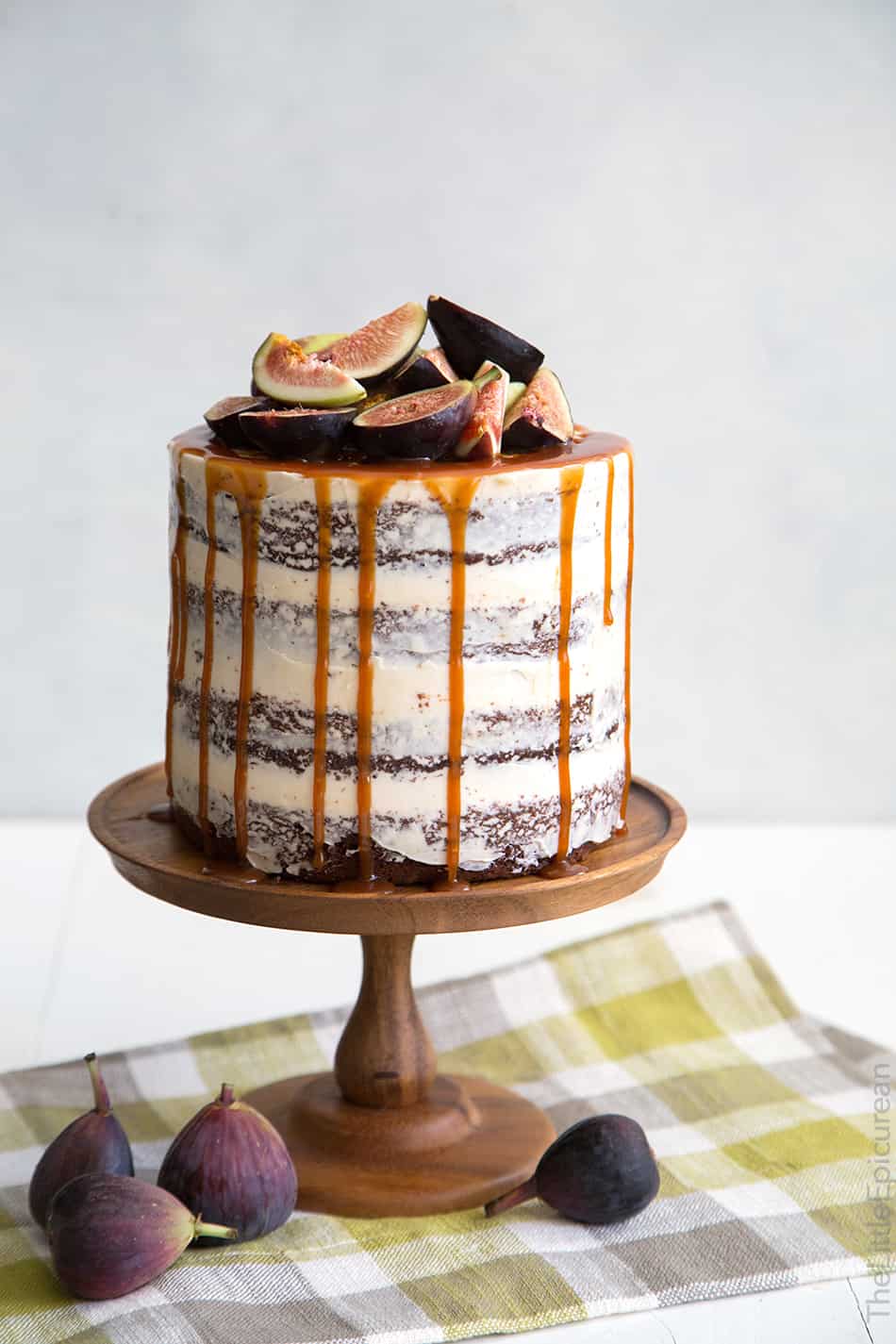 Caramel Fig Chocolate Cake
If chocolate and figs were humans, I think they'd be best friends. They just get along so well together. (Proof: fig fudge popsicles & caramelized fig and chocolate chunk ice cream)
If figs were in season all year long, I'd make this caramel fig chocolate cake at least once a month. Dark chocolate cake, fig jam, and caramel Swiss buttercream. When eaten together, these flavors are so magical and delicious.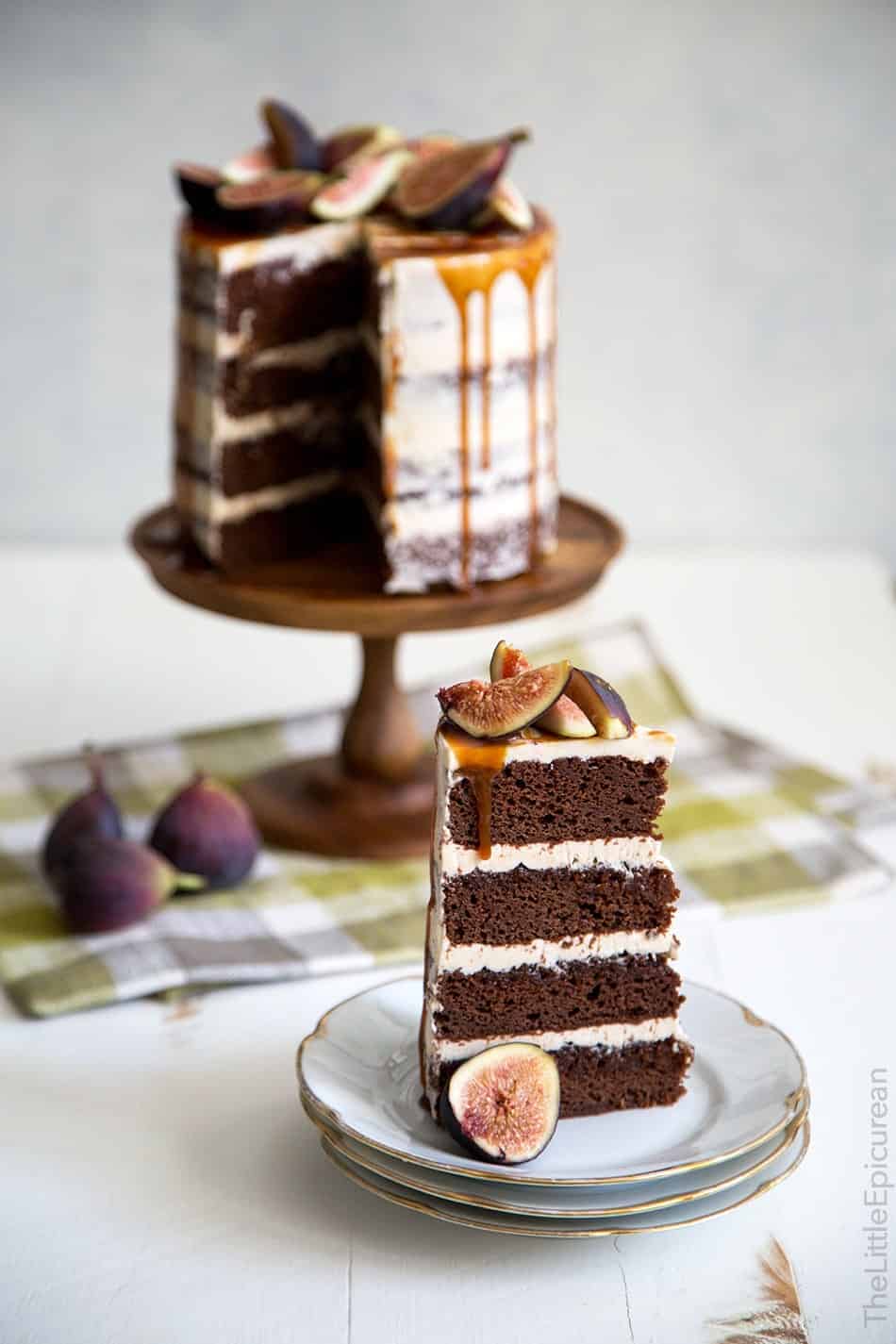 The addition of instant espresso powder in the batter greatly enhances the chocolate cake by highlighting the rich cocoa flavors of the cake. The slightly bitter yet sweet and silky buttercream just melts in your mouth. And my favorite component of this cake is the fig jam.
You can find fig jam at speciality stores and well-stocked supermarkets. Or you can easily make a homemade version. (Love and Olive Oil has a great fig jam recipe here.)
Caramel Fig Chocolate Cake
Yield: 6-inch cake
Ingredients
Chocolate Cake:
2

cups

all-purpose flour

1/2

cup

unsweetened cocoa powder

1

Tablespoon

instant espresso powder

1

teaspoon

baking powder

1

teaspoon

baking soda

1

teaspoon

fine sea salt

1/2

cup

coconut oil

1 1/4

cup

granulated sugar

2

large eggs,

room temp

1

teaspoon

vanilla extract

2/3

cup

whole milk, room temperature

1

cup

sour cream,

room temp
Caramel Swiss Buttercream:
6

large egg whites,

(about 3/4 cup)

1 1/2

cups

granulated sugar

2

cups

(1 pound) unsalted butter,

room temp

3

Tablespoons

salted caramel sauce*,

homemade or store-bouht
Other Components:
fig jam

salted caramel sauce

fresh figs
Instructions
Chocolate Cake:
Preheat oven to 350ºF. Line two 6-inch round cake pans with parchment paper. Lightly grease and set aside.

Whisk together flour, cocoa powder, espresso powder, baking powder, baking soda, and salt. Set aside.

In the bowl of a stand mixer fitted with a paddle attachment, mix together coconut oil, sugar, eggs, and vanilla until combined. On low speed, alternate adding dry flour mixture and milk. Add about 1/3 of flour mixture, followed with half of the milk. Add another 1/3 of flour and remaining milk. Scrape down bowl as needed to ensure thorough mixing. Add sour cream and remaining flour. Mix until combined and there are no longer any streaks of dry flour.

Divide batter between prepared cake pans. Level batter. Bake for 28-30 minutes until toothpick inserted in center of cake comes out clean. Allow cake to cool in pan for 3-5 minutes before unmolding. Allow cakes to cool to room temperature on wire rack.
Caramel Swiss Buttercream:
In the bowl of a stand mixer, whisk together egg whites and sugar. Place bowl over a pot of simmering water to create a double boiler. Make sure simmering water does not touch the bowl. Whisk sugar egg mixture until it reaches a temperature of 160ºF. Alternatively, if you don't have a thermometer, heat until all the sugar has melted. You can test test by dipping a finger into the warm mixture and rubbing it between your fingers. The mixture should be smooth. You should not be able to feel the granules of sugar.

Return bowl to the stand mixer. With a whisk attachment, beat mixture at medium speed until it cools to room temperature. Reduce speed to low and add butter one tablespoon at a time. Once all the butter is incorporated, add caramel. Increase speed to medium-high and continue to beat until buttercream is light and fluffy.

Assembly:
Once cake is cooled, slice each cake into two equal layers. To build the cake, place one layer on a serving platter or cake turntable. Spread a layer of fig jam over cake. Spread a layer of caramel buttercream. Place another cake layer and repeat until you have the fourth cake layer on top. Spread a thin layer of buttercream around the sides of the cake to seal in the crumbs (crumb coat). Place in the fridge and allow to chill for 15 minutes to set the buttercream.

Drizzle caramel sauce over the edges of the cake. Top cake with sliced figs. Allow cake to come to room temperature before serving.
Notes
I recommend the caramel sauce from Trader Joe's.
You can bake the chocolate cake in advance. Cool cake to room temperature then tightly wrap in plastic wrap. Keep cake in the freezer for up to two weeks. To defrost frozen cake, allow to thaw at room temperature overnight. 
All images and text ©The Little Epicurean