Triple Chocolate Brownies: fudge brownies made with unsweetened chocolate, dark chocolate, and white chocolate.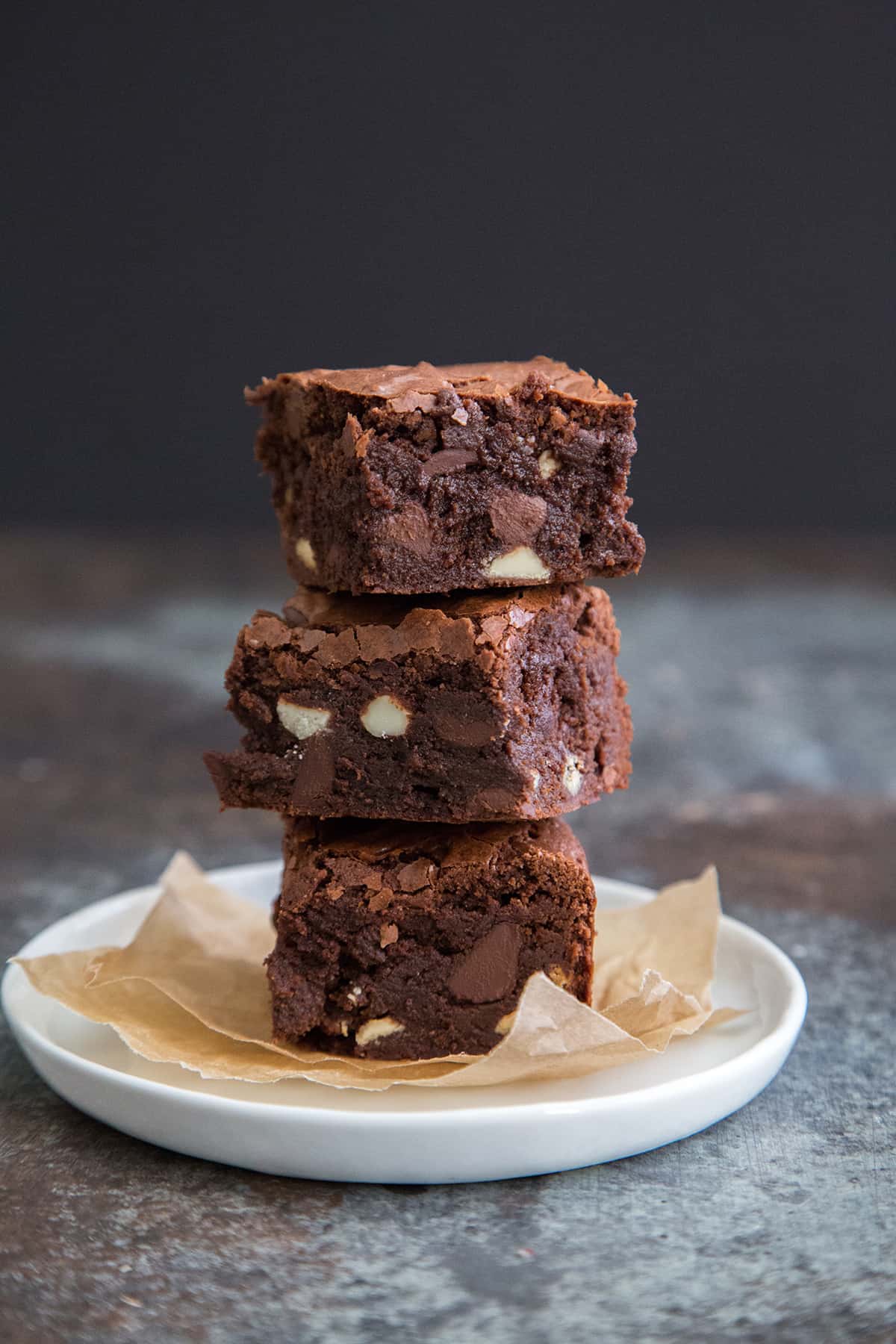 Triple Chocolate Brownies
I lied about the name of these brownies. While they're called "triple chocolate brownies," I technically used four chocolates: 1.) unsweetened chocolate (cocoa powder and solid chocolate), 2.) extra dark chocolate chips, 3.) semi-sweet chocolate chips, and 4.) white chocolate chips.
The difference between dark chocolate and semi-sweet chocolate chips is negligible. I would only call these quadruple chocolate brownies if I had included milk chocolate chips. (Note to self: add milk chocolate chips to shopping list.)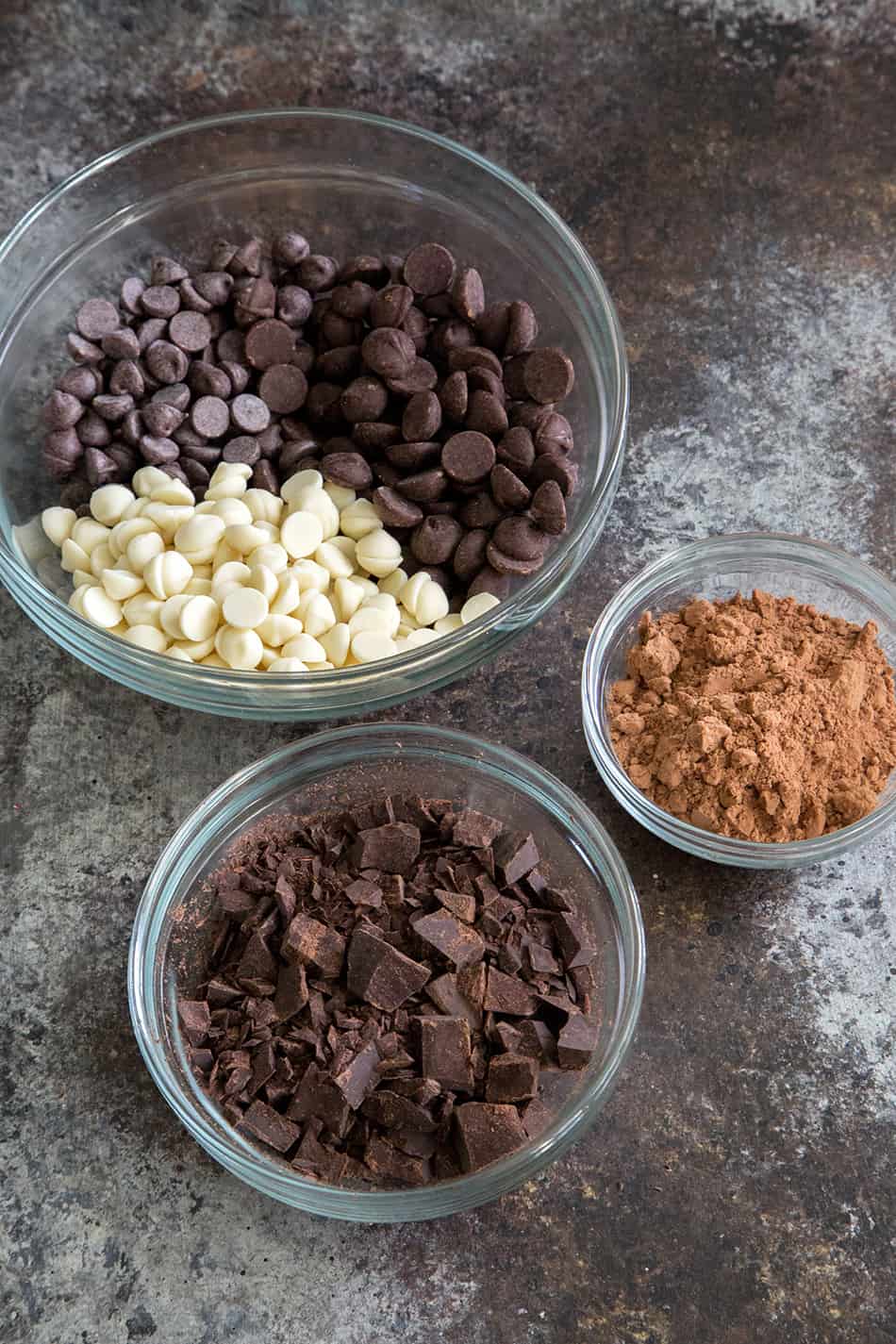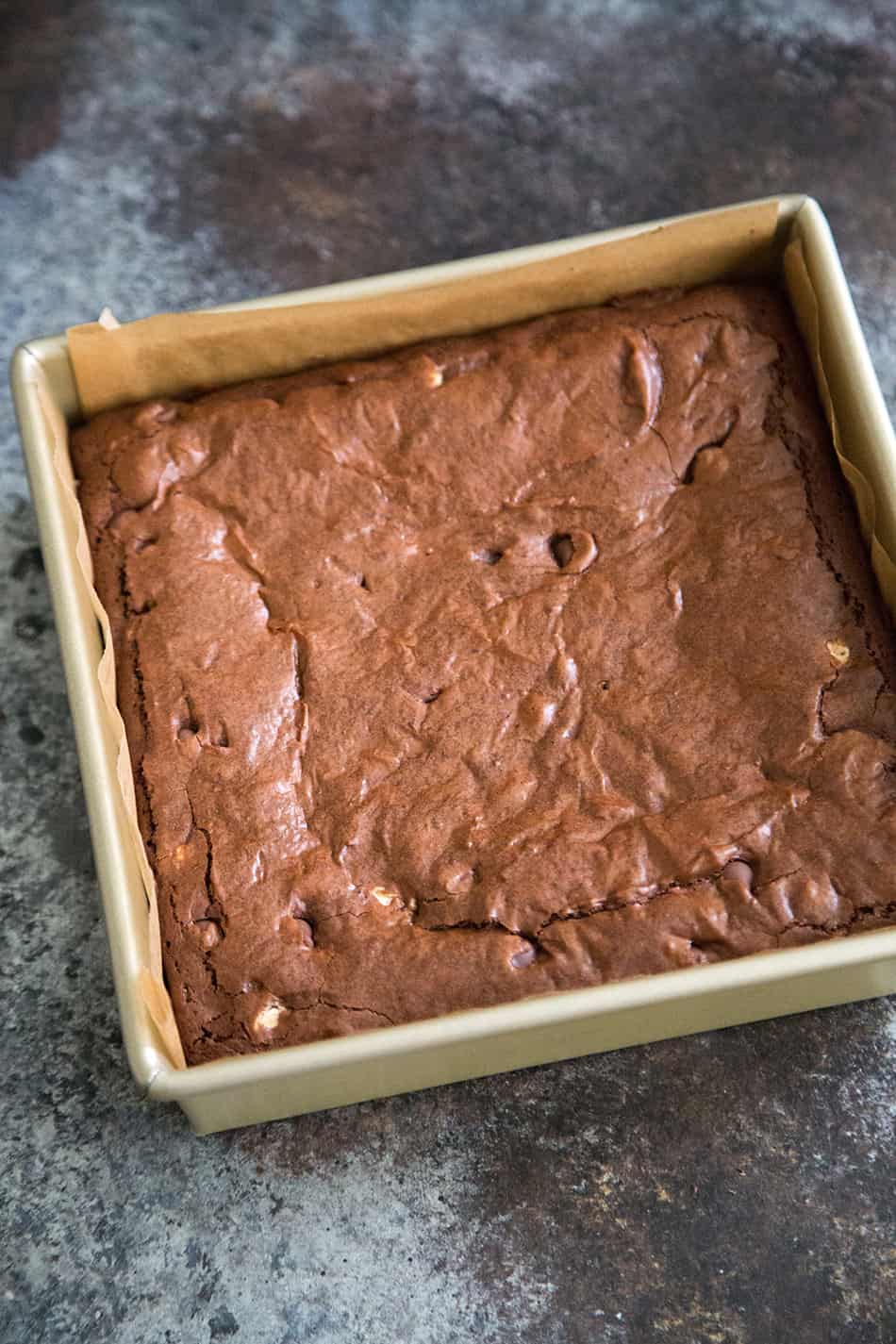 It's the last week before Christmas (and Hanukkah). It's the last week of chaos, endless to-do lists, and insane parking situations. During this busy time of travel, menu planning, and everything else holiday and party related, it's good to take a break and breathe.
These triple chocolate brownies promise relaxation. Each bite comes with a soothing warm hug. Chocolate lovers of all ages will rejoice in the amount of chocolate goodness in each serving.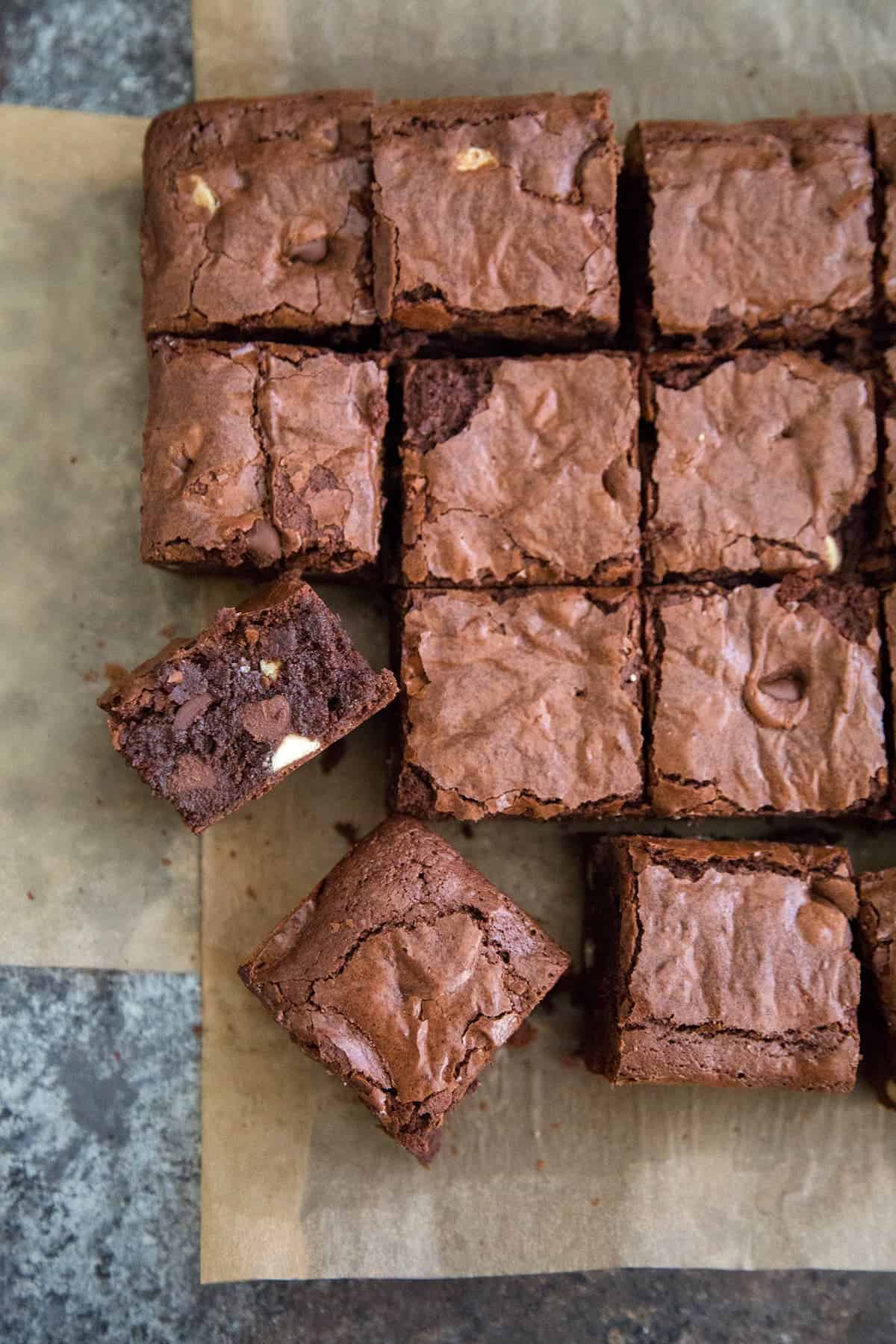 Butter and Coconut Oil Combine Forces
These brownies are dense and fudge-like with a slightly crisp exterior. They're made with a mixture of butter and coconut oil. These brownies are perfect for mailing to far away friends. They stay moist days after baking. And in a few days, you'll see that these brownies are PERFECT for making into milkshakes (brownie milkshake recipe here!).
Stop what you're doing and make these brownies. You'll thank me in about an hour.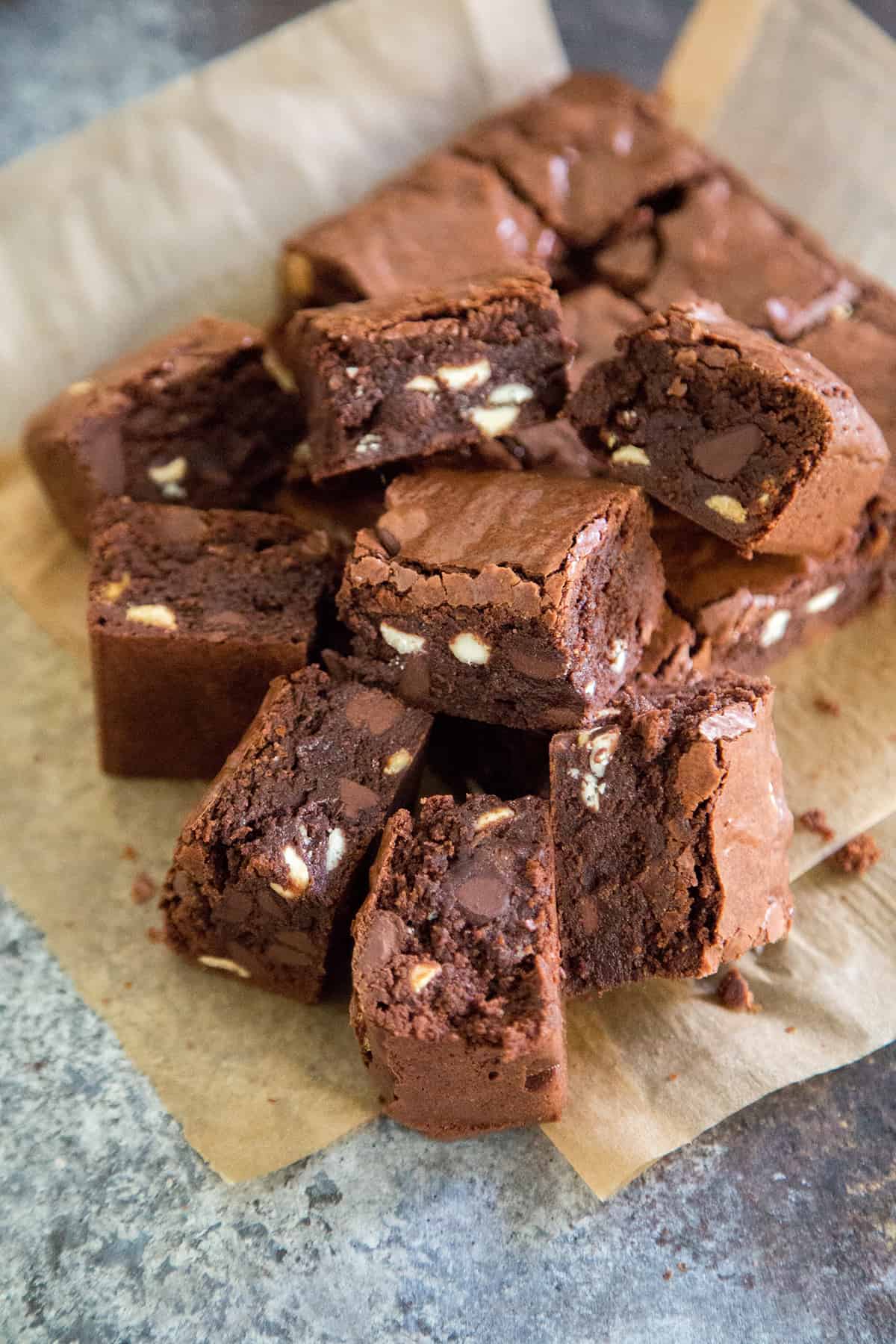 Triple Chocolate Brownies
Yield: 8-inch square pan
Ingredients
8

Tablespoon

unsalted butter

3

Tablespoon

coconut oil

4

oz

unsweetened chocolate, roughly chopped

5

Tablespoons

unsweetened cocoa powder

1

cup

granulated sugar

3/4

cup

dark brown sugar, paked

3

large eggs, whisked

1

teaspoon

vanilla extract

1

cup

all-purpose flour

1/2

teaspoon

fine sea salt

1/2

teaspoon

baking powder

1/2

cup

white chocolate chips

1/2

cup

extra dark chocolate chips*

1/2

cup

semi-sweet chocolate chips
Instructions
Preheat oven to 350 degrees F. Line an 8-inch square pan with parchment paper, leaving an overhang on all four sides of pan. Lightly grease with cooking spray and set aside.

In a large bowl, add butter, coconut oil, chopped unsweetened chocolate, and unsweetened cocoa powder. Fill a medium pot with about two inches of water. Bring to a boil and remove from heat. Place bowl over pot of water (making sure bowl does not touch water) and allow ingredients to gently melt. Stir as needed to ensure even melting. Add sugar and brown sugar. Mix until sugars have been thoroughly incorporated. Remove bowl from pot. Allow mixture to cool slightly before stirring in whisked eggs and vanilla.


In another bowl, whisk together flour, salt, and baking powder. Add to melted chocolate mixture and mix until there are no longer any dry streaks of flour. Add extra-dark chocolate chips, semi-sweet chocolate chips, and white chocolate chips. Fold to combine. Be careful not to over mix.

Pour batter into prepared baking pan. Smooth into an even layer. Bake for 28-30 minutes until the surface of the brownies are set and a toothpick inserted in center of brownies comes out clean. Allow brownies to cool in pan for 15-20 minutes. Lift brownies out of pan using parchment overhang. Transfer brownies to wire rack to cool. Once cooled, slice brownies into desired portions. Store brownies are room temperature in an airtight container.
Notes
I used this 

8-inch square baking pan

.
Warm brownies will be difficult to slice into clean portions. Wait for brownies to cool to room temperature. 
I used these 63% extra dark chocolate chips.
Use any mixture of chocolate chips to equal 1 1/2 cups (milk chocolate chips, butterscotch chips, mint chocolate chips, peanut butter chips, etc)
Overbaking the brownies will result in a dry, cakey texture. It is better to err on the side of underbaked. 
All images and text ©The Little Epicurean