Cheddar scallion rolls: enriched bread dough filled with sesame oil, butter, scallions, and cheddar cheese.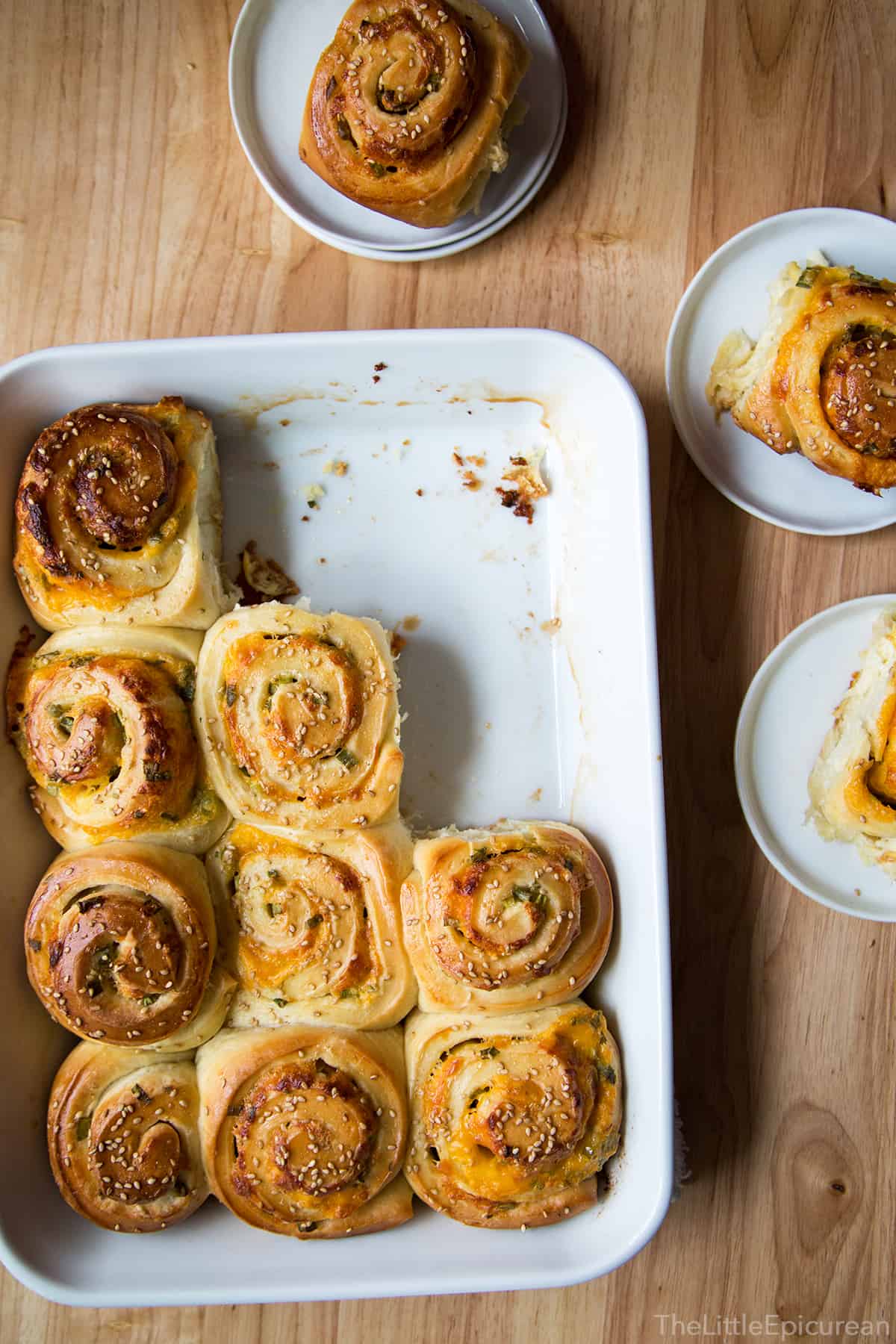 They say to keep your friends close and your enemies closer. If that saying is true, carbs must be my worst enemy. I keep carbs (especially breads) very close, within arm's reach close during most of my waking hours.
I definitely have a strange love/hate relationship with these cheddar scallion rolls. On one hand, I love it's cheesy savory scent, the way the warm fluffy bread feels in my hand, the excitement of having these rolls baking in the oven.
But on the evil side, I hate how one roll isn't enough to satiate my carb-loving heart. I'm not too happy feeling the need for some intense cardio exercise after consuming these buttery rolls. And most of all, I dislike the guilt I feel when I hide these rolls from people (because Alex and I would rather keep them all to ourselves).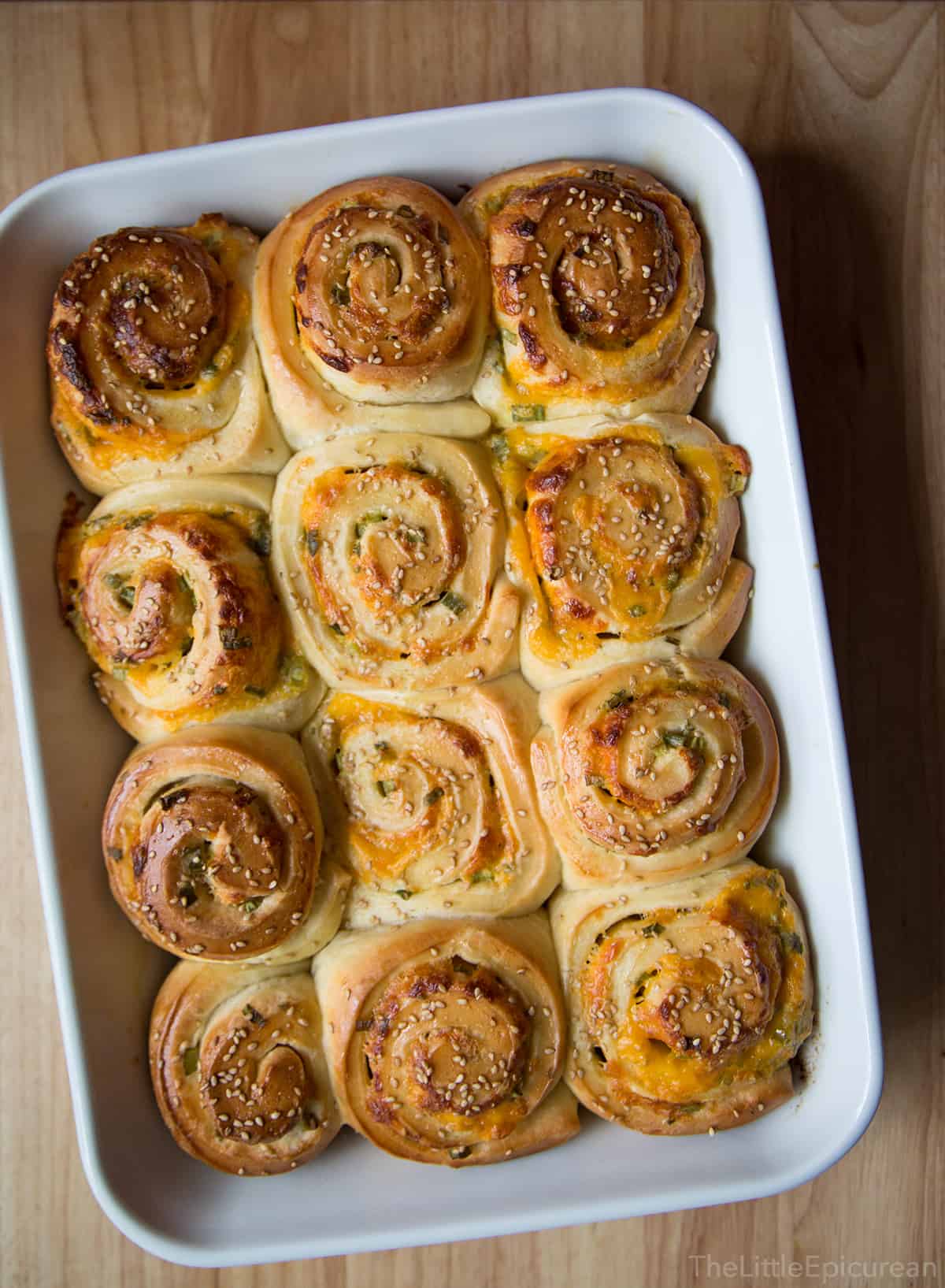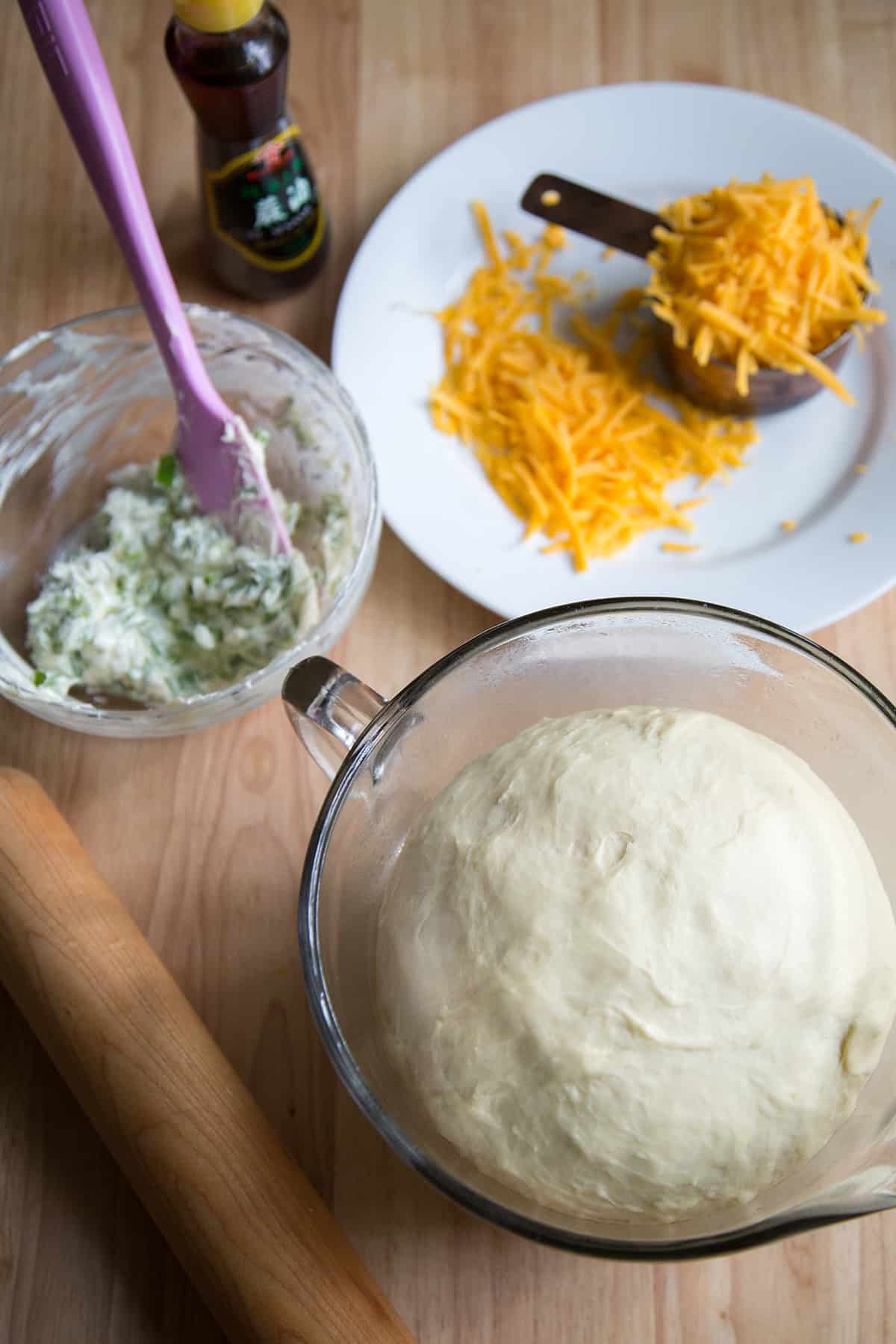 Cheddar Scallion Rolls
Bread rolls (especially cinnamon roll variations) are no stranger to my recipe index. Since this is a heartier roll, I used a mixture of bread flour and all-purpose flour to make a stronger dough. Instead of the standard cinnamon-sugar-butter mixture, these rolls are filled with softened butter splashed with a touch of a sesame oil and a generous dash of sea salt.
It's topped with a copious helping of shredded cheddar cheese and chopped scallions (aka green onions). When it comes to the amount of cheddar and scallions used in this recipe, more is definitely better.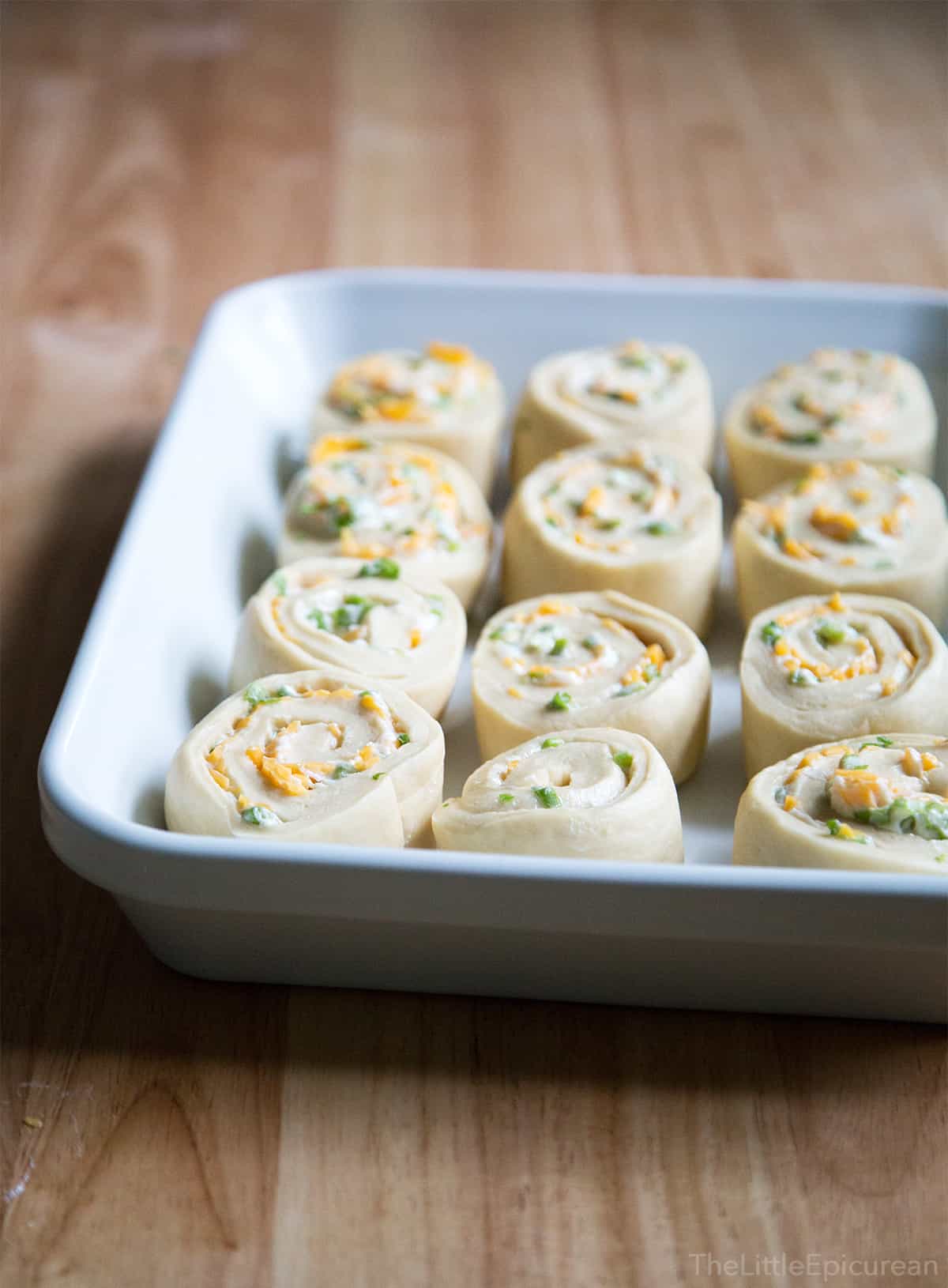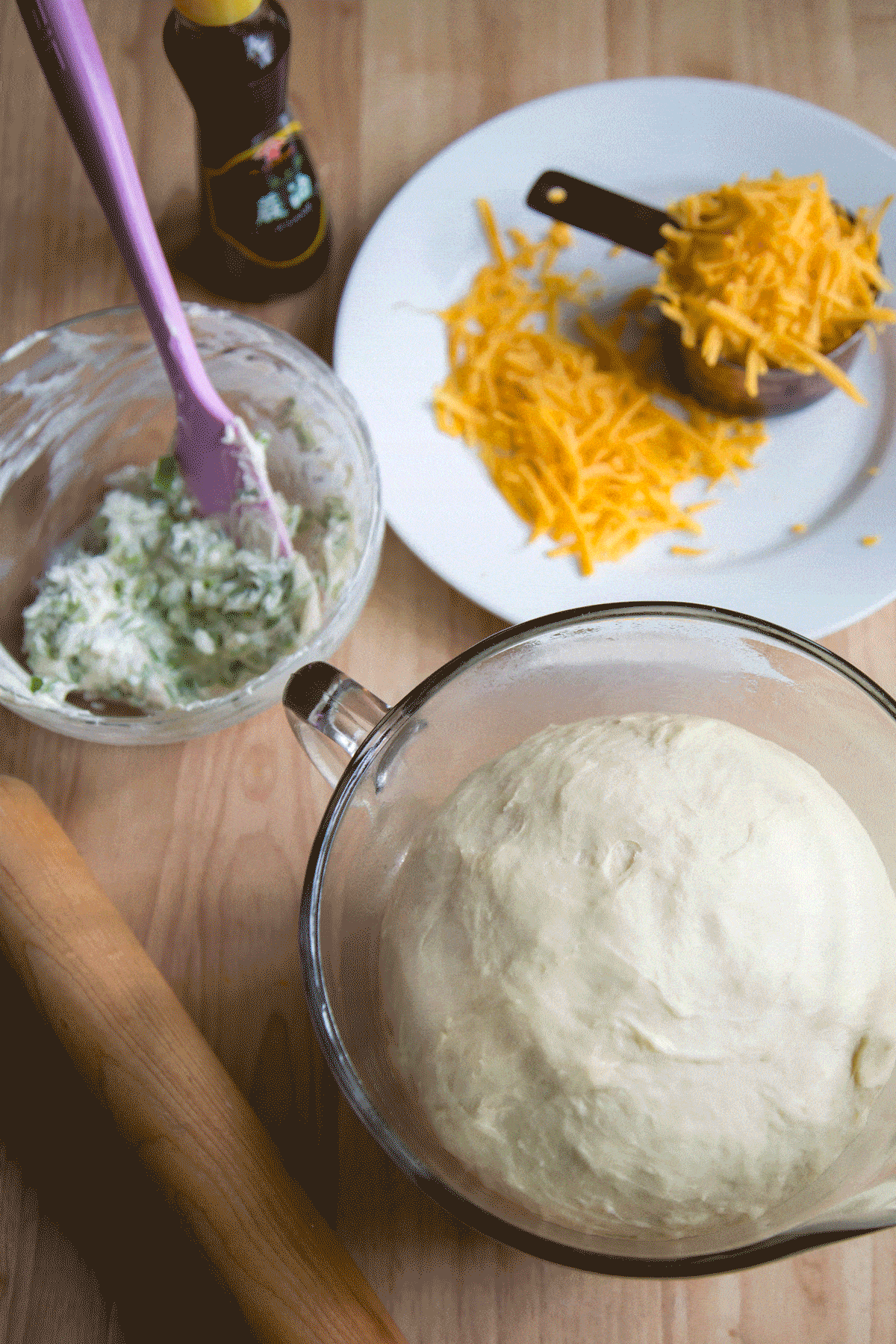 I'm fairly new to the world of GIFs and stop motion. Please bear with me and my novice attempts. I'm still learning!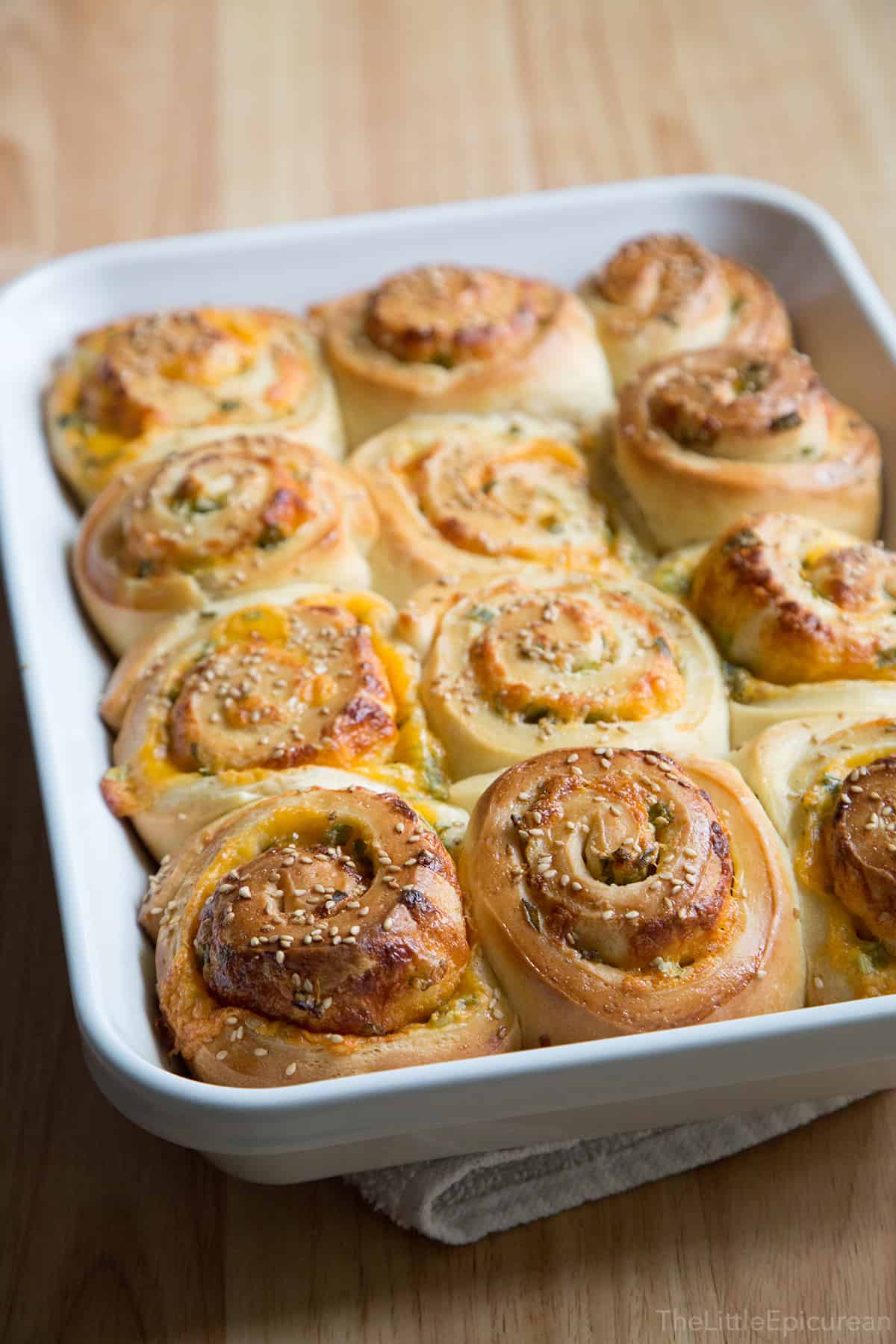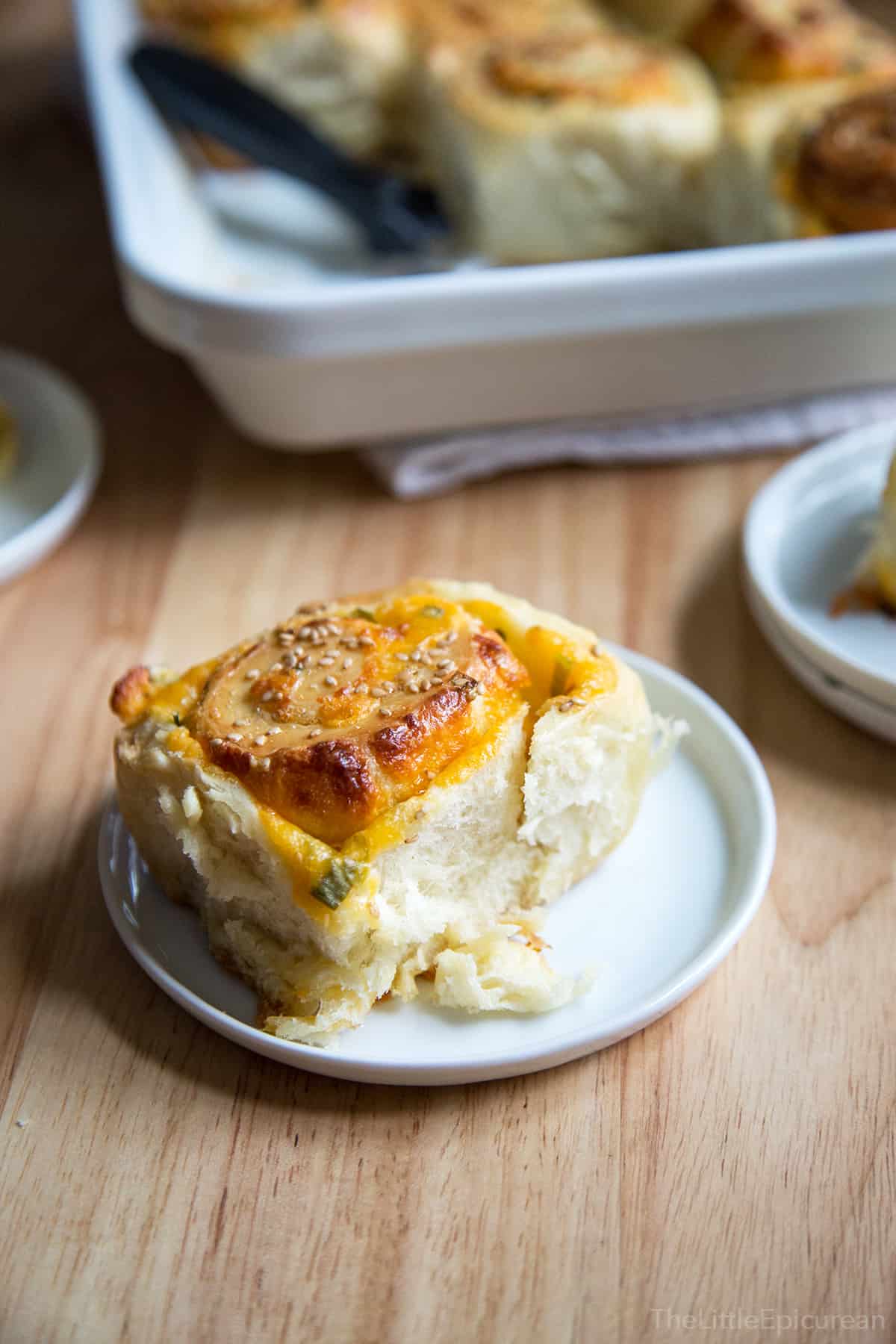 I'm done keeping these cheddar scallion rolls to myself. I want everyone to eat these rolls with me. Afterwards I'll meet you at the park and we'll run out all the carbs together.
For more bread roll goodness, try these:
Cheddar Scallion Rolls
Yield: makes 12 bread rolls
Ingredients
Dough:
1

cup

whole milk, warmed to 110 degrees F

2 1/4

teaspoon

dry active yeast

1

Tablespoon

granulated sugar

1

large egg, room temp

2

cups

all-purpose flour

2

cups

bread flour

1 1/2

teaspoon

fine sea salt

5

Tablespoon

unsalted butter, sliced into tablespoons, softened
Filling:
7

Tablespoons

unsalted butter, softened

1

teaspoon

sesame oil

1/2

teaspoon

fine sea salt

1/2

cup

chopped scallions (green onions)

3

oz

shredded cheddar cheese
Egg Wash:
1

large egg

1

teasppon

water

pinch of fine sea salt

sesame seeds, for sprinkling
Instructions
Pour warm milk into the mixing bowl of a stand mixer. Dissolve yeast and sugar in milk. Let sit for 5 minutes to activate yeast. Whisk in egg. Attach dough hook to stand mixer.

In a large bowl, whisk together all-purpose flour, bread flour, and salt. Add half of flour mixture to mixing bowl. Mix on low speed until dough starts to form together. Continue running the mixer of low speed and add softened butter one tablespoons at a time. Once all the butter has been incorporated, add remaining half of flour.

Increase to medium speed and knead bread for 2 minutes until dough is smooth, elastic, and does not stick to the sides of the mixing bowl. Transfer dough to a greased large bowl. Cover and allow dough to rest for 1 hour, until doubled in volume.

Punch down dough. Transfer to a clean working surface. Roll dough into a 20 x 14-inch rectangle.

Filling: Mix together softened butter, sesame oil, and salt. The butter mixture should be creamy like mayonnaise. Spread filling mixture over rolled dough. Top with chopped scallions and shredded cheddar.

Starting at the longer side, roll dough into a log. Slice the log into 12 equal parts. Place cut rolls in a greased 9 x 12-inch baking pan. Cover with plastic wrap and let rolls rest for 30-45 minutes at room temperature to allow rolls to rise.

Preheat oven to 350 degrees F.

Egg wash: In a small bowl, whisk together egg, water, and salt. Lightly brush egg wash mixture over risen rolls. Sprinkle sesame seeds over rolls.

Bake rolls for 30-35 minutes until golden brown on top and the internal temperature of the rolls register at 185 degrees F. Allow the rolls to rest for 5 minutes to slightly cool before serving.

Notes
Dough can be mixed by hand. Use a large bowl and a sturdy spatula for mixing and proceed by kneading dough by hand until dough is smooth and elastic.
Dough can be prepared ahead of time and stored in the fridge overnight. Follow steps leading up to placing cut rolls in greased pan. Cover with plastic wrap and chill in the fridge to slow down yeast. Before baking, allow rolls to sit at room temperature for 30 minutes to reactivate yeast.
All images and text ©The Little Epicurean