Funfetti cupcakes: these vanilla cupcakes are studded with sprinkles and topped with traditional American buttercream.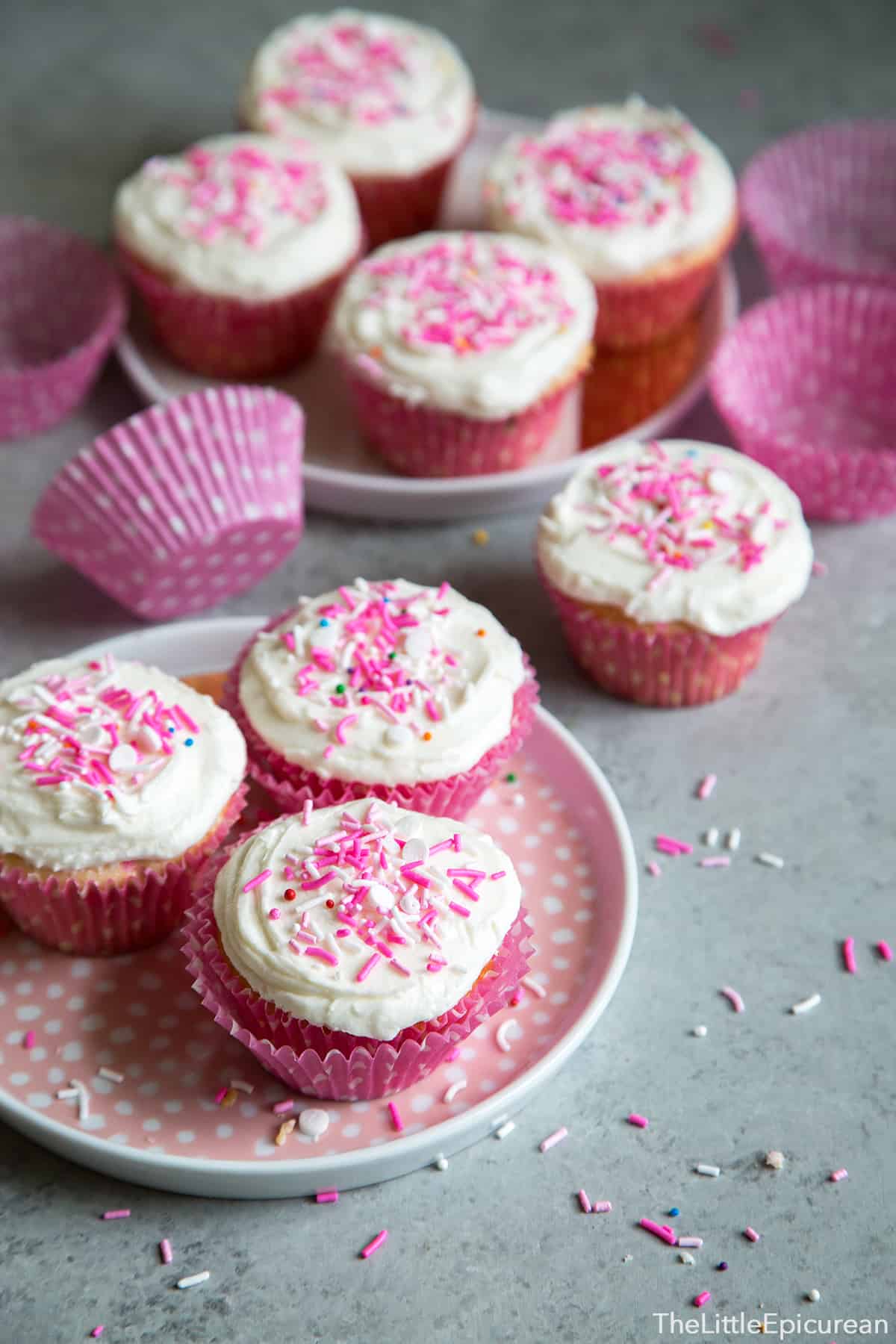 I'm a sucker for those online quizzes you find on Buzzfeed while scrolling through your Facebook feed. For the most past, they're trivial and a means for procrastination while sitting at your desk.
However, one recent quiz totally struck a nerve. It was titled "We Know Your Exact Age by Your Froyo Choices."
Obviously these little quizzes are meant for fun and entertainment, but I was a little offended by my results.
I took the silly quiz and after my answers were tallied up, it said I was 75 years old! 75 YEARS OLD?!% That's 44 years too old.
When it comes to frozen yogurt (and ice cream, cake, and cupcakes), I like vanilla. Flavors like sea salt caramel and strawberry cheesecake sound alluring, but they don't appeal to me as much.
Annoyed with my results, I complained to Alex and had him take the quiz. His answers resulted with a more appropriate age. After comparing our answers, we figured the older age was due to my "boring" topping choices.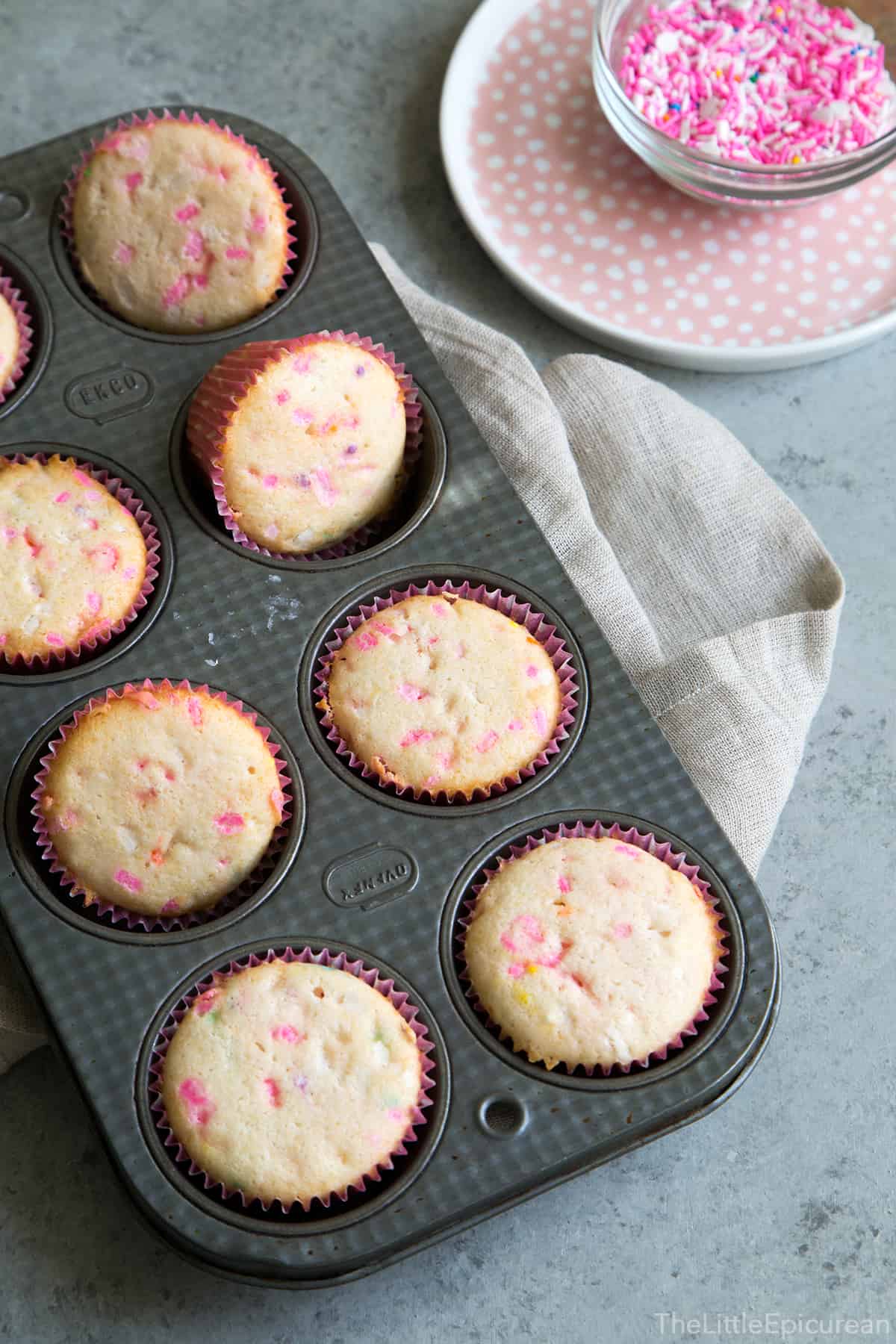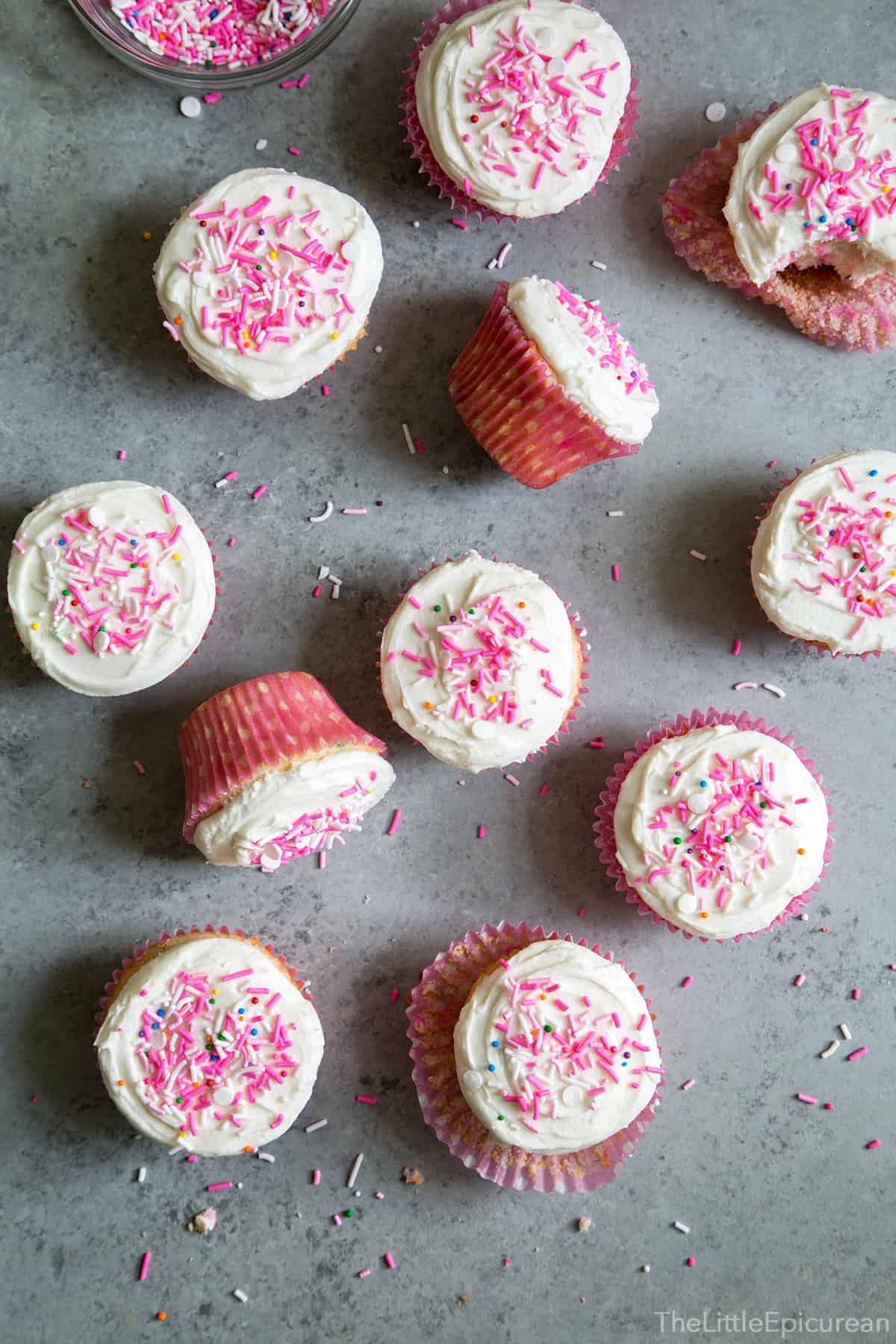 Funfetti Cupcakes
Now that I think about it, my standard froyo order is pretty plain. I like vanilla (or tart) with fresh fruit (normally berries or kiwi), sliced almonds, and (once in a while) mini chocolate chips. Is that what a 75 year old would order? UGH. Maybe.
Whatever. It's a dumb quiz. These funfetti cupcakes are my way of proving that I'm still very much young at heart.
I may not like my froyo loaded with all sorts of nonsense (cookie dough, hot fudge, cheesecake bites, etc), but I know how to serve up fun cupcakes (even if they're essentially vanilla flavored).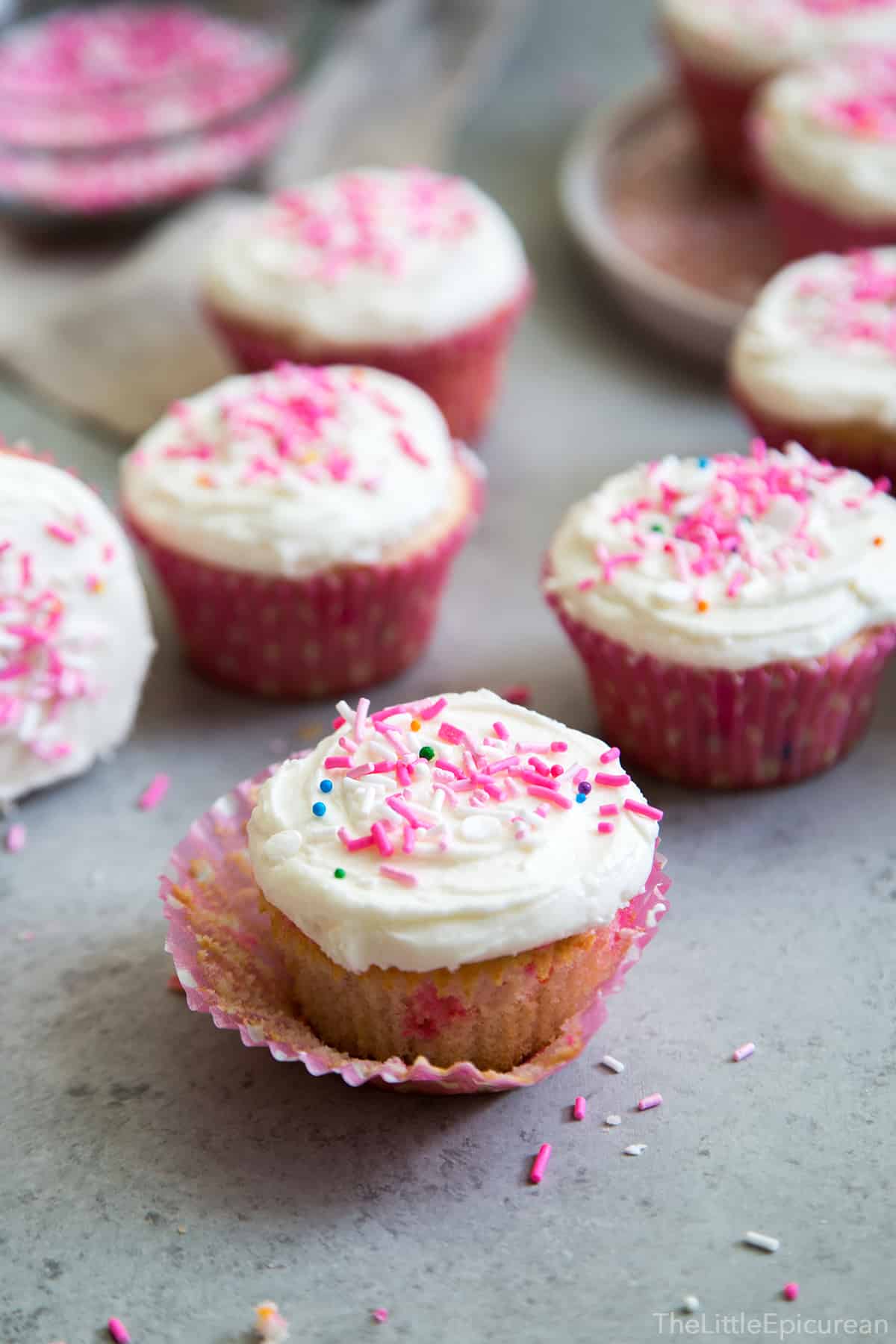 I believe in celebrating the big moments as well as the small, little victories in between.
No need to wait for a birthday to make these funfetti cupcakes. Why wait? Any random day will do.
It's the unexpected, unplanned, spontaneous little things that turn the mundane and ordinary into fun and interesting. I may be a little old-fashioned for loving vanilla, but the addition of sprinkles, takes these "plain" vanilla cupcakes into something festive and exciting!
P.S. I grew up eating funfetti cupcakes at childhood birthday parties. I hated them because I found them way too sweet (albeit they were often made from box mix and topped with canned frosting).
These funfetti cupcakes tastes like an updated more sophisticated version of those cupcakes! Enjoy!
FOR MORE FUNFETTI FUN, check out these recipes:
Funfetti Cupcakes
Yield: one dozen cupcakes
Ingredients
Cupcakes:
1/2

cup

whole milk, room temp

3

large egg whites, room temp

1 1/2

teaspoon

vanilla extract

6

Tablespoons

(84 grams) unsalted butter, room temp

3/4

cup

(154 grams) granulated sugar

1 1/2

cups

(179 grams) cake flour

2

teaspoons

(8 grams) baking powder

1/4

teaspoon

fine sea salt

3

Tablespoons

sprinkles of choice
American Buttercream:
1/2

cup

(115 grams) unsalted butter, room temp

3

cups

(375 grams) powdered sugar

1

teaspoon

vanilla extract

pinch of fine sea salt

2-3

Tablespoons

heavy cream, or milk
Instructions
Cupcakes:
Preheat oven to 350 degrees F. Line standard muffin tin with paper liners and set aside.

In a small bowl, whisk together milk, egg whites, and vanilla. Set aside.

In the bowl of stand mixer fitted with a paddle attachment (or using a hand mixer), cream together butter and sugar until smooth. Add liquids and mix on medium speed until combined. Scrape down bowl as needed to ensure thorough mixing.

In a large bowl, whisk together flour, baking powder, and salt. Add to mixing bowl in two additions, mixing on low speed. Fold in sprinkles.

Even distribute cupcake batter among prepared muffin tin, filling them about two-thirds full. Bake for 20-25 minutes until toothpick inserted in center of cupcake comes out clean. Let cupcakes cool in tin for 10 minutes before removing from pan and allowing to cool on wire rack. Cupcakes may be frosted once they have cooled to room temperature.

American Buttercream:
In the bowl of stand mixer fitted with a paddle attachment (or using a hand mixer), cream butter until smooth. Add powdered sugar in three additions. Mix on low speed until thoroughly combined. Scrape down bowl as needed.

Add vanilla, pinch of salt, and 2 tablespoons cream. Mix on medium speed until buttercream is light and fluffy. If buttercream is too thick, add another tablespoon of cream.


Use a small cookie scoop to distribute buttercream among cooled cupcakes. Use a mini offset spatula (or the back of spoon) to level off buttercream. Decorate with sprinkles.

Notes
Frosted cupcakes can be stored at room temperature in an airtight container for up to 2 days. For longer storage, frosted cupcakes can be keep in the fridge for up to 4 days. Allow chilled cupcakes and frosting to sit at room temperature before eating (about 15-20 minutes).
I used sprinkles from Sweetapolita
RECIPE ADAPTED FROM 

BACK IN THE DAY BAKERY MADE WITH LOVE
All images and text ©The Little Epicurean