This post was created in partnership with Ghirardelli Chocolate Company. All opinions are my own.
Mini Chocolate Bourbon Caramel Layer Cakes: three layers of bourbon soaked chocolate cake, frosted with caramel buttercream, and topped with a Ghirardelli chocolate bourbon caramel square.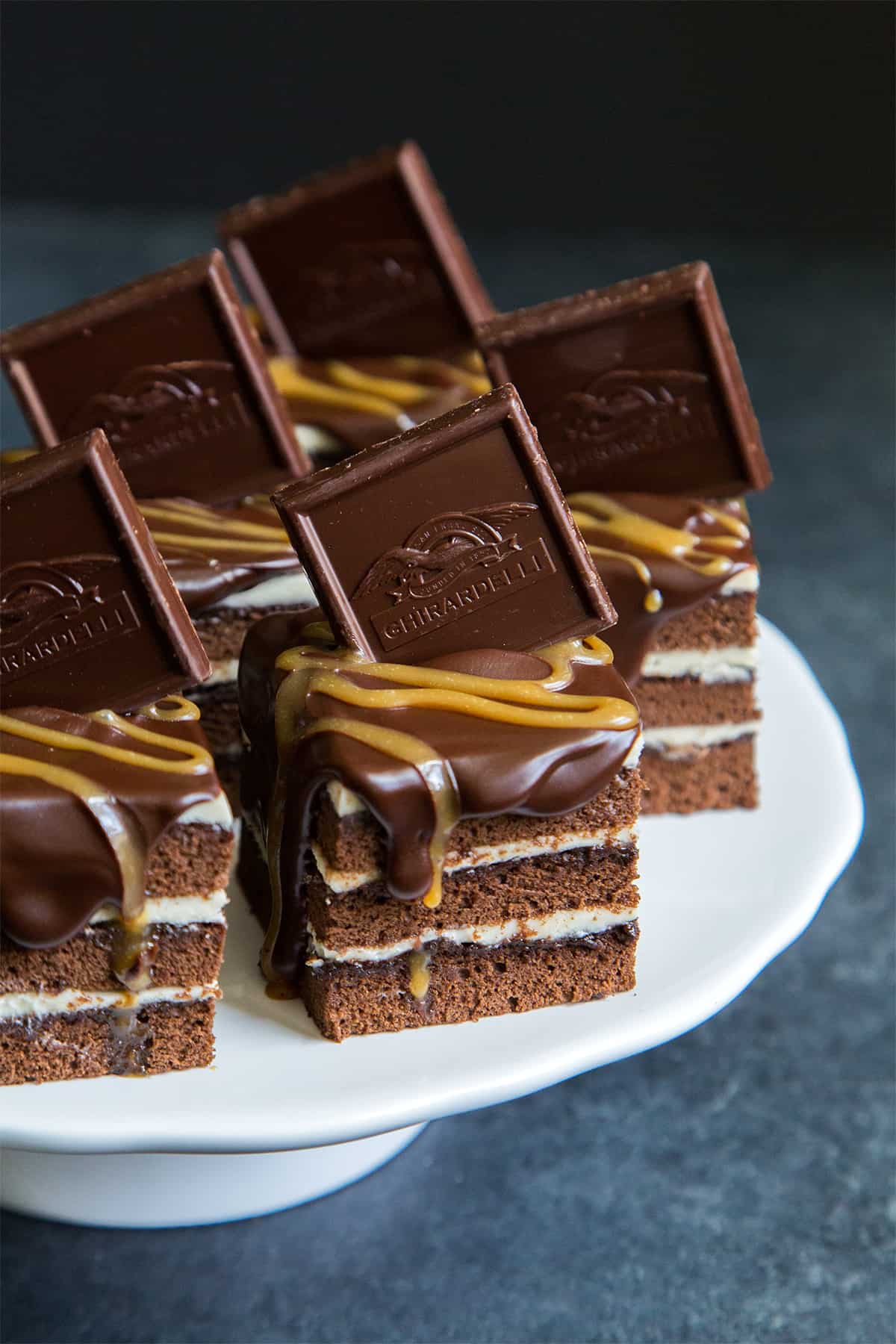 I'm pretty sure you know this by now, but I really love making cakes. Cakes are necessary for celebrations of all sorts big and small. Is there ever really an event or moment when cake shouldn't be involved? The answer is no.
Last week we talked about these mini bourbon caramel derby pies. This week I have another Kentucky Derby dessert to share with you: mini chocolate bourbon caramel layer cakes!
Chocolate Bourbon Caramel Squares
These mini layer cakes were inspired by Ghirardelli's new chocolate bourbon caramel squares. These dark chocolate squares are filled with a luscious bourbon caramel center. I used that combination of flavors to create a simple yet decadent mini cake that keeps you coming back for more.
This is the perfect starter cake for baking newbies. No fancy cake turn table, round cake pans, or piping bags required. All you need is a standard half size baking sheet (18 x 13-inch). This is a straightforward cake that is easy to assemble. I promise!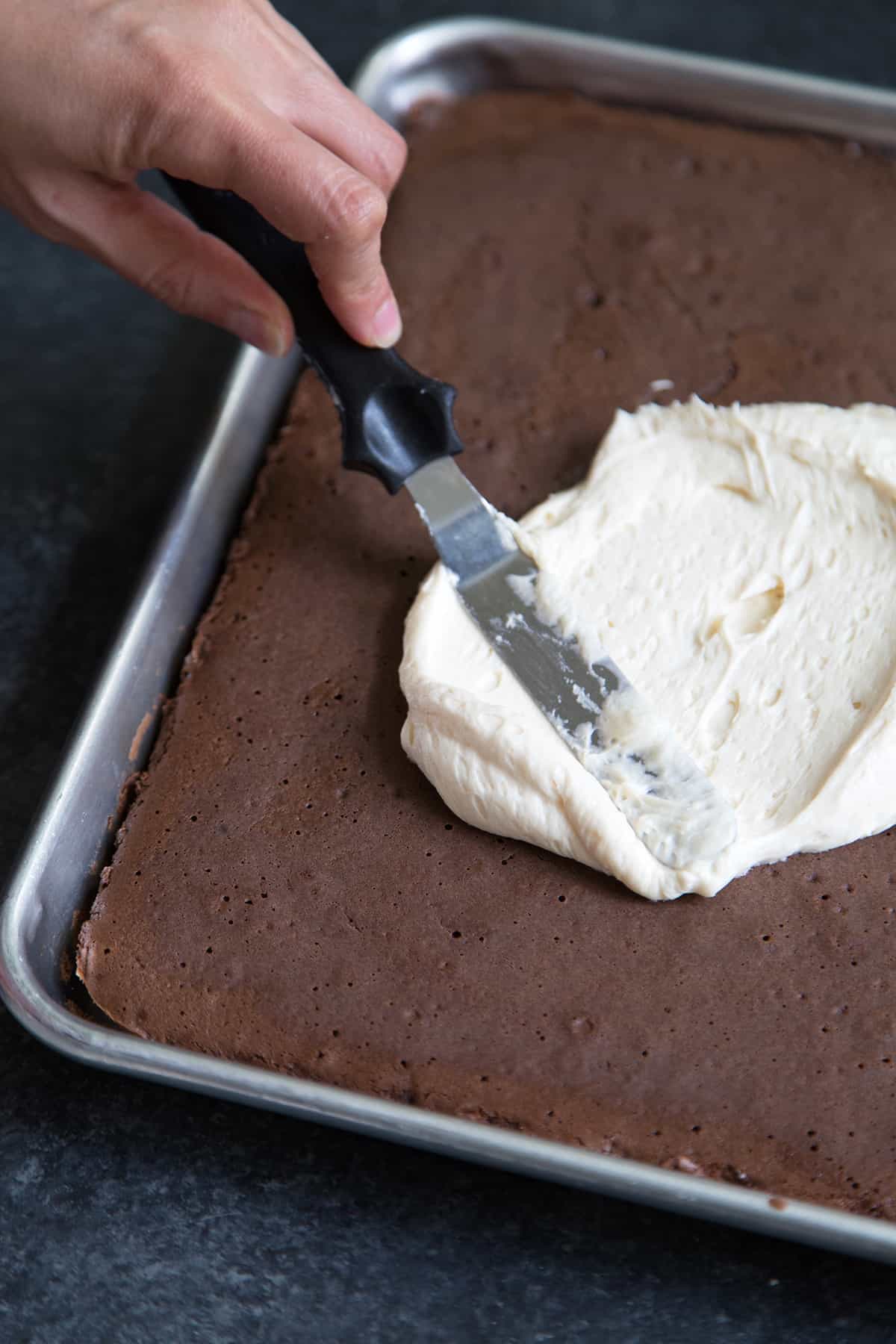 How to assemble bourbon caramel layer cakes:
Straight from the oven, the warm dark chocolate sheet cake gets soaked in bourbon. Once the cake has cooled, it is frosted with a traditional American buttercream spiked with bourbon and caramel.
The frosted cake is then placed in the freezer for 10 minutes to allow the cake and frosting to stiffen up.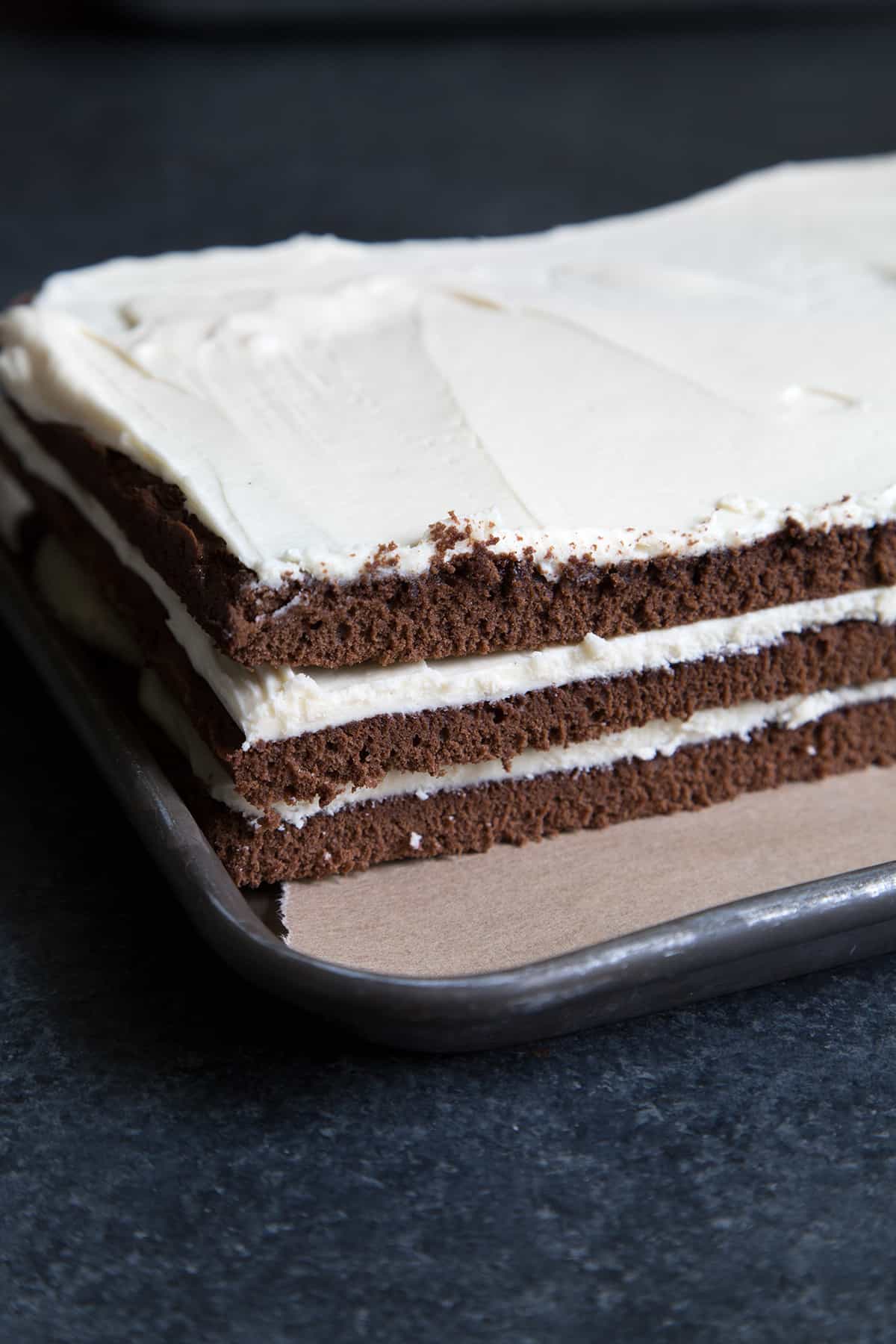 Once the frosting is firm to the touch, it's time to divide the cake into three equal parts. Stack the layers together and voila! You've assembled the cake!
Cover the cake and let it rest in the fridge for a couple hours before glazing.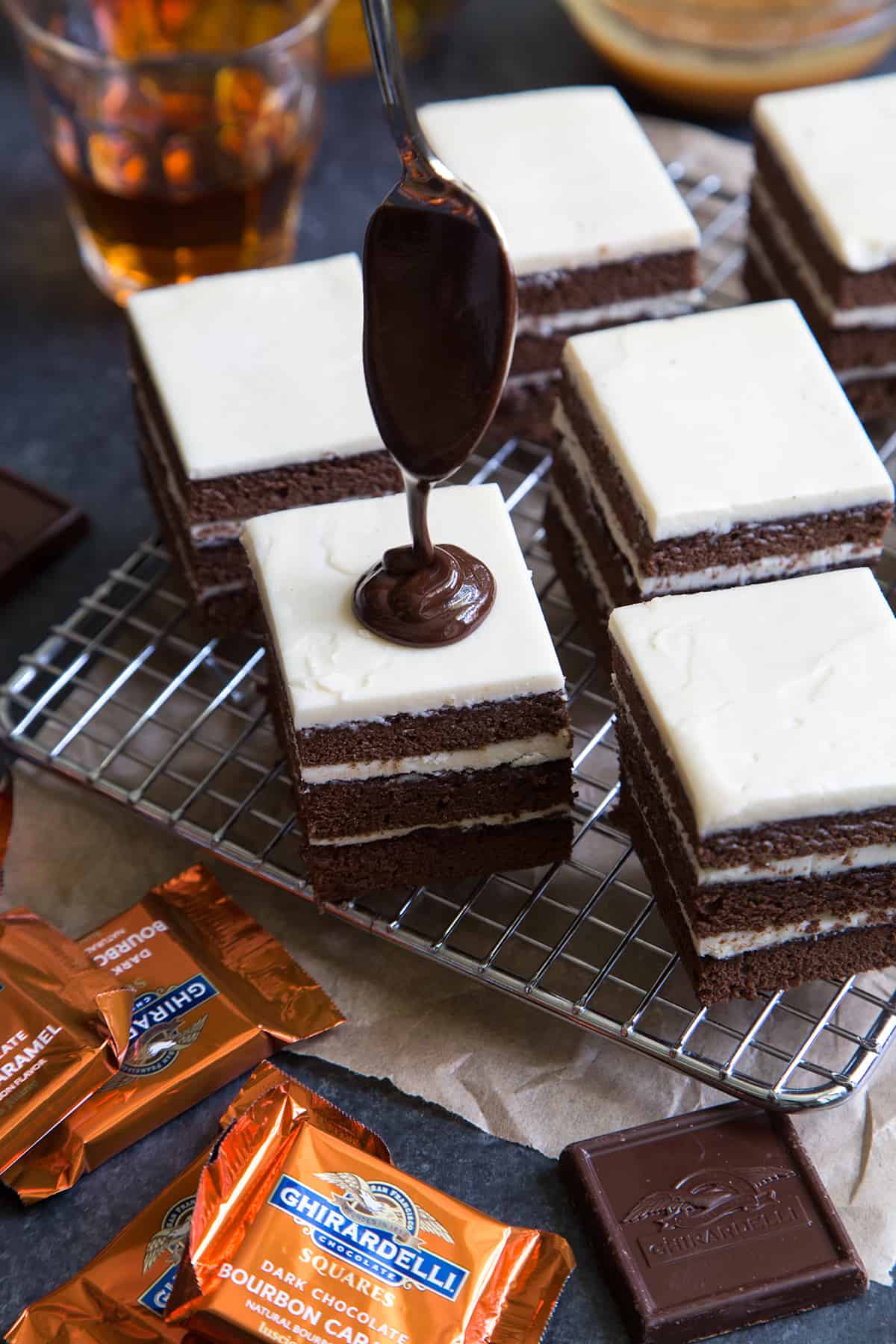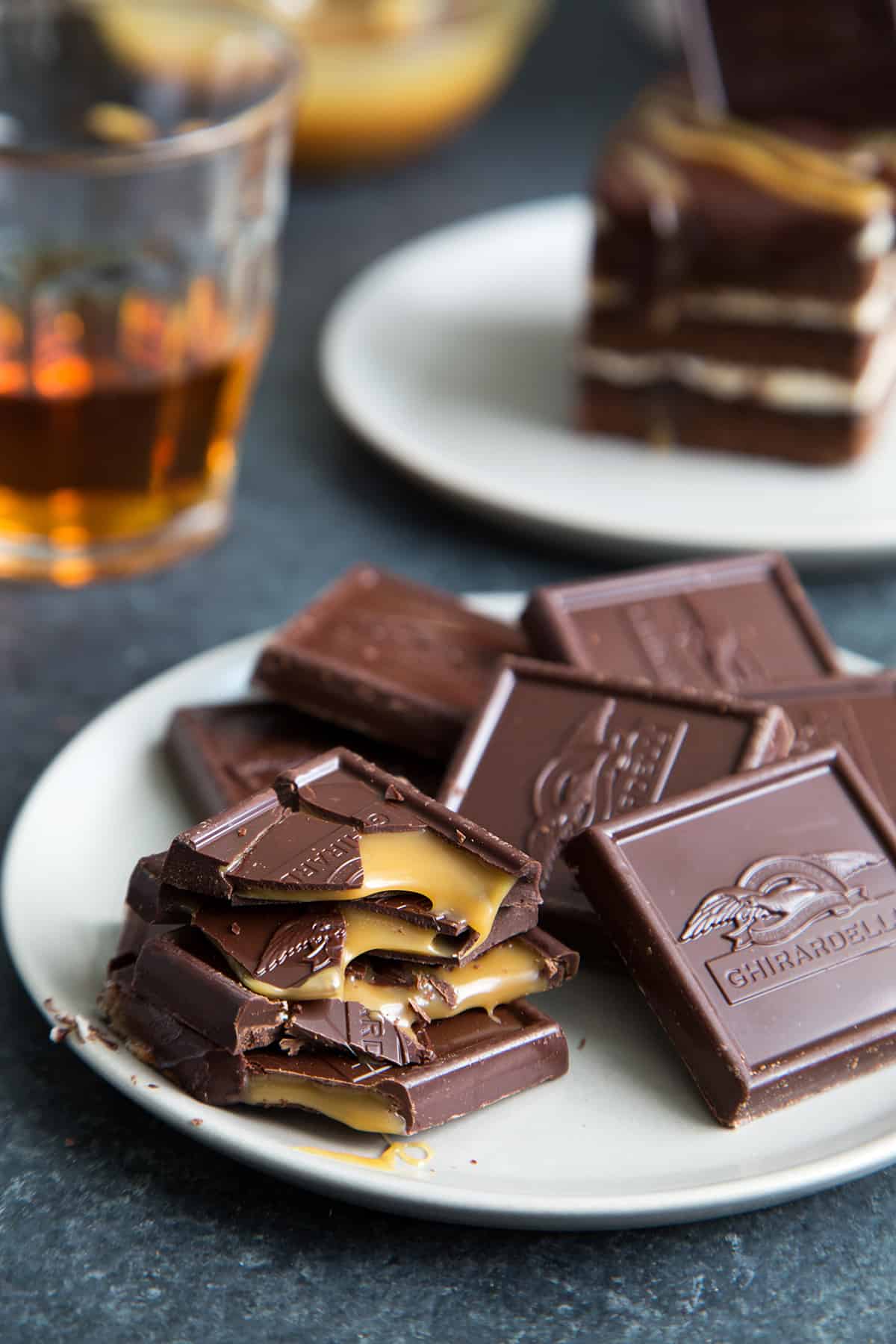 The mini layer cakes are then glazed with a silky dark chocolate ganache. For the finishing touch, I topped each mini cake with a Ghirardelli chocolate bourbon caramel square.
Even if you're not the biggest fan of bourbon, these mini cakes just might change your mind. The oaky and vanilla notes of the bourbon peek through the chocolate and sweet buttercream, creating this mellow and inviting flavor.
You'll definitely wow and impress party guests with these sophisticated looking mini cakes! And who knows, perhaps it'll get you inspired to make more cakes!
Mini Chocolate Bourbon Caramel Layer Cakes
Yield: 10 mini cakes
Ingredients
Bourbon Chocolate Cake:
1 1/4

cup

all-purpose flour

3/4

cup

unsweetened cocoa powder

8

large eggs

1 1/4

cup

granulated sugar

1/3

cup

bourbon
Bourbon Caramel Buttercream:
1

cup

unsalted butter, softened, room temp

2 1/2

cup

powdered sugar

2

Tablespoons

Ghirardelli caramel sauce*

1

Tablespoon

bourbon

1/4

teaspoon

fine sea salt
Chocolate Glaze:
6

oz

chopped dark chocolate

6

oz

heavy cream

caramel sauce, as needed for topping

10

pieces

Ghirardelli chocolate bourbon caramel squares
Instructions
Chocolate Bourbon Cake:
Preheat oven to 350 degrees F. Line 18 x 13-inch baking sheet pan with parchment paper and lightly mist with non-stick spray.

Sift together flour and cocoa. Set aside.

Separate 4 eggs, placing whites in a medium bowl and yolks in a large bowl. Beat egg whites until foamy. Slowly add 3/4 cup sugar and beat until mixture is shiny and thickened. Set aside.

Beat yolks with remaining 1/2 cup sugar until mixture is thick and pale in color. Add remaining whole eggs and beat until well combined. Add white eggs to yolk mixture and fold to combine.

Add dry flour mixture to mixing bowl and fold to combine. Spread cake batter in an even layer on prepared baking sheet. Bake for 15 minutes until toothpick inserted in cake comes out clean. While cake is still warm, brush cake with bourbon. Let cake cool in pan.

Bourbon Caramel Buttercream:
Cream together softened butter and powdered sugar. Add caramel, bourbon, and salt. Beat until buttercream is smooth.

Chocolate Glaze:
Place chopped chocolate in a medium bowl. Bring cream to a simmer over the stove or in the microwave. Pour hot cream over chocolate. Let sit undistributed for 2 minutes. Use a sturdy spatula or whisk to stir mixture together until homogenous and smooth. Mixture will thicken as it cools.

Assembly:
Spread bourbon caramel buttercream in an even layer over cooled chocolate cake. Place in the freezer for 10 minutes for buttercream to firm up.

Slice cake crosswise into thirds. Stack layers on top of each other. Trim edges, if necessary. Cover cake and let chill in the fridge for at least 1 hour up (overnight is best).

Slice cake in half lengthwise and divide each half into 5. You should end up with 10 mini cakes. Pour chocolate glaze over each mini cake. Drizzle caramel sauce on top, if desired. Top each mini cake with a chocolate square.

Notes
All images and text ©The Little Epicurean