Quick and easy cookies packed with dark chocolate chunks. These olive oil chocolate chunk cookies are a little crunchy on the outside and super soft on the inside.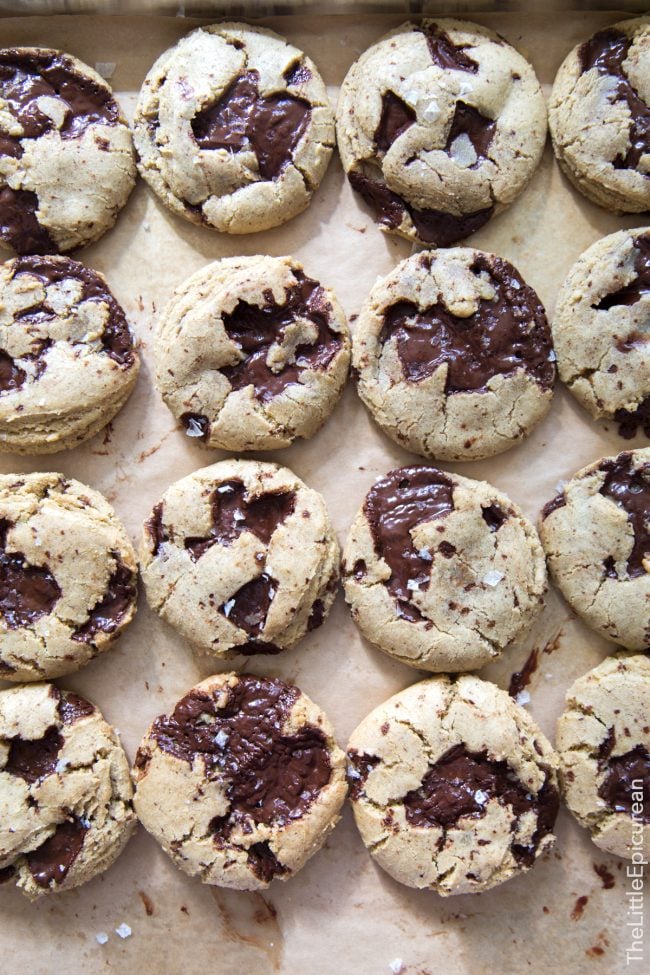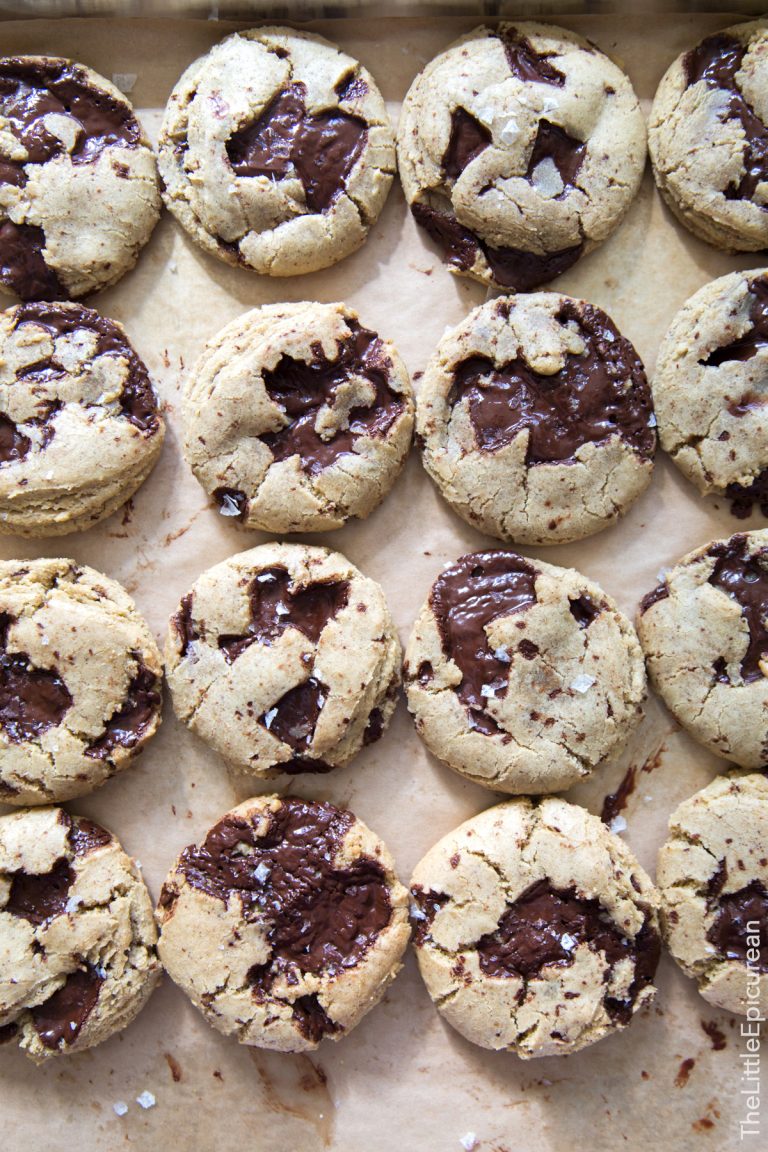 Baking requires patience. Allow the butter and eggs to come to room temperature. Allow cake to cool before frosting. Allow bread to cool before slicing into. And the absolute worse, allow cookie dough to rest in the fridge for 24-48 hours before baking.
UGH. What's a girl to do when she wants cookies STAT, on the double, in less than 30 minutes?
olive oil cookies
No patience required for these cookies. No mixer needed. And absolutely no chilling time for the dough. You can even use eggs straight from the fridge.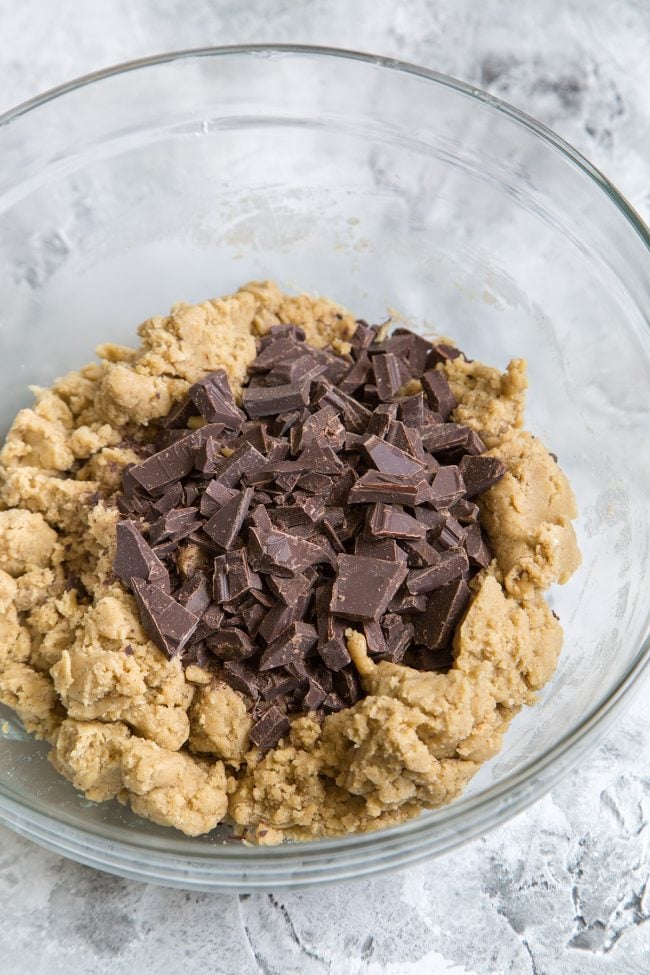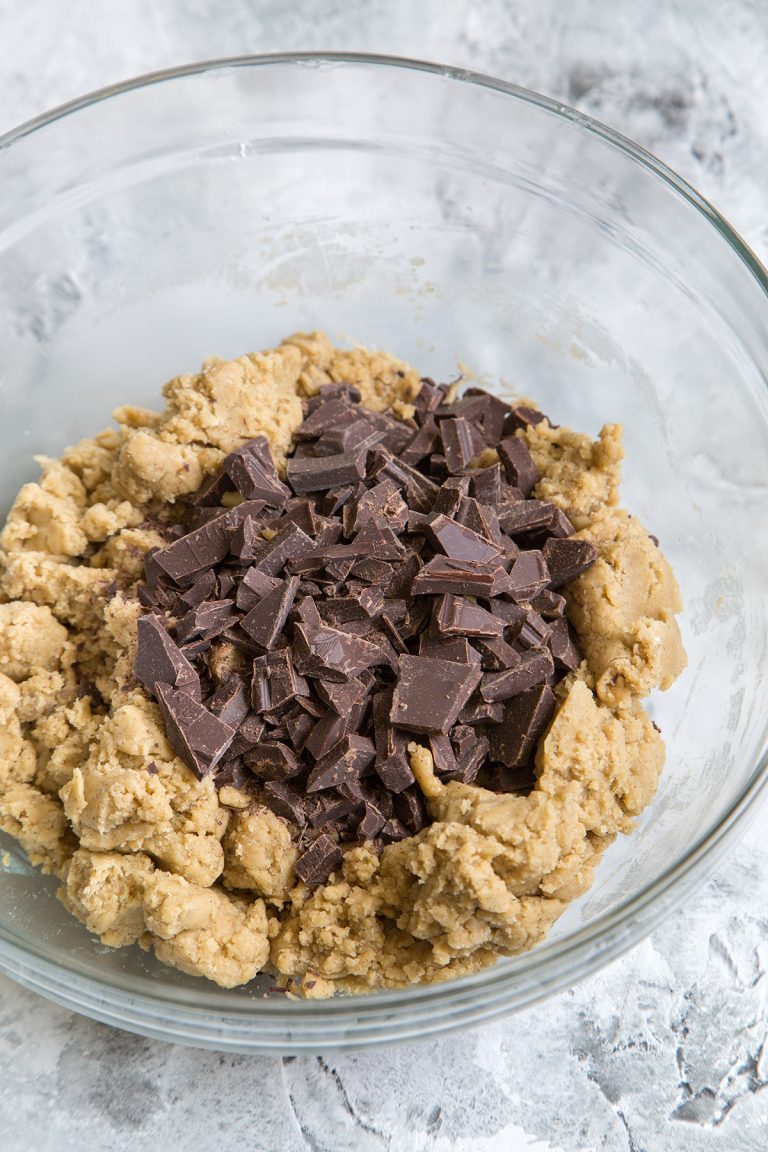 These cookies contain no butter!
I've always been curious about making butter-less cookies. I'm a traditionalist when it comes to baking and I do not shy away from butter. Butter is a magical ingredient that adds flavor, texture, and color.
Cookie recipes usually begin with the creaming of butter and sugar. This adds air and structure to the cookie dough. As butter cooks, the milk solids turn brown, giving baked goods that nice golden color. But what happens when you remove the butter and replace it with olive oil?
I was super skeptical when I first whipped up this recipe. I couldn't believe the results, so I made these olive oil chocolate chunk cookies three times in one afternoon. (And then I proceeded to make it one more time, just to make sure it wasn't a fluke.)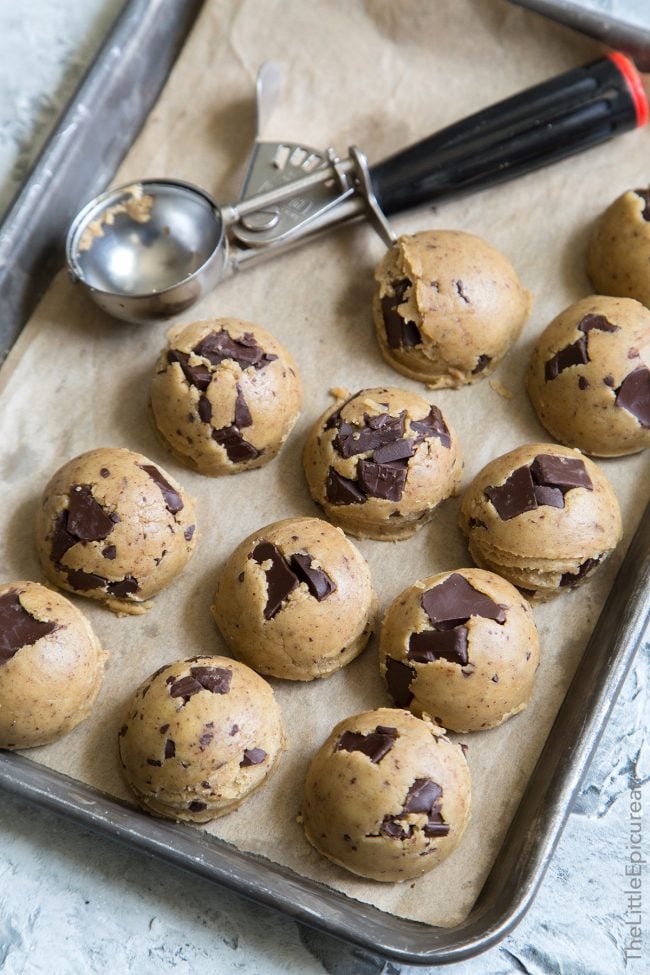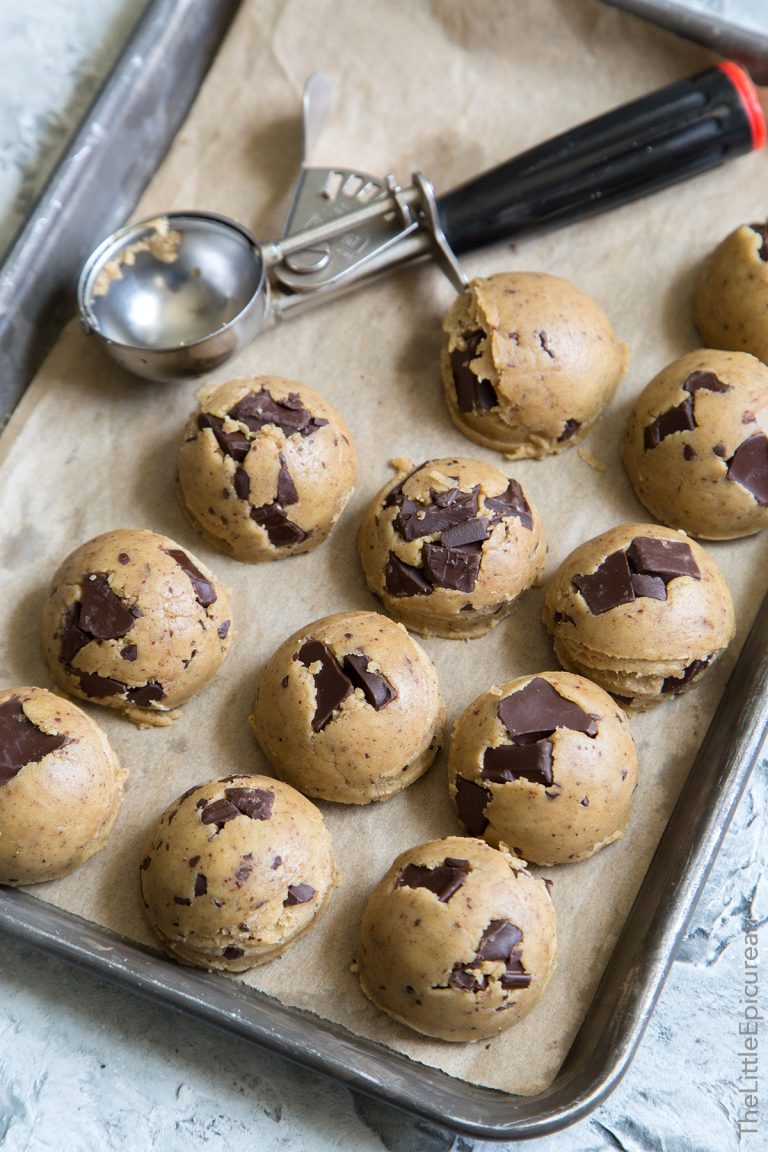 Unlike traditional butter based cookie dough, this dough will seem rather dry and crumbly. Don't worry. If it's too difficult to mix with a spatula, use your hands to knead the dough together. After mixing the dough together, immediately scoop dough into portions.
If left unattended, the dough will eventually harden and dry out. I use an ice cream scooper to equally divide the cookie dough. It's the best way to get uniform shaped cookies.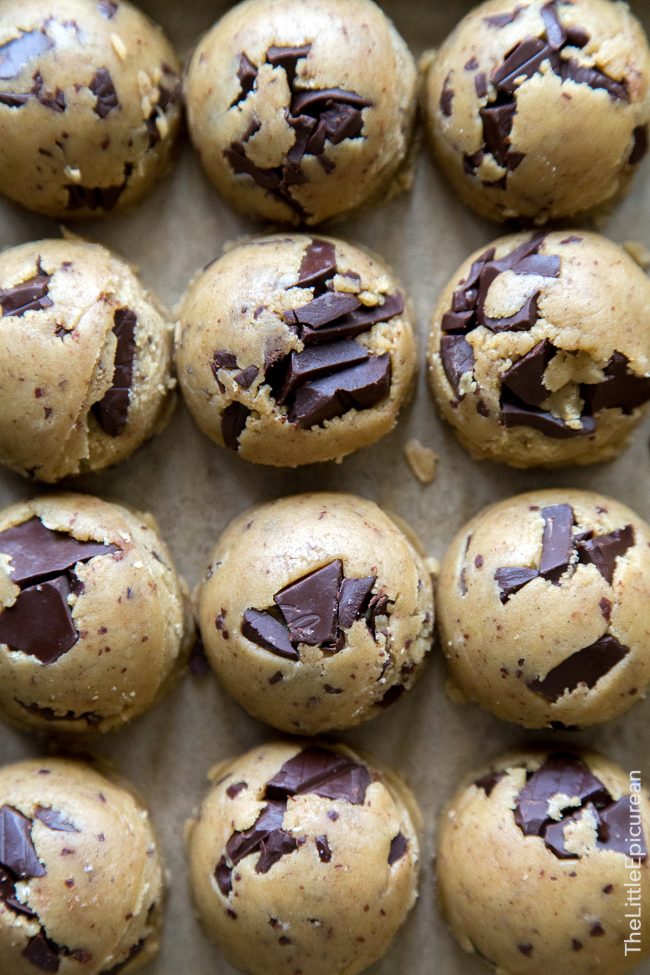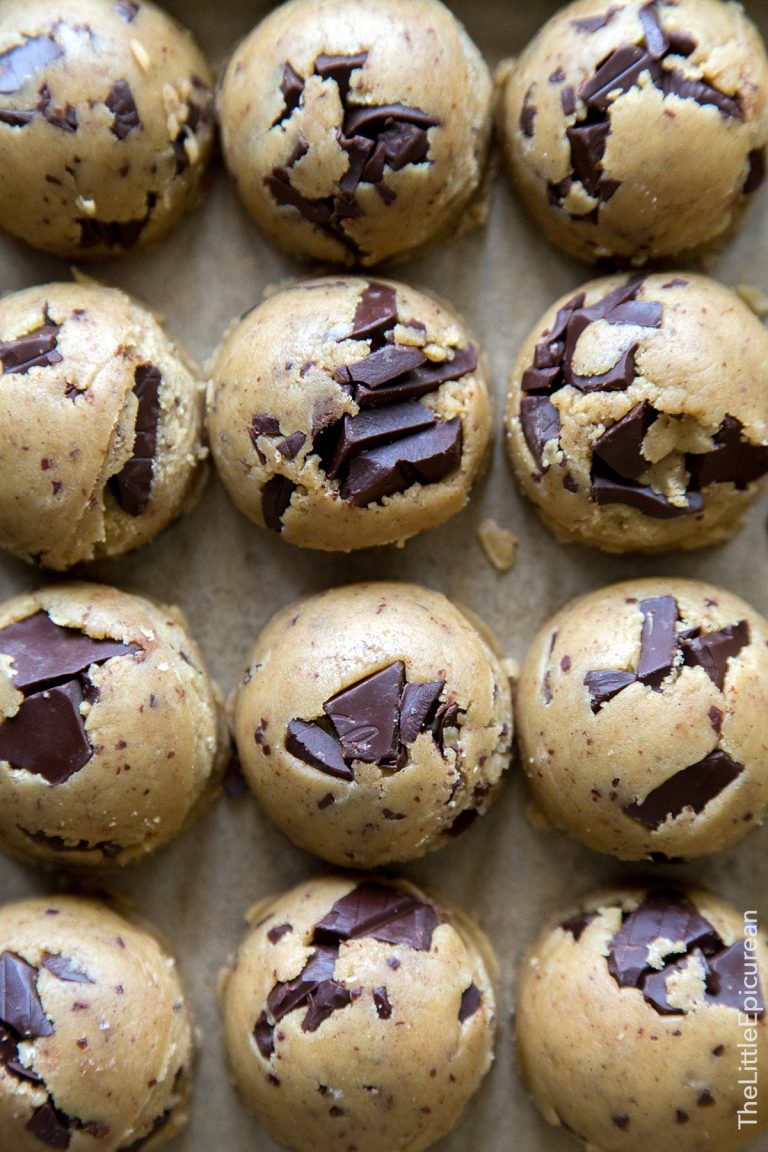 Use high quality ingredients:
There are a few caveats to this recipe (which all boil down to using high quality ingredients):
The olive oil is important. Do not substitute for an olive oil blend. Use a quality extra virgin olive oil that has fruity notes and a mellow flavor.
If you can, use vanilla bean paste (or if you're really fancy, use vanilla beans), otherwise use a high quality pure vanilla extract. Please DO NOT use imitation vanilla extract.
Use dark chocolate that lists chocolate, cocoa mass, or unsweetened chocolate as the first ingredient; not one that has sugar as the first ingredient. This recipe works best with a dark chocolate that contains at least 65% cocoa solids. High quality chocolate will indicate the percentage of cocoa on the package. The richer the dark chocolate, the more intense it will taste with the sweet cookie dough. I've tested the recipe using this 70% and this 90% dark chocolate.
While I'm still the biggest fan of brown butter chocolate chunk cookies, sometimes I just don't have the time, energy, or patience to wait for a fresh baked cookie. These olive oil cookies have definitely made me re-evaluate my chocolate chip cookie game.
I've made these cookies so many times over the past few days that I have the recipe imprinted in my brain. I hope it becomes your new go-to easy-peasy, when you need a cookie fix, cookie recipe.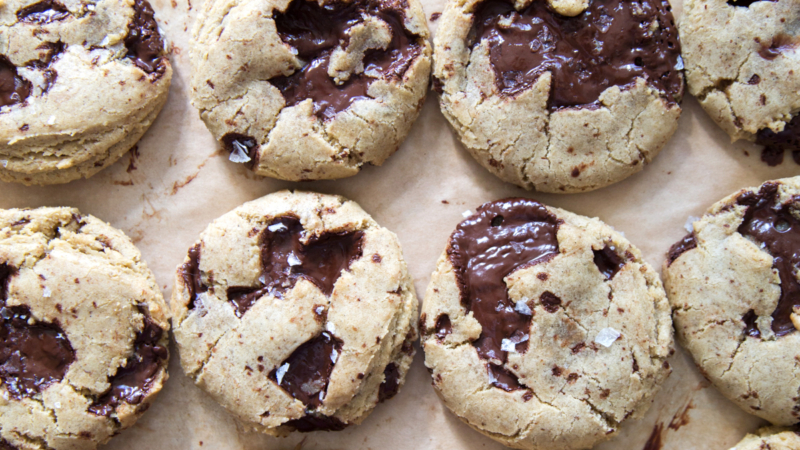 Olive Oil Chocolate Chunk Cookies
Yield: makes 17 cookies
Ingredients
1/2

cup

+ 2 Tablespoons extra virgin olive oil

3/4

cup

dark brown sugar, packed

1/2

cup

granulated sugar

1

large egg

1

large egg yolk

2

teaspoons

vanilla bean paste, or high quality vanilla extract

2 1/4

cup

all-purpose flour

1

teaspoon

instant espresso powder

1/2

teaspoon

baking soda

3/4

teaspoon

fine sea salt

5

oz

dark chocolate*, roughly chopped

sea salt flakes, as needed for sprinkling
Instructions
Preheat oven to 350 degrees F.

In large bowl, combine olive oil, brown sugar, and sugar. Add egg, egg yolk, and vanilla paste. Mix until thoroughly combined and mixture is smooth and thick.

In another bowl, whisk together flour, espresso powder, baking soda, and salt. Add flour mixture to large mixing bowl. Stir to combine. Fold in chopped dark chocolate. Mixture will rather dry and crumbly. If it is difficult to mix with a spatula, use your hands to knead together cookie dough.

Immediately portion out dough using a #24 cookie scoop. Arrange cookie balls on a parchment lined baking sheet, spacing them at least 2-inches apart. Bake for 14-16 minutes until cookies have puffed up. Remove from oven and sprinkle sea salt flakes over warm cookies. Allow cookies to cool in pan for 5 minutes before transferring to wire rack. Cookies will slightly flatten as they cool. Enjoy warm or at room temperature.

Notes
Use a high quality olive oil that has fruity notes and a mellow flavor.
The cookie base is rather sweet, it is best paired with a rich dark chocolate at least 65% cocoa. I suggest using this 

70% cocoa dark chocolate

 or 

90% cocoa dark chocolate

.
Use a cookie scoop to get uniform sized, round cookies. I used a #24 cookie scoop. If you choose to use a smaller or larger scoop, you may have to adjust baking time. (The number on a cookie scoop refers to the number of scoops it will take to fill a quart container. High number means it's a small scoop, low number means it's a large scoop.) 
Cookies are best eaten the same day they are baked. Store any leftovers in an airtight container for up to three days.
All images and text ©The Little Epicurean