These aren't your average chocolate chip cookies. Brown butter rye chocolate chip cookies are nutty and spiced with touch of coffee, cinnamon, and nutmeg!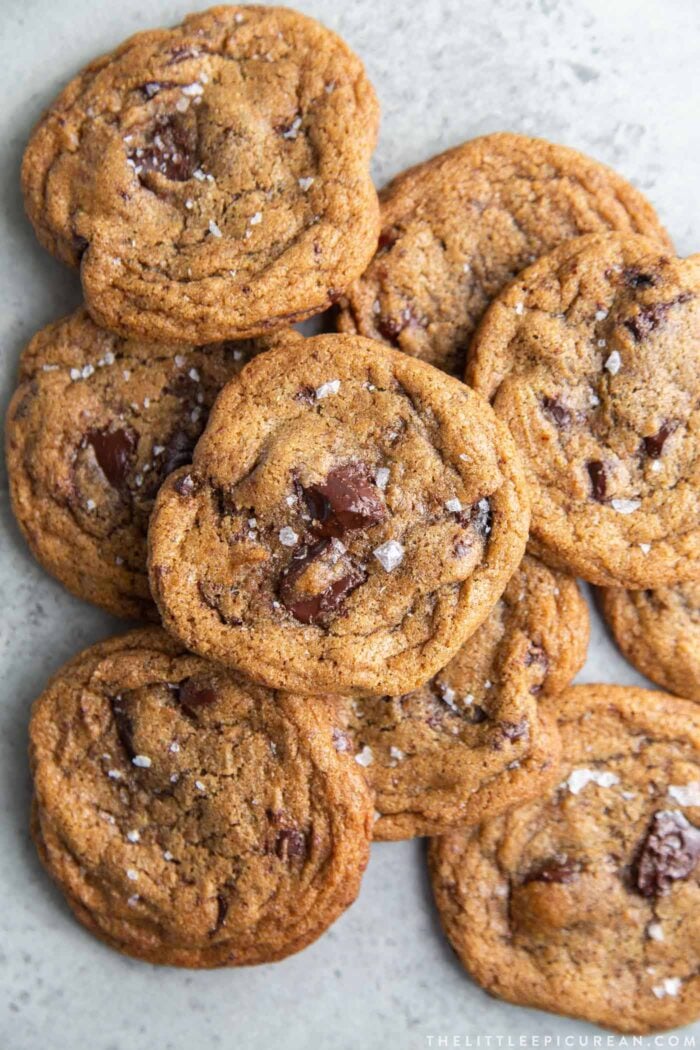 Calling all cookie monsters! Here's a new chocolate chip cookie recipe that you're destined to instantly fall in love with.
The combination of rye flour, semi-sweet and dark chocolate, plus a mixture of spices, makes these cookies special and unique.
However, they still have that familiar comfort of childhood chocolate chip cookies.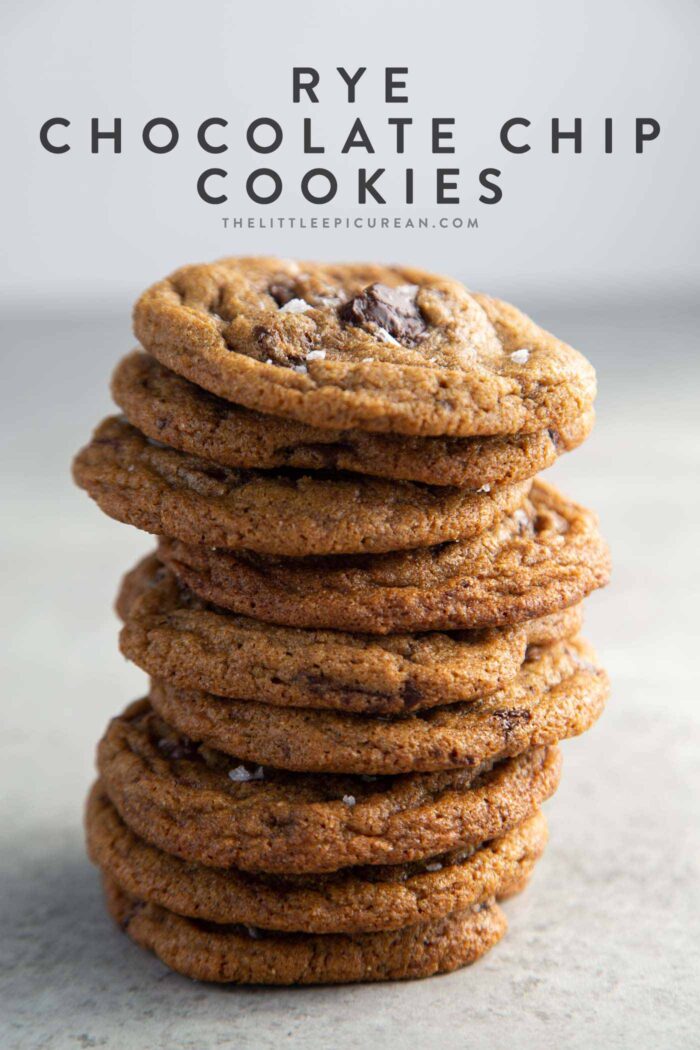 Brown Butter Rye Flour Cookies
To me, the best kind of cookies are slightly crisp along the edges with a soft and chewy interior. There should be well distributed puddles of chocolate throughout.
It should have a pleasant balance of sweet cookie dough with slightly bitter chocolate.
But most of all, the mark of a great cookie is that feeling of want a second, third, or forth serving in one sitting.
What is rye flour?
Rye is a grain closely related to barley and wheat. It is best known for use in rye bread (think Rubens and pastrami sandwiches) and rye whiskey (such as Wild Turkey and Bulleit Rye).
Rye flour is milled from rye berries. Just like wheat flour, there are many varieties of rye flour. These include: white rye, medium rye, dark rye, and pumpernickel flour.
This recipe uses King Arthur Baking medium rye flour. King Arthur's version is a slightly darker rye, milled closer to the brand than white rye. I highly recommend using this brand for this recipe. 
Rye flour adds a warmth and roundness to baked goods similar to whole wheat flour.
Why add spices to chocolate chip cookies?
The addition of cinnamon, nutmeg, and instant coffee granules helps to heighten the nutty warm flavors of rye flour and brown butter.
The spices are subtle. You will not get a strong cinnamon, nutmeg, or coffee flavor.
Instead, there will be a lingering warmth and roundness from the combination of spices.
These spices add an interesting richness that sets this cookie apart from your standard chocolate chip cookie.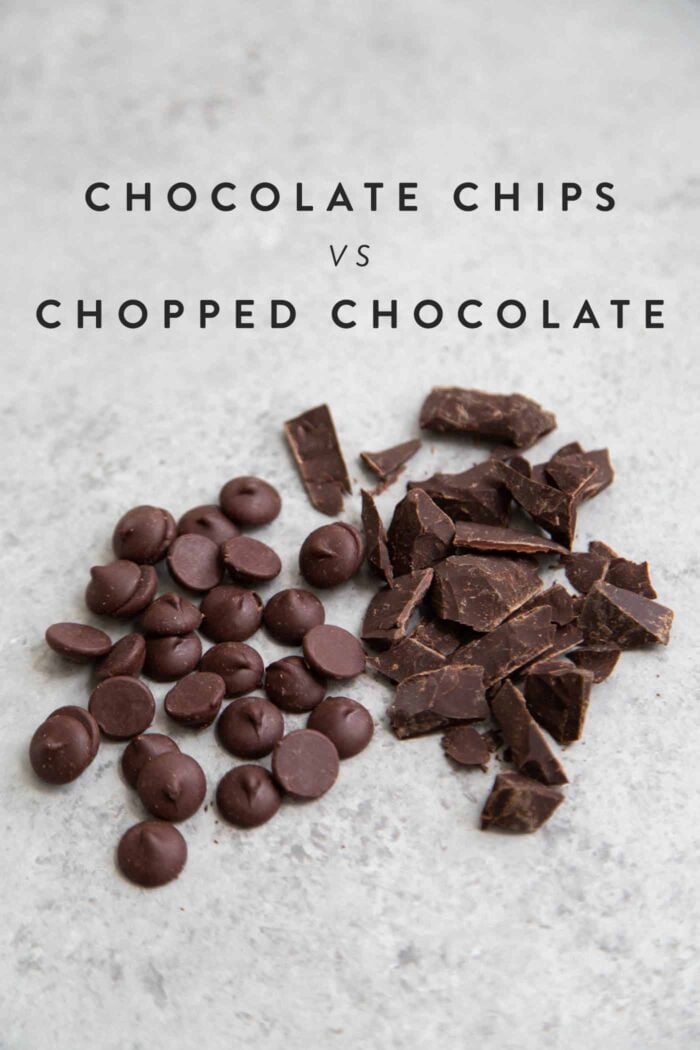 The difference between using chocolate chips and chopped chocolate
There are several varieties of chocolate chips ranging from white chocolate to semi-sweet and dark chocolate.
Some chocolate chips are made with stabilizers like lecithin or made with reduced amounts of cocoa butter. This helps the chocolate chips retain its shape during baking or heating.
Chocolate chips are uniform in size, resulting an an even distribution of chocolate through the cookie dough.
Since I'm a fan of lots of chocolate in my cookies, I suggest using a combination of chocolate chips and chopped chocolate.
Chopped chocolate is more irregular and size and shape. You are free to use a wider range of chocolates. Pick your favorite cacao percentage, splurge on fancy single origin chocolate, or have fun and chop up your favorite chocolate candy bar.
Chopped chocolate brings textures that can't be mimicked by chocolate chips.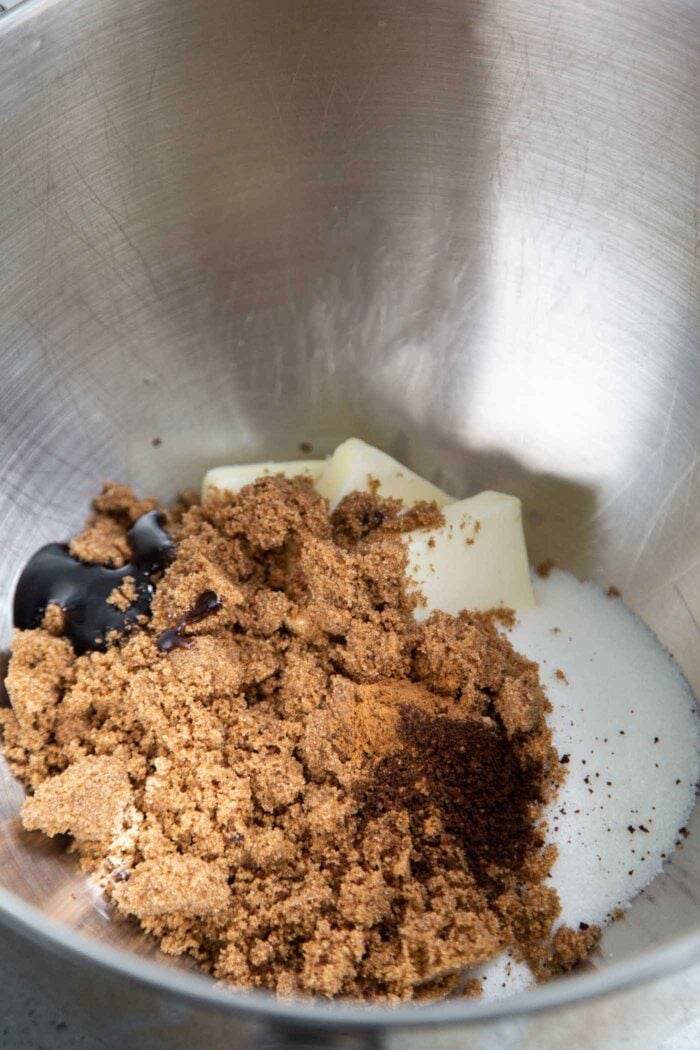 Not your traditional way to mix cookie dough
Most chocolate chip cookie recipes start by creaming together softened butter and sugar. This recipe is a little different.
First off, cold butter is added to the mixing bowl. No need to bring butter to room temperature to softened.
Second, super hot liquid brown butter is poured over the cold butter-sugar mixture.
Unlike other cookies, right?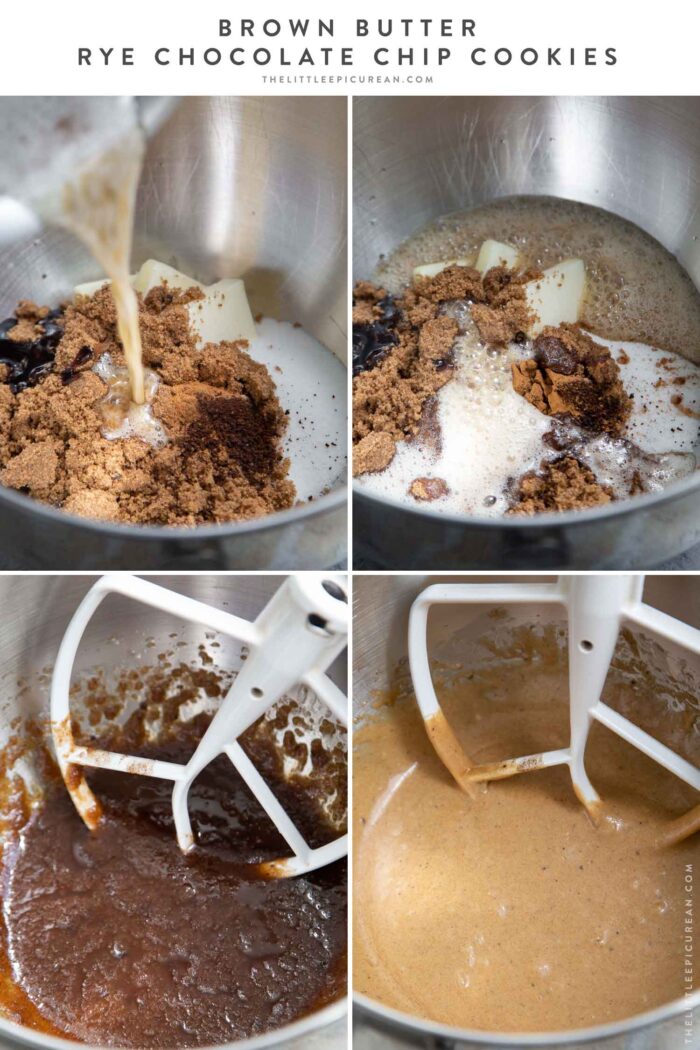 Place cold butter in mixing bowl along with sugar, brown sugar, vanilla paste, and spices. Pour hot liquid brown butter over butter-sugar mixture.
Let mixture sit undisturbed for 5 minutes. The brown butter will bubble and foam. It's normal.
Use paddle attachment to beat mixture together for 2 minutes. The mixture will be dark in color and appear broken or oily on the surface.
Add egg and egg yolk. Beat for 3 minutes until mixture is creamy in color and thickened in consistency.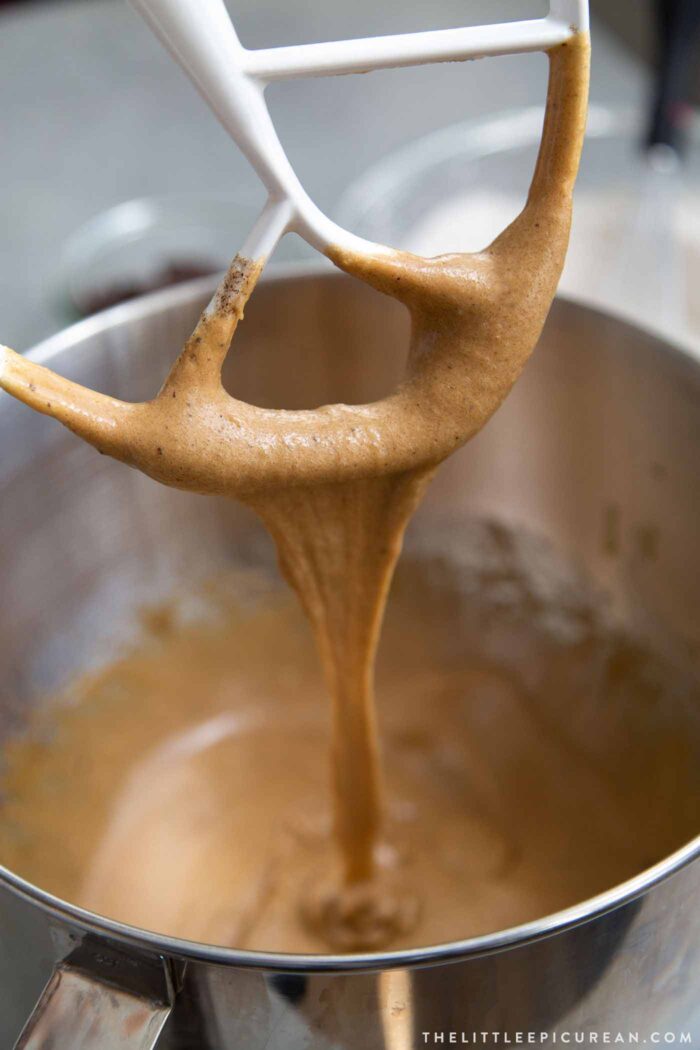 Add in the dry flour mixture all at once. Mix gently until there are no longer and dry streaks of flour.
And finally, fold in the chocolate chips and chopped chocolate.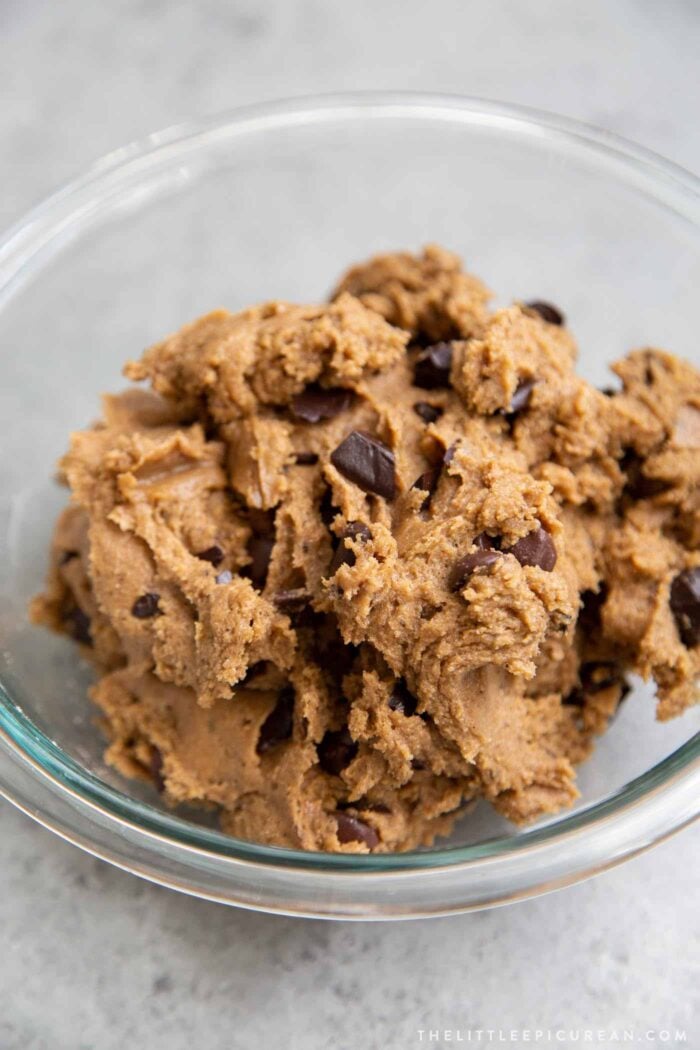 Chilling Cookie Dough
The cookie dough will be very soft and sticky at first. Transfer dough an airtight container or cover tightly with plastic wrap. Chill in the fridge overnight (at least 6 hours).
It is important to chill the cookie dough. The dry ingredients need time to absorb the liquids.
More importantly, time in the fridge allows the butter in the dough to solidify. This will prevent the cookies from spreading into a puddle during baking.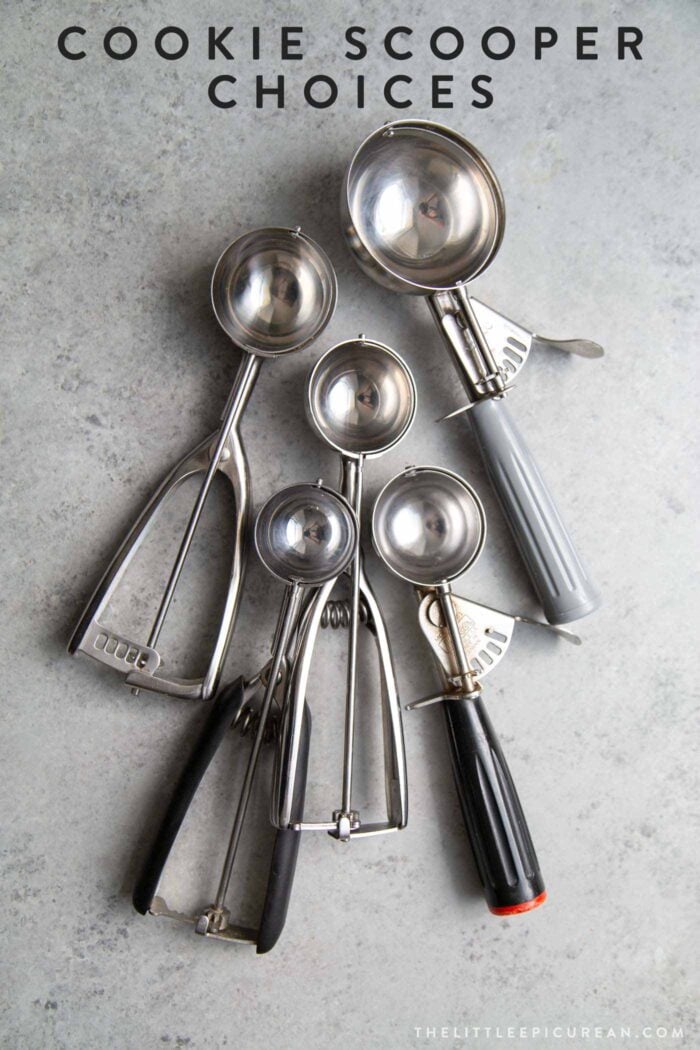 How to pick the right scooper
Consistency is key when baking cookies. Even sized cookie dough will bake at the same rate. This results in evenly baked cookies.
Use a cookie scooper to achieve consistent sized cookie dough portions.
Cookie scoopers are also called food dishers, squeeze handle dishers, or portions scoopers. They come in a variety of sizes.
This recipe uses a size 24 scoop. The number refers to how many scoops it would take to fill a quart (32 oz). That means, a size 24 scoop takes 24 scoops to fill a quart.
The smaller the scoop number, the larger the scoop size. A size 1 scoop can fill a quart in one scoop.
The number or size is printed inside the cavity of the scooper.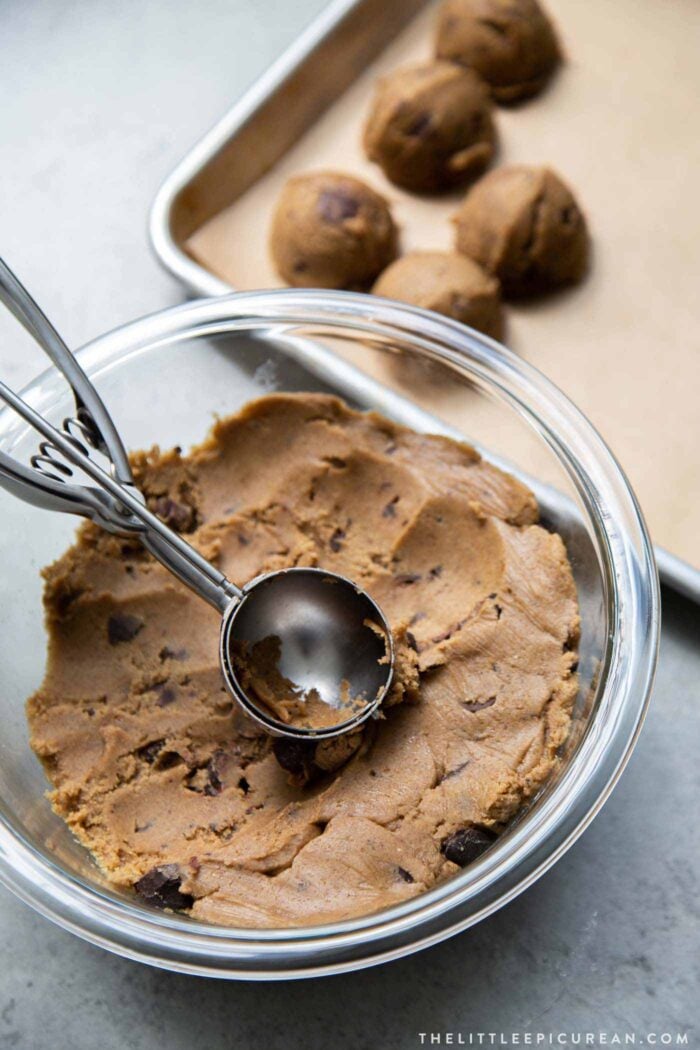 Scooping Cookie Dough
The dough will be very firm taken directly out of the fridge. Before scooping, set the dough out at room temperature for about an hour to soften.
Don't try to scoop cold, hard cookie dough. Be patient and let the dough softened until it easy to scoop.
Bake cookie dough immediately after scooping. Or, cookie dough balls can be stored in the fridge or freezer for later.
Place dough balls in an airtight container or tightly covered in plastic wrap in the fridge for up to three days.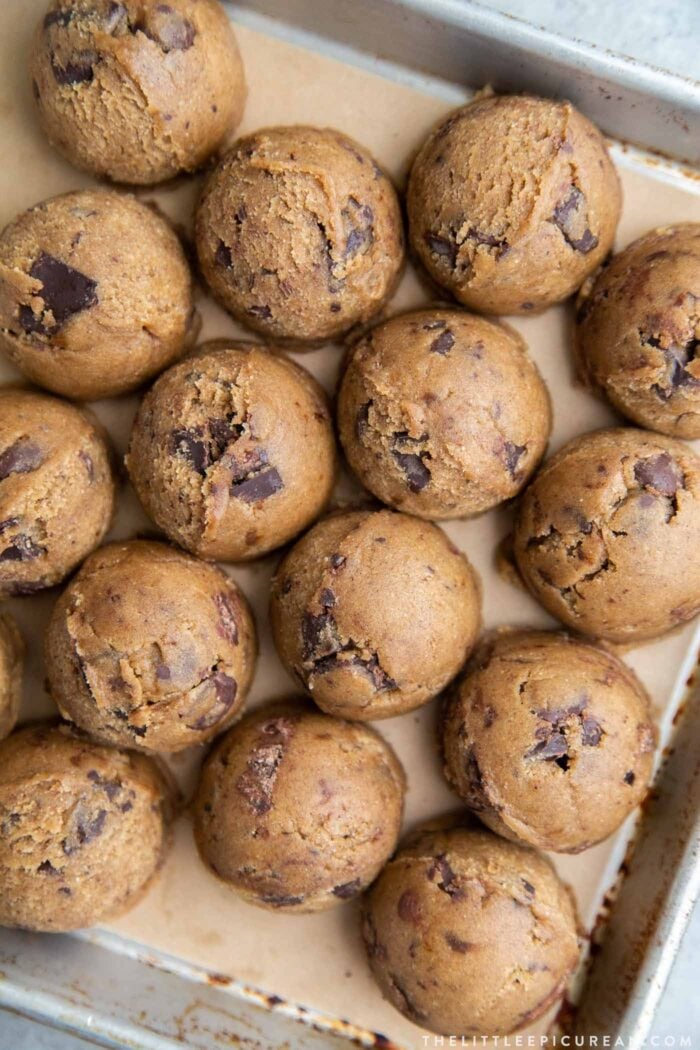 Freezing Cookie Dough for Later
Freeze portioned cookie dough balls for longer storage. Place dough balls on a parchment lined baking sheet. Cover with plastic wrap and place in the freezer for one to two hours until solid.
Remove from freezer and transfer frozen dough balls into an airtight zip-top freezer safe bag. Label with date and keep in the freezer for up to four months.
When you are ready to bake, place frozen cookie dough on parchment lined baking sheet and bake as directed in instructions. No need to defrost or softened cookie dough before baking.
Easy peasy! Enjoy freshly baked cookies at your whim!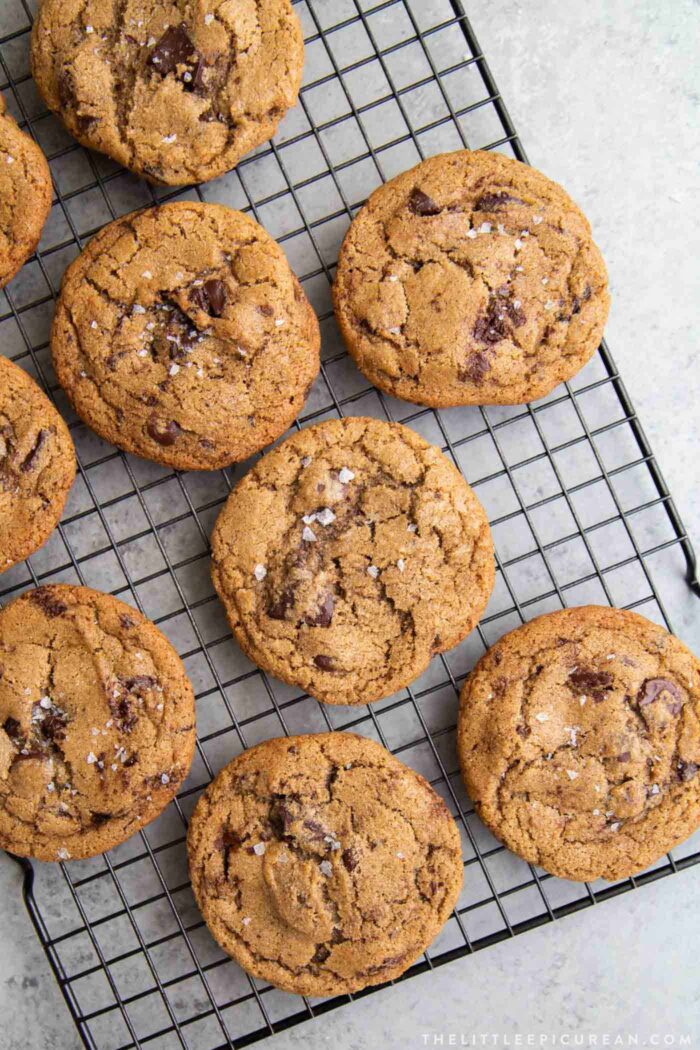 Top fresh baked cookies with sea salt flakes
At first, it may seem strange to add salt to desserts and baked sweets. But, once you've experienced it, you'll never want to enjoy chocolate chip cookies without sea salt flakes ever again!
The sprinkling of Maldon sea salt flakes actually helps to enhance the flavors of the cookie. The salt heightens the complexities of the chocolate. It adds more richness to the brown butter and mixture of sugars.
Think of the sea salt flakes as the ribbon that ties the entire package together.
However… be sure to use Maldon sea salt flakes! Don't substitute in sea salt, kosher salt, or table salt. It must be sea salt flakes which are more subtle in flavor and far less "salty" than the other salts mentioned.
Simply omit if you do not have Maldon. Try it next time!
How long will these rye chocolate chip cookies keep for?
These cookies are best warm, fresh from the oven. They taste best within 2 days of baking.
Store cooled cookies in an airtight container for up to 5 days.
Around the 4th day, the cookie may start to lose moisture and begin to harden. They're still safe to eat and still delicious, but will not be as chewy as before.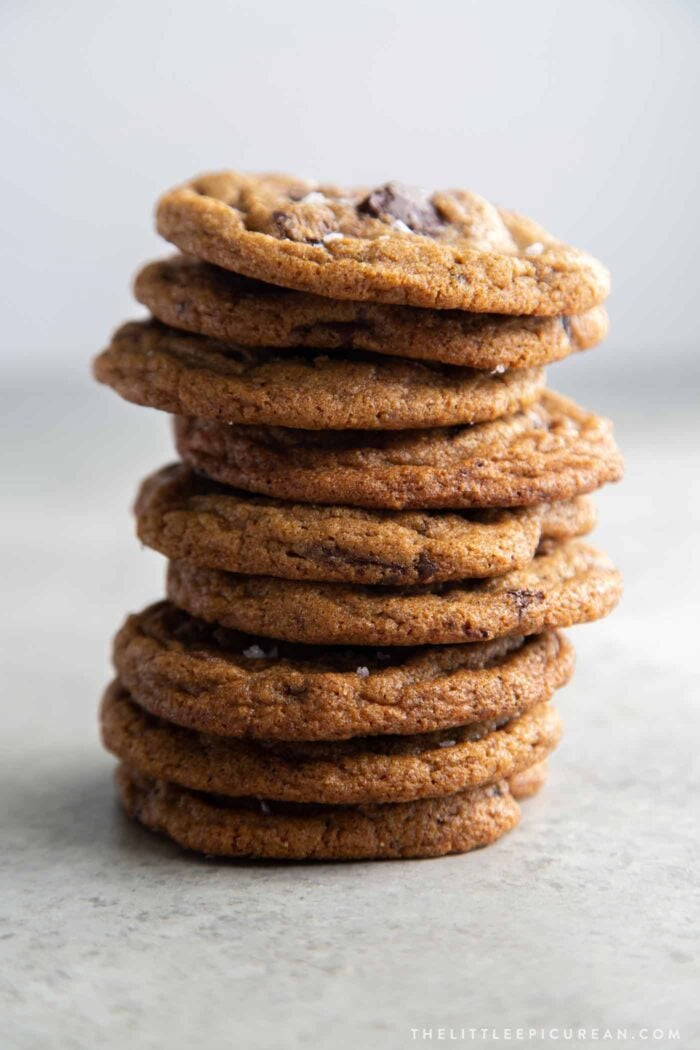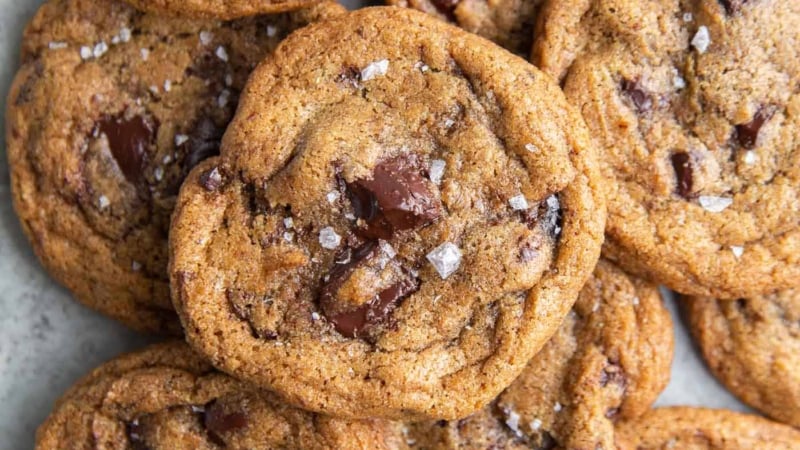 Rye Chocolate Chip Cookies
These brown butter rye chocolate chip cookies are nutty and spiced with touch of coffee, cinnamon, and nutmeg! They are a little crisp along the edges, but remain soft and chewy in the center.
Ingredients
230

grams

(2 ½ cup) medium rye flour

*

1

tsp

kosher salt

½

tsp

baking soda

170

grams

(12 Tbsp) unsalted butter,

divided

150

grams

(¾ cup) light brown sugar,

packed

100

grams

(½ cup) granulated sugar

2

tsp

pure vanilla extract,

or vanilla bean paste

½

tsp

instant coffee granules

½

tsp

ground cinnamon

⅛

tsp

freshly grated nutmeg,

or ground nutmeg

1

large egg

1

large egg yolk

150

grams

chopped dark chocolate,

or chocolate chips*

Maldon sea salt flakes,

for sprinkling
Instructions
In a large bowl, whisk together rye flour, salt, and baking soda. Set aside.

In the bowl of a stand mixer, add 56 grams (4 Tbsp) cold butter, brown sugar, sugar, vanilla, instant coffee granules, cinnamon, and nutmeg. Set aside.

Melt remaining 114 grams (8 Tbsp) butter in a heavy bottomed sauce pot over medium heat. Occasionally swirl pot to ensure even heating. The mixture will bubble and foam as it cooks. The bubbling will be vigorous at first, but will subside and lessen as butter cooks.

Continue to cook until butter smells nutty and the milk solids at the bottom of the pot have turned rich golden brown in color. Remove from heat and pour brown butter (along with browned milk solids) into stand mixer bowl over sugar mixture. Let sit for 5 minutes.

Attach paddle to stand mixer. Beat mixture on medium speed for 2 minutes. Mixture will be dark in color and look broken or oily on the surface.

Add egg and egg yolk. Beat on medium speed for 3 minutes until mixture is creamy in color and has thickened in consistency. Scrape down sides of bowl to ensure even mixing.

Add dry flour mixture. Mix until just combined, and there are no longer any dry streaks of flour. Fold in chocolate chips until evenly distributed.

Transfer dough to a clean bowl. Cover tightly with plastic wrap or lid. Chill in the fridge overnight, at least 6 hours.

Remove dough from fridge and let sit at room temperature for 1 hour to soften. Use a size 24 scoop to portion out the cookie dough. Place scoops on a parchment lined baking sheet. Cover and place in the fridge while oven preheats.

Preheat oven to 350°F. Line several baking sheets with parchment paper or reusable silicone baking mat.

Place chilled cookie portions at least 3-inches apart on prepared baking sheet. Bake for 8 minutes. Rotate baking sheets. Bake for another 6-8 minutes until cookies have spread and are set along the edges.

Immediately sprinkle hot cookies with sea salt flakes, if using. Allow cookies to remain on hot baking sheet for 5-7 minutes before using an offset spatula to transfer warm cookies to wire rack. Cool to room temperature or eat warm!
Notes
Baking time refers to size 24 cookie scoop portions. Adjust cooking time should you choose to portion dough into a different size.
Store cooled cookies in an airtight container for up to 5 days.
Ingredient Notes:
This recipe was tested using King Arthur Baking Company Medium Rye Flour.
Cinnamon and nutmeg add a subtle spice that works wonderfully with the nutty rye flour and brown butter
Use any chocolate of choice. I used a combination of 72% dark chocolate chunks and semi-sweet chocolate chips. 
Freezing Cookie Dough:
After scooping dough in Step 9, place covered cookie dough in the freezer for 1 to 2 hours until frozen. Remove from freezer. Transfer frozen cookie dough balls to a freezer zip-top bag. Frozen dough will keep in the freezer for up to 4 months.
Baking Frozen Cookie Dough:
Place frozen scooped cookie dough on parchment lined baking sheet, spacing them about 3-inches apart. Bake in a preheated 350 degree F oven for 18 minutes, rotating pan midway through baking. 
Do not defrost or soften frozen cookie dough before baking. Bake directly from the freezer.