Timeless classic chocolate chip cookies studded with dark chocolate chunks and toasted walnut pieces.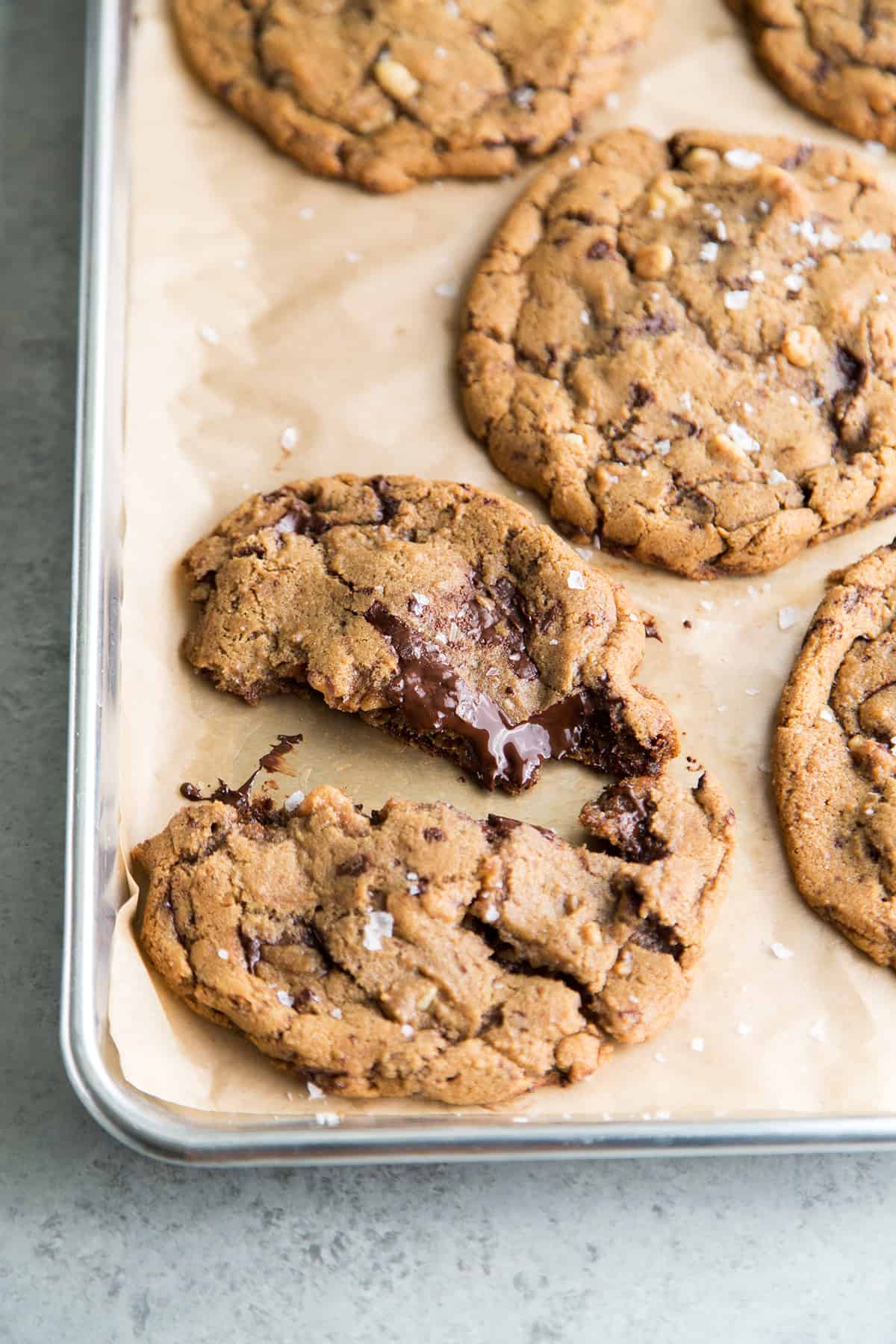 During my undergraduate years when everyone else was studying for finals, frantically writing papers, and cramming into the wee hours of the morning, I was baking cookies.
I survived all my presentations, midterms, and finals one dozen cookies at a time.
Thankfully I don't ever have to write another paper or memorize any more dates or formulas.
However, there are still those occasional deadlines (and typical life problems) that throw me into a frenzy. That's when I return to cookie therapy!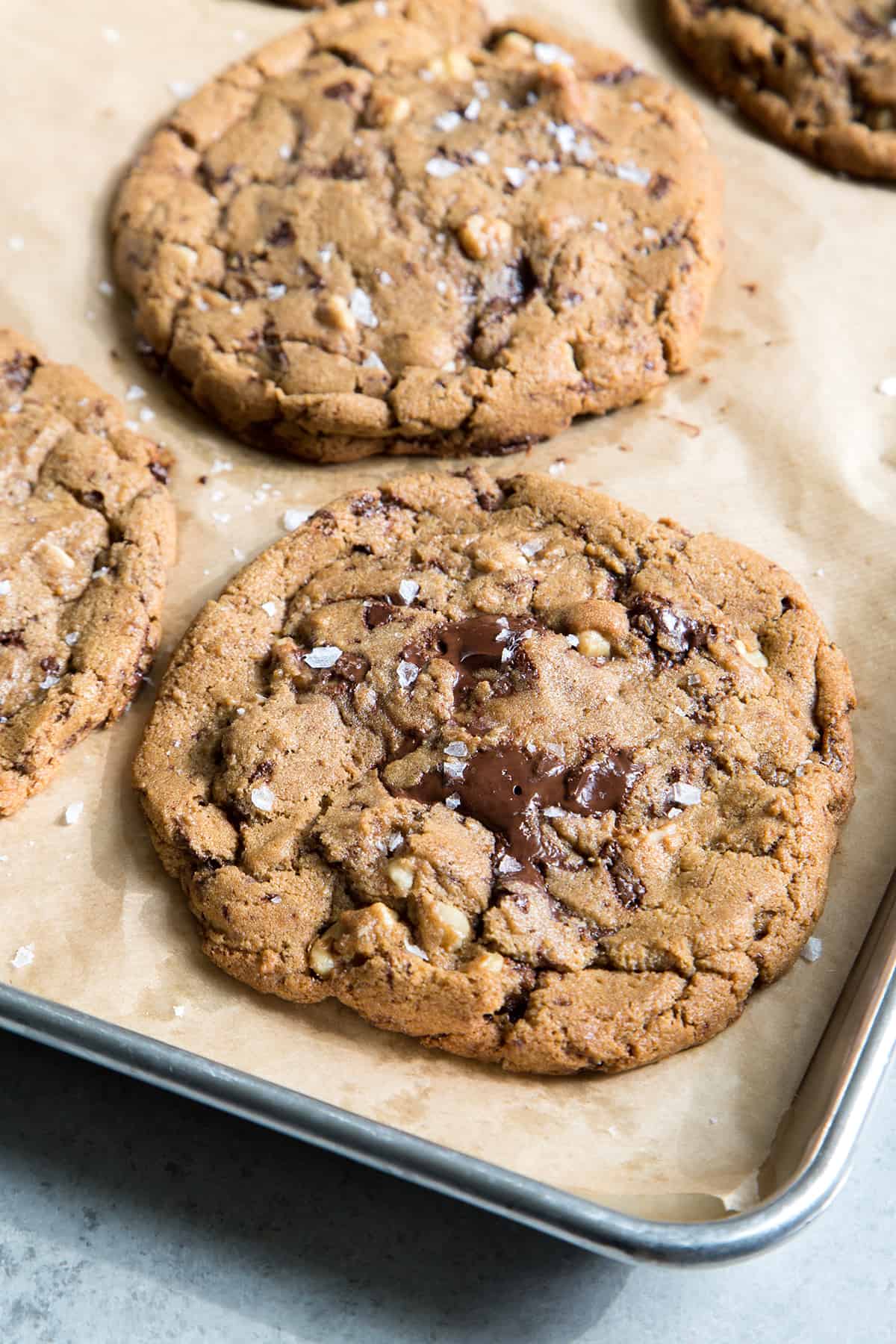 Chocolate Chunk Cookies
Each warm bite of melted chocolate relaxes me. I am lulled to a delicious sugar induced coma.
Life tastes good and all is right with the world.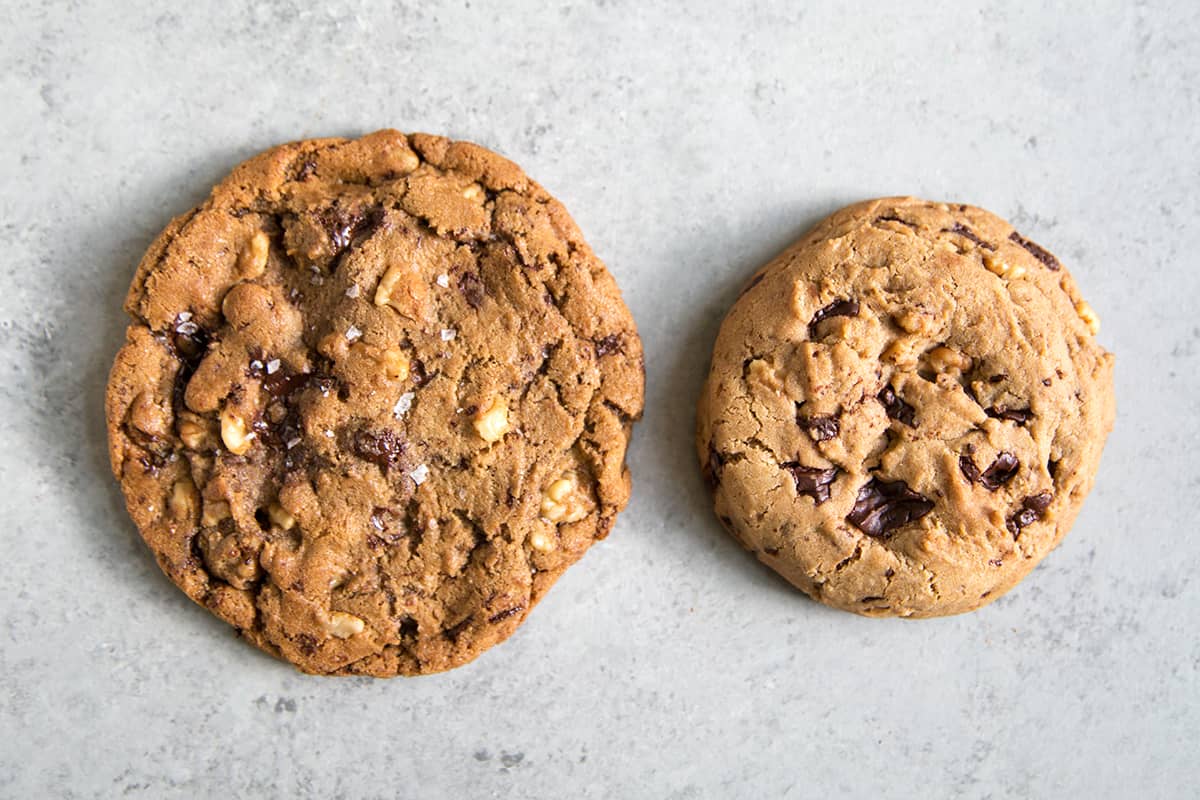 I'm sharing two chocolate chip cookie recipe this week. First up, are these giant cookies. This is my version of classic chocolate chip cookies. They're a little crispy around the edges, but soft and chewy in the center.
The smaller cookie on the left is thicker, chewier, and not as sweet. The recipe for those thick and chewy walnut chocolate chip cookies are here.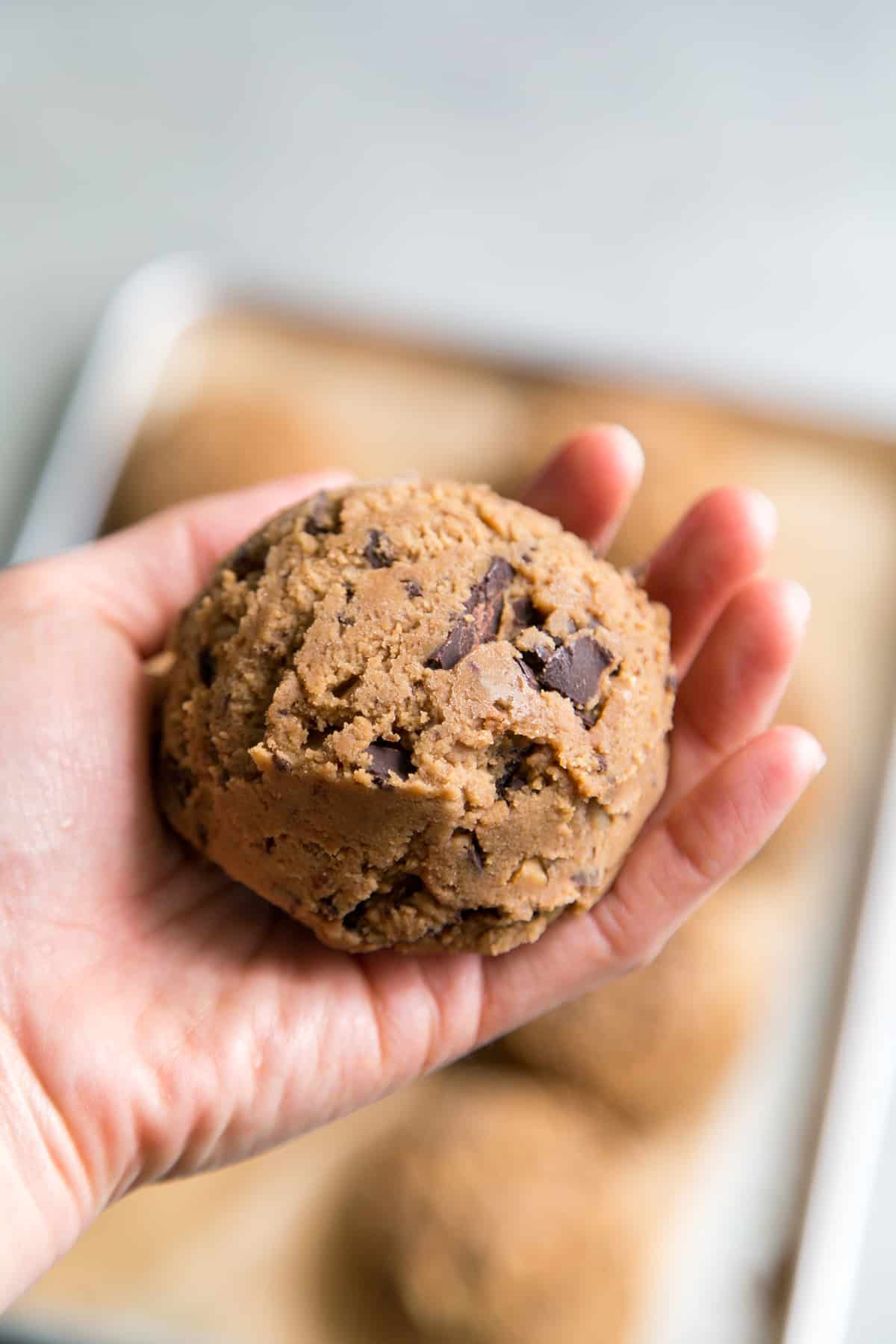 I'm not kidding when I called them GIANT. Each cookie is roughly 1/2 cup of cookie dough batter.
Most cookie recipes call for a rounded tablespoon of cookie dough.
This cookie is roughly 8 TABLESPOONS of cookie dough. (!!!) I'll let you process that information before I move on.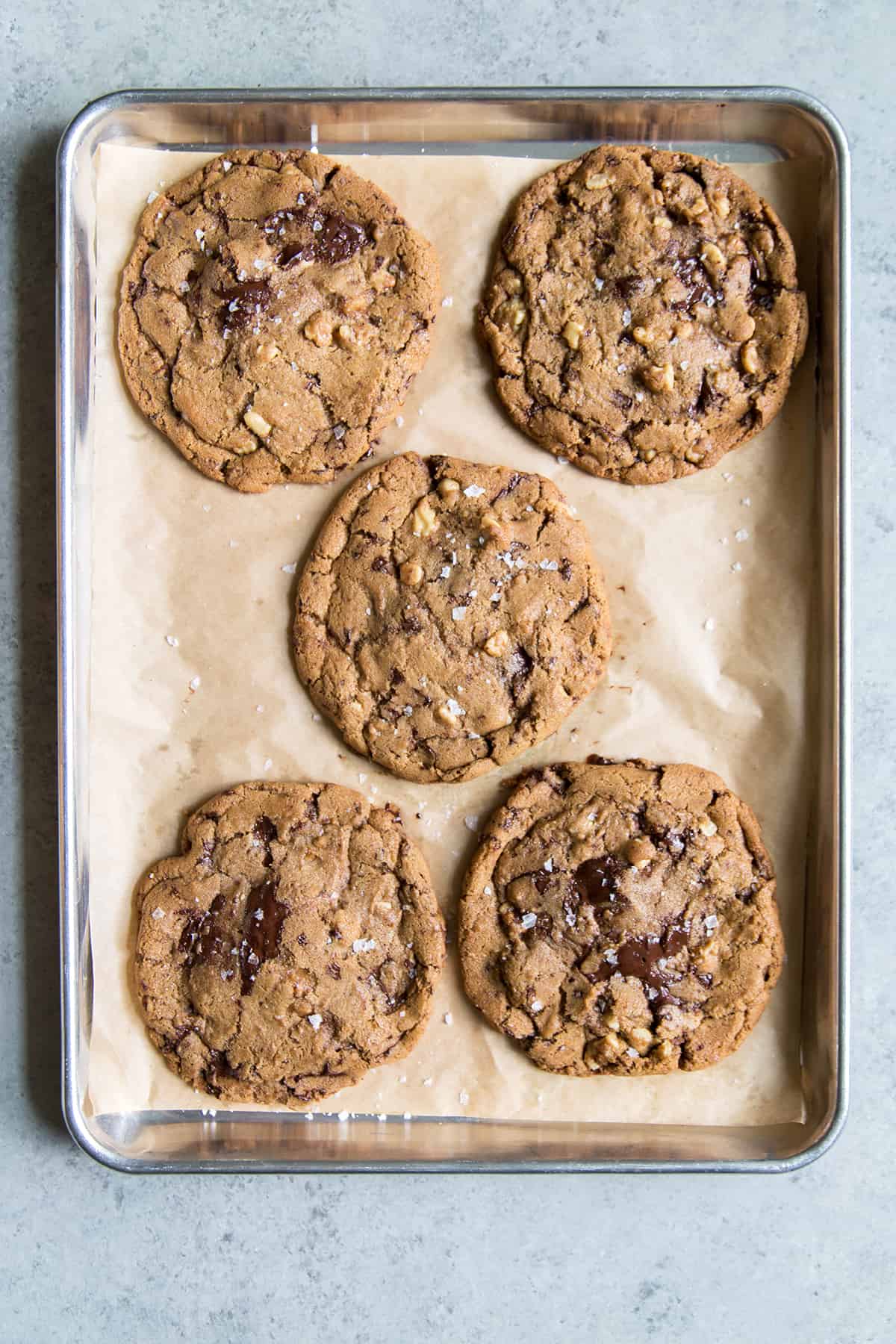 These cookies are so big that only 5 cookies fit in a standard 18″x13″ half size baking sheet.
These classic chocolate chip cookies are everything you'd expect from a childhood favorite. It's crisp along the edges, yet soft and chewy in the center.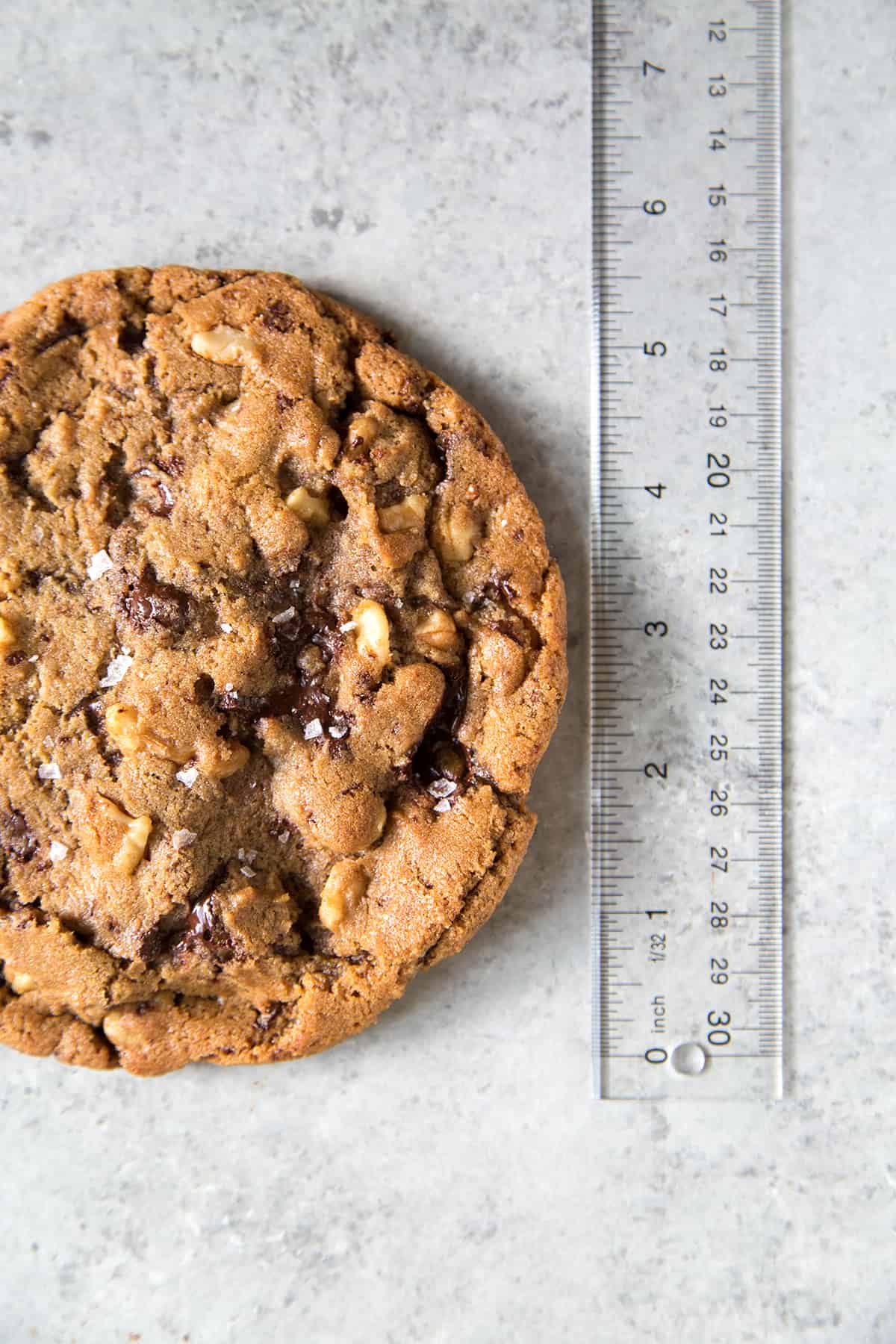 There are enough melted chocolate chunks in each cookie to ensure that you'll be licking your fingers at some point. I say that's the mark of a good cookie!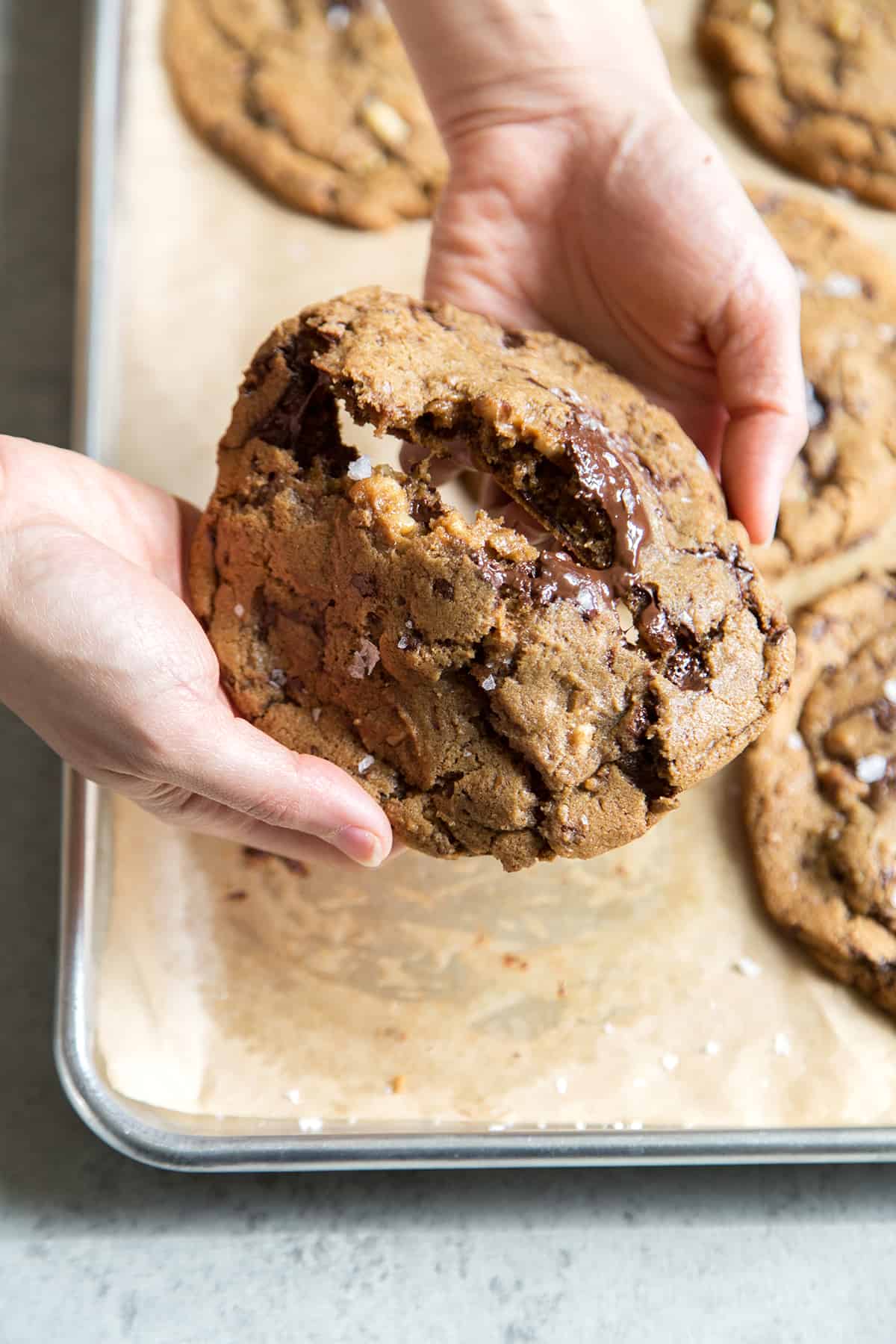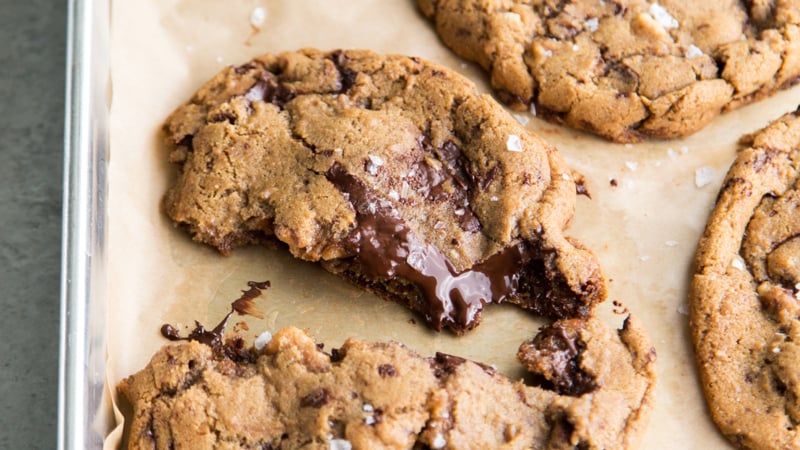 Classic Chocolate Chip Cookies
Soft and chewy classic chocolate chip cookies filled with dark chocolate chunks and toasted walnut pieces.Yield: 10 5-inch cookies
Ingredients
1

cup

(226 g) unsalted butter, softened

1 ¼

cup

(270 g) light brown sugar, packed

¾

cup

(150 g) granulated sugar

¾

teaspoon

fine sea salt

1

large egg

2

large egg yolks

1

Tablespoon

molasses

2 ¾

cups

(360 g) all-purpose flour

1

teaspoon

baking soda

½

teaspoon

baking powder

1

cup

(4 oz/113 g) lightly toasted walnuts, roughly chopped

6

oz

(170 g) dark chocolate chunks, or chocolate chips

sea salt flakes, for sprinkling
Instructions
In the bowl of a stand mixer fitted with the paddle attachment (or using a hand mixer), cream together butter, brown sugar, sugar, and salt until smooth. Scrape down bowl as needed.

Add egg and egg yolks one at a time mixing on low speed until fully incorporated. Add molasses and mix on medium speed for about 1 minute until batter is thick, fluffy, and smooth.

In a separate bowl, whisk together flour, baking soda, and baking powder. Add to mixing bowl and mix on low speed until combined. Fold in chopped walnuts and chocolate chunks. Cover bowl with plastic wrap and let chill in the fridge for 30 minutes.

Scoop cookie dough into ½ cup mounds using a #8 scoop or a measuring cup. Place on a parchment lined baking sheet. Cover with plastic wrap and place in the freezer for 1 hour, or until solid.*see note for varied cooking times.

Preheat oven to 350° F. Space frozen cookie mounds at least 3 inches apart from each other on a parchment lined baking sheet. (5 mounds will fit on a standard half sized baking sheet.) Bake for 18-20 minutes, until the edges of the cookies are set, but the center is still soft.

From the oven, immediately sprinkle hot cookies with sea salt flakes. Allow cookies to cool on baking sheet. It will take a few minutes for cookies to regain their structure. The warm cookies will be very soft and delicate. Allow cookies to cool before removing from pan.
Notes
Ingredient Notes:
To toast whole walnuts:

bake in a 350 degree oven for 8-10 minutes until nuts are light golden brown. Chop nuts once cooled. Cool to room temperature before adding to cookie dough.
Use good quality dark chocolate. I prefer at 60- 72% dark chocolate.
I use 

Maldon sea salt flakes

 for sprinkling.
Baking Times:
The listed cooking time above is for 1/2 cup (#8) sized cookie dough mounds. If you scoop smaller cookies, you will have to adjust the baking time.

Size #20 scoop (3 Tbsp) = 14 minutes baking time, rotate midway
Size #40 scoop (1.5 Tbsp) = 12 minutes baking time, rotate midway
Storage:
Store frozen cookie dough in an airtight container in the freezer for up to three months. Baking times refer to frozen dough.
Store cooled cookies in an airtight container for up to three days.
All images and text ©The Little Epicurean