Thick and chewy walnut chocolate chip cookies are sure to satisfy any cookie craving!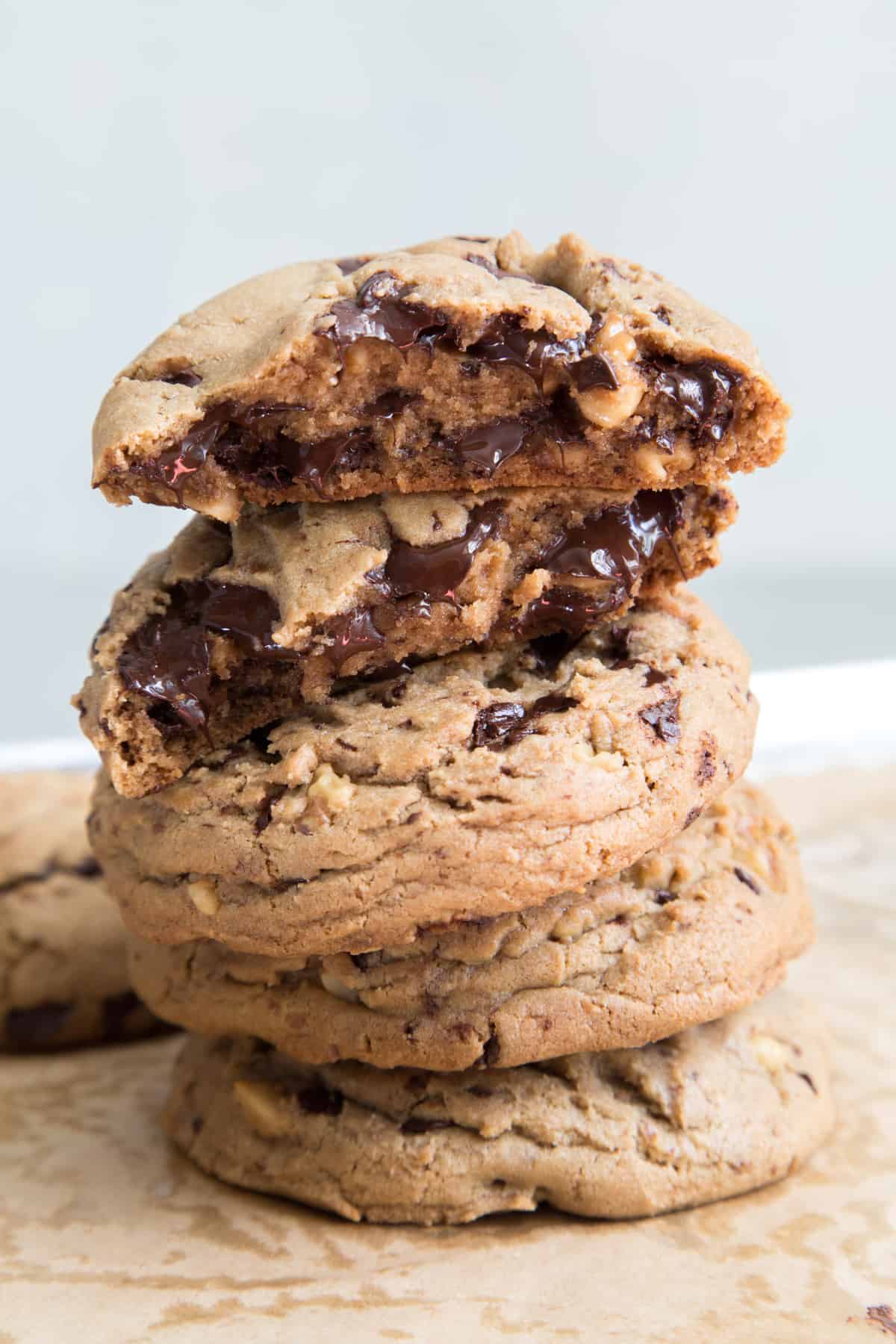 Thin and crispy, soft and chewy, or thick and cake-like.
What's your favorite type of chocolate chip cookie? I'll take them all!
I've made quite a few chocolate chip variations over the years, but this one is my absolute favorite.
If I could only have one kind of cookie for the rest of my life, it would be these walnut chocolate chip cookies.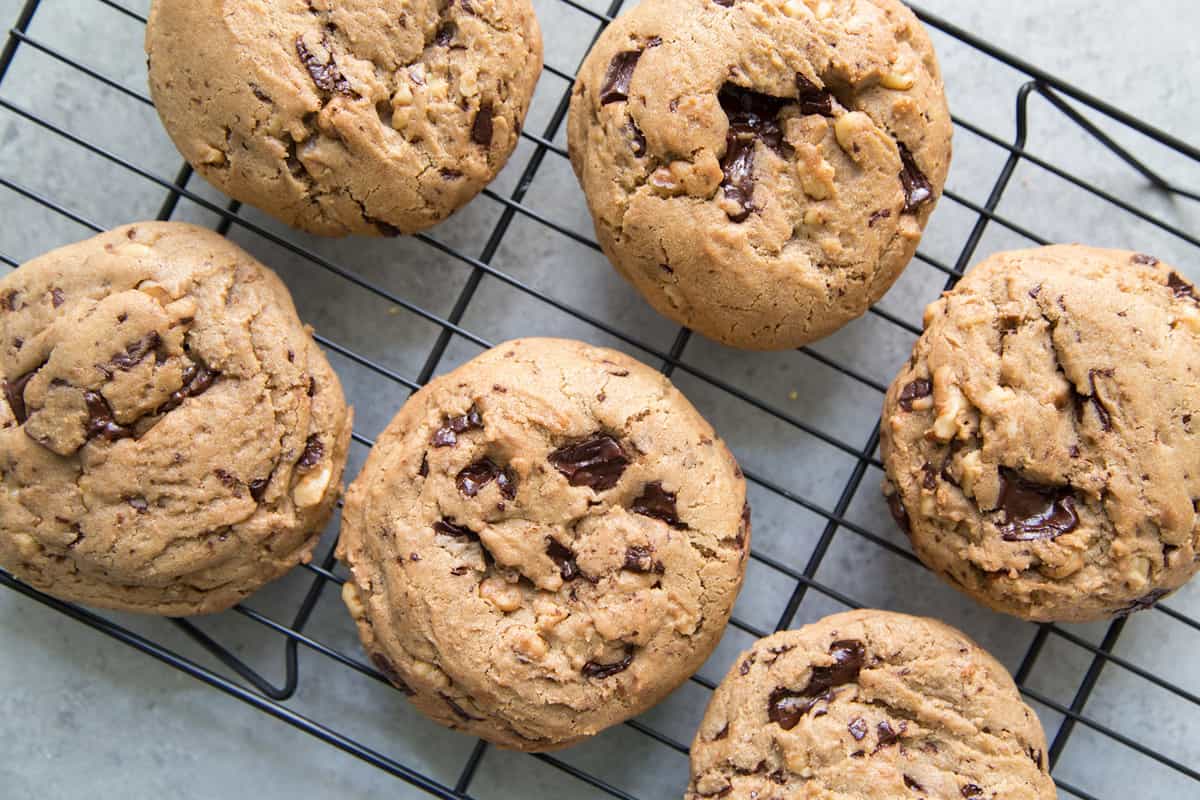 Thick Chocolate Chip Cookies
These are not your average cookie.
iJust like the chocolate chip cookies I shared earlier this week, each baked cookie is made from a hefty 1/2 cup of cookie dough.
It's massive. Each of these cookies are made from 8 tablespoons of cookie dough!
Think about it: most cookie recipes call for a rounded tablespoon of cookie dough.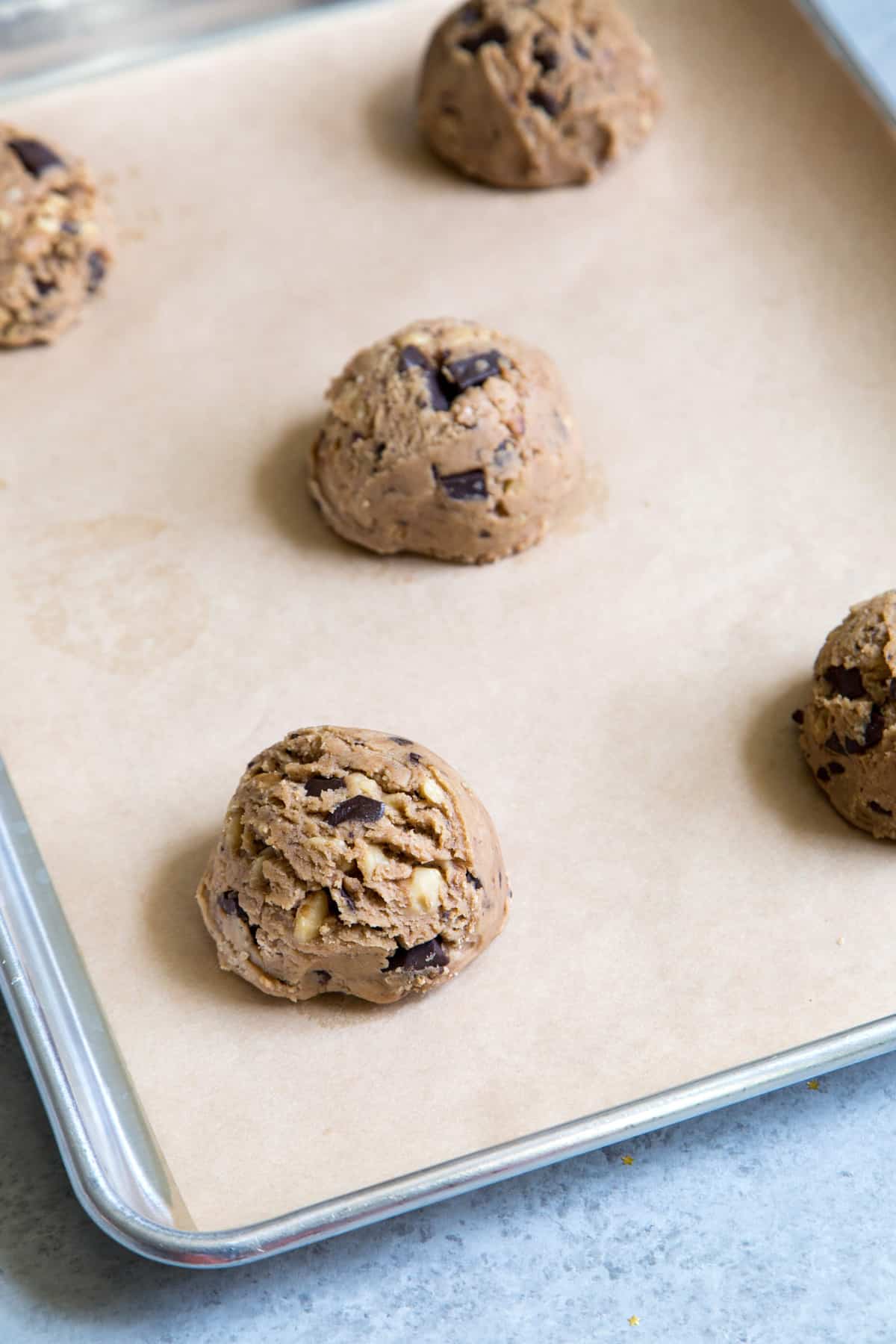 These walnut chocolate chip cookies are thick, chewy, and not very sweet.
I've really tried to cut back on the amount of sugar and butter in this recipe to help keep the cookies on the thick side. (High amount of sugar and butter causes cookies to spread out during baking.)
Bread Flour Cookie Recipe
This recipe uses bread flour instead of the standard all-purpose flour mostly commonly used in cookie recipes. I opted for bread flour because of its higher protein content.
This lends to a cookie with more bite and structure. It's a strong cookie that holds up really well.
As it bakes, the outside forms a crust while the insides remain soft.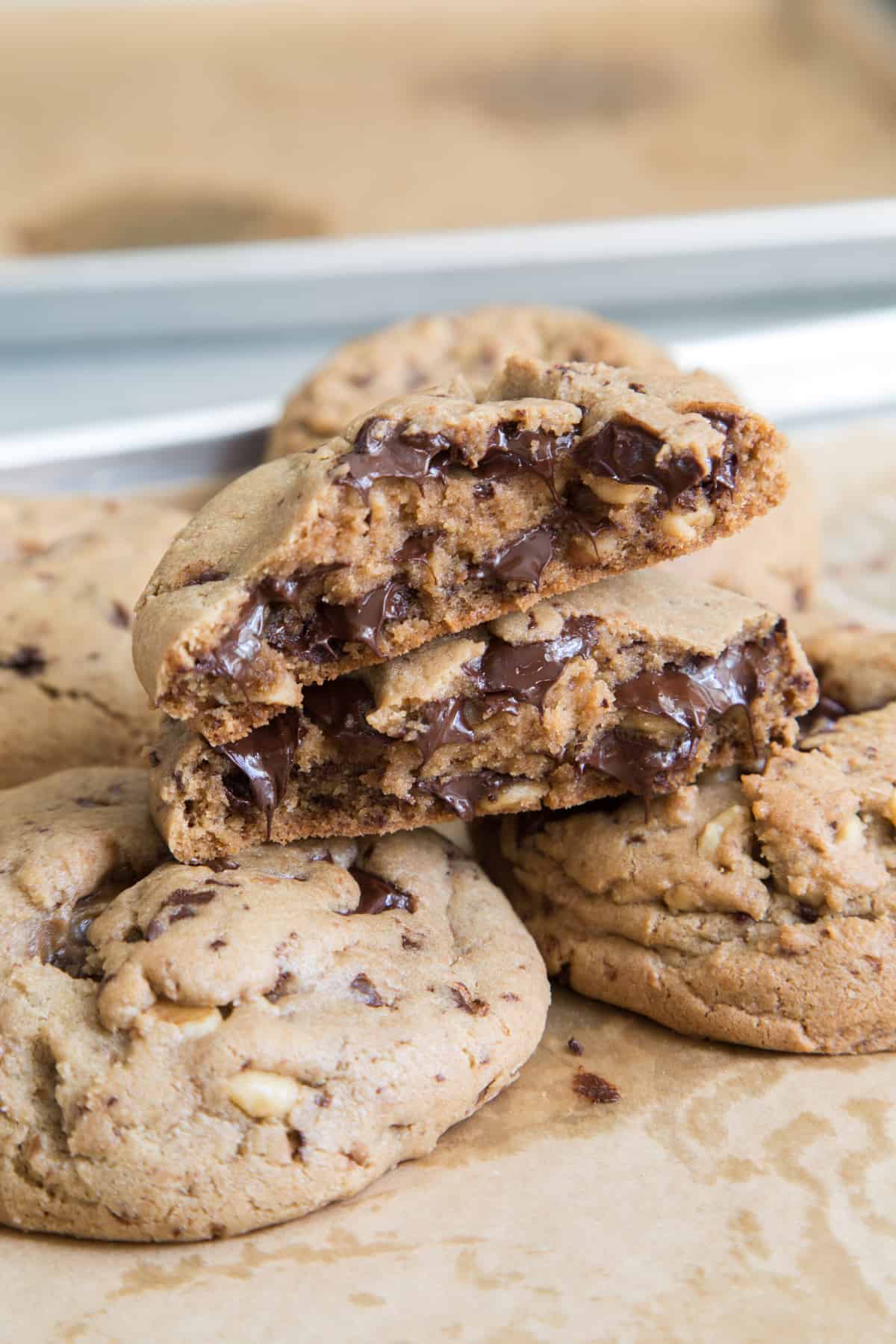 I love cookies fresh from the oven when the chocolate is melted and the insides are still little gooey. These cookies definitely do not disappoint.
They'll be great for summer road trips (or the perfect airplane snack) because they remain soft days after baking.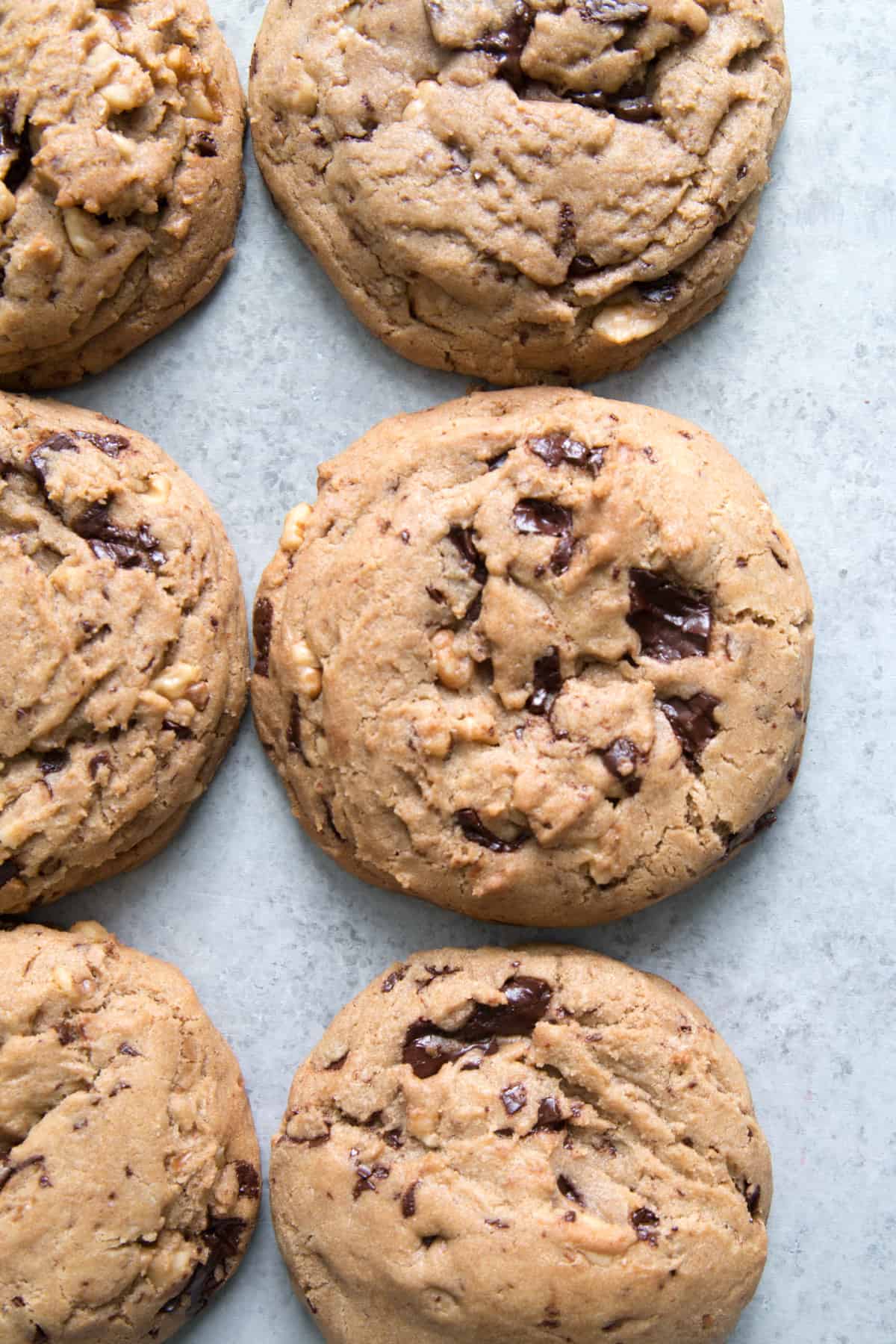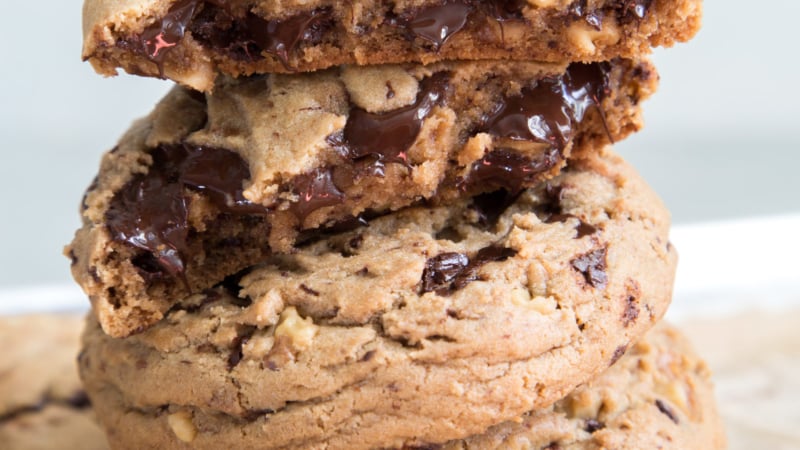 Walnut Chocolate Chip Cookies
These thick and chewy walnut chocolate chip cookies will satisfy any cookie craving.Yield: makes 9 thick cookies
Ingredients
¾

cup

unsalted butter

, softened

½

cup

granulated sugar

¾

cup

dark brown sugar

, packed

¾

teaspoon

kosher salt

1

large egg

2

large egg yolks

1 ½

teaspoons

pure vanilla extract

2 ½

cups

bread flour*

1

teaspoon

baking soda

½

teaspoon

baking powder

1

cup

(4 oz) lightly toasted walnuts

, roughly chopped

6

oz

dark chocolate chunks

(or chocolate chips)
Instructions
In the bowl of a stand mixer fitted with a paddle attachment (or using a hand mixer), cream together butter, sugar, brown sugar, and salt until smooth. Scrape down bowl as needed.

Add egg and egg yolks one at a time, mixing on low speed until fully incorporated. Add vanilla. Mix on medium speed for 2-3 minutes until batter is thick, fluffy, and pale.

In a separate bowl, whisk together flour, baking soda, and baking powder. Add to mixing bowl and mix on low speed until combined. Fold in chopped walnuts and chocolate chunks.

 Scoop cookie dough into ½ cup mounds using a #8 scoop or a measuring cup. Place on mounds on a parchment lined baking sheet. Cover with plastic wrap and place in the freezer for 1 hour until solid (or in the fridge for a few hours until solid).

Preheat oven to 350°F. Space solid cookie mounds at least 3 inches apart on a parchment lined baking sheet. Bake for 20-22 minutes until the edges of the cookies are set. Cool cookies on on baking sheet. Enjoy cookies warm.
Notes
I used bread flour due to its higher protein content. If desired, simply substitute equal amount of all-purpose flour.
To toast walnuts: bake in a 350 degree F oven for 8-10 minutes until nuts are light golden brown. Chop nuts once cooled. Allow nuts to cool to room temperature before adding to cookie dough.
The listed cooking time above is for 1/2 cup sized cookie dough mounds. If you scoop smaller cookies, you will have to adjust the baking time.
Use good quality dark chocolate. I prefer 72% dark chocolate.
Store cooled cookies in an airtight container for up to three days. Reheat in the microwave for a few seconds to refresh cookies.
All images and text ©The Little Epicurean