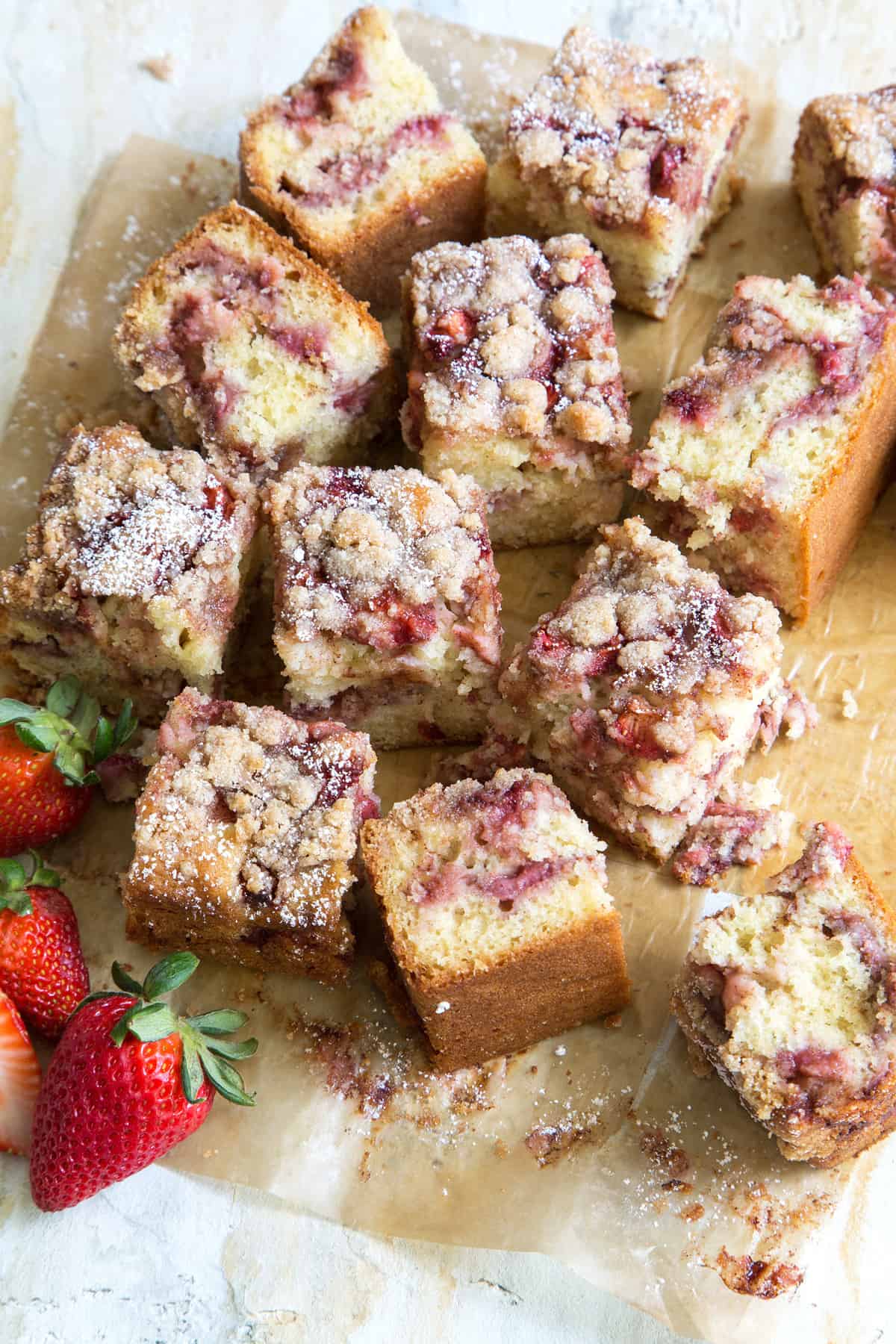 Spring is here! California strawberries are everywhere, but it's surprisingly chilly in Los Angeles. Last week I was sweating in the high 80s. I'm currently writing this on a cold and gloomy Monday. It's in the 50's and I'm bundled in a sweater in the middle of May! Hurry up, Summer! I'm ready for never ending sunshine. I want the warm breeze on my face and a tiki cocktail in my hand.
Until then, I'll happily eat strawberries until stone fruits arrive. This strawberry crumb cake is a welcome springtime dessert no matter what the weather brings.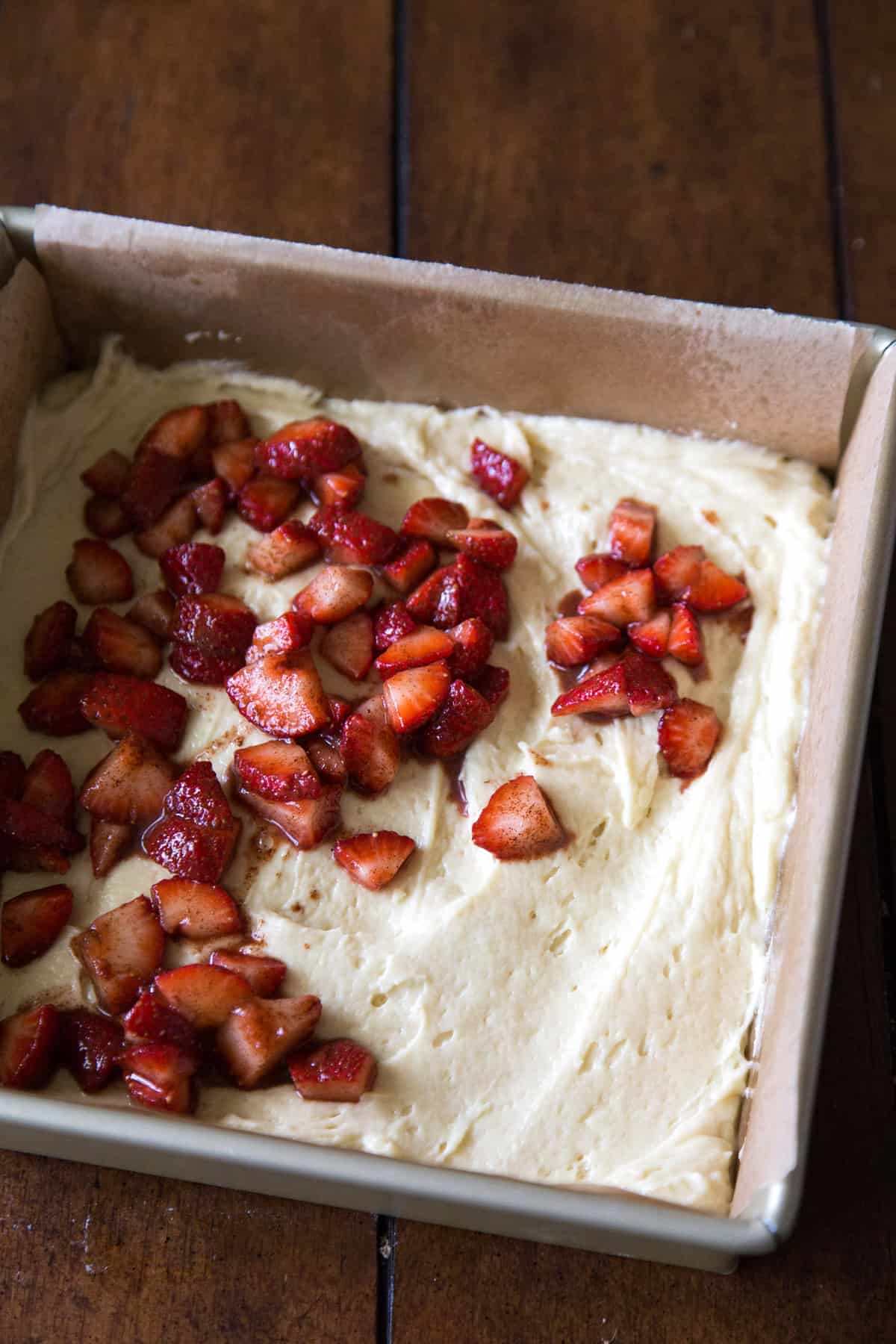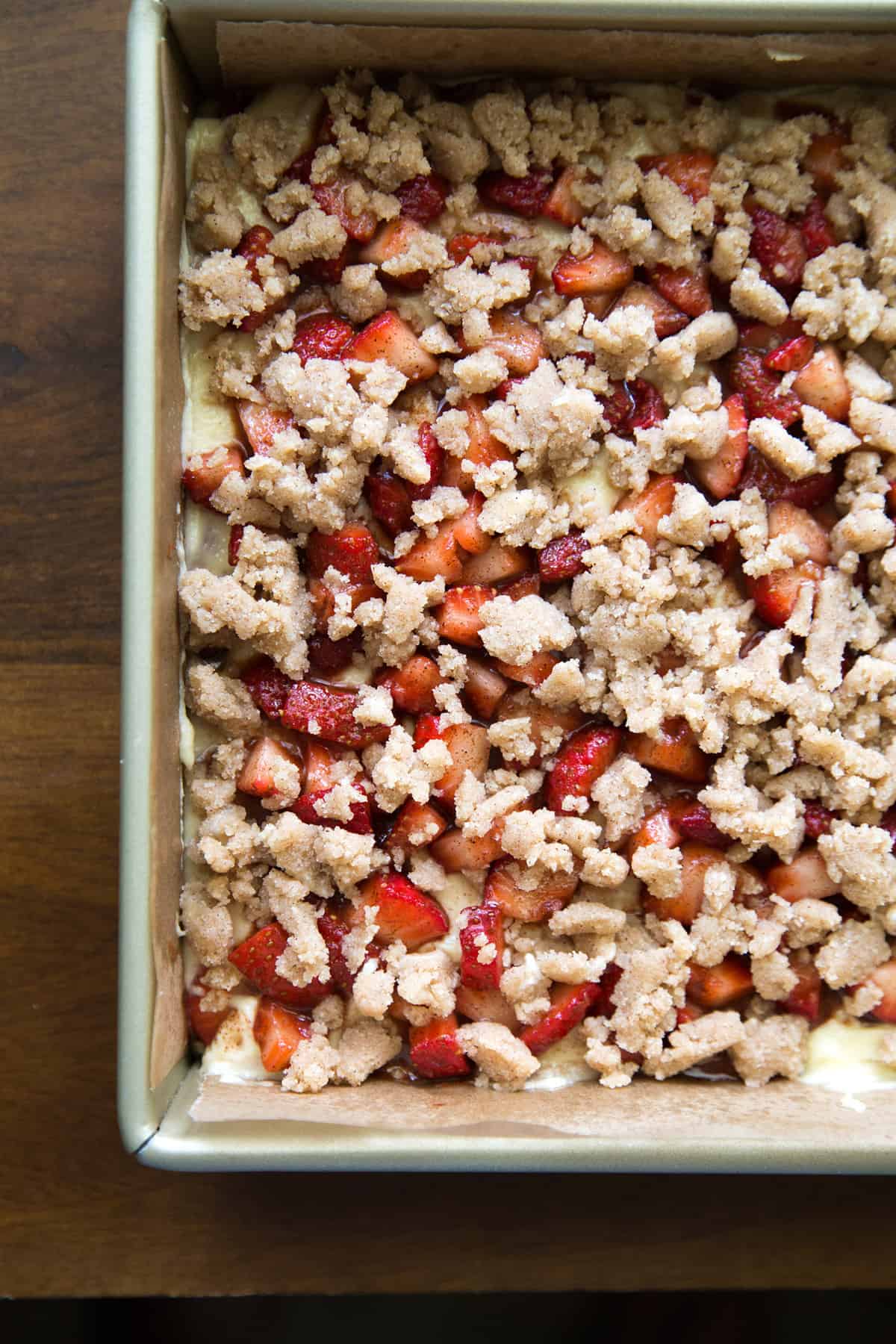 The strawberries in this cake are lightly spiced with cinnamon and cardamom.  I've been wanting to experiment with strawberries and cardamom since 2011 when I first saw the combination used in this upside down cake. I'm still a bit timid with cardamom, but I'm working on it. Luckily, I have a few more weeks of strawberries to work through my fears.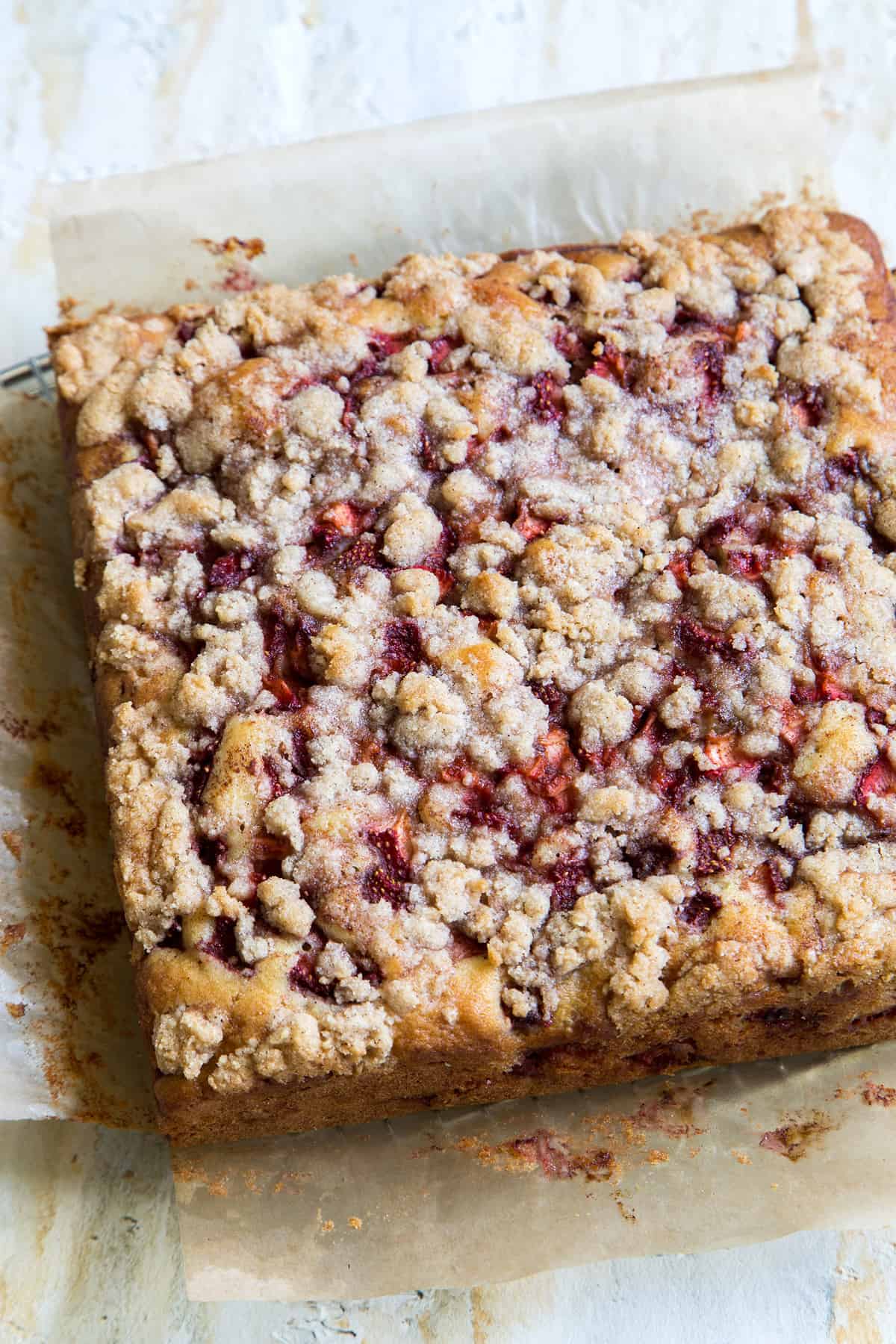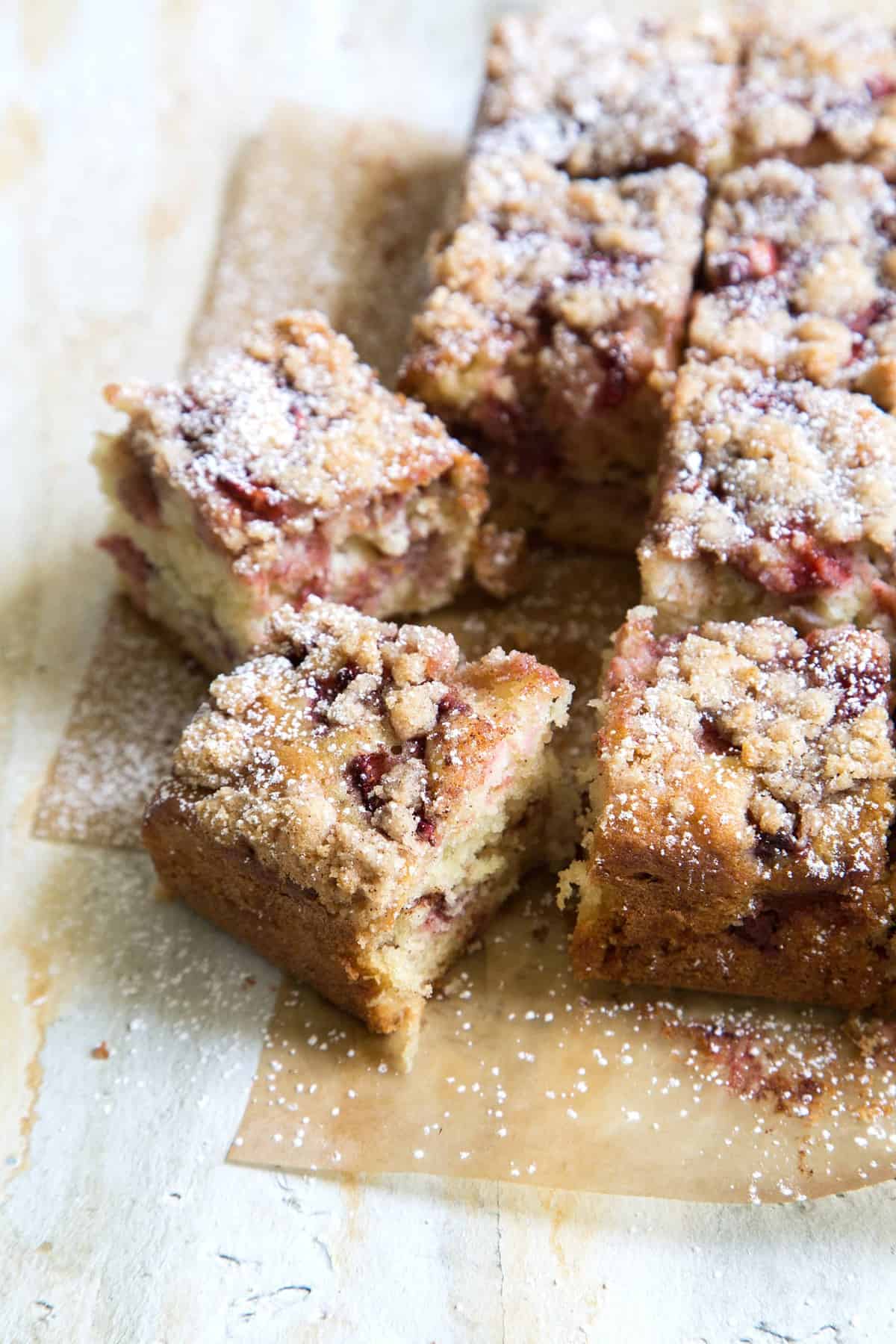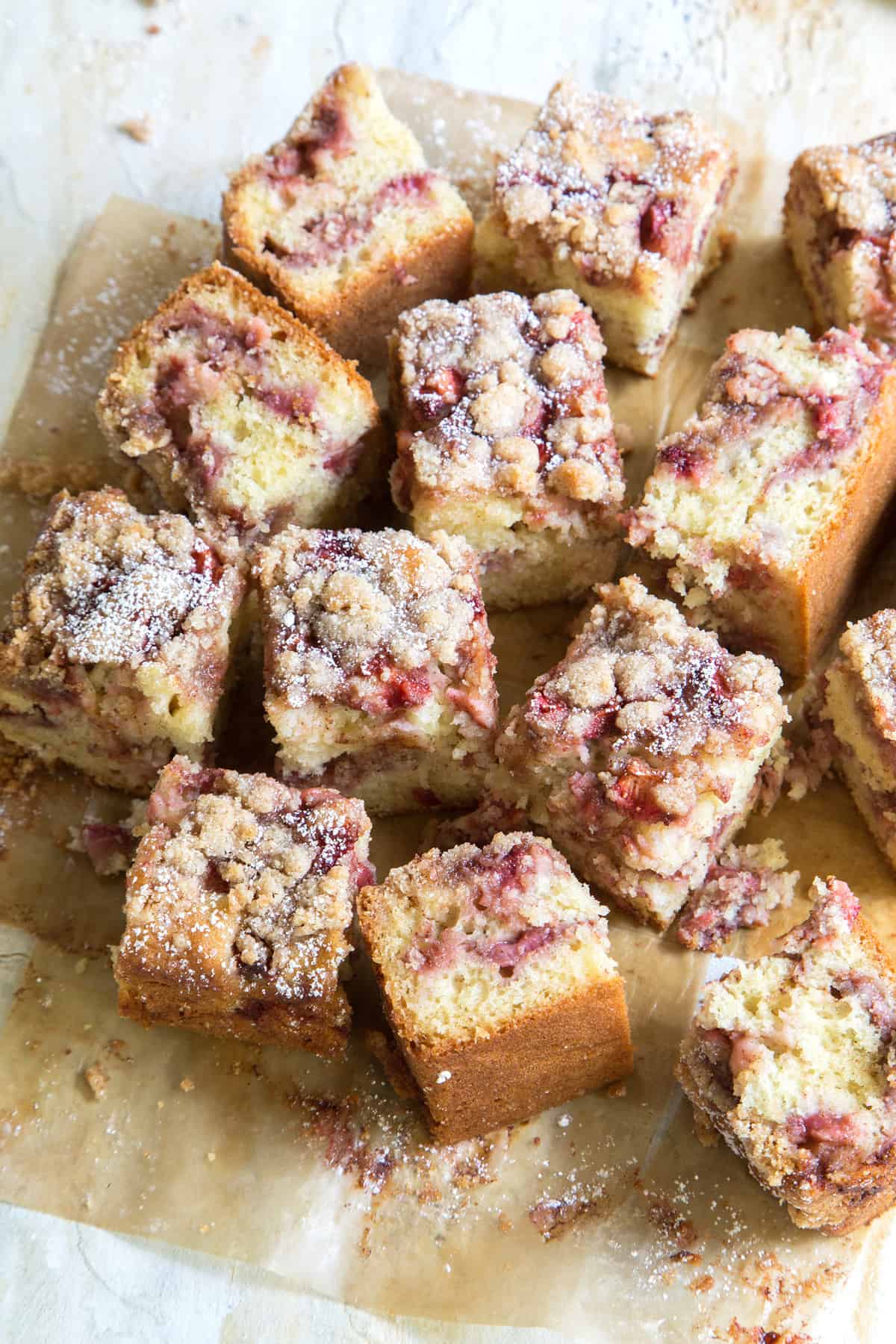 This strawberry crumb cake will have you reaching for a second (maybe even a third) slice. It's not very sweet like your standard coffee cakes. The strawberries will expel moisture as it bakes, making this a rather delicate crumb cake. For easier and cleaner slices, allow the cake to cool before cutting in it. The cake tastes great at room temperature, and even more amazing when it's warmed up. I suggest reheating it a toaster oven at the lowest setting or a few seconds in the microwave.
Grab a slice for yourself, along with an iced coffee and your favorite magazine. Breathe and relax.
Strawberry Crumb Cake
Ingredients:
Cake:
1/2 cup unsalted butter, softened
2/3 cup granulated sugar
2 large eggs
1 1/2 teaspoons pure vanilla extract
1 2/3 cup all-purpose flour
1 teaspoon baking powder
1 teaspoon baking soda
1/2 teaspoon fine sea salt
1/2 cup buttermilk
Strawberry Mixture:
2 1/3 cup fresh strawberries, hulled and chopped
2 Tablespoons granulated sugar
2 teaspoons ground cinnamon
1/4 teaspoon ground cardamom
Crumb Topping:
1/3 cup almond flour, or all-purpose flour
1/4 teaspoon fine sea salt
1/2 teaspoon ground cinnamon
1/8 teaspoon ground cardamom
2 Tablespoons unsalted butter, cold
Directions:
Preheat oven to 350 degrees F. Line 9-inch square baking pan with parchment paper, allowing parchment to run up the sides and slightly over the baking pan. Grease with cooking spray and set side.
In a large mixing bowl cream together butter and sugar until smooth. Add eggs and vanilla. Mix until thoroughly incorporated.
In another bowl, whisk together flour, baking powder, baking soda, and salt. Add half of flour mixture into mixing bowl. Stir to combine. Add buttermilk and mix together. Add remaining flour mixture and continue to mix until there are no longer any dry streaks of flour. Batter will be thick.
Strawberry Layer: Toss strawberries in sugar, cinnamon, and cardamom. Set aside.
Crumb Topping: Whisk together flour, salt, cinnamon, and cardamom. Using two forks cut butter into dry ingredients until mixture resembles coarse sand. Set aside.
Assembly: Spread half of cake batter in prepared cake pan. Distribute half of strawberry mixture (include any juices) on top. Spread remaining half of cake batter on top. Follow with remaining half of strawberry mixture. Evenly spread crumb topping over strawberry layer.
Bake for 30-35 minutes until a toothpick inserted in center of cake comes out clean. Allow cake to cool in pan for 15 minutes before slicing and serving. Dust with sifted powdered sugar, if desired.
NOTES:
Cake will be easier to slice when cooled to room temperature. 
Store leftover cake in an airtight container in the fridge. Use microwave or toaster oven to reheat. Alternatively, allow it to sit at room temperature until no longer cold.