These quick and easy to make nectarine puff pastry tarts are filled with vanilla bean cream cheese. These make for a delicious breakfast or afternoon snack.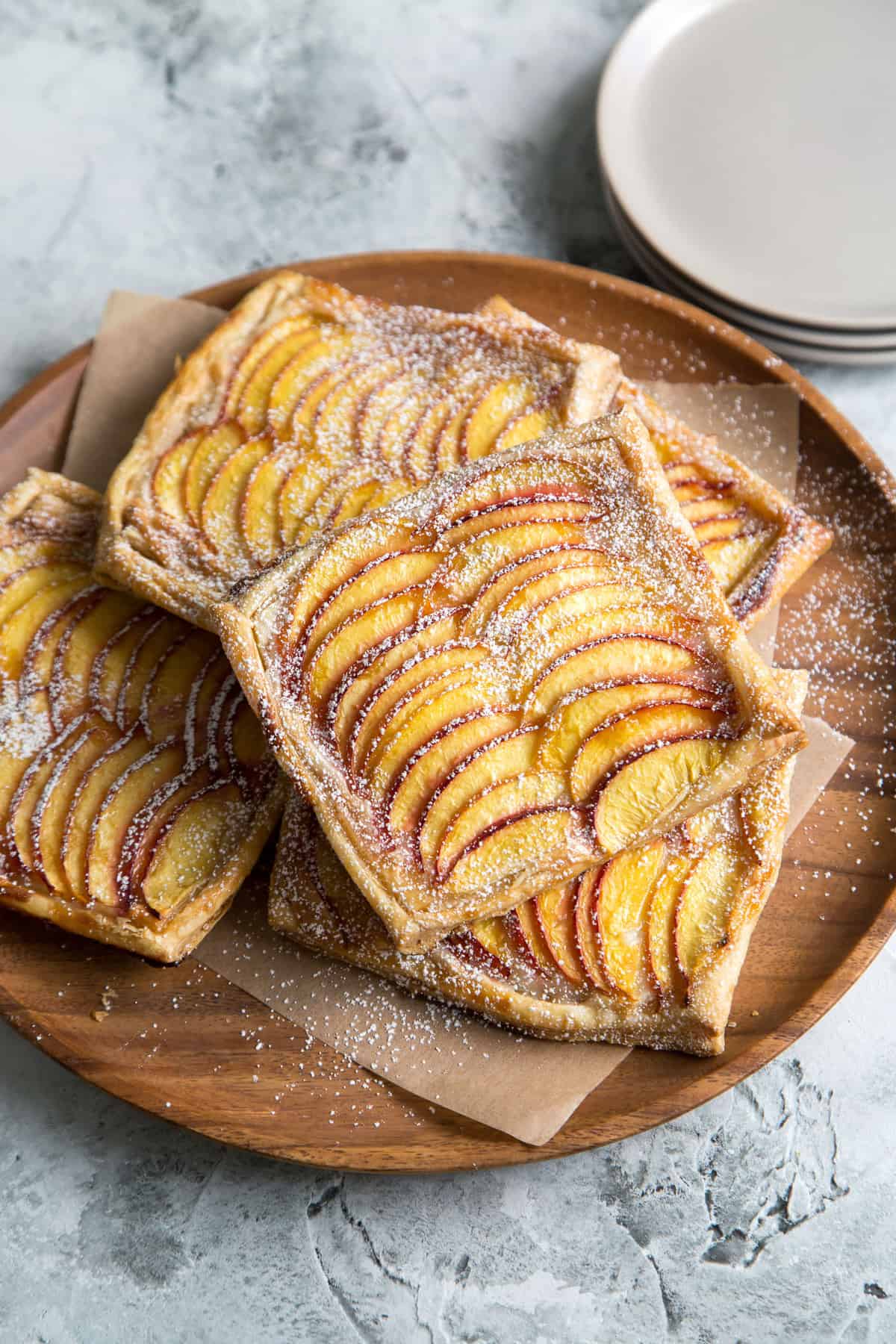 My husband claims these nectarine puff pastry tarts tastes like a better Toaster Strudel. At first I was disappointed and a bit offended. How could these tarts made with fresh fruit be compared to that thing?
First of all, I'm not the biggest fan of Toaster Strudel. Growing up, I was a Pop-Tarts fiend. And to be completely honest, I still love Pop-Tarts.
The frosted brown sugar cinnamon ones are still a favorite. However, I limit myself to a handful a year. (I have this healthier homemade apple cinnamon pop tart recipe!)
After finishing off one puff pastry tart in less than 90 seconds, Alex proceeded to explain. His comment was actually a compliment.
He loves Toaster Strudel's flakey crust and gooey filling. The flakey puff pastry with the tasty vanilla cream cheese and sweet fruit reminded him of happy childhood breakfasts.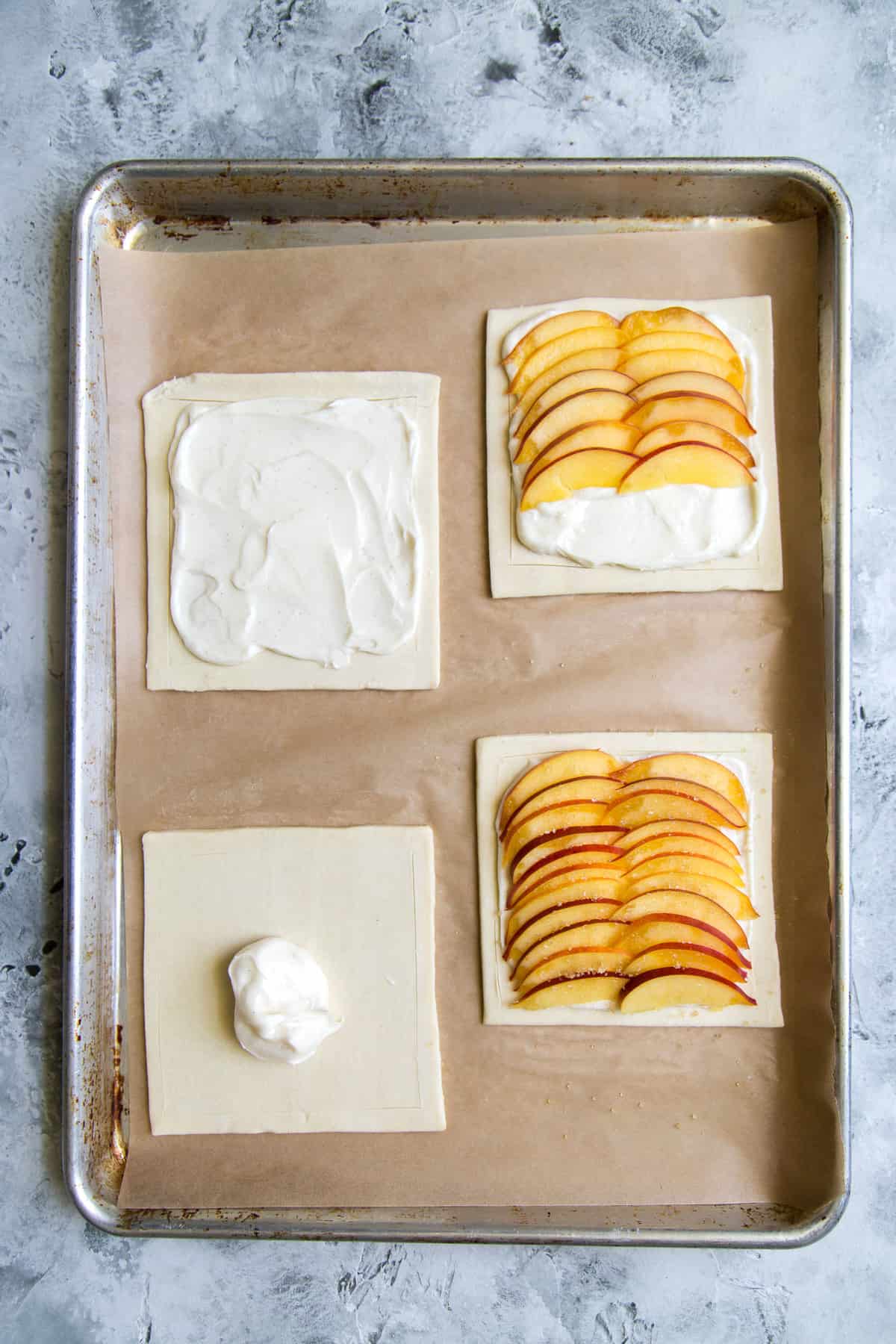 Nectarine Puff Pastry Tarts
I always have a stash of frozen puff pastry sheets in the freezer. They're a super versatile and easy to use product. I buy them precut in 5-inch square sheets.
If you buy the larger sheets, simply cut the puff pastry to your desired size. You can also bake a larger puff pastry tart and slice into servings afterward.
Start by defrosting the frozen puff pastry sheet. Use a knife to score a border about 1 centimeter away from the edges. Be careful not to completely cut through the puff pastry sheet.
Spread the vanilla cream cheese within the scored border. Top with nectarine slices and sprinkle with a little bit of turbinado sugar.
I sliced the nectarine very thin, but you can slice it thicker if you prefer. Pop them in a hot oven and within 30 minutes you'll have a delicious home baked treat that rivals those baked goods from your favorite coffee shop.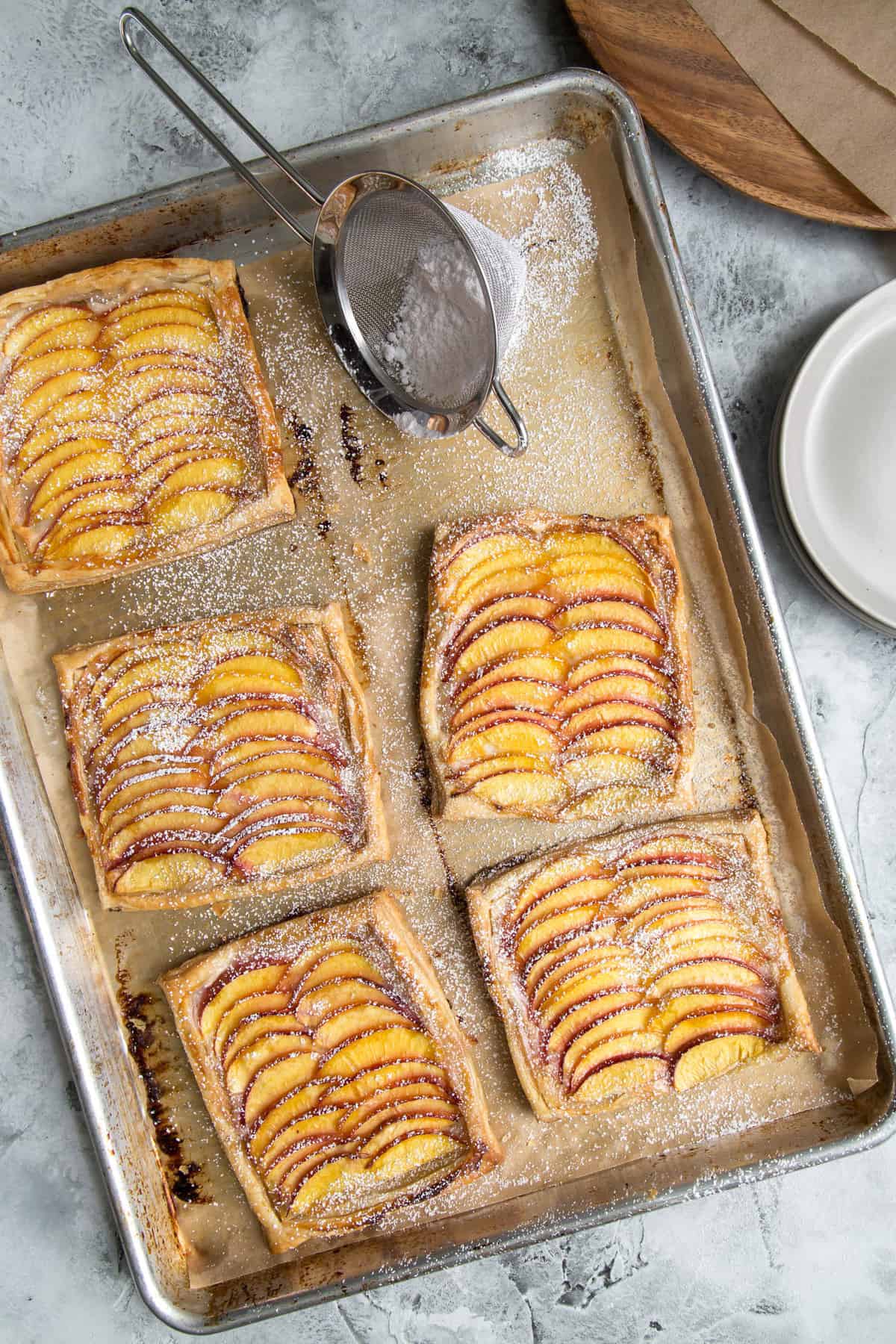 Asides from nectarines and other stone fruits, this recipe works well with sliced strawberries or apples.
A few years ago I made a similar version with blackberries and honey cream cheese.
Nectarine Puff Pastry Tarts with Vanilla Bean Cream Cheese
Yield: six 5-inch square pastries
Ingredients
6

5-inch square puff pastry sheets*, thawed

6-8

small

nectarines, sliced into thin wedges

3

teaspoons

turbinado sugar

vanilla bean cream cheese, recipe follows
Vanilla Bean Cream Cheese:
4

oz

cream cheese, room temp

1/4

cup

unsalted butter, softened

1

cup

powdered sugar

1

teaspoon

vanilla paste, or 1/2 vanilla bean scraped

pinch of fine sea salt
Instructions
Preheat oven to 400 degrees F.

Score a 1 cm border around the puff pastry square. Spread about 1 1/2 tablespoons of vanilla cream cheese on each square, staying within the scored border.


Place nectarine slices on top of cream cheese. Sprinkle 1/2 teaspoon of turbinado sugar over nectarine slices.


Bake for 20-25 minutes until puff pastry is golden brown. Allow to cool slightly before dusting with powdered sugar. Serve warm or at room temperature.

Vanilla Bean Cream Cheese:
Using a hand mixer or stand mixer, beat cream cheese and butter until smooth. Add powdered sugar, vanilla paste, and salt. Mix until thoroughly combined.

Notes
I use puff pastry that is already cut down to 5-inch squares. You can buy a large sheet of frozen puff pastry and cut it down to your desired size.
Store leftover puff pastry tarts in the fridge. Reheat in a toaster oven.
All images and text ©The Little Epicurean