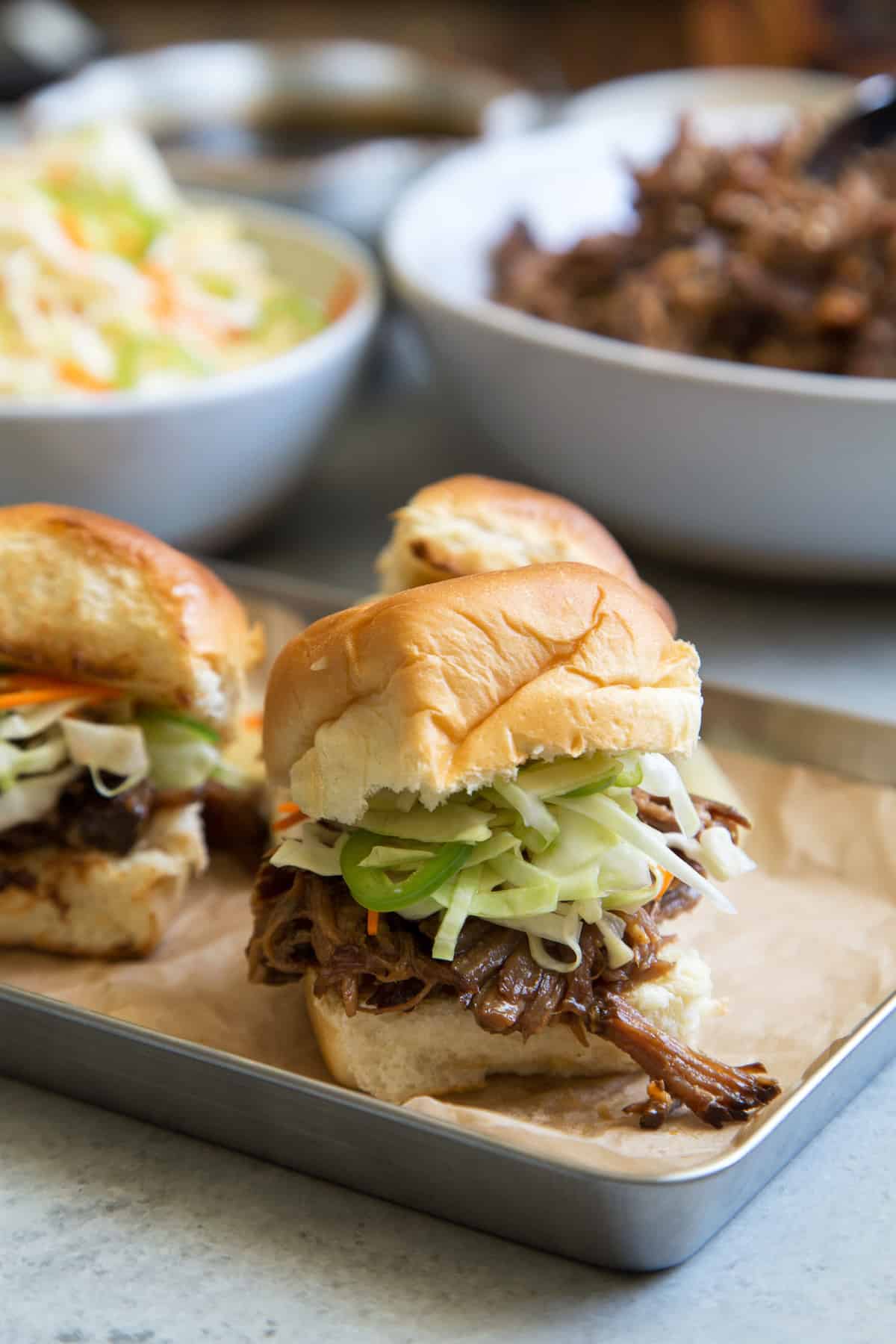 Childhoods spent playing on the beach, exploring the different islands with my family, eating all the pineapple, guava, and lilkoi, and most importantly, stopping at every shave ice shop. Most of my family's happiest memories were made while vacationing on the Hawaiian Islands.
I just can't get enough of the welcoming and peaceful vibes of the aloha spirit. I return each year with more wonder, respect, and love for the beautiful state.
The second week of June (June 11-17, 2017) celebrates National Hawaiian Foods Week! It's a week to honor Hawaii's culinary contributions to the United States and bring awareness to the diversity of Hawaiian foods.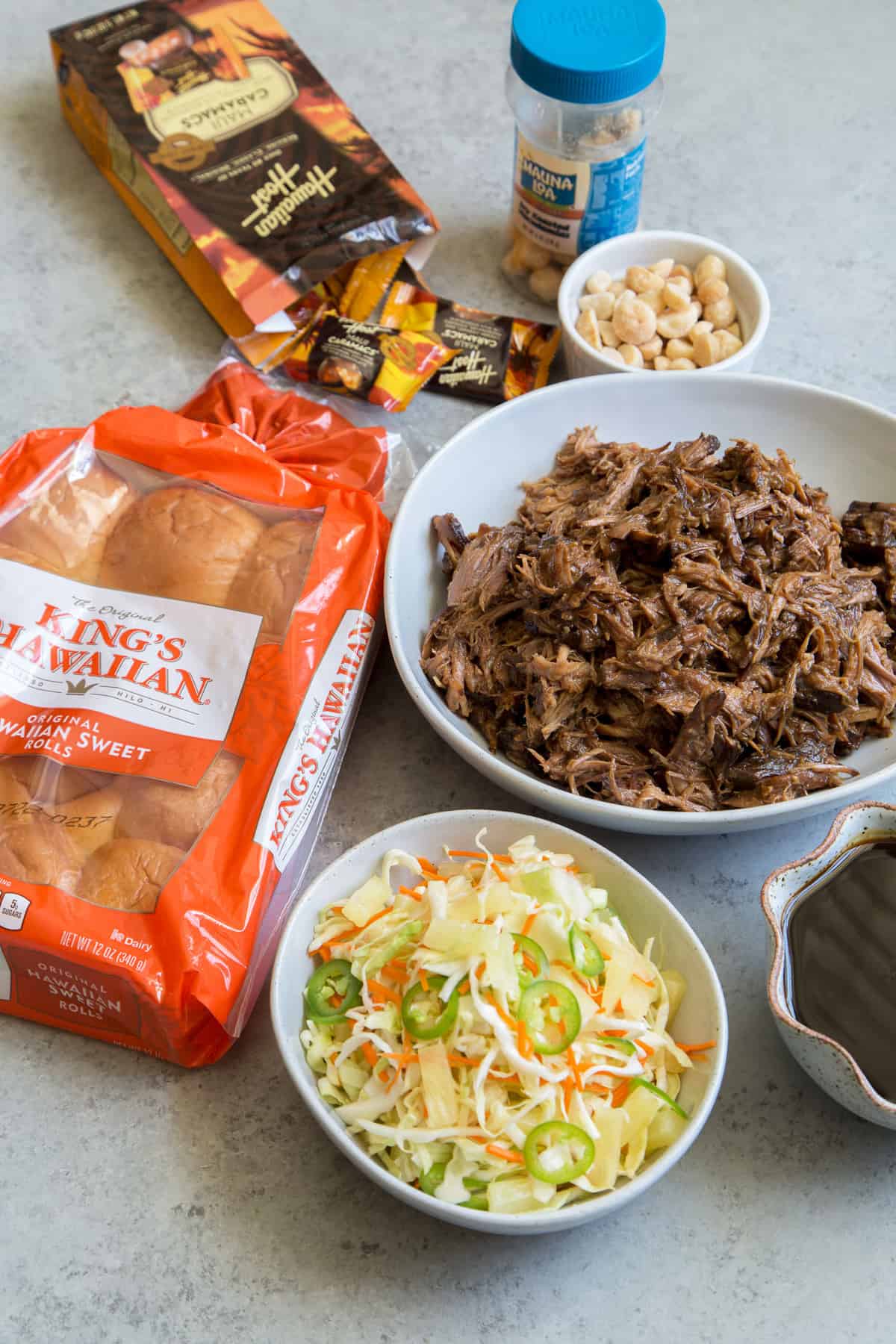 What better way to spread the aloha spirit than with food! Hawaii's cuisine brings together numerous flavors with influences from a variety of countries. From mixed plates and poke to shave ice and haupia (coconut pudding), you can see touches of Japanese, Korean, Portuguese, and Filipino cuisine.
Growing up, King's Hawaiian rolls was a pantry staple. I'd eat with with bacon and eggs for breakfast, toast it with cheese for an afternoon snack, or slather it with peanut butter, marshmallow fluff and chocolate chips for a sweet treat. Needless to say, I found many ways to eat all the bread rolls.
Slow Cooker Shoyu Pulled Pork Sliders
Today I'm sharing a recipe for slow cooker shoyu pulled pork sliders. You may be familiar with shoyu chicken. It's a tasty dish that simmers chicken (usually chicken thighs) in a sweet soy sauce with garlic and ginger. Instead of chicken, I used boneless pork shoulder. I'm a big fan of slow cooker, braised meats.
This recipe takes about 6 hours in a slow cooker. You can speed up the process by simmering the mixture over the stove or heating it in the oven.
Like most braised meats, this will taste better the following day after the meat has had time to rest and soak up all the juices.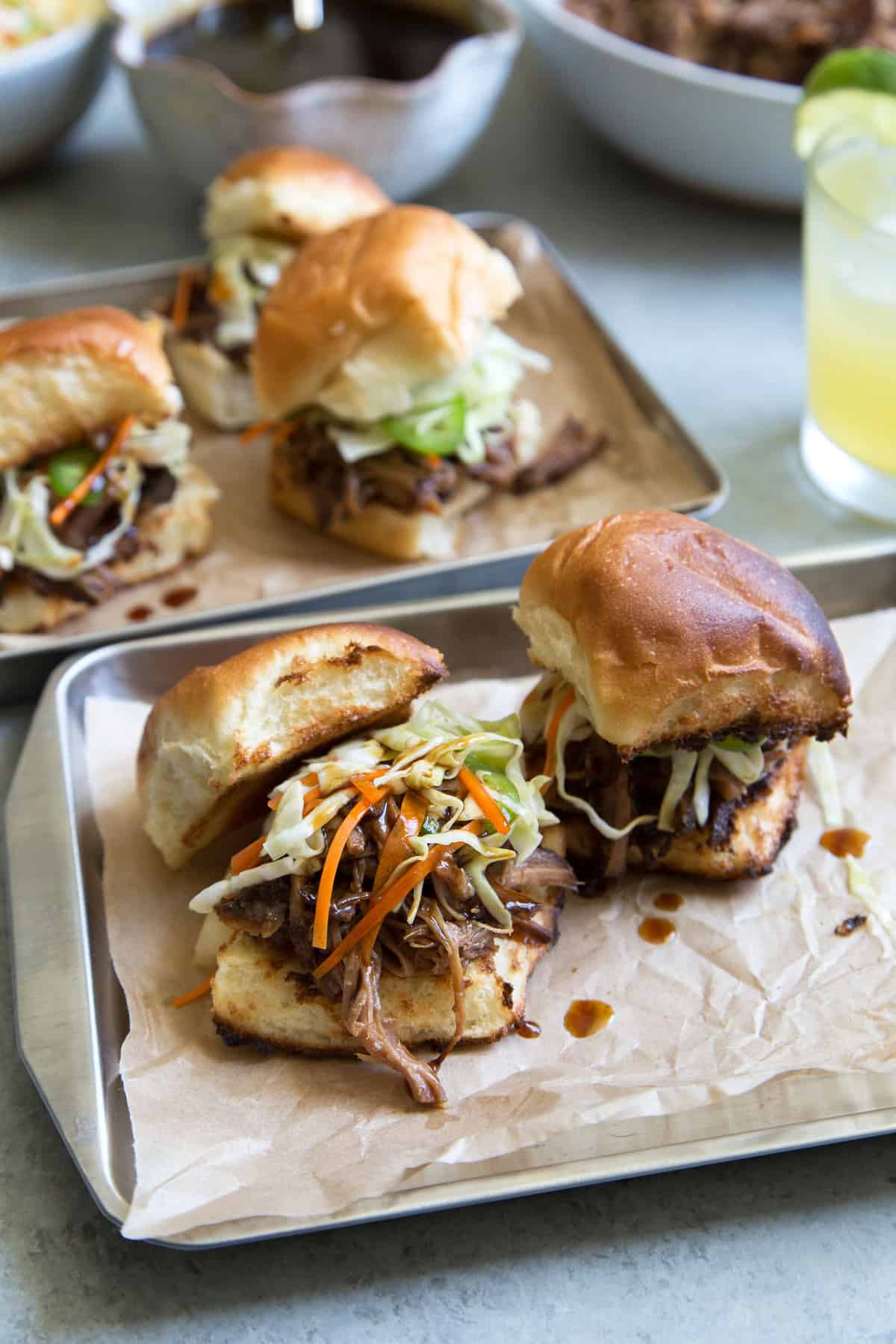 Pineapple Slaw:
The shoyu pulled pork is topped with a quick and easy pineapple slaw. Made with shredded green cabbage, matchstick carrots, Del Monte canned pineapple, and rice vinegar, it helps to add a much needed fresh and tangy crunch to the super savory pork.
For a kick of spice, you can also add thinly sliced jalapeños.
When you build this on a toasted King's Hawaiian roll, it's paradise. To bump up the tropical feels, I've paired these sliders with a super easy pineapple cocktail (using the syrup from the canned pineapple).
Obviously, you have to serve this with Mauna Loa Macadamia Nuts and Hawaiian Host Chocolates to finish off on a sweet note.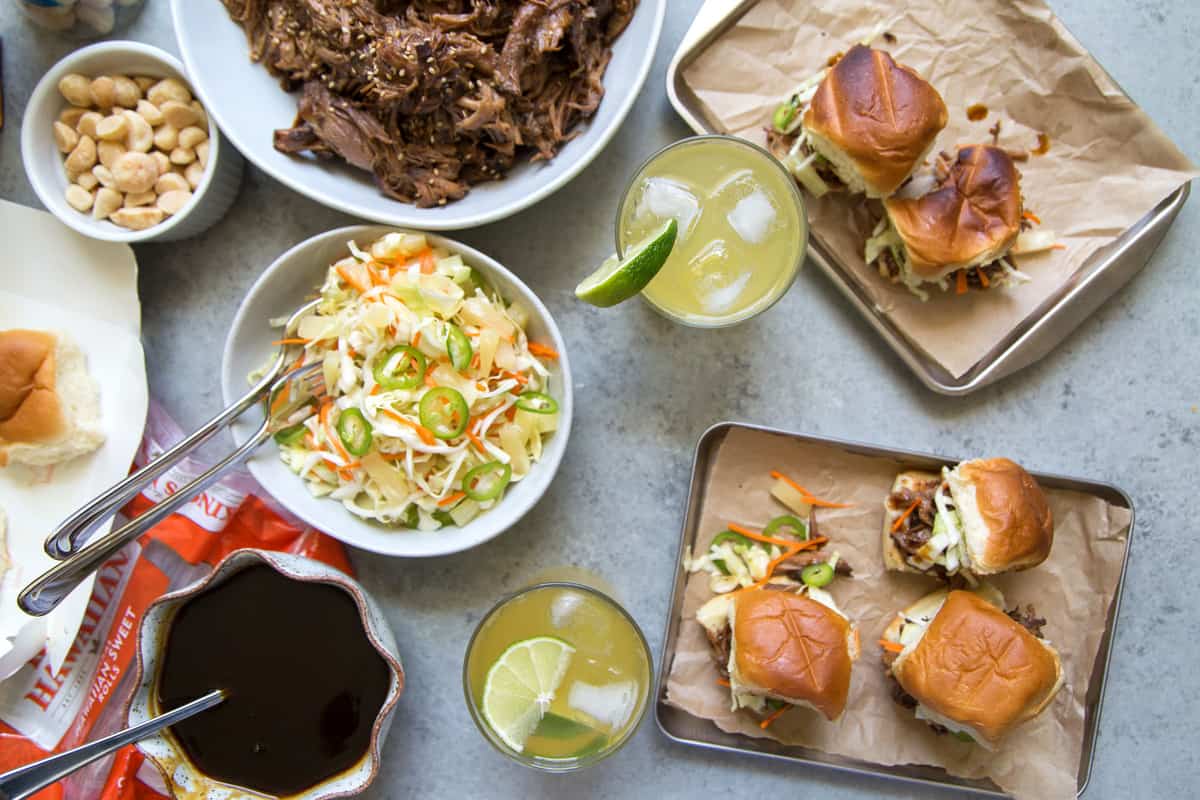 Throw a block party, invite some friends over, or call the family together for an impromptu gathering. The weather is heating up and summer is calling.
It's time to bring on the aloha spirit! Dust off your slow cooker and get a batch of this shoyu pulled pork cooking!
Slow Cooker Shoyu Pulled Pork Sliders with Pineapple Slaw
Yield: serves 4-6, multiply as needed
Ingredients
Shoyu Pork:
4

pounds

boneless pork shoulder, excess fat trimmed off

1 1/2

cups

reduced sodium soy sauce

1 1/2

cups

dark brown sugar, packed

3/4

cup

water

2

inch

ginger, peel and sliced

8

garlic cloves, peeled and smashed
Pineapple Slaw:
1

small head green cabbage, shredded

2

medium carrots, cut into matchsticks

3

jalapeños, thinly sliced (optional)

1 1/2

teaspoon

fine sea salt

1

-

15.5 oz Del Monte Pineapple Slices in heavy syrup, sliced into chunks, reserve syrup

3

Tablespoons

reserved pineapple syrup from can

2

Tablespoons

rice vinegar
Sauce & Other Components:
2

cups

reserved shoyu pork sauce

2

Tablespoons

cornstarch

King's Hawaiian Original Hawaiian Sweet Rolls

Sriracha mayo (optional), as needed
Instructions
Shoyu Pork:
Whisk together soy sauce, brown sugar, and water in the slow cooker pot. Add pork, ginger, and garlic. Cover pot. Cook on high heat for 5-6 hours. Flip pork midway through cooking. Shoyu pork is done with meat can be easily shredded with a fork.

Remove from heat and allow to cool down. Strain out ginger and garlic and discard. For best results, allow shoyu pork mixture it chill overnight in the fridge.

Skim off any fat that may have risen to the surface. Remove pork from liquids. Strain and reserve 2 cups of liquid and set aside. Shred pork using two forks and set aside.
Pineapple Slaw:
In a large bowl toss together shredded cabbage, carrots, jalapeño, and salt. Add pineapple chunks, syrup, and rice vinegar. Toss to combine. Make immediately before assembling sliders, or keep chilled until ready to use.

Sauce:
Place reserved liquid in a heavy bottomed sauce pot. Dissolve cornstarch in about 1-2 tablespoons of water. Whisk into reserved liquid. Bring to a boil to cook out cornstarch. Stir as needed to prevent sauce from burning along the sides of the pot. Remove from heat and allow to cool slightly. Add one cup of sauce to shredded pork. Set aside remaining one cup of sauce for assembly.
Assembly:
Slice bread rolls in half and lightly toast. Spread sriracha mayo on bottom bun. Add pulled pork and pineapple slaw. If desired, drizzle with additional sauce. Finish with top bun.

I was selected for this opportunity as a member of CLEVER and the content and opinions expressed here are all my own.