Use Royal Hawaiian Pink Palace Pancake Mix to create a Pink Coconut Layer Cake! This cake features a pink hued coconut cake frosted with coconut buttercream.
This recipe post was sponsored by The Royal Hawaiian. As always, all opinions stated here are entirely my own.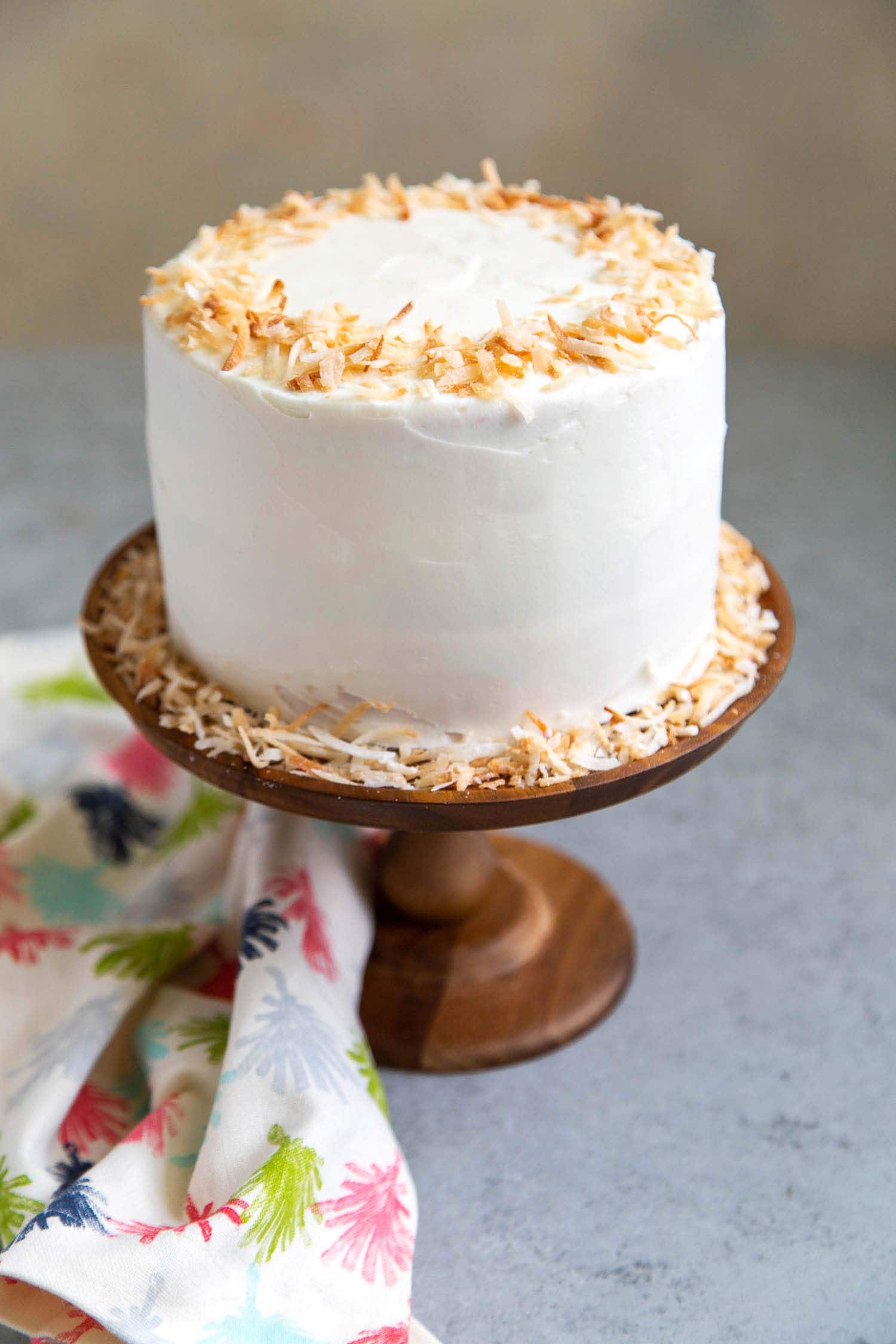 Last month, I took a little vacation to Hawaii with my husband. We stayed at The Royal Hawaiian where I fell in love with their famous pink pancakes!
Obviously, the best way to recap a vacation is through cake. Inspired by the hotel's pink exterior and the touches of pink all over the resort, I set out to make a pink coconut cake upon returning home.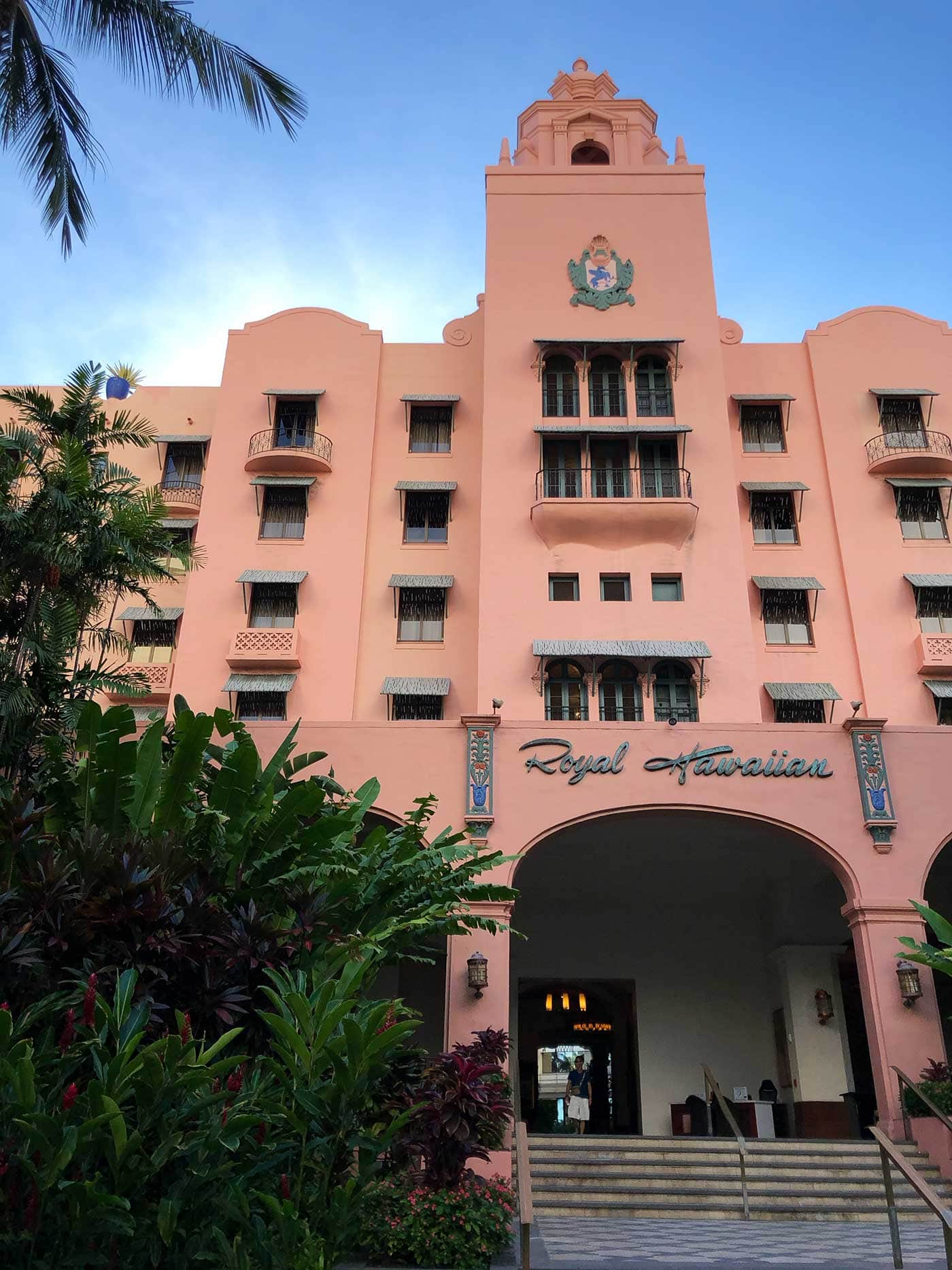 Royal Hawaiian
The Royal Hawaiian is an iconic ocean front hotel located on world famous Waikiki beach. It first opened in 1927 as a luxury vacation spot for travelers.
Even before the hotel was built, this part of Waikiki has a rich history. This area was once the favored residence of Hawaiian kings and chiefs.
It's hard not to spot this recognizable hotel. Even from the lookout point of Diamond Head, you can easily recognize The Royal Hawaiian's pink exterior among a row of standard neutral colored buildings.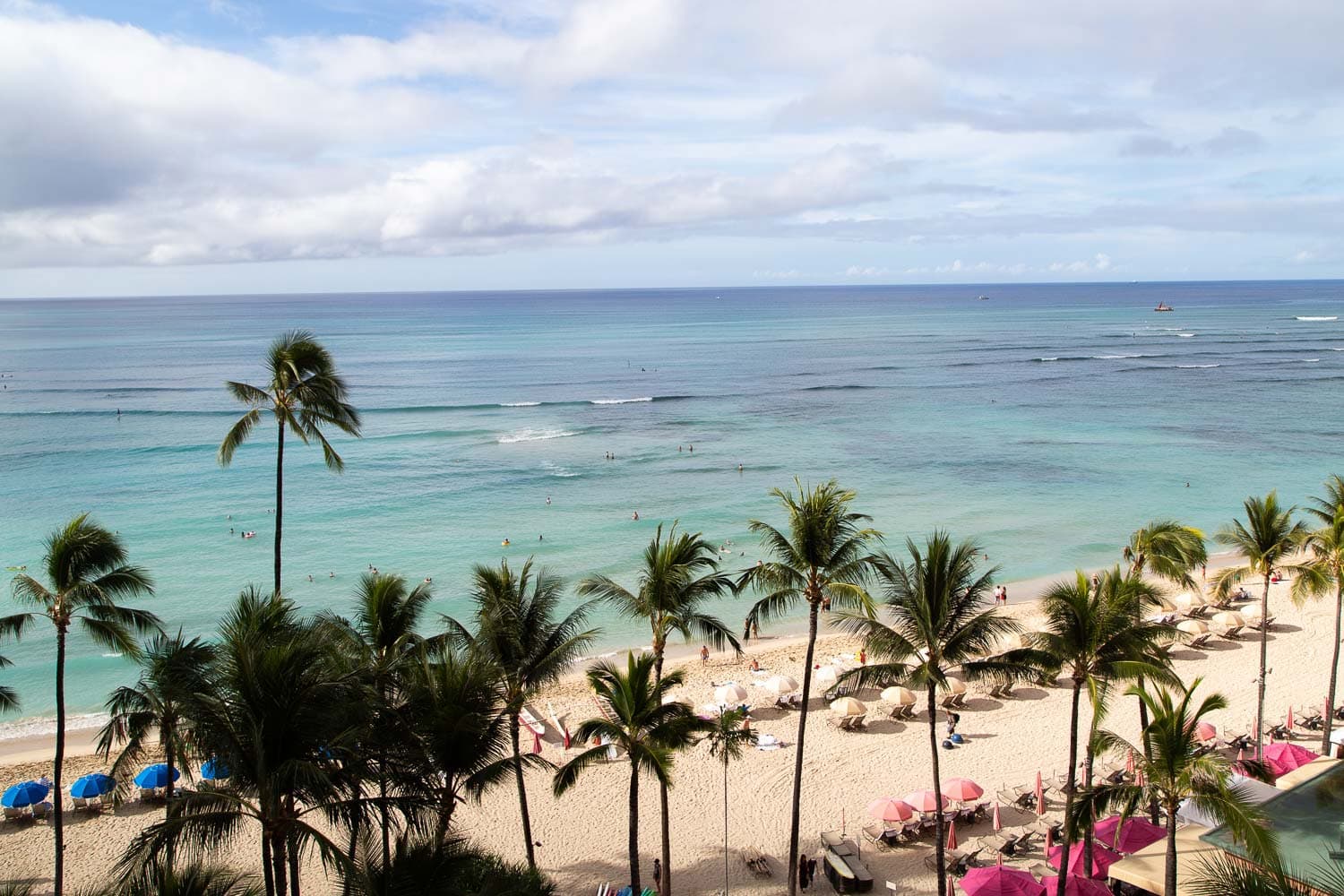 This was the view from our hotel room. We stayed in the recently renovated Mailani Tower.
I highly recommend it! My husband loved the Mailani Lounge available to the tower guests.
Every night they host a happy hour with local Hawaiian beer on tap, free flowing wines, and a variety of appetizers and hors d'oeuvres. Perfect after an afternoon of swimming and lounging around the beach.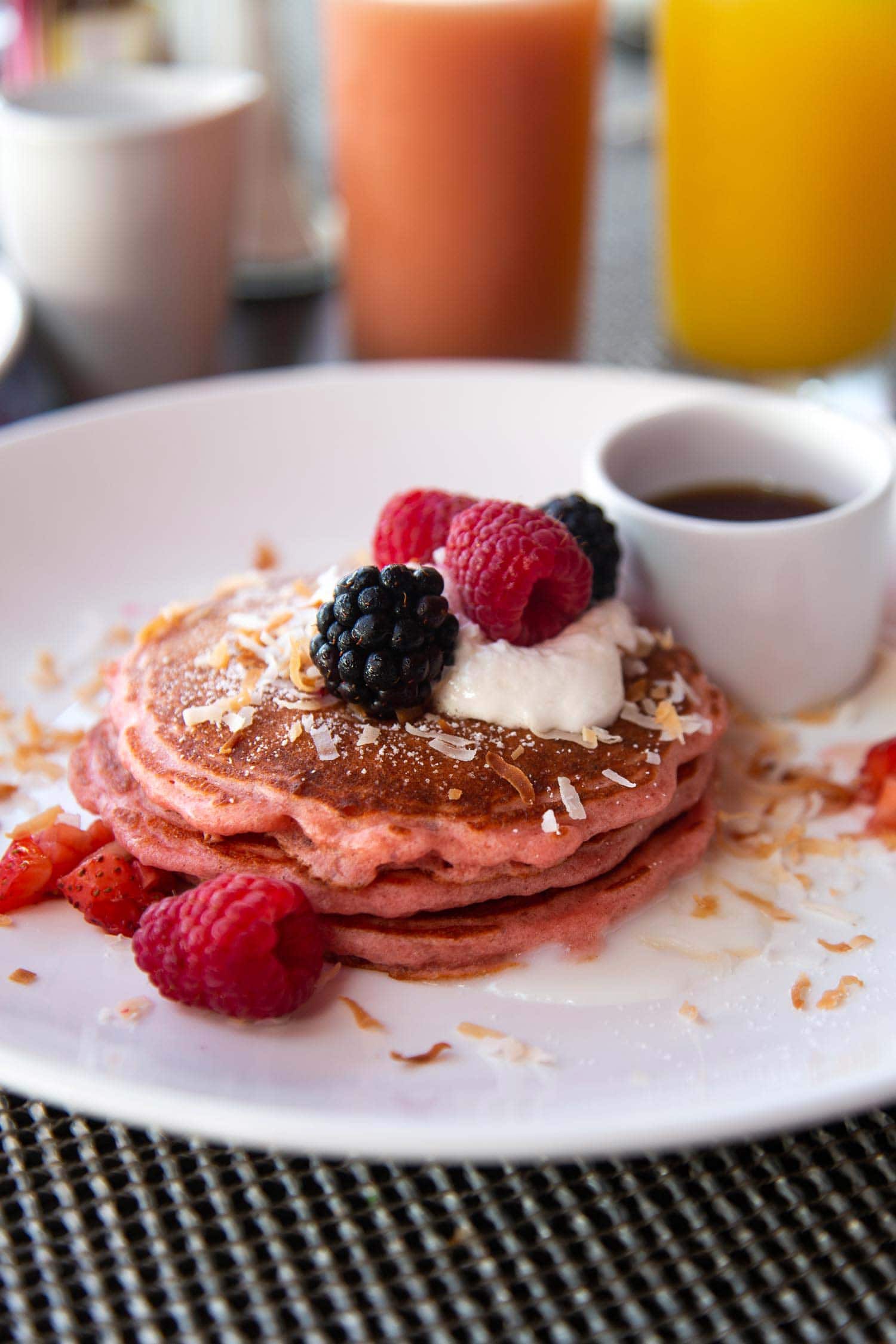 Surf Lanai Restaurant
What kind of pancakes do you serve at a pink colored hotel? PINK PANCAKES!
This Pink Palace Pancake is the signature dish at Surf Lanai Restaurant. Take a quick look around during breakfast and you're bound to find a short stack at every table!
The pink pancakes consist of guava raspberry shortcake with balsamic strawberry relish and coconut creme. It's topped with fresh berries and a sprinkling of toasted coconut.
Royal Hawaiian Pink Palace Pancake Mix
The pancake mix is currently only sold at the Royal Hawaiian Bakery located within the hotel. At the bakery, you'll also find goodies like Instant Coconut Syrup Mix.
Unfortunately, these products are not yet available for sale online.
Want to know the secret to the all natural pink color? Instead of using dyes, the pink pancakes are naturally colored using beet powder!
[Beet powder is intense! I'm a big fan of it. Most recently, I used beet powder to color these pink glazed donuts. ]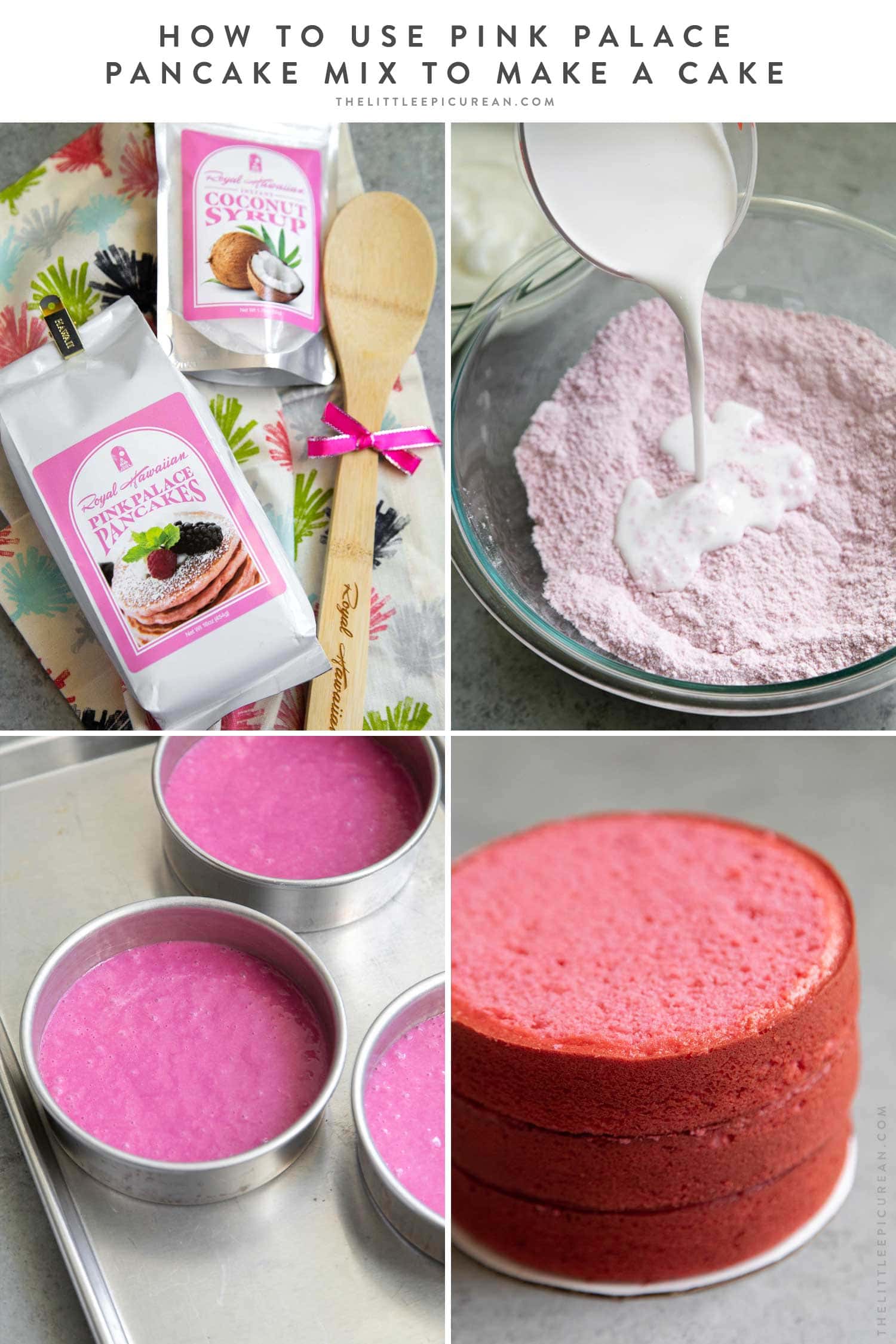 Turn Pancake Mix into Cake!
Pancake mix is often a combination of flour, leavening agents, and flavoring. I like to think of it like a self-rising flour that can be easily be transformed into a something greater.
Rather than simply recreate the pancakes from the Surf Lanai, I experimented. I used the pancake mix to make a pink cake!
I mixed coconut milk and sugar into the pancake mixture until smooth. Then, I folded in whipped egg whites into the batter.
As you can see from the photo above, the raw cake batter is bright pink! However, it doesn't stay that way after baking.
Due to the extended baking time of cake (about 25-30 minutes) compared to the quick 2-3 minutes it takes to cook pancakes on the griddle, the pink color fades.
To achieve that pink guava hue baked cake layers in the photograph above, I added a combination of beet powder and pink food gel coloring to the raw batter.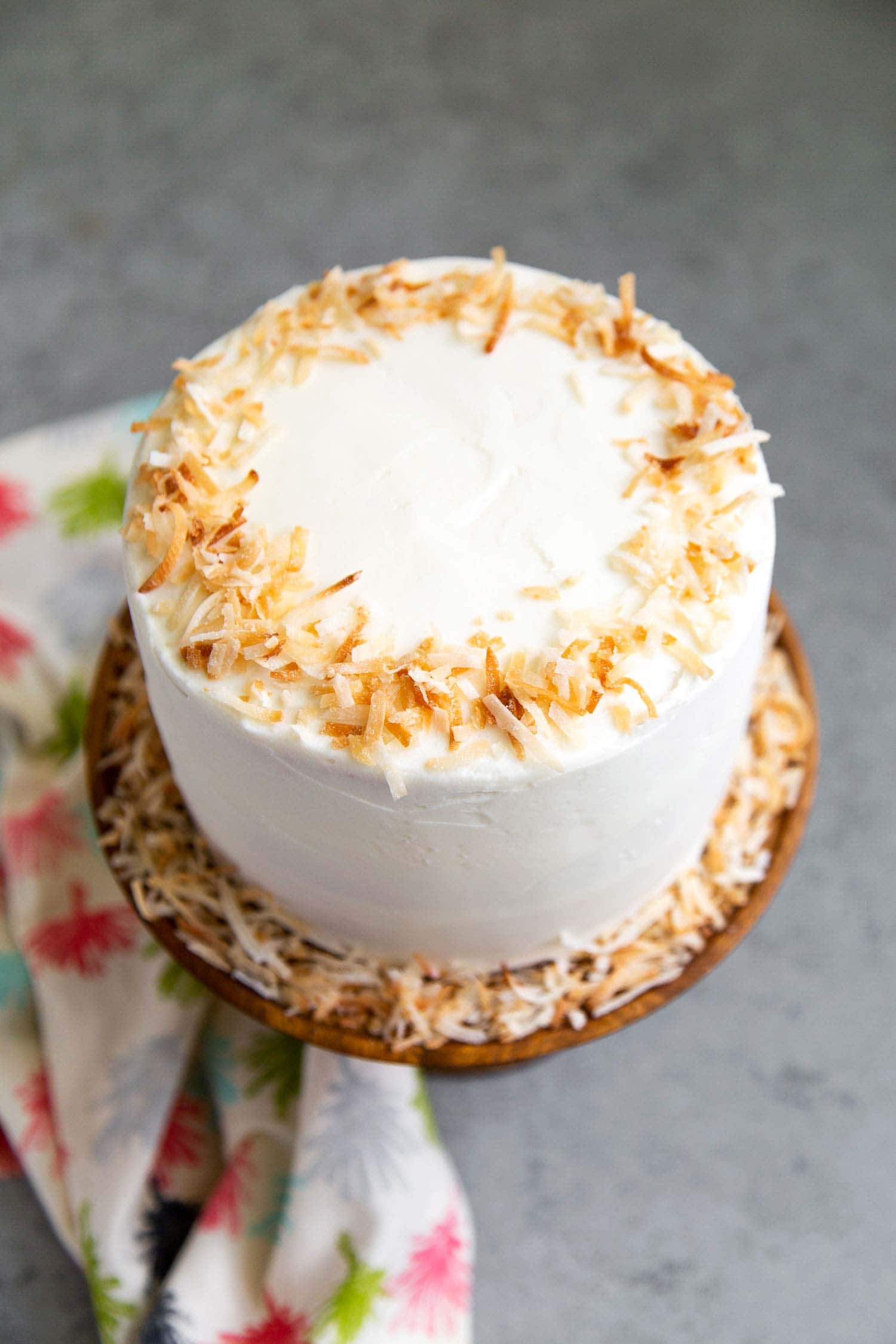 Coconut Buttercream
The pink coconut cake is paired with a quick and easy American buttercream.
To add a pop of coconut flavor, I used a couple tablespoons of coconut syrup. (The instant coconut syrup packets are also for sale at the Royal Hawaiian Bakery.)
Unsweetened canned coconut milk or coconut extract will yield similar tasty results.
Garnish the assembled cake with toasted shredded coconut to add flavor and tropical flair.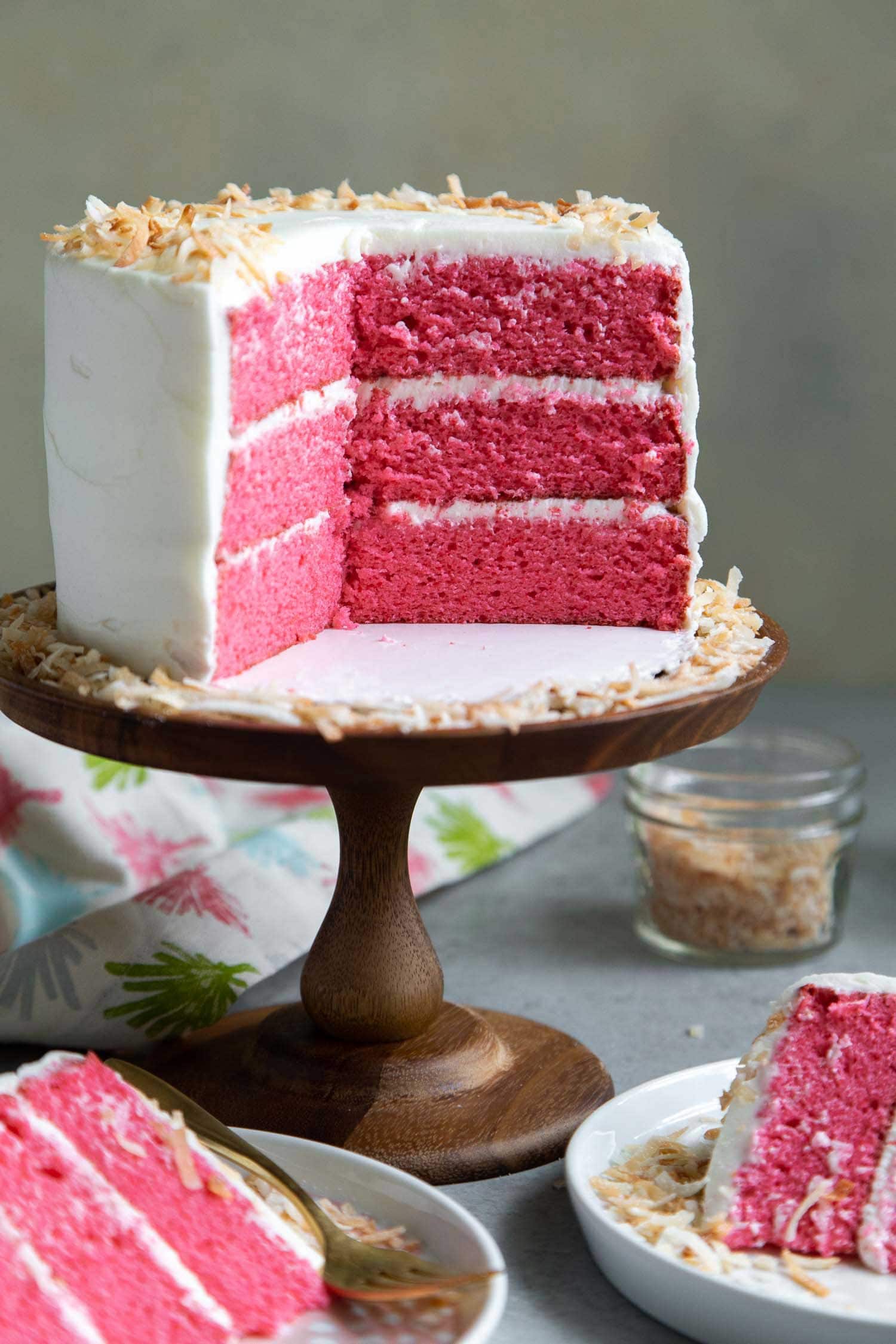 Pink Coconut Cake
It looks like an average coconut cake from the outside. But, once you slice into the cake, you'll be surprised by that vibrant pink interior.
Thanks to the whipped egg whites in the batter, the cake is light and fluffy. Coconut milk adds moisture and flavor.
This is the kind of cake, I could totally eat without frosting. It's slightly sweet, airy, and packed with coconut flavor.
This was the perfect cake to commemorate our recent Hawaiian vacation!
(Check my Instagram Story Highlights to view videos and clips from Hawaii)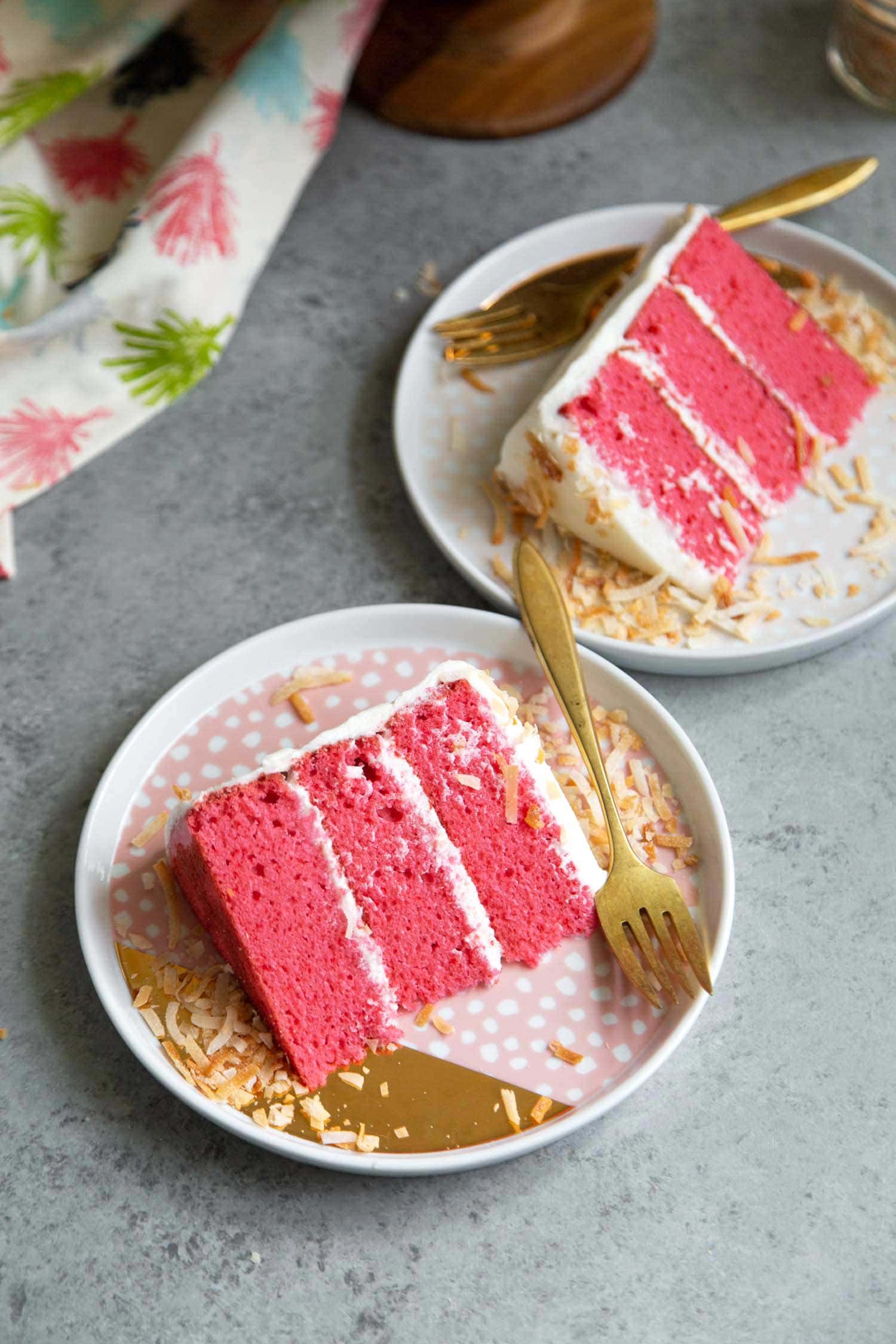 Interested in more coconut cake recipes? Try this coconut cake made with olive oil or this coconut cream cake filled with coconut pastry cream.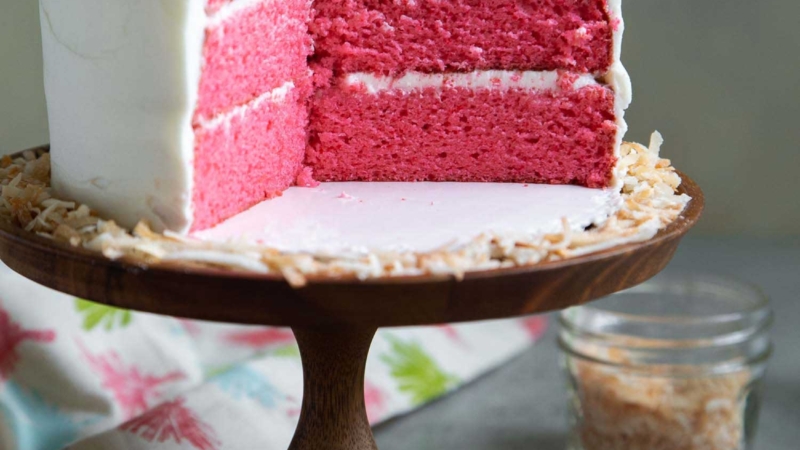 Pink Palace Pancake Cake (Pink Coconut Layer Cake)
Use Royal Hawaiian Pink Palace Pancake Mix to create a Pink Coconut Layer Cake! This cake features a pink hued coconut cake frosted with coconut buttercream. Yield: 6-inch three layer cake
Ingredients
Cake:
3

cups

Royal Hawaiian Pink Palace Pancakes Mix

1

cup

granulated sugar

14.5

oz

can full-fat unsweetened coconut milk,

well-shaken

3

large egg whites

additional food coloring,

if desired (see notes)*
Coconut Syrup:
1 –

1.75 oz packet Royal Hawaiian Instant Coconut Syrup

4

oz

cold water
Buttercream:
1

cup

unsalted butter,

softened

3 ½

cups

powdered sugar

pinch

kosher salt

2

Tablespoon

coconut syrup

½

teaspoon

coconut extract or vanilla extract
Garnish:
sweetened shredded coconut,

as needed
Instructions
Cake:
Preheat oven to 350°F. Generously butter three 6-inch round cake pans. Line with parchment paper. Set aside.

Sift pancake mix into a large bowl. Whisk in sugar. Stir in well shaken coconut milk. Mix until smooth. Set aside.

*If desired, add pink gel paste food coloring or beet powder (pulverized dehydrated beet) to heighten color of cake.

In a separate large clean bowl, use an electric hand mixer to beat egg whites to soft peaks. Gently fold egg whites into pancake batter in three additions until well combined.

*NOTE: Be careful not to overmix, otherwise egg whites will deflate and separate.

Divide batter evenly among prepared cake pans, about 330 grams of batter per pan. Bake for 25-28 minutes until toothpick inserted in center of cake comes out clean. Rotate pans midway through baking to ensure even cooking.

Allow cakes to cool in pan for 5 minutes. Run dull knife or mini offset spatula along perimeter of cake to loosen from pan. Invert and unmold cake. Let cake cool to room temperature on wire rack.
Coconut Syrup:
Pour the contents of an entire pouch of Royal Hawaiian Instant Coconut Syrup into a medium bowl. Add 4 oz (1/2 cup) cold water. Whisk together until smooth. Cover and keep chilled in the fridge until ready to use.

*NOTE: I suggest using an immersion blender to ensure a thick smooth syrup.
Buttercream:
In the bowl of a stand mixer fitted with a paddle attachment (or using an electric hand mixer), cream butter until smooth. Add powdered sugar and salt. Mix until incorporated. Scrape down bowl as needed.

Add 2 tablespoons coconut syrup and coconut extract (or vanilla extract). Mix until smooth and well combined.
Garnish:
Preheat oven to 325°F. Line baking sheet with parchment paper or silicone baking mat.

Spread desired amount of sweetened shredded coconut in an even layer in baking sheet. Bake for 5 minutes. Remove from oven and stir coconut around. (The coconut along the edges of the pan will toast first.)

Return to oven and bake for another 2 minutes. Remove and stir coconut. Keep repeating until coconut is golden brown.

*NOTE: Coconut easily burns! Set a timer or keep a watchful eye over toasting coconut.
Assembly:
If necessary, level cake layers. Place one cake round on cake board (or serving plate). Spread about 1/4 cup buttercream over cake layer. Top with second cake round and repeat adding buttercream.

Top with third cake round. Spread thin layer of buttercream over top layer. Spread thin layer of buttercream around the exterior of cake to seal in any crumbs ("crumb coat"). Chill in the fridge for 15-20 minutes to allow buttercream to set up.

Add another thin layer of buttercream all over exterior of cake. Return to fridge. Keep chilled until ready to serve.

Allow cake to sit at room temperature for 20-30 minutes before serving. Garnish top of cake with toasted coconut. Serve cake slices with remaining coconut syrup.
Notes
Ingredient Notes: 
Use unsweetened, full-fat coconut milk.
Unsweetened shredded coconut may be use in place of sweetened shredded coconut. Toasted coconut will keep at room temperature for a week in an airtight container. 
The Royal Hawaiian Pink Palace Pancake Mix is naturally colored with beet powder. When making pancakes according to package directions, the pancakes will cook pink. However, when baking the cake version, the pink color fades due to the extending cooking time. I enhanced the cake batter with a combination of beet powder and a touch of pink food gel paste coloring.