Biko is a Filipino dessert made with glutinous rice, coconut milk, and brown sugar. It's an easy and simple homemade dessert that is popularly served at parties and gatherings.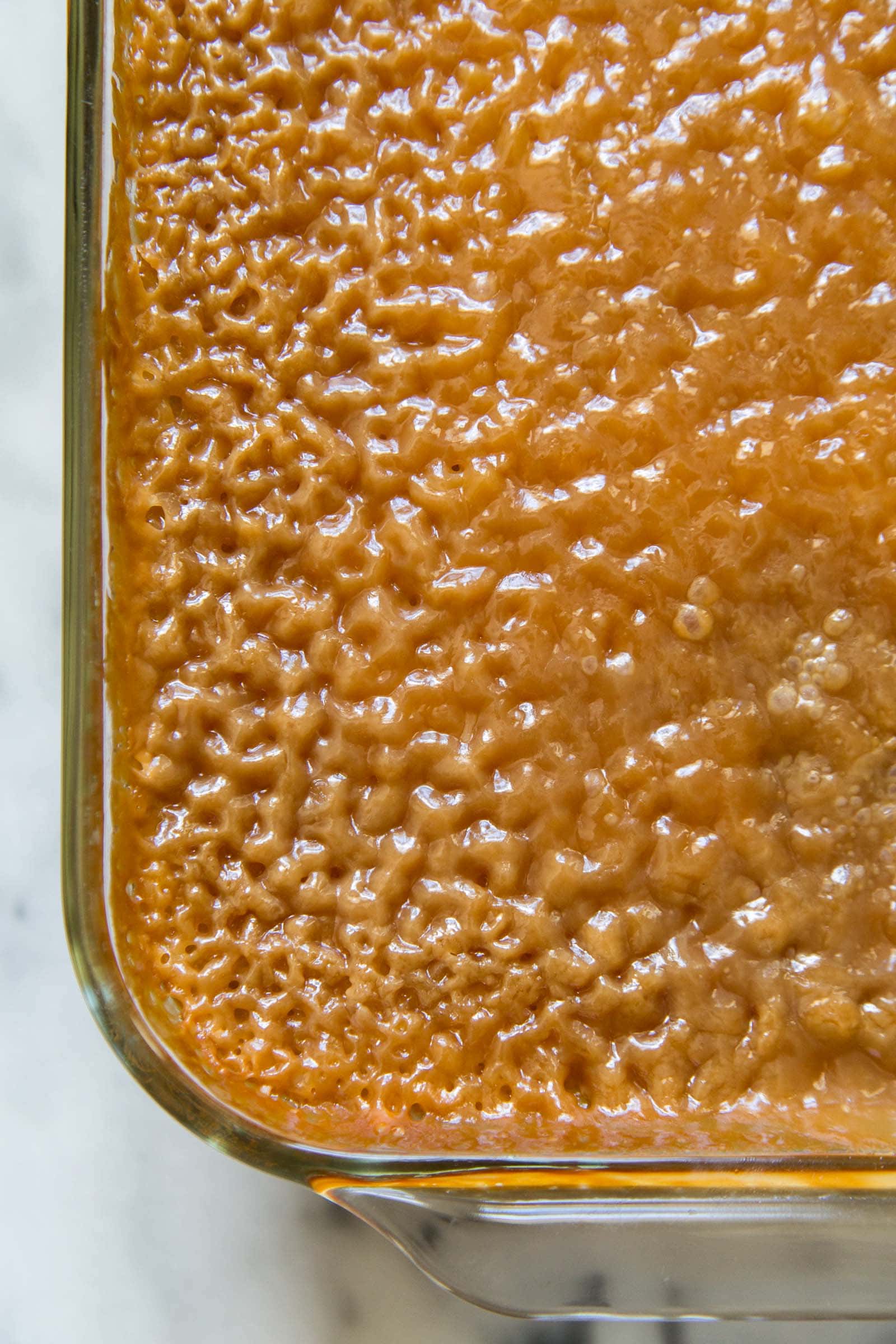 Without even knowing it, I was eating rice for breakfast, lunch, dinner, and dessert. Growing up, rice was a main food group in my diet.
I didn't learn about low-carb until college. And even then, I thought the idea of a low-carb lifestyle was a bit ridiculous.
Rice is a staple in Filipino cuisine (and many other Asian countries). From rice porridge, rice noodles, rice cakes, and rice cereal, rice is used in many forms and applications.
As a kid, biko was my favorite sweet treat. It was something I enjoyed every birthday, holiday, and special occasion.
What is Biko?
Biko is an easy and simple dessert made with glutinous rice (aka sticky rice), coconut milk, and brown sugar.
There are many ways to cook this popular homemade dessert. Some people cook the entire thing over the pot while some people prefer to use a rice cooker. I'm sharing the method I was taught as a kid.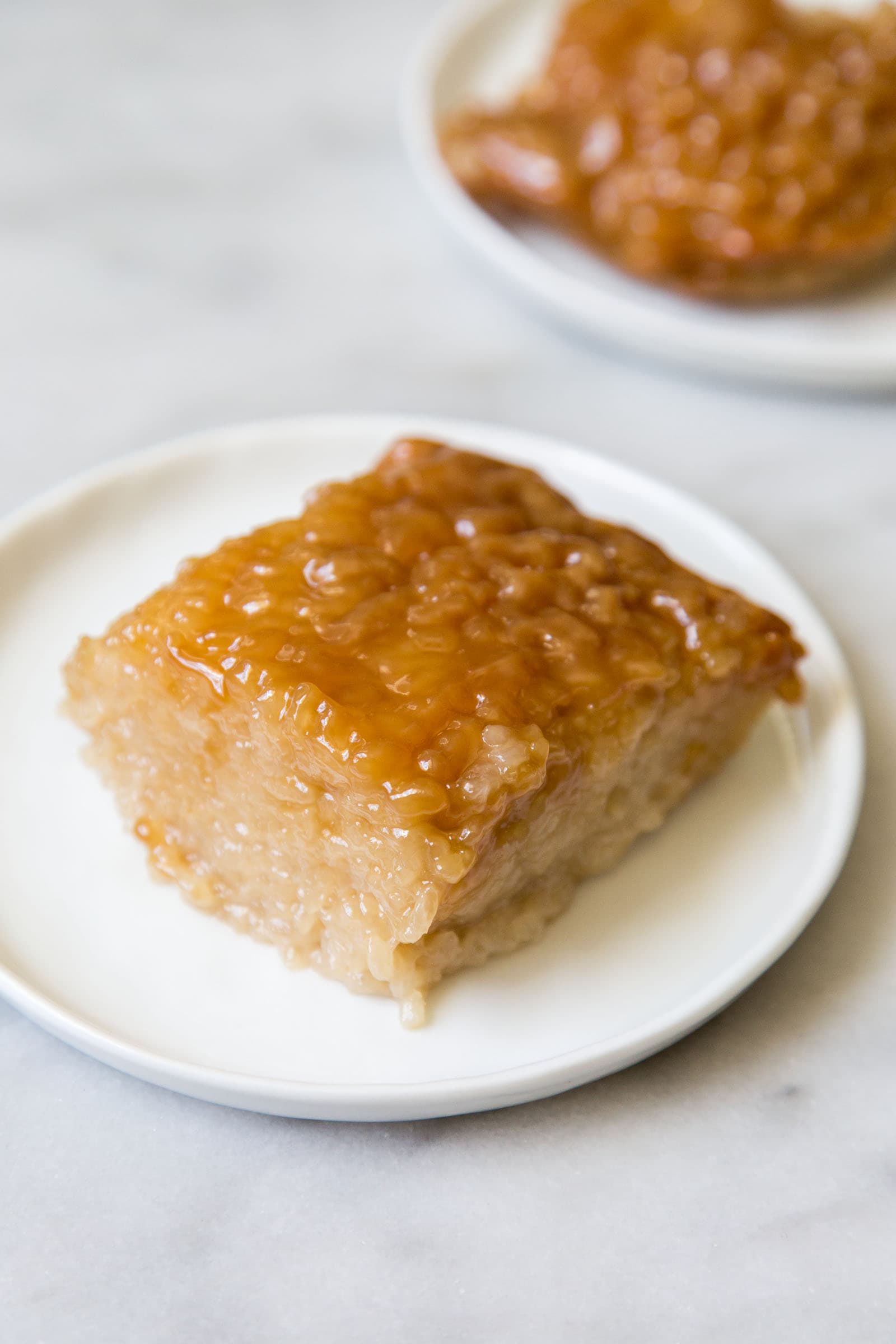 Filipino Sticky Rice Cake
To me, biko tastes like an all encompassing warm hug from your beloved grandmother. It's sweet, fragrant, and a little over the top. It is best served warm, but it's also great at room temperature.
This recipe makes a large batch of biko. Be prepared to share!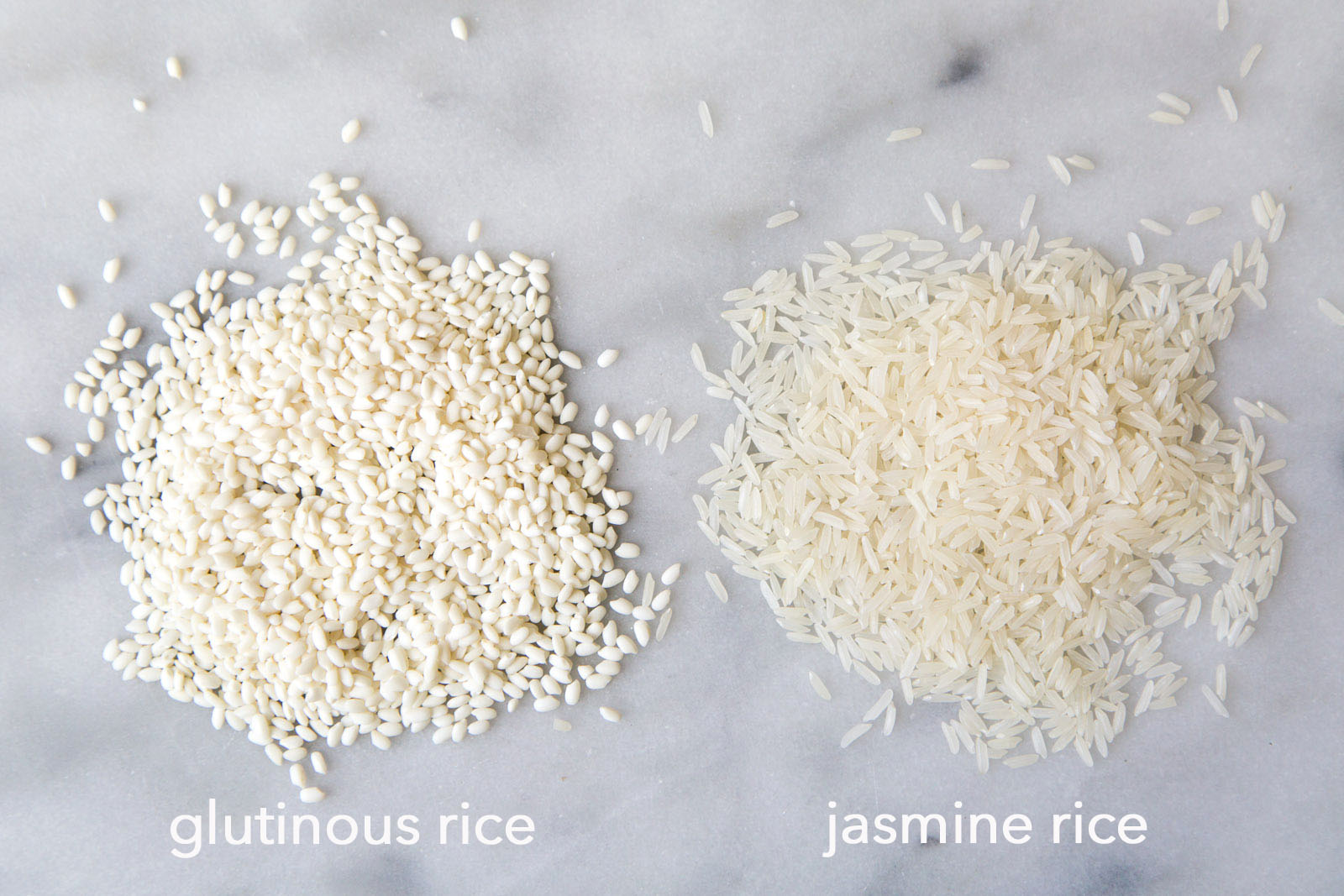 Does it matter what kind of rice you use to make biko?
Glutinous rice, contrary to it's name, does not contain any gluten. Glutinous rice is also known as sweet rice, sticky rice, or malagkit. It is a type of short grain rice known for its high starch content. Y
ou can see the different between glutinous rice and jasmine rice (medium/long-grain rice) in the photo above.
Glutinous rice (short grain) is less translucent in color compared to long grain rice because of it's starch content. It's the starch content that makes glutinous rice perfect for desserts and porridge. (Example: Champorado! Filipino chocolate rice porridge.)
Do not substitute jasmine rice or any other medium/long grain rice for glutinous rice. The results will not be the same!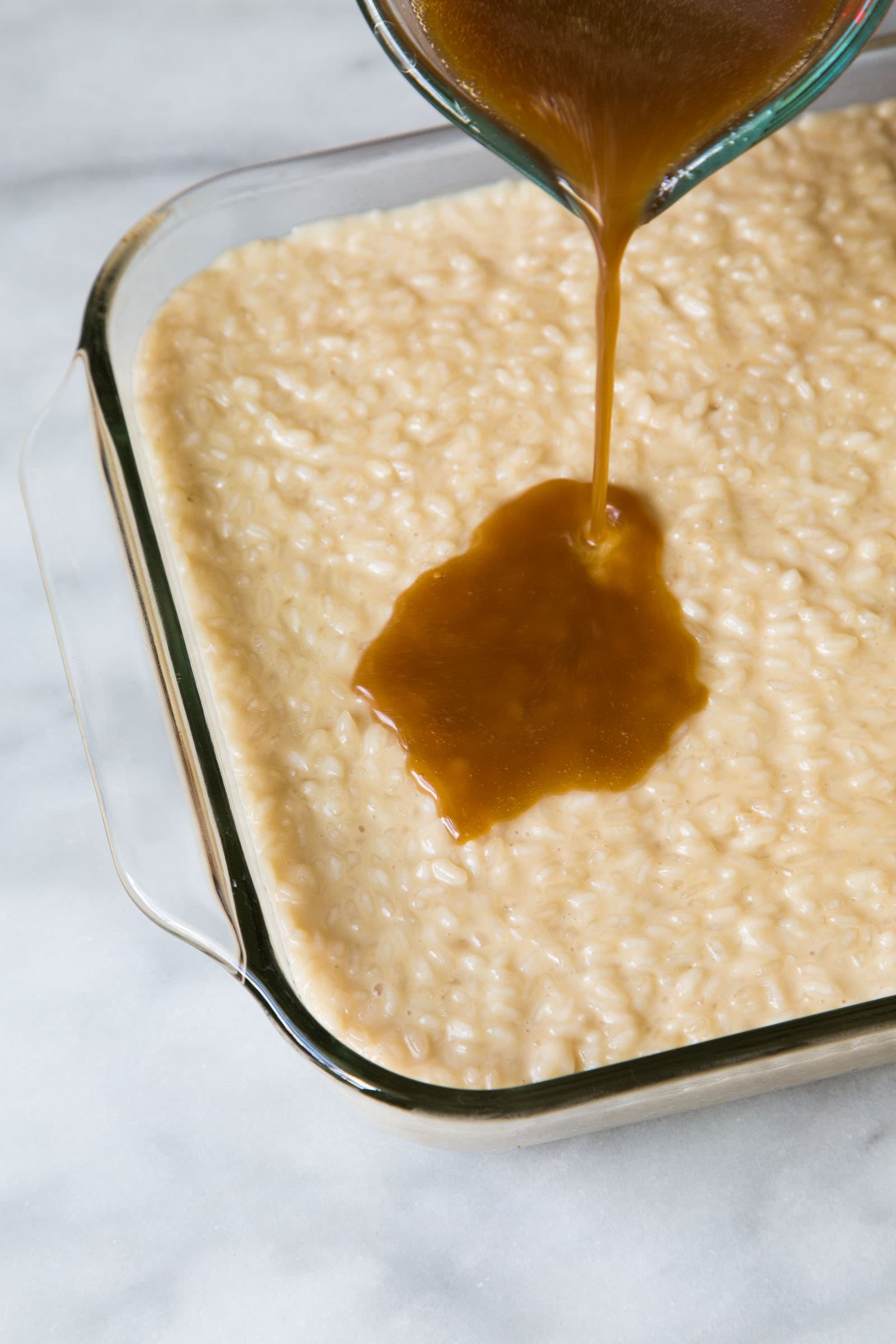 Secret: Soak Rice Overnight
Cooking rice is often time consuming. To shorten this process, I soak the rice in a bowl of cool water overnight.
This speeds up the cooking time because the soaked rice has had time to soften and absorb moisture. The rice is then drained, rinsed, and drained again. It is poured into a simmering pot of coconut milk and water.
Like risotto, the mixture must be continually stirred to ensure even cooking. The stirring also helps to release the starches, making the mixture thicken. Once the rice is cooked, brown sugar (and a touch of salt) is added.
The cooked rice mixture is transferred to a buttered casserole pan. A rich and creamy brown sugar coconut syrup is poured on top.
The dish is then placed in the oven to bake for about an hour. The biko is done once the syrup has thickened and is bubbly vigorously.
Allow it to cool slightly before digging in. The caramel on top will be VERY HOT.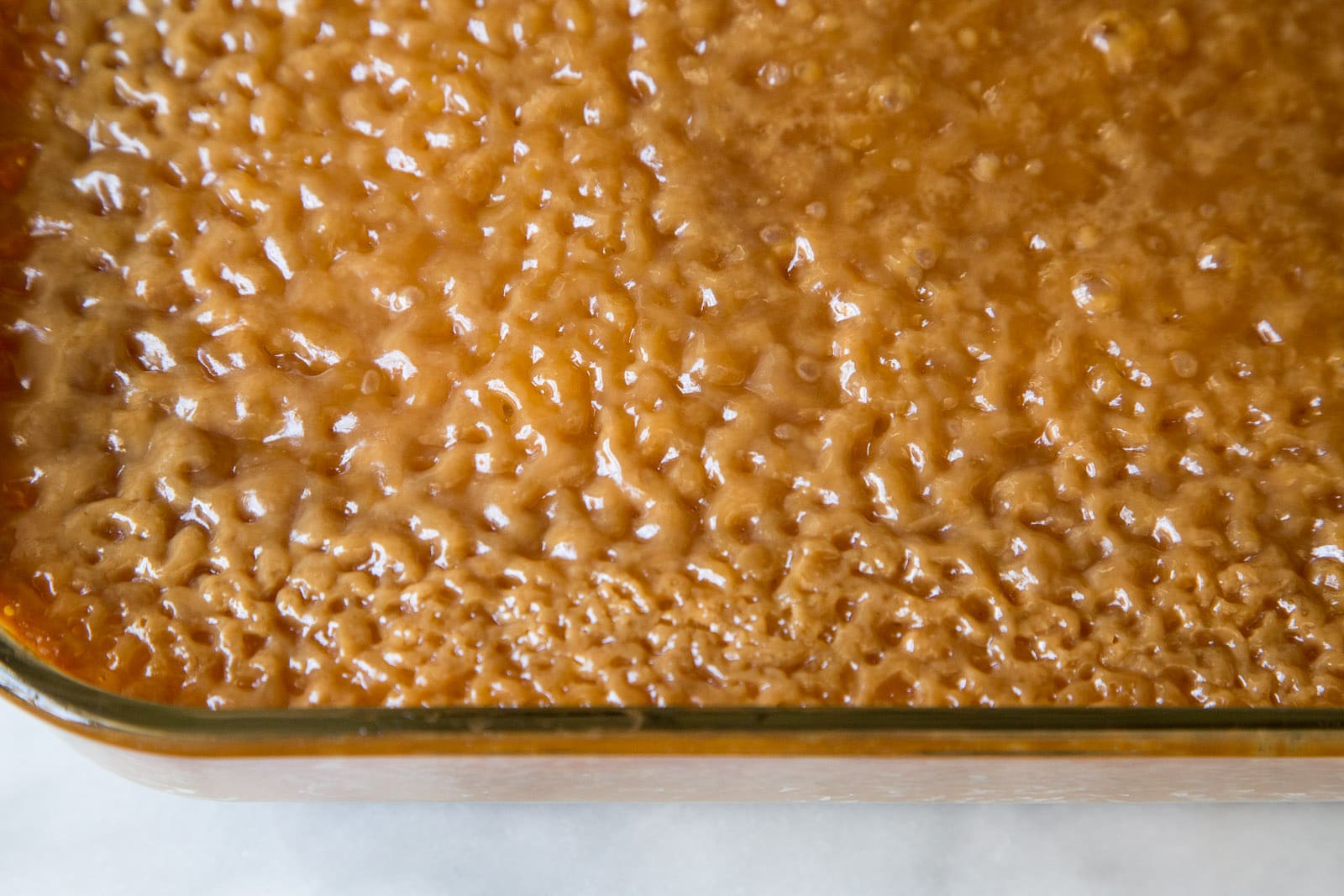 While other kids looked forward to rice krispie treats and peanut butter jelly sandwiches after school, every afternoon I'd hope to find a fresh batch of biko waiting for me in the kitchen.
I don't make biko often because I could easily devour any entire pan of this by myself. It's a special treat I make once in a blue moon.
Each bite tastes like a sweet childhood memory. It's more comforting to me than a giant bowl of mac and cheese. Biko is one of those desserts I could never tire of.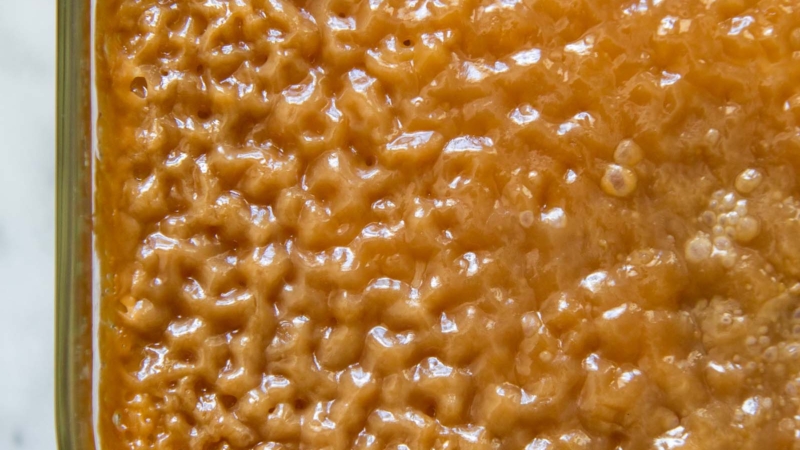 Biko (Filipino Sticky Rice Cake)
Biko is a Filipino dessert made with glutinous rice, coconut milk, and brown sugar. It's an easy and simple homemade dessert that is popularly served at parties and gatherings.Yield: 9x13-inch pan
Ingredients
4

cups

glutinous rice

3- 14

oz

cans coconut milk

1 ½

cup

water

2 ½

cups

dark brown sugar

packed

¼

teaspoon

kosher salt
Instructions
Place rice in a large bowl. Cover with cool water and soak overnight. Drain and rinse rice. Drain and set aside.*

Preheat oven to 350° F. Generously butter an oven safe 9x13-inch casserole pan.

Reserve ¾ cup of coconut milk. Pour remaining coconut milk and 1 ½ cups water in a large sauce pot. Set over medium heat and cook until mixture begins to simmer. Add drained rice. Stir often, making sure rice does not burn along the sides of the pot. Continue to cook over medium heat for 5-8 minutes until rice has soaked up most of the liquid.

Reduce heat and add 1 ½ cups brown sugar and salt to rice mixture. Continue to cook, another 5-8 minutes, stirring often. Taste a small amount of rice to check it is cooked through. At this point, the mixture should be thick and sticky. Transfer cooked rice mixture into prepared pan. Spread into an even layer.

In a small sauce pot, combine reserved coconut milk and remaining 1 cup brown sugar. Bring to a boil until sugar has dissolved. Remove from heat. Allow to cool slightly, 3-5 minutes, before gently pouring over rice mixture.

Bake for 1 hour, until brown sugar topping has thickened and is bubbling. Allow to cool slightly before serving. The caramel topping will be very hot.
Notes
Ingredient Notes:
Soaking the rice overnight speeds up the cooking process.
Soaking the rice is not necessary. You can cook the rice over the stove with the coconut milk and water mixture. Rinse and drain the rice before adding to coconut milk mixture. You will have increase the amount of water in the recipe to ensure the rice is cooked through.
Glutinous rice is also known as a sweet rice, sticky rice, or malagkit. Contrary to it's name, it does not contain any gluten. Glutinous rice is a type of short grain rice known for it's high starch content.
Leftovers and Storage Notes:
Biko can be stored at room temperature for one day. Afterwards, store leftovers in an airtight container in the fridge. Warm up biko for a few seconds in the microwave, or enjoy chilled or at room temperature.
All images and text ©The Little Epicurean