Champorado is a Filipino chocolate rice porridge that is traditionally served for breakfast.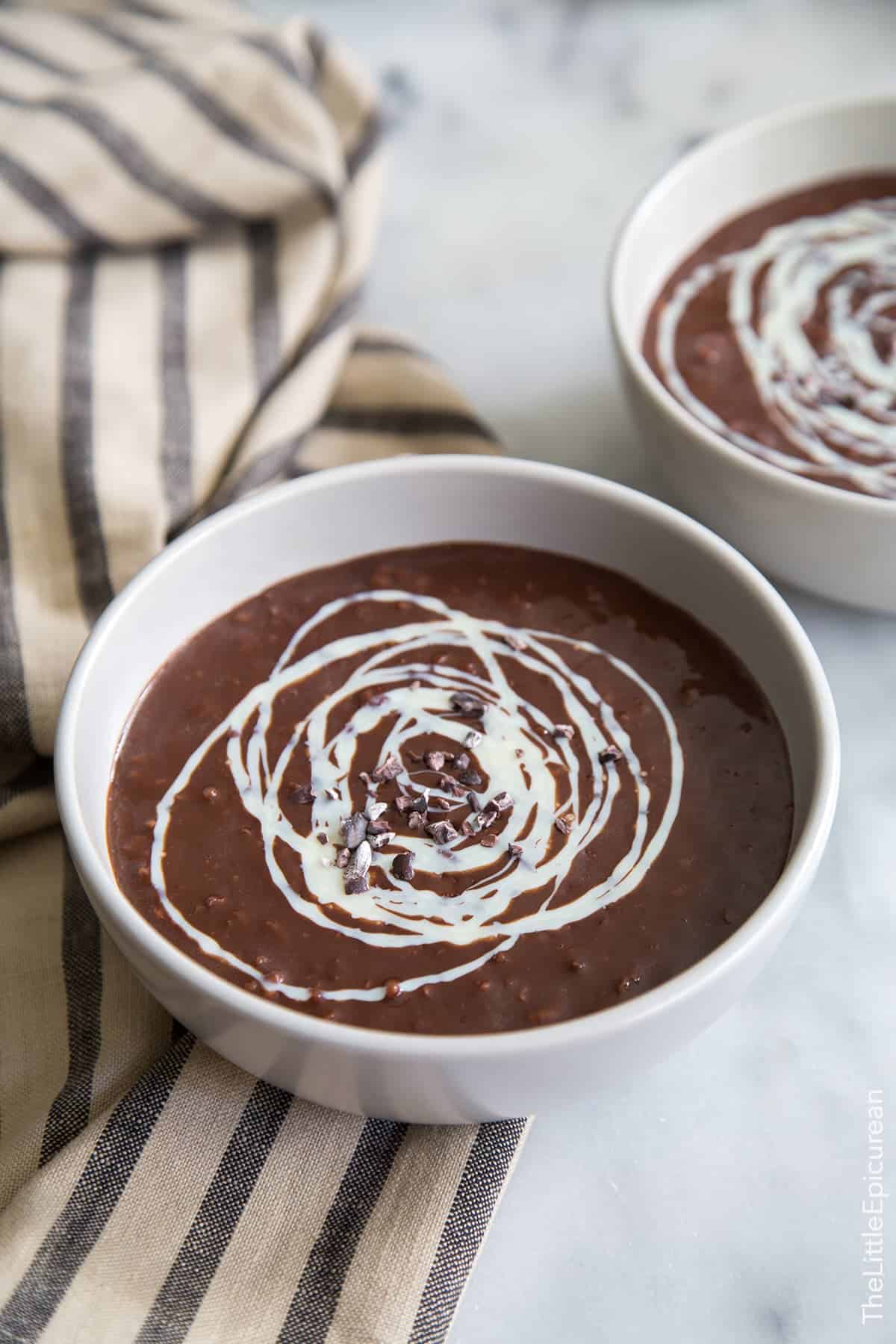 Filipino Champorado
What is champorado?
Believe it or, champorado (Filipino chocolate rice porridge) is traditionally served for breakfast.
Chocolate for breakfast may sound like a dream, but there's a caveat.
It's typically served with tuyo (dried salted fish). I dare you to Google image search it!
As a result of the dried fish clause, I didn't eat champorado as much as I wanted to as a kid.
On the occasions when the fish wasn't around, I happily devoured bowls and bowls of this chocolatey goodness with a generous amount of sweetened condensed milk on top.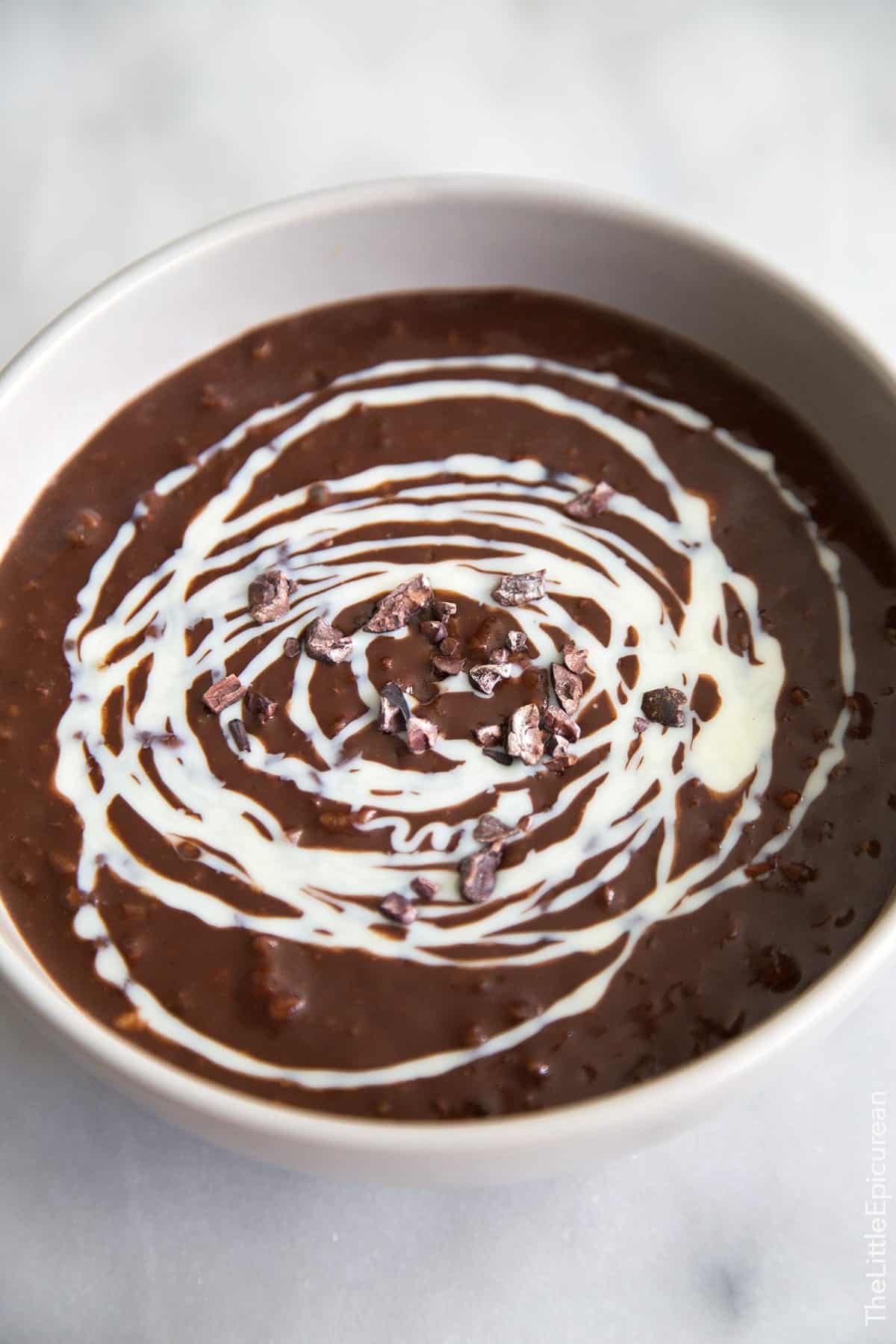 Is champorado sweet?
While chocolate is the main ingredient of this dish, it's not very sweet.
Rather, this porridge highlights the complexities of dark chocolate.
Much of the sweetness and creaminess comes from the milk drizzled on top.
[P.S. Luckily, during my summer study aboard in the Philippines, I learned that champorado is also often enjoyed with pan de sal (Filipino bread rolls).]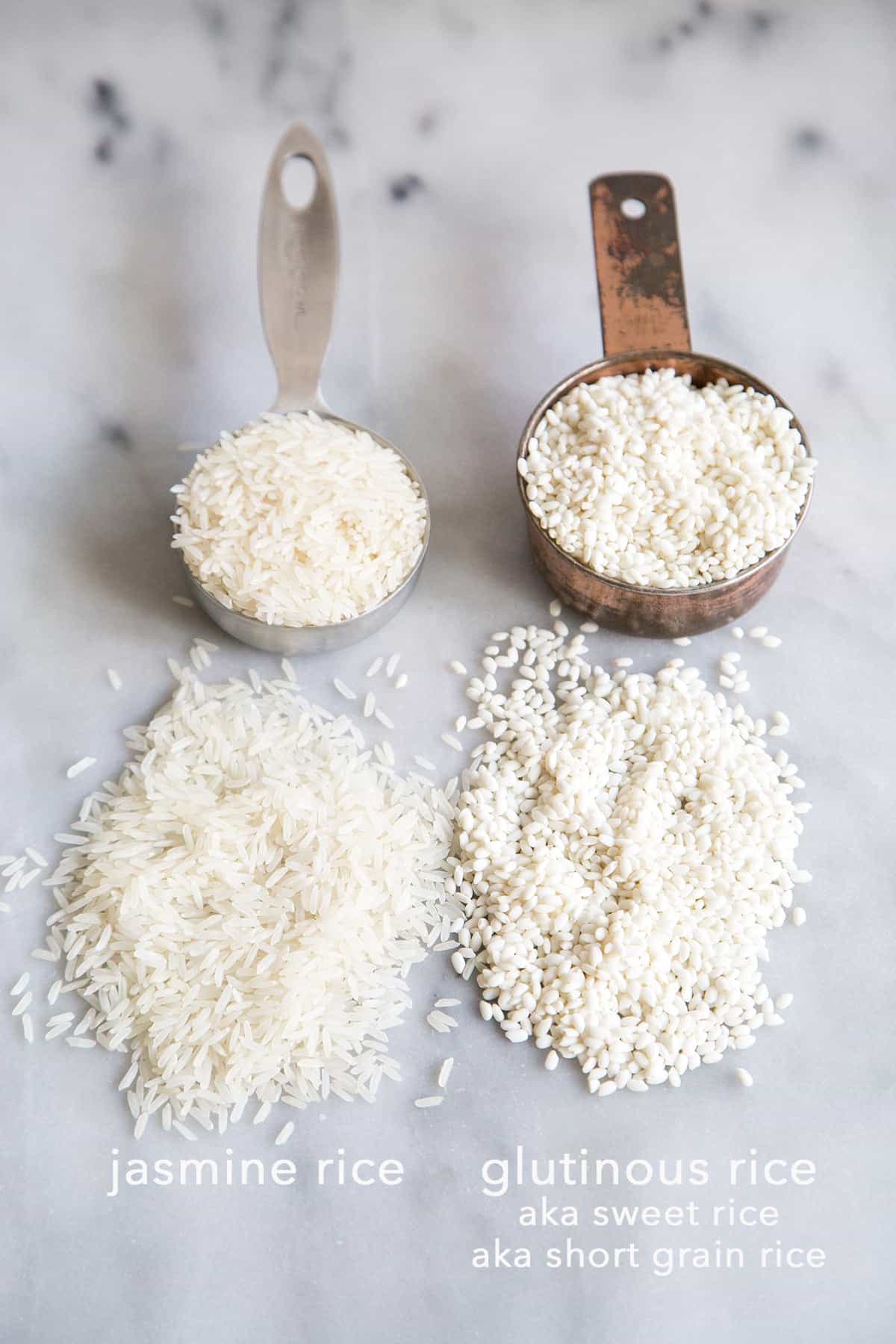 Type of rice used
Champorado is made with glutinous rice (aka sweet rice, sticky rice or malagkit).
It's a type of short grain rice known for its high starch content.
You can see the difference between jasmine rice (medium/long-grain rice) and glutinous rice in the photo above.
Short grain rice is less translucent in color because of its starch content.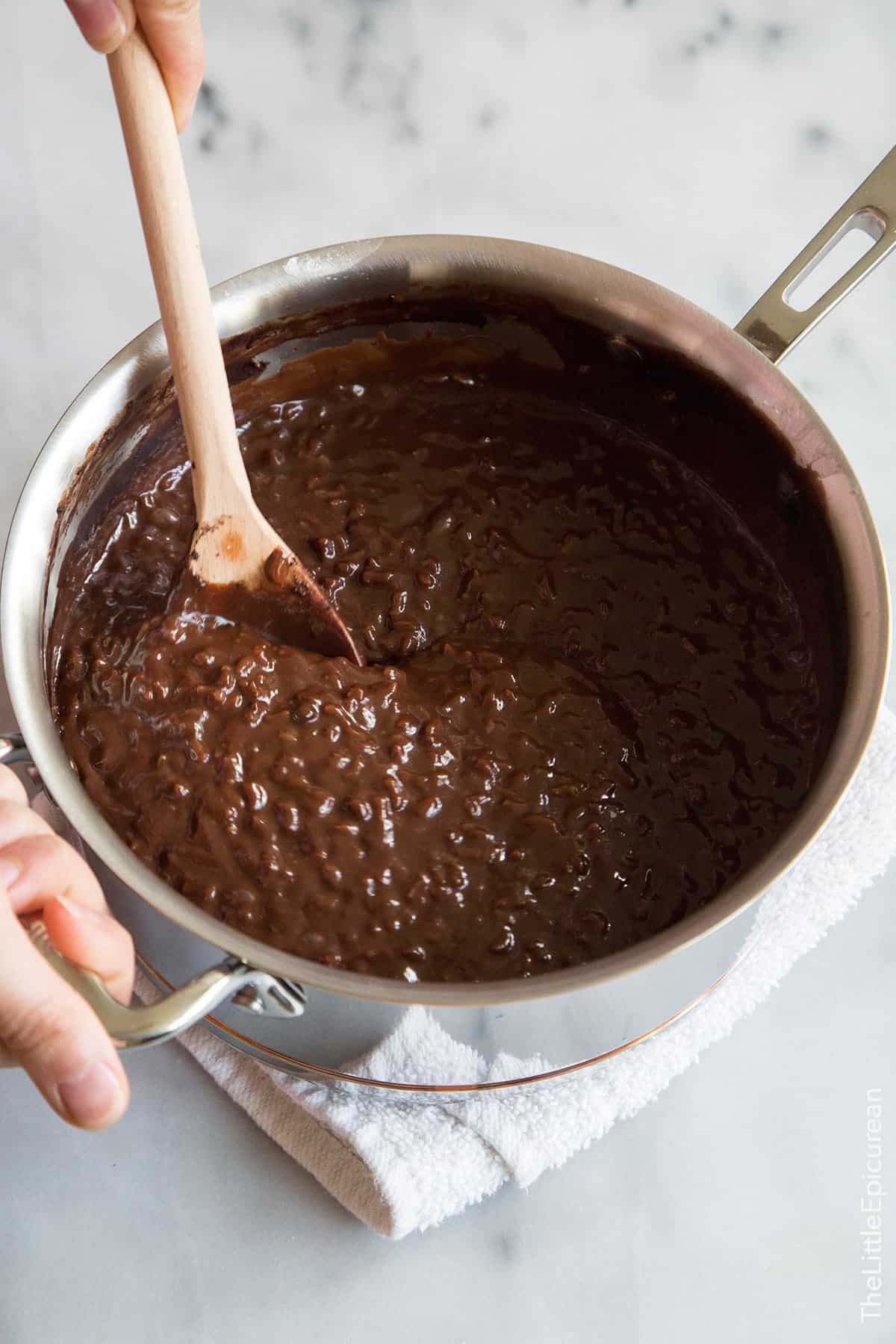 It has been raining more than usual in Los Angeles.
I usually make a pot of chicken arroz caldo to warm up. But when I need something more comforting, I turn to champorado.
To me, it tastes like childhood and feels like a giant bear hug.
Luckily, it's SUPER easy and QUICK to make. 30 minutes max, I promise.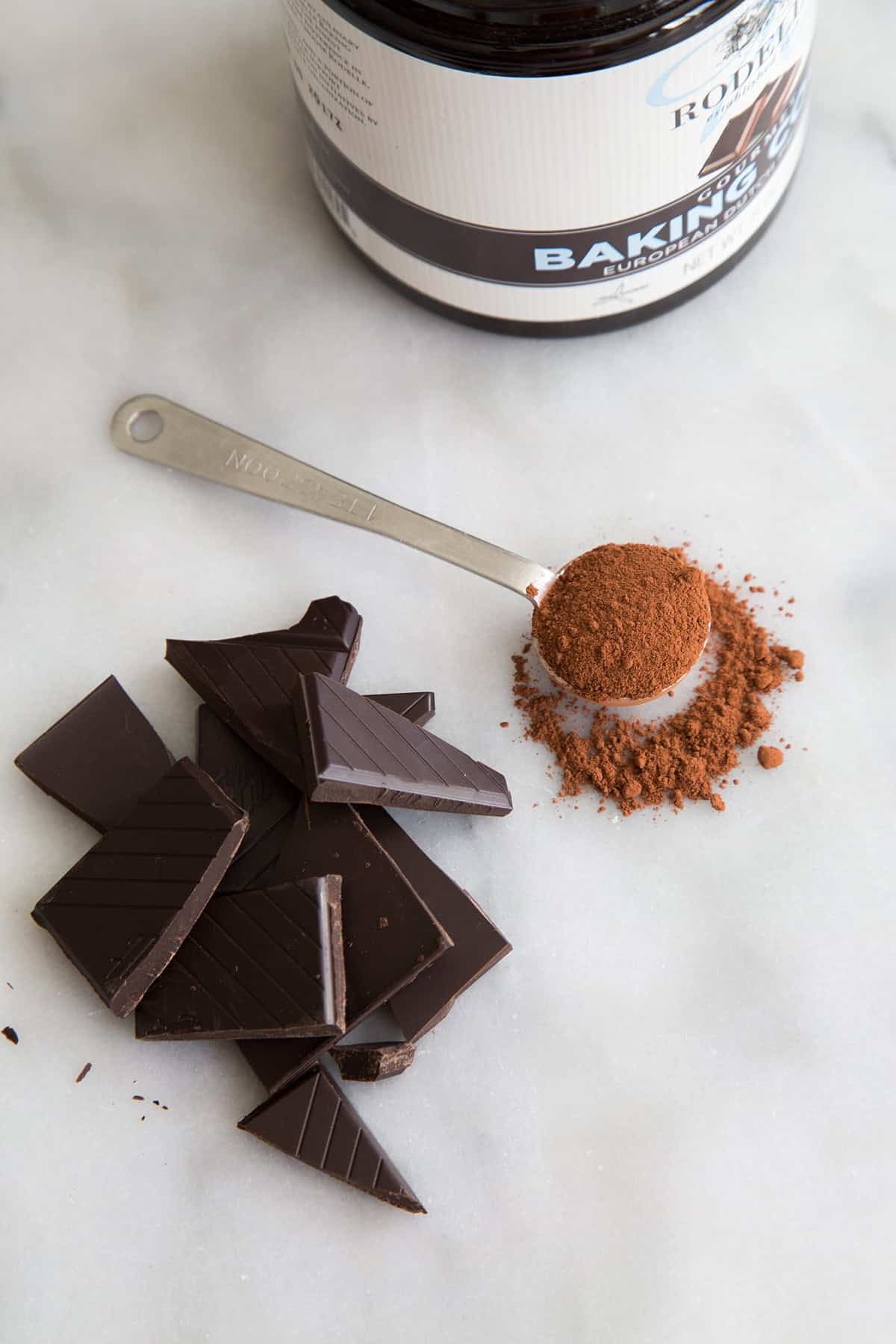 Type of chocolate used in Champorado:
Traditionally, this dish is made with cacao tablea.
You can find it at most Latin markets. They're little disks of unsweetened or very dark chocolate.
It's the same type of chocolate used to make Filipino hot chocolate (tsokolate).
Since I don't normally have that on hand, I've found a great substitute. This mixture of dutch processed unsweetened cocoa powder and 90% dark chocolate is perfect.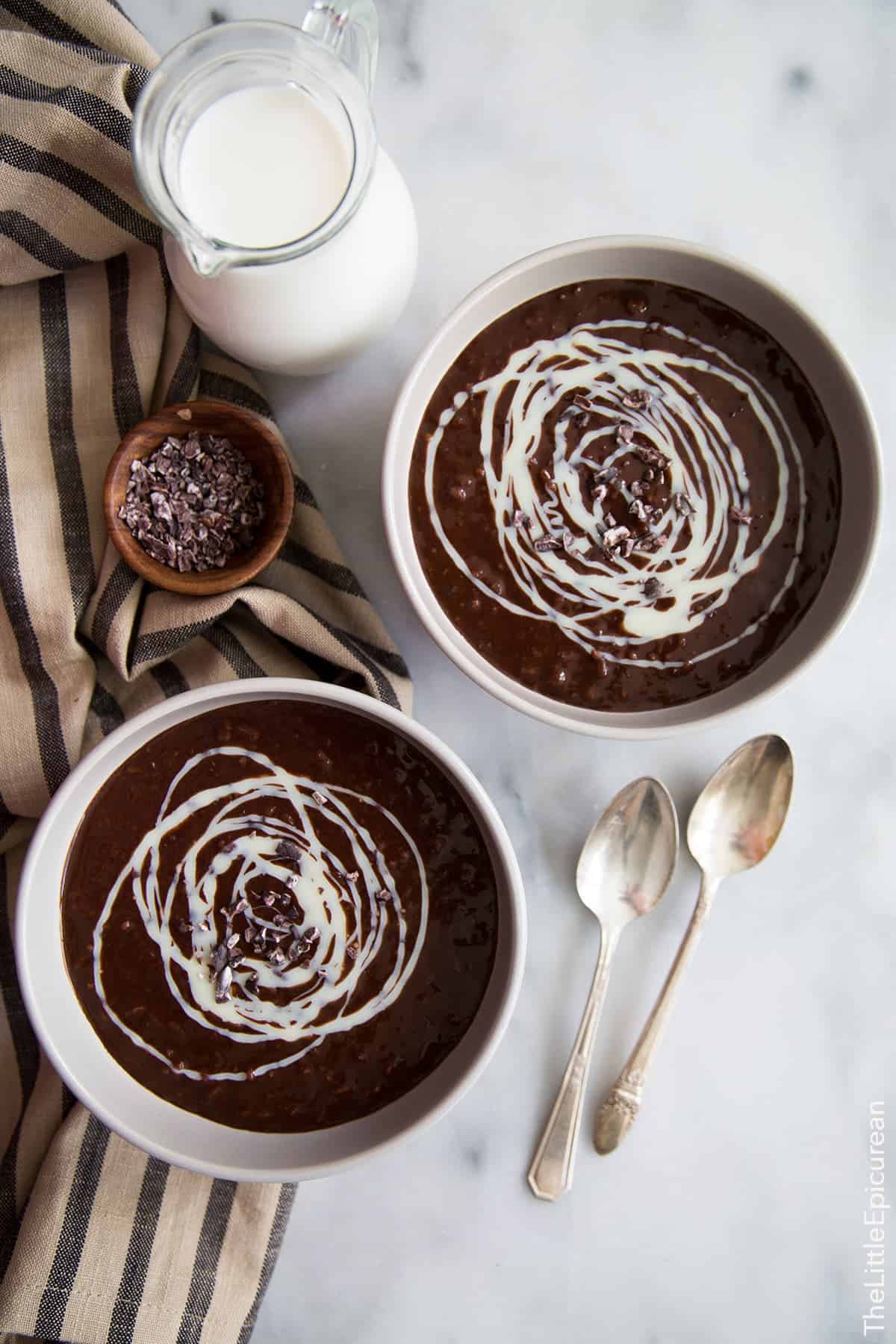 As a child, I couldn't understand why on Earth you'd want to eat chocolate rice porridge with fish.
It makes sense now. The rich dark chocolate pairs wonderfully with salted fish.
I'm still against adding fish.
However, I do like to sprinkle a little finishing sea salt on top before serving.
I also add cocoa nibs for a pop of crunch and textural variety.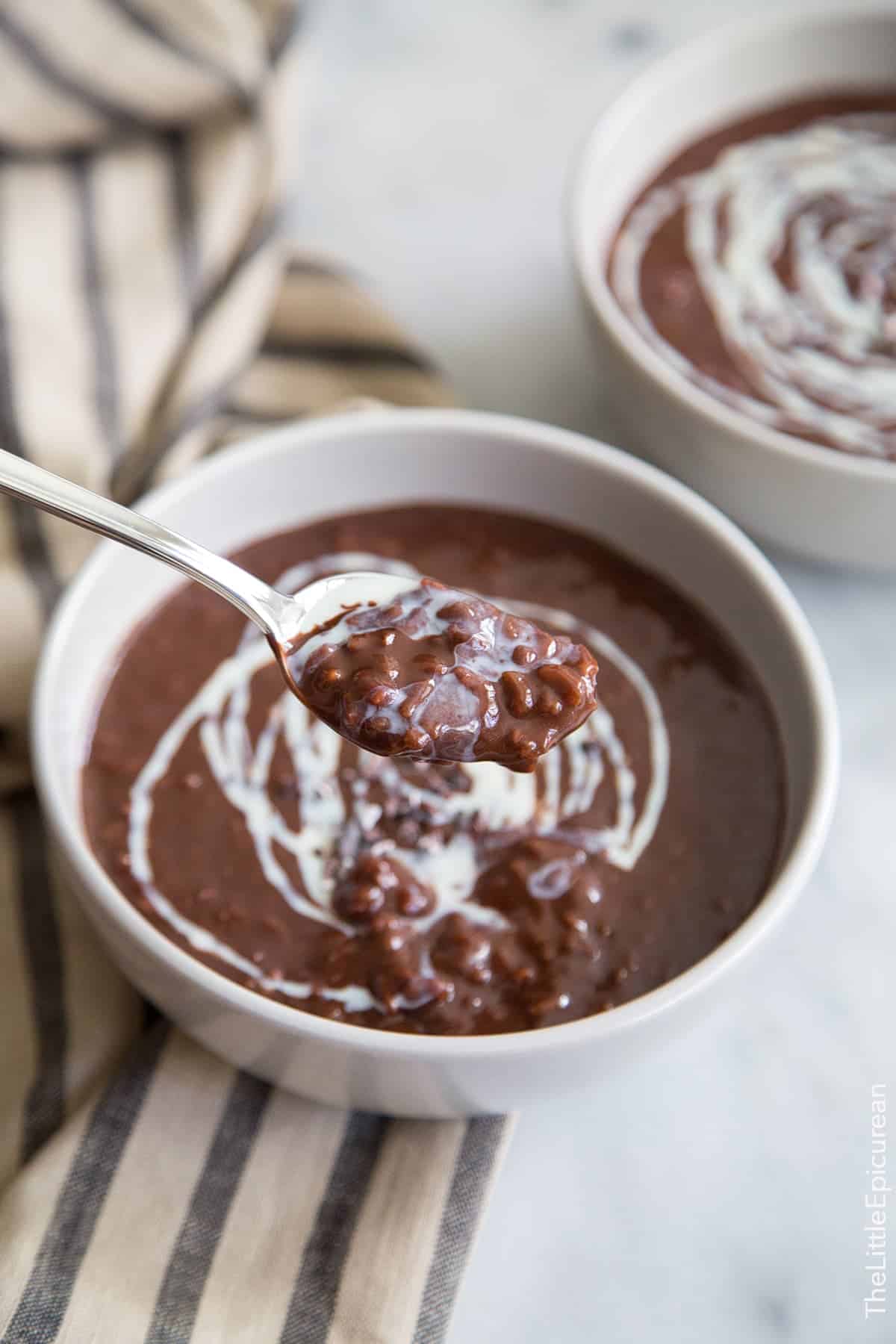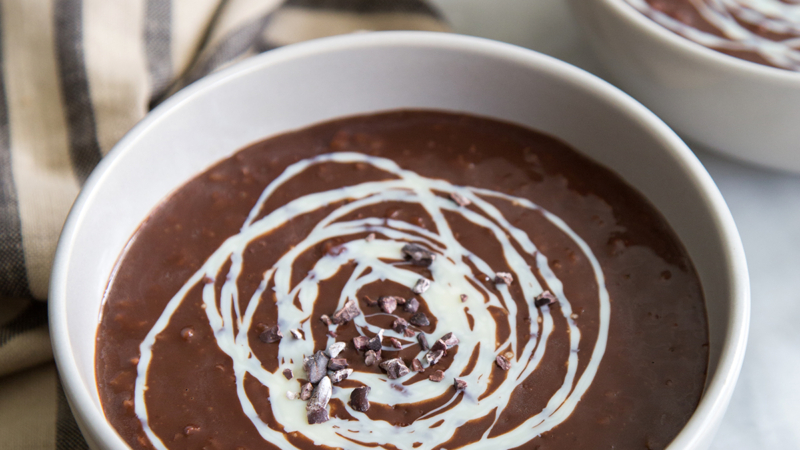 Champorado (Filipino Chocolate Rice Porridge)
Champorado is a Filipino chocolate rice porridge that is traditionally served for breakfast. It is typically enjoyed with dried salted fish and/or pandesal.
Ingredients
1

cup

glutinous rice* (see notes), rinsed and drained

6

cups

water

pinch fine sea salt

¼

cup

dutch processed unsweetened cocoa powder

3

oz

(85 g) 90% dark chocolate, roughly chopped

¼

cup

dark brown sugar, packed
Topping Choices:
sweetened condensed milk

evaporated milk

half & half

dairy alternatives: almond milk, coconut milk, etc.

cacao nibs
Instructions
Combine rice, water, and salt in a heavy bottom sauce pot. Set over medium-high heat and bring to a boil.

Reduce heat to a simmer. Stir rice every 3 minutes or so. Continue to heat uncovered for 15-20 minutes until is rice is cooked through. Rice should be soft and porridge will thicken.

Add cocoa powder, chopped chocolate, and brown sugar. Stir to combine. Continue to cook on low heat just until chocolate and sugar have melted. Remove from heat.

Porridge can be enjoyed warm or chilled. Serve with sweetened condensed milk or topping of choice.
Notes
Glutinous rice, contrary to it's name, does not contain gluten. Glutinous rice is also called sticky rice (malagkit). It's is a type of short grain rice known for it's high starch content (which makes it perfect for porridge).
Traditionally, champorado is made with tablea (

unsweetened cacao tablets

). You can find this at Filipino markets and well stocked Asian/Latin markets. The mixture of dutch processed unsweetened cocoa powder and 90% dark chocolate is a great alternative.
Champorado can be served warm or chilled. Store leftover champorado in the fridge in an airtight container for up to 3 days. The porridge will thicken substantially as it cools. Add milk of choice (or water) to thin out.
All images and text ©The Little Epicurean