At one point in my life, popsicles were the ultimate cure all. You pulled out a baby tooth and now your gums hurt and you can't stop crying? Have a popsicle. You fell down while running and scraped your knee? Have a popsicle. You lost your friendship bracelet and now your best friend won't talk to you? Share a double stick popsicle (twin-pop) and make up. Like I said, popsicles solved everything.
I just finished watching The Handmaid's Tale on Hulu. I burned through those 10 episodes in less than a week. I'm in a weird daze and I need something sweet to bring me back to reality. These cherry pineapple popsicles should do the trick.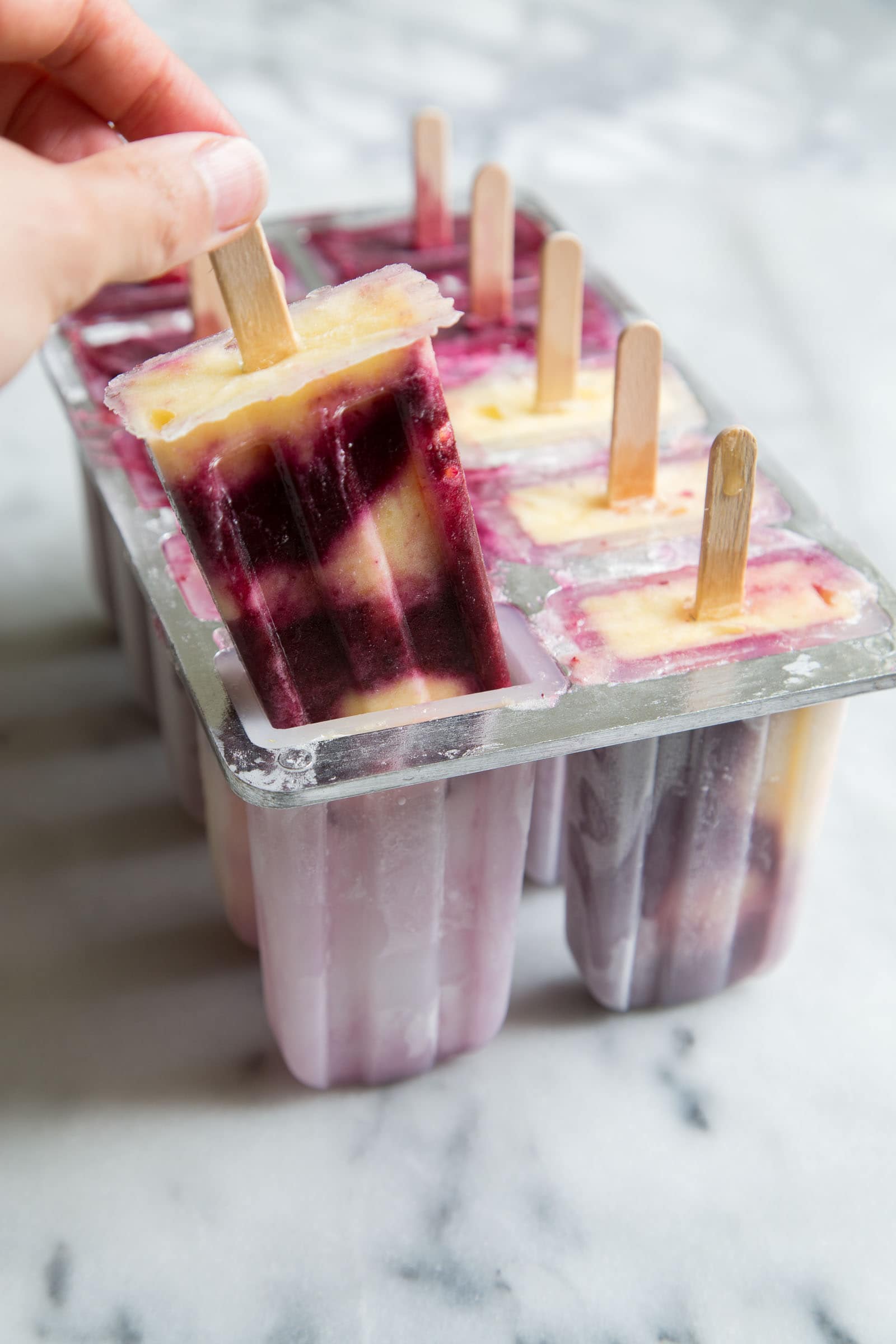 The series is based off the novel of the same name by Margaret Atwood (published in 1985, the same year I was born!). I'm sure you've seen the million ads they have to promote the show. I got lured in and I'm obsessed. I'm on the waitlist to borrow the book on Overdrive. The story is tragic and horrifying, yet inspiring and hopeful. At times, it's difficult to look at the screen and process what is going on. It's a like car crash that you can't take your eyes off.
Anyway, back to these cherry pineapple popsicles. These are popsicles are my version of the Big Sticks I loved so much from childhood. Are you familiar with brightly colored swirled cylindrical popsicle? I was addicted to that overly sweet artificial cherry-pineapple flavor. Oh, the memories. I haven't bought a box of those in years. And honestly, I probably never will because this homemade version is undeniably better. Made with real cherries and real pineapple, this version is hard to beat.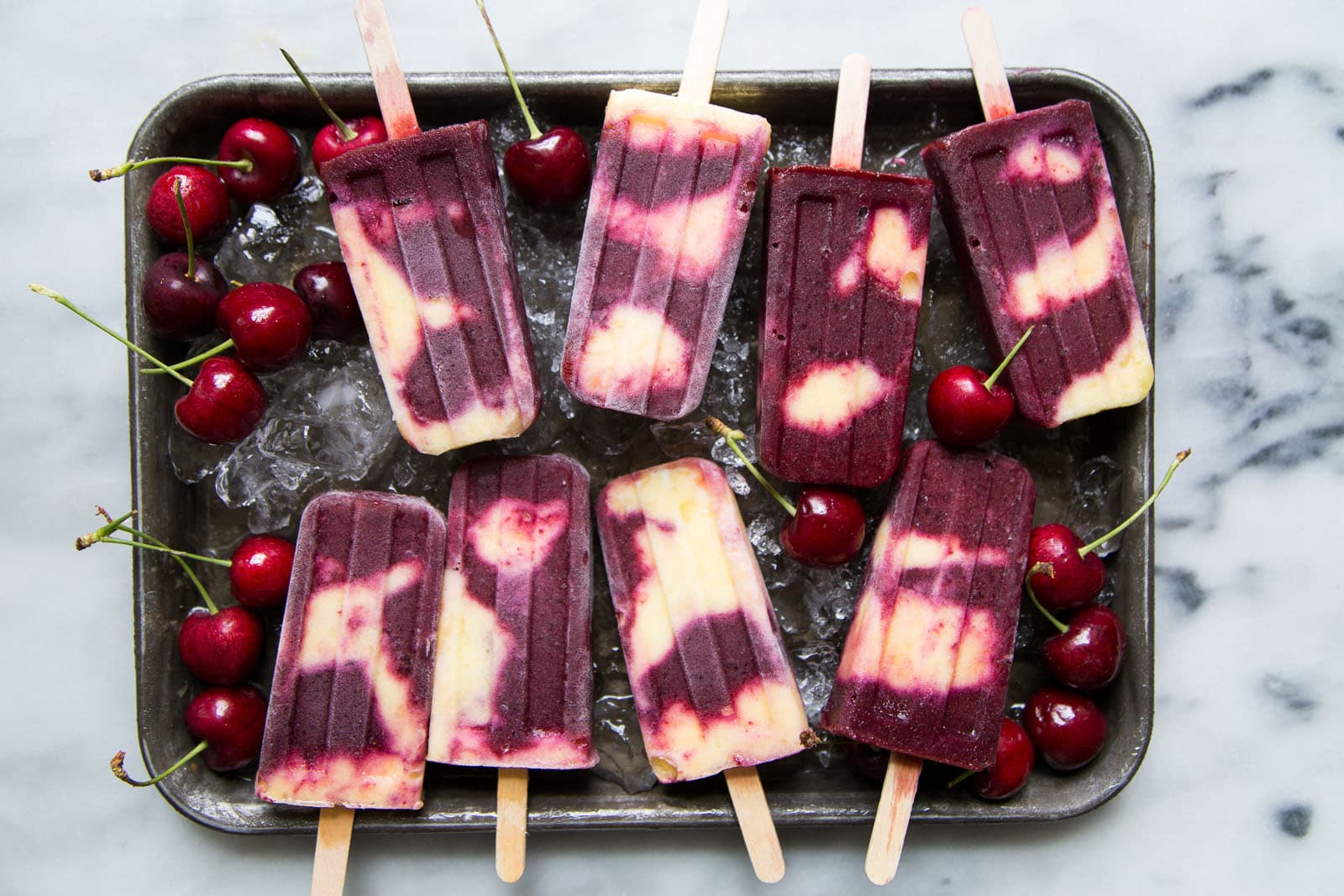 Getting that swirled look in popsicles can be a little tricky. I've done it enough times to learn a few tricks. It's all about density. See examples: lava flow popsicles, strawberry pineapple popsicles, and blackberry swirl pineapple popsicles. In the listed examples, one mixture is more dense than the other. When you slowly stack the mixtures together in the mold, the heavier denser mixture will displace some of the lighter less dense mixture creating that desired swirled effect. For these cherry pineapple popsicles, I made sure both mixtures had roughly equal textures and densities to make that swirl effect even easier to produce. By blending frozen cherries and frozen pineapple chunks, you'll end up with a thicker sorbet like mixture that is easy to stack inside in the popsicle molds.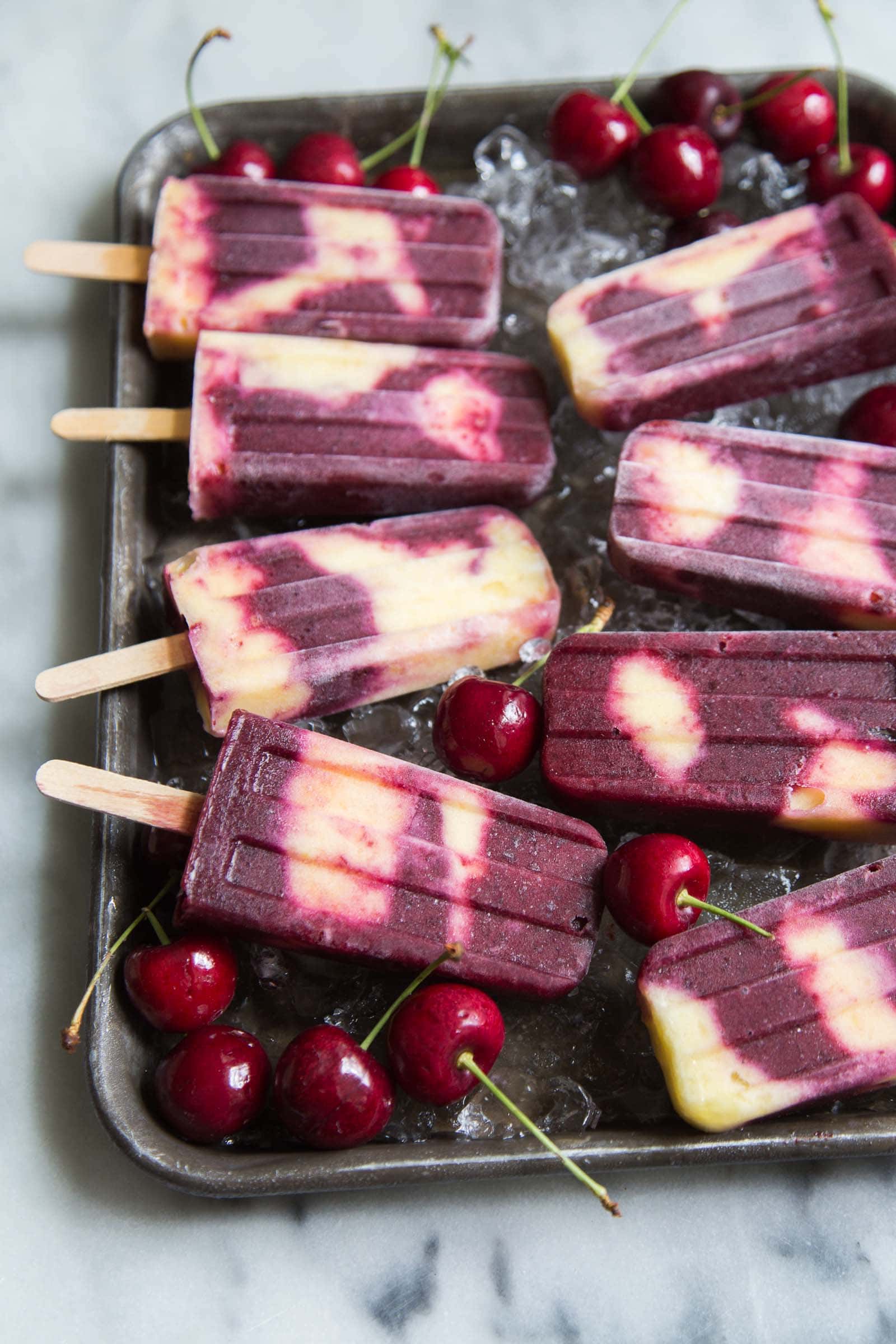 Have a broken heart? These white chocolate blueberry ice cream bars help. Busy morning? These kiwi coconut chia popsicles make a great grab and go breakfast. Need an avocado fix? Chocolate avocado popsicles to the rescue. Imagine if life were that easy? If only popsicles could still cure everything.
Cherry Pineapple Popsicles
Yield: makes 10 popsicles
Ingredients
2

cups

frozen pineapple chunks

2 1/2

cups

frozen dark sweet cherries,

pitted

1/3 cup + 1/2 cup

pineapple juice

3

Tablespoons

simple syrup*
Instructions
In a blender, or food processor, puree pineapple chunks with 1/3 cup pineapple juice and 1 tablespoon simple syrup. Transfer puree into another container.

Wash and clean out blender. Puree cherries with remaining 1/2 cup pineapple juice and 2 tablespoons simple syrup. Transfer puree into another container.

Both mixtures will be rather thick. Use a spoon to alternate adding pineapple and cherry mixtures to popsicle mold. Cover popsicle mold with foil*. Insert wooden sticks in the mold. Place mold in freezer for at least 3 hours until popsicles are solid.

To remove popsicles form mold, submerge mold into room temperature water for 15-30 seconds. Popsicles should slide out easily.
To make simple syrup: 
Combine equal parts water and granulated sugar in a sauce pot. Bring to a boil and cook until sugar has dissolved. Remove from heat and allow to cool to room temperature. Keep chilled in the fridge until ready to use.
Recipe Notes
I used these popsicle molds from Amazon 
In my experience, I have had difficultly removing the plastic mold cover, so I prefer to use foil to cover the popsicles molds.
Use 100% pineapple juice
I like the pitted frozen dark sweet cherries from Trader Joe's
The simple syrup helps to give these popsicles a creamy texture