Warm crisp funnel cake topped with cold strawberry sauce. This strawberry funnel cake is a fair favorite and it can be easily made at home!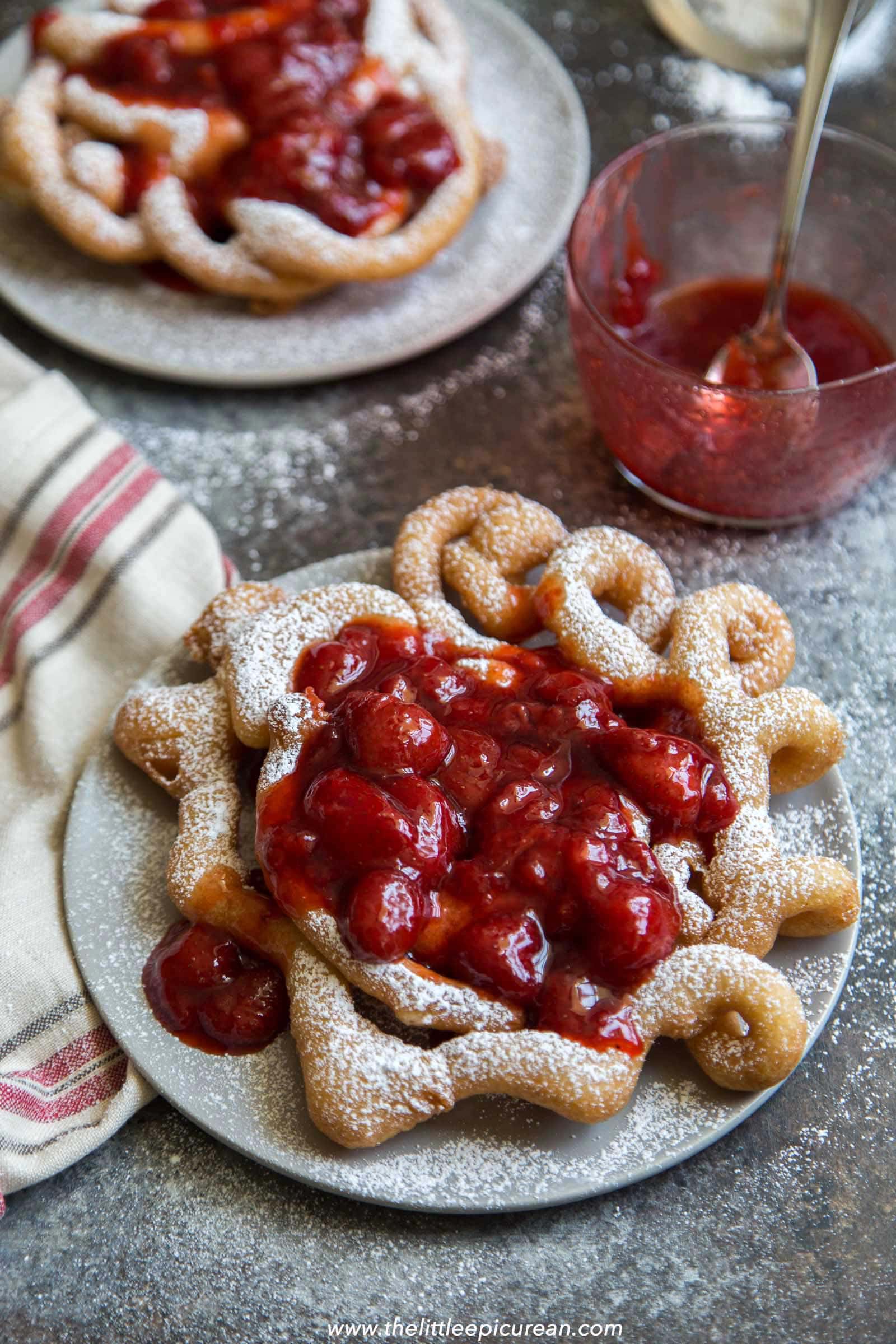 Summertime is fair season. That means fried foods galore! Corn dogs, deep fried Oreos, and beer battered garlic fries. I want them all. But of course, the most iconic deep fried fair food is the funnel cake.
I don't plan on going to the fair this year, but that doesn't mean I'm skipping out on strawberry funnel cake. I say, if you can't make it to the fair, let's bring the fair food to you!
Homemade Funnel Cake
Funnel cake is super simple and easy to make. I'm betting you already have all the ingredients needed to make the batter: flour, sugar, salt, baking powder, milk, and water.
If you can make pancakes, you too can make funnel cake. But the best reason to make funnel cakes at home is portion control!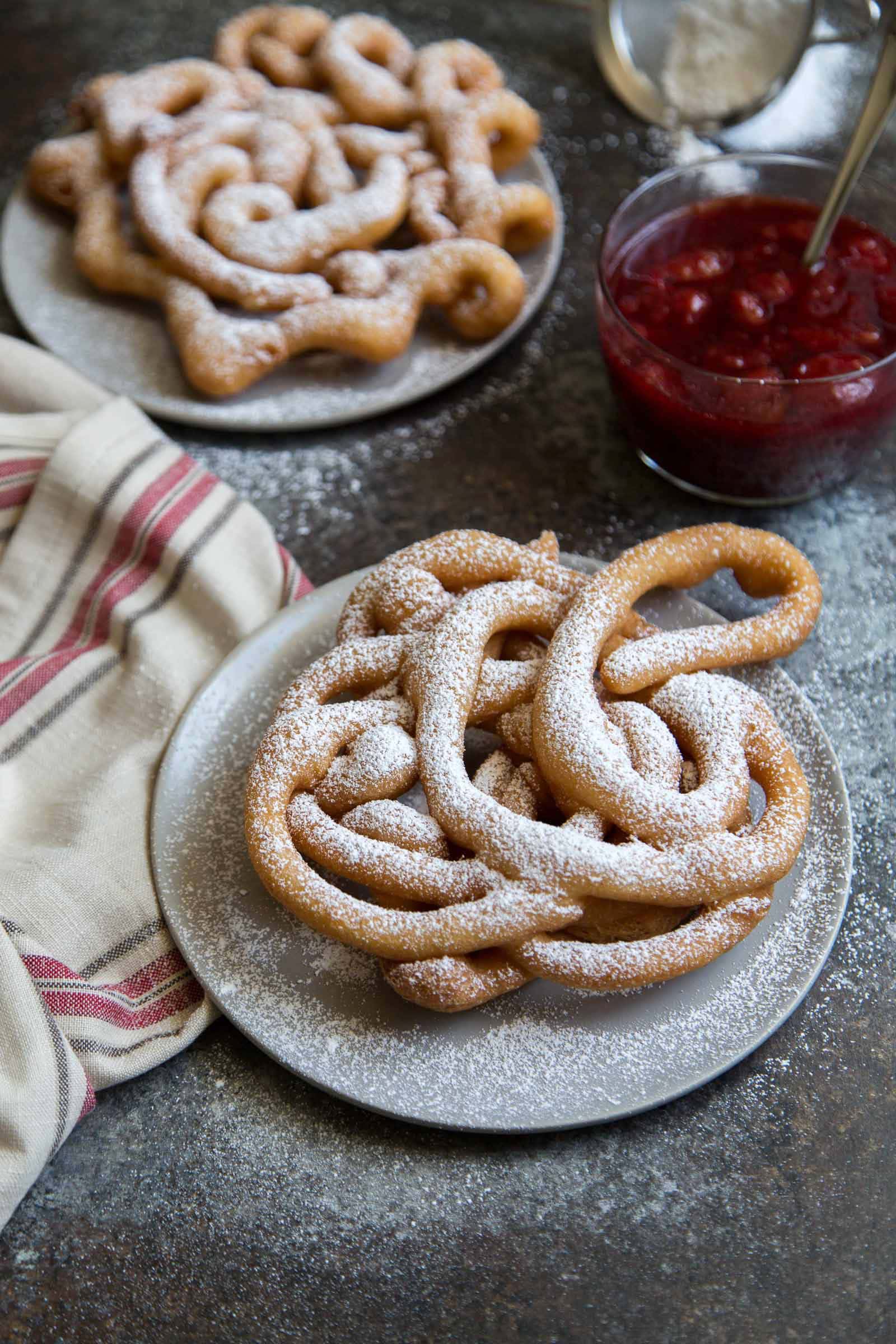 Funnel cakes from the fair are massive. They're definitely not meant for one person.
Although I have once finished a "fully loaded" funnel cake. Fully loaded comes with fruit topping of choice plus vanilla soft serve. It was insanely delicious, but I paid for it afterwards with remorse, guilt, and a giant stomachache. Would I do it again? In a heartbeat! Although, next time I'll share.
This was first time making funnel cake, and it's definitely not my last. I slightly adapted the recipe from Taste of Home. I cut the recipe in half (because I don't need to have THAT much funnel cake around the house) and added a touch of ground cinnamon and nutmeg.
I love the addition of these spices because it gives the funnel cakes a hint of old-fashioned buttermilk doughnut flavor.
While this recipe makes three cakes, you can easily adjust the amount of batter used to make the funnel cakes as small or large as you wish.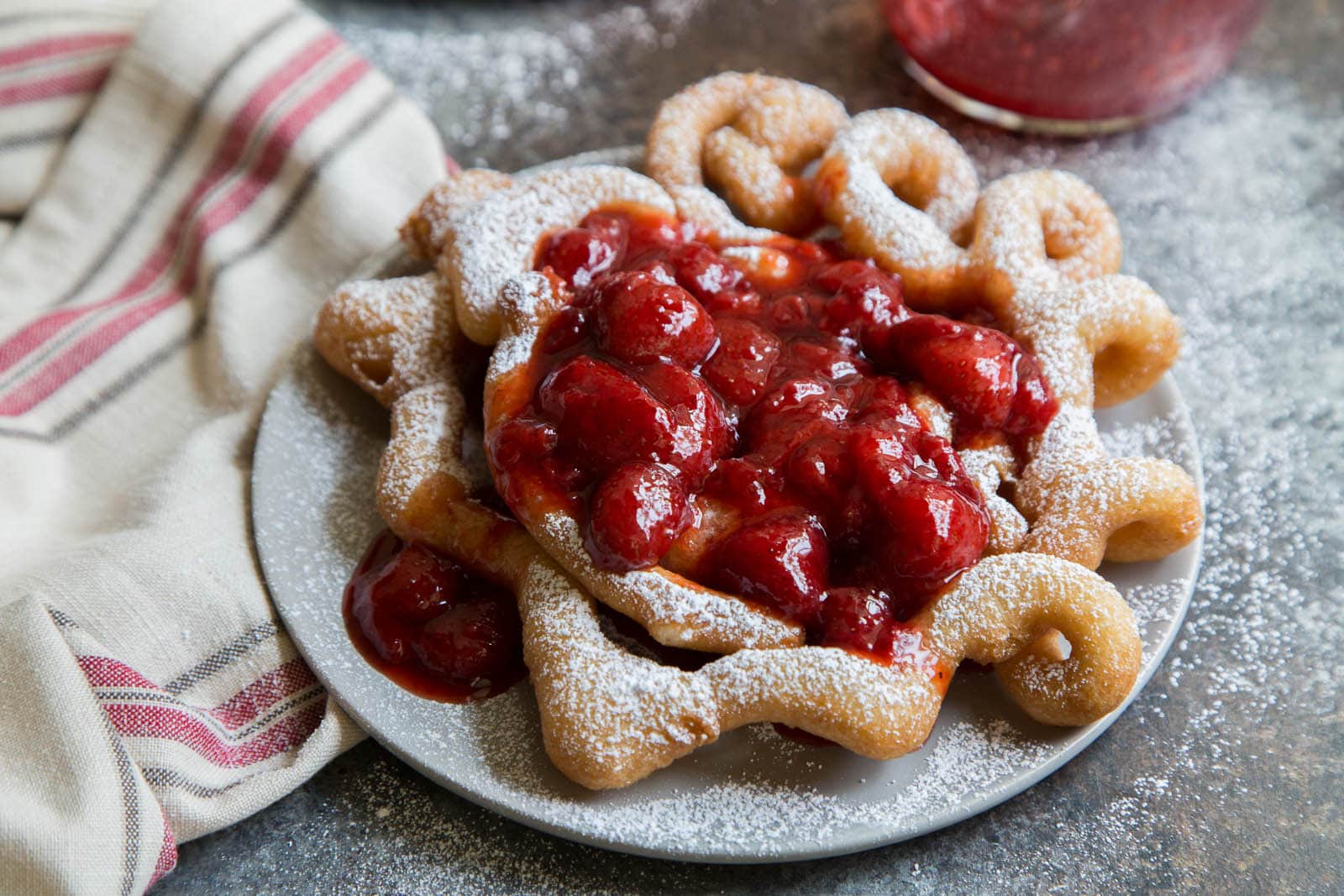 I love the contrast between the hot and crispy funnel cake with the cold strawberry sauce. It keeps me wanting more.
Quick and Easy Strawberry Sauce
I made a really quick and easy strawberry sauce using frozen strawberries. By using frozen strawberries, you can make this strawberry funnel cake all year long. No need to limit yourself to strawberry season.
However, if you do have fresh ripe strawberries, I'd skip the sauce and simply top the funnel cake with sliced strawberries (and maybe a dollop of fresh whipped cream).
If you follow me on Instagram stories, you might have seen my failed Oreo funnel cake attempt. I'm not stopping until I get that one perfect. More funnel cake variations coming soon!
Strawberry Funnel Cake
Yield: makes 3 funnel cakes
Ingredients
Strawberry Sauce:
1

pound

frozen whole strawberries

1/2

cup

granulated sugar

1/4 cup +1 Tablespoon

water

1

Tablespoon

cornstarch
Funnel Cake:
1 1/2

cups

all-purpose flour

2

Tablespoons

granulated sugar

2

teaspoons

baking powder

1/4

teaspoon

fine sea salt

1/4

teaspoon

ground cinnamon

1/8

teaspoon

ground nutmeg

1

large egg

1/2

cup

milk

1/2

cup

water

1

teaspoon

vanilla extract

3

cups

vegetable shortening,

for frying

confectioners' sugar,

for dusting on top
Instructions
Strawberry Sauce:
Mix together strawberries, sugar, and 1/4 cup water in a medium sauce pot. Set over medium high heat and cook until strawberries are soft and sugar has dissolved.

In a small bowl, mix together remaining 1 tablespoon water with cornstarch. Add to strawberry mixture. Bring mixture to a boil. Allow to boil for 30-45 seconds to cook out cornstarch. Remove from heat and allow to cool. Keep chilled until ready to serve.
Funnel Cake:
1. Attach candy thermometer to a large heavy bottomed pot (cast-iron or Dutch oven, preferred). Add vegetable shortening to pot. Set over low-medium heat until shortening reaches 375 degrees F. Prepare funnel cake batter as shortening heats.

In a large bowl whisk together flour, sugar, baking powder, salt, cinnamon and nutmeg. In a separate bowl, combine egg, milk, water, and vanilla. Add wet mixture to dry mixture. Stir to combine until there are no longer any dry streaks of flour.

Transfer batter to a piping bag fitted with a small round tip*.(See notes for alternative methods.) Once hot oil is at the proper temperature, holding the bag a few inches above the hot oil, pipe in a spiral motion until you've used 1/3 of the batter. Cook funnel cake for 90 seconds to 2 minutes on each side until golden brown. Allow funnel cake to drain on paper towels. Place on serving plate. Dust with confectioners' sugar and top with chilled strawberry sauce. Serve warm.
Notes
The batter can also be transferred to a funnel. Cover spout with your finger, pour in 1/3 of batter, release your finger and move funnel in a spiral motion over hot oil.
Batter can also be transferred to a squeeze bottle or a plastic bag with the corner snipped off.
Oil temperature will fluctuate and drop once you add the batter. Keep an eye on the thermometer to adjust heat.
Funnel Cake Recipe Slightly adapted from TASTE OF HOME