This quick and easy to make layered speculoos banana cream parfait is made with biscuits, fresh bananas, vanilla pastry cream, sea salt caramel, and whipped cream.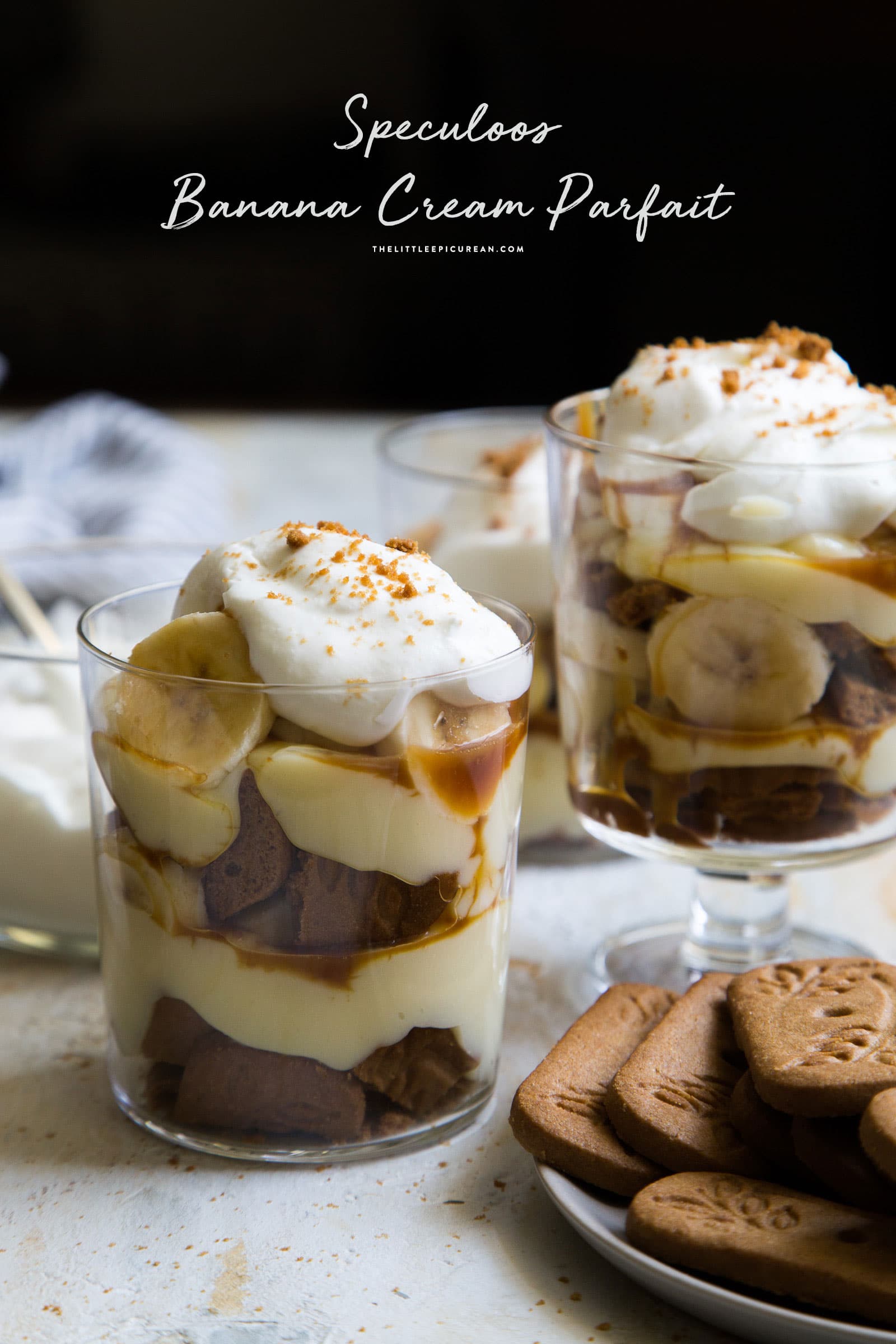 While this is no substitute for a traditional banana cream pie, it's a wonderful and tasty alternative that is much easier to make.
This speculoos banana cream parfait takes the familiar flavors of banana cream pie and elevates it into these pretty little individual desserts worthy of any dinner party/dessert table/afternoon snack.
Using a mixture of store-bought and homemade components, this speculoos banana cream parfait is a breeze to put together. There are two store-bought components (cookies and sea salt caramel sauce) and two homemade components (vanilla pastry cream and whipped cream).
Speculoos cookie alternatives
I used speculoos cookies (also known as speculaas, or the brand name Biscoff) for the crust portion. I love speculoos cookies because they're packed with warm spices similar to gingerbread. They're usually spiced with cinnamon, ginger, cloves, nutmeg, and cardamom.
Instead of speculoos, you can also use graham crackers, vanilla wafers, or shortbread cookies.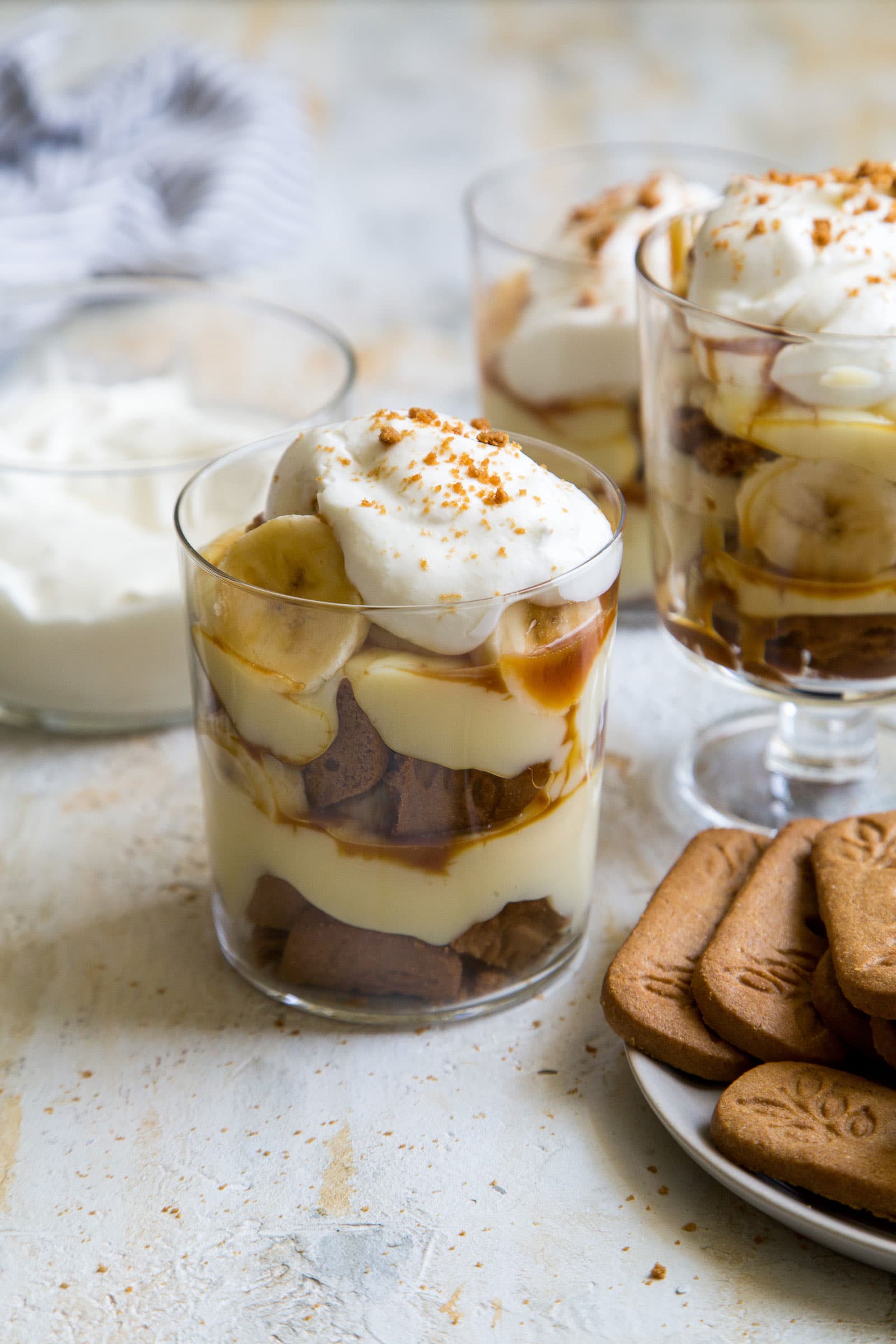 My pantry is always stocked with jars of caramel sauce. For a simple recipe like this, you'll only need a few tablespoons of caramel. It's not worth making a large batch of homemade caramel sauce.
Homemade vanilla pastry cream is utterly delicious. It's a staple recipe that I think everyone should master. It can be used in a variety of different desserts: tarts, doughnuts, cakes! It may be a little intimidating the first time you make it, but it'll get easier with practice.
Homemade whipped cream
There's no point in ever buying those pressurized cans of store-bought whipped cream. It's unbelievably easy to make at home. All you need is chilled heavy cream and a little powdered sugar.
There are three ways to whip to together: 1.) use a whisk and hand mix it the old fashioned way 2.) use a electric hand mixer or stand mixer or 3.) shake it in a mason jar. Like I said, EASY.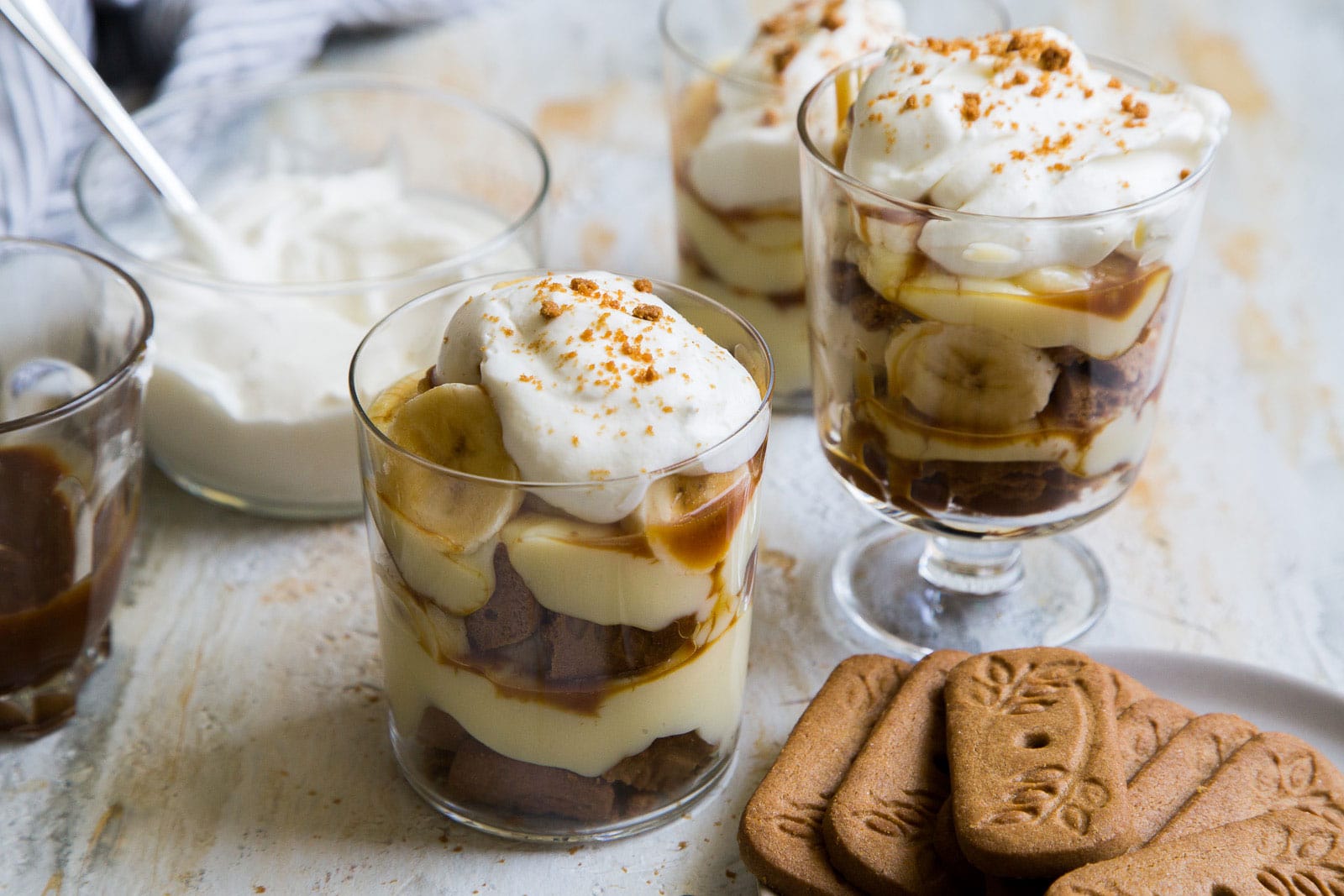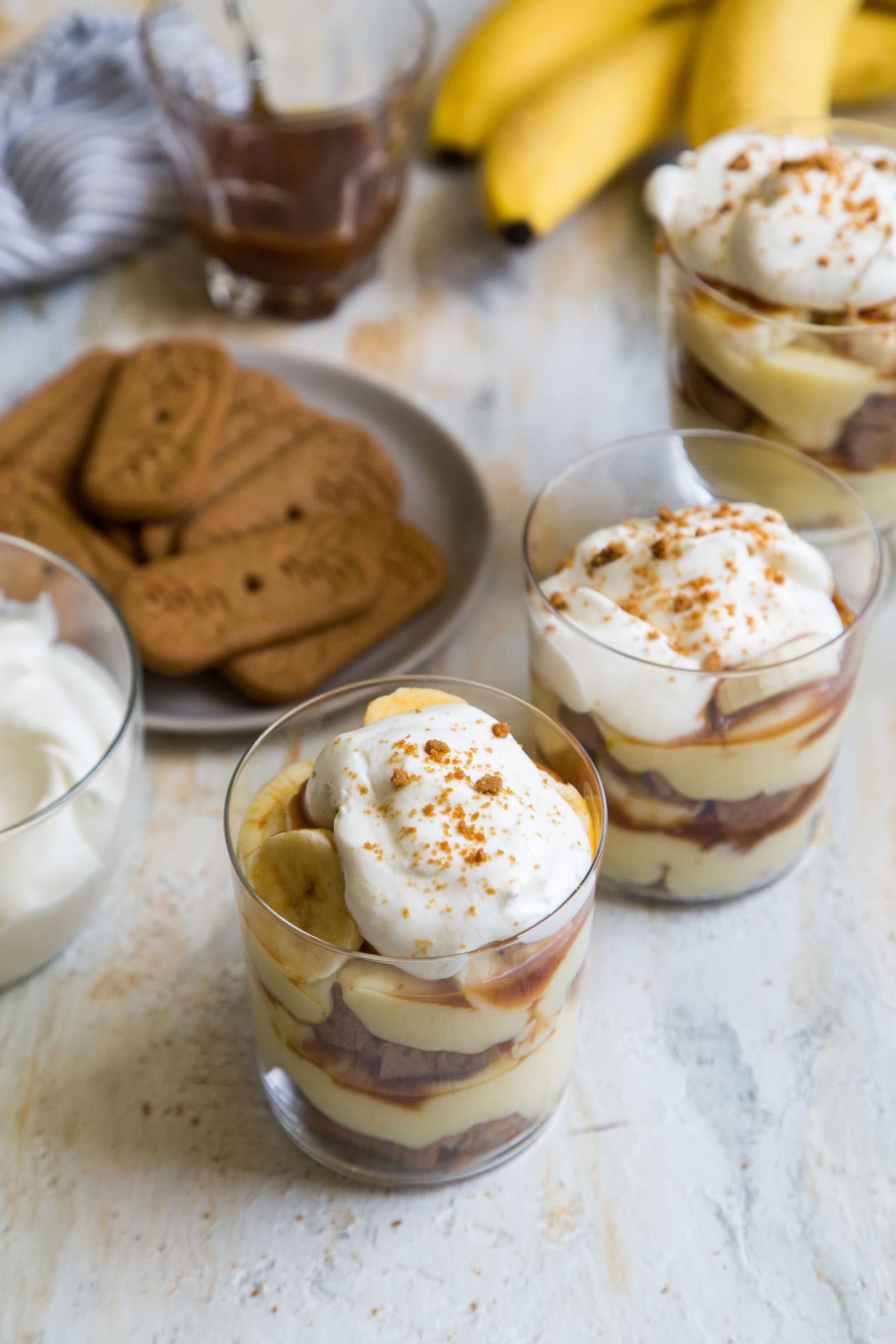 These speculoos banana cream parfaits can be made ahead of time and kept chilled in the fridge until ready to serve. I suggest waiting to add the dollop of whipped cream right before serving to keep it fresh.
If you prefer, you can also build this parfait into a large trifle bowl.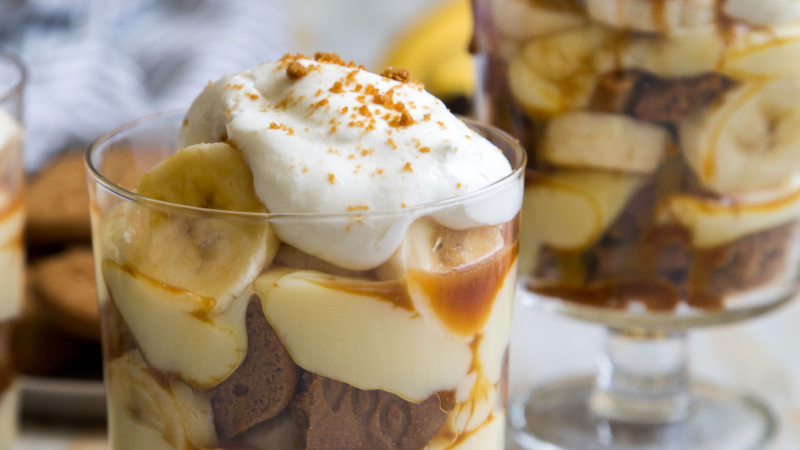 Speculoos Banana Cream Parfait
Yield: serves 4
Ingredients
Speculoos cookies, roughly broken into bite sized pieces

vanilla pastry cream (recipe follows)

sliced fresh bananas

salted caramel sauce (homemade or store-bought)

whipped cream (recipe follows)
Vanilla Pastry Cream:
1/3

cup

cornstarch

1/2 cup + 1/4 cup

granulated sugar

1 1/2 cup + 1/2 cup

whole milk

4

large

egg yolks

2

Tablespoons

unsalted butter, softened

1/4

teaspoon

fine sea salt

2

teaspoons

pure vanilla extract
Whipped Cream:
1

cups

heavy cream, very cold

2

Tablespoons

confectioners' sugar
Instructions
Add a layer of speculoos cookies at the bottom of four serving glasses. Spread pastry cream to cover cookie layer. (If desired, use a pastry bag to pipe pastry cream into serving glasses.) Arrange a layer of sliced bananas on top. Drizzle a little caramel sauce over bananas. Repeat with another layer of speculoos, pastry cream, banana, and caramel. Top with a dollop of whipped cream. Serve immediately, or cover and keep chilled in the fridge for a few hours.*
Vanilla Pastry Cream:
Line a quarter-sheet baking pan with plastic wrap, making sure the sides of the pans are also covered. Set aside.

Pour 1 1/2 cups milk into a large heavy bottomed sauce pot. Add 1/2 cup of sugar. Whisk together. Place over medium-high heat. Stir occasionally to make sure the milk does not burn along the sides or bottom of the pan. Bring to a boil.

Meanwhile, in a medium bowl, whisk together cornstarch and remaining 1/4 cup sugar. Add in remaining 1/2 cup milk and egg yolks. Whisk until smooth.

Once milk has boiled, reduce heat. Slowly add a little bit of the milk into the cornstarch mixture. Whisk constantly to distribute the heat. Continue to add milk and whisk until only a couple of tablespoons of milk are left in the saucepan. Pour all the egg-milk mixture back into the saucepan.

Whisk constantly over medium-low heat until the custard has thickened. Keep whisking and let the custard come to boil to cook out the cornstarch flavor. Remove from heat. Whisk in butter until smooth. Add salt and vanilla and whisk until combined.

Pour the hot pastry cream into the prepared plastic wrapped sheet pan. Spread evenly. Cover with plastic wrap and freeze for 10-15 minutes until the pastry cream has cooled to room temperature. Remove from freezer and transfer to an airtight container. Place plastic wrap directly on pastry cream to avoid condensation. Let chill in the refrigerator until ready to use.
Whipped Cream:
Use a hand mixer (or stand mixer fitted with a whisk attachment) to mix together heavy cream and confectioners' sugar. Mix on medium speed until cream reaches stiff peaks. Use immediately, or cover and keep chilled in the fridge for up to one day.