This persimmon cranberry pie is topped with a sweet and crunchy pecan crumble. This pie is well balanced as it combines sweet, tart, and buttery!
When it comes to desserts, it's all about balance.
The sweetness needs a little contrast to make it interesting and exciting. Soft and chewy needs a bit of crunch and bite to keep you coming back for more.
This persimmon cranberry pie checks off all the boxes!
My childhood home had five persimmon trees in our backyard (three of the hachiya variety and two of the fuyu). Each year I looked forward to harvesting pounds and pounds of these delicious autumn fruits.
(Learn more about difference between hachiya and fuyu in this persimmon walnut cake post.)
This recipe uses fuyu persimmons. Of the persimmon varieties, they are the most commonly available at markets.
Fuyu are best eaten like apples, when they're firm. Persimmons have a very unique flavor. I can't really describe it other than… it's sweet.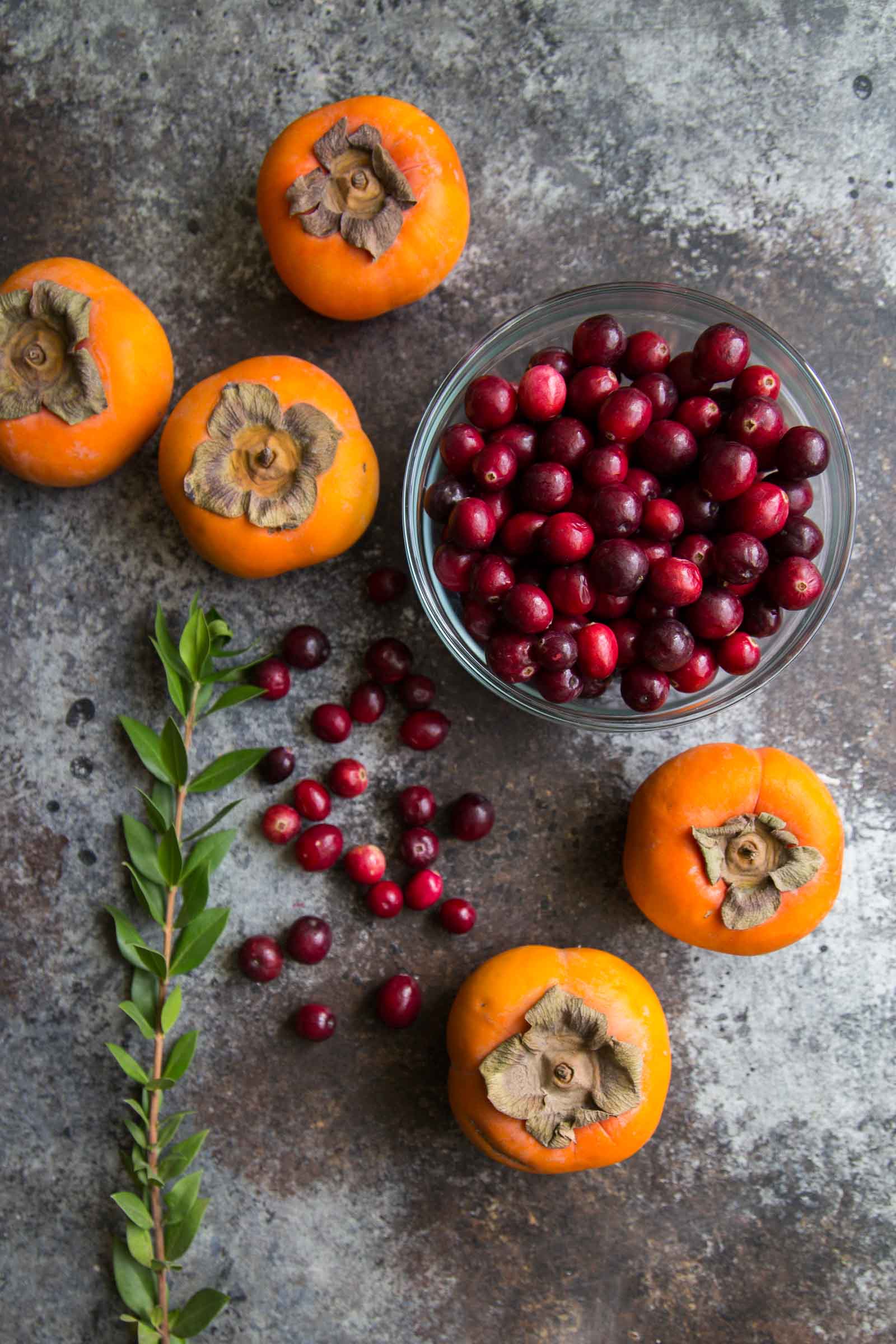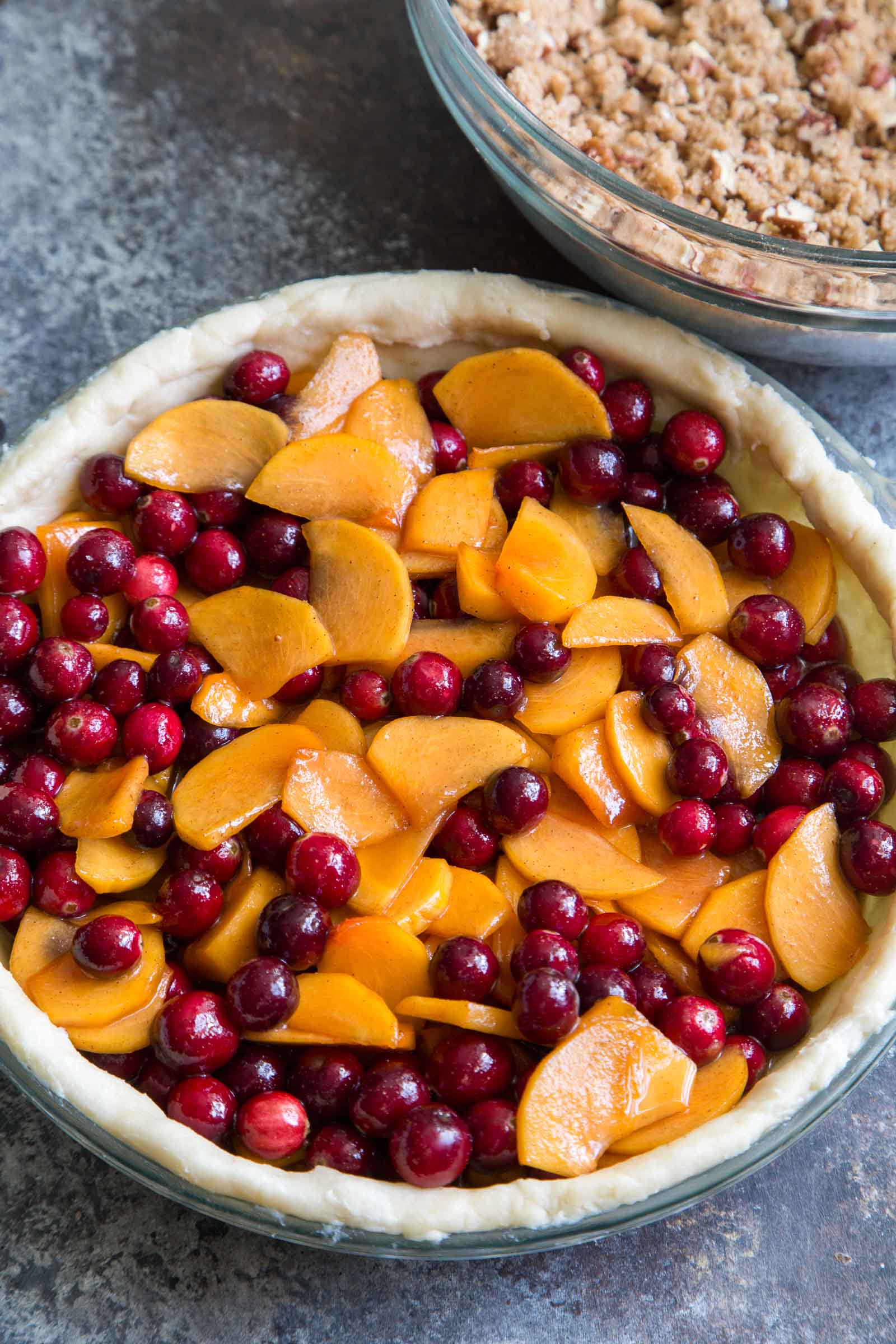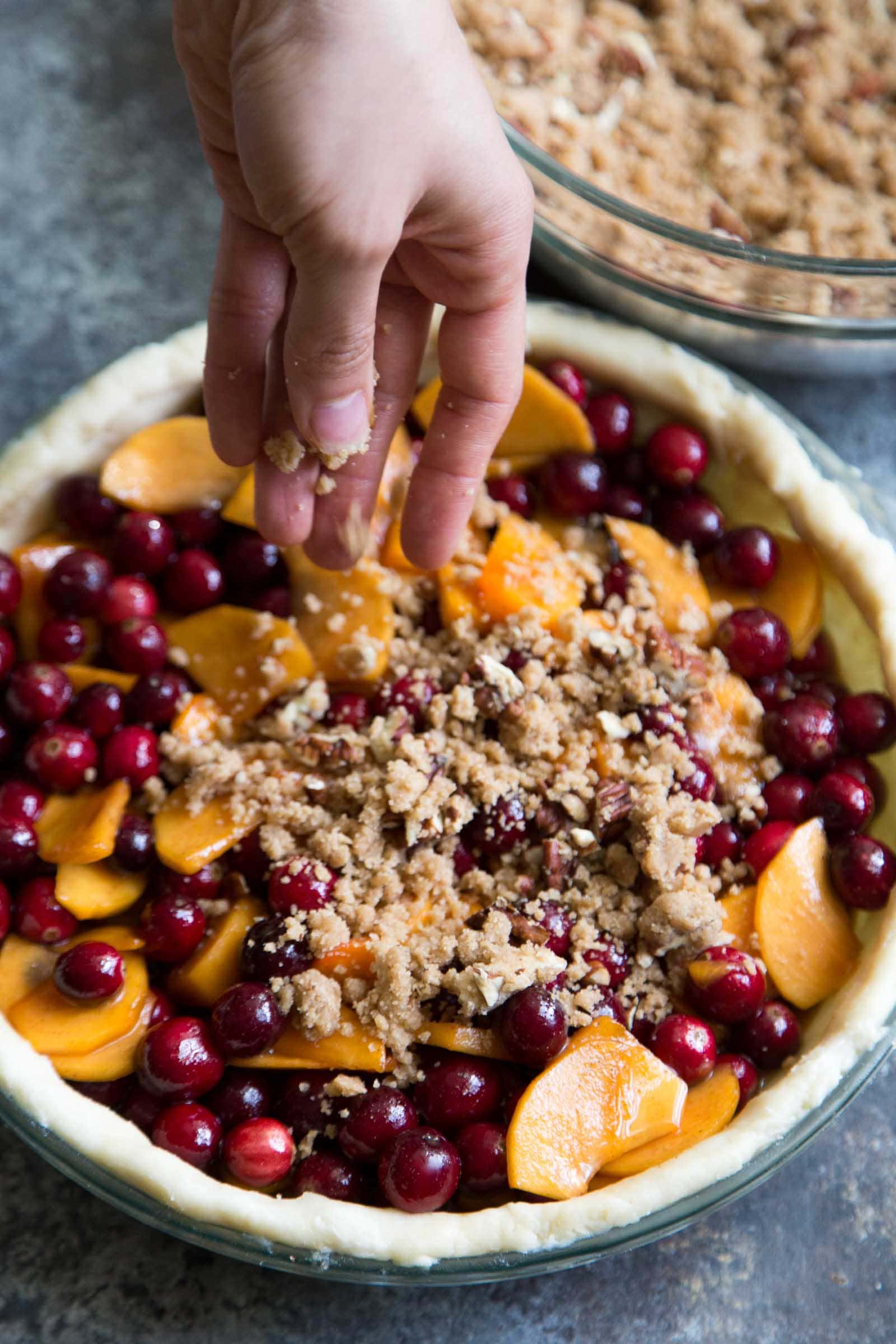 Persimmons & Cranberries
The sweetness of fuyu persimmons pair beautifully with the super tart cranberries. Plus, look at that color!
The orange hues from the persimmons mixed with that crimson and burgundy red cranberries screams autumn-time.
Just looking at the fruits gets me all excited for Thanksgiving and all the holidays and gatherings that follows.
The raw fruits gets tossed in sugars and spiced with cinnamon. As the pie bakes, the cranberries will burst and the persimmons will slightly soften.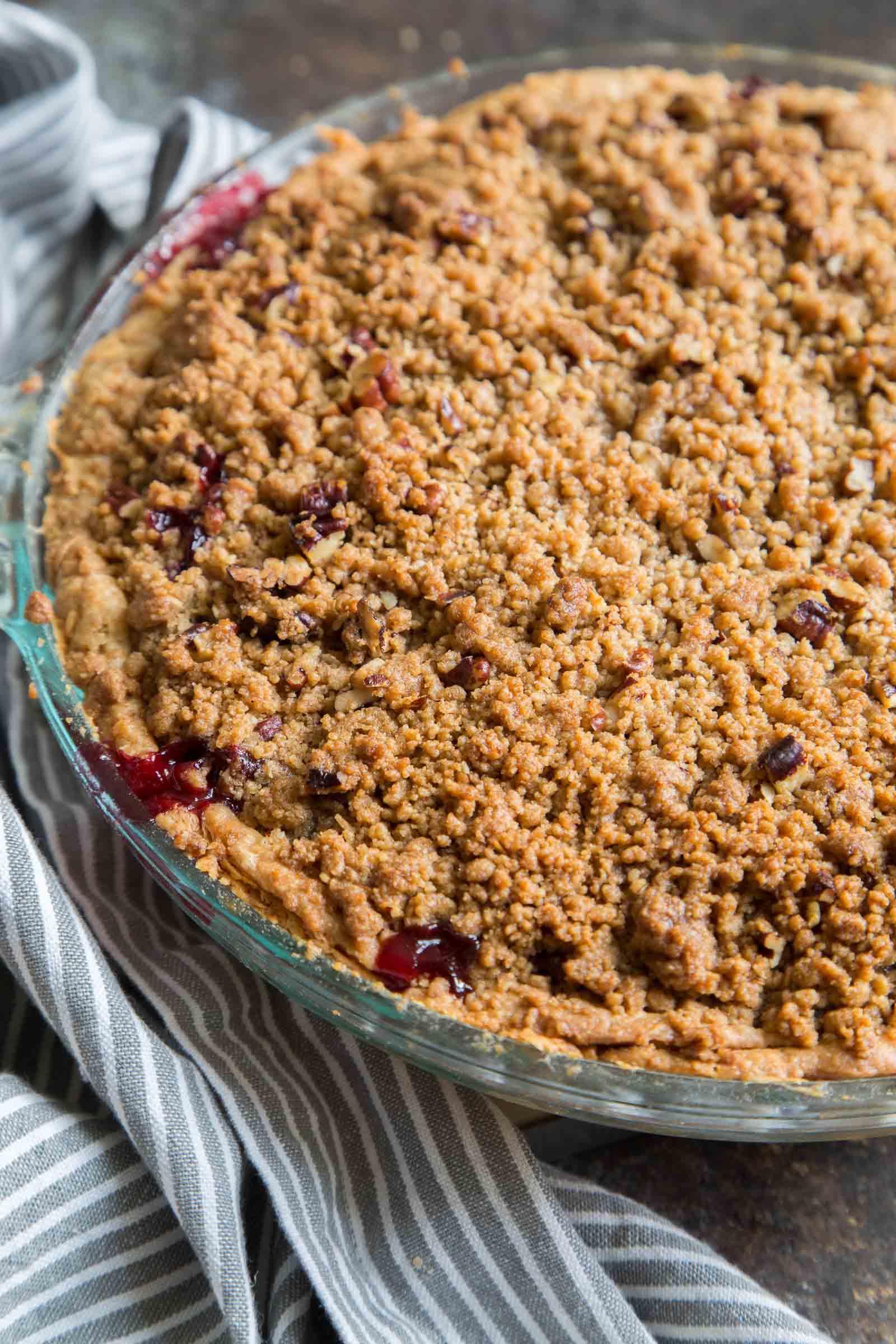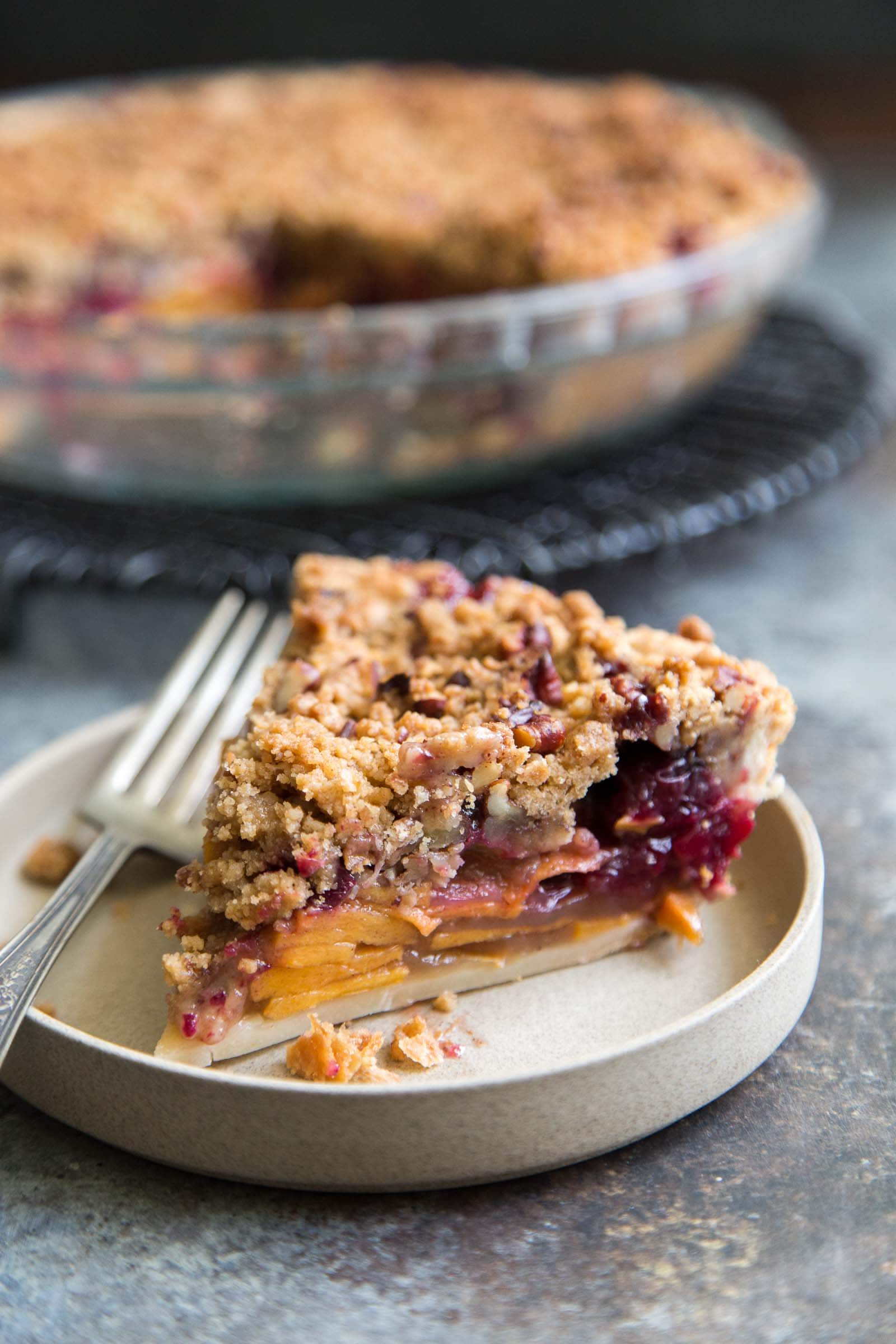 Pecan Crumble Topping:
The element that really ties this persimmon cranberry pie together is the pecan crumble topping.
It adds sweetness to combat the tart cranberries.
Provides much needed crunch and texture!
And best of all, it's the easiest way to top a pie! (No lattice work, or additional pie dough needed!)
While the persimmon cranberry pie is perfect the way it is, it wouldn't hurt to add a scoop of vanilla ice cream.
Warm up the pie and serve it a la mode. The contrasting temperatures of the warm pie and cold ice cream is heavenly.
Persimmon Cranberry Pie with Pecan Crumble
Ingredients
Pie Dough:
1 1/4

cup

all-purpose flour

1/2

teaspoon

fine sea salt

2

Tablespoons

granulated sugar

8

Tablespoons

unsalted butter, cold, diced small cubes

1

teaspoon

apple cider vinegar*

4

Tablespoons

ice water
Persimmon Cranberry Filling:
1

pound

fuyu persimmon, peeled, seeded, and sliced into thin wedges

9

oz

(about 3 cups) fresh cranberries

2

Tablespoons

granulated sugar

1/4

cup

dark brown sugar, packed

2

Tablespoons

maple syrup

1

teaspoon

ground cinnamon

1/4

teaspoon

fine sea salt

2 1/2

Tablespoons

cornstarch
Pecan Crumble Topping:
1

cup

all-purpose flour

2/3

cup

dark brown sugar, packed

1

Tablespoon

granulated sugar

1/2

teaspoon

ground cinnamon

1/4

teaspoon

fine sea salt

1/2

cup

unsalted butter, sliced into tablespoons

2/3

cup

roughly chopped pecans
Instructions
Pie Dough:
In a large bowl, toss together flour, salt, sugar, and diced butter. Cover with plastic wrap and let chill in the freezer until bowl is cold (about 5 minutes).

Using a pastry blender (or two forks), cut cold butter into cold flour until mixture resembles coarse, pebbled sand. Add vinegar and ice water. Fold to combine. Dough will be shaggy.

Dump dough onto a lightly floured work surface and knead until mixture comes together. Pat dough to a thickness of about 1/2-inch. Cover in plastic wrap and let chill in the fridge for at least 1 hour (overnight is best).
Persimmon Cranberry Filling:
Toss persimmon and cranberries with sugar, brown sugar, maple syrup, cinnamon, salt and cornstarch.
Pecan Crumble Topping:
In a medium bowl, whisk together flour, brown sugar, sugar, cinnamon and salt. Cut in butter using a fork until the topping is crumbly. Toss in chopped pecans
Assembly:
Preheat oven to 350 degrees F.

Allow chilled dough to sit at room temperature for 5 minutes before rolling. Roll dough on a lightly floured work surface to about 11-inch in diameter and about 1/8-inch in thickness. Place pie plate upside down over the rolled dough to ensure it is the correct size. Transfer dough to pie plate and firmly press into the bottom and sides of plate. Trim excess dough.


Pour persimmon cranberry filling into pie shell. Sprinkle pecan crumble topping all over filling. Bake for one hour until cranberry filling is bubbling and crumble topping is golden brown.

Allow pie to cool to room temperature before slicing. Once pie has cooled, you can also store it in the fridge to chill for easier and cleaner slicing. Serve pie at room temperature, warmed up, or chilled.
Notes
Apple cider vinegar prevents gluten development in the pie dough. This means the pie dough will be easier to roll out, plus it will not shrink during baking. You will not taste the vinegar after baking. 
Want to try other persimmon recipes? Here are some favorites: